Top 5 highest mountains of Malaysia are all in Sabah. After conquering the Mt. Kinabalu (4,095M) and Mt. Trus Madi (2,642M), last month I climbed Mt. Tambuyukon (2,579M), which is the 4th highest mountain and the hardest one. I'll share my experience in 5 articles, 300 photos and 16 videos here, so you know what I went through in this 5-day trip.
Below is the structure of my blog on Mt. Tambuyukon trip:
Part 1: Day 1. From Starting Point to KM5 (this article)
About Mt. Tambuyukon (Gunung Tambuyukon)
With a height of 2,579.22 Meters (8,462 Feet) and lies northeast of Mount Kinabalu, Mt. Tambuyukon is the 4th highest mountain of Sabah and Malaysia. It is part of the Kinabalu Park and managed by Sabah Parks. Tambuyukon means "cheating" in Dusun language. The origin of the name is – during the climb, a guide named Tam keeps on cheating other climbers that the summit is not far ahead but it is still a long way.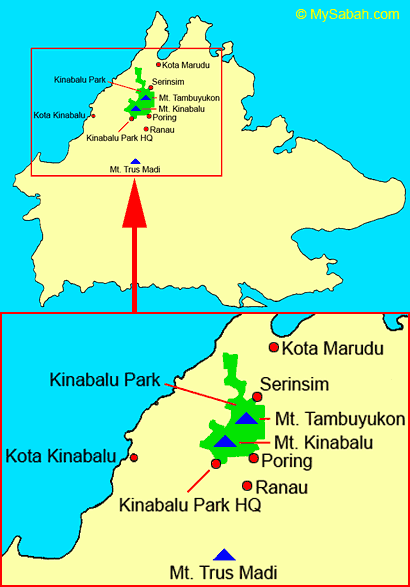 There are two climbing routes to Mt. Tambuyukon, namely, the northern entry from Serinsim Substation in Kota Marudu, and southern entry in Monggis Substation, situated about 35 KM from Poring. We started our climb at Monggis as the summit trail is 14KM (Kilometers) and shorter than northern trail (over 20KM).
DAY 1. Start of Climb
---
Register at Kinabalu Park HQ
On day 1, we departed from Kota Kinabalu at 6:30am and reached Kinabalu Park HQ (Kundasang) at 7:45am. Even though we have booked the climb 1 month earlier, we still need to register in Kinabalu Park administration office before the climb, and fill up the indemnity form (MyKad / Passport is required for identification).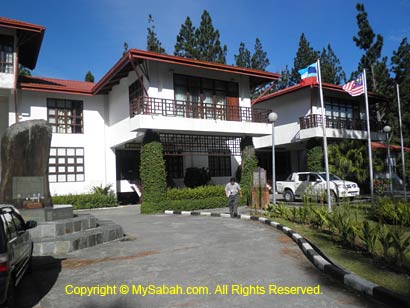 Above: Sabah Parks administration office (Kinabalu Park)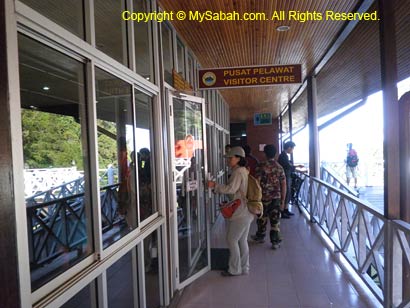 Above: Visitor Center of Kinabalu Park
Then we proceeded to Kinabalu Park visitor center to pay for climb permit and insurance, and collect our climber tags. We met our tour guides and transferred our luggage and supplies to their 4-Wheel drives (4WD). After having breakfast and buying packed lunch (fried rice) at a restaurant nearby, we headed to Monggis Substation at 10am. We stopped briefly at G*Mart Supermarket at 10:30am to purchase last-minute supply.
Road to Monggis Substation
The road journey from Kinabalu Park to Monggis Substation takes 1.5 to 2 hours (for 60KM). At first we drove on an asphalt road. After a roundabout near Poring Hot Springs (13KM from Ranau), we turned to Bongkud, the start of a long and dusty gravel road and the point we are about 35KM from Monggis Substation. We saw dozens of heavy trucks and dozers busy building this Ranau – Kota Marudu highway.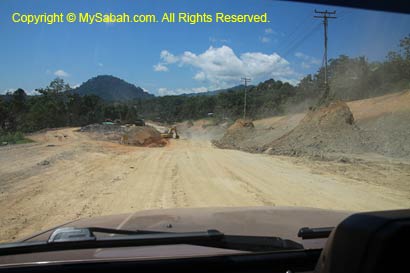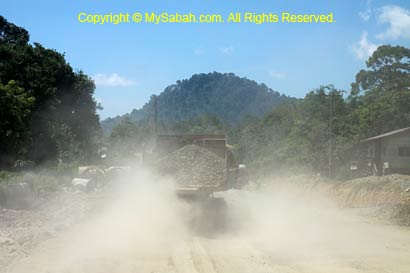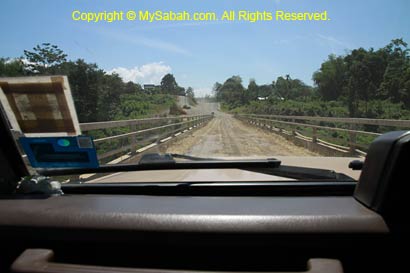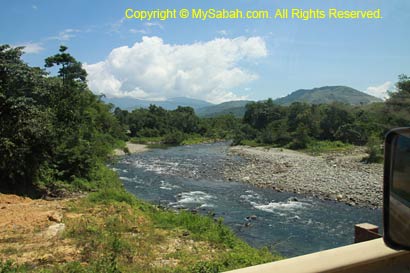 The gravel road can turn muddy and slippery during rainy season. With heavy trucks moving around, it is dangerous for vehicles to lose control on slippery surface. You must use 4WD to go to Monggis. The highway is supposed to be ready by April 2011, but it seems like it is far from completion and less than 5KM of this highway is paved (as of June 2011).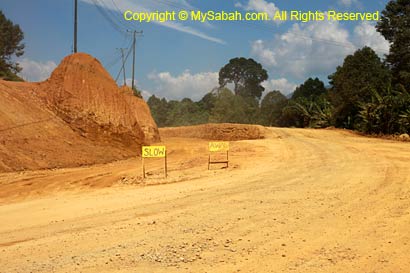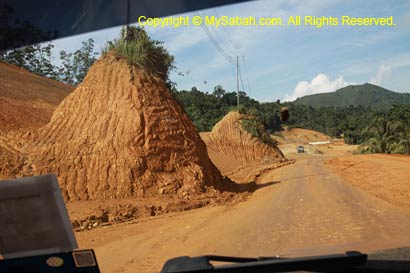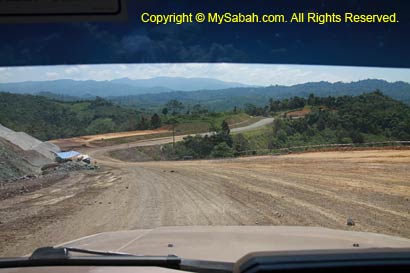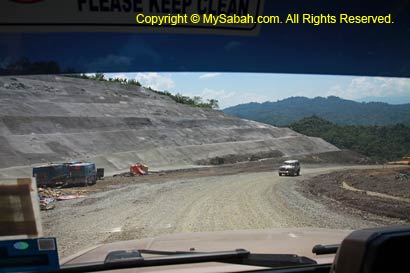 Then we passed through Kampung Pinawantai (village) on a narrower and bumpy gravel road. We crossed 3 small streams on the way. According to the guide, the streams would flood and become big rivers during rainy season, and only 4WD can cross them. We drove through a few single-lane bridges and saw two new bridges under construction.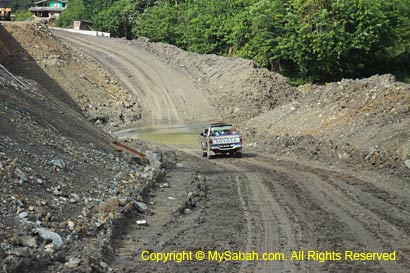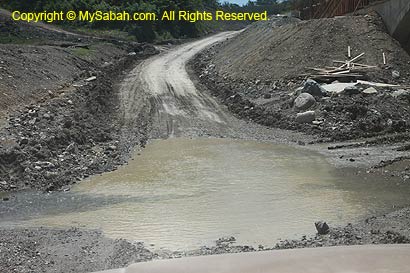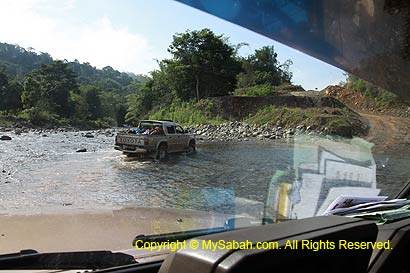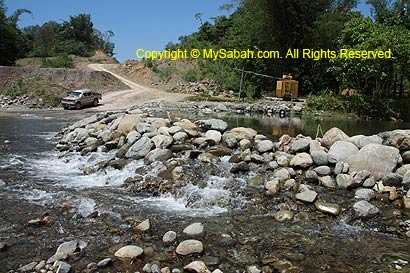 About 10KM before Monggis substation, we came to a small countryside track of Kampung Monggis (Monggis Village). Finally, we arrived Monggis Substation (of Kinabalu Park) at 12pm, about an hour late to our planned schedule.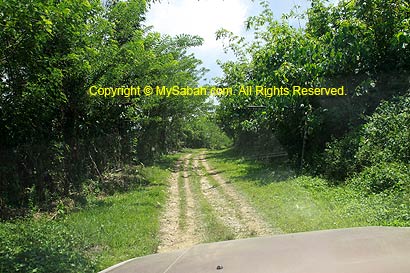 You may watch the 3-min video below to see the overall road condition:

Start of Climb
Our Sabah Parks rangers and porters already waited for us at the substation. We unloaded our bags and supplies, and did the final packing. Since it is noon time, we decided to have our lunch before the climb.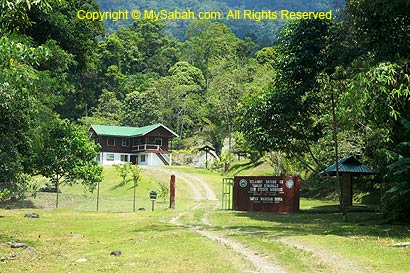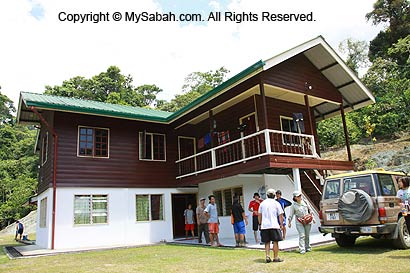 At 1pm, everyone put on their leech socks and joined the short briefing by Sabah Park ranger, Mr. Wasidi Wasli. The starting point is just next to the substation, which is 267M above sea level. The total distance to the summit is 14KM, and we plan to arrive Wuluh Camp at KM6 before 5pm today. You may check out the trail map. You will need to refer to this trail map again for the rest of the articles.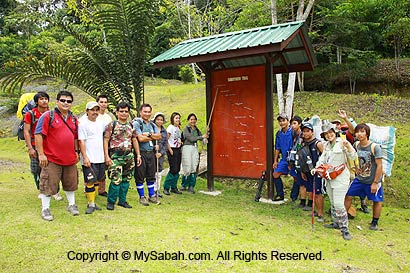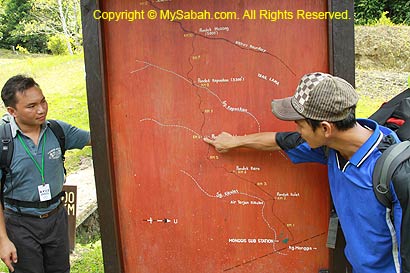 Below is the summit trail map of Mt. Tambuyukon. Click it for bigger picture: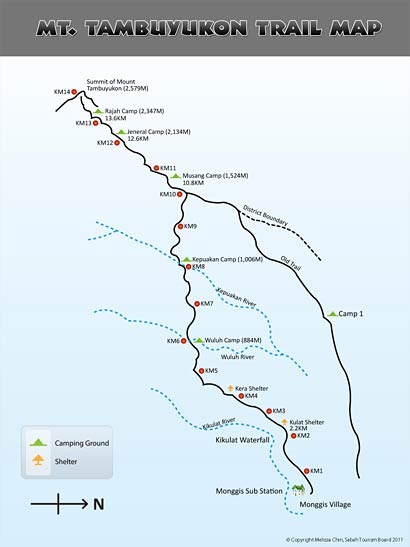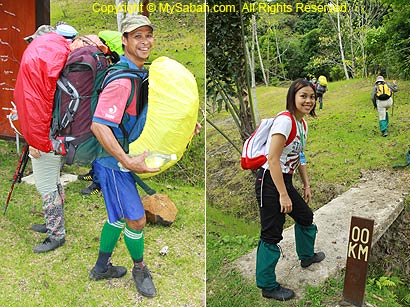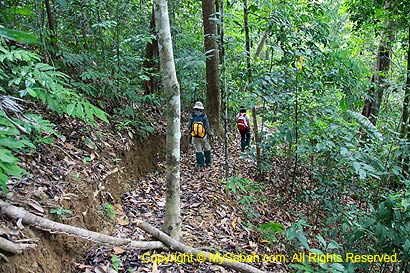 We walked slowly under the tall and dense canopy of lowland and hill dipterocarp rainforests. Even though the climb just began, the air was so warm and humid that we felt a bit short of breath during jungle trekking. Then the rain showers came on and off, fortunately they were blocked by dense canopy. We didn't see any big animals but we know the presence of sun bear, wild boar and deers from the claw marks on the tree trunk, or the footprint. Hornbills and monkey are also spotted or heard on the way. If we are lucky, we might see orangutan before KM11, the ranger said.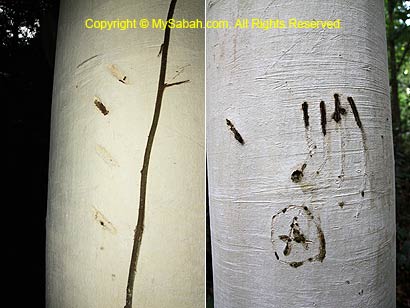 Above: Now I know bear also knows how to write ABC
KM0 – KM4
To experienced hikers, the first 4KM of the trail is not tough (and thanks to our porters who carried over 100Kg of our bags & supplies). But due to the warm environment, we sweated a lot, so we ran out of water very soon. You can refill water at two shelters, i.e. (1) Kulat Shelter (at KM2.2), and (2) Kera Shelter (at KM4), but the water tanks may not have water sometimes. There are small mobile toilets next to both shelters too.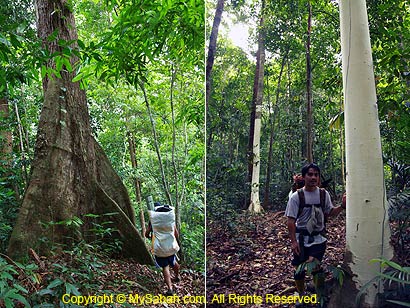 Kulat Shelter (KM2.2). We reached Kulat Shelter (Pondok Kulat) at 2:30pm. Climbers may explore a trail that takes them to Kikulat Waterfall about 800M away. Due to time constraint, we didn't visit the waterfall.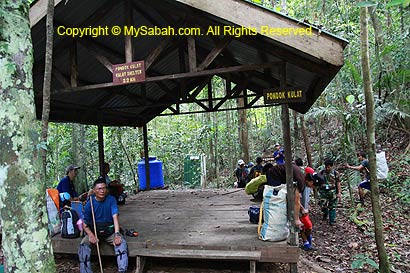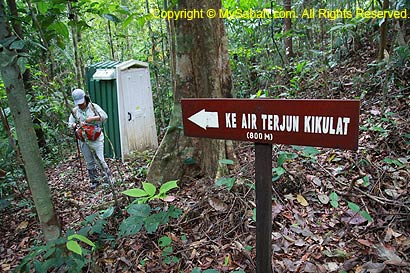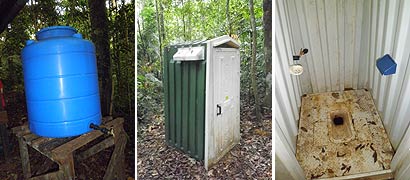 You may watch the 45-sec video of Kulat Hut:

Kera Shelter (KM4). The 2nd and also the last shelter. A shower area surrounded by canvas is found next to the water tank, but its pipe is not working. A wide and flat open space beside Kera Shelter is big enough to fit 3 to 4 camping tents, making this area a suitable camping site.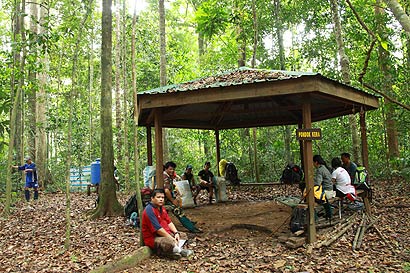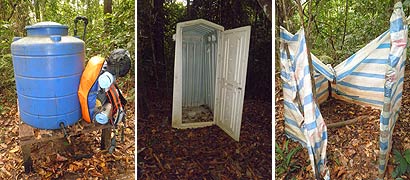 You may watch the 40-sec video of Kera Hut:

It's dry season so we didn't see many leeches, the little blood suckers that live in wet environment of rainforest. The trees are tall (30+ Meters) and many have huge buttress. The most interesting tree is the Seraya Putih trees with white-color trunk.
You may watch the 2-min video of the rainforest trees in Mt. Tambuyukon:

Camping at KM5
It is after KM4 where our hardship starts, the trail doubles in steepness and we were slowing down. We were supposed to camp at Wuluh Campsite (KM6), but had to stay at KM5 at 5pm, due to the vanishing daylight.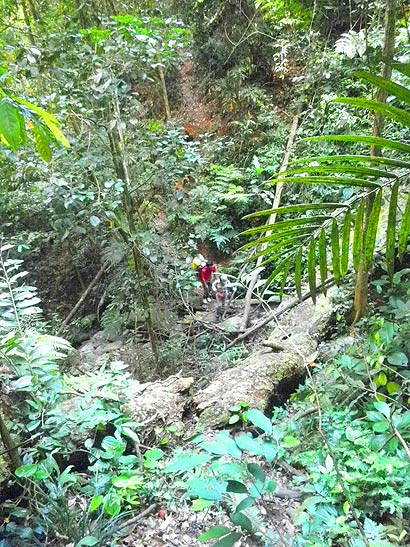 Above: view from KM5. The climbers are crossing a small stream
KM5 campsite is an irregular slope area with lot of shrubs and heavily foliaged ground. The area has less clearing and less suitable for camping. The only good thing is – a small stream is only a 30-second descending walk from the campsite, so most of us can take a shower that evening.
You may watch the 30-sec video of KM5 camp:
Our tour guides setup 3 dome camps for us and also cooked our dinner. Wood cutting is not allowed so they cooked with portable cooking stove. We had rice and porridge as dinner. No bench is available so we have to sit on the forest floor to enjoy our meals.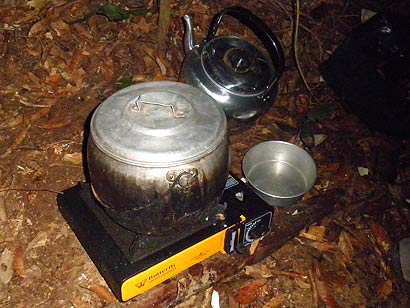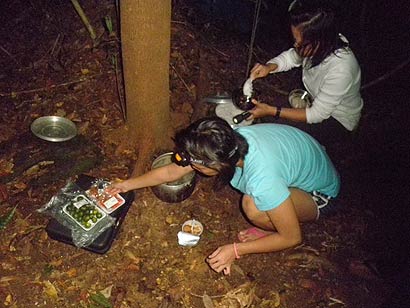 Without toilet, we have to do our business a distance away from our camp and river. This is the first time I digging a hole to do my number 2. I covered my "stuff" with soil and leaves, put a tissue paper on top as a marker, so others won't step on it. Luckily, leech is not around here during dry season, so my private part is safe from leech attack, haha.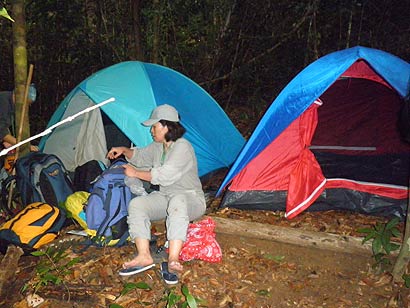 This is only day 1 so we went to sleep very early, hoping to fully recharge for the next 3 days. Due to painful toes and the loud snores in the camp, I didn't sleep well. In midnight, I heard my friend sleeping next to me talking in his dream. I turned over to other side, trying to ignore the noise. Then he talked louder and louder, to the level that he's like shouting and struggling. I quickly turned on the torchlight and he stopped shouting, opened his eyes and said "shit!". Seemed like he was having a nightmare. After the trip, he told us that he experienced incubus and he couldn't move his body, as if "someone" was pressing him. Spooky… many had told me that Mt. Tambuyukon is a place full of spirits.
More Photos
You may check out the photo album of Mt. Tambuyukon trip for more nice pictures: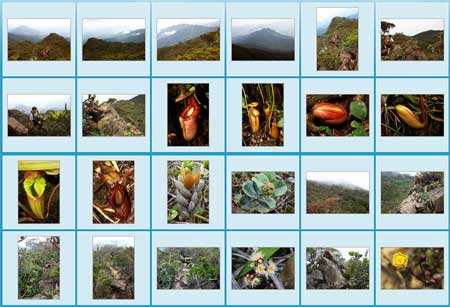 All Articles:
Part 1: Day 1. From Starting Point to KM5 (this article)
Related Posts:
Photos taken in Ranau, Sabah, Malaysia Borneo