DAY 2. From KM5 to KM10.8
---
We wake up at 7am to have chicken porridge as our breakfast and trekked 5KM to Musang Campsite (KM10.8) at 7:45am for day 2. Please refer to trail map for the location.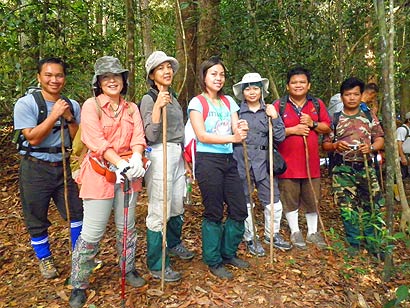 Wuluh Campsite (KM6)
KM5 to KM6 is mainly steep descending trail and we reached Wuluh Campsite (KM6) after an hour. Wuluh Campsite is next to Wuluh River and has large clearing that can house 4 to 5 camps.

If the mobile toilet and water tank there are not in bad shape, Wuluh Campsite can be the best camping spot on summit trail. We continued our climb after a brief stop at Wuluh Camp.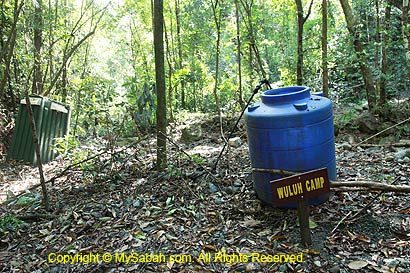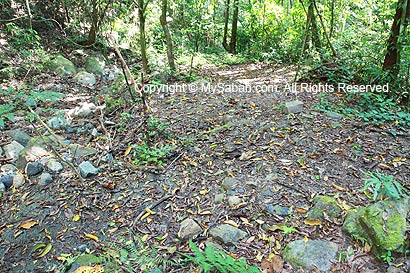 Above: Camping ground of Wuluh Campsite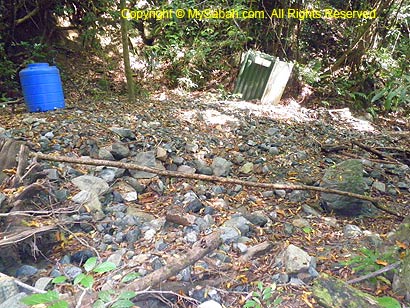 Below: Wuluh River next to the camp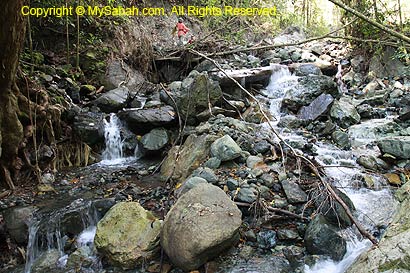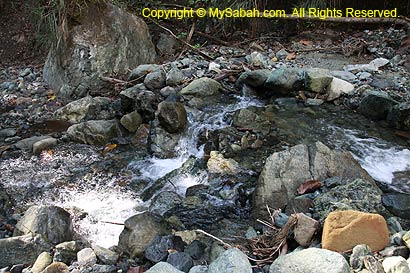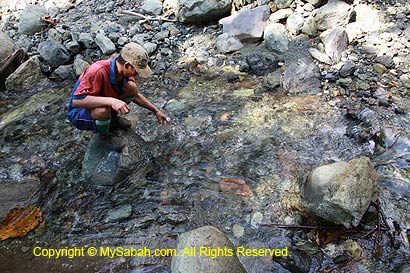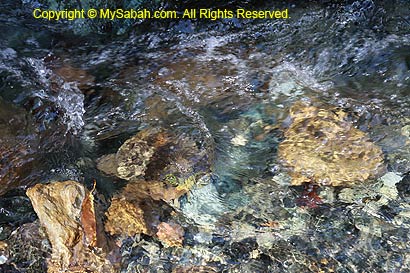 You can watch 1.5-min video below to see the surrounding of Wuluh Camp:

The undulating terrain between KM6 and KM7 was punishing and I was told that the narrow walk along the hillside at KM6.5 took a life of a foreigner who fell. We rest a while on a high point at KM7, then descended one hour to Kepuakan Campsite (KM8).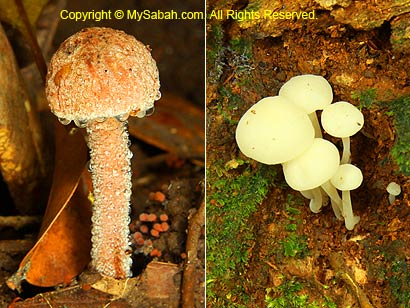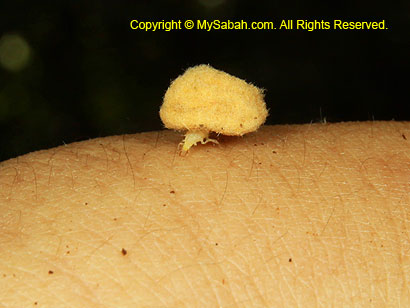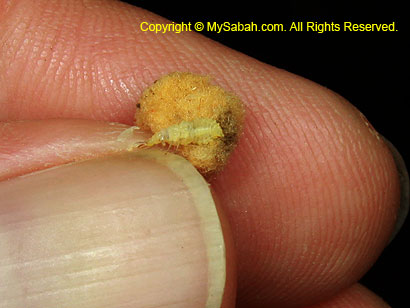 Above: probably an ant-snatching assassin bug that likes to pile stuffs behind its back to confuse preys and predators
Kepuakan Campsite (KM8)
Around 11:30am, we arrived Kepuakan Campsite, where we had Maggi instant noodle and fried rice as our lunch.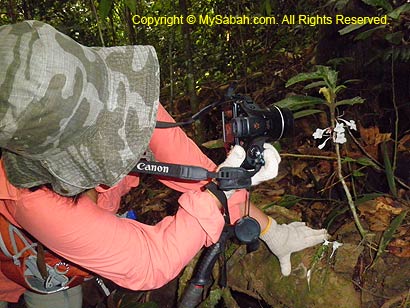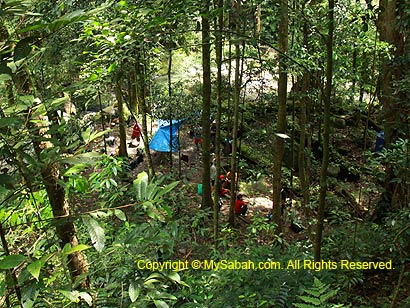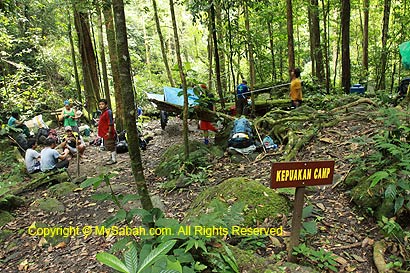 You can watch 1-min video below to see the surrounding of Kepuakan Camp: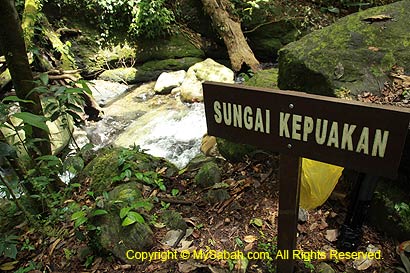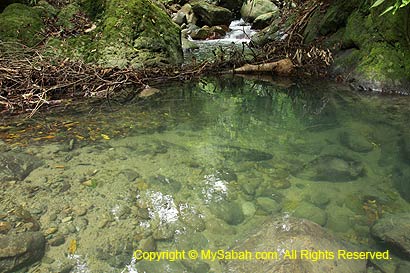 Above: Kepuakan River next to the camp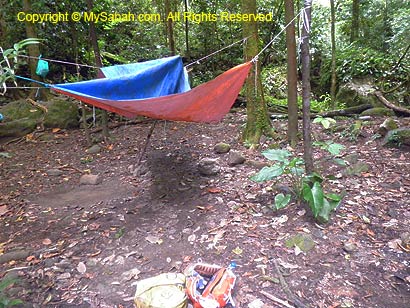 The Kepuakan River next to the campsite is bigger than Wuluh River, but the camping ground is a smaller area which can fit only 3 camping tents. Mobile toilet and water tank are available in the site. Gaining more energy from lunch and rest, we crossed Kepuakan River to head to Musang Campsite (KM10.8) at 12:30pm.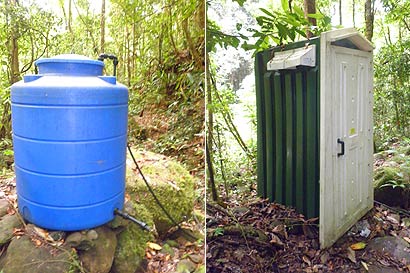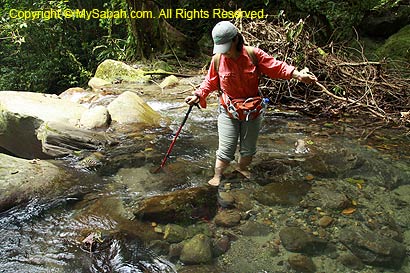 Above: Crossing Kepuakan River
Tough! KM8 – KM10
80% of the trail between KM8 and KM10 is over 50 degrees of steepness and the worst part for day two. The climb is twice the difficulty of previous day.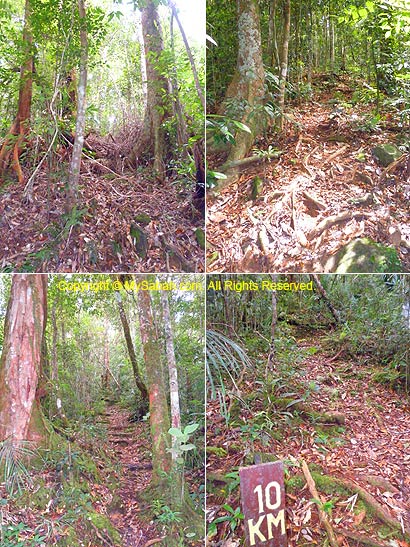 Things got better after KM10. The trail is relatively flat and the air is cooling and refreshing, as we reach 1,400M above sea level. From the misty air, mossy carpet and slimmer trees around, we can see the switch of hill forest to montane vegetation. 10 minutes later, we came to a junction that can take us to Serinsim Substation in Kota Marudu. According to the ranger, the journey to Serinsim takes 5 days.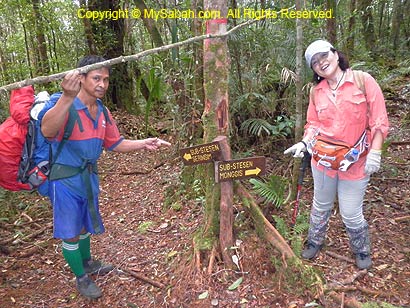 Above: Junction to Serinsim substation in Kota Marudu
We knew Musang Campsite was only a few hundreds Meters away so we speed up, then the ranger advised us to be cautious and stick to the right. Because a few steps to the left of the narrow trail is a sheer drop. A lady from Peninsular Malaysia fell here just a month ago and luckily stopped by trees from a fatal plunge.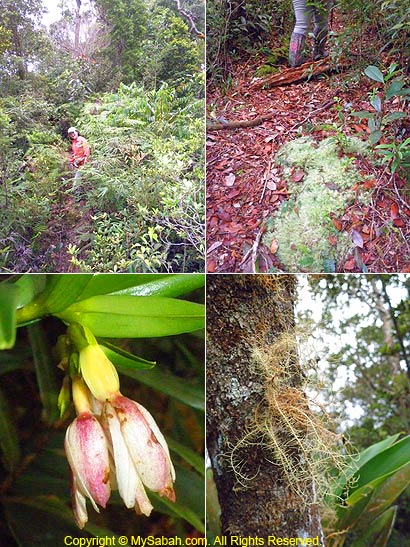 Above: Entering lower montane forest (above 1,000M)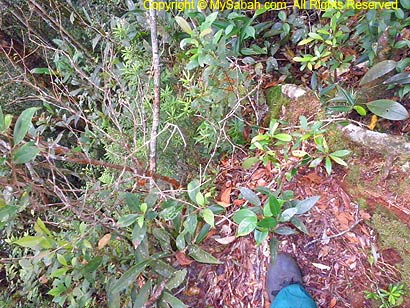 Above: I'm only one step away from the cliff at the left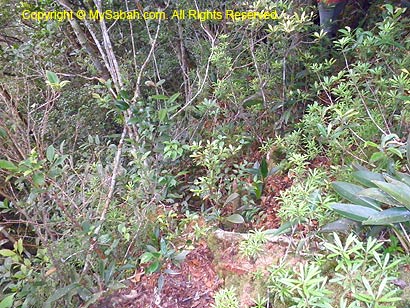 About 200M before Musang Camp, we were surrounded by 3 to 4 species of birds. Probably they never seen a human before, so they perched on the trees and made calls to us, as if they were asking who we were. I only can tell there were an Ashy Drongo and a Magpie Robin among them.
Musang Campsite (KM10.8)
Situated at 1,445M above sea level, Musang Campsite gets its name from the presence of civets around the site. Though the ground is not so wide and flat, Musang Campsite is quite spacious and able to host more than 4 camping tents on a long ridge that overlooks deep valley at both sides.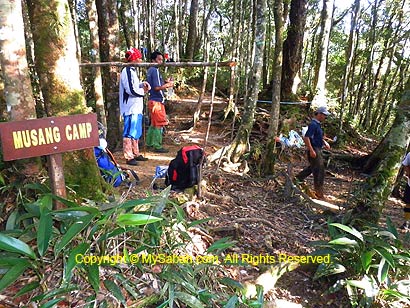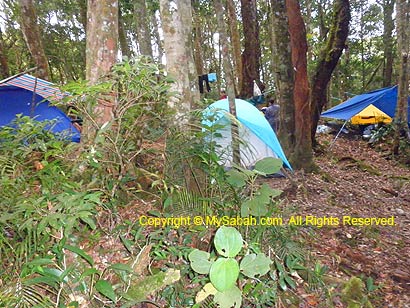 We overnight here on day 2 and 3. The canopy of montane forest is thinner, allowing more light to enter, so the surrounding is brighter here.
You can watch 1-min video below to see the surrounding of Musang Camp:

However, the only available water source is a small stream that requires 5 minutes walk on a steep descending trail (10 minutes to come back). I checked out the stream and found that its volume is only slightly better than tap water.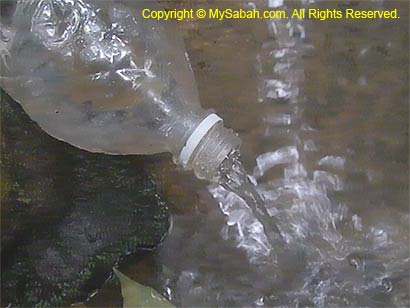 Climbers can take shower there by scooping water from a small pond, though icy cold but still bearable. May be leeches exist in this wetter area, so few are keen to come here. I also saw an abandoned mobile toilet and shower area not far from the stream.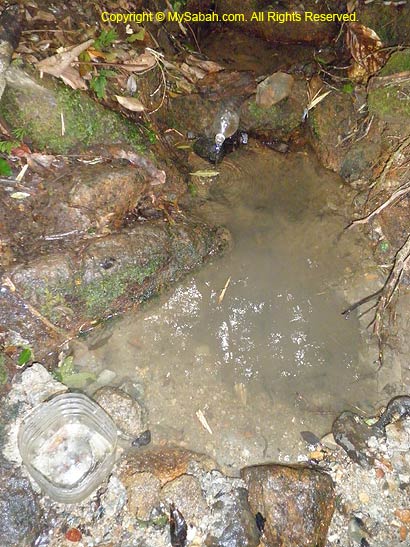 Above: small stream for taking shower (icy cold water)
You can watch 40-sec video below to see the stream: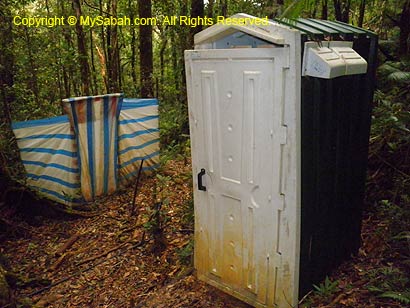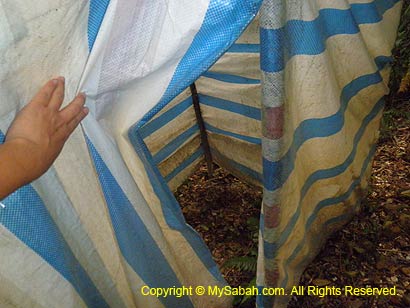 Above: check if any girl taking shower
Our makeshift toilet is 15-second walk from our camp. Basically it is just a deep hole with rotten wood plank cover on top, and 3-side surrounded by canvas as wall. The toilet is really smelly after everyone "contributes" their bit for 2 days.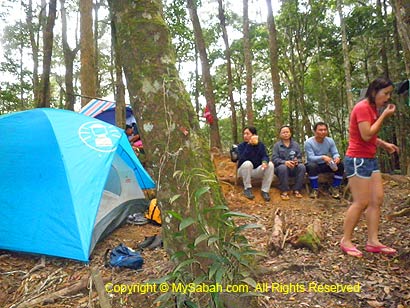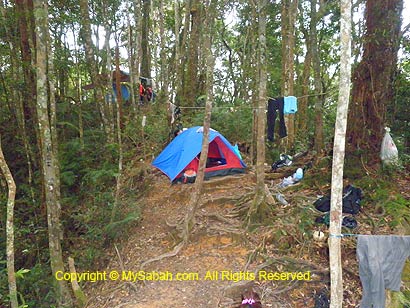 For dinner, we had rice served with dried anchovy fishes and mixed vegetables. It was a bit warm tonight and we were bitten by tiny sandflies (agas). The bites are very itchy and can last for days (The itches worsen if you scratch). There were a few leeches in the campsite, presumably brought in by porters who took water from the stream.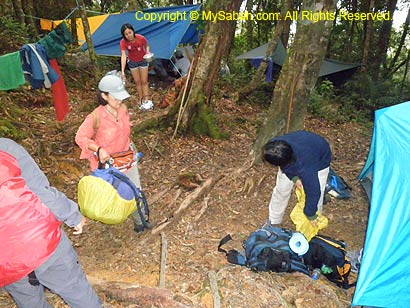 Tomorrow is the day to climb to the summit, so we went to bed earlier. The late night was windy, we heard loud rustling leaves and felt the howling strong wind shaking our tents. Mt. Tambuyukon is like a living monster that breathes.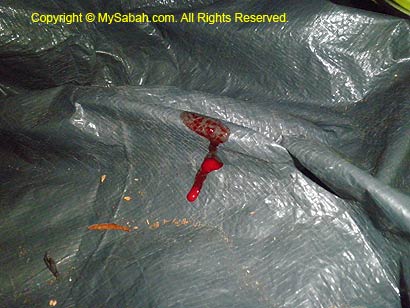 Above: someone bitten by leech and bleed inside the camp
More Photos
You may check out the photo album of Mt. Tambuyukon trip for more nice pictures: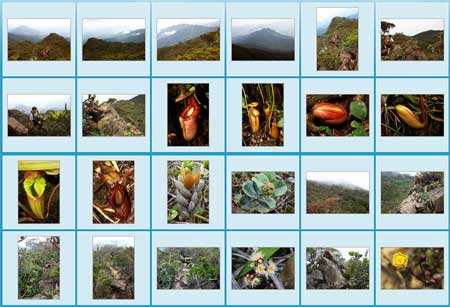 All Articles:
Part 2: Day 2. From KM5 to Musang Camp (KM10.8) (this article)
Related Posts:
Photos taken in Ranau, Sabah, Malaysia Borneo