Continued from Part 2… (Note: The trail & accommodation have improved a lot after 2014. Please check out my latest Guide on Climbing Mt. Trusmadi.)
Day 3
Though I didn't sleep well, my muscles were able to relax and recover. I advise climbers to invest in a good (=expensive) backpack that can spread the weight evenly, otherwise you would have back pain like me. Everyone waked up at 2am, after having some cookies and instant noodles (with curry meat, sardine and tuna) as breakfast, we packed and headed to the summit at 3am. If plan went well, we could reach the summit before 6am to watch the sunrise.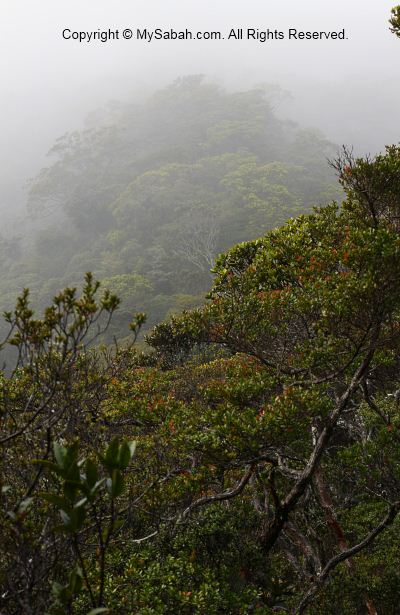 Conquering Mt. Trus Madi
The morning was total darkness. With the aid of LED headlight, I could only see a few feet in front of me. We were only 1.5 KM away from the summit, but most of the trail was over 50 degree of steepness. Certain section was impossible to climb without the help of ropes. My head even knocked on overhanging branches a few times. When I tried to grab anything along the steep trail to support myself, I felt a sharp pain and found that I grabbed on a thorny rattan. This sinister plant is so abundant along the trail to the summit.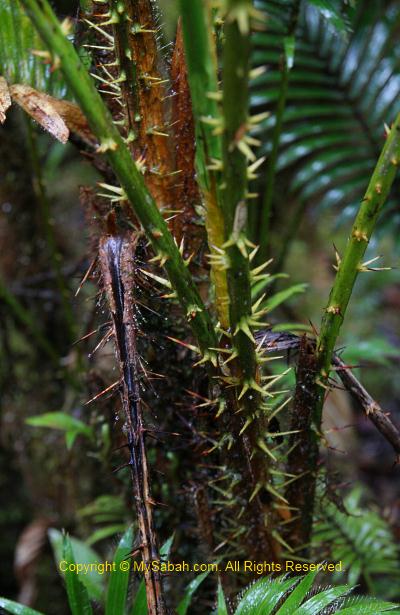 >> Click Here to see more photos of Mt. Trus Madi
With heavy camera, tripod, drinking water, etc., I had over 5Kg of weight on my back so I moved very slowly. Near the top of Taliban Peak, I could see the streetlight of Keningau town far away, it was so beautiful. Thanks to the stupid La Nina phenomenon, it has been raining all night and the trail became muddy and slippery. That's no way we could avoid contact with mud, so our pants were dirty.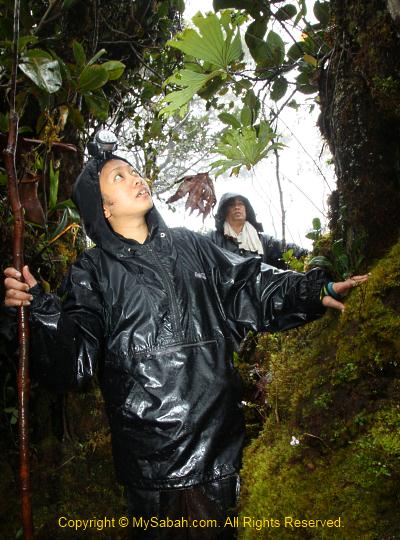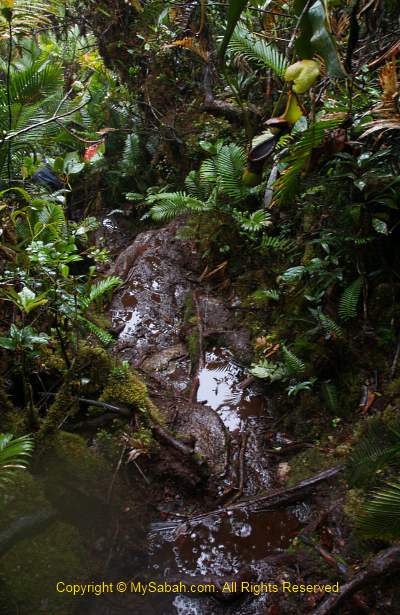 >> Click Here to see more photos of Mt. Trus Madi
Finally I reached the summit around 6:30am. I didn't feel excited. Instead, I was glad that it was over. I looked around and found that none of us was clean, our jeans were full of mud stains.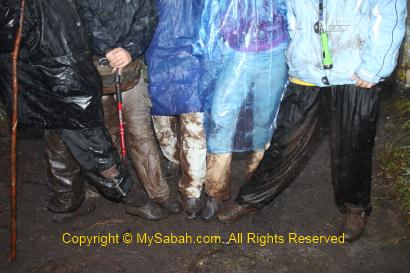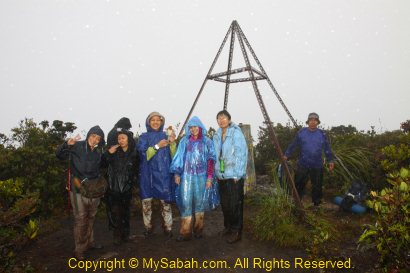 Above: group photo on the summit.
>> Click Here to see more photos of Mt. Trus Madi
Someone say climbers will be rewarded by the beautiful sunset and close view of Mt. Kinabalu (only 40 KM away). Due to the heavy rain and dense fog, we saw nothing. According to the book "Mountains of Malaysia" by John Brigss, Mt. Trus Madi has "The most beautiful mountains view in Malaysia".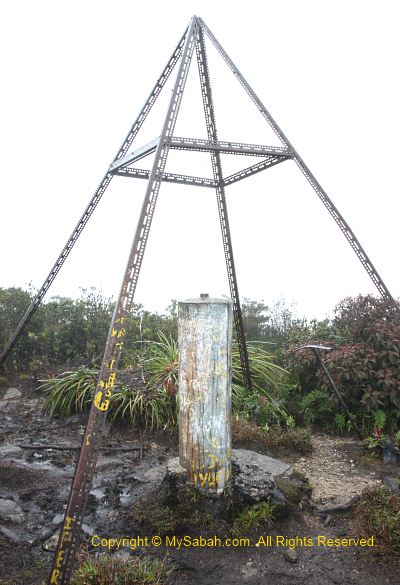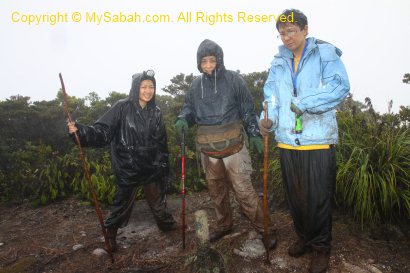 Above: a marker that divides Mt. Trus Madi into Tambunan and Keningau districts
Since we were there anyway, we took some happy faces group photos. FYI, due to a nearby repeater, your mobile phone may get full bar of signal. You can call your love one to say that you call her/him from the top of Mt. Trus Madi. It may sound romantic too if you jump off the peak to prove your love, lol. Or at least you can post an update to your Facebook or Twitter.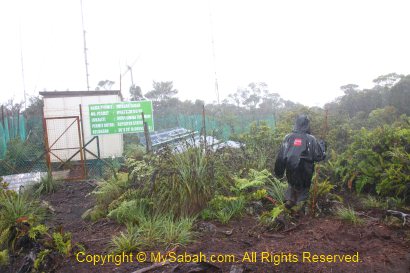 Above: Yayasan Sabah repeater. Some say this area is haunted by spirit of a porter who died of malaria
The Summit
The guide showed us a unique plant (Melastoma minahanse) below, it is only found on Mt. Trus Madi and Papua New Guinea. Apart from Myrtaceae, the summit vegetation is dominated by small, leathery-leafed shrubs such as from the families of Ericaeae, Theaceae, Podocarpaceae.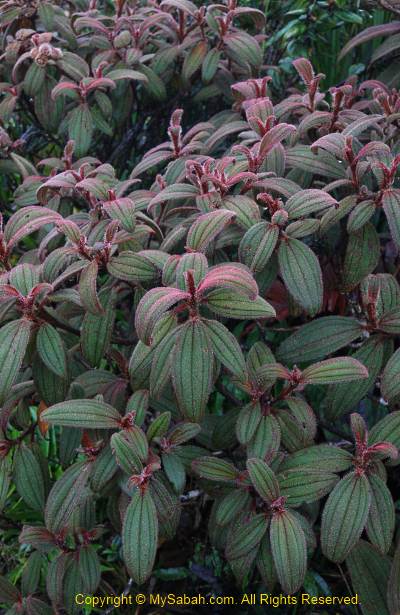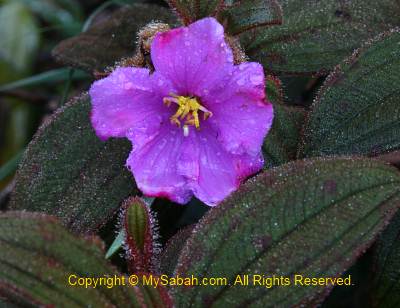 Above: Melastoma minahanse, this plant only found in Trus Madi and Papua New Guinea
>> Click Here to see more photos of Mt. Trus Madi
The most special plant community of Trus Madi is the scrub community on the summit. The mix of the montane and subalpine species growing on the summit is unique to Mt. Trus Madi. The shrub species that occur separately as montane and subalpine elements on Mt. Kinabalu are condensed into the same habitat on Trus Madi, and this results in such high species richness. Such coexistence of ecologically divergent species is not found on Mt. Kinabalu!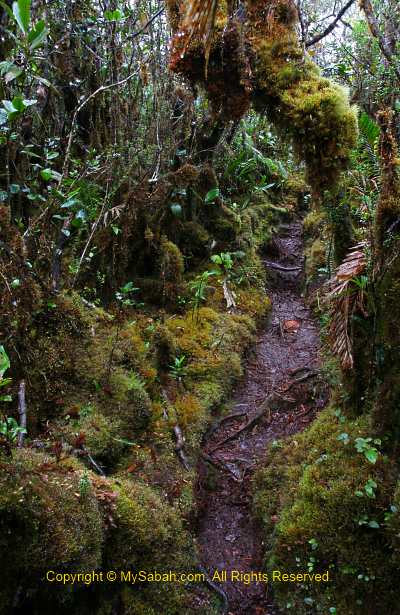 Descending
We only stayed about 20 minutes on the summit, then we descended to the cabin. I was not in a mood to rush home, so I walked slowly and took photos on the way. The mossy jungle of upper montane forest looked like an alien world, as one said, we were like entering the world of "Lord of the Rings" movie. Characterized by persistent, frequent or seasonal low-level cloud cover, this moist forest is part of the cloud forest zone. You can see abundance of mosses covering the ground and vegetation, so it is also known as mossy forest.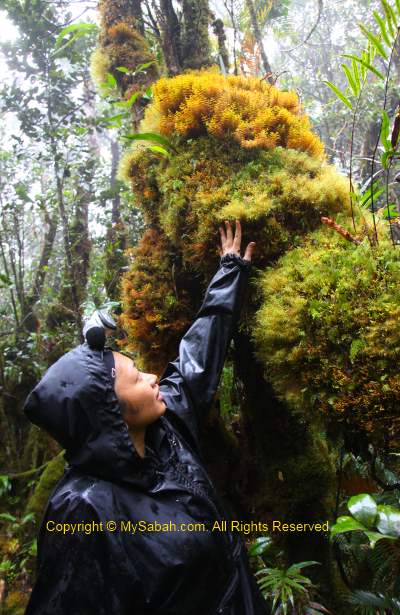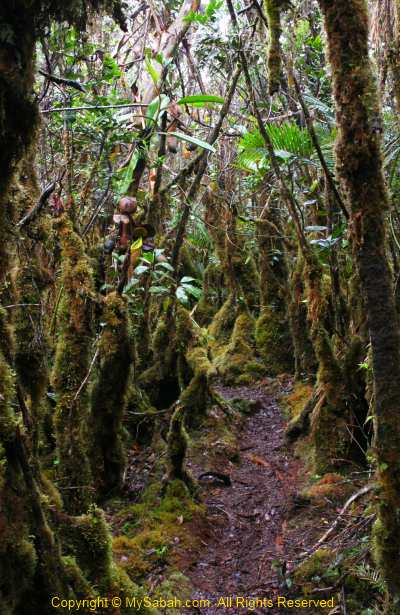 >> Click Here to see more photos of Mt. Trus Madi
I also photographed some orchid and rhododendron flowers that are only found in higher altitude. The flowers look so nice with raindrops on them. I was told that a Proboscis Monkey was once spotted at 2,000 M above sea level. That's so unusual, as this monkey only lives around mangrove forest.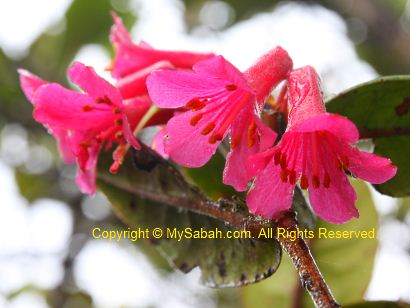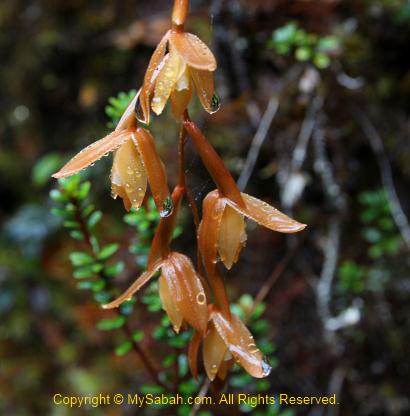 >> Click Here to see more photos of Mt. Trus Madi
Endemic Pitcher Plant
You must check out the Nepenthes macrophylla pitcher plant here, which is a montane species endemic to the upper slopes of Trus Madi. There are so many of them along the trail from summit to the cabin, like a pitcher plant garden.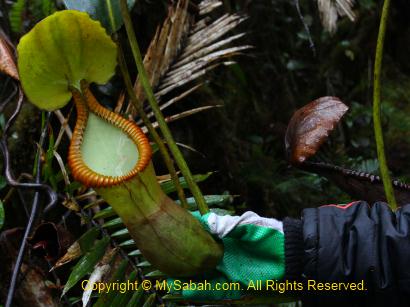 Later we found a Nepenthes xTrusmadiensis pitcher plant on top of a tree near our cabin. Limited to summit ridge from elevations of 2,500 to 2,600 M, Nepenthes xTrusmadiensis is the natural hybrid of Nepenthes lowii and Nepenthes macrophylla. Sadly, this biggest hybrid species is under threat and getting scarce, because tourists pluck them.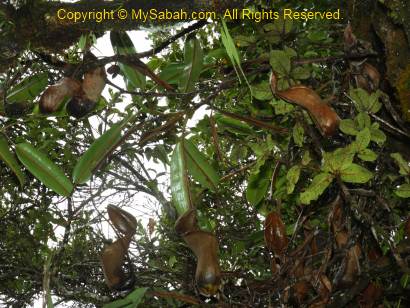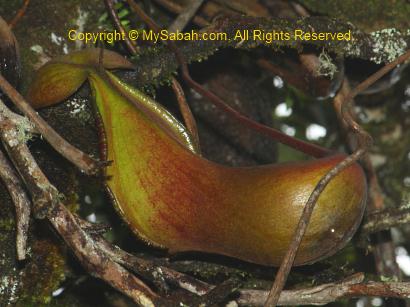 Above: Nepenthes xTrusmadiensis on the tree
>> Click Here to see more photos of Mt. Trus Madi
We packed our stuffs and left the cabin at 10am and descend to the starting point. The rain has stopped and we could get a clear view of the surrounding mountains. Trus Madi Range is 80 KM in length, so long and vast that it covers Tambunan, Keningau and Ranau districts. The misty mountain range of Mt. Trus Madi looks like the backbone of a huge green dragon starts and ends in nowhere. I missed this view the previous day due to the dense mist and heavy rain, so I kept shooting photos.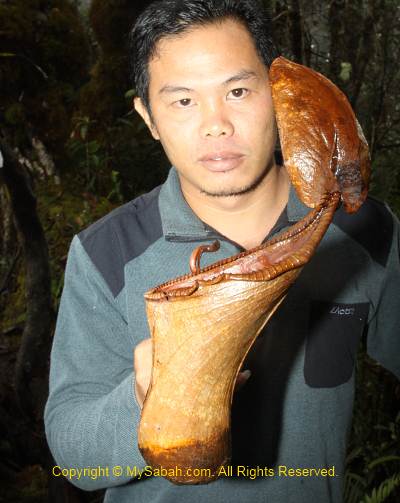 Above: Nepenthes xTrusmadiensis (hybrid of Nepenthes lowii and macrophylla)
>> Click Here to see more photos of Mt. Trus Madi
Going Home
I took more than 5 hours to reach the starting point of Mt. Trus Madi from the cabin (3.4 KM). When I was about 30 minutes to the Starting Point, I heard a lady screamed in front. But there was no person in front of me. I ran quickly to check but found nobody. The scream was so loud and clear, so I am sure it was not an illusion. Some say the jungle spirit played a trick on me when I was alone. It still remains as a question mark to me.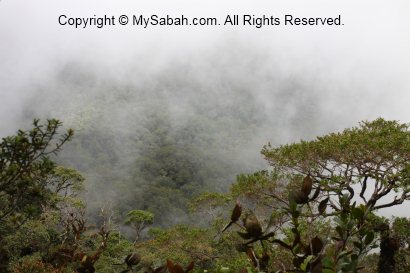 >> Click Here to see more photos of Mt. Trus Madi
Whatever, I was back home in one piece later. Weeks later I was informed by one of the lady climbers that she was pregnant during the climb (she also didn't know). Phew… that makes me sweat.
May be Mt. Trus Madi does not have astonishing and magnificent landscape like Mt. Kinabalu, but its pristine and unique flora beats Mt. Kinabalu. In fact, Mt. Trus Madi has the potential to become the next UNESCO World Heritage Site of Sabah. It is a must-go for nature lovers.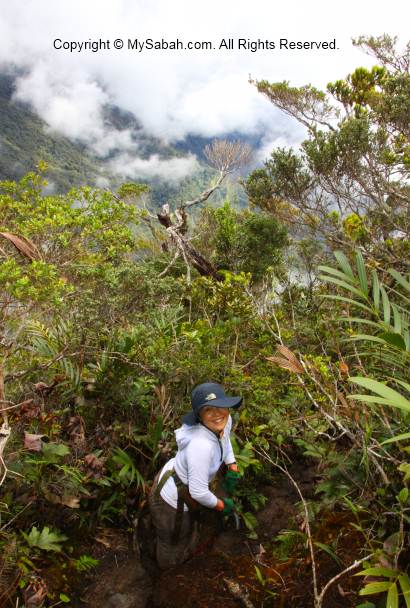 Lastly, a special thanks to our ethnobotanist guide, Julius Kulip, for identification of the plant species and being our nice company. Julius is one of the few plant experts who is very knowledgeable about Trus Madi and even wrote a few publications about it. I also used some of his info in this blog.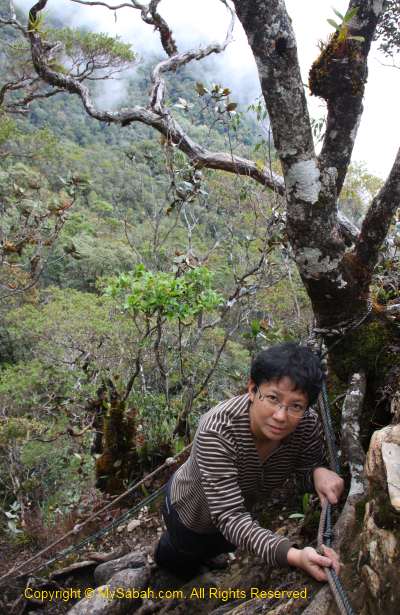 >> Click Here to see more photos of Mt. Trus Madi
If you are interested in climbing Mt. Trus Madi, the info below might be useful for you.
Planning the Climb
Mt. Trus Madi is a Class 1 protected forest reserve (FMU 10) managed by the Sabah Forestry Department, so you need to apply for the permit to climb. Please note that only a maximum of 16 people (include guide & porter) are allowed to overnight on the mountain every day, so you may need to book the date earlier. Sabah Forestry Department will charge various fees such as Entry Permit, 4-Wheel Drive entry permit, forestry guide, certificate, etc. The rate is higher for foreigner tourists.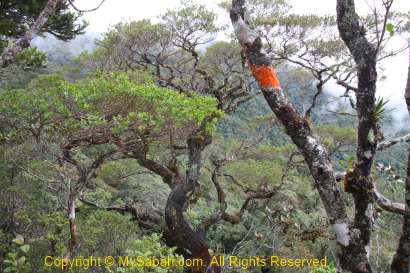 >> Click Here to see more photos of Mt. Trus Madi
One Forestry Guide is required (compulsory) for every 5 or less climbers. For example, you need to hire two forestry guides if you have 7 people in a group. The Forestry Guides are not Tour Guides, they only monitor the tourists (some tourists like to steal the precious Gaharu wood and rare orchids in Trus Madi forest) and take care of their safety.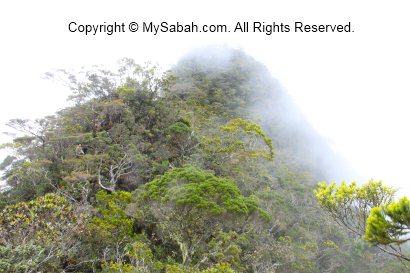 Working out the budget is a difficult task. Fortunately, the tour operator can register and pay Forestry Department on your behalf, but for a service fee. Usually the tour operator provides the 4-wheel drive transport (a must), 1-night accommodation in Tambunan town, tour guide, insurance, porters and cook, so the cost can vary, depending on what you need and how big is your group (minimum 3 persons. bigger group can get better rate).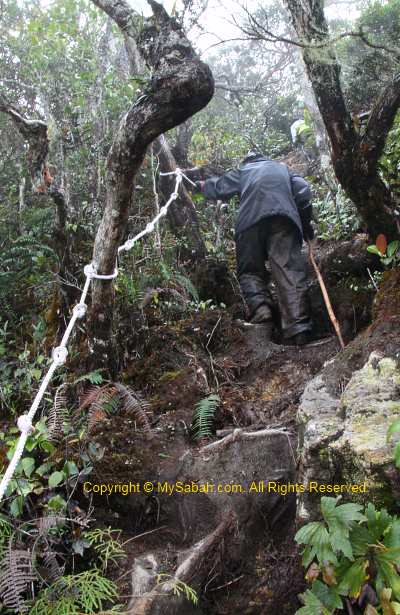 >> Click Here to see more photos of Mt. Trus Madi
You can contact TYK Adventure Tours (Tel: (60 88) 232821 / 238702, email: tykadto@gmail.com, website: www.tykadventuretours.com) directly for the tour package.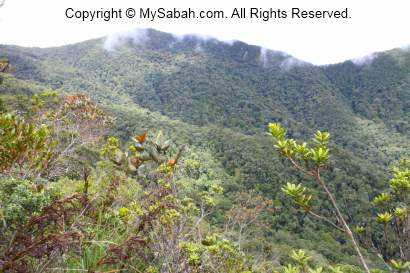 >> Click Here to see more photos of Mt. Trus Madi
Though you can hire porter to carry your bag, you better improve your physical fitness by exercise regularly before the climb. If you think climbing Mt. Kinabalu is hard, don't even think about Mt. Trus Madi!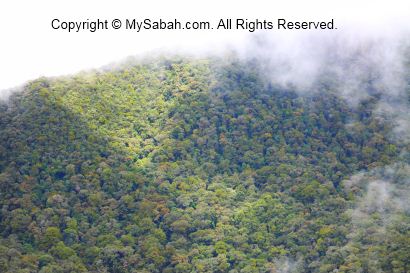 >> Click Here to see more photos of Mt. Trus Madi
Things to Bring
Sleeping bag (temperature can drop to 10°C at night)
Backpack (with rain cover)
Raincoat / poncho
LED Headlamp
Warm clothing such as wind breaker / jacket / sweater
Spare clothing & small towel (in case you get wet or dirty)
Hand gloves (for climbing with ropes)
Water (1 Litre): you can refill water in resting hut and cabin, so don't carry too much (heavy!).
Toilet paper
Food & Cooking Utensils such as portable gas stove and pot (if you cook your meal)
Dining set (spoon, plate, cup)
Camera & spare batteries
Comfortable trekking shoes (Addidas Kampung rubber shoe is the best!)
Plastic bag (to store rubbish. Leave nothing behind!)
Optional: trekking pole, medicines (for headache, minor wound), deep heat spray (relieve muscle pain), energy bars, rehydration salt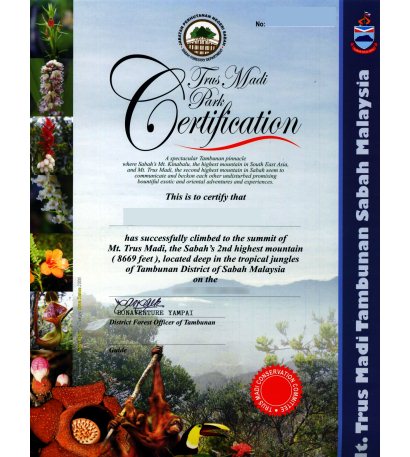 Above: for climbers who make it to the top, they will earn a beautiful certificate issued by Sabah Forestry Department
>> Click Here to see more photos of Mt. Trus Madi
The lighter your bag is, the better. In long hours of climbing, every pound counts. You can hire a porter to carry your bag (up to 20 Kg) for about RM150 to 200 per trip. If you spend a night in Tambunan, you can leave those unnecessary things such as used clothing behind.
Good Luck!
Photos taken in Tambunan, Sabah, Malaysia Borneo