Kinabalu Park (Local Name: Taman Kinabalu) or Kinabalu National Park is the No.1 choice if you ask tour agents what's the most recommended attraction in Sabah. Standing at 4,095.2 Metres (13,435 Feet) in Kinabalu Park, Mount Kinabalu is the highest mountain of Malaysia and in travel list of Malaysia climbers. Besides being a must-visit destination of Sabah, the pleasing temperature from 15°C to 24°C (60°F – 78°F) already draws a lot of tourists to this highland park in Kundasang / Ranau district.

To get the best experience from this UNESCO World Heritage Site (and UNESCO Global Geopark), here is a complete travel guide to show you the top things to do in Kinabalu National Park.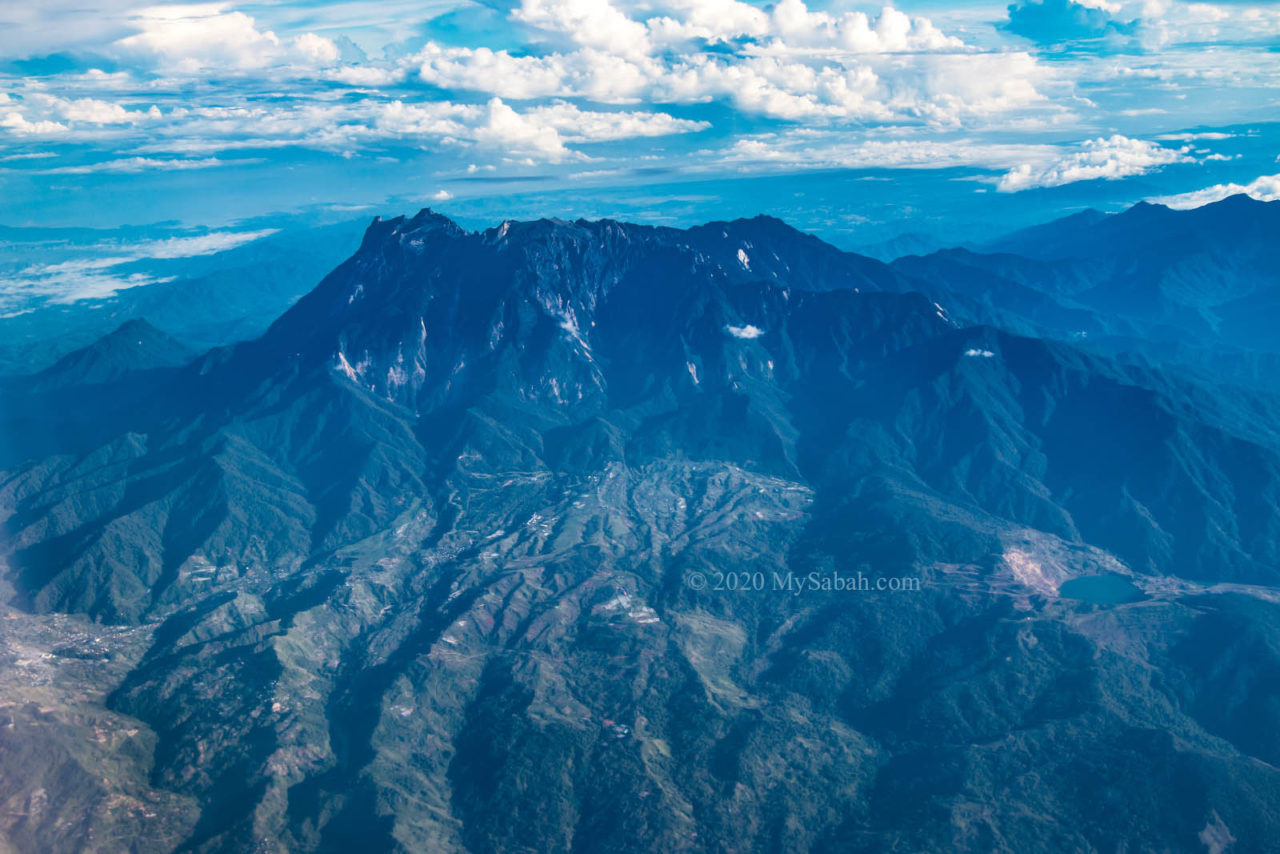 About Kinabalu Park
Kinabalu National Park covers an area of 754 square kilometres and became Malaysia's first UNESCO World Heritage Site in December 2000 for its outstanding universal values in terms of biodiversity. Kinabalu National Park is out of the world because of its many unique features not found in other parts of Malaysia.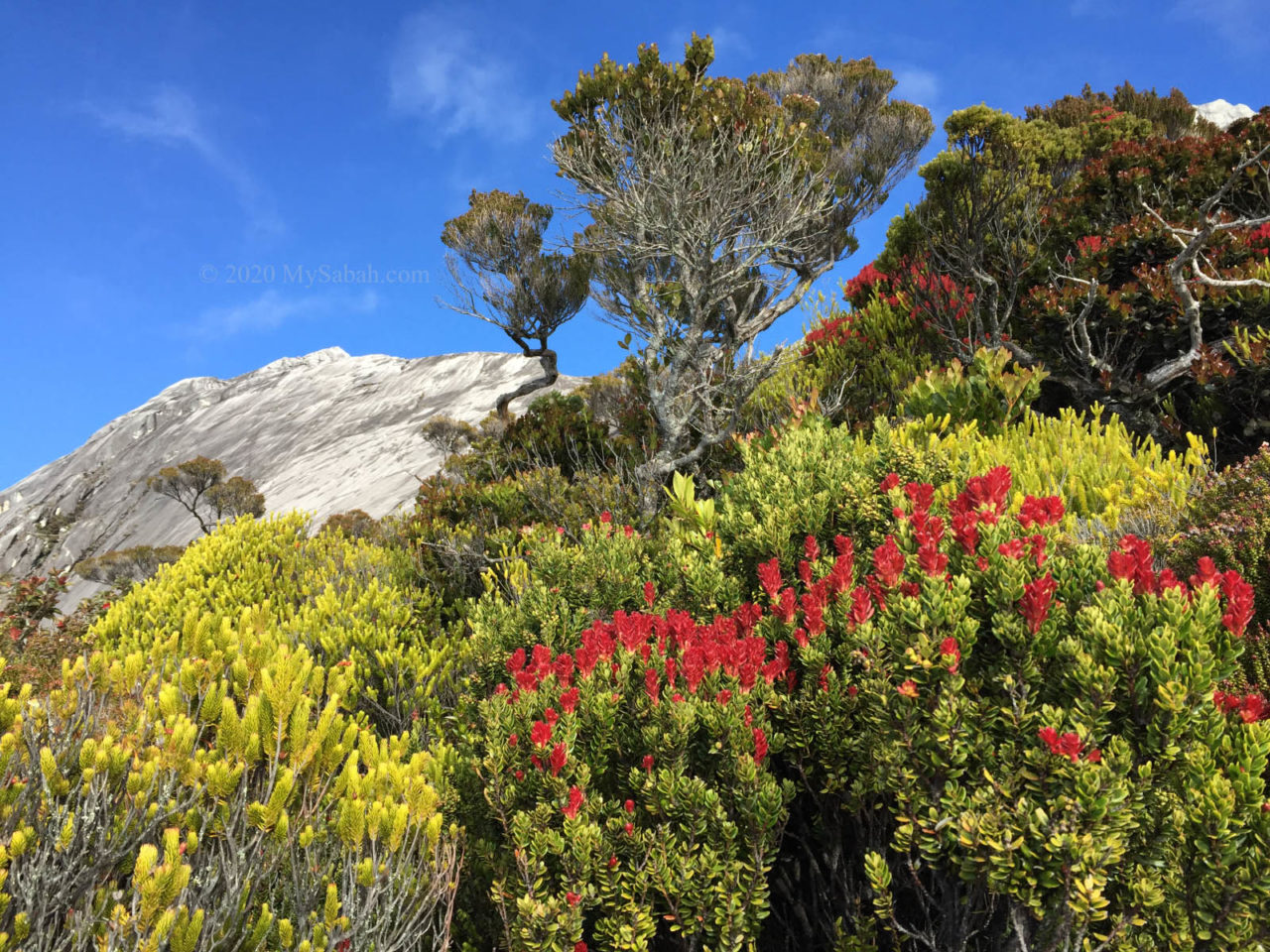 10 Cool Things about Kinabalu Park
Mount Kinabalu is one of the most beautiful nature attractions of Malaysia and an icon of Sabah.
Kinabalu Park is hotspot of Borneo megadiversity that hosts more than 4,500 species of flora and fauna. Some are not documented.
The largest pitcher plant in the world is Nepenthes rajah, which can trap a rat and only lives in Kinabalu National Park.
Kinabalu Park is bigger than Singapore.
About 1,000 orchid species are found here, and over 12% are endemic species.
Located at 3,272 metres above sea level, Panalaban (Laban Rata) has the highest accommodation and highest post box in Malaysia.
Rafflesia keithii, which can grow up to one metre in diameter, is the largest flower of Sabah.
Mount Kinabalu has distinct vegetation zones in different altitude, for example, lowland dipterocarp forest, montane forest and subalpine zone (only found in Sabah).
Kinabalu Park is a top birdwatching site.
Many interesting Borneo wildlife live in Kinabalu Park, to list a few, Wallace's Flying Frog, Ninja Slug that shoots love darts.
"Kinabalu is a scenic wonder, a test for mountaineers from the amateur to the skilled rock climber, a holiday from the hot lowlands, and botanically a paradise." — E.J.H. Corner
Kinabalu Park Headquarter
The starting point of all activities in Kinabalu Park is its Sabah Parks headquarters in southern boundary, situated at 1,563 metres (5,128 feet) above sea level in Kundasang. It is accessible by driving nearly 2 hours for about 89 Kilometres, from Kota Kinabalu on the road in good condition. You can walk to most facilities and accommodation from the headquarter, or drive inside the park.

Next to the ticket booth at the entrance, the administration building consists of reception counter for guests to check-in to their accommodation in Kinabalu Park, and registration counters for climbers to register and make payment. In early morning, you would see climbers gather around this area to meet their mountain guides and porters for final preparation, before they are transferred by vehicle to Timpohon Gate, the starting point of the climb about 5 KM away.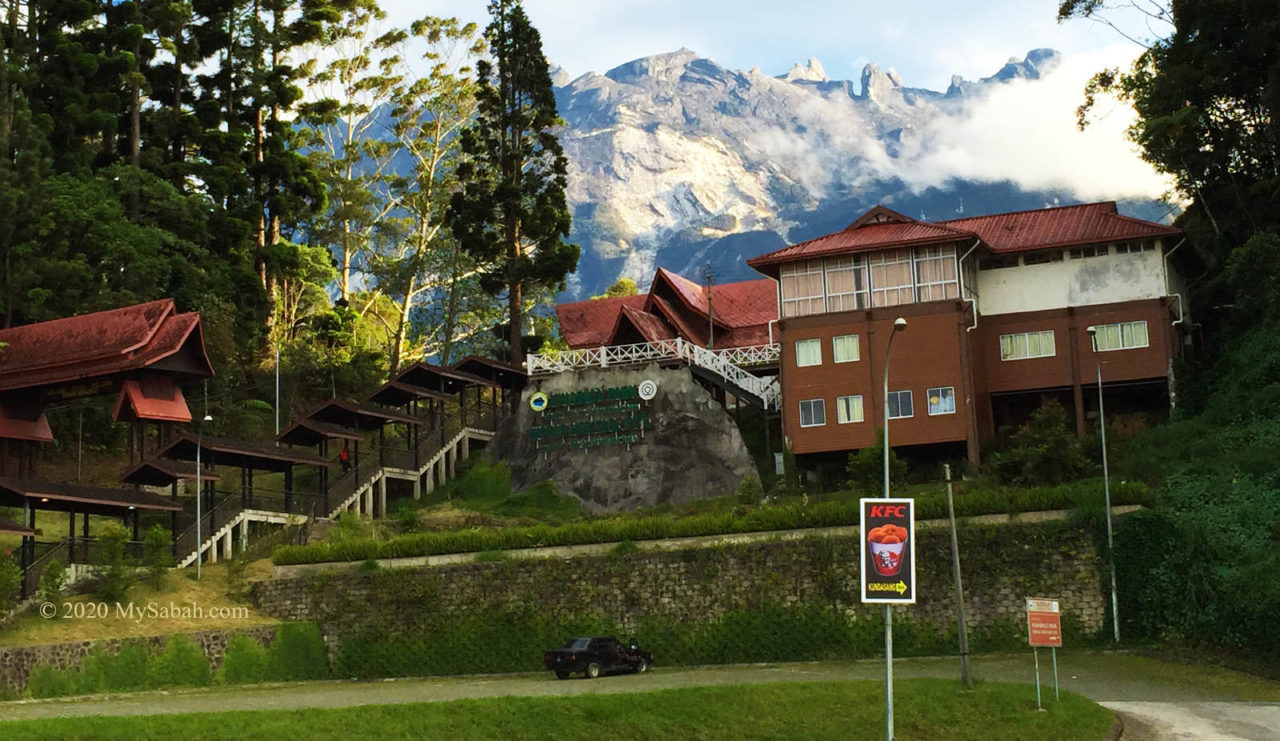 There are two restaurants, Liwagu Restaurant and Balsam Cafe, which serve western and oriental food, in buffet and ala carte style. The food is great but a bit expensive. More economic choices are available just outside the park.
Top Activities at Kinabalu Park
Besides Mt. Kinabalu, the recreational and accommodation zones inside the park offer a wide range of nature-based activities to nature lovers, whether they want something leisure or adventurous.
1. Climbing Mount Kinabalu (Gunung Kinabalu)
Conquering Mount Kinabalu is the highlight. More than 45,000 tourists climb this granite mountain every year, and most of them love the scenery and challenge. The view along the summit trail is breathtaking. Imagine the feeling you stand above the cloud like the king of the world. It's really a once in a lifetime experience.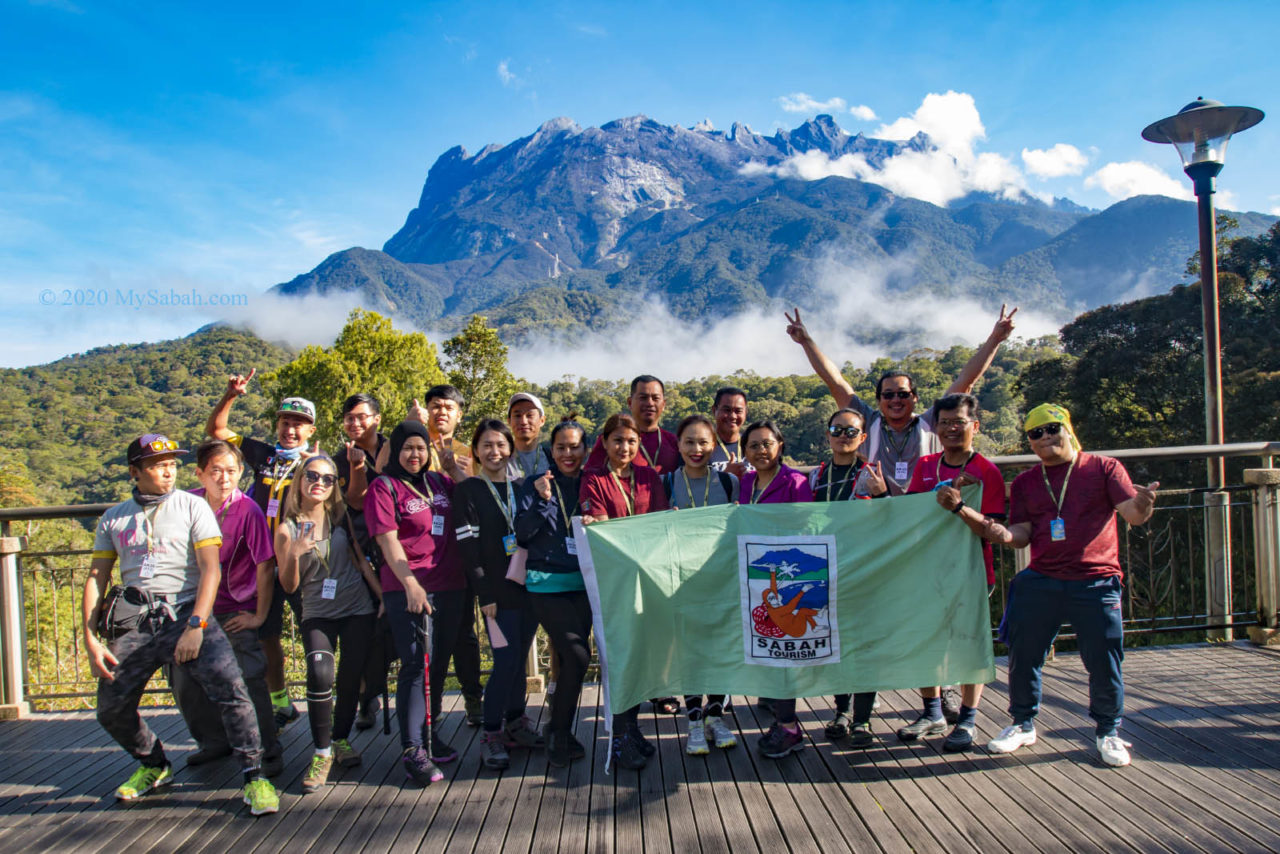 Normally the climb takes two days and one night. In day one, you ascend 6 KM to Panalaban (previously known as Laban Rata), where you spend a night, then continue the last 2.7-Kilometre climb to the summit at 2am next morning. The accommodation on the mountain is always full, so you must book 6 months in advance. For Sabahans, they can register with Sabah Parks. For other climbers, they can book the climb with Sutera Sanctuary Lodges.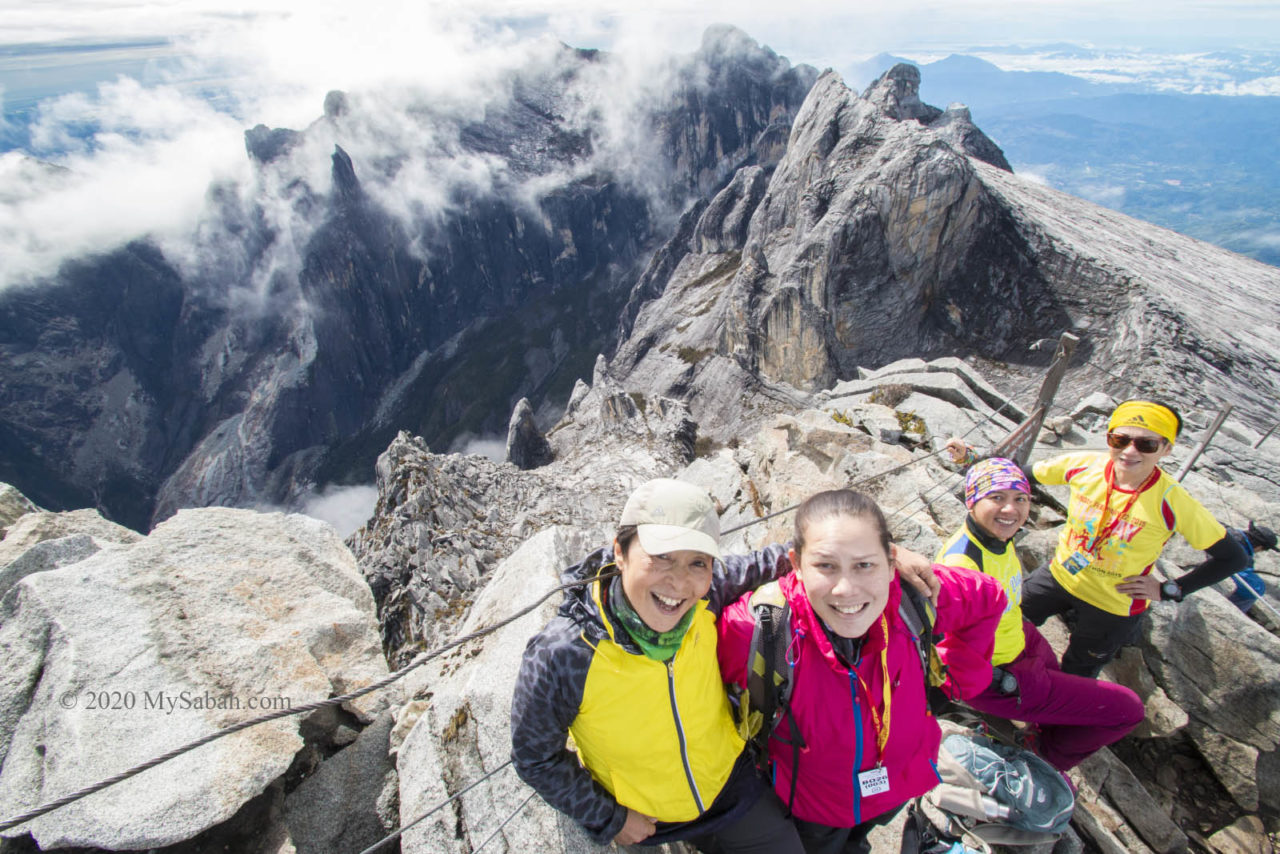 FYI, you can send a postcard from the highest postbox of Malaysia at Panalaban. » Read more about How to Climb Mount Kinabalu.
Via Ferrata
For those daredevils who are not afraid of height and want more spectacular view, the must-try is Mountain TORQ, the world's highest and Asia's first Via Ferrata. Put on the gears and take the 'iron road' at 3,200m to 3,800m above sea level to move to the peak. Or you may sign up for an alpine rock climbing course too.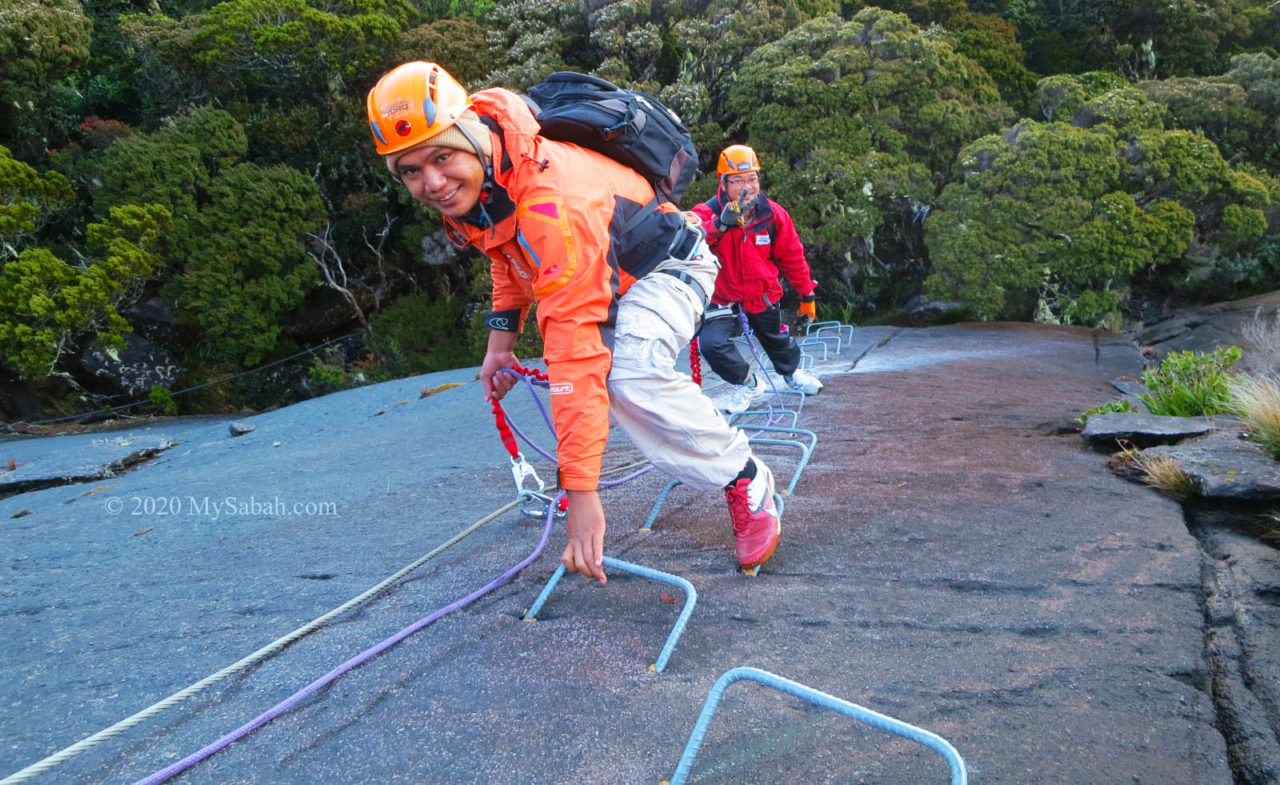 2. Hiking / Jungle Trekking
Kinabalu Park is more than just Mount Kinabalu. What makes Kinabalu Park truly shines are the eco-treasure in its forest. There are 326 bird and around 100 mammal species live in Kinabalu Park. In the vicinity of Kinabalu Park Headquarter is dense lower montane forest, a mossy cloud jungle which looks like an alien world.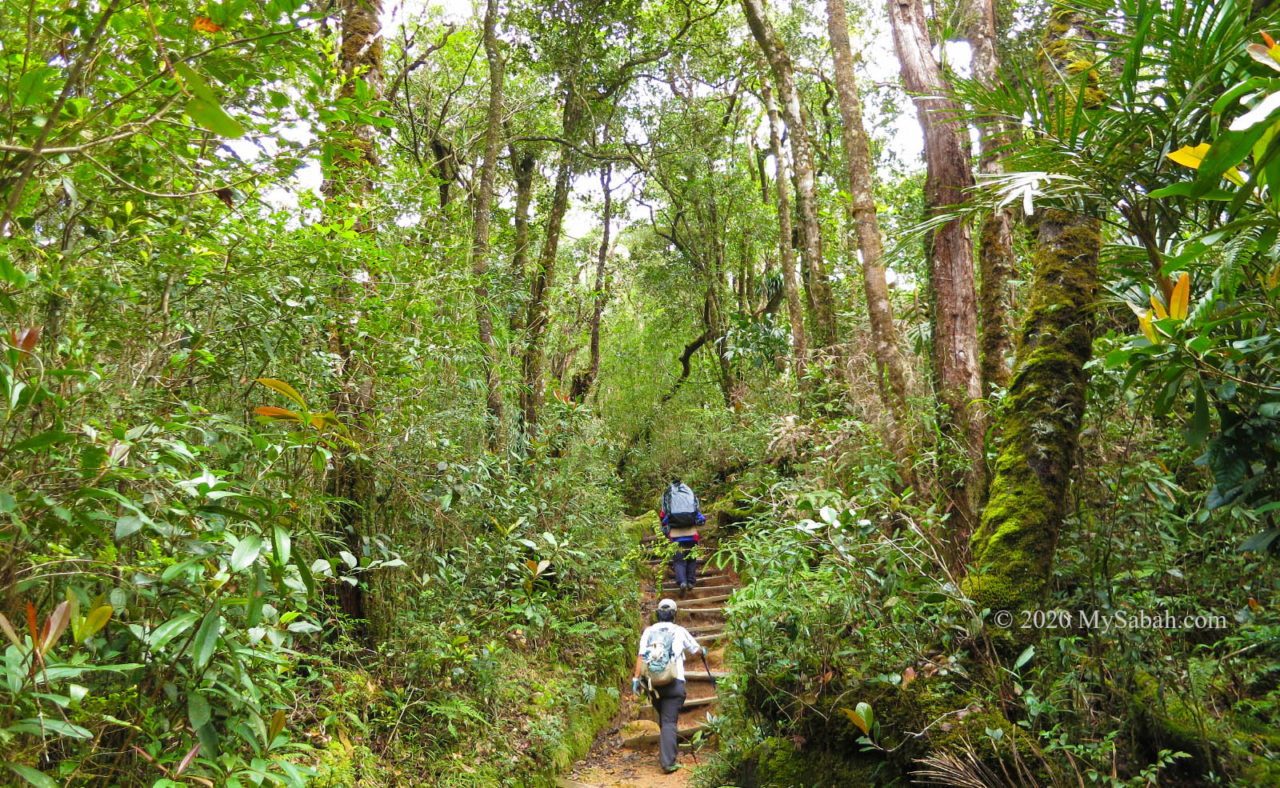 Walk into this playground of naturalist and plant enthusiasts and you would spot animals such as mountain squirrel, gliding lizard, lantern bug, pitcher plant, rhinoceros beetle and trilobite; and endemic plant such as pink Kinabalu Balsam, gigantic tree fern, snowy white Borneo Rhododendron and jewel orchid.
Nature Trails of Kinabalu Park
You are free to explore the nine nature trails in Kinabalu Park HQ, which take 15 minutes to three hours one way. For a casual walk, Personally I recommend Silau-Silau trail that starts from Multi-Purpose Hall. Liwagu Trail (5.5 KM one way) is the longest but the most rewarding. If you want the shortest trail, Bundu Tuhan View Trail is only 224 metres one way.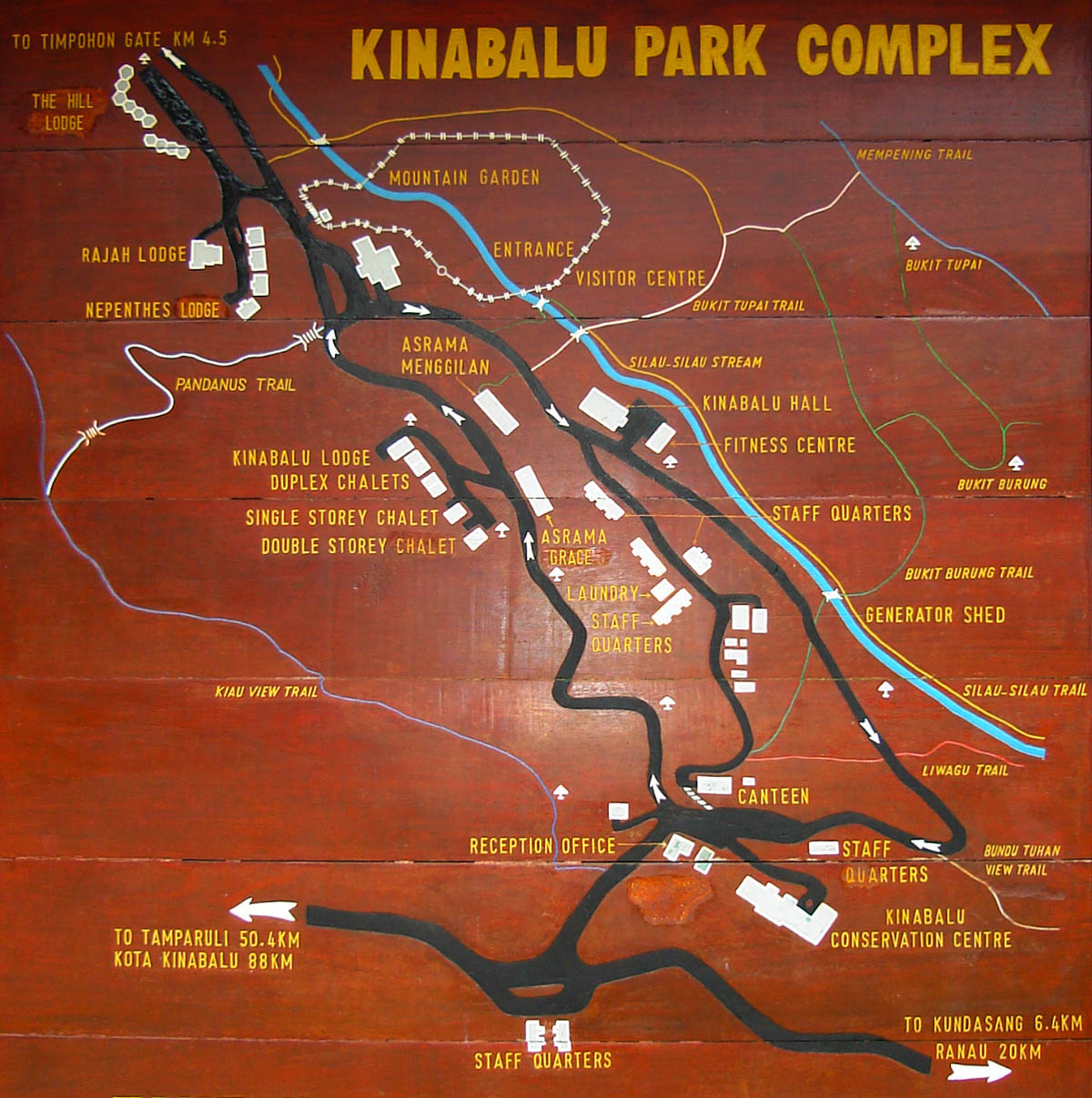 A few trails such as Bukit Ular has leeches, in case you mind. Hire a knowledgeable tour guide to go with you, they are good at spotting birds and critters. » Read more about Jungle Trekking in Kinabalu Park
Bird Watching
Kinabalu National Park is internationally recognized as an Important Bird Area (IBA), especially for mountainous (montane) birds, a total of 58 species with 17 are endemic, and 262 of other residents bird species. Take a binocular and walk in Silau-Silau and Bukit Tupai trails in the morning, you would spot special birds such as Bornean Treepie and Chestnut-crested Yuhina. Sometimes you would find a group of Crimson-headed Partridge (wild chicken) forages next to you.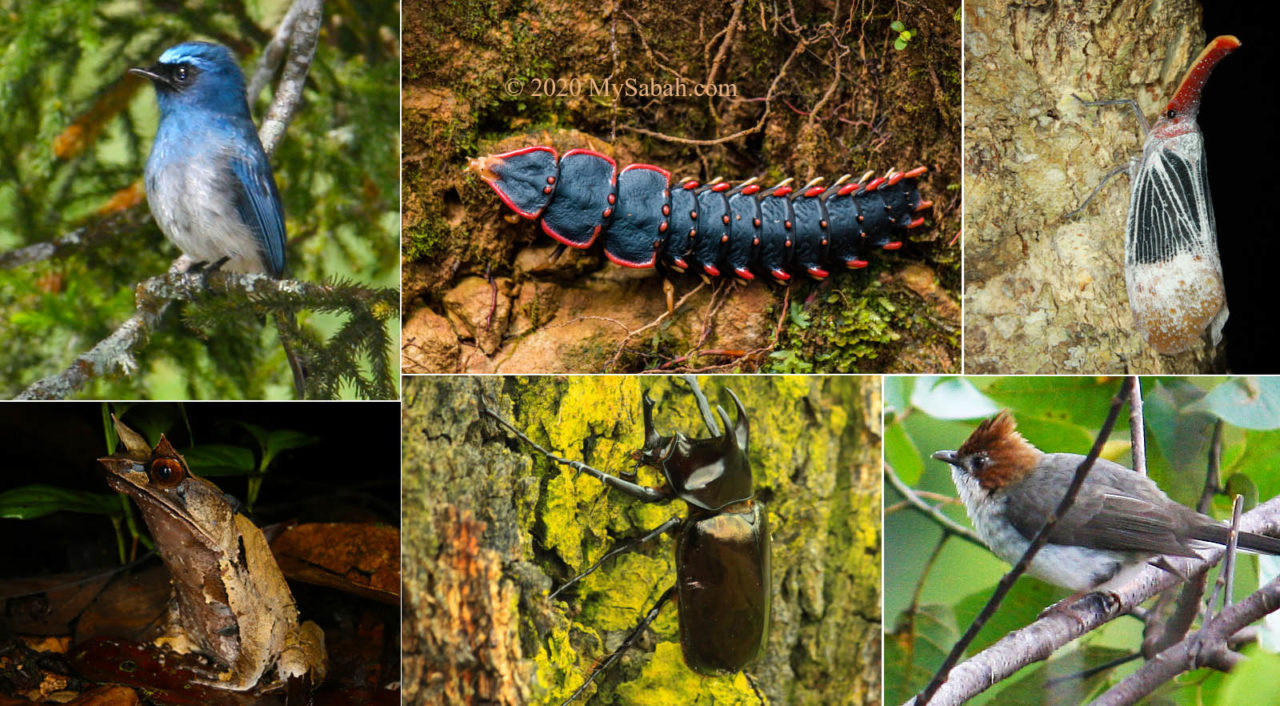 High on the bucket list of birdwatchers is sighting of endemic birds like Sunda Whistling Thrush, iridescent green Whitehead's Broadbill, Whitehead's Trogon, Mountain Serpent-eagle and Bornean Green Magpie. The best birdwatching location of Kinabalu Park is along the road towards Sabah Electricity Board's Power Station at 1,800 M (6,000 feet).
3. Mount Kinabalu Botanical Garden
This garden behind Liwagu Restaurant is really underrated. Kinabalu Park has more than 4,500 species of flora and fauna and many are endemic to this park only. A visit to Kinabalu National Park is incomplete if you can't even name 3 special plant there.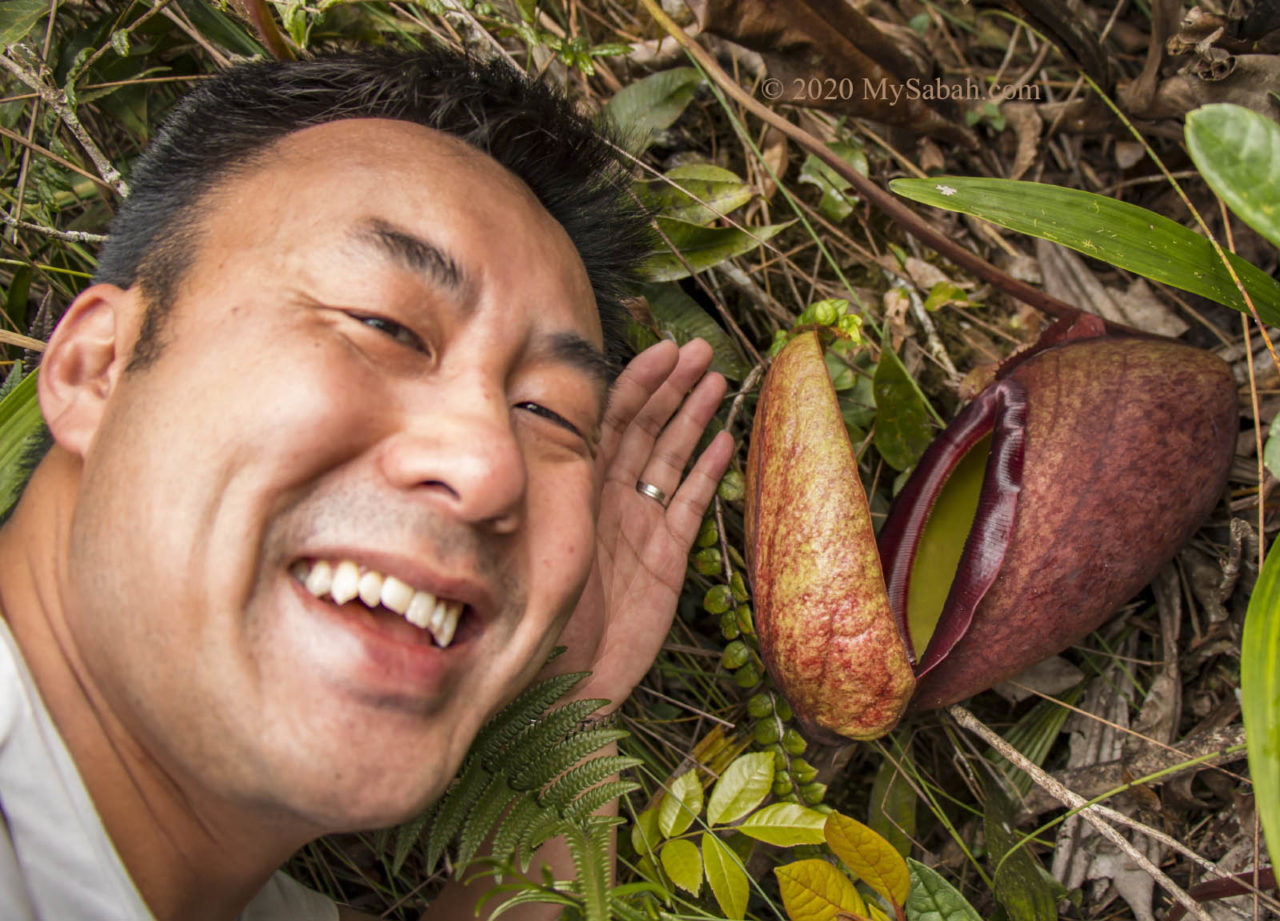 Mount Kinabalu Botanical Garden has very interesting and representative collection of plant, flowers and herbs from Kinabalu Park. The garden offers daily guided tours at 9am, 12pm and 3pm (for a small fee). The guide (can speak English and Malay) will share some cool stories on selected plant.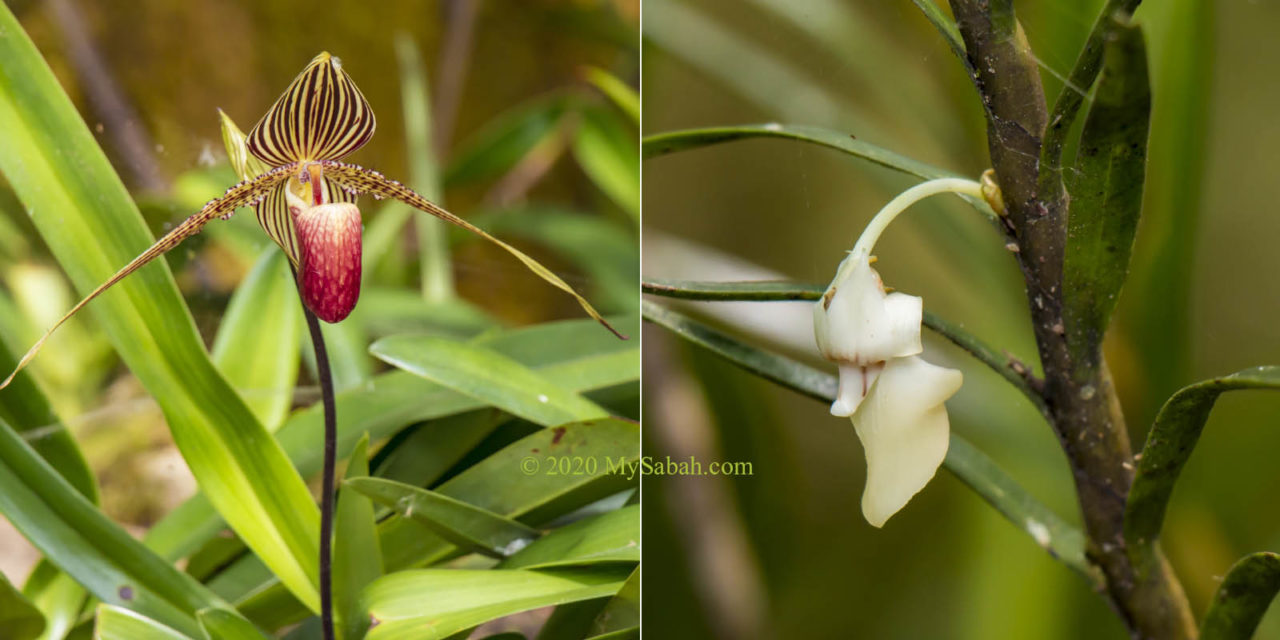 You definitely don't want to miss the rare plant such as Rothschild Slipper Orchid and Nepenthes rajah, which can fetch very high price in black market. » Read more about Mount Kinabalu Botanical Garden
4. Staycation in Nature Resorts
The accommodation inside Kinabalu Park Headquarter is managed by a private company called Sutera Sanctuary Lodges. You can choose different type of rooms, from chalet, villa, lodge to hostel, depends on your budget. The price ranges from RM125 for a hostel room to RM14,400 for the most lavished Rajah Lodge.

You can book the room in their booking website. Just key in the date and it will show you the availability and rate of the accommodation. Below is a quick look of the price range (Room / Lodge for 2 to 6 guests). Prices may vary depend on season.
Rock Twin Share Hostel: RM125 – RM390
Hill Lodge: RM150 – RM550
Liwagu Suite: RM300 – RM850
Nepenthes Lodge: RM350 – RM1,320
The Peak Lodge: RM400 – RM1,800
Nepenthes Villa: RM550 – RM2,800
Summit Lodge: RM550 – RM2,800
Garden Lodge: RM1,400 – RM2,800
Kinabalu Lodge: RM5,256 – RM7,200
Rajah Lodge: RM10,512 – RM14,400
Grace Hostel (with 20 Dormitory Bunk Beds) is not listed in their booking site. You may call them for details:
Sutera Sanctuary Lodges
Address: G.15, Ground Floor, Wisma Sabah, 88000 Kota Kinabalu, Sabah, Malaysia.
Phone: +60 88-487466, +60 17-8332766
E-mail: info@suterasanctuarylodges.com
Website: suterasanctuarylodges.com.my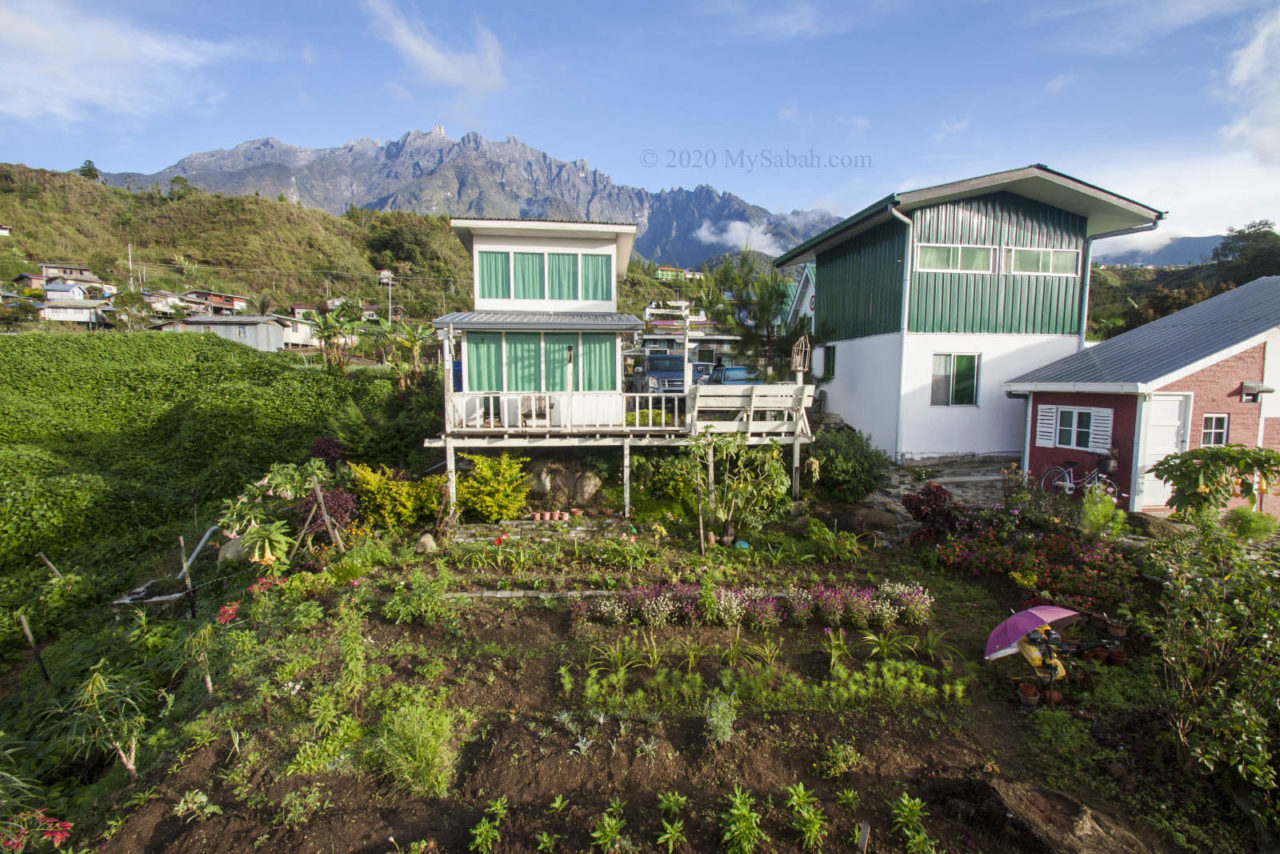 If you are very cost conscious, there are dozens of affordable accommodation very near to Kinabalu Park. With rich variety of choices like hotels, hostels, resorts, hill lodges around Kundasang, Ranau and Mesilau, you can pick the one that gives more bang for your bucks. Many even have better Mount Kinabalu view. My personal favourite is Kinabalu Pine Resort.
Park Fees & Opening Hours
Kinabalu Park opens from 7am to 7pm daily. You need to purchase ticket at the entrance at the following rates:
Malaysian
18 years old and above
RM10.00
Below 18
RM5.00
Below 12 years old / Above 60 / Handicapped
Free
Non-Malaysian
18 years old and above
RM50.00
Below 18
RM25.00
Conservation Fee (ticket) with effect from 1 Jan 2023
Tip: You can reuse the ticket in Poring Hot Springs on the same day.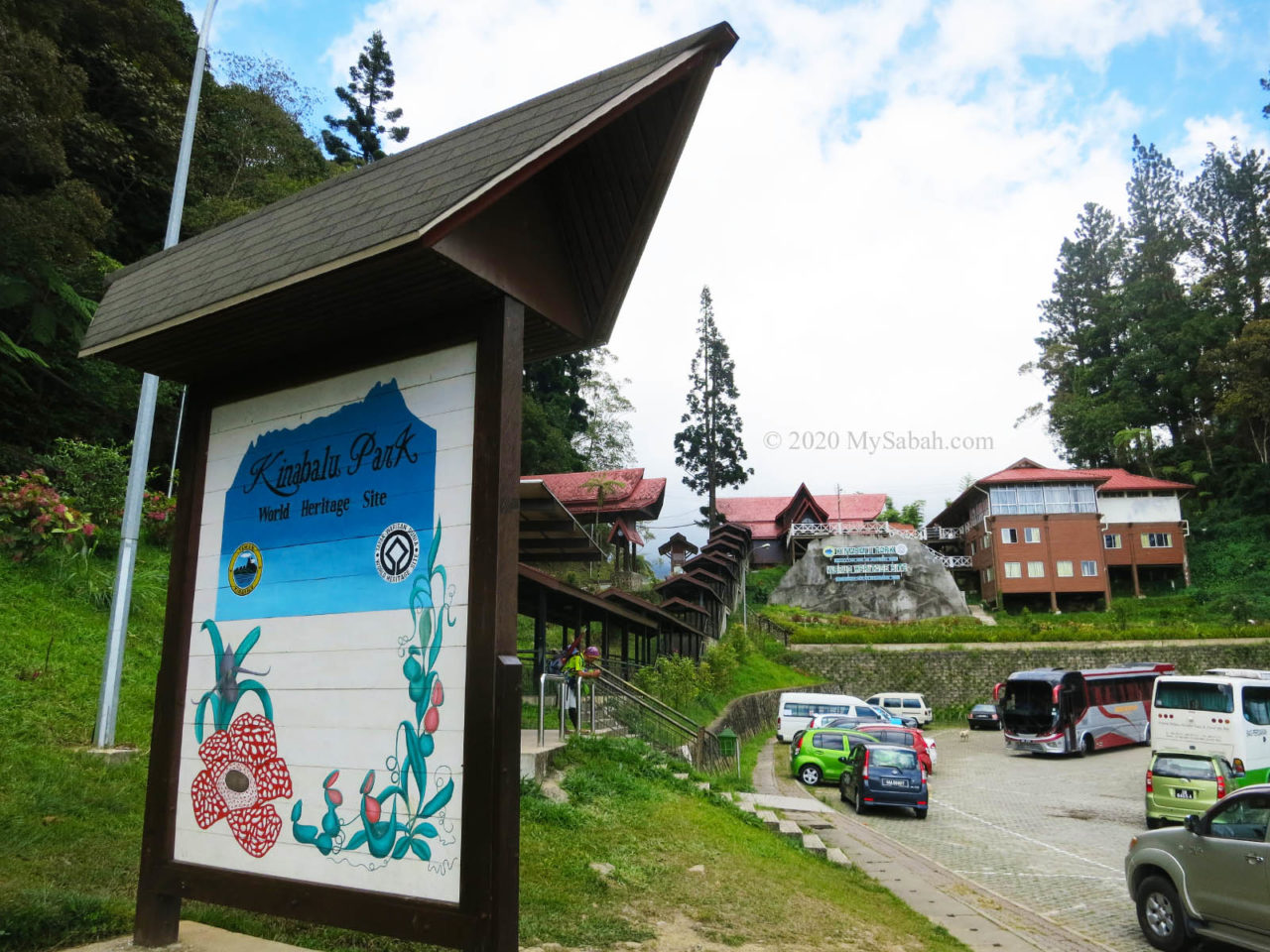 What to Bring
For non-climbers, bring jacket, poncho / umbrella, drinking water, cash and MyKad (or Passport), and wear comfortable walking shoes. Temperature in Kinabalu Park can drop below 16°C sometimes.
How to get there
Drive there yourself is the best option. It'll be so easy with navigation apps like Waze (Where to: Kinabalu Park or see Location Map). You can park your car inside or outside the park. You will pass by Tamparuli town on the way. Do stop by for a breakfast and try the famous Tamparuli Mee (noodle).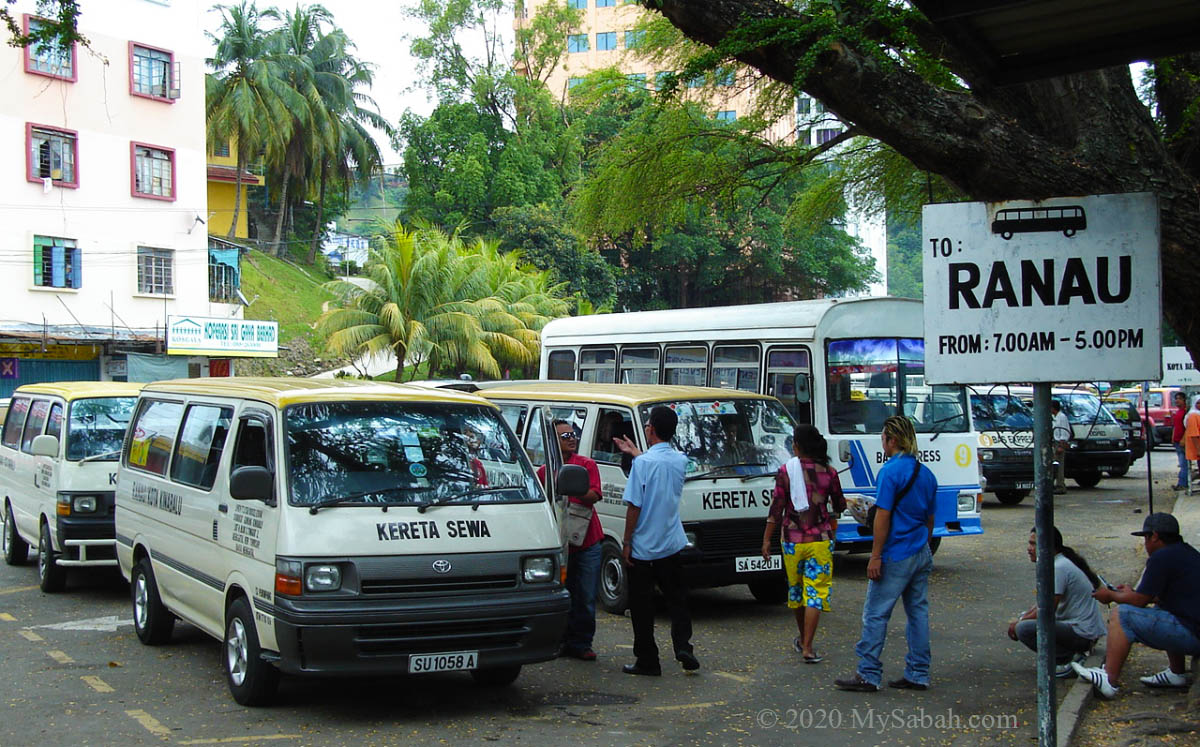 By Bus: take a mini-bus that goes to Ranau from bus station near Padang Merdeka Field in Kota Kinabalu City Centre. The fee costs about RM20 one way. The mini-bus will move once it's full with passengers. Be there as early as 7am because first departure fills up faster. Ask the bus driver to drop you in front of Kinabalu Park. 5 or 6-seat Limo is also available on sharing basis for around RM35 one way.
Taxi / Grab: If you plan to visit other places in Kundasang besides Kinabalu Park, you better charter a taxi or Grab to save time.
Nearby Attractions
A visit to Kinabalu Park and Poring Hot Springs is enough to keep you busy for a day trip, which is what most tourists do. However, to have a more enjoyable and relax trip, I advise you to spend a night or two around Kinabalu Park to cover more places of interest mentioned below.
1. Poring Hot Spring, Canopy Walk
About 40 KM away from Kinabalu Park Headquarter, Poring is also part of Kinabalu Park. You can reuse the Kinabalu Park ticket to visit Poring on the same day. Poring is above 400 Metres above sea level, so it's warmer than Kinabalu Park. The popular activities there are soaking in their sulphurous hot springs and a thrilling walk on the 40-metre-high canopy walkway.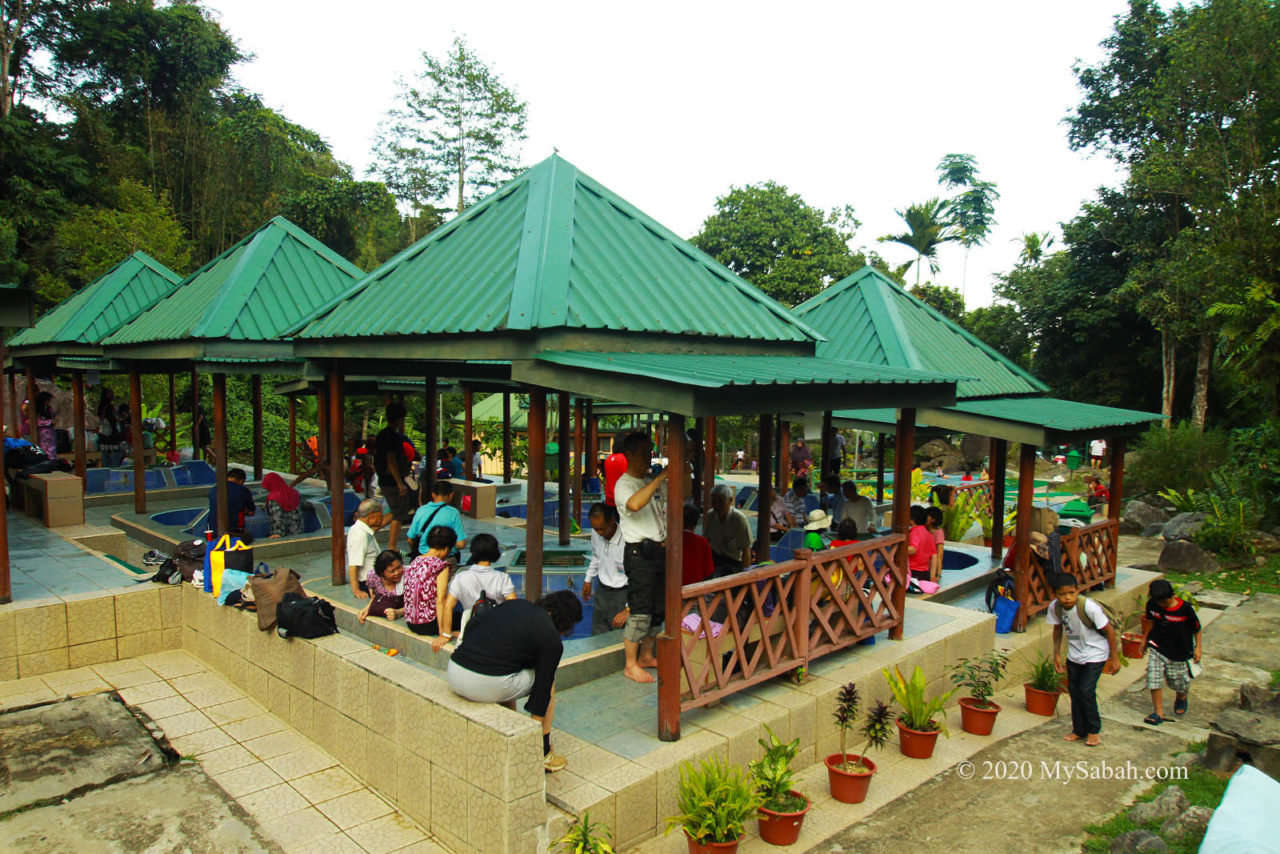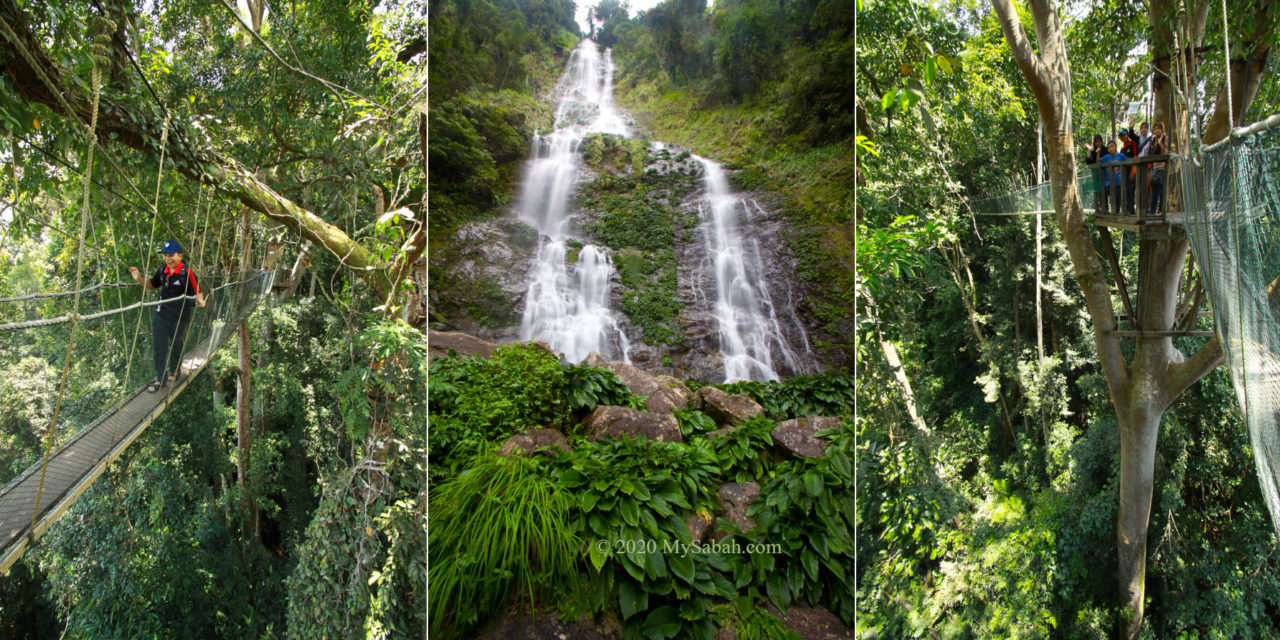 2. Rafflesia Flower
On your way to Poring Hot Springs, keep an eye on roadside. In lucky day, you would see banner that announces the blooming of rafflesia. Rafflesia is a parasitic huge flower without root, leaf and stem. The blooming is rare and lasts only 6 days. The flower looks best in second and third day of blooming and starts to turn dark after that.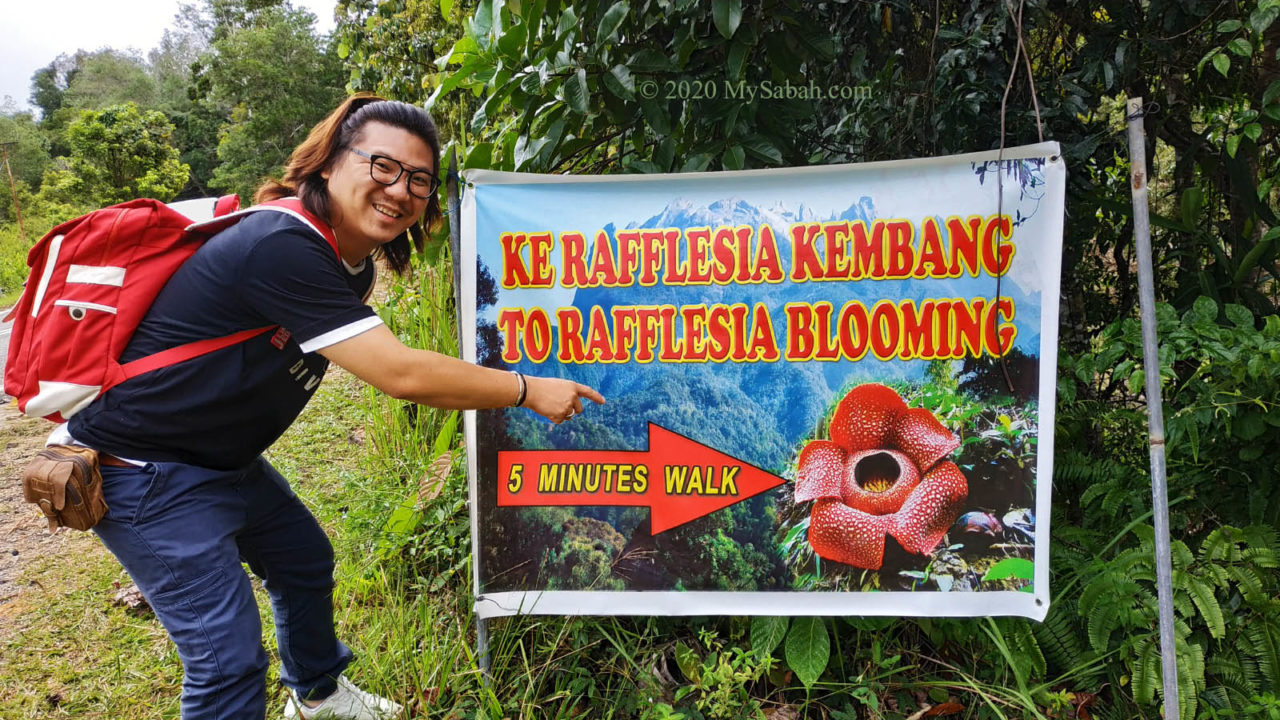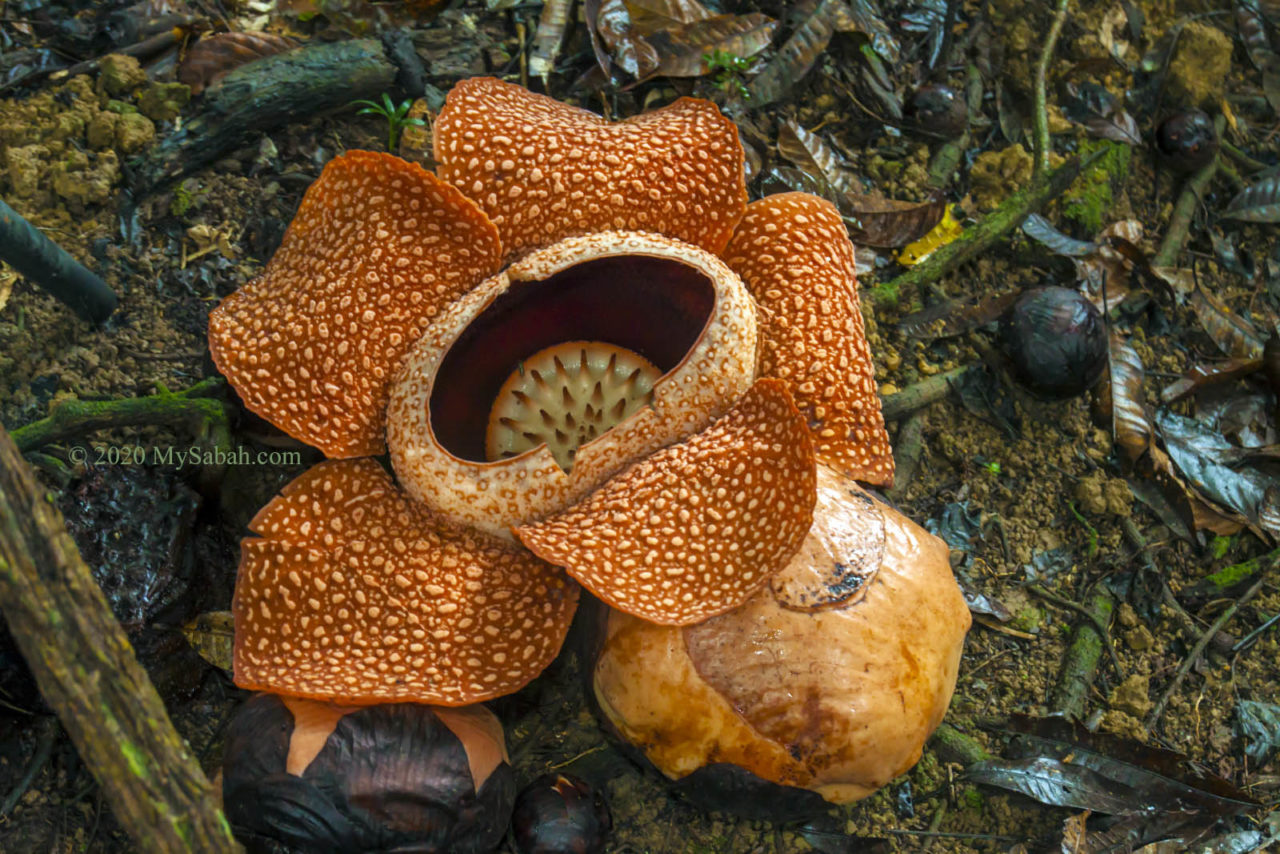 Stop for the rafflesia site where tourist bus parks because travel agents always pick the site with the most beautiful bloom. The entry fee is about RM20 (negotiable) and camera fee will add another RM10.
3. DESA Cattle Farm in Mesilau
This is a family-friendly destination. Your kids will love it. Go to Mesilau to see milk cows feeding on green pasture under Mount Kinabalu. You would think that you are in New Zealand.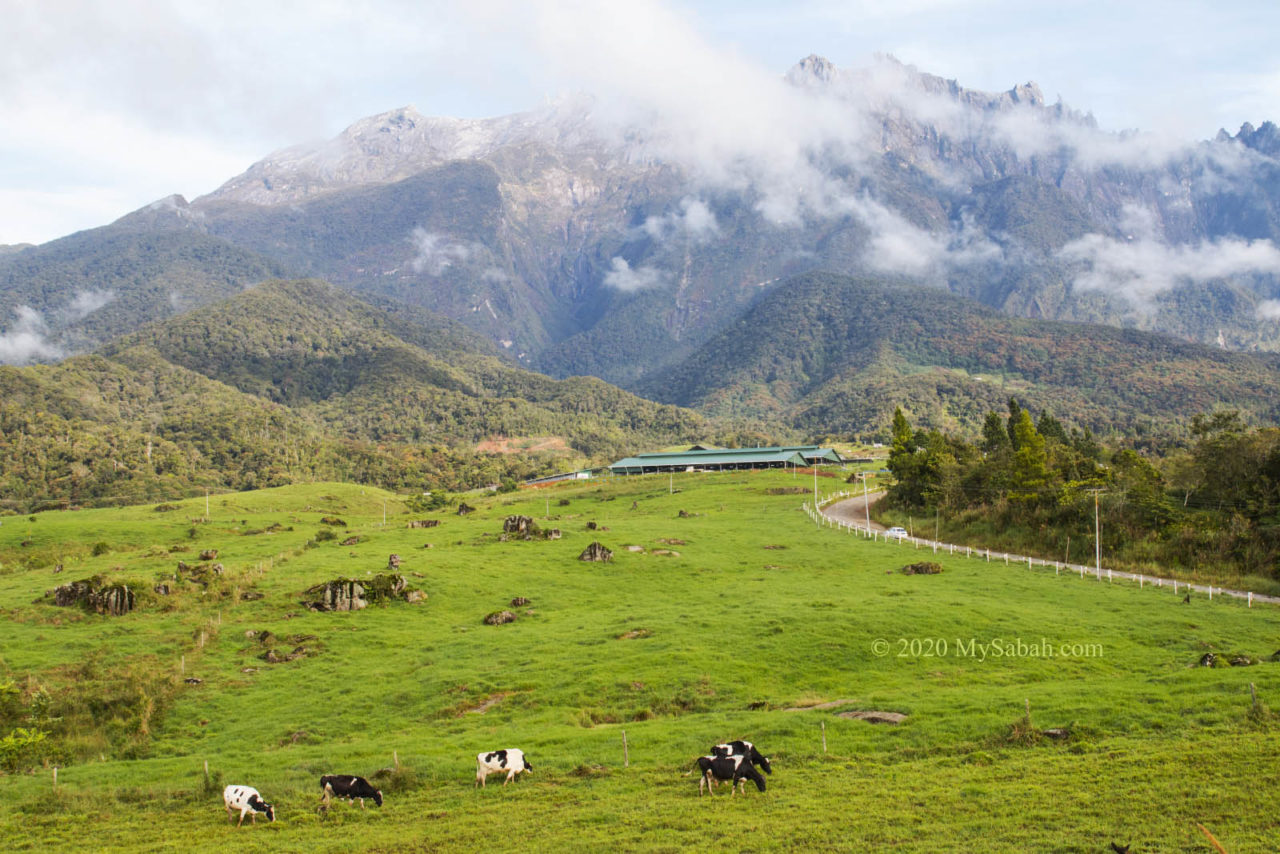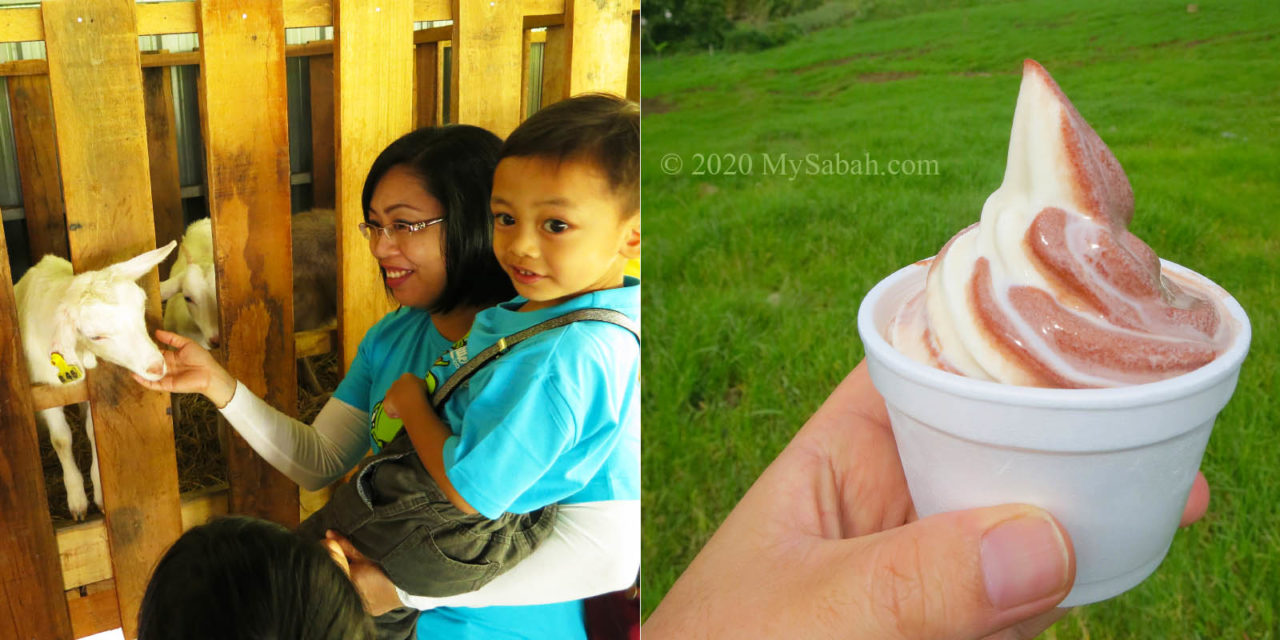 DESA is the producer of Sabah cow (and goat) milk. You must try their gelato or yogurt ice cream, and check out the milking station. After that, go to the barn to milk or hand feeding the cute baby cows and little lambs. » Read more about DESA Cattle Farm
4. Kundasang War Memorial
Even if you are not a history buff, you will appreciate the beautiful gardens of Kundasang War Memorial. During World War II, 1,787 Australian and 641 British prisoners of war died when they were forced by Japanese to walk 265 KM from Sandakan to Ranau, an infamous event called Death March.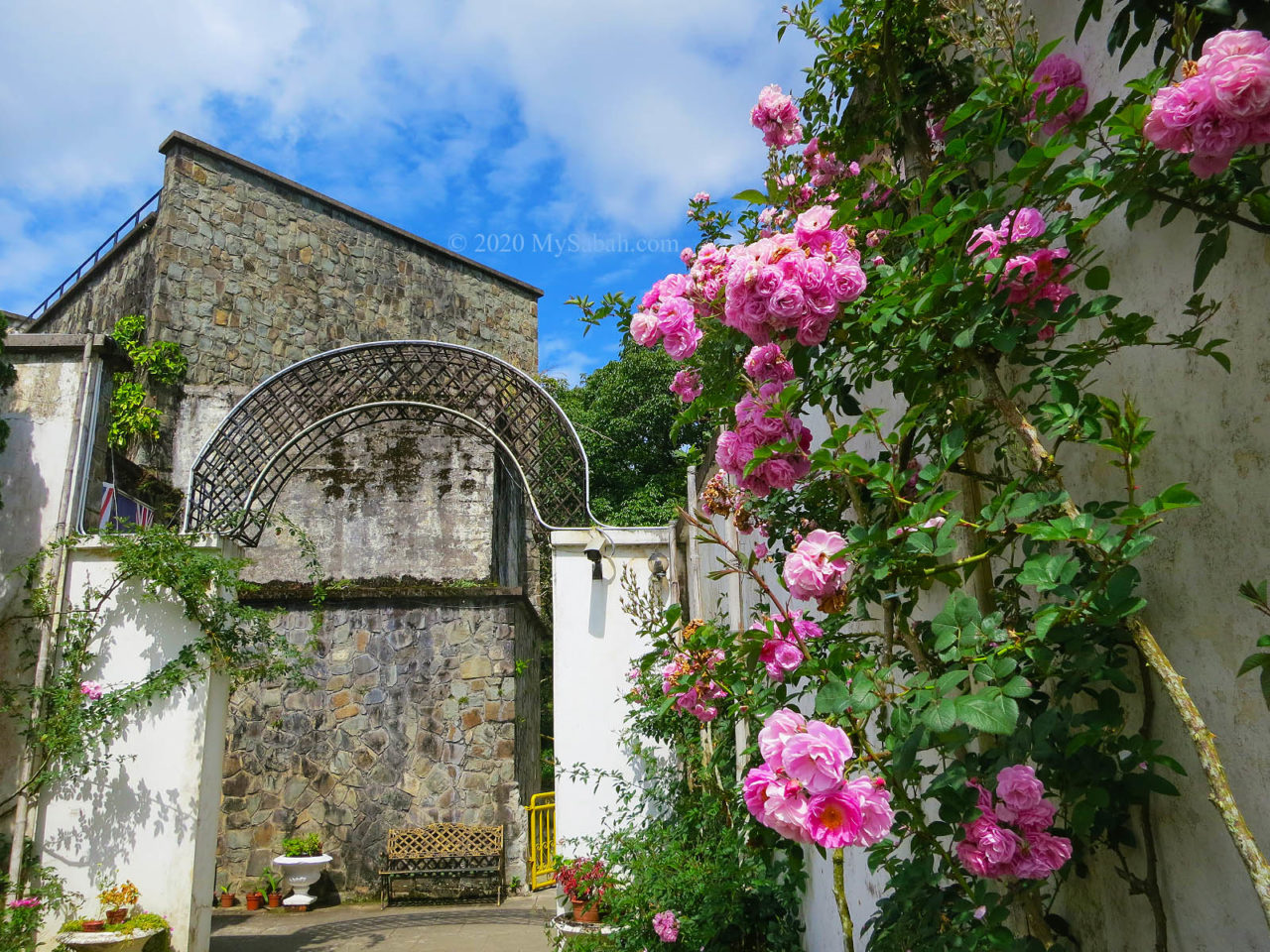 To commemorate the soldiers, Kundasang War Memorial is built with four garden themes, namely, Australian Garden, English Rose Garden, Borneo Garden and the Contemplation Garden. Visitors can stroll in this memorial to learn and feel the historic past of the Death March, and leave with a deeper appreciation of peace and freedom.
5. Nabalu Town
It's hard not to notice this busy town packed with tourists, when you are 12 KM before Kinabalu Park. Most people like to stop briefly in this town for a short (toilet) break after a long drive.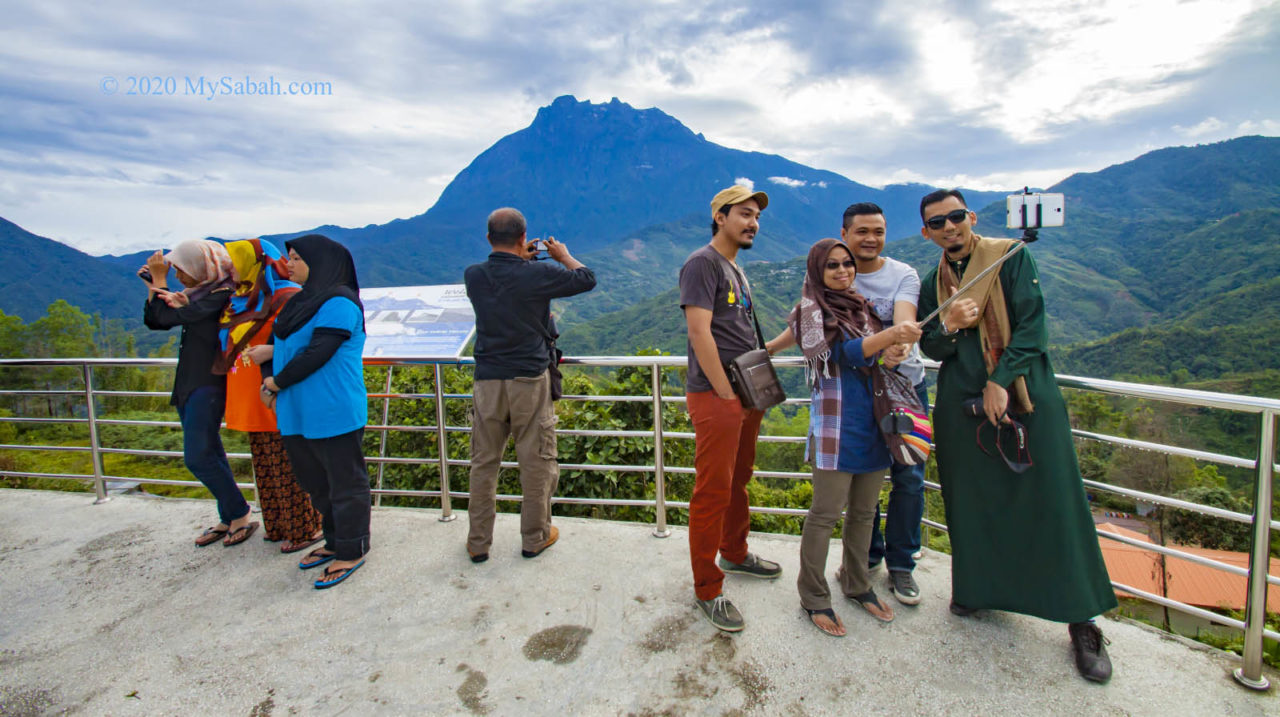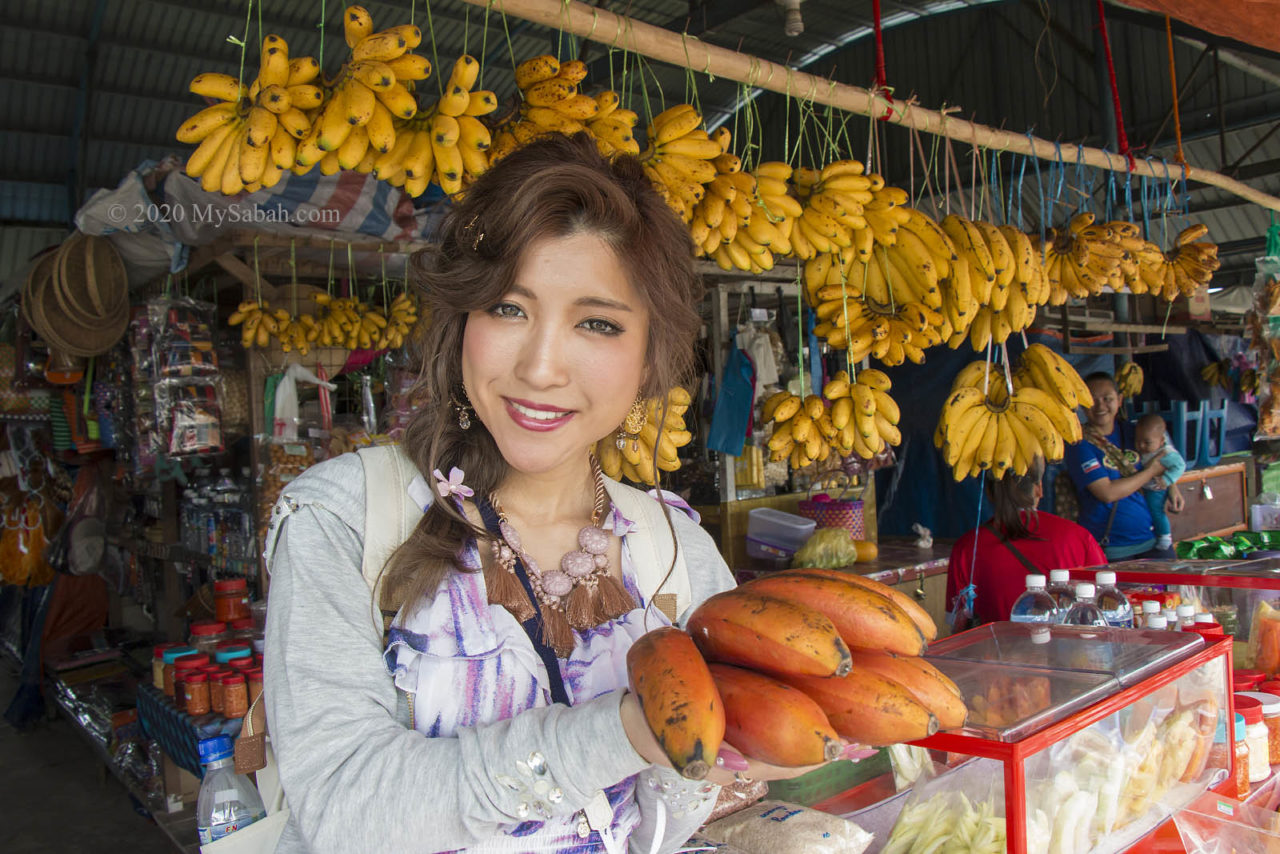 At the end is an observatory platform for visitors to selfie with Mount Kinabalu. There is a long house piled with tons of souvenirs for you to shop and bargain. The little fruit and vegetables market there also draws many people to sample some local fruits such as tarap and langsat. » Read more about Nabalu
6. Paragliding in Lohan
Need some adrenaline rush to feel great being alive? Paragliding at Lohan is for you then. At the junction to Poring Hot Springs, you can turn to Lohan Hill for an exciting ride. Pay around RM200+ for a 5 to 7 minute tandem ride to fly like a bird and enjoy the wonderful aerial view of hilly countryside. You need to book the flight in advance. » Read more about Paragliding in Lohan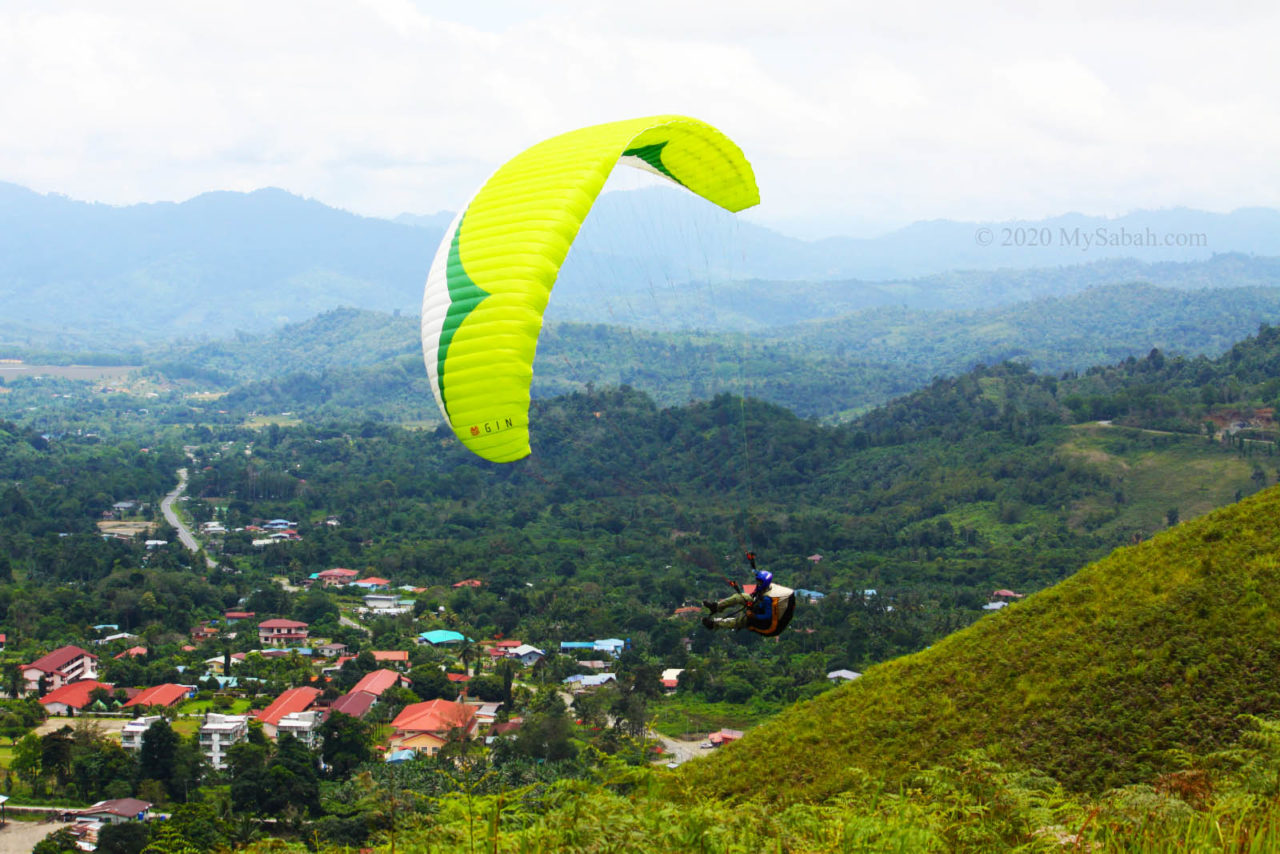 7. Climbing Maragang Hill
Located in Mesilau (near Kundasang), Maragang Hill is 2,232 Meters high and a new climbing destination that is gaining popularity really fast. The climb is an easy 1.6-Kilometer hike to the peak and takes only half-day. On the peak of Maragang Hill, you can have one of the closest and most magnificent view of Mount Kinabalu. » Read more about Climbing Maragang Hill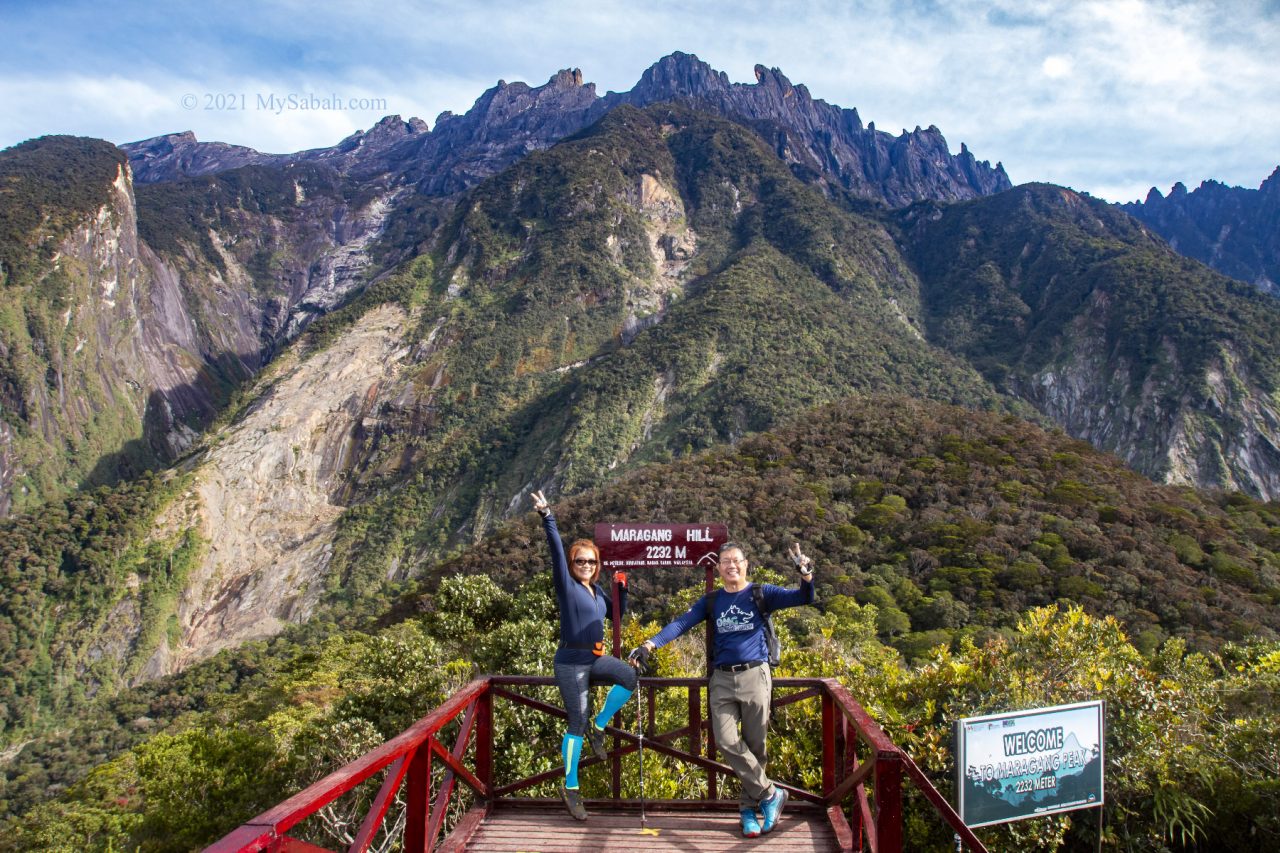 8. Kundasang fruit and vegetables market
This one is the favourite part of mothers. On the way back to Kota Kinabalu, stop by the Kundasang market to buy some fresh fruits and vegetables. Local snacks are popular buy too. You know it's the right place to shop when you see so many mom around.
9. Climbing Sosodikon Hill
Sosodikon Hill in Kundasang is only 70 Metres tall. Climbing to its peak takes less than 15 minutes and you can have a breathtaking panoramic view of Kundasang Valley from the top. » Read more about Climbing Sosodikon Hill

Photos taken in Sabah, Malaysia Borneo