After the hunt for rafflesia pricei in Tambunan, this time I targeted at the biggest rafflesia in Sabah, rafflesia keithii, which grows in elevation of about 400 Metres. The rafflesia garden of Kg. Kokob (Kokob Village), which is only 9KM away from Ranau town, is my most recommended site, coz it is more accessible and save me the trouble of hour of jungle trekking. To get there, just take a mini-bus in bus terminal of Ranau town, and the ticket is about RM2 to 3 one way. Every driver knows where is Kokob.

Usually they will put up a banner at the roadside if there is any blooming. The blooming time of rafflesia is unpredictable and the flower can last less than a week. In fact, it starts to show sign of withering in 4th day. You should ask the bus driver to drop you right in front of the garden. I was dropped in the village function, so I had to walk 500 M uphill, where the fierce village dogs roamed. They didn't seem to welcome tourist, so it was quite scary. At the end you will see a "Y" function, just take the one at the right and you will reach the garden shortly.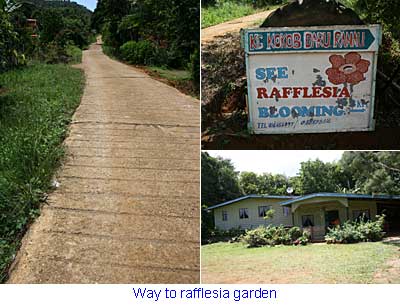 Surprisingly, the sign pointing to a house. The moment I stepped in, Pauline, the daughter of the owner (Mr. Kundong Ransiki), came out of the house for me, as if she always kept an eye at the door. Before that, I was told that the villager cut the rafflesia and plant it there. As a matter of fact, the rafflesia garden behind the house is a natural habitat certified by Sabah Parks in 2006. She brought me to the garden behind the house and introduced a bit about rafflesia. Entrance fee is RM10 for Malaysians, RM20 for foreigner (someone said you can try to negotiate for RM15). At the entrance, you can see some Tetrastigma vines, the host of rafflesia.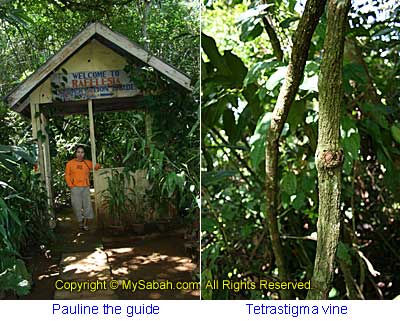 Rafflesia flower blooms here, in average, once every 1 or 2 months. Before you go, you can call +60 17-8380878 or 088-875114 to confirm if there is any blooming. On the guest book, I could see many names of foreigner tourist$. Wow, I hope rafflesia can grow in my backyard too, so I can "goyang kaki" (doing nothing) and collect money. Actually they also take care of the rafflesia, like watering them in dry season. I saw an umbrella in the garden. She said she used it to cover the flower when raining. Even so, sometimes the flower can't make it.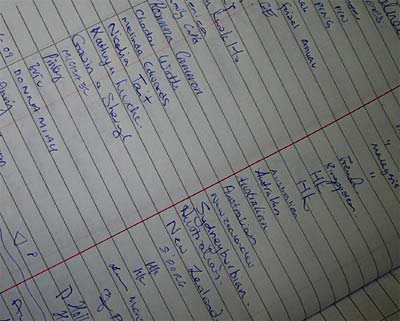 Their garden is very small and grown with many bamboo. You can smell something like dead rat and hear flies flying around. That's the bad smell of rafflesia to attract flies to transport its pollens for pollination. That's why it has a nickname "corpse flower."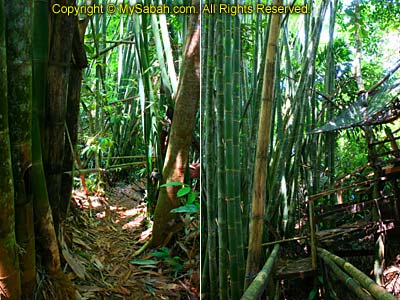 Just look around, you would find some reddish-brown cabbage-like buds on the ground. Those are what will turn into rafflesia flower, after 9 to 15 months, even longer than bearing a human baby! However, the wildlife such as rodents would eat this juicy bud and kill it. Moreover, the logging also pushes rafflesia to extinction. As rafflesia is protected species in Sabah, you could be jailed for cutting it.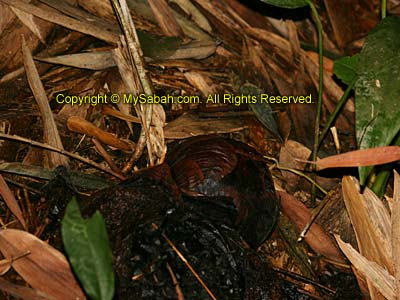 Boardwalk is built to prevent the flowers from eating the tourists. Just kidding, the boardwalk prevents the over-excited tourists will come to the flower and crush the fragile buds under the soil. You know lah, Malaysians got very itchy hands and they love to touch thing even if they don't plan to buy it. The petal is also sensitive to touch that causes it turns black.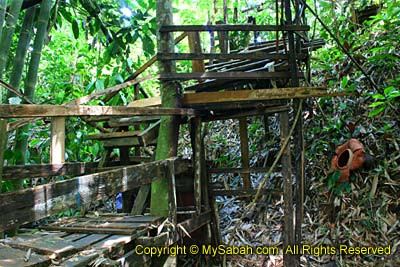 Here you go, the photos of blooming rafflesia keithii, which is about 80cm in diameter and biggest flower in Sabah. Rafflesia keithii was named after Henry George Keith. When he discovered this magnificent and stink flower, he gave it to his wife, Agnes Keith. The flower was so smelly that she couldn't bear it. So she moved out of the house and spent a few months living in upwind. Later she wrote a book that called "the land below the wind." Yeah, not a funny joke.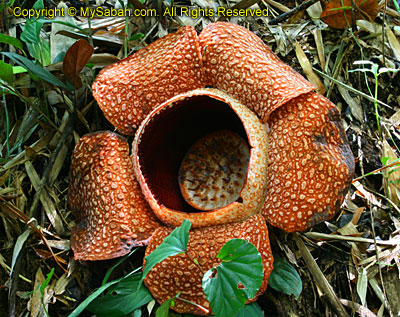 Rafflesia keithii also can be found in Poring, Crocker Range and Tenom Agriculture Park. But Kokob is the most accessible place. When I enjoyed watching the flower, some Japanese tourists and locals started to flow in. Some came with big travel bus.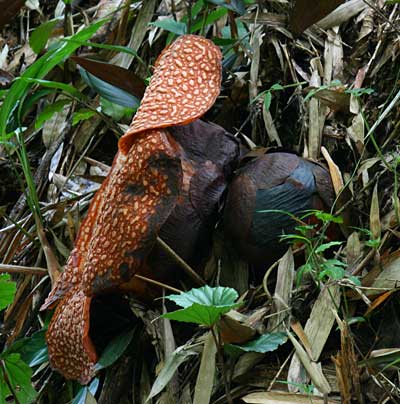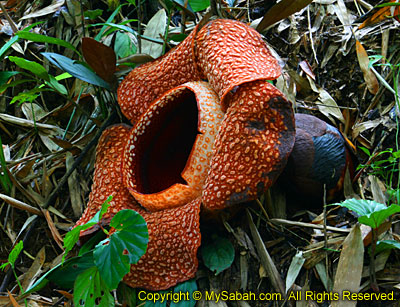 Beauty doesn't last forever, so is rafflesia. After a few days, it will wither and dry up totally. Anyway, no worry, I saw 2 to 3 buds that would bloom in next 1 or 2 month.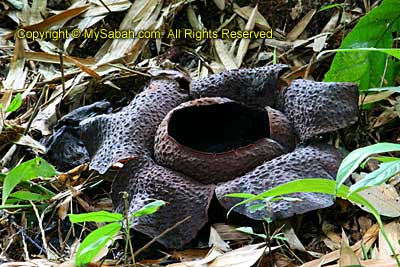 Damn… the chee-bye raining days are coming again. don't know if I can go outing again. 🙁
Related post:
Rafflesia Pricei
Twin blooming of rafflesia
Photos taken in Ranau, Sabah, Malaysia Borneo