As necessary as the air we breathe and just as instinctive as going to sleep. It wouldn't be an understatement to say it's been around since the dawn of man, but looking at the food we consume in day to day, one does start to wonder – how did our forefathers live without that finger lickin' good stuff. Every now and then, we should really lay off the grease and try something more natural. In this article, we give our taste buds an adventure and explore our traditional food.
Bambangan
Bambangan is a seasonal wild mango fruit which the local indigenous people enjoy. The bambangan is a spherically-shaped, orangey fruit covered with brown skin. When ripe, it can be peeled and eaten similarly to how you would a mango fruit.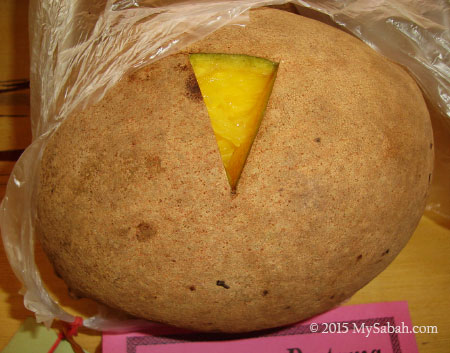 Pic: Bambangan fruit
What makes it special is the variety of ways it can be consumed. Commonly, the bambangan is pickled or cooked with fish. The unripe bambangans are usually made into "Pinasakkan" (steamed) with fish and the ripe ones are fried with salted fish. The bambangan seed is usually grated, mixed into the flesh, and eaten.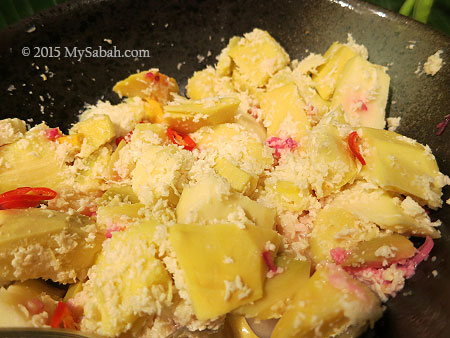 According to the locals, there is a significant change of taste when eating the bambangan with grated seeds. The bambangan is a seasonal fruit, thus you won't be able to get it all year round. When it is in season however, they can be found in the local wet markets.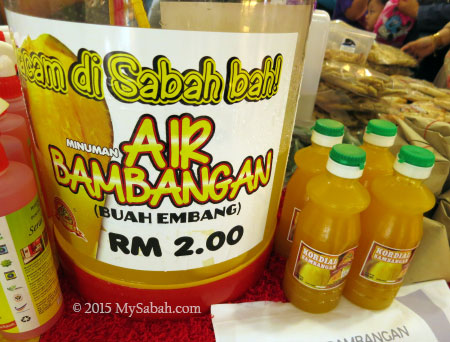 Pic: Bambangan fruit cordial is available for sale. Now you can enjoy Bambangan juice.
Tuhau
The tuhau is not a dish per se, but think of it as an ingredient. It is a type of ginger which is shaped like a small stick-like figure. First time eaters might find the tuhau's odor very repelling, but many who have endured the smell find that they become very fond of the taste, in a very weird way the smell soon behaves as the precursor to the deliciousness of the tuhau.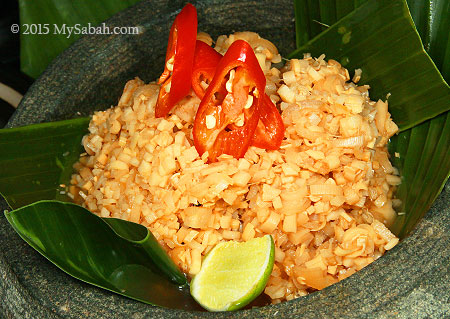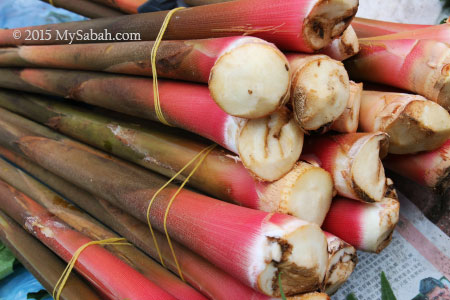 The tuhau stem is used in many dishes, mainly fish. Tuhau is usually minced into smaller bits, it can then be fried with salted fish or mixed into the "Pinasakkan" fish. The tuhau can be bought at almost all local wet markets and are available all year round unlike the bambangan.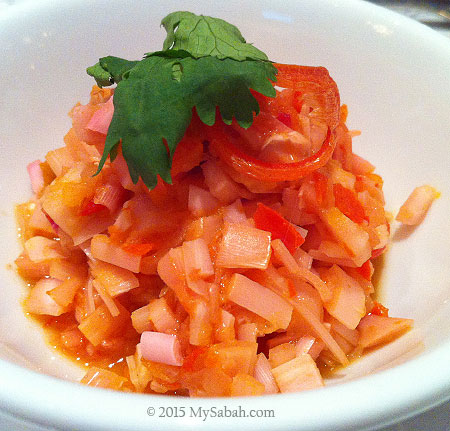 Hinava
Think of Hinava as the Kadazan / Dusun version of sashimi. The Hinava is mainly made of minced fish marinated with lime long enough to "cook" the fish. The citric acid kills the bacteria in the fish, and "cooking" it at the same time. Pretty smart for a traditional dish don't you think?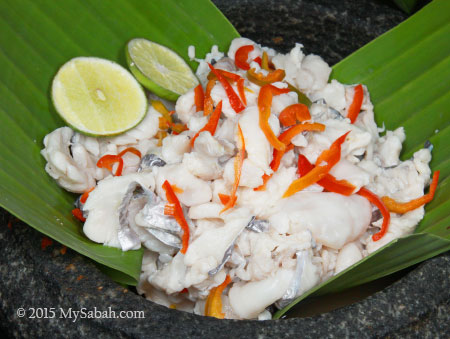 The hinava is usually mixed with other ingredients such as onions, grated bambangan seeds, or ginger among other things. Hinava is usually available during festive celebrations.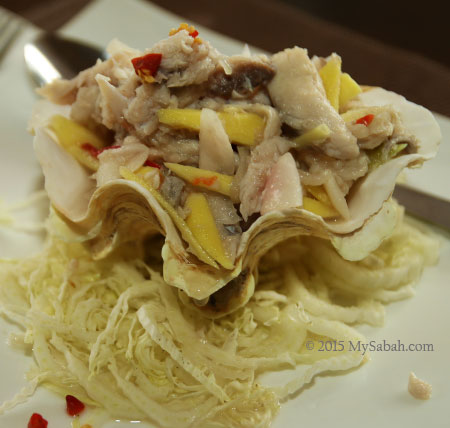 Unfortunately, because of its short shelf life and stock of ingredients, the hinava isn't sold. If you're lucky to visit Sabah on Kaamatan or participate in a Kadazandusun celebration you might be able to get your hands on some hinava. But do not fret! We at breeze have another way for you to to get your hands on the hinava during non-festive seasons.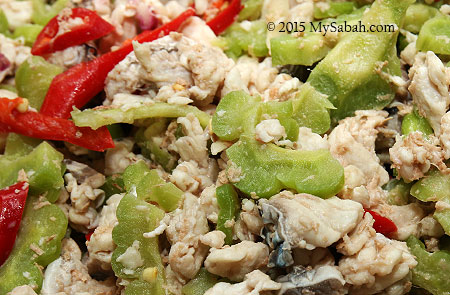 You can contact the people at Tagal Tinopikon Park and request for some hinava to be prepared for you. Placing your order a week early would be preferable as they will need time to gather the ingredients.
This write-up is contributed by Andro Matthew Anthony Sandor (Thank You Bro!). You may visit his Youtube channel "Bah palan palan" for more content: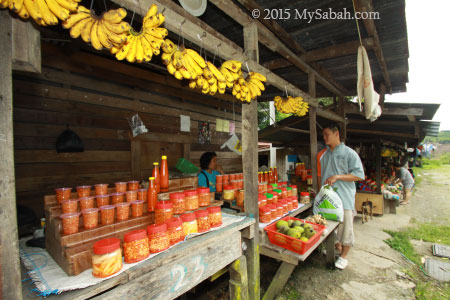 Pic: Tuhau and Bambangan pickles are available for sale at countryside stalls along the roads to Ranau, Kundasang, Tambunan and Keningau.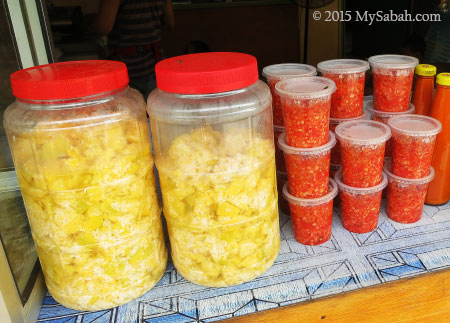 Pic: Tuhau (red) and Bambangan (yellow) pickles. Please note Bambangan is seasonal.
Traditional Food Drawing
The following are more beautiful illustrations of traditional food in Sabah drawn by Tan Sheauling (陈俏绫), a talented Sabah artist and an old friend of mine. Please click the drawing for bigger picture and more detail.
Photos taken in Sabah, Malaysia Borneo