This thing can be more expensive than some LV bags and diamond rings. It is Tangkong, the hip belt worn by Kadazandusun females in their traditional costumes (Kadazan and Dusun are the largest indigenous group in Sabah). Usually Tangkong is in a set of 3. Each belt consists of about 84 to 98 brass rings and one shell disk strung together by rattan.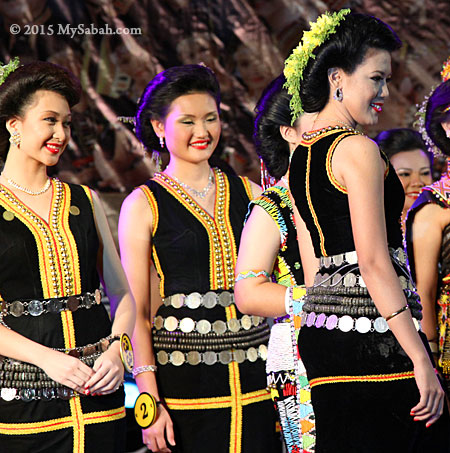 Normally the price of a jewelry such as gold and gem is measured by its weight and clarity. However, the value of Tangkong increases as it ages. Tangkong can cost thousands if it's an antique passed down for many generations and looks really oxidized, as if the less shiny it is, the higher its worth. It's always kept as heirloom because of its sentimental value, so it's hard to find an old Tangkong even if you have money. I saw one which was for sale for RM8,000 (≈US$2,400) last week!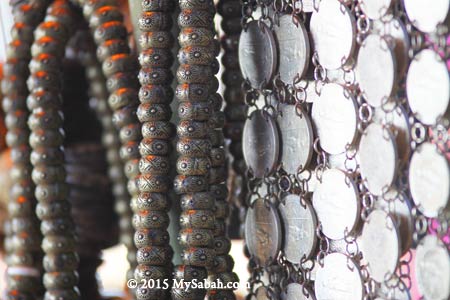 Pic: Tangkong is also worn together with a set of maximum three Himpogot, the "silver coin" belt, as a display of personal wealth. Himpogot belt is about RM150 each.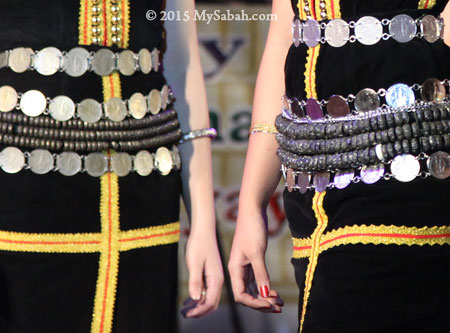 Wearing Tangkong is a sign of wealth. Fun fact: when a gong is worn out and no longer usable, it would be melted to make Tangkong. Before the rings are assembled on the rattan ring, the maker would pray and recite certain messages as a simple ritual to inform the universe of his intention and request for wisdom and strength to complete his task, so the making of this Tangkong is blessed. This is the traditional way of making Tangkong.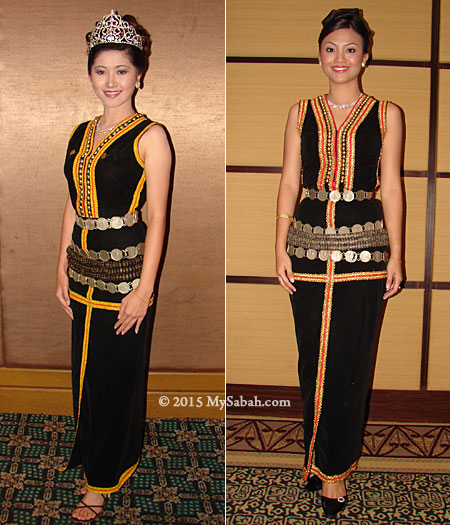 Pic: the typical way how Tangkong is worn in traditional Kadazan Penampang costume. The brass rings are not polished to let the rust shows its age. Tangkong is probably an accessory unique to Kadazandusun culture because I never see it in other Borneo tribes.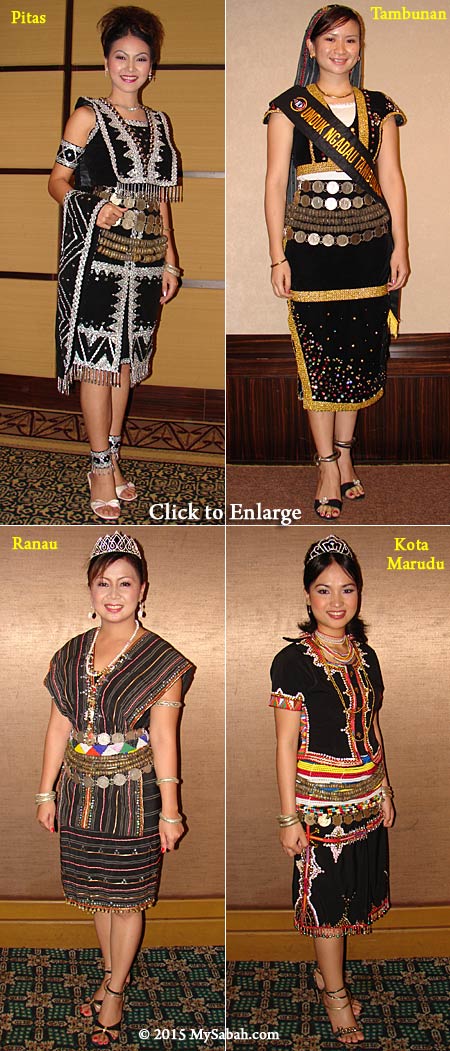 Pic: Tangkong is also an important part of traditional costumes of Dusun from Ranau, Tambunan, Pitas, Kota Marudu, etc. Unduk Ngadau (Miss Harvest Festival) always wears the best collection for beauty pageant.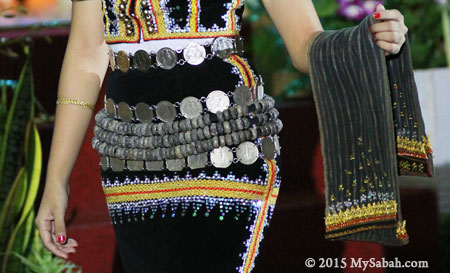 Tangkong is quite heavy, normal girls will feel tired if they have 3 to 5 Kg extra weight on their hip for long hours, so you may not see them wearing Tangkong in casual occasions. During grand celebrations and wedding, Tangkong is almost a must for a classic beauty look.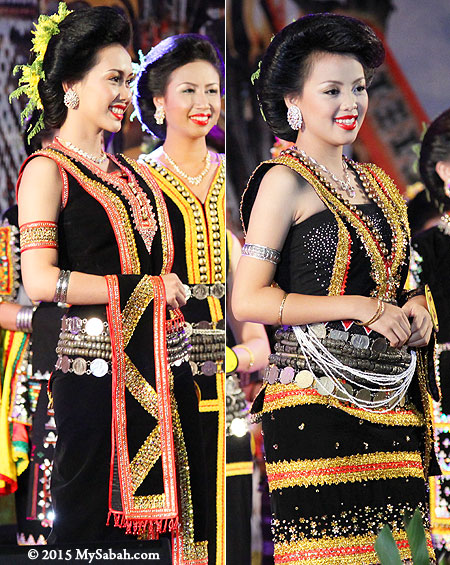 I don't know why Tangkong can make Kadazandusun girls look more elegant, probably it gives a subtle hint on feminine curve, or it makes them move slower (and gracefully). 🙂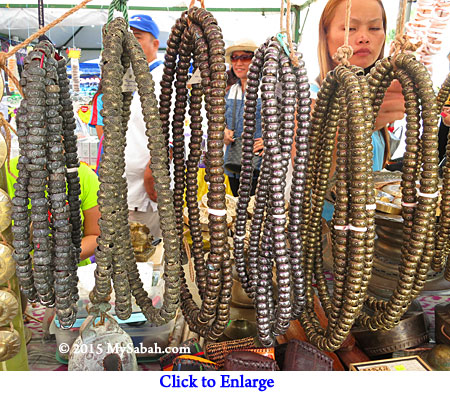 Now let's play a guessing game. Just now I mentioned I saw a Tangkong with selling price of RM8,000. Can you spot which one it is (see photo above)? Don't scroll down for answer right away ok.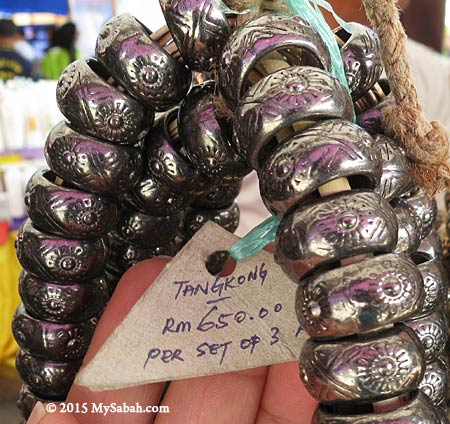 Did you guess the silver one? No, it's the cheapest, only RM650 (still a lot of cash though), may be made of iron.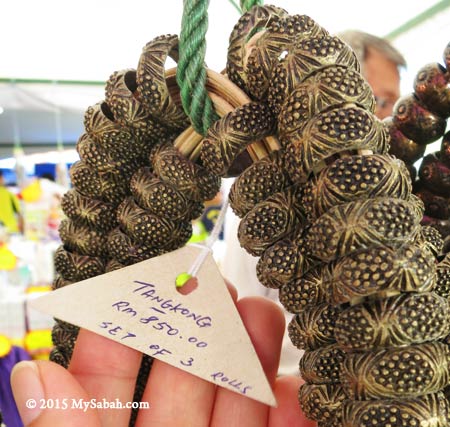 The golden one? Nope. It's RM850, factory made with alloy material.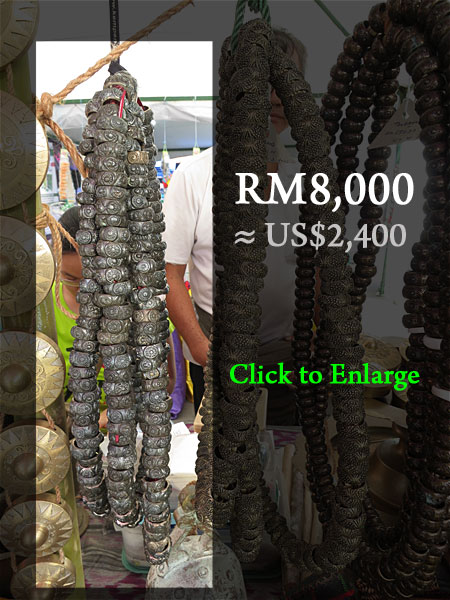 Here you go. This old Tangkong is worth RM8,000 (for a set of three). Quite surprising right because of its dull appearance? As I said, aged Tangkong is more expensive. It belongs to Stanis from Inobong, whom I met in Kaamatan celebration (Harvest Festival) in KDCA. Please e-mail me for his mobile phone number if you are interested in buying Tangkong from him.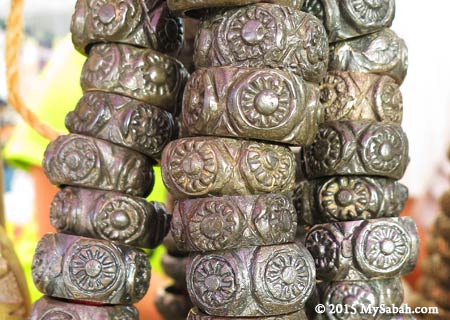 Pic: If you look closely at this antique Tangkong, no two brass rings look the same, because they were all individually made by hand. Unlike "manufactured" Tangkong today, all brass rings look the same, and it is only half the weight of a traditional Tangkong.

FYI, if the rattan of Tangkong is red color, the wearer is a single, black if she is married.
You also can buy Tangkong at Tamu (weekly open-air native market) in Sabah, or you can rent it from Sabah Cultural Board (Lembaga Kebudayaan Sabah). The rental fee is about RM105 per belt (a set of 3 is RM315 in total then). Traditional way of making Tangkong is vanishing. If you own any old Tangkong from your great grandmother, please take good care of it, as it is irreplaceable and a priceless gift.
Please feel free to share your Tangkong photo in comment section below. ^_^
Photos taken in Sabah, Malaysia Borneo