Even foreigners can tell our National Day (Aug 31) was approaching, when they see our Jalur Gemilang (national flag) everywhere in our city, as if there was a "flag virus" outbreak. If I am the sole provider of national and state flag in Sabah, I would have become rich just by selling flags only once per year. Anyway, I feel so glad to see our national flag flying freely, after half a century. I think that the mania of flag is something unique in Sabah. It is quite fun to see how we proudly display our national and Sabah flags in different ways.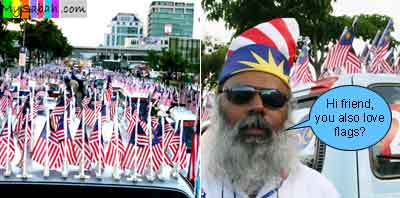 We wear the flags:


We hang the flags: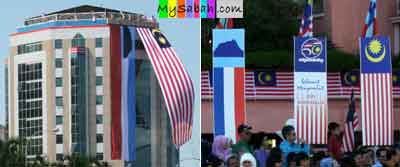 We show them on our cars:


We bring them to the sky and sea:


We even EAT the flag! Hahaha… Happy Birthday Malaysia, now we are cutting you into pieces. Hai… Malaysians love to eat.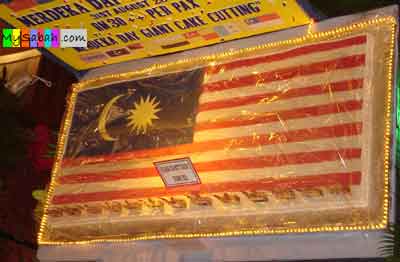 Creative ways of showing the flag by umbrella (left) and flowers (right):


WHAT THE…??? 🙁 🙁 🙁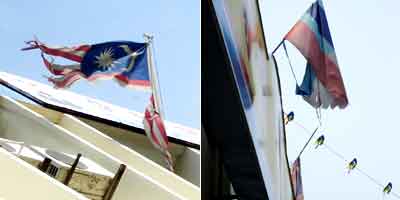 Please love our flags, as they represent our state and nation.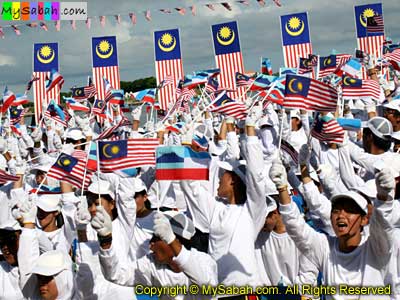 Anyone wants to order flags from me?
Related Post
Hari Merdeka 2005
Photos taken in Kota Kinabalu, Sabah, Malaysia Borneo