Sunset is the most beautiful view of nature, and feeling rich and romantic are the two best life experience. Isn't that exciting if we can enjoy all these at once in sunset cruise?
10 years ago, people didn't get it why they need to go to open sea to watch sunset. Now sunset cruise is on the bucket list of many because of the following five reasons. I use a lot of photos of North Borneo Cruises here because they offer the best experience.
1. World-Class Sunset
Not all sunsets are the same. We had been taking our beautiful sunset for granted, until 3 years ago, a foreign writer featured Kota Kinabalu City (KK), capital of Sabah as one of the great places to watch sunset in a popular website.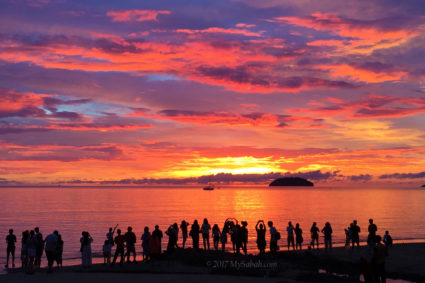 Sabah is famous for its vibrant "Fire Cloud" sunset, a phenomena when the sinking sun photoshops the sky and cloud with intense red, yellow, orange, pink, and purple colors.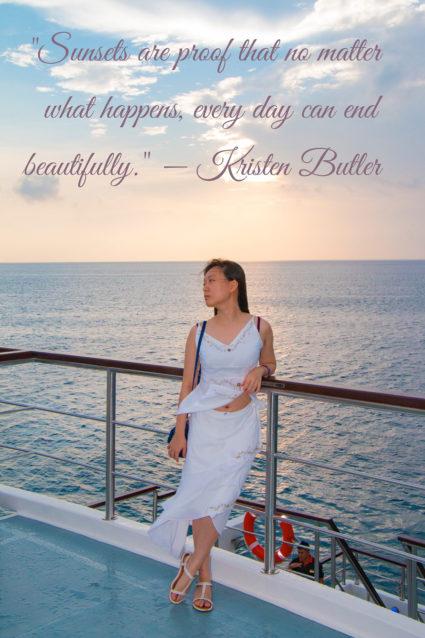 During magic hour, you would see hundreds of people congregate at our beaches to watch sunset and take photos. And now you can find "sunset bar" in many resorts and hotels of Sabah.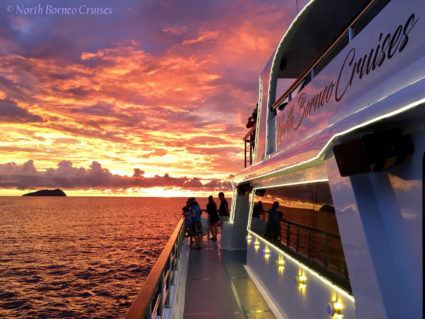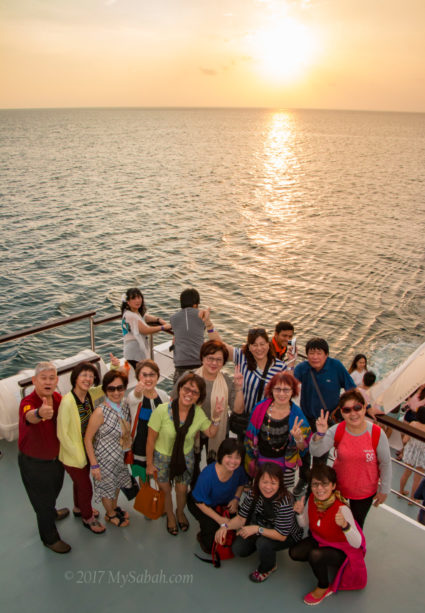 Actually beach and hilltop are only the second best location to watch sunset. The Best Viewpoint for Sunset is in open sea, it's like getting a front seat for a spectacular stage show.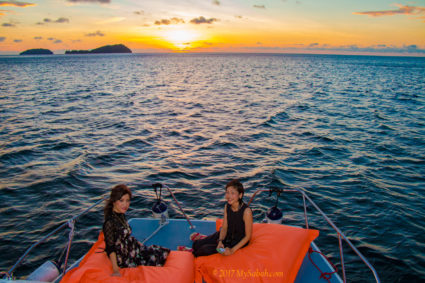 2. Feeling Rich
Most of us would never make enough money to buy a yacht, but I'm sure we all want to know how it feels to ride on a luxurious yacht. No doubt you will feel super rich on the 92-feet yacht of North Borneo Cruises.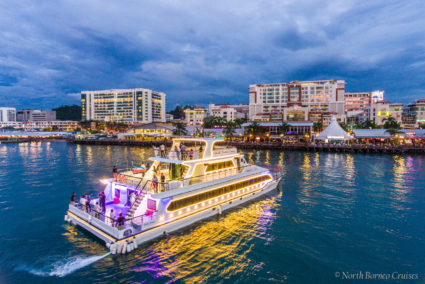 With a maximum capacity of 100 people, North Borneo Cruises can host fairly big private function such as wedding, birthday, party and corporate dinner.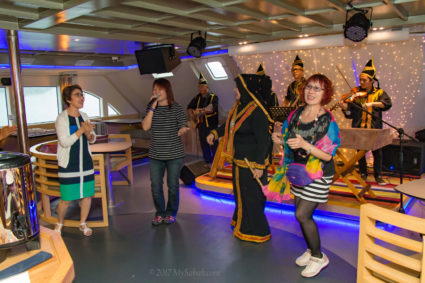 Your staffs will love you if you throw a company party on-board. This is far more fun and creative than a formal dinner in hotel.
"Sunsets are just little glimpses of the Golden streets of Heaven…"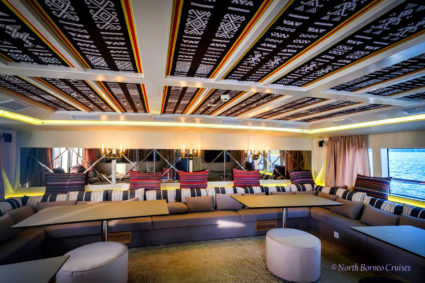 Want more upper-class feel? VIP Deck boasts a private room equipped with a Karaoke audio and visual sound system best suited for birthday parties and business meetings of up to 30 people. The interior is decorated with motif of Borneo's indigenous tribe.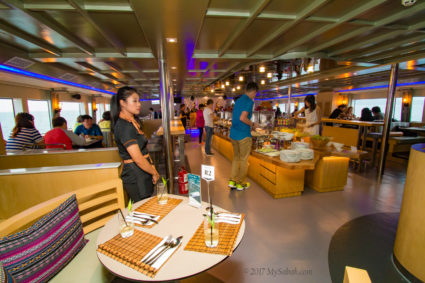 The crews of North Borneo Cruises are friendly and treat us like a VIP. On this big yacht, we don't need to fight for space with throngs of noisy tourists.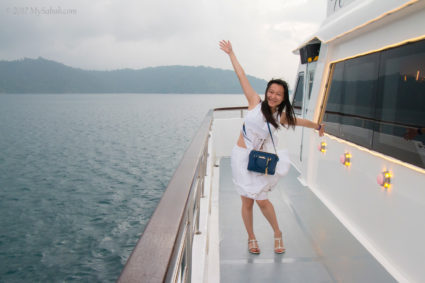 3. It is Romantic
Lovely sunset moment is best shared with your special someone. According to the "Love's To-Do List", watching sunset together is the most romantic thing couples do, followed by candlelit dinner.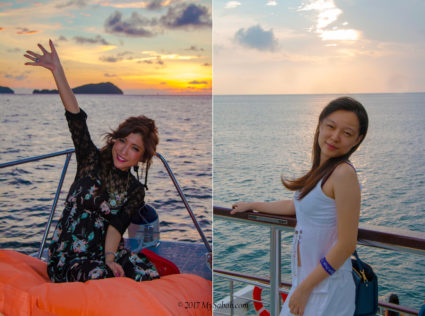 "The first stab of love is like a sunset, a blaze of color — oranges, pearly pinks, vibrant purples…" ? Anna Godbersen, The Luxe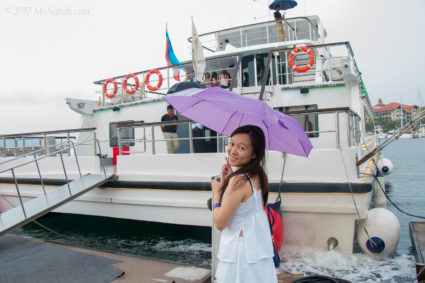 You would tend to mimic "Titanic pose" of Rose and Jack. That might be a bit tacky lol.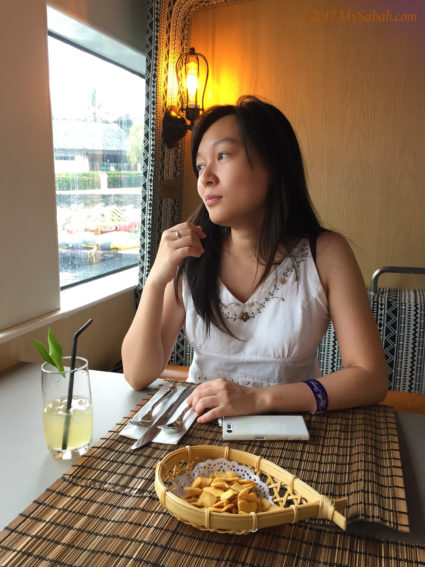 Big yacht is great because it can remain stable in choppy sea, you don't want your loved one gets seasick and vomit right.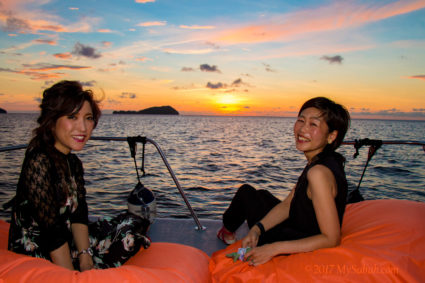 Got idea for your next Valentine's Day or Anniversary? You are welcome. 😉
4. Multi-sensory Enjoyment
Sunset cruise is more than just watching sunset. The tour operator has perfected it by making it a multi-senses experience.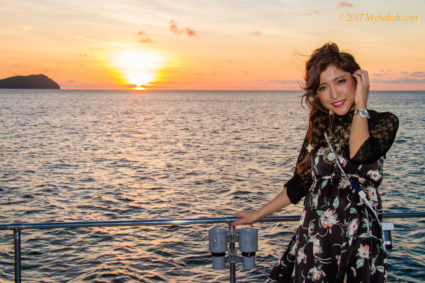 During the cruise, you will have sunset for your eyes, food for your mouth, and music for your ears.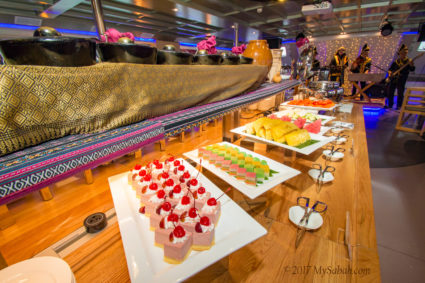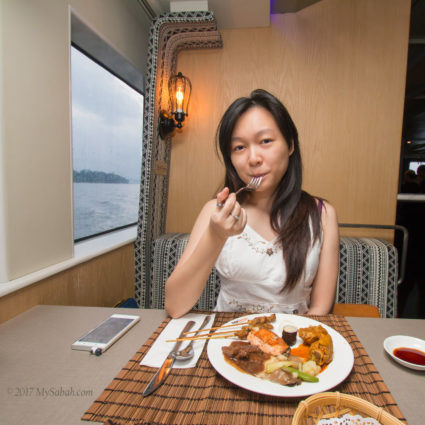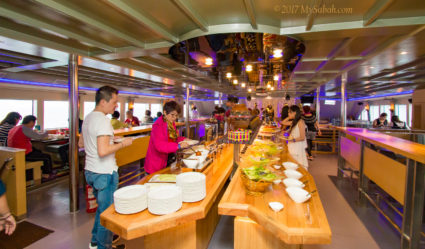 There is live band performance in North Borneo Cruises. Guests are very encouraged to join group dance for fun.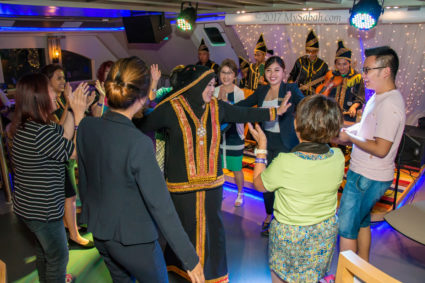 If sunset cruise is only about watching sunset, a rainy day can ruin the whole experience, so it's good that they have other activities on-board.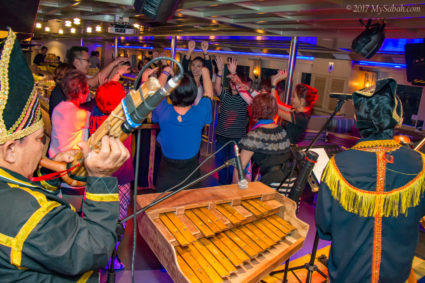 5. Sightseeing without Walking
Another bonus of sunset cruise is – you don't need to walk to see the beauty of KK City.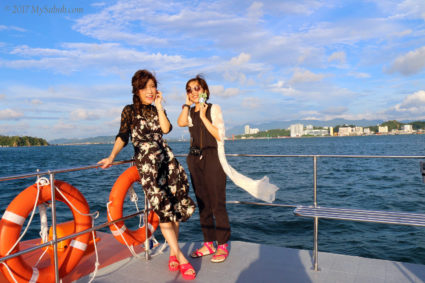 You can admire the panoramic view of KK City from Sabah Port at the left to Kota Kinabalu International Airport (KKIA) at the right. Most landmark building such as Tun Mustapha Tower is in the view. In good day, you even can see Mount Kinabalu, the highest mountain of Malaysia.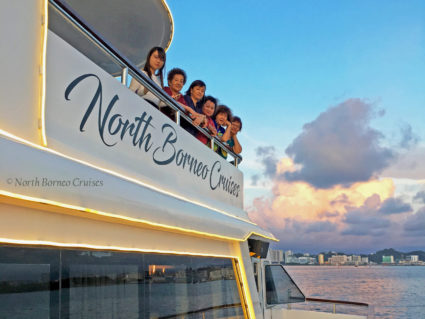 The yacht will cruise around the most popular tropical island park of Sabah, i.e. Tunku Abdul Rahman Marine Park, which consists of five islands.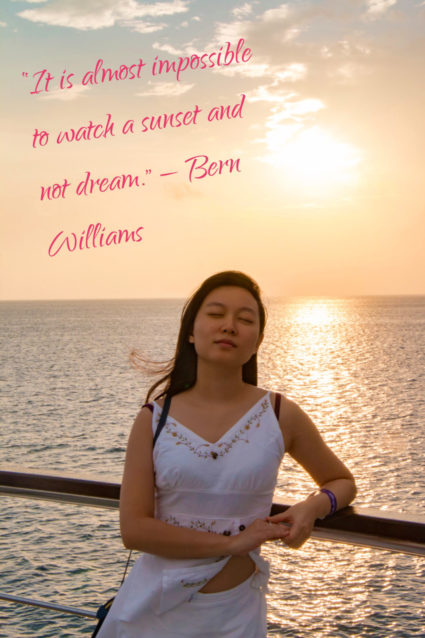 Water village on Gaya Island is probably something unique to foreign tourists, they find it interesting that houses, mosque and school are built on the stilt platform on the sea.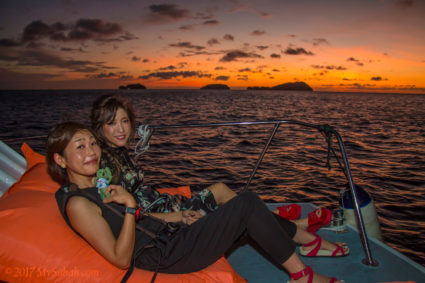 At the end of the cruise, you would see the mesmerizing city light of KK on the way back, to mark a great ending of the tour.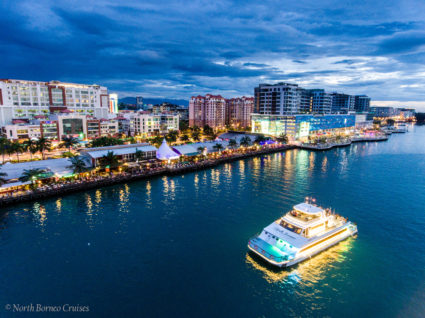 How to Join
The sunset cruise of North Borneo Cruises (NBC) starts at 4:50pm and ends around 7pm. Personally I recommend NBC because it's the best.
Below is the contact for booking a sunset cruise with NBC:
Website: NorthBorneoCruises.com
Facebook: northborneocruises
Booking: AmazingBorneo.com
E-mail: info@northborneocruises.com
Tel: +60 18-6662009 / +60 16-5242009
Photos taken in Kota Kinabalu City, Sabah, Malaysia Borneo