Sulug Island (Local Name: Pulau Sulug) is a forgotten island. As one of the five islands of Tunku Abdul Rahman Marine Park (TARP) off Kota Kinabalu City (KK), it receives 0 tourist, compared to other four islands that are visited by nearly half a million tourists annually during peak years.

Gaya, Manukan, Sapi and Mamutik Island have complete amenities for tourists. However, there is nothing on Sulug Island, not even a jetty and toilet.
Sulug Island is incredibly beautiful and pristine. The moment you land on its soft sandy beach and see the emerald seawater, you would wish that you discovered this secret island earlier. For many years, this island is hidden fairly well from the tourism map. You may wonder why.
About Sulug Island
Sulug Island is the second smallest island (20 acres or 8.1 hectares in size) of Tunku Abdul Rahman Marine Park, which is managed by Sabah Parks. It's used to be a shelter for the Suluk or Tausug tribe refugees in the past hence the name Sulug. In Bajau language, Sulug means current, and also another term for group of Suluk tribes.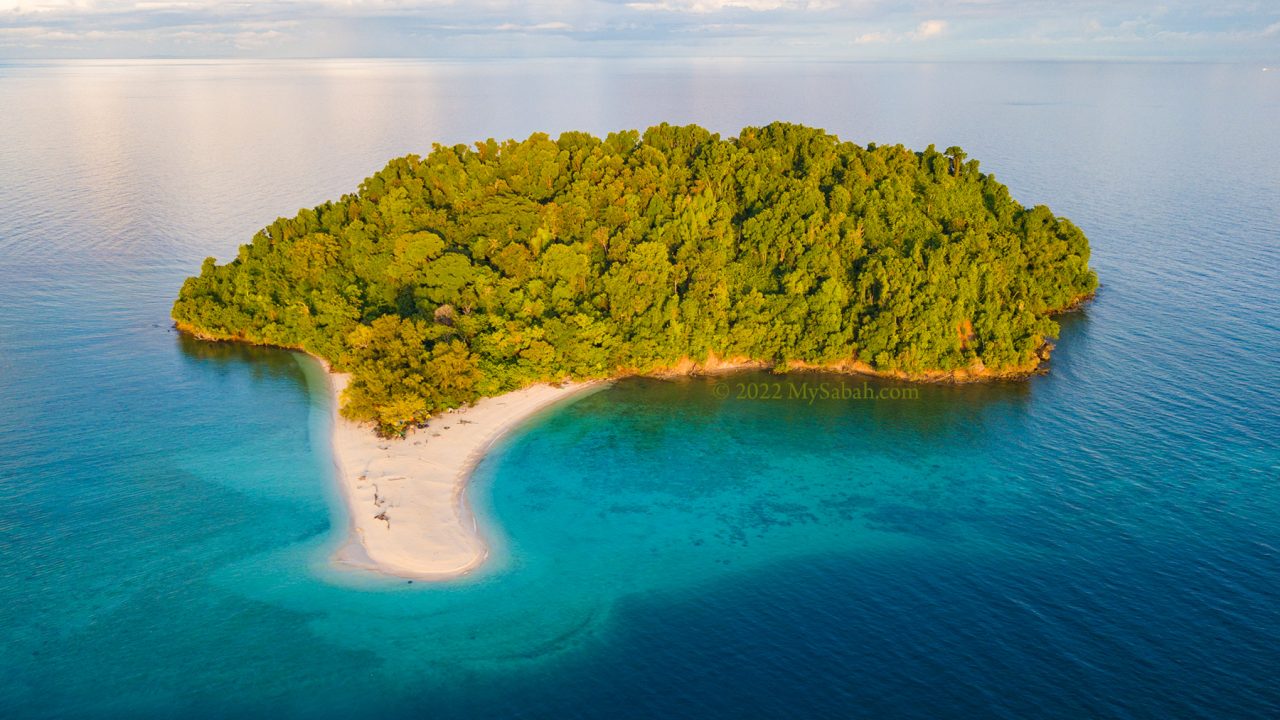 The most unique feature of Sulug Island is its long sand spit, like an island sticking its tongue out. The rest of the island is fully covered in lush forest. From the sky, Sulug Island looks like a broccoli.
More than 70 years ago, Sulug Island had a fishing village for about a hundred Bajau Ubian people (more stories on this later). It's a miracle that such an amazing island is uninhabited and undeveloped, consider it's only 5 Kilometres away from KK. Actually, there was a resort on Sulug but was destroyed by wind decades ago.

Wanna go there? No, you can't because Sulug Island is not open to public. I was able to "sneak" into Sulug island in 2006 because the ban wasn't strict then. Even so, at first the boatman was reluctant to bring me there because Sulug wasn't a popular choice and sending only one passenger to Sulug was less profitable. Last month I joined a dark tourism program and overnight on Sulug Island, now I can write more about it.
The Beach of Sulug Island
The beach of Sulug Island is untouched so it's full of coral fragments and seashells washed ashore (sadly, so are some garbage). The long strip of white sandy beach is vast and extend far to the sea, more than 120 metres long and about 30 to 40 metres wide. Other than the beach area, other sides of Sulug Island are rocky beach or cliff.

This sand spit beach would shift direction and change shape from time to time due to wind and wave actions. The strip can become shorter, wider or bent sometimes. That affects the depth of the seawater that flanks the beach, so be careful, it can be shallow today but turn into deep water in your next visit.

However, the open area of the beach is not a right spot to setup your camp. Your tent would be blown away or flooded if a rainstorm hits. A patch of tall casuarina trees at the shore offers some good covers for dozen of camping tents, but be prepared for some itchy sandfly bites in the shaded area.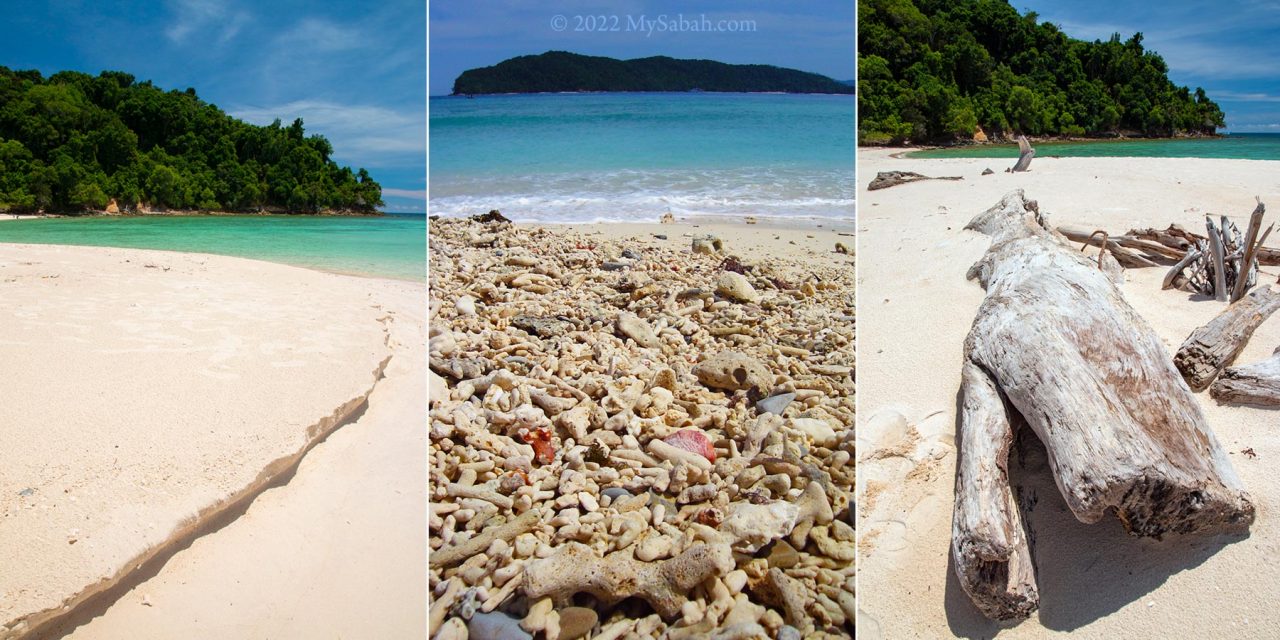 Anyway, this breezy beach is perfect for picnicking and sun tanning, especially for beach-goers who prefer a secluded and tranquil seaside outing. In 2015, two female foreign tourists felt so free in Sulug that they went topless and became a local news headline. Nude sunbathing is a No-No in Malaysia.

Too bad no bikini girl with me. The drift wood and log laying around on the beach are excellent spots for taking photos. The sandy side of Sulug Island is facing east so you can see sunrise over KK and Mount Kinabalu in the morning, another great chance to bag some cool pictures.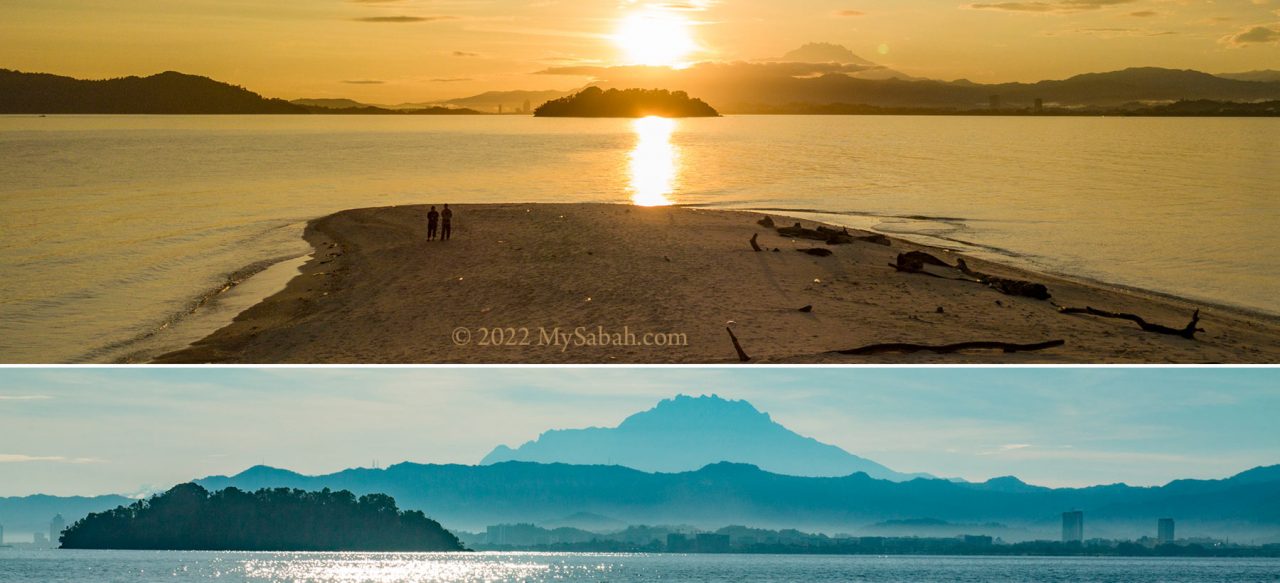 Watch your steps when you bath, so you won't step on the graves submerged in the sea. These graves belong to the past villagers and used to be on the land before the beach erosion. Some locals found human bones in the sea and have collected and took most of them away. At night hermit crabs would be everywhere, and some of them grow to fist size!
In the wood near the beach you would see some ruins of the abandoned resort, which are mostly engulfed by the trees and vegetation.
The Island Forest
Except the beach, the whole Sulug Island is covered by undisturbed old secondary forest. There is a gradual slope from the beach to the forested ridge at the back of Sulug Island, which is about a hundred metres high.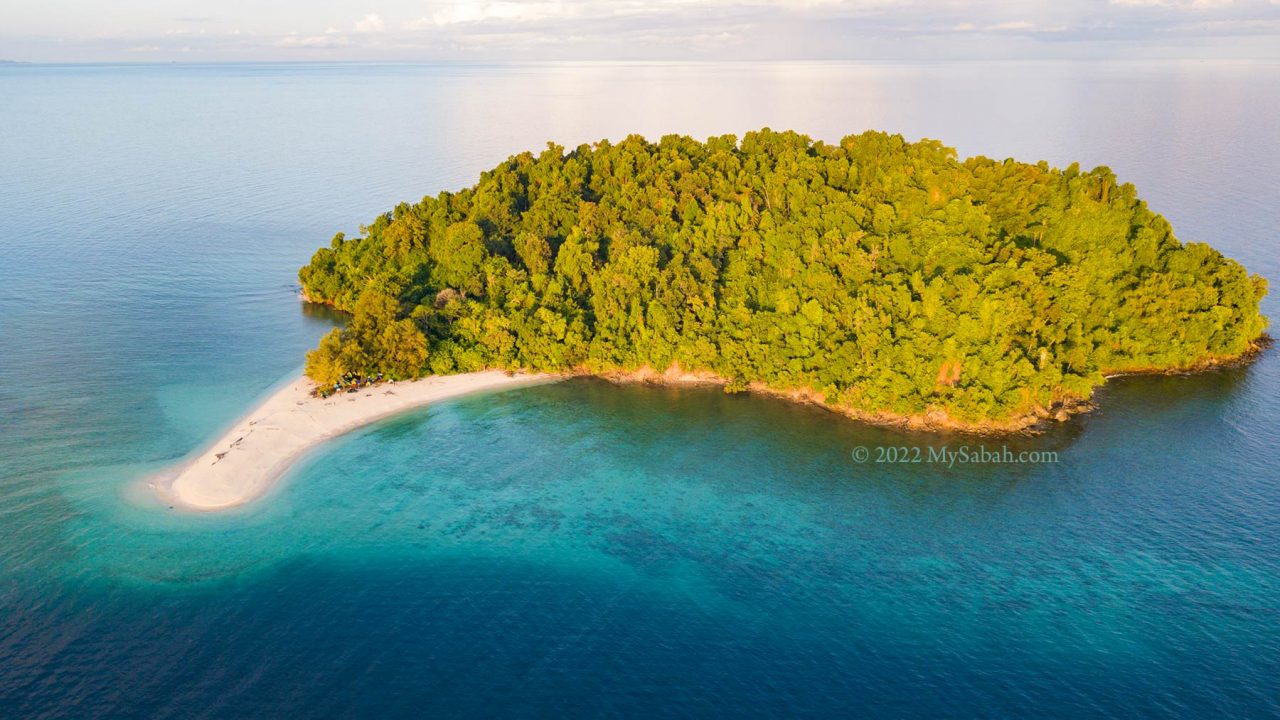 To explore the forest, you can start hiking from the wood behind the beach. On the way, you will find some traces of past human settlement such as old well and graves. The walk is about 1 kilometre in distance. The trail is narrow and not maintained regularly. Since it's not well-trodden and has no clear marker, you could lose your way, so never go alone.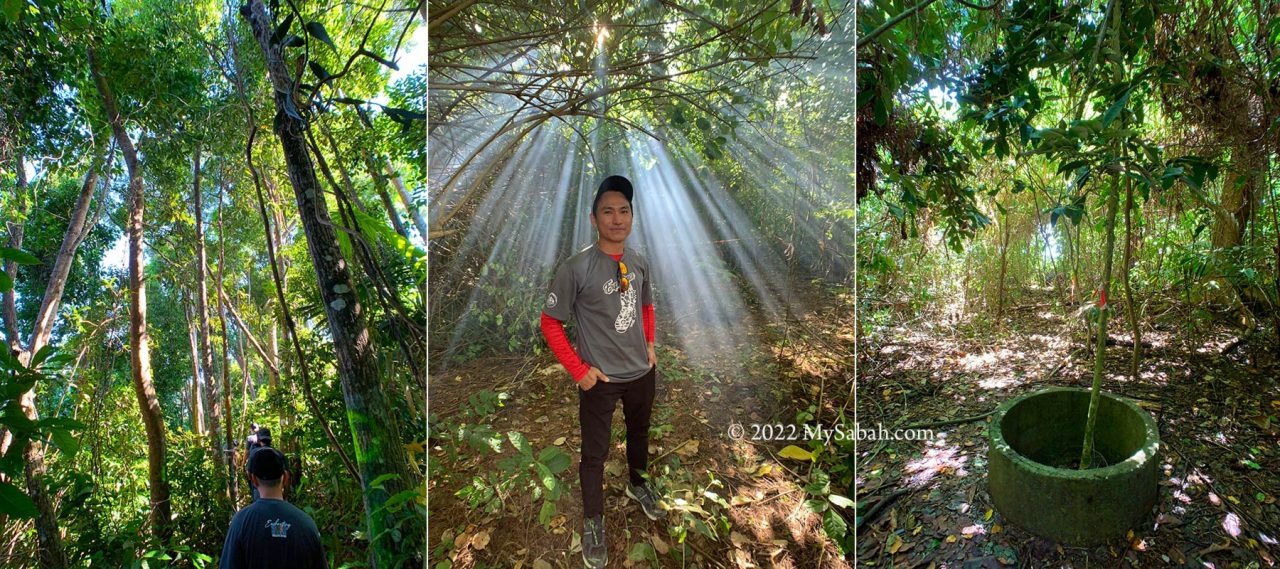 The forest is mostly island vegetation dominated by tall and slender trees, with figs, sparrow's mango, and tembusu trees among them. The dense undergrowth such as palm, ferns, creeping vines, rattan (some are spiky) and shrubs would slow you down. The sea view is obstructed by dense tree lines so don't expect any nice view on the top.
Near the end of the loop trail is a slippery descending route to the rocky beach, where you would see interesting plant like Pandanus (screwpine) that bears fruits look like pineapples. Surprisingly, I find no coconut tree on Sulug Island.
A Haunted Island?
Most KK folks believe that Sulug is a ghost island and a burial ground. When I was a boy, my late father owned a speedboat but never wanted to land on Sulug. We only passed by and looked at Sulug Island from the sea, I still can recall the loud cicada song on this empty island that gave a spooky vibe.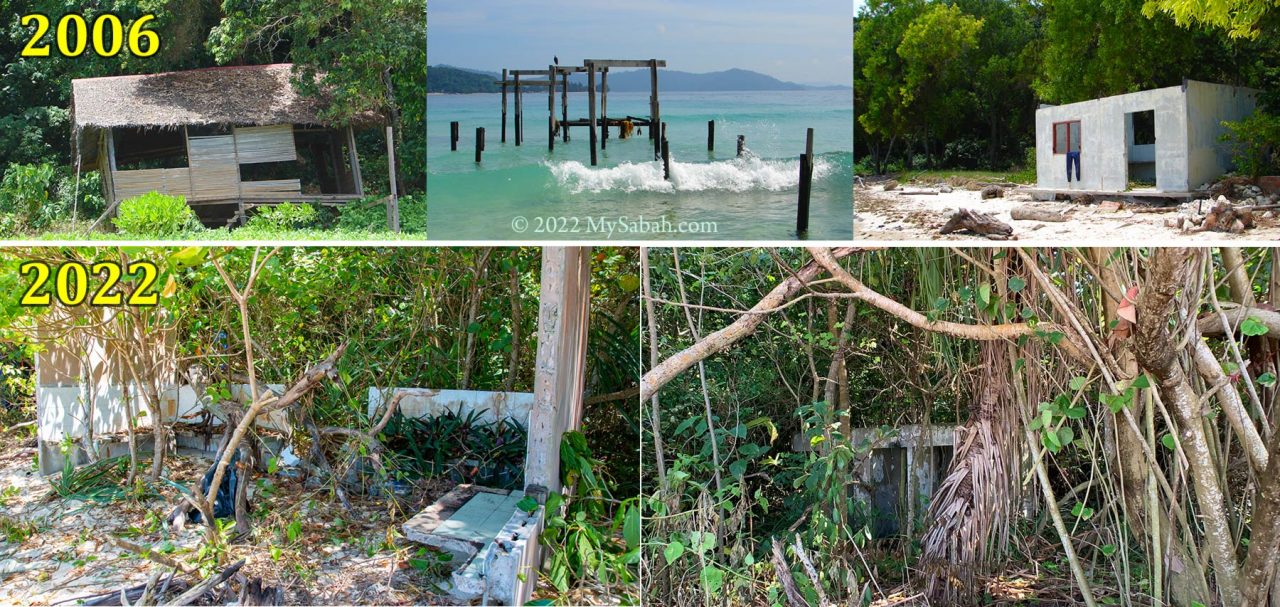 If you talk to the locals, this island is not short of paranormal stories. Remember the resort I mentioned? Some guests experienced strange things such as the light turned on and off by itself. Or they were sleeping in their room but ended up laying outside in the next morning. Nobody would challenge you if you list Sulug Island as one of the 10 most haunted places in KK.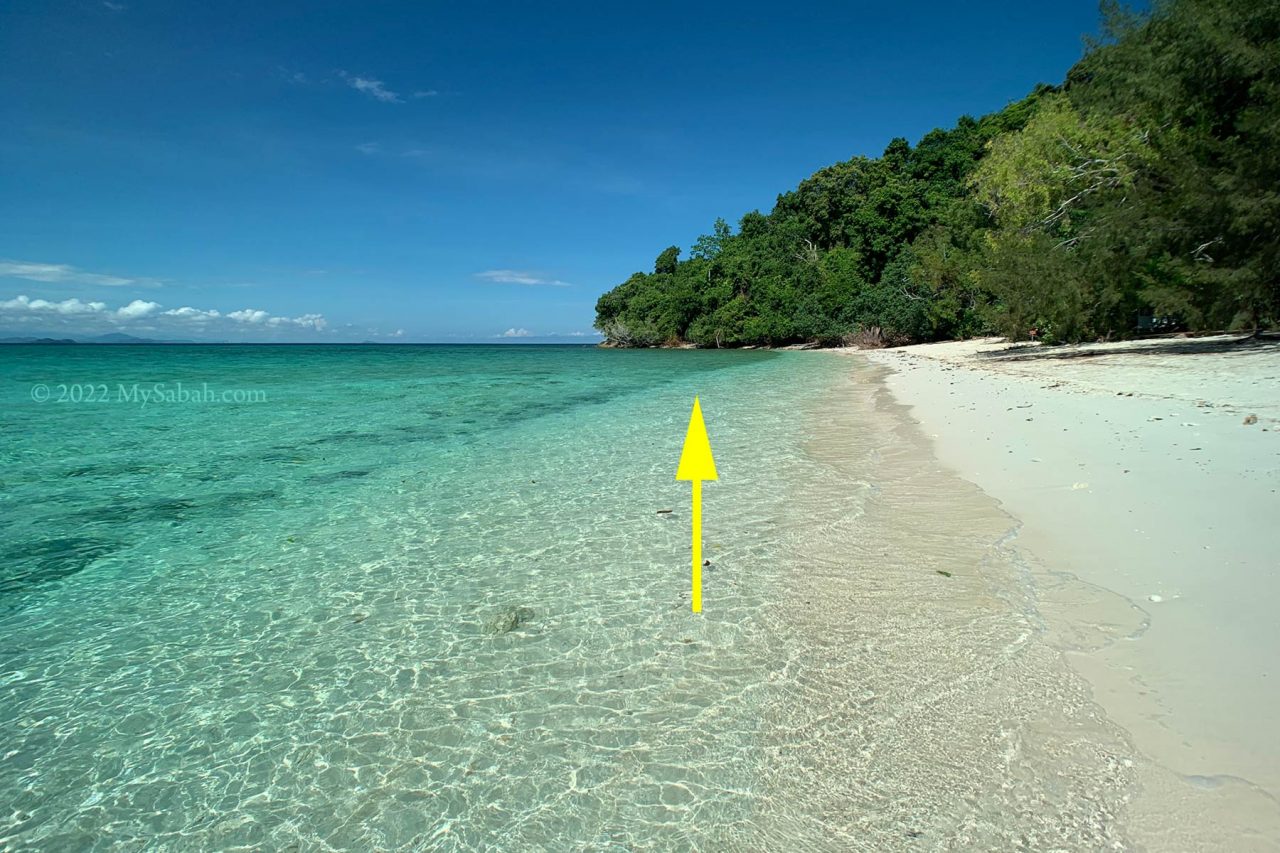 The more recent case is a group of campers on Sulug Island were so freaked out because their tents were shaken by invisible hands. Apparently there may be some resentful spirits lingering on the island. They might relate to the following tragedy that makes Sulug earning the title of "The Darkest Island in KK".
The most common unexplainable case is – one of your important items goes missing on the island, you search high and low but can't find it. Don't worry. It will reappear miraculously by itself later, at a place that you had checked. I've heard stories of missing vaper, cooking salt and mahjong tile.
Dark History of Sulug Island
During World War II, Sabah was occupied by the Japanese between 1942 and 1945. To overthrow the Japanese invaders, Albert Kwok (Chinese name: 郭益南) formed Kinabalu Guerrillas and led an uprising on 10 October 1943, which is known as Double Tenth Revolt. The islanders from Sulug and other islands launched the attack from the sea. They landed on Beach Road (Jalan Pantai) and the wharf. Then they attacked the military stations and set fire to the customs sheds. The rebellion killed about 50 enemies and the guerrillas took over KK (formerly Jesselton) successfully.
Unfortunately, without any backup by the ally, the victory of Kinabalu guerrillas is short-lived. Soon Japanese mobilised their main force from Kuching (Sarawak) and regained control of KK. The Japanese knew that islanders were involved in the revolt of October and planned to take revenge.

A week after the uprising, an expedition force under the command of Lieutenant Ogata arrested Orang Tua Panglima Ali (or Ali Imam Abbas Sani. Orang Tua means village elder / head), the headman of Sulug Island and about 10 of his men. They were taken to the mainland via Kinarut from where they were made to walk to Jesselton with their hands tied. Panglima Ali was imprisoned at Batu Tiga and later executed together with other guerrilla members at Petagas on 21 January 1944.
Two weeks later, 30 Japanese soldiers and 20 native policemen came to Sulug Island. The Japanese machine-gunned the inhabitants, setting fire to all the houses on the island. They shot the men running out of their houses. Some villagers tried to fight back and wounded a few Japanese. The Japanese soon overcame this resistance and killed or captured all the men whom they could find.

Of 114 people living on Sulug Island, 54 were killed and 60 survived. Thirty women and children were exiled to Bongawan as the forced labour in the paddy fields, and 25 of them died from malnutrition and ill treatment. No adult male of Sulug Island survived. When the British landed there in 1945, they found only women and children. An 11-year-old boy became the headman and featured in the article "Widow's Island" on The Straits Times newspaper on 28 October 1951.
The islanders suffered severely from reprisals. Besides Sulug, the massacre also occurred in other islands such as Mantanani. Hundreds of islanders died but only about 50 of the them are listed in the monument of Petagas Memorial Garden with other Chinese, Bajau and Kadazandusun warriors.
Reference Books
"One Crowded Moment Of Glory" by Danny Wong Tze Ken, University of Malaya Press (2019)
"Kinabalu Guerrillas, An account of the Double-Tenth Rising against the Japanese Invaders in North Borneo" by Maxwell Hall, Opus Publications (2009).
How to get there
The GPS location of Sulug Island is 5.95931591065662, 115.9950597329908 (see Location Map). As there is no amenities, Sulug Island is not meant to be a tourist destination. Entry to the island is forbidden, unless you get the permission from Sabah Parks (Though I saw some tourists land on the island by chartered boat, probably without the knowledge of Sabah Parks). If you really want to visit Sulug, the following are some ways.
1. Dark Tourism
Sulug Island is special because the event is an important chapter of Sabah history during WWII. All races were working together to fight for the freedom of Sabah. A local club Dark Tourism Sabah has been promoting Sulug Island as a dark tourism destination. Sometimes they organise trip to Sulug Island, but not on regular basis. You can follow their social media for updates. Please note Dark Tourism is not entirely about ghost hunting. The group focuses more on telling the sad stories of a location.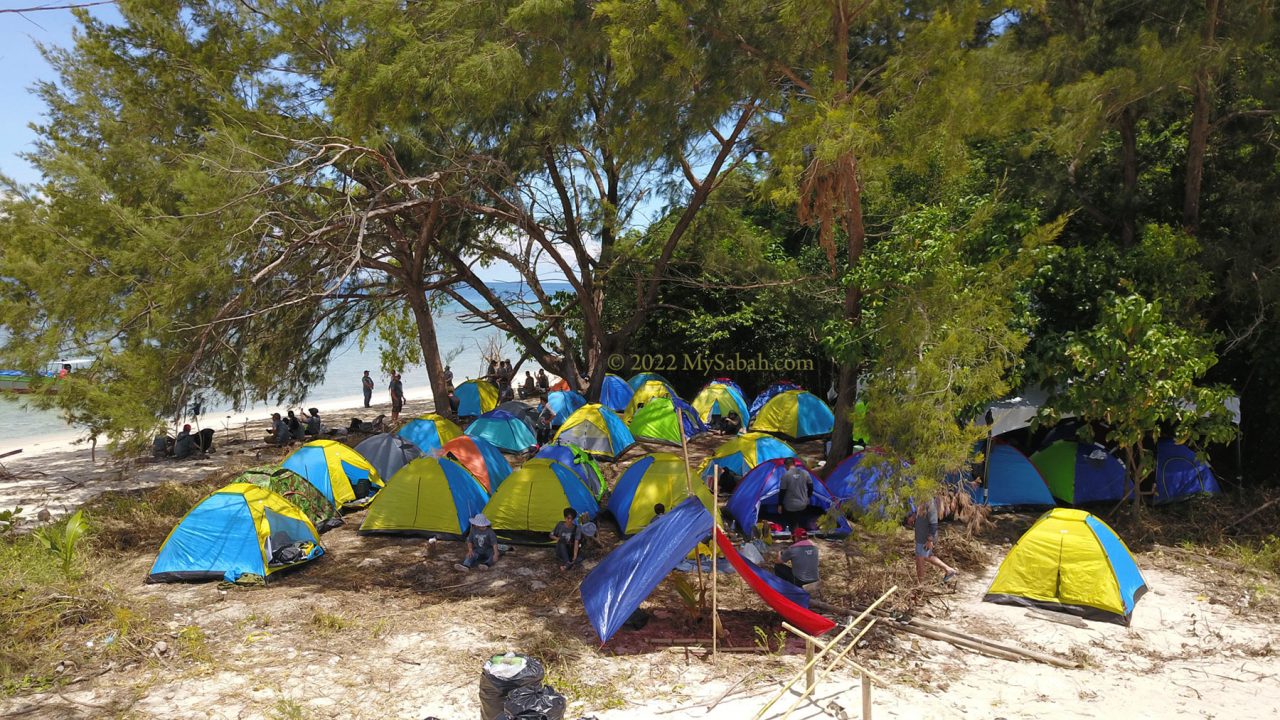 2. Scuba Diving
The beauty of Sulug Island is not merely on its surface. A few dive sites such as Sulug North Reef is one of the top 10 diving spots in TARP. Scuba divers can sign up for leisure boat dives around Sulug with the local dive operators. The average depth is 15 metres (49.2 ft) with good visibility (10 to 20 metres). Possible sighting includes turtles, nudibranch, frogfish, lion fish, giant clam, school of yellowback / blueback fusiliers, barracuda, and rich variety of soft and hard corals such as sea whips and barrel sponge. Clement Lee, a local hardcore diver, even found Rhinopias (scorpionfish) and Hairy Shrimp in the water of Sulug.
3. Standup Paddleboarding (SUP)
SUP is fun and getting popular in Sabah. Sometimes the participants take off from Kinabalu Yacht Club of Tanjung Aru Beach and paddle 5 to 6 km to reach Sulug Island. I saw the photos in the Facebook of Borneo Paddle Monkeys. I'm not sure how often they do this. You can contact Borneo Paddle Monkeys for information.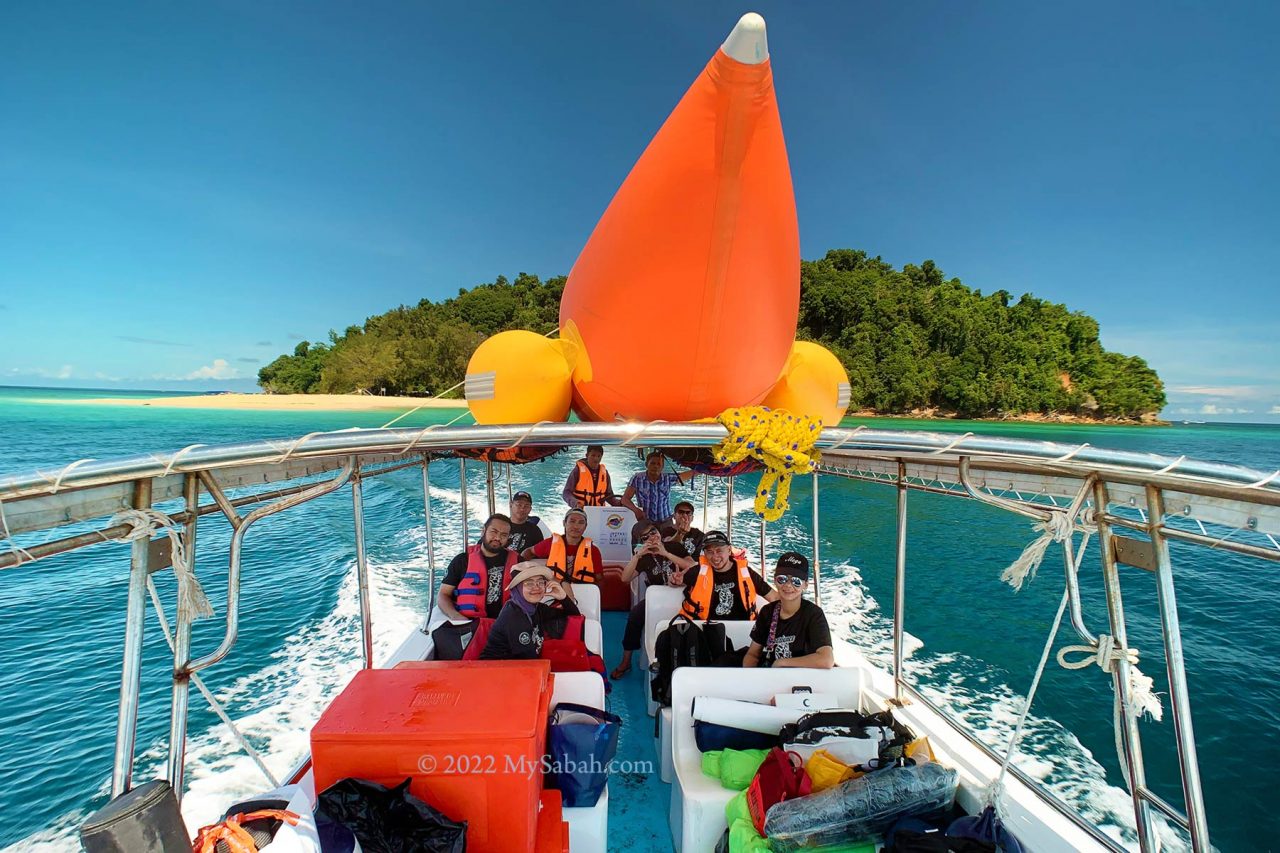 Anyway, you can always visit four other islands in the marine park for a more comfortable travel experience.
My Thoughts
Sulug Island is gorgeous but deserted, so a lot of investors think we should do something about it. The primary goal of a marine park is to conserve the local flora and fauna by protecting and nurturing their ecosystem and habitats. One of the best strategies is to leave them alone, and let them stay free from the destruction by human activities. Therefore, it's not an utmost priority to develop every beautiful islands we have, which would degrade the natural environment.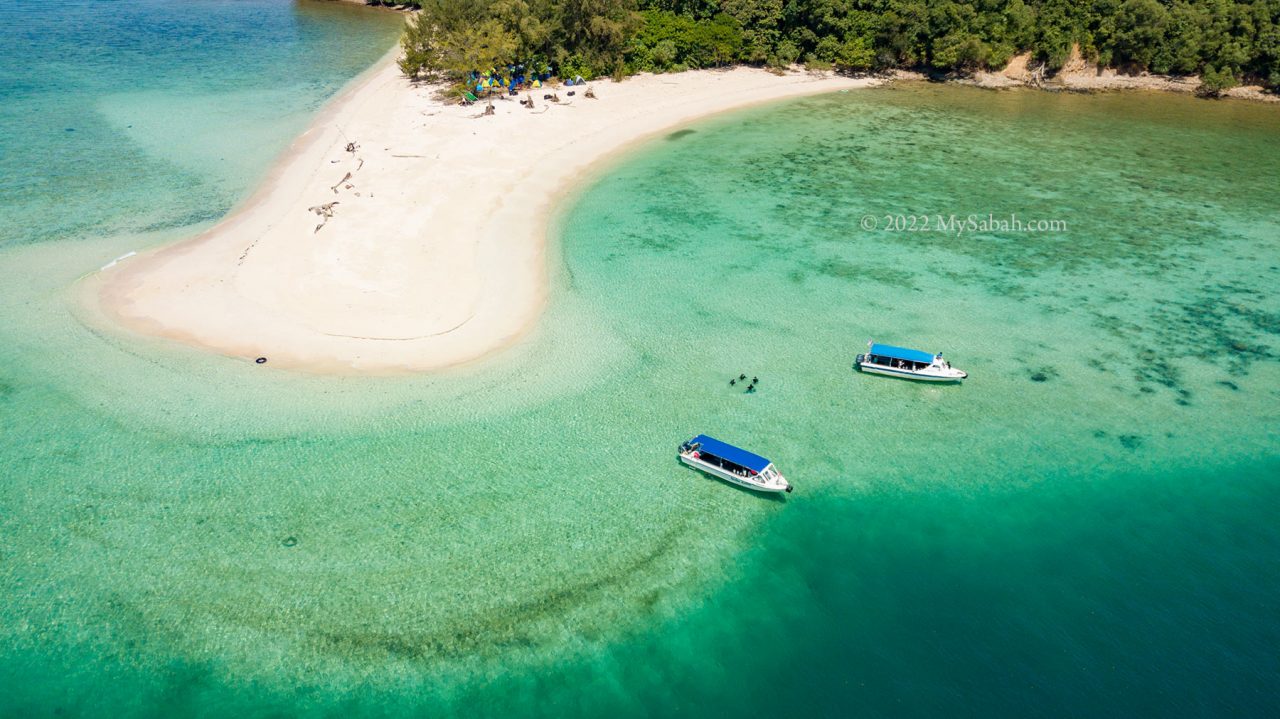 In 2019, a Japanese firm proposed to build high-end floating chalets on Sulug Island. I don't know what's your take. The soldiers from their country committed a serious war crime on Sulug Island. Building a Japanese resort on the graves of WWII victims? Sound like a slap in the faces of those islander heroes. Yes, I agree that this is history and we should move on. However, we can forgive, but NEVER FORGET. Anyway, a WWII monument on Sulug Island would be very much appreciated though.
Photos taken in Kota Kinabalu, Sabah, Malaysia Borneo