Homestay at Bilit Village
In Sabah, more and more people are moving from villages to city because they want a better life. On the other hand, more and more city people are envy the rural life in villages, where stress and traffic jam are not common. In fact, I wish to have a house next to a river and able to enjoy fishing anytime. Hmm… now I sound like a retired oldman.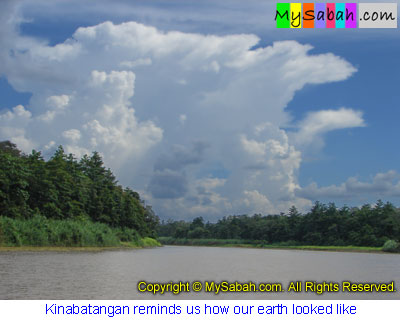 Click Here to see more photos >>
There are a few kampung (villages) along the Kinabatangan River. Most of them are Orang Sungai (River People) who works as a fisherman. They also use the water from the river for daily life. During our trip to Uncle Tan's Wildlife Camp, we also visit one of the houses in Bilit Village. All houses near the river are stilt houses with the purpose of (1) preventing flood, and (2) avoid wild animals such as snake get into their houses. Seem like every family also uses boat as their main transport.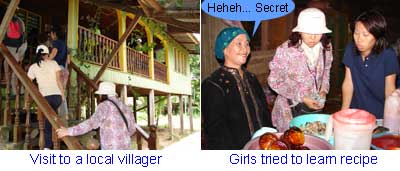 Click Here to see more photos >>
Our host was an old couple who participated in the homestay programme. The foreigner tourists, who would like to experience the lifestyle and culture of local people, you can live with them, eat the local food, learn the culture and hang around with them. There are many homestay programme all over Sabah. Due to limited fund and support, they can't afford to promote their service, which can help them to earn some side income.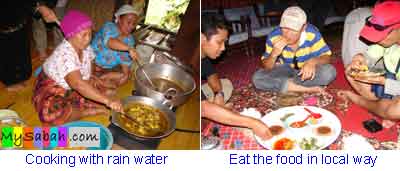 Click Here to see more photos >>
Our host is very kind and friendly, and he even shared some of his stories about World War II, and how the locals live with nature. Later they cooked the lunch for us. The materials are totally natural, for example, rain water, "walking" chicken that eat natural food, pesticide-free vegetables from their garden. Since it is so natural, you got to eat it by hand. For tourists who are not used to this method, they will get the food all over their hand, face and floor, haha…


Click Here to see more photos >>
After lunch, the local children also performed a few traditional dances for the guests. Without a stage, many local dialect and cultural heritage would be vanishing. Therefore, another reason we promote homestay programme is to give them a stage to preserve the culture of Sabah.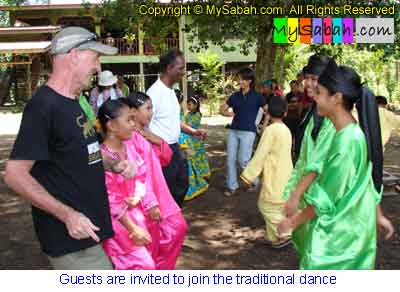 Click Here to see more photos >>
All the guests are also welcome to join their dance. At fast it was a traditional dance, but don't why how, everyone starts to do disco and chicky dance. So funny… everyone was having fun anyway.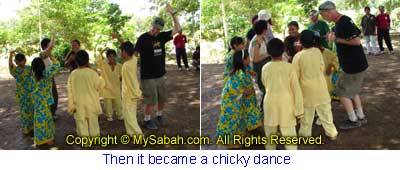 Click Here to see more photos >>
Photos taken in Bilit Village, Kinabatangan, Sabah, Malaysia Borneo