As Tenom is a famous agriculture district, you can expect a lot of cuisines made from the fresh produces there. Besides online reviews, another way to discover best food and places to eat is by asking the locals. I've done the homework for those of you who plan for a gastronomic adventure in Tenom.
1. Corn-fed Chicken (包蜀鸡)
I didn't realise that chicken can taste so good until I tried corn-fed chicken from Tenom. The meat is firm and bouncy, and the skin is more yellowish due to the diet. Unlike the overly thick fat found in farm chicken that feeds on cheap grains, the fat layer of corn-fed chicken is leaner. Another plus is they use older chicken, which has denser meat texture.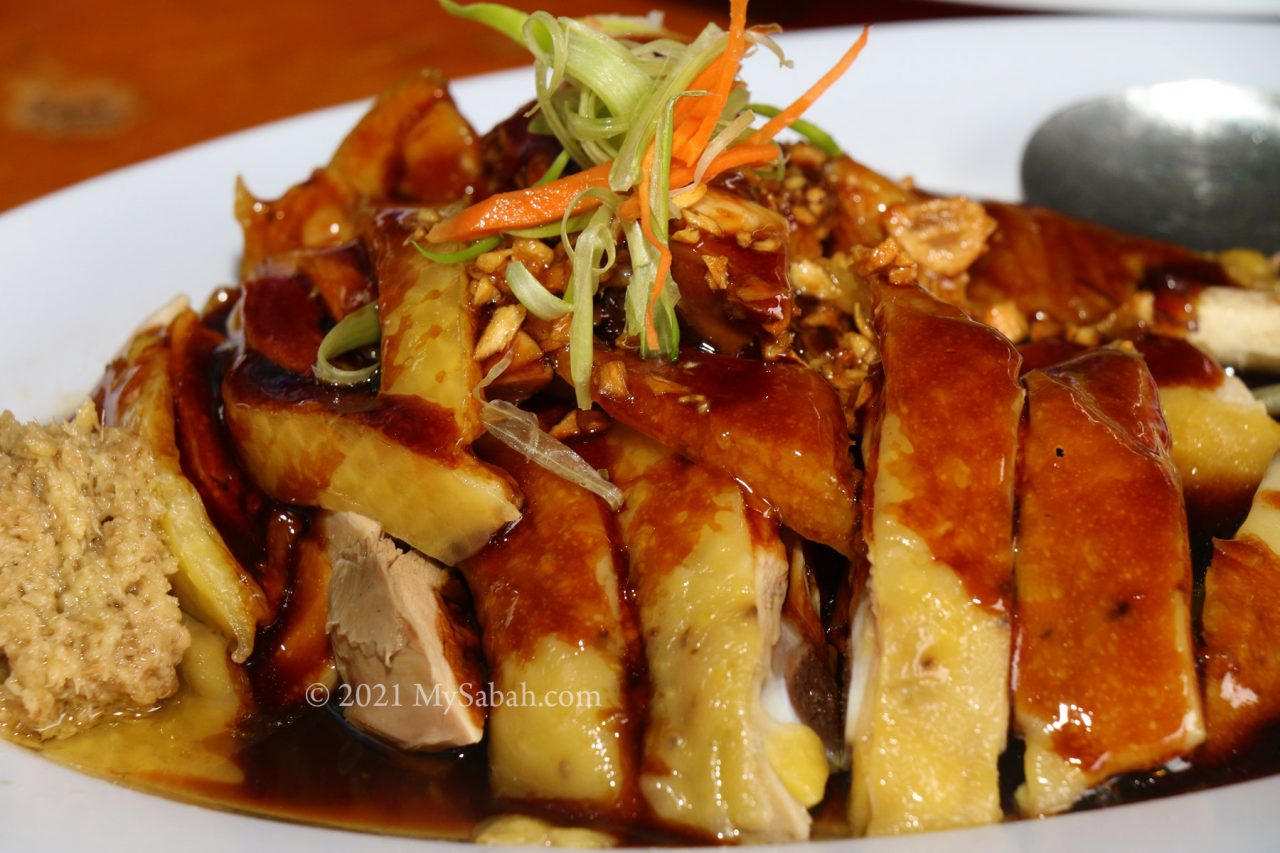 When asking the Tenom folks what's the best restaurant to try corn-fed chicken, all of them answer Chi Hin Restaurant (志兴茶餐室) without hesitation. You can order chicken rice there for a taste of Tenom corn-fed chicken.

Other Tenom's delicacies such as spring rolls, meatballs and steamed pork belly are also sold at Chi Hin Restaurant (GPS: 5.122420835756874, 115.94213137109527, see Location Map) in Tenom town centre. However, Chi Hin keeps on changing their opening hours lately. Noon would be the best time to visit.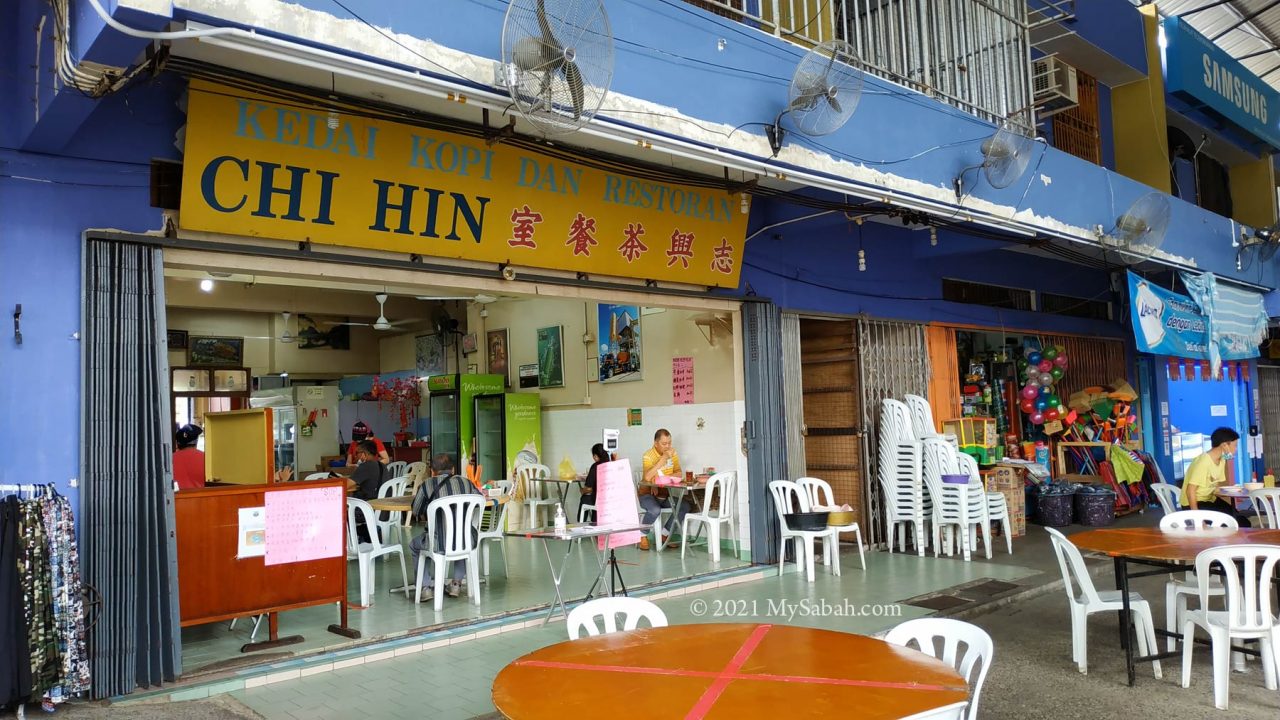 2. Spring Rolls and Meatballs (丹南春卷肉丸)
Hakka Chinese style spring roll is roll of minced pork wrapped in a thin layer of egg crepe to seal the flavours. To make spring roll and meatball, the minced meat is beaten by clubs until it becomes paste with all the tastes unlocked in every cells. Spring roll slices and meat balls are always served together because they go well.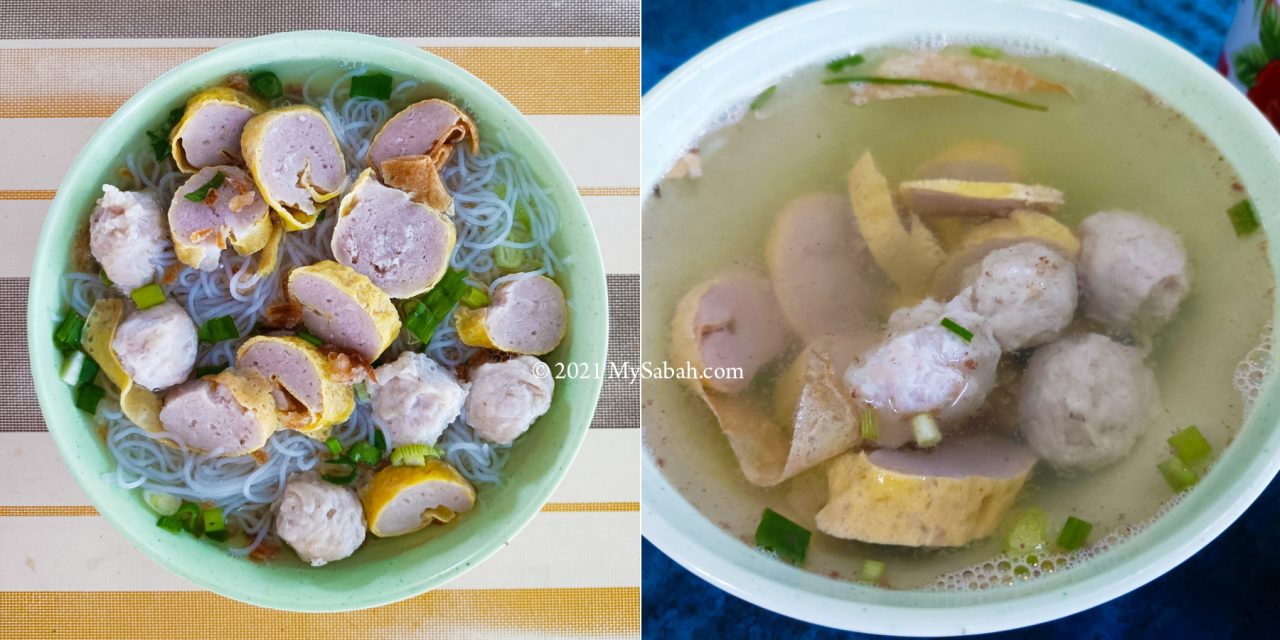 Actually spring rolls and meatballs are commonly used in Chinese food in other parts of Sabah, but everyone seems to agree that the ones from Tenom taste the best. For a hearty Tenom-style breakfast, spring rolls and meatballs must be on your menu. They can be served in soup or with noodle (vermicelli or yellow noodle), or both. By the way, don't forget the Tenom coffee too.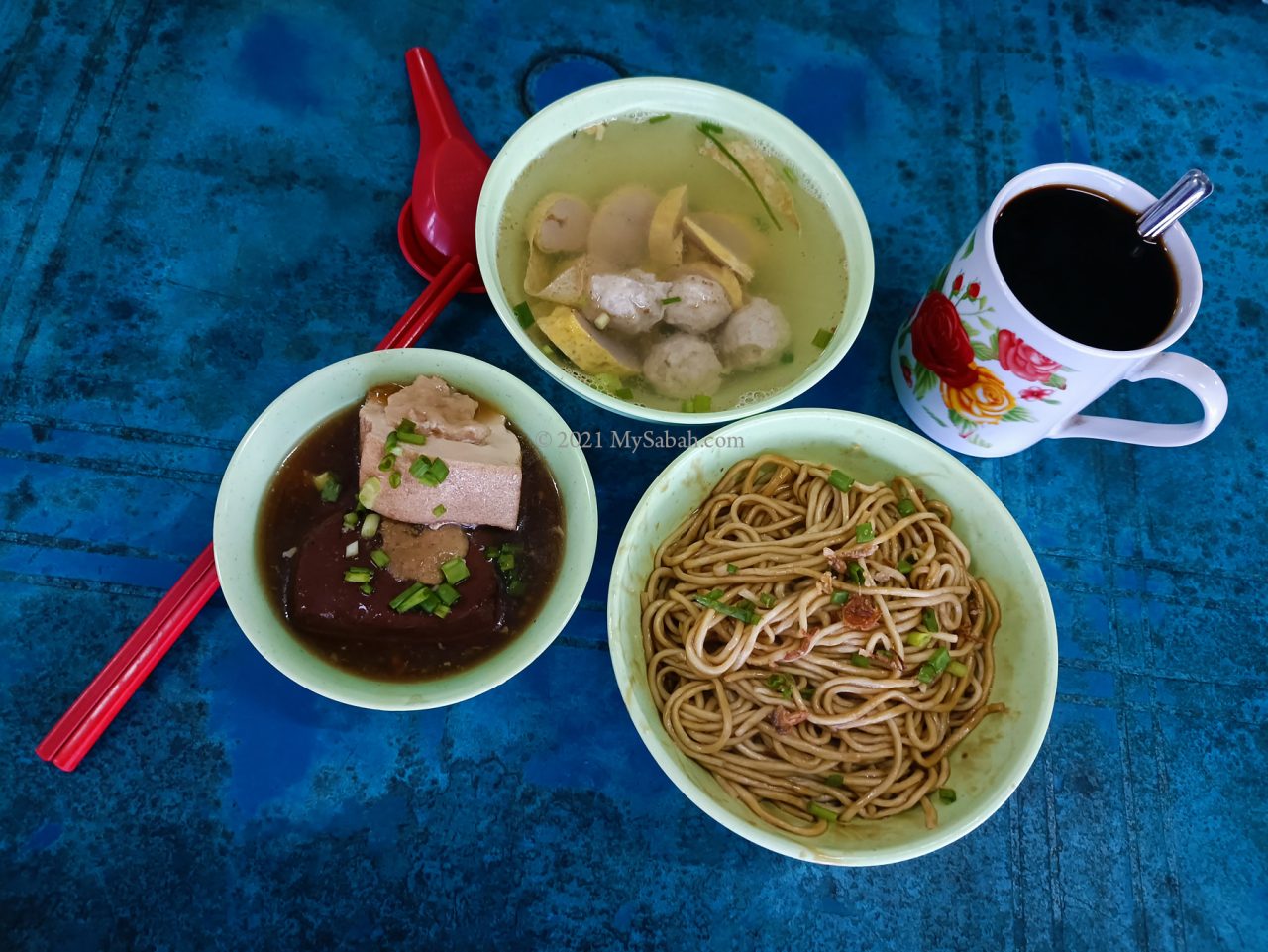 I also love the soft and refined Tenom tofu (bean curd) stuffed with minced pork. Another merlot-coloured tofu shown in the picture above is made of swine blood. Blood tofu is not for everyone but it gives an interesting silky feel to your sinking teeth. In old days when food was scarce, all parts of pig are used and not wasted. Blood tofu is just one of the poor-man dishes invented that time.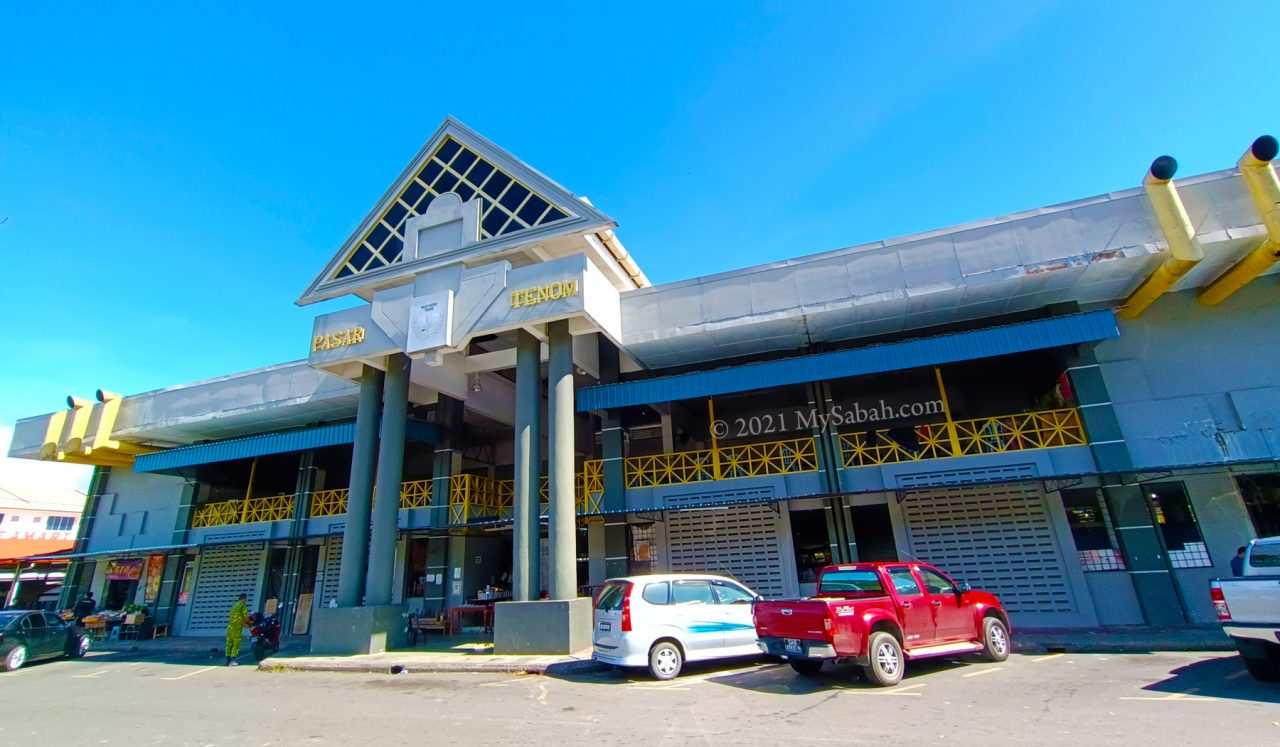 You can eat these (about RM7 per dish. Tofu is RM1.50 each) in top floor (Non-Halal section) of central wet market (Pasar Tenom, GPS: 5.121232020874259, 115.94220525139482, see Location Map) in the centre of Tenom town. The market opens as early as 5am. You're better be there before 8am, or they would be sold out.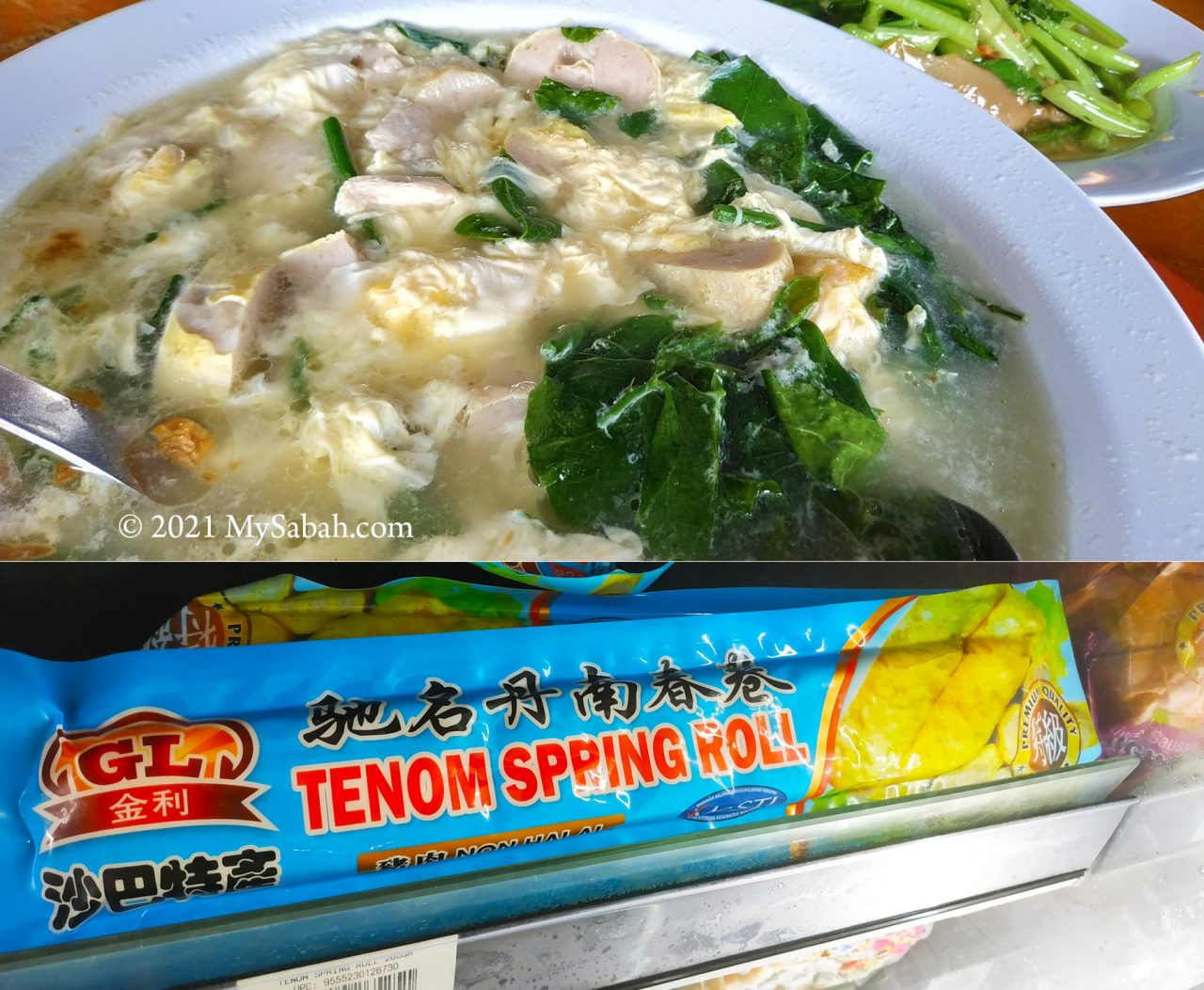 3. Tenom Fried Noodle
For Tenom people, Tenom Fried Noodle is the taste of hometown. Slices of spring roll and roasted pork, choy sum and handmade yellow noodle are fried and tossed in a hot wok to bring out all the fragrance, and then soaked in aromatic eggy gravy. To many, this juicy wet noodle is more palatable than the typical oily and dry noodle. Eat it while it's hot, so your nose can enjoy the pleasing smells too.

Restoran New Foh Baru (GPS: 5.122695342082009, 115.94343031327064, see Location Map) and Lai Brother Cafe (GPS: 5.119417924215551, 115.94439726900632, see Location Map) can make very good Tenom fried noodle. Both restaurants are within walking distance from Tenom town centre.

Or you can try the economic Tenom noodle of Ah Li (阿立) stall at the corner of Pasar Tenom market (only open in early morning). You can order add-on such as fried egg and sausage if it's too plain.

4. Steamed Pork Belly with Taro (扣肉)
My mom is an expert in cooking this popular Hakka Chinese dish. She says it's a pain to make because of its tedious and long cooking process that involves many steps and skills, from deep fry, cold bath, marination to steaming. Without good experience, the dish would taste terrible. That's why most people are willing to pay nearly RM100 for a bowl.

Though starchy taro and oily pork belly are so different, they mix so well together like a happy marriage and become a bowl of well marinated pork belly and sweet taro that are so tender and aromatic. The belly fat turned into collagen fully absorbed with aroma of taro and various spices, and the sweetness of taro slices is enriched by the oil. For best result, the better graded pinang taro is preferred for its cake-like and buttery texture.
5. Tenom Coffee
Tenom Coffee is a household brand in Sabah, and a must-buy for tourists. Coffee from Tenom is mainly robusta breed, which has stronger taste and packs more caffeine. The best selling brands are Yit Foh, Fatt Choi and Tong Foh, all are sold in nice packaging in many shops of Sabah. It might be a cliché to say that you've never been to Tenom if you haven't tried their coffee, but you really need that sip to complete your travel experience in this coffee town.

To enjoy Tenom coffee to the fullest, I strongly recommend Tenom Coffee Valley located near the train station. Their barista will brew the coffee to take your appreciation of Tenom coffee to next level.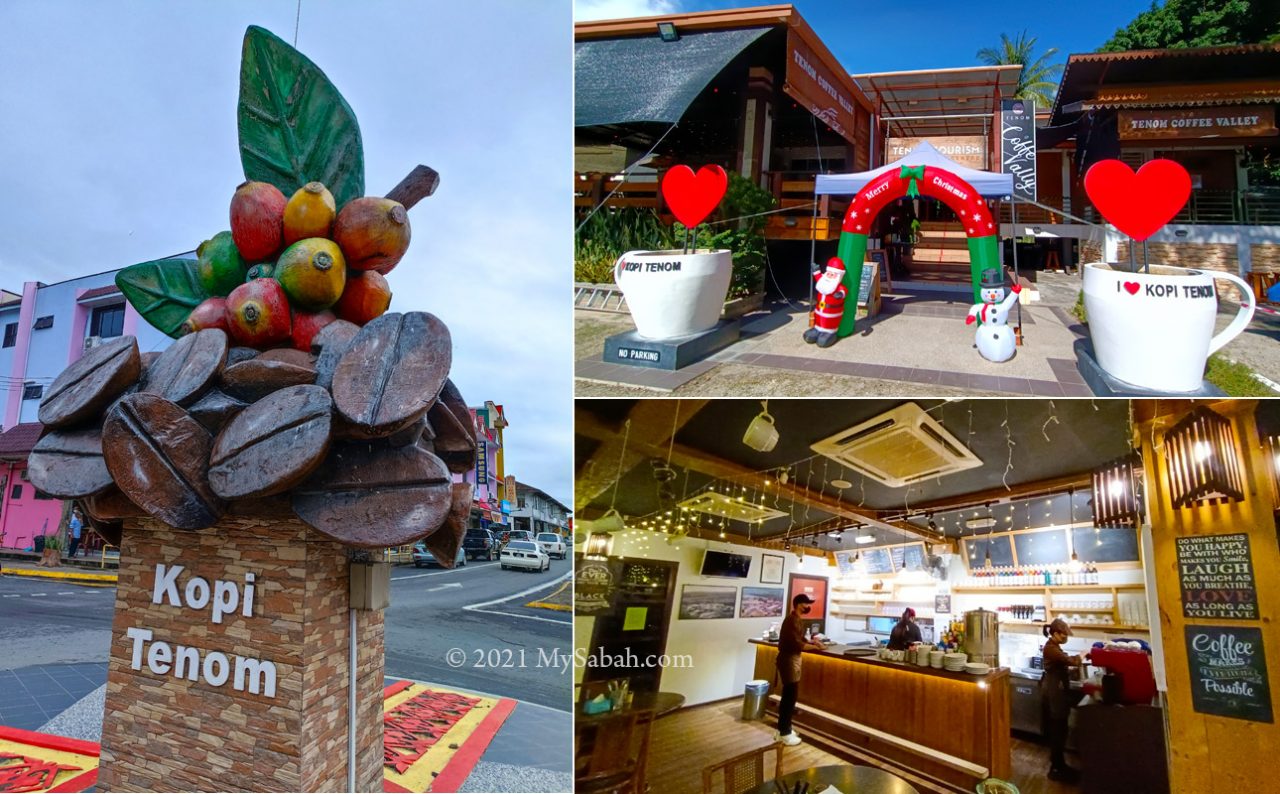 6. Fruits
Blessed by cooling temperature of highland, most fruits and vegetables grow well in Tenom. Pomelo, a native fruit of Southeast Asia, is the No.1 fruit of Tenom and available throughout the year. Many hawkers are selling this bowling-sized fruit, which is rich in Vitamin C, antioxidant and sweet juice. When I was a child, I used to wore Pomelo skin hat for fun lol.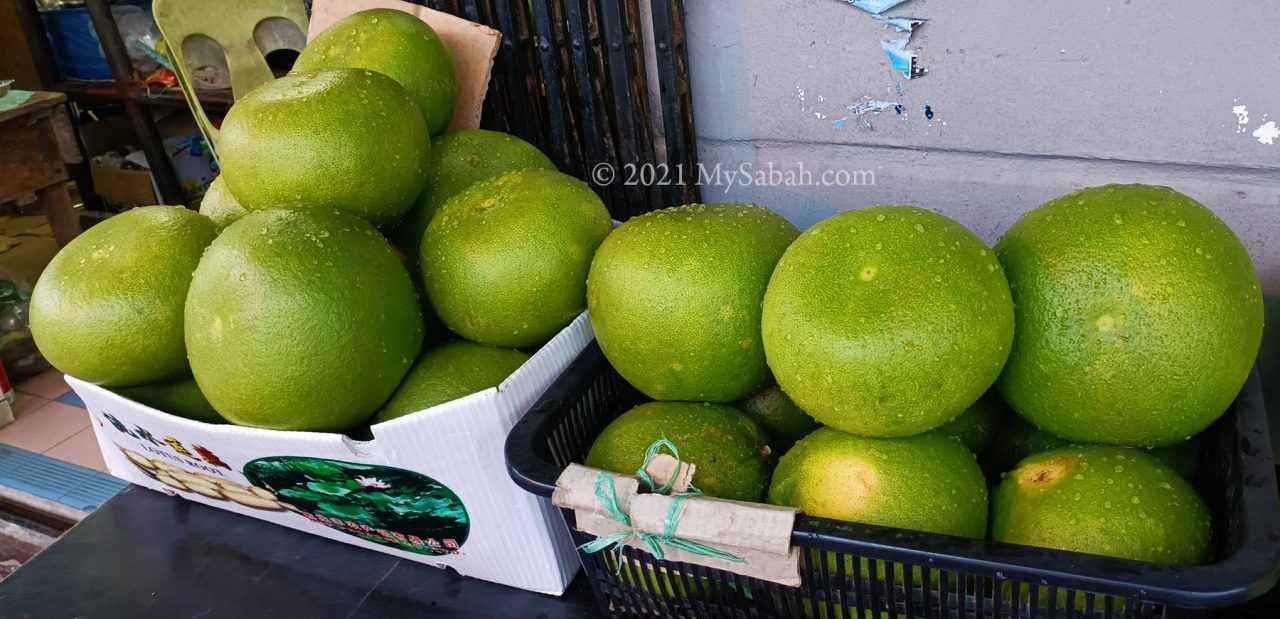 To see more variety of fruits in Tenom, the best time to visit is around the fruiting season in mid-year such as month of August. Do keep an eye for the huge avocado. They are selling like hotcakes. The creamy pulp of avocado is best served with condensed milk.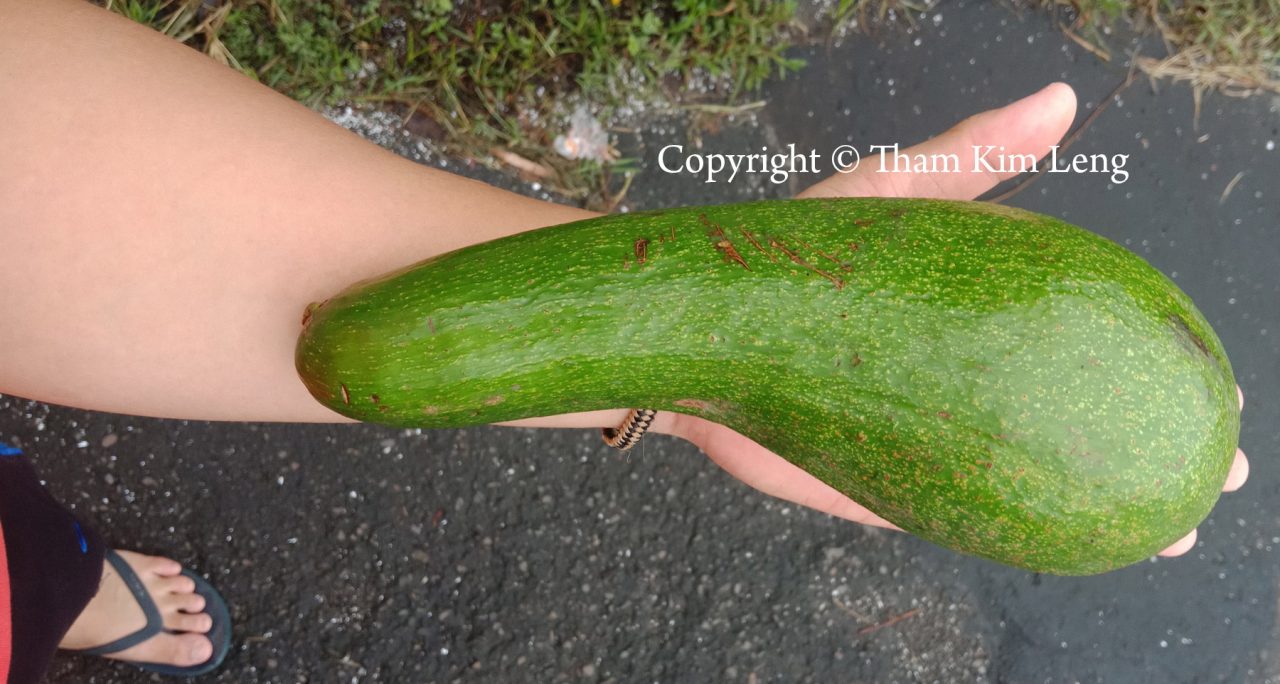 7. Other Sabah Food and Snacks
Local market is a great spot to explore different types of local food and to expand your acquired tastes. Besides Pasar Tenom, check out the tamu (local open-air market) behind Tenom Central Market every Wednesday and Sunday morning (6am-2pm). You can sample wide range of snacks, biscuits, pickles, cakes, fruits and crackers of Sabah, to name a few, banana fritters, satay, kuih cincin, Bambangan.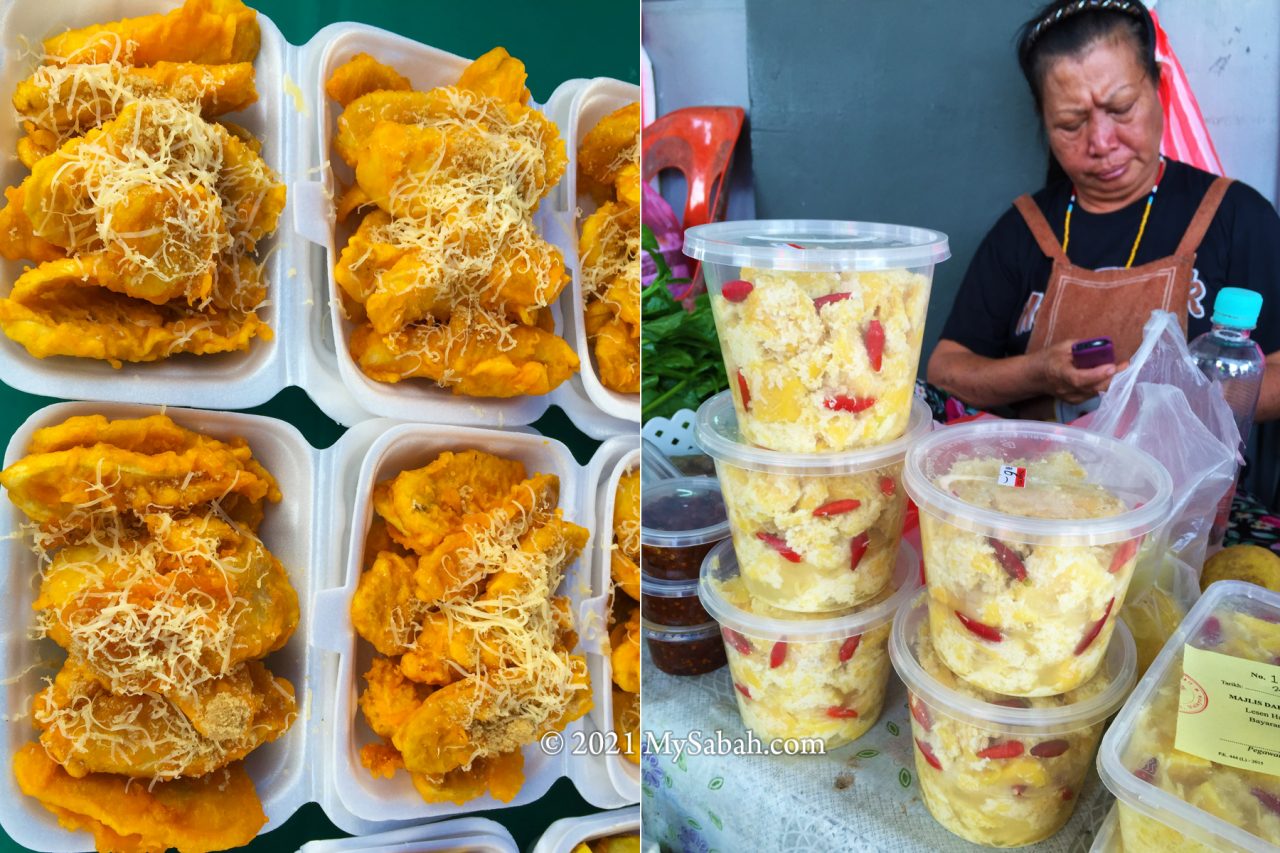 Photos taken in Tenom, Sabah, Malaysia Borneo