There was a Miss Malaysia Tourism 2006 (Sabah State Selection) Beauty Pageant Final in BED last night. I decide to post all the photos earlier to boil your blood, before the newspapers do so (yeah, I am faster than them). For me, publishing beauty pageant is the easiest way to get more hit traffic. In fact, after I posted the Miss Malaysia Tourism 2005 Beauty Pageant in Oct last year, the hit of MySabah.com doubled. On the other hands, I also worry that the readers will think Smoke Head is a shallow guy (even though yes I am) who use cheap tactic to attract audiences. No choice lah, I have no pretty face like those HOT female bloggers, so I only can show the pretty faces of others. Really, male blogger has to work multiple times harder. FYI, MySabah.com got more than 1 million hits this month. Thank You.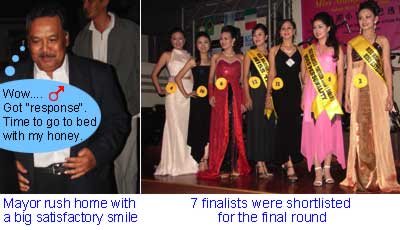 Click Here to see 120 photos of this Beauty Pageant >>
Same as last year, the BED was crowded. If not because of the FIFA Worldcup, I believe there would be more people coming. Last year there were only a handful of photographers mainly from the press. Don't know why this year there were dozens of photographers, most equipped with those multi-thousand Nikon camera.
Starting at 9 PM, 12 contestants were competing in 4 rounds. First round was the traditional costume, 2nd round was beach wear, and 3rd round was evening gown. After that, only 7 finalists would be selected for knowledge test in 4th round.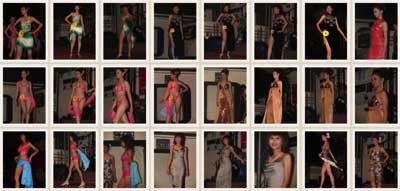 Click Here to see 120 photos of this Beauty Pageant >>
Below are all the knowledge test questions that I can recall. Have fun testing yourself and see if you are good enough to be a Miss Tourism.
1) What is the other name of Dutch Monkey? Where do they live?
2) How many indigenous groups in Sabah? Please name five of them.
3) What is the former name of Menara Tun Mustafa? Why is it so special?
4) What is the most famous diving site in Sabah, and where is it?
5) If you become Miss Tourism, how would you promote tourism of Sabah?
6) Where is the oldest building of post office, and what's its name now?
7) (Forgot. Anyone can tell me what was the question?)
The Final Result (see picture below)
Middle: Miss Malaysia Tourism 2006 (Sabah), Miss Florinda Johnson (No. 6)
Left: 1st Runner-Up + Miss Personality, Miss Cornellia Bernard (No. 5)
Right: 2nd Runner-Up + Miss Estelle Body Beautiful, Miss Viola Fidilis (No. 2)
Miss Talent: Miss Connie Ramy (No. 12)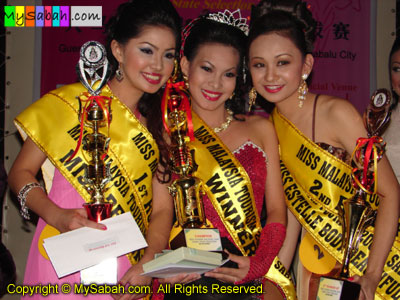 Click Here to see 120 photos of this Beauty Pageant >>