I went to the Michael (Guang Liang) Promo Tour on last Wednesday in KDCA Penampang. Quite ok lah, an enjoyable evening. Good to see more superstars coming to Kota Kinabalu. It was rainy that day but it didn't stop thousands of Michael's fans to come. The show started at 7:30 PM. I was already there at 6:30 PM, and the parking lot was already 50% occupied.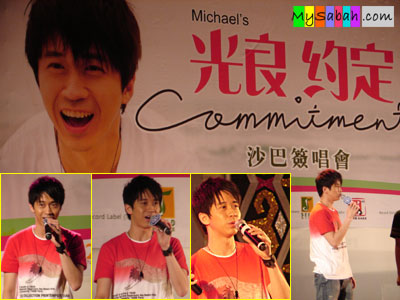 The standard ticket costed me RM10. The VIP ticket costed RM100. The thing I found was that the seats between VIP and normal zone was only 2 Meters apart. Luckily I didn't pay extra RM90 just to move a few Meters nearer to the stage.

Like other promo tours, the MC tried to heat up the atmosphere by playing game with the fans. Then Michael came out after we shouted encore loudly (you can see the video clip here). It was not a concert, so Michael only sang a few songs to promote his new album "Commitment", played game with fans, then ended the show with signature drive.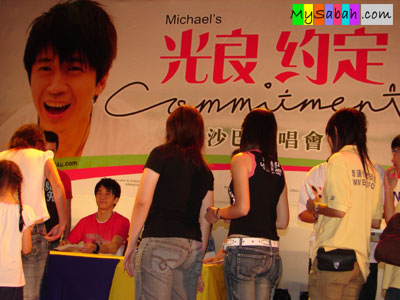 There were many people in the queue to wait for their turn to shake hand and eat tofu of Michael. I tried to move to the front to take closer and better pictures of him. It was quite crowded, so I had to move to front inch by inch, among those liang moi fans who were so concentrated on taking his pictures (forcing me to eat a lot of tofu).

I think the response was quite good. They setup up a booth to sell Michael's CD for RM38 discounted price, and they were all sold out. No wonder there are more and more promo tours now.
More Photos Below (click to see larger version):