KK City Bird Sanctuary has been one of my favourite photography spots coz it got a boardwalk that allows me to explore mangrove forest safely. The first time I went there was back in Jun 2005. Since then, I have been looking for snake and mud lobster in this park. After got disappointed again and again for one year, finally I saw both of them in two days. So excited!
They are not rare species. The reason they are so difficult to spot is that they are only active at night (but the park closes at 6 PM). Below are the pictures of a 8-inch mud lobster. Usually it hides inside a deep burrow during daytime. I was so lucky to see it busy searching for food in the shallow water in the morning.
Its color is like a cooked sea lobster. Look delicious but not sure if it is edible. Its Chinese name is "Thunder Crab" (scientific name: Thalassina anomala). It can grow up to 1 feet (30 cm).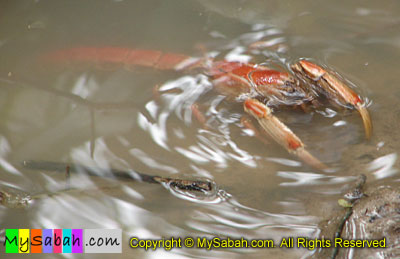 The next exciting discovery is the Dog Faced Water Snake (scientific name: Cerberus rynchops). I found two of them. The first one is 2-feet long, second one is 1 feet long.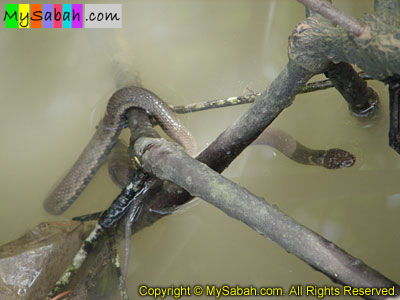 Dog Faced Water Snake is also active at night. I saw them waiting for their prey (e.g. fish, frog, lizard) on the root of the mangrove tree. This snake lives in water. If you look at the photos below, you will notice that they keep most of their body in the water. The first snake was about 7 feet away from me.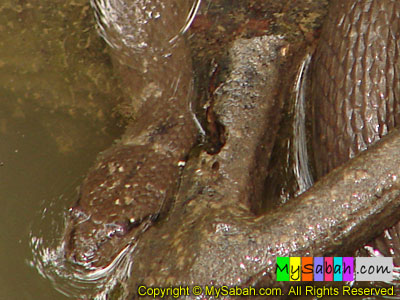 Below are the photos of the second snake. It was only 1.5 feet away from my camera. Later I walked into the water to take closer picture of it. It was alert and dived into the water 2 feet away from me. The water was so muddy and unclear, so I was not sure where it went (it could be next to my foot). Had to walk away carefully.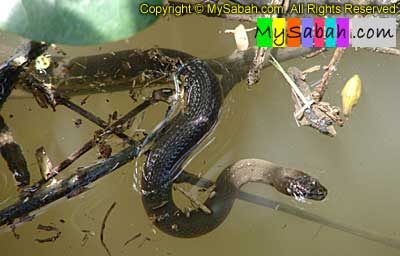 But no worry. This snake is poisonous but its venom is not strong enough to kill a human, and it is not aggressive. Do you think its face looks like dog? Wonder if it can bark. Its brown body makes it looks like tree branch, so you have to look really hard to spot them.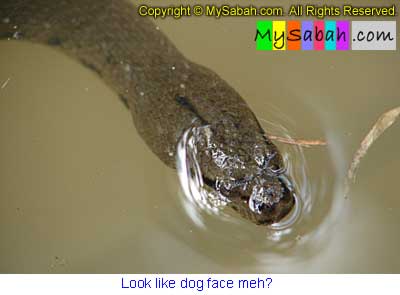 Another weird thing that I saw was the bug below. I think I may have seen it before. The way it swims is very funny. You can check out the video clip.