As part of the activity of 1st Sabah / World Hakka Unicorn Convention 2015 (In Chinese: ????????????), 105 Unicorn (or Qilin) from Malaysia and all over the world (China, Hong Kong, Taiwan, Brunei, Singapore, Philippines) organised a parade in Kota Kinabalu City (KK) on 27 Mar 2015. The 100 Meter long parade and beating of cymbals and gongs definitely attracted the attention of all KK people, but the highlight is the giant head of Unicorn in front.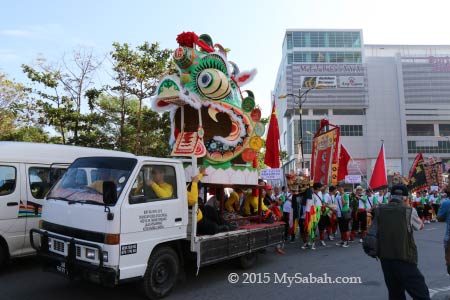 The huge Qilin head is 2.44 M (8 feet) high, 2.25 M (57 inches) in width and weighs about 40 to 50 Kg (88 to 110 pounds). Obviously it's too big for Unicorn dance, so it's placed on a pick-up truck, followed by hundred of Qilins that form its long body.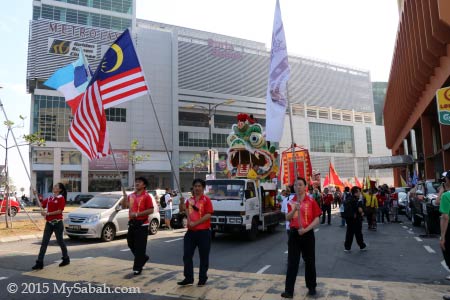 Pic: parade waited to start
This Chinese Unicorn parade set two Malaysian records: (1) Largest Unicorn head and (2) Largest number of Unicorn heads in a single performance. The parade started from Gaya Centre Hotel to Oceanus Waterfront Mall, which was about 300 Meters in distance.
You may watch the following video to see how big is the Qilin head and how long is the parade: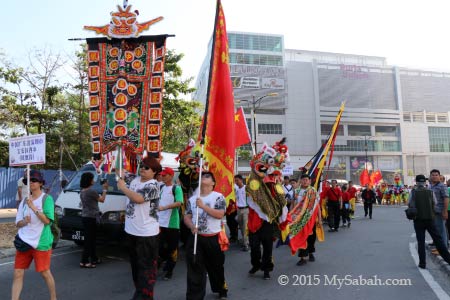 The parade took place between 8:30am to 10am on Friday. Because of the loud noise, many curious people walked out of their building to check out what was happening. Then everyone took out their smartphones excitedly and posted the photos to social media.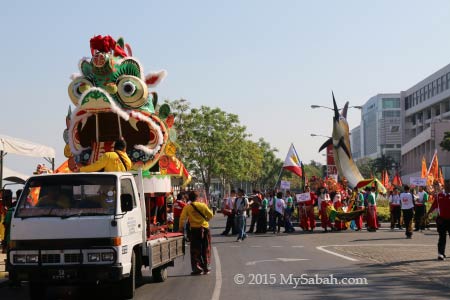 Lion dance always gets the most attention on the stage of Chinese cultural performance. This is the first time ever Qilin gets exclusive share of attention in a show. There were a few Northern Lions among them but not drawing much eyeballs. Hakka Unicorn Dance is listed as Intangible Cultural Heritage of China.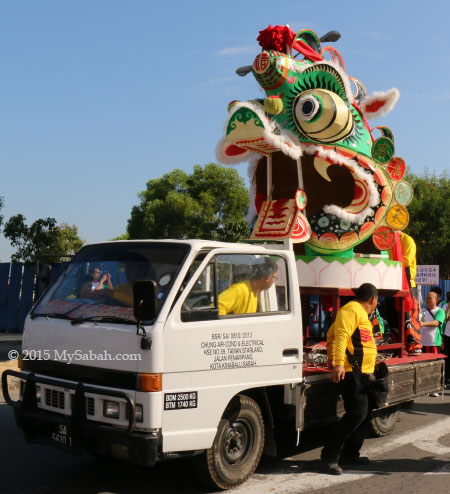 Please don't think the head is something replicated from a plastic mold or 3D printer. It is totally made in traditional and authentic way by Sifu Wong (In Chinese: ?????) from Sabah, who has played unicorn dance for over 50 years (since he is 7). He was used to repair lion heads for friends in the past, and based on this experience, he learnt actively and mastered the techniques of making unicorn heads.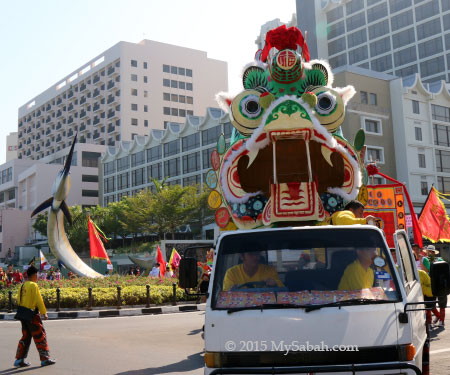 Sifu Wong used rattan, bamboo and sticks to create the frame of this unicorn head. He even harvested the bamboo personally in Keningau, for the best material to make the perfect outline of the unicorn head. Then he sticked five outer and inner layers of paper on wooden frame with 300 sheets of 3×3 feet paper. This giant Qilin head took him 1.5 months to complete, in contrast to 8 – 10 days for an ordinary unicorn head.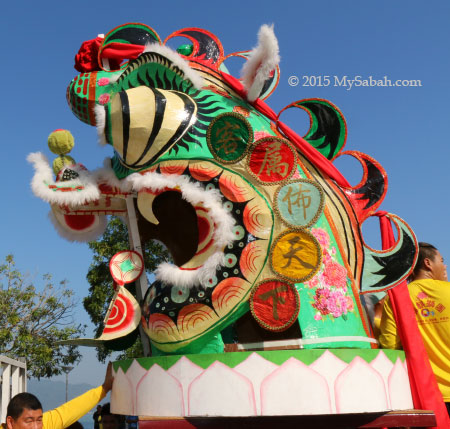 There is Chinese couplet written on both side of the head, which reads "???????????". I don't get the meaning totally. It probably means – Hakka is everywhere in the world; Our heritage is passed on in Sabah. Nearly 60% of Sabah Chinese is Hakka and Unicorn Dance is an important part of Hakka culture. That's why KK is chosen as the venue for 1st Sabah / World Hakka Unicorn Convention. FYI, Lin Dan (??), Hebe (???), Chow Yun Fat (???) and Deng Xiaoping (???) are Hakka.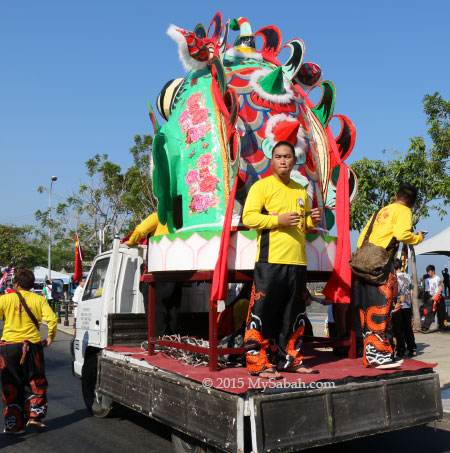 Hakka also has a few sub-groups which have different dialects. For example, I can't understand Taiwanese Hakka. Anyway, the objective of this Unicorn convention is to document the origin, story, history and design of the Hakka Unicorn, as a mean to preserve the traditional art of the Hakka community. Thank you Sabah Hakka Association and Sabah Dragon, Unicorn & Lion Dance Association (???????) for the initiative.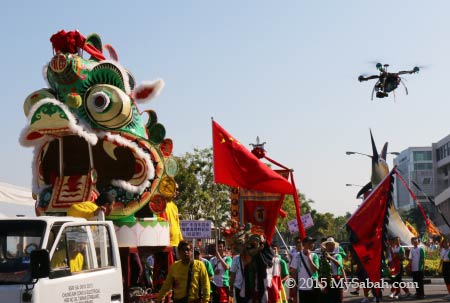 Pic: a giant fly approaching big unicorn head? Drone is everywhere nowadays. I also want one. 😀
Though lion is more famous, it is ranked lower than Qilin in the family of Chinese deities. If lion and Qilin dance troupes meet on the street, lion must lower its head to give a salute to Qilin. Failure in doing so is an act of disrespect and may cause a fight. Well, that was old day, I'm not sure if such practice is upheld now.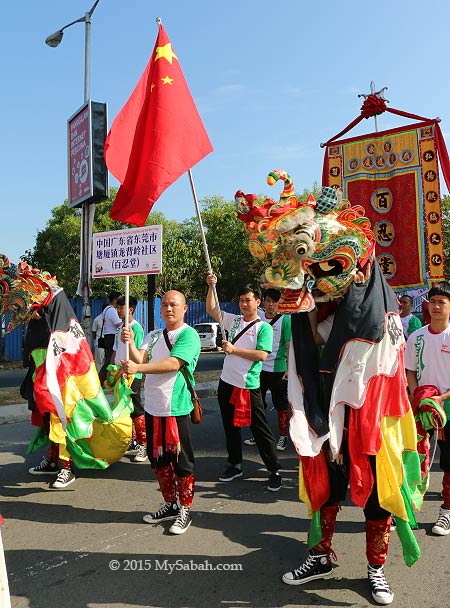 Pic: Unicorn dance troupe from China
Unicorn (Qilin) may look fierce because its dance is characterized by swift and powerful head movement, accompanied by intense beating of gongs and cymbals. In fact, Qilin has the kindest heart of all sacred animals. It doesn't harm any life. It symbolizes benevolent and auspicious, and its presence will bring peace and prosperity.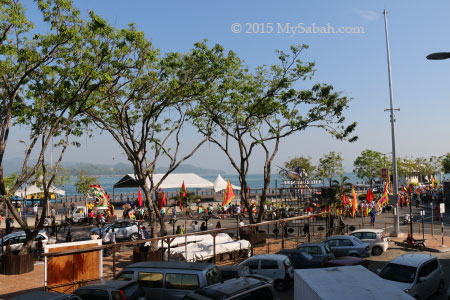 Just a trivia. The fleet of Zheng He (or Cheng Ho) once sailed to East Africa and brought back two giraffes, which he claimed are Qilin. The emperor was so happy and declared the coming of "Qilin" was a sign of approval to good reigns of his kingdom (I would do the same if I were him).
The following are half-century-old photographs of Sabah's Lok Yuk School unicorn dancers back in 1963.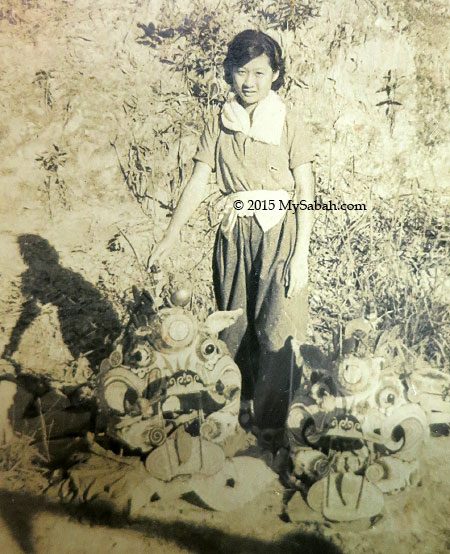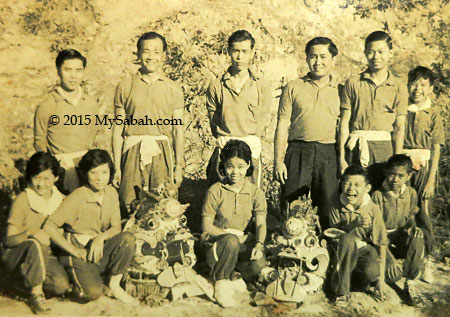 It's cool that Unicorn dance doesn't fade away as a forgotten part of Sabah history. Instead, our unicorn dance shines until today and even makes history.
Photos taken in Kota Kinabalu, Sabah, Malaysia Borneo