I went to the Tamu Besar (Big Native Market) of Kota Belud on last Saturday and Sunday (Sep 24-25). Actually I have been waiting for this annual grand event since May. The Tamu Besar is one of the most popular festivals in Sabah. After the visit for 2 days, the 1GB memory card of my digital camera went full. No kidding, my digicam was so busy working that it almost melted (Go ahead, so I will have an excuse to buy a DSLR). I was really glad I went there. Next year I will come again.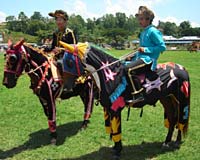 For those of you who don't know "Tamu", it is a weekly local market, where all the local farmers, fishermen and vendors sell their products such as vegetables, fruits, fish, shrimps, livestocks, traditional medicines, food, drink, cloth, shoes, handicrafts and almost every daily-use items. A truly village type setting. You are not only seeing the Tamu, you can smell the Tamu. The Tamu Ground of Kota Belud is the biggest Tamu in Sabah and open on every Sunday. Kota Belud is just northeast 70KM away from Kota Kinabalu. Due to the good road condition, you can get there by car in only an hour.
I can only use three words to describe this festival: Colorful, Interesting and Fun. "Tamu Besar" is the name of the festival that is more than just a Tamu. Bajau people is the second largest indigenous group in Sabah (first is KadazanDusun, third is Murut) and they are very popular on their colorful costumes, horsemanship and handicrafts. Tamu Besar is a 2-day event that let you see all these.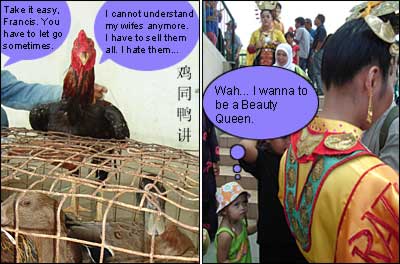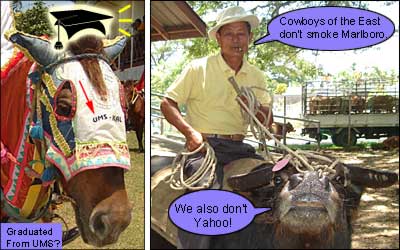 There are 5 things that you must check out during the Tamu Besar:
Bajau Horsemen: See 100 Bajau horsemen in action then you know they are also known as the Cowboys of the East. Each horse is decorated with color mat and different design. It is an exciting day for the horsemen, tourists and horses.
Bajau Beauty Queen Pageant: Beautiful Bajau and Iranun ladies, with unique and ornate costumes, line up for contest.
Animals Sport: The buffalo racing and game with horses are really eye opener and make you laugh out loud.
Tamu Ground: The biggest local market with lot of interesting stuffs not found in shopping mall.
Performance: The colorful traditional dance performance by local Bajau, Iranun, Dusun, Malay and Chinese people.
If you miss the event, don't worry. I have shared over 200 photos and 7 video clips in this web site for your viewing pleasure. My Streamyx broadband is not quite stable recently. It took me 4 hours to upload only 35MB of files. Such a pain… It always happens a few days every month, as if it got PMS. Anyway… here you go:
Check out the Photo Gallery of Tamu Besar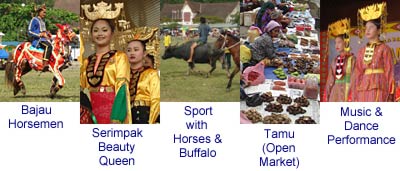 Photos taken in Kota Belud, Sabah, Malaysia Borneo