Murut people (Murut means "Men of the Hills") are famous for their headhunting history and bravery. Their traditional warrior costume is always my favorite, so are their stories. We still could find pieces of their past in their dance performance and festival (such as Kalimaran Festival). With a bit of imagination, I try to use some photos to paint a complete picture of how they looked like in the past…
Photo: Ontoros Antonom Memorial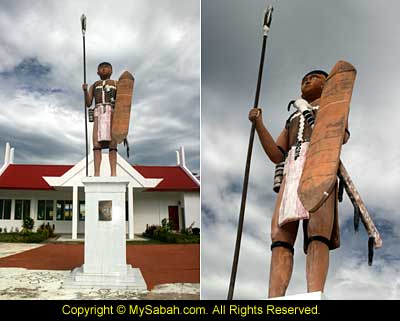 Standing in the heart of Tenom town is the Memorial of Ontoros Antonom, a Murut hero who led the uprising against the British colonists in 19th century. Under the administration of British Chartered North Borneo Company (BCNBC) more than 100 years ago, besides imposing many funny taxes, which the locals never heard of, British also forced every Murut couple, who had two children, to give up one of them as forced labor.
Photo: Murut warrior get ready for battle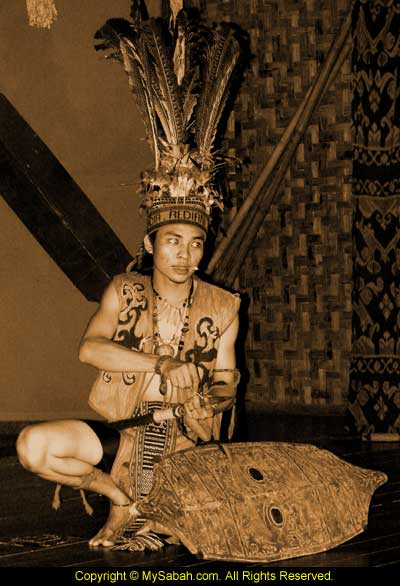 Running out of tolerance, Ontoros Antonom gathered nearly a thousand of Murut warriors from Tenom, Keningau dan Pensiangan to fight the British empire in 1915. According to the description in Murut Museum, the British officers were totally shocked to see hundreds of Murut flooded their administration building and attacked them. The document also mentions Ontoros Antonom built a few strongholds that even got underground tunnels and houses!
Photo: The rise of Murut warriors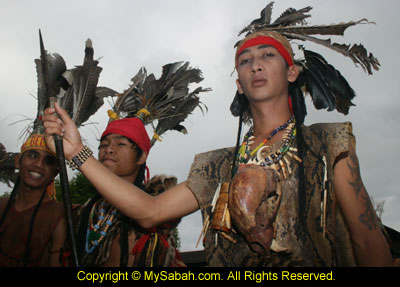 In April 1915, British sent 400 soldiers equipped with firearm to counter attack. Though Murut were only using primitive weapons such as blowpipes, swords and spears, British army failed to take them down. Therefore, they set a trap by offering a peace talk at Rundum. When Ontoros Antonom and his followers were on their way to the venue, hundreds of British surrounded them and arrested them. Later Ontoros Antonom was executed. This Sabah hero died at age of only 30 (year 1885-1915). Seeing more and more corrupted, self-interest and big-mouth Sabah politicians nowadays, the more I respect this hero who loved his land and really did something for his people.
Photo: Warriors departed for battle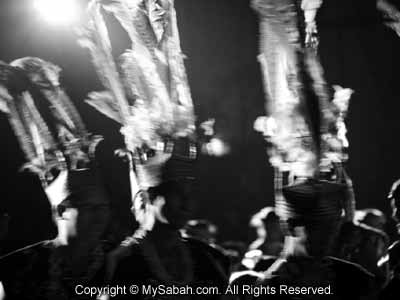 Photo: Murut girl celebrated the victory of the warriors with Anggalang dance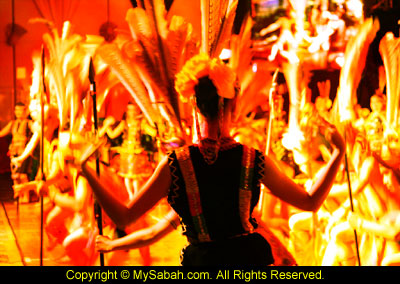 Below are the weapons used by Murut to fight gun and bullets. Note the hole in the spear. It is a 2-in-1 weapon (Blowpipe + Spear). Also note the human hair at the end of the headhunter sword. I wanted to buy the headhunter sword (for appreciation, of course not for headhunting), but it costs RM300 (nearly USD100). Ok… O_O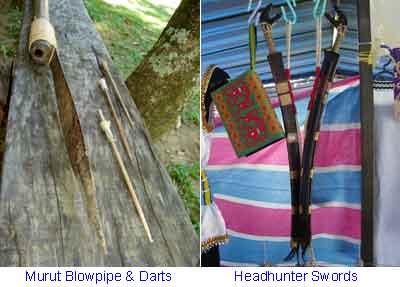 Below are the containers that store the darts and poison for blowpipe.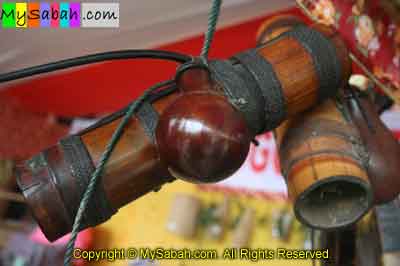 Photo: Murut girls waiting for the return of the Murut warriors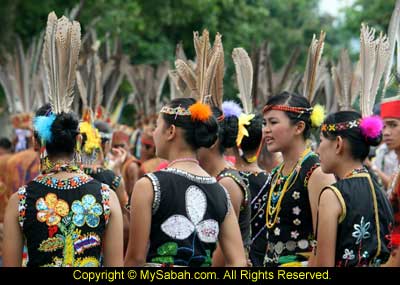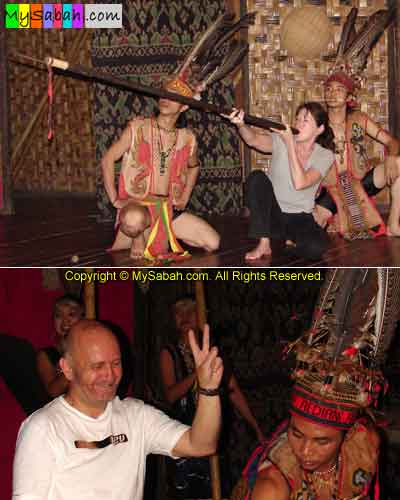 The era of conflict and headhunting has become a thing of the past. No matter you are British or tourists from other countries, what you will experience here is very warm welcome from our friendly Murut people. They will invite you to dance with them and even try the blowpipe.
Photos taken in Sabah, Malaysia Borneo