What we eat and how we live in city are not the lifestyle of most Sabahans, as there are more Sabahans in country side than those in city and towns. It happened that a few places that I planned to visit were near to a village that had homestay programme, so I decided to join the Misompuru homestay in Kudat region.
The arrangement is easy, just called the coordinator (with the no. listed in their web site) and tell them your arrival time then everyting is set. Some are even reachable via e-mail, and I am currently sorting out detail with another homestay in Long Pasia. The homestay that I joined was 20 KM before Kudat, the mini-bus driver dropped me at Jalan Torongkongan, saying that I only needed to follow the path, take a "short" walk to get there. Well, it ended up was a 1KM distance. Anyway, I found the place.

There are 3 villages (i.e. Kg Lajong, Kg Minyak, Kg Rampai Selatan), with a total of 58 families, in Kudat take part in Misompuru homestay. Usually the coordinator will pick our host on rotating basis, so every provider gets a fair share. A family in Kg Lajong was selected as my host. Misompuru homestay may be not well-known to most locals, but they were already featured by some foreigner media from Asia and Europe. They also have tourists from Australia, New Zealand, UK, Japan, Korea…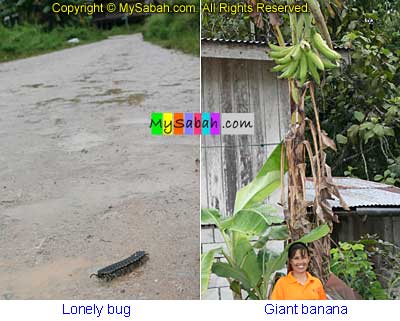 After being introduced to my host, Mr Sarumpit and Ms Rusiaw (very friendly Rungus people), we took a walk around the village (Kg Lajong) as a warm up. We saw the "Horn Banana" (Pisang Tanduk) at the roadside. It was so big that it would make girls horny. BTW, my "little brother" is as big as a banana (not Pisang Emas lah).

The house is a typical village wooden house. No air-con but got Astro satellite TV. Besides a room, they also prepared my meal 3 times a day, with food they planted or bought locally. I enjoyed the crabs they caught in mangrove forest. I also like their Kudat maize, though smaller but taste sweeter and softer.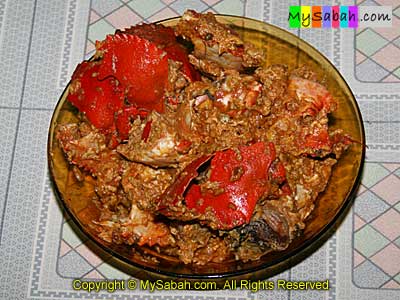 Our first visit is a honey bee farm nearby. The "Beeman" showed us how he harvested the honey. But too bad that time was rainy session, the bees can't work so they consume the honey. Otherwise I could try the honey. From what they said, the honey is very concentrated and damn sweet, unlike the watery honey we got from the supermarket.

The bees also become more protective and aggressive during bad weather. They said honey is the best cure for bee sting. From what I read from a book about a bee farm, Ajinomoto is the best cure. Which one is the best? Frankly I am not interested in finding out. You can try it yourself.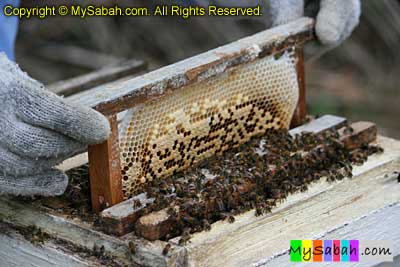 Look at the photo above. The top portion of the nest should be in gold color, if filled with honey. As you can see, it is quite empty. I forgot the name of the "Beeman" who dressed like Power Ranger. He is an ex-army. He started the honey bee farm coz of hobby and had over 10 years of experience.
After the bee farm, we visited a few other interesting places nearby (we walked nearly 10 KM in a day!), which I will blog about later. Before I went to bed, they decided to dress me in Rungus costume for fun. Cool… since I have been dreaming I am a Rungus guy who shouts, jumps and dances joyfully in Megigol Sumandai, with a long queue of pretty girls follow behind me. Probably I should wear this in city to attract some girls. But it takes a long time to dress up like this. I am gonna be late for work everytime if I have to dress like this every morning.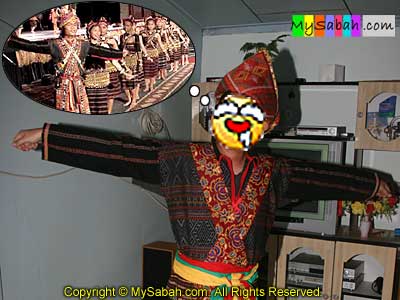 Overall, it was a wonderful experience though the programme was only 1 day. Actually I didn't expect that much and I only wanted a tour guide and a place to overnight at first. But they really treated me like a friend and served me like a VIP. I had seen many tour businesses who open their lion mouth to chew tourist's wallet, trying to get maximum profit with minimum effort, as if they own the mountain and island. You know whom I am talking about. But the homestay people try to get minimum profit with maximum effort. That really touches me.
Photos taken in Kudat, Sabah, Malaysia Borneo