In Sabah, if you cook really good food, no matter how far you "hide" your restaurant, food lovers will find you. Though soup noodle is very common in Kota Kinabalu city (KK), the only place that can make me drive over 10 KM for its soup noodle is Mee Sup Pipin.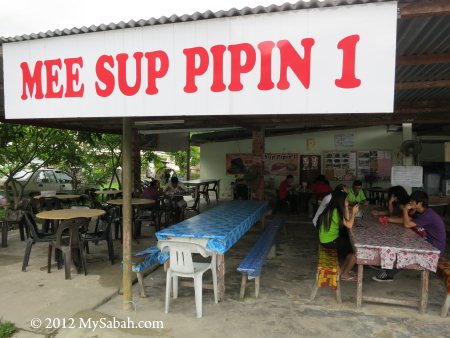 Pic: Mee Sup Pipin 1
"Mee Sup" means Noodle Soup. Pipin is the name of the restaurant.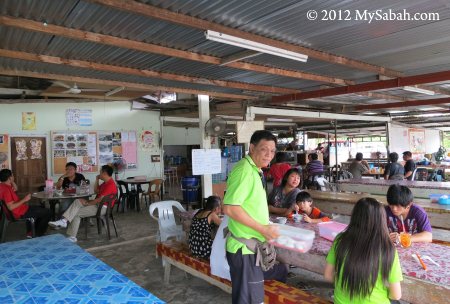 You would be surprised to see such a plain setup for this famous eat out spot. No fancy decor, just some tables and chairs under the zinc roof, a very village style environment. The place is clean and quiet, and their customers also look very laid-back and enjoy their food slowly, unlike the noisy and busy restaurants in the city.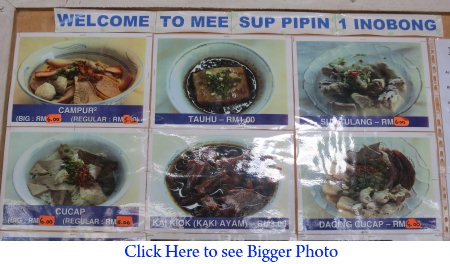 Pic: the food menu and pricing (Note: USD1≈RM3). The Noodle Soup is RM5 (≈USD1.70) for regular size, RM6 (≈USD2) for extra serving.
*Price as of Nov 2012
Besides Noodle Soup, you can order other side dishes such as Tauhu (Stuffed Tofu), Sup Tulang (Bone Soup), Cucap (Mixed Pork & Ear) and Kaki Ayam (Chicken Feet). I wish to order ALL!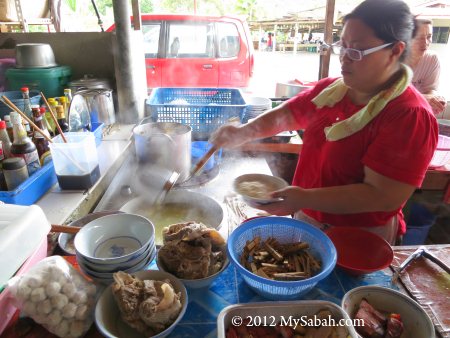 Pic: the friendly cook busy preparing food
Ok, enough with the introduction, let's EAT!
Pork Noodle (Cucap)
Mee Sup Pipin makes many great dishes, the first item that I strongly recommend is their Pork Noodle (or Cucap Mee Hoon, ???? in Chinese).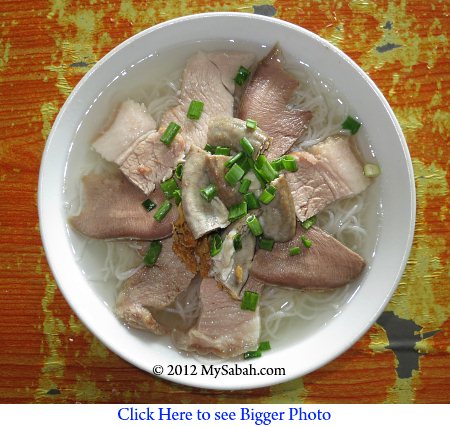 Pork Noodle (Cucap) consists of rice noodle (also known as Mee Hoon) served with sliced pork meat, heart and (clean) intestines in hot pork soup.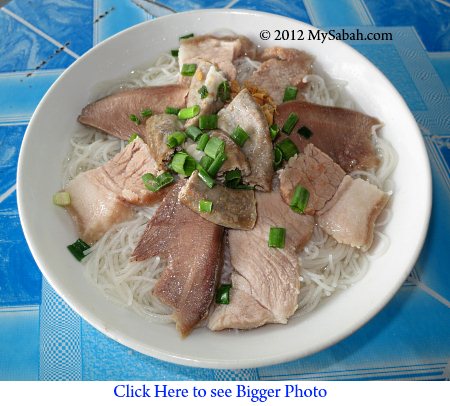 The soup is clear, without thick layer of floating oil, and the meat is fresh too. My stomach told me that the serving was not oily.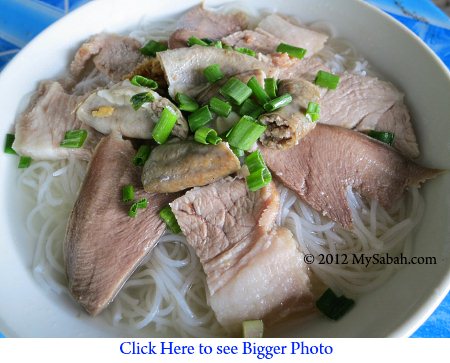 Pic: close-up of Cucap Pork Noodle
You can see that the ingredients are simple. However, the meat and noodles are cooked with good timing to bring out their best taste. In other places, I often got noodle soup with overcooked or undercooked noodle.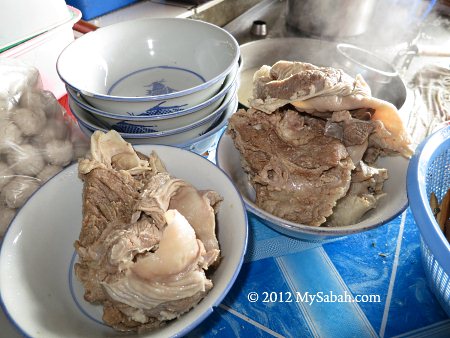 Pic: fresh pork meat for making cucap
Ngiu Chap Noodle (Mixed Beef)
Another item that also appears in words of mouth about Mee Sup Pipin is Ngiu Chap (or Ngau Chap, ??/?? in Chinese). Ngiu Chap is different parts of cow cooked in beef soup. Tendon, tripe and tongue have little taste by nature, but they become a delicacy with interesting textures, after they absorb the delicious beef soup.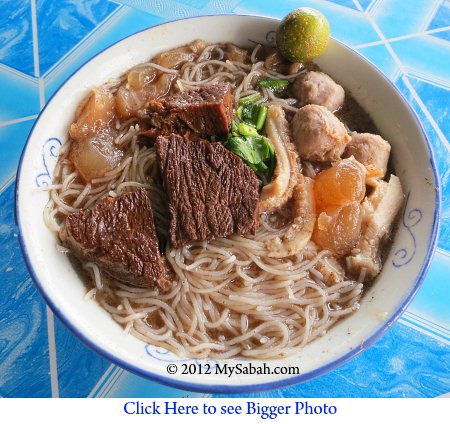 Pic: I always order Ngiu Chap Mee Hoon (Mixed Beef with Rice Noodle Soup).
Note the green Calamansi fruit at the edge of the bowl. When I'm half-done, I will squeeze a bit of sour Calamansi juice, to give the Ngiu Chap Noodle Soup a new taste.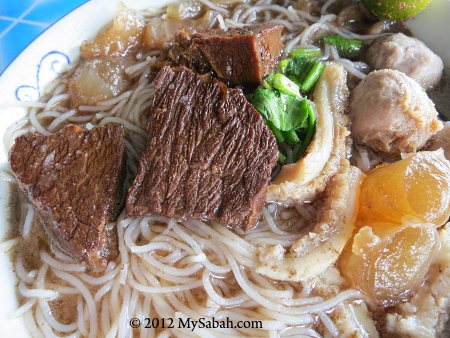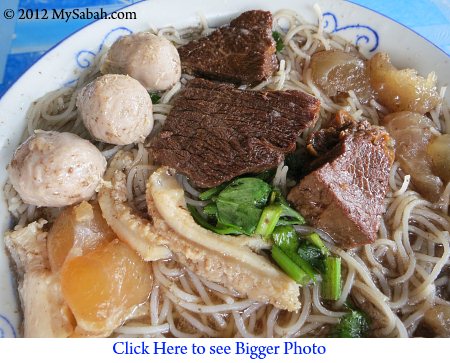 Their Ngiu Chap is pleasing to eyes as well as tongue. Every item tastes different but complement well to one another. The meat is well-marinated, so it looks dark, tender but slightly salty though.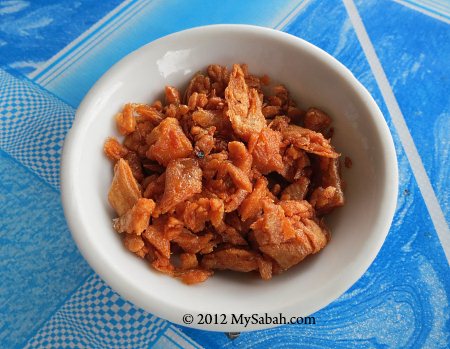 Pic: you may add aromatic fried pork fat chips into Ngiu Chap for thicker taste. I always do.
Stuffed Tofu
The best selling side order which goes well with your noodle soup is Tauhu (Stuffed Tofu, ??? in Chinese).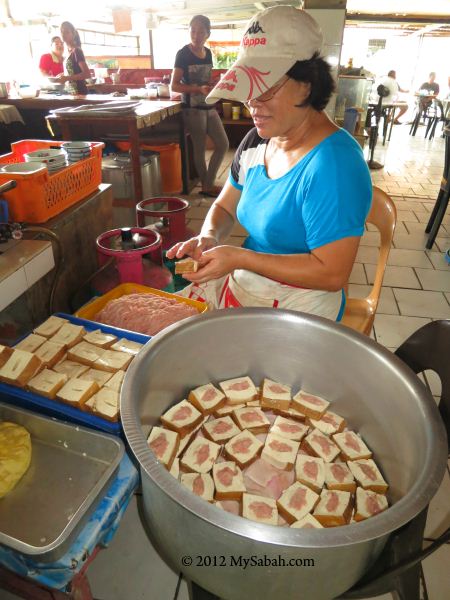 I'm not kidding you. They make hundreds of Tofu every day to feed the hungry customers.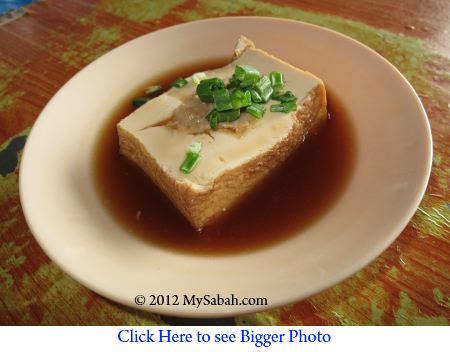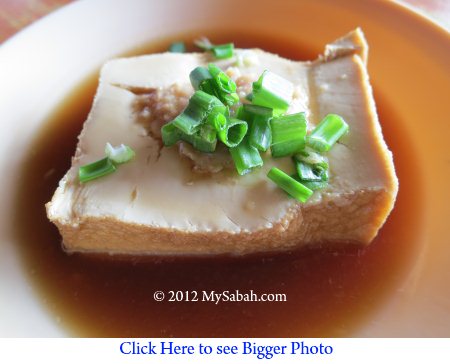 You can tell from the photos above that it's extremely smooth and soft.
Direction to Mee Sup Pipin
Mee Sup Pipin is in Kampung Inobong (Inobong Village) of Donggogon, about 10 KM away from KK. Below is the location map:

View My Sabah Map in a larger map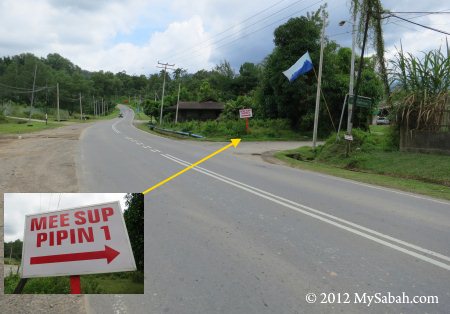 Pic: If you head to Tambunan on Penampang-Tambunan road, you see will this junction at your right, about 4 or 5 KM after Donggogon town. (Update (Mar 2014): the signage is no longer there)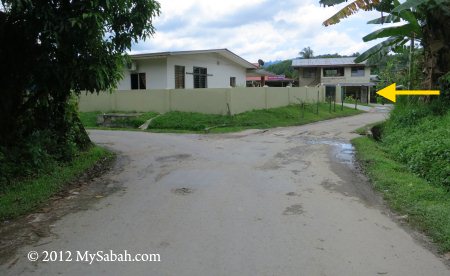 Pic: Turn right to the junction, you will enter a narrow village road. Just take second left turn.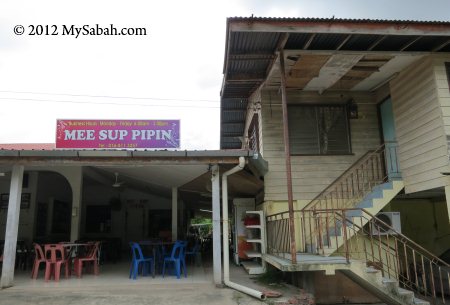 There are two Mee Sup Pipin next to each other. The first Mee Sup Pipin that you will see is open by the family of the owner. They only open from Monday to Friday, 7am to 3pm. Both restaurants are selling the similar dishes. Some says the taste is different but I haven't tried theirs yet.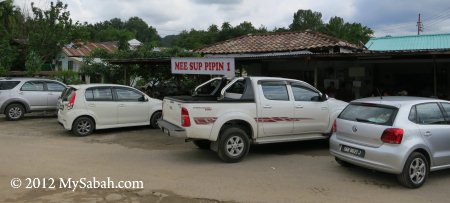 The one that I talk about is Mee Sup Pipin 1. They open every day, from 7am to 3pm (may open before 6am during weekend). Their phone no. is +60 16 8302088 (Contact Person: Christina @ Onong).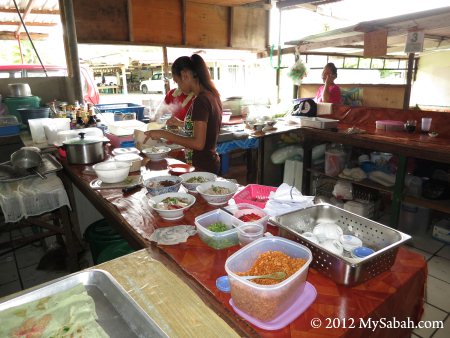 Goodness… I want to go to Mee Sup Pipin again after I write this. :-P~ *mouth watering*
Photos taken in Donggogon, Sabah, Malaysia Borneo