There was a Lundayeh Festival from April 21 to 22 in Sipitang. Lundayeh is one of the indigenous groups of Sabah. To be precise, they are the indigenous people of Borneo coz they have been living in Sarawak, Kalimantan and Brunei, before the states and countries drew the territory borders. In Sabah, there are about 10,000 Lundayeh people, concentrated in Tenom, Sipitang and Long Pasia area.
Lundayeh was also headhunter in the past. The "Ulung Buayeh" (cutting crocodile monument) ceremony, which you can see in my photo gallery, was to show the bravery of the headhunters. The crocodile represents their strong and aggressive enemies. Nowadays, Ulung Buayeh is performed as opening ceremony of important functions. The VIP will place a sword on the neck of crocodile status to symbolise the cutting.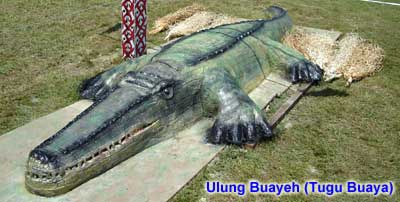 Click Here to see the photo gallery of Lundayeh Festival >>
The Lundayeh Festival got 250 participants from Malinau (of Kalimantan, Indonesia), 40 from Sarawak and 10 from Brunei, so it is more than just a small regional celebration. The festival was considered very well done. The programme was good, packed with lot of cultural performance to show the unique culture and beauty of Lundayeh. I am sad to know that Sabah government didn't allocate any funding to sponsor such an excellent event. Their festival is not even listed on the Sabah Tourism calender.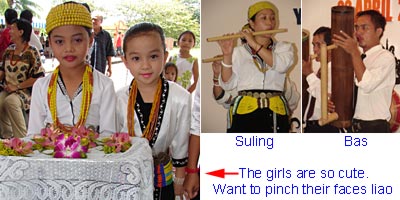 Click Here to see the photo gallery of Lundayeh Festival >>
The highlight on the first day were the longest "Nuba Tingaa" (Nasi Bungkus) line and Lundayeh traditional wedding ceremony (got cancelled). Nuba Tingaa is the traditional food of Lundayeh. It is just rice that is cooked til it becomes very smooth, fine and soft, then wrapped in the leaf. I went to Kaban Village to see them align more than 6,000 Nuba Tingaa together to form a 308.95M line, recorded as the longest in Malaysia Book of Records. Best thing was – everyone, included me, was invited to eat it after the record is officiated. Too bad, I was too busy taking picture so I didn't try it…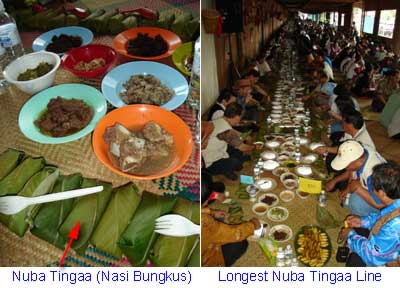 Click Here to see the photo gallery of Lundayeh Festival >>
Lundayeh Festival offered me the best opportunity to take photos of Lundayeh people. If you look at the picture below, you will find that their costumes could be very different. The costume of Lundayeh Sarawak is very bright and colourful, with complex motif (like Dayak). The costume of Sabah Lundayeh is plain and simple, with black and white as main colors. The Lundayeh from Sarawak calls themselves "Lunbawang". Despite the difference, they all speak ONE language.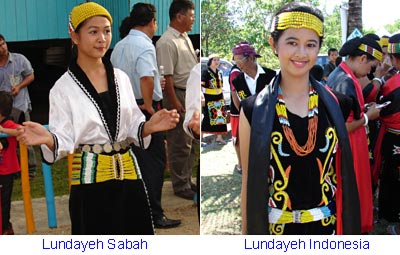 Click Here to see the photo gallery of Lundayeh Festival >>
Most of the events were held in Dewan SFI, from morning until midnight. There was no bus at night. Fortunately, their people were very kind and helpful and sent me back to my hotel. I hope I can write an article about this festival soon and send it to the newspaper, so more people will learn more about them. In the cultural night, there were many dance and song performance. The Lundayeh's Suling and Bas band is also famous. The main attraction were the Puteri Lundayeh (kids) Beauty Pageant in first night, and Ruran Ulung (adult) Beauty Pageant in second night. I have uploaded over 90 photos for your viewing pleasure. Enjoy~


Click Here to see the photo gallery of Lundayeh Festival >>