Many know Sir Hugh Low was the first European who conquered Mt. Kinabalu in 1851, but most don't know Lilian Gibbs was the first European woman who reached the summit of Mt. Kinabalu on February 24th, 1910. Lilian Suzette Gibbs was born in London, England on September 10, 1870. She led a botanical field expedition to Mt. Kinabalu and identified over 15 new plant species. Below is the trail she took. Even today, this trail is not considered as a "tourist-friendly" route. Later she was awarded the Huxley Gold Medal and Prize by the Royal College of Science for her research contributions.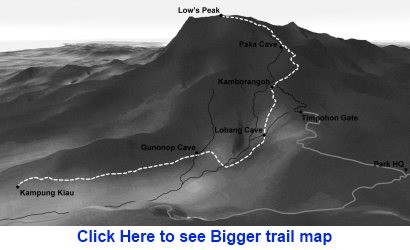 After 100 years, a group of five ladies, from The Sabah Soceity, decided to re-trace the original route taken by Lilian Gibbs. They spent a night on the homestay hostel next to a church (Chapel St. Ireneus) in Kg. Kiau Nuluh (starting point of the climb), Kota Belud, on 20 Feb 2010. In the next morning (21 Feb 2010), they would attend a ritual ceremony before the climb. As a member of The Sabah Society, I was also there to support them and to witness the historical moment.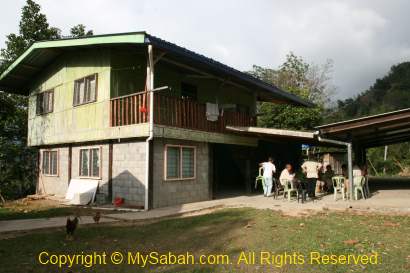 Click Here to see more photos >>
For those who read my previous blog, you would know that I joined the Miki Survival Camp last year, so this was my second time came to Kg. Kiau Nuluh (Kiau Nuluh Village). I arrived Kiau Nuluh at 3:40pm on 20 Feb 2010, it was still early so I took a walk around the village.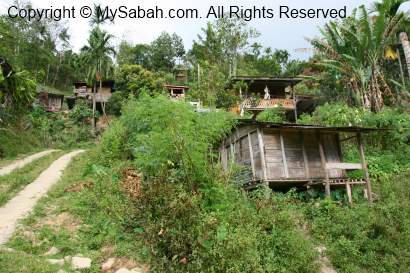 Click Here to see more photos >>
Though a bit shy, the people here are very friendly and always smile to you. Most of them talk to one another in native language (Dusun). In fact, this is the typical look of "real" Sabah village. Since some politicians started to give citizenship to foreigners about 30 years ago, the mushrooming villages in Tawau and Lahad Datu are full of foreigners. They talk and behave differently (some even have very "geli" look).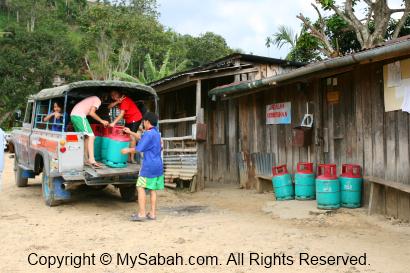 Click Here to see more photos >>
Hey, it's Gurak (the dog I met in Miki camp). She looked slimmer and still ran around with the kids around plantation. Miki said she miscarried, so she was a bit weaker. Poor Gurak…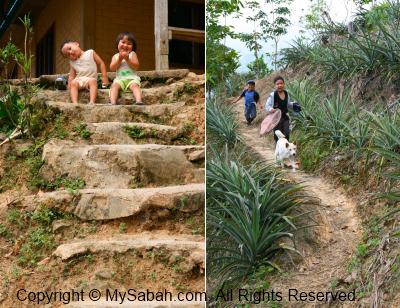 Click Here to see more photos >>
Very soon it turned dark, the climbers had a fellowship dinner with the Kg. Kiau Nuluh villagers and members. There were two short blackout. According to the locals, the drought caused the nearby river to dry up thereby affecting the power supply from hydro electricity.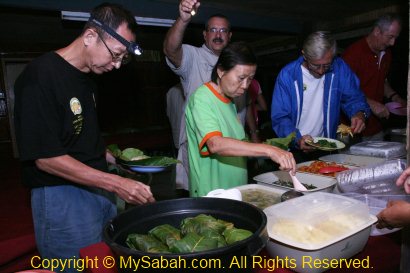 Click Here to see more photos >>
We tried some local traditional dishes. Got my sour bambangan fruit. I tried some tuhau too, but I still don't like the smell. The yam rice was wrapped in big kinta leaf and tasted good. This is how farmers pack their rice and bring it to the field. It will last for many hours without turning bad.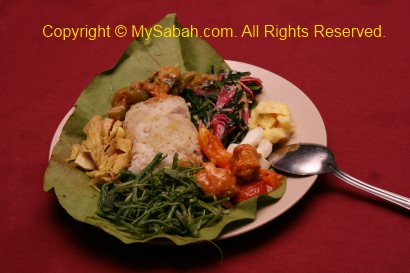 Click Here to see more photos >>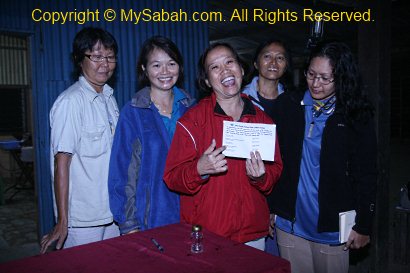 Click Here to see more photos >>
After the dinner, the lady climbers were presenting an info sheet, which would be inserted into a glass bottle and hide in Low's Peak, like what Lilian Gibbs did 100 years ago. Photo Above: from the left, Rina Jamieson, Catherine Chu, Vicky Ng (expedition leader), Jane Chong and Tengku Puteri Soraya Tengku Zainal Adlin.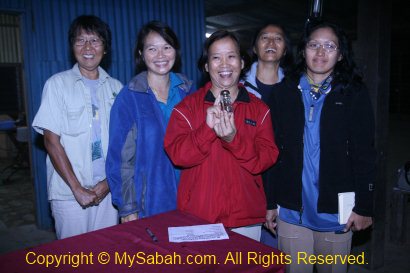 Click Here to see more photos >>
Hahaha… you will never find this secret bottle.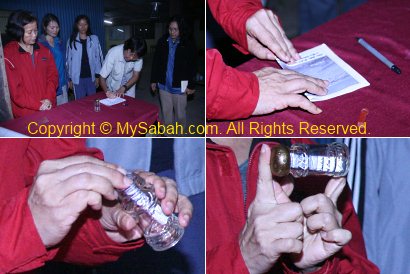 Click Here to see more photos >>
The all-lady expedition team consists of 5 climbers, namely, Vicky Ng (leader), Tengku Puteri Soraya Tengku Zainal Adlin , Catherine Chu, Jane Chong and Rina Jamieson, one Sabah Parks guide (Rossiti Maineh) and 3 porters (Ritah Moguring, Lotuim Lumadan and Nuriah Lunsin). All of them signed on the info sheet that was inserted into a small glass bottle later.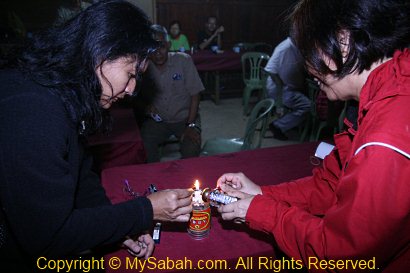 Click Here to see more photos >>
Sealing the bottle to make it waterproof.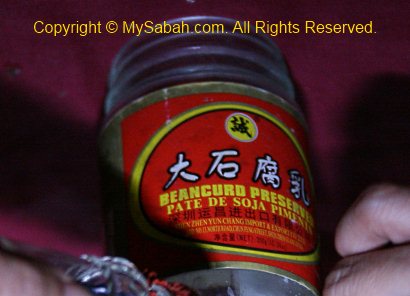 Click Here to see more photos >>
Since they are all lady, they decided to use a bottle from kitchen. This is a preserved beancurd bottle made in ShenZhen China.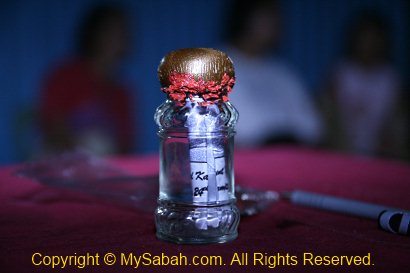 Click Here to see more photos >>
Sealing of bottle done. Now it is hidden in Low's Peak. Next time you climb the Mt. Kinabalu, you can do a "treasure hunt". The bottle hidden by Lilian Gibbs is still not found. So now you know there are two "secret" bottles hidden in Low's Peak.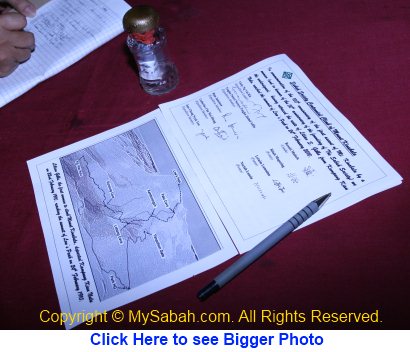 Click the picture above if you want to see what is written on the info sheet. It contains the trail map and info of the expedition, name list and signatures of the lady team members.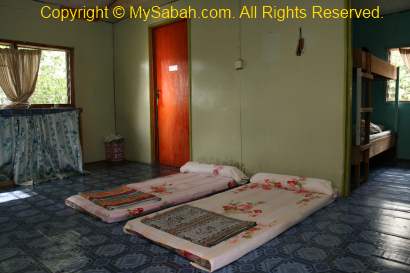 Click Here to see more photos >>
It is bed time.. The little hostel could not accommodate too many people, so I had to sleep outside the room. As a frequent traveller, such arrangement is not a problem to me. Only that I was attacked by mosquitoes, and waked up by the people who walked past me to go to the toilet outside the hostel. I didn't sleep really well.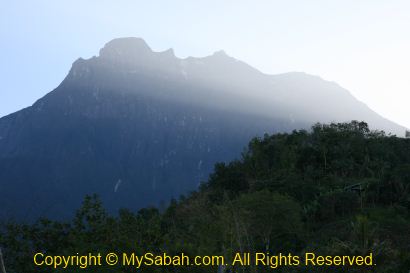 Click Here to see more photos >>
21st Feb 2010: we were greeted by a nice view of Mt. Kinabalu in the next morning. The sky was clear and the weather seemed good.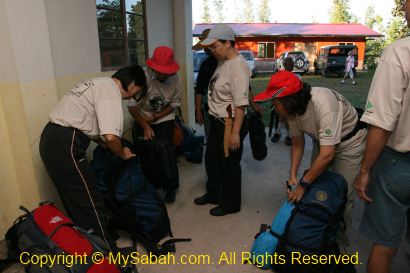 Click Here to see more photos >>
7:20AM: after a breakfast, the climbers were busy packing their backpacks. Each of them carried over 10Kg of weight. The 3 porters carried nearly 20Kg of supplies. These porters are tough ladies, and they were always in top 10 runner list of Mt. Kinabalu climbathon.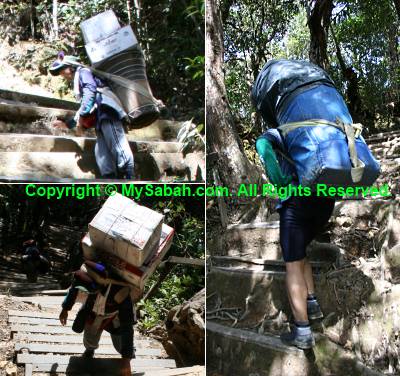 Click Here to see more photos >>
Look at the photos of other Mt. Kinabalu porters above if you still have doubt. On the way to the summit of Mt. Kinabalu, you will see many of these porters overtake you and walk faster than you, though they carry very heavy stuffs. The climbers also regularly trained themselves for a long period of time in Tun Fuad Stephens Park. They ran a few laps up and down the hill of Tun Fuad, with 5Kg of weight. If you ask me to join the expedition, it would be a suicide mission for weak people like me.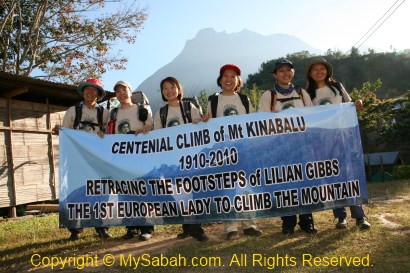 Click Here to see more photos >>
Lady climbers and guide taking group photo for the Centenial Climb.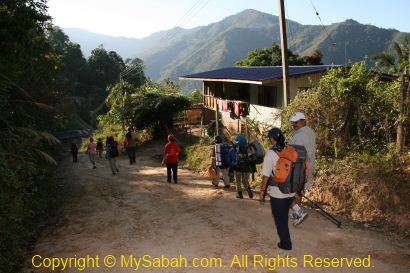 Click Here to see more photos >>
7:50AM: after the group photos, the climbers departed for the climb, but there was one last thing they needed to do before the ascent. A bobolian (high priest) would perform a ritual ceremony for the climbers. Now everyone walked to the ritual site, which was done inside the forest next to Kg. Kiau Nuluh.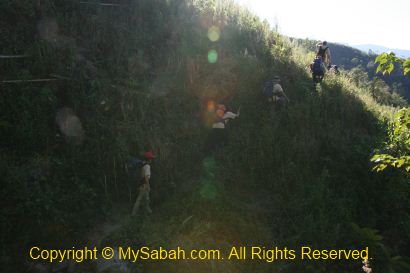 Click Here to see more photos >>
We were told that the ritual site was only 5 minutes away, but the walk took us 40 minutes.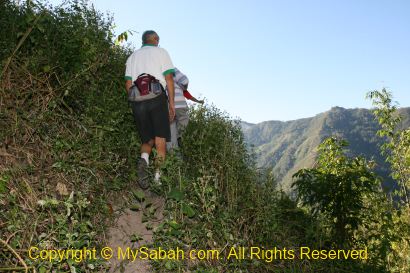 Click Here to see more photos >>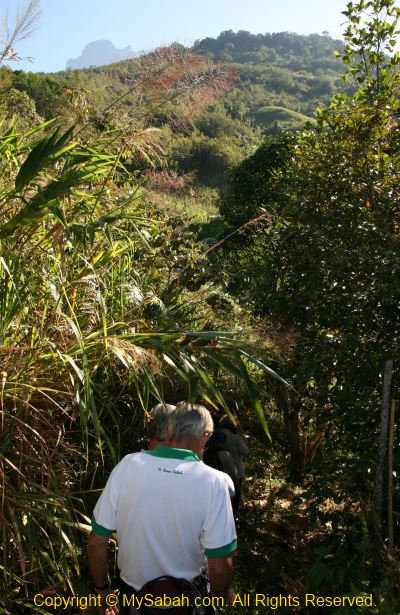 Click Here to see more photos >>
Everyone walked across the forest, slope, dense grasses and plantation. Part of the trail was narrow and on the slopes.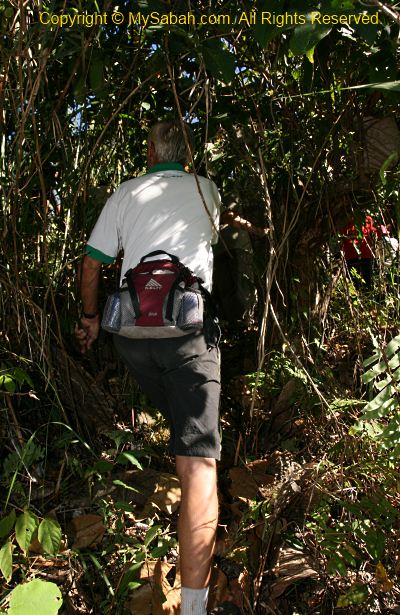 Click Here to see more photos >>
Lastly, we entered a trail with very dense and low grasses.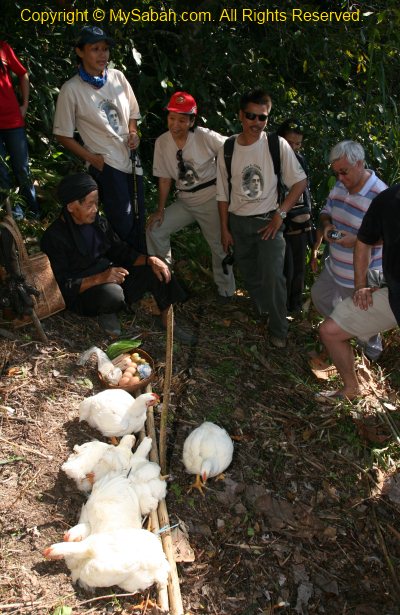 Click Here to see more photos >>
Finally we arrived the site of the ritual ceremony. The old man, who dressed in black, was the bobolian. He was already there with the offering ready.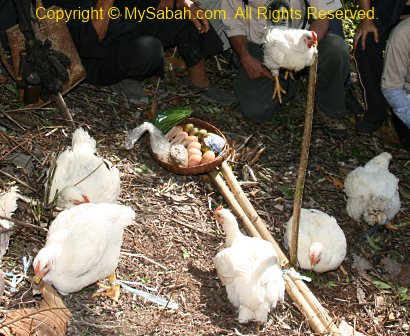 Click Here to see more photos >>
The bobolian would appease the mountain god of Mt. Kinabalu and pray for a safe journey for the climbers. The offering included 7 betel nuts, 7 eggs, 7 rolls of tobacco, etc, and there were six white chicken. Ok, everyone would tell you there were 7 chicken. But I counted carefully twice and found only 6 chicken. Probably 7 is a special number in Kadazandusun, so everyone presumed there were 7 chicken without actually verifying the number.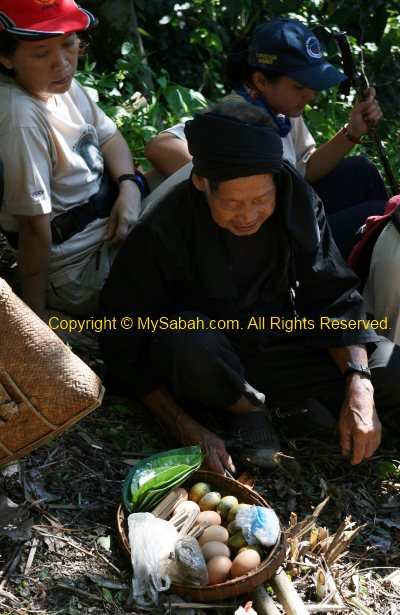 Click Here to see more photos >>
When the group settled down, the bobolian started to pray for the climbers. The prayer took more than 10 minutes. I can't understand the native language. Later a climber said the bobolian was requesting for protection from the spirit and would go after them if any harm was done to the climbers. Something like that lah. This sort of blessing ritual is common in Sabah. Before any big expedition and sport events that would be done in wilderness, bobolians would be invited to perform a ritual.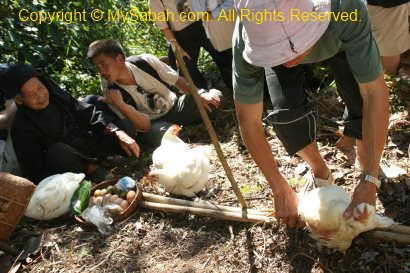 Click Here to see more photos >>
Then six chicken were slaughtered to complete the blessing ceremony. The assistant of bobolian did the first 5 kills and Vicky Ng, as the expedition leader, did the last one. The bloody photos are inside the album. Do not look if you don't think you will be comfortable with the scenes. Blood spit everywhere and even got on my lens and pant.


Click Here to see more photos >>
One by one, six white chicken were slaughtered. Each chicken didn't seem to aware of what was happening to their peers, until it's their turn. The ladies also didn't dare to watch and turned their heads away. After they returned from the expedition, they said all of them heard cackling sound in the bush behind them during that time. Whether it was the spirit, nobody can tell. Well, may be some will say they need to "see" the spirits to believe that spirits exist. Well, you can't see oxygen then why you believe you inhale oxygen?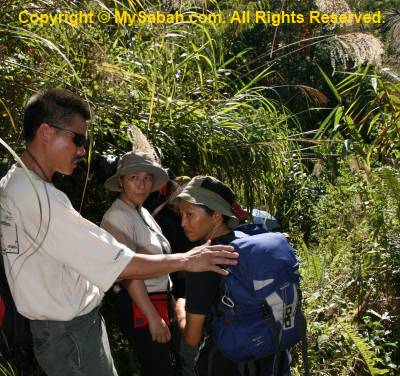 Click Here to see more photos >>
Time to say goodbye after the ceremony. The climbers, guide and porters departed for the climb at 9:30am (20 Feb 2010). They successfully reached the summit of Mount Kinabalu at 14:20 on 24 Feb 2010, and came back safely. Congratulations to the ladies, you memang Boleh (can)!
Photos taken in Kota Belud, Sabah Malaysia