The photos of Bukit Lugas (or Lugas Hill, Bukit means Hill in Malay language) in Tambunan were spreading like wild fire on social media last year. How does a small hill, which was never listed as an attraction, become a hot destination overnight? Just look at the photos below, and you will know why.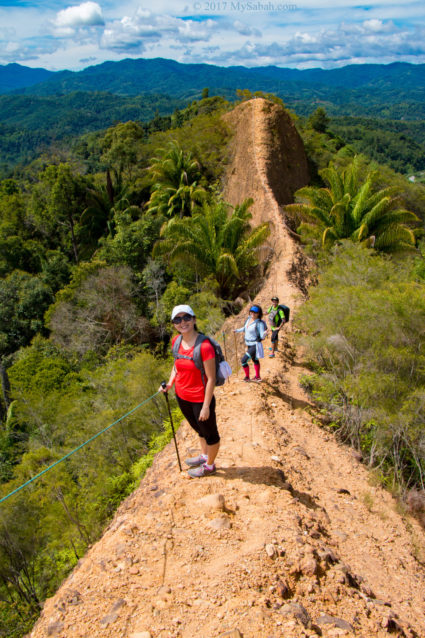 Look like the back of a twin-humped dragon, Bukit Lugas is one of the most awesome hills in Sabah. Some hikers from Kota Kinabalu City (KK) even drive 103 KM to visit Bukit Lugas. Such geological feature resembles what is called "dragon spine", a king-maker terrain in Chinese Feng Shui. Cool huh?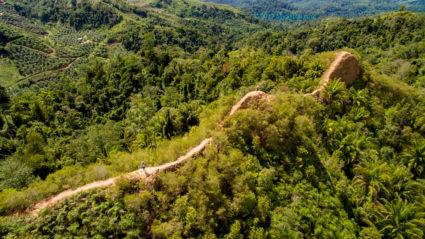 Besides its unique landscape, most people think it's thrilling to walk on the narrow trail on the ridge with cliff only two steps away at both side. Acrophobia (fear of heights) finds even looking at the photo is frightening enough.
Profile of Bukit Lugas
Location: Kampung Kitou, Tambunan (Sabah, Malaysia)
Opening Hours: 7:30am-4:00pm daily, includes public holiday
Height: 600 Meters (1,965 feet) above sea level
Hiking Distance: 1.7 KM one way (Return trip takes about 4 hours)
I would rate its difficulty 2 out of 5, which means easy, because it's 92% walking and 8% climbing. The climb is more like a mental than physical challenge.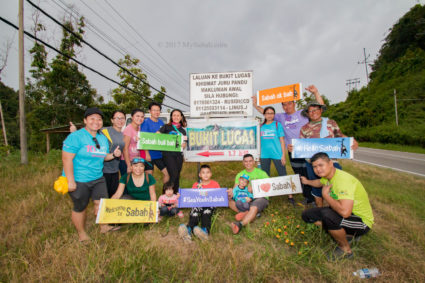 The best time to climb is in early morning. After 9am, there is no shade on the hill for you to hide from the scorching sunlight. Though Bukit Lugas is 600 Meters, the starting point in Tambunan is 430 Meters above sea level, so you only need to ascend 170 Meters. Hope you get what I mean.
Going to Bukit Lugas
In a Saturday morning, I drove 2 hours from KK to the starting point of Bukit Lugas. This was my second visit, and I brought a drone and friends this time.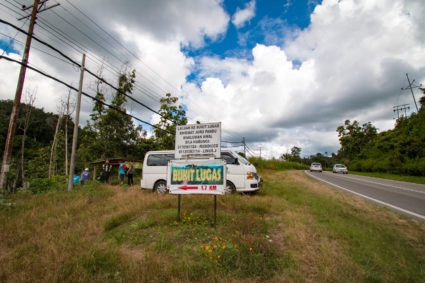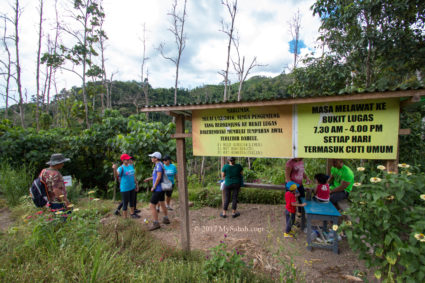 After I parked my car, we descend about 40 Meters via a steep slope trail in the wood to campus of SK Kitou, where our guide was already waiting in the bamboo hut named Pondok PIBG.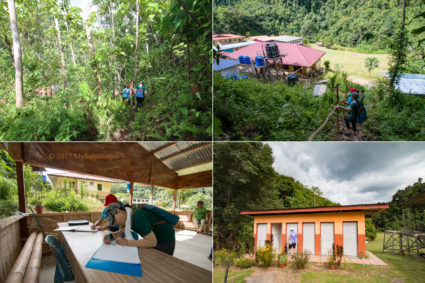 After registration and took our number 1 in a school toilet, we started hiking to Lugas Hill. I checked the signal strength on my phone. My Maxis line got good signal (3G), so is my friend with Celcom. Digi doesn't work well there.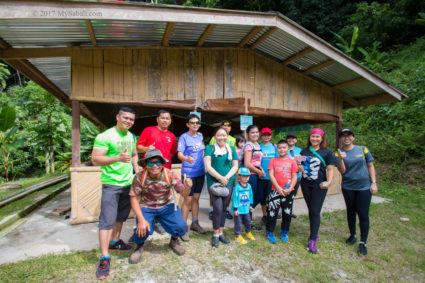 The 1st Kilometer is an easy walk on flat soil trail of countryside. This area is sparsely populated area with plantation of rubber, oil palm, banana, pineapple, tapioca, papaya and other crops along the way. We met a few friendly villagers who were busy harvesting latex and vegetables in the morning.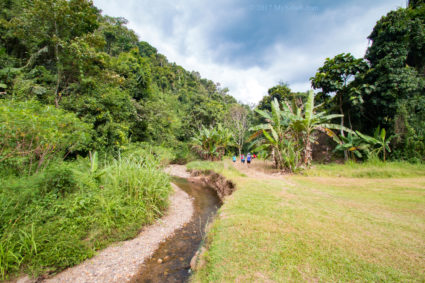 We crossed three streams and a small bamboo bridge. The water is very clean, and there was no rubbish. It was quite a wonderful stroll in the cooling morning of Tambunan highland.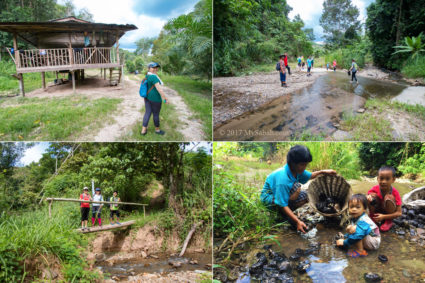 Start of Climb
After 25 minutes, we reached the foothill of Bukit Lugas, and went for a steep ascend on an uphill soil trail. It's not really tough, just tiring.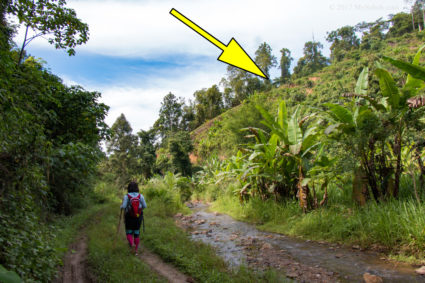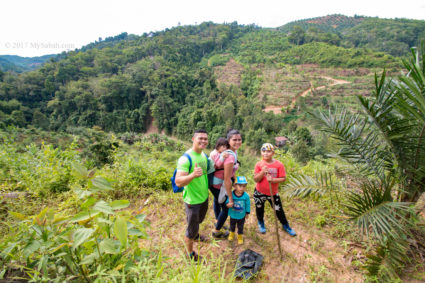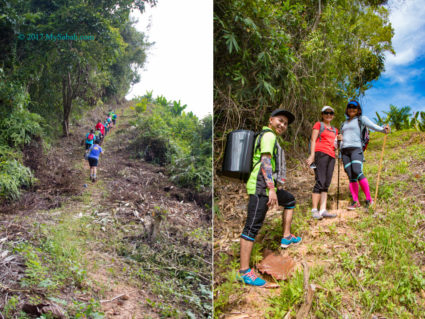 After 100 Meters, we entered a forested zone and rest under the shade for a few minutes. Congratulations! The hardest part of the hike was over. Everything is easy from this point on.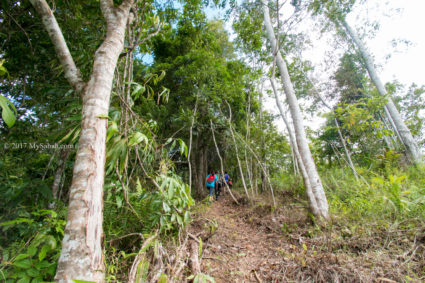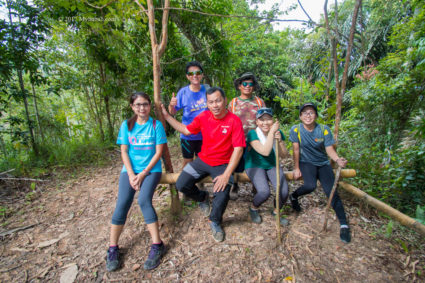 We continued our climb after the short break. This part of the hill is quite densely forested. We walked in the shade for another 150 Meters, then we arrived to a fern path with soft and spongy ground.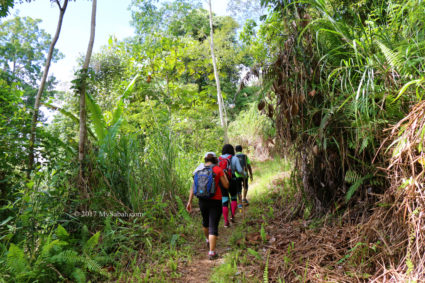 The fern indicates the soil on the hill isn't fertile. After walking near the end of 150-Meter fern path, we came to an open space, where we could see the exposed yellow rocky peaks of Lugas Hill.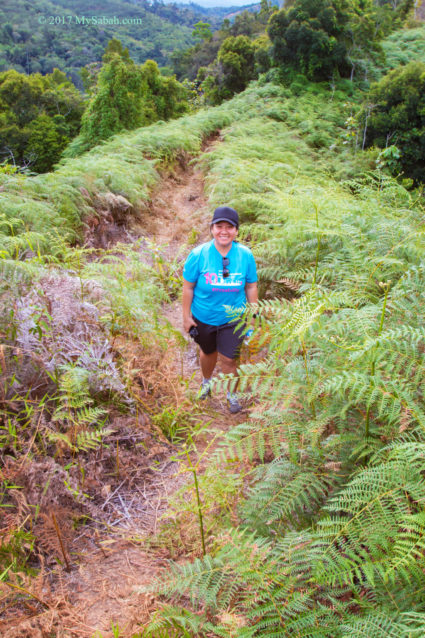 At this point, what remained was only a 200 Meters ridge walk on the hill. The trail was quite narrow, so I walked slowly and carefully, as if I wanted to avoid awakening a sleeping dragon.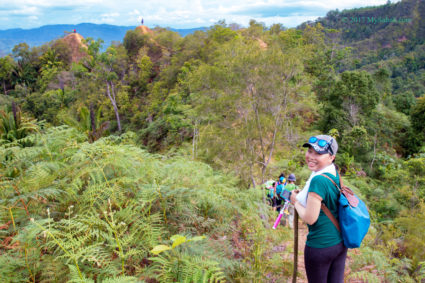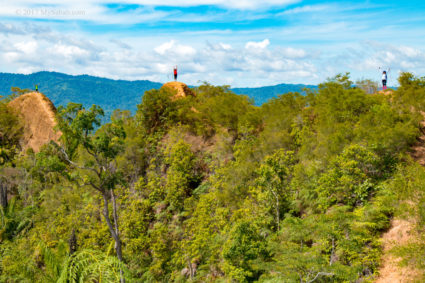 Part of the trail is only wide enough for one climber. I can't afford to miss a step. I avoid looking at the edges or my feet would turn jello. Luckily, the iron bars and rope support gave me peace of mind.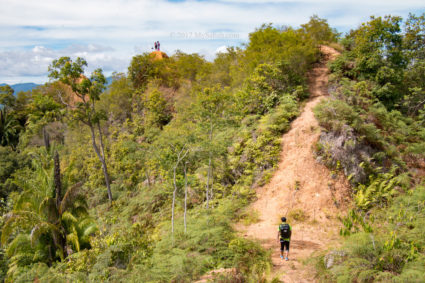 Anyway, the trail on the ridge isn't very steep. Just be careful and you shall be fine.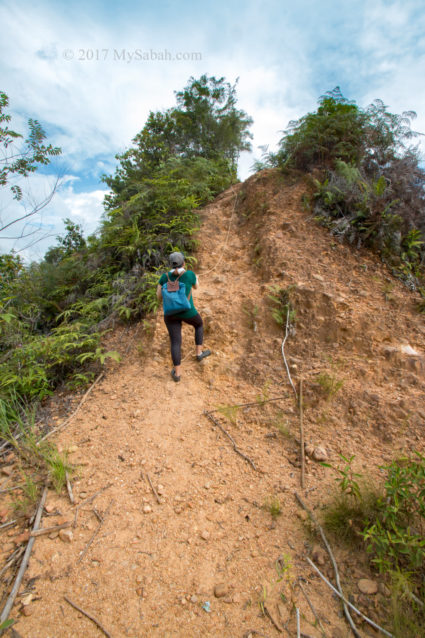 The only problem is the hot sun. Heatstroke is a greater risk than falling, so do apply sunblock lotion and bring enough drinking water.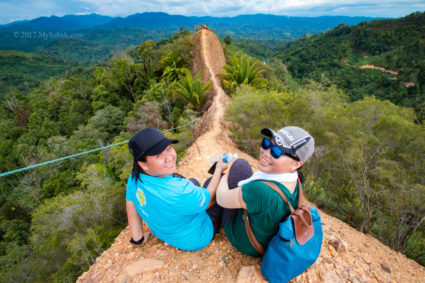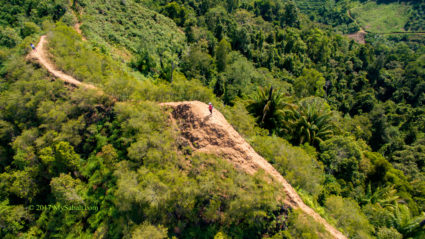 I'm not sure why the top of Lugas Hill is almost bald. Probably it is too steep that all plant falls off, just kidding.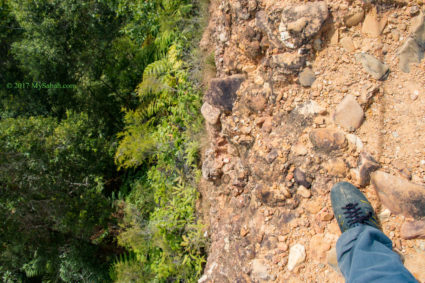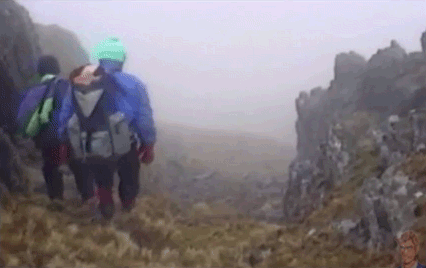 You can bring children to climb with you, as long as they listen to instruction and not running around.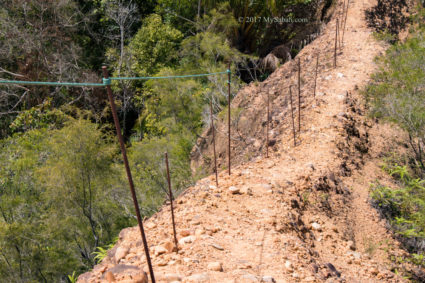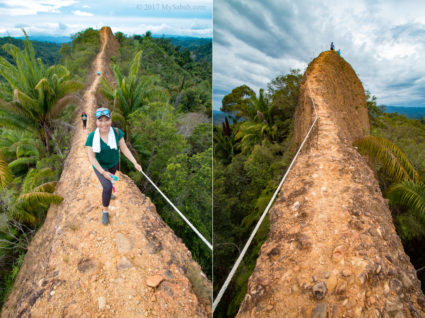 On the top, I could have a panoramic view of surrounding green hills and plantation. It took us about 1 hour 16 minutes to finish the climb.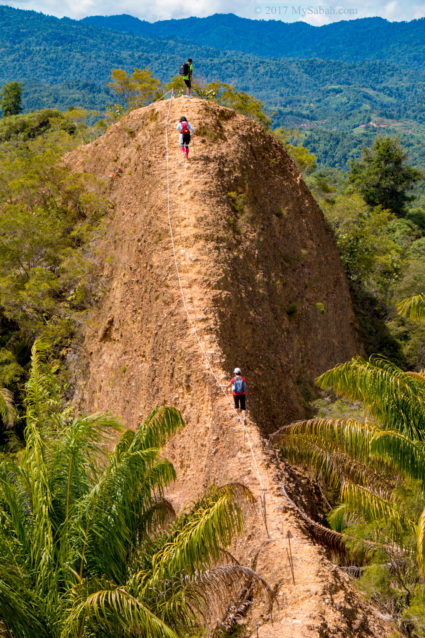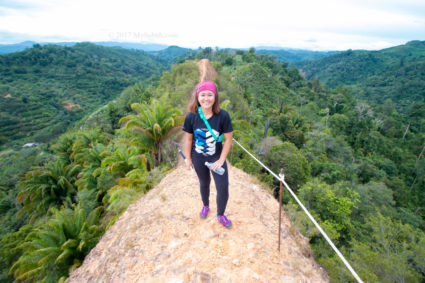 The hill is composed largely of sandstone with interbedded mudstone and dominated by Acrisols and Cambisols soil. The soil is of type Lokan Association (Thanks Dr. Arthur Chung for the info).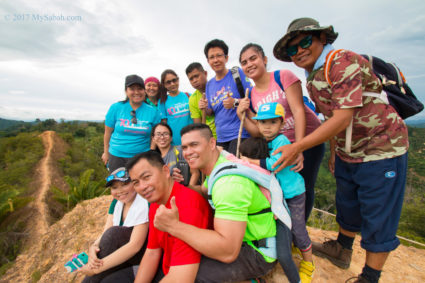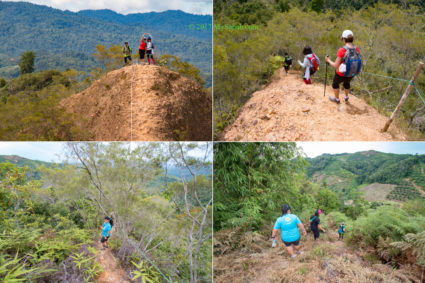 At last we descended and took less than an hour back to the starting point. The whole tour takes only 8 hours (includes road trip hours).
How to get there
The starting point of Lugas Hill is highly accessible by paved road. It is about 103 KM away from KK and 23 KM from Tambunan town. When you reach Tambunan town, take the Tambunan – Keningau highway, pay attention when you see the milestone with blue label that reads "27 KM Keningau". You shall see the Bukit Lugas signpost at your left shortly. The GPS coordinate is 5.515174, 116.274475 (see Location Map).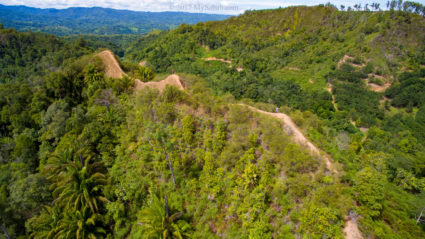 Bukit Lugas is part of Kampung Kitou (village) and not a park. However, you need to hire a local guide to climb with you. Just call one of the cellphone numbers below to book a guide before you go:
Disclaimer: Listing of guides' contact here is FYI only, it doesn't mean that I recommend them.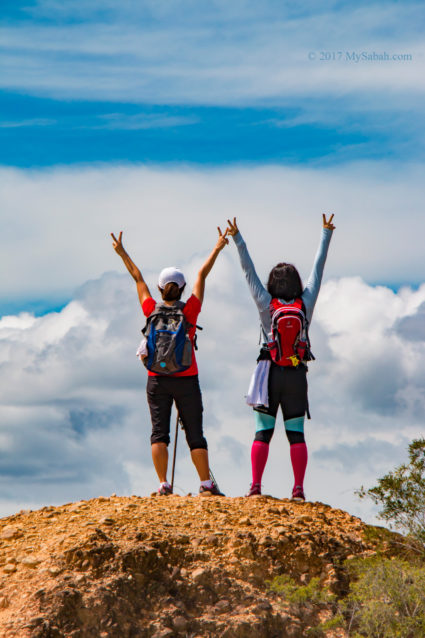 The guide fee per group is MYR30 (about USD$7.50). A guide can take up to 10 people. If a group of 10 climbers share a guide, it'll cost only MYR3.00 per person, so bring more friends with you.
Things to Bring
Wear a pair of comfortable hiking shoes and bring the following things:
Drinking water
Raincoat / Umbrella
Snacks such as energy bar
Walking stick
Gloves
Hat
Sunglasses
Sunblock lotion
Jacket (it's chilling in early morning of Tambunan highland)
Insect repellent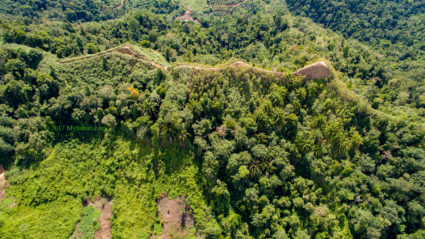 Photos taken in Tambunan, Sabah, Malaysia Borneo