I love BBQ food b'coz anything tastes good if you grill it. If you are a tourist who wants to have a seafood feast without burning a hole in your pocket, you will be very happy to know the seafood night market in Sinsuran, a very accessible spot in Kota Kinabalu (KK) city.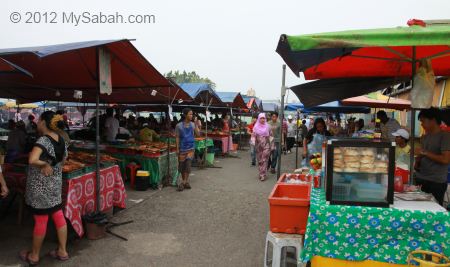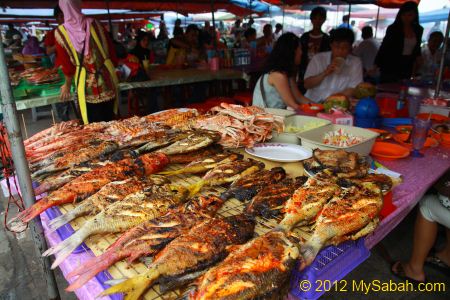 As a matter of fact, Sinsuran Night Market is well-known among the locals and it is always packed with people who look for budget seafood. This place is not advertised as widely as other decent (and expensive) seafood restaurants in city. Some tourists who care to research a bit online will find out this "hidden" place.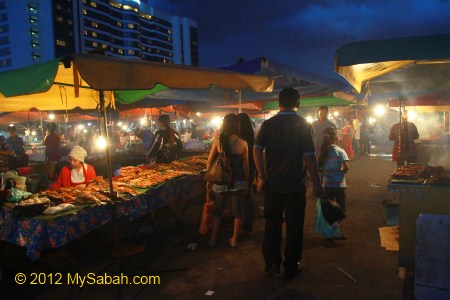 Sinsuran night market is very easy to find. For those who stay in city center, it'll take them less than 10 minutes to walk there. Go to the Handicraft Market, or more commonly known as "Filipino Market" by the locals, in front of Le Meridien 5-star Hotel. The night market is just right behind the Filipino Market, as shown in the map below:

View My Sabah Map in a larger map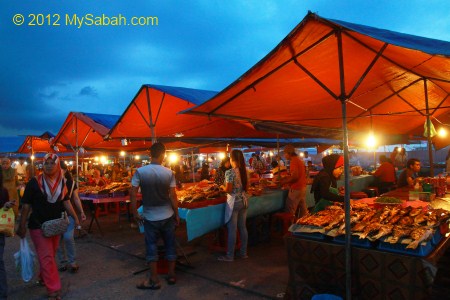 The Filipino Handicraft Market is a popular location for bargain local handicrafts and products such as beadwork, batik, wooden craft, traditional handmade baskets, key chains, dried seafood and even freshwater pearl. It's hard for visitors not to smell the smoke with BBQ aroma at the back of Handicraft Market after 5:30pm. I believe that's how most foreign tourists learn this place when they trace the smoke, and many decide to eat there after handicraft shopping.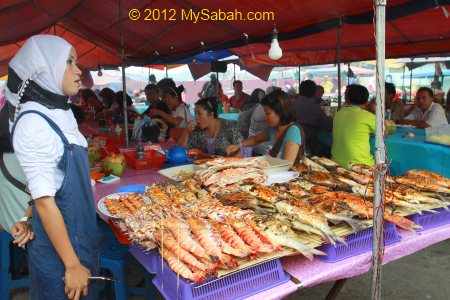 There are many BBQ seafood stalls. You may tour around and look at variety of seafood on display. The seafood is half-cooked. You just point at the seafood you want, and they will grill it again and serve it hot to you in minutes.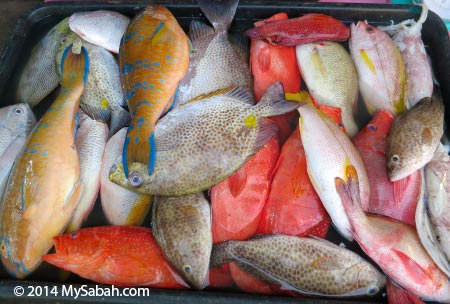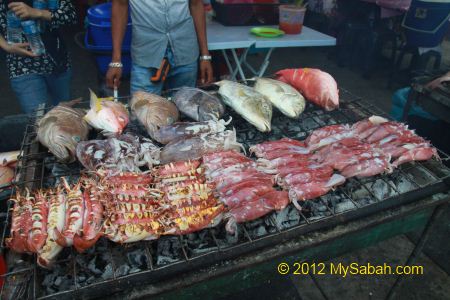 FYI, the seafood night market is just next to KK fish market, one of the most important fish landing port of Sabah. That's why fresh seafood is readily available for the hawkers.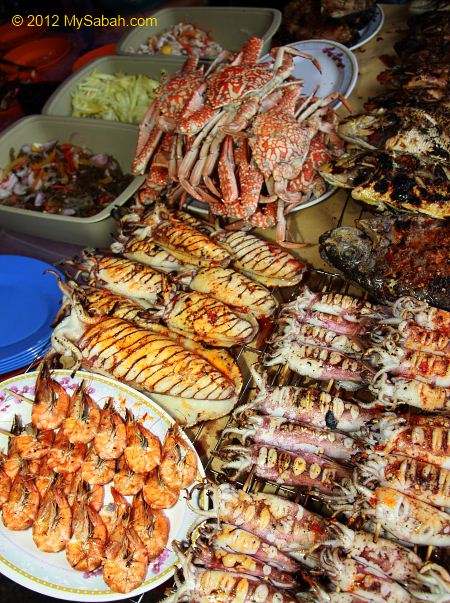 Just take time to look around and you will be spoiled with choices. Besides fishes, they also sell BBQ squid, prawn, crab and lobster. They also come in different sizes with prices range from RM8 to RM20 (≈USD2.50-USD6) each. Usually the bigger one costs more. Anyway, the prices are for your reference only. Lobster can cost more than RM100 (≈USD33)! I think they charge higher price for tourists, so do bargain with them or check a few other stalls first, before you sit down.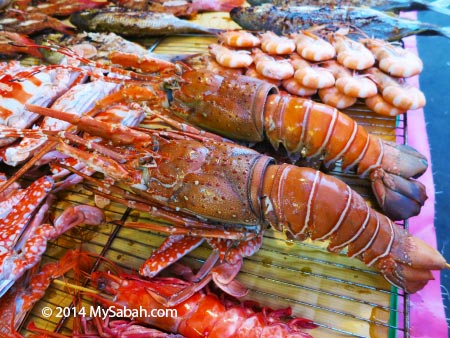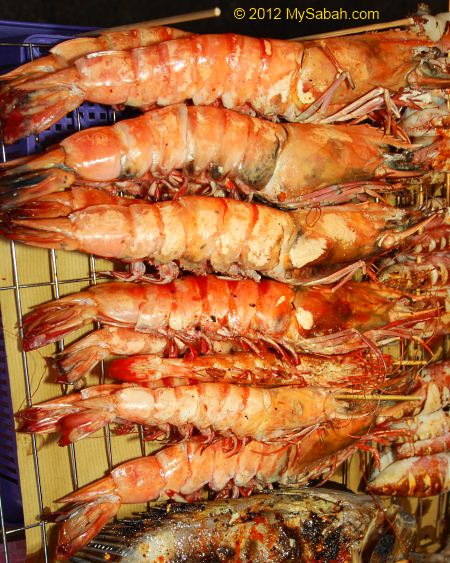 The "must-try" seafood is Tiger Prawn. The Tiger Prawn is the most famous seafood of Sabah, as it is big and longer than your palm. Tell you, whenever Sabahans order prawns in Peninsular Malaysia, we always laugh at their size. Not only the prawn in Peninsular Malaysia is expensive and not so fresh, their small prawn is only "qualified" for making shrimp paste in Sabah LOL.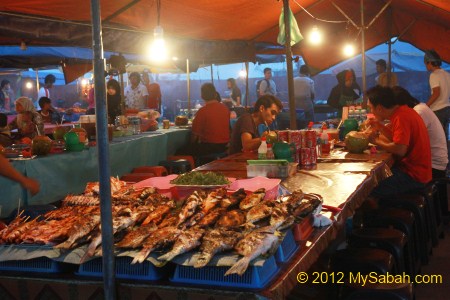 After you make your order, you can enjoy the grilled seafood under the canopy. It's very simple setup, with only a few tables and chairs. You will see a small plastic kettle filled with water on the table. It's for washing your hands so don't drink it ok, haha. You will see most locals eating seafood with bare hands. You can ask for spoon and fork if you are not used to our dining style. You may order white rice to go with your seafood if you like to.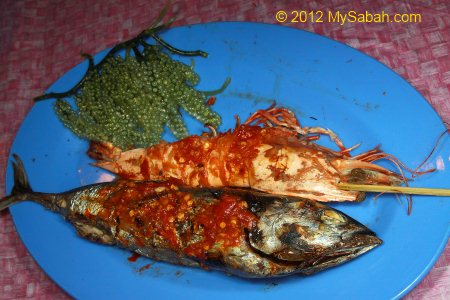 My BBQ seafood, yum yum.. :-p~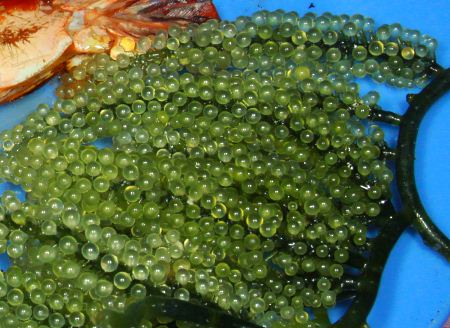 Occasionally I have my dinner at this night market too. Did you see the green stuff on my plate? It's seaweed and I strongly recommend you to try it. For me, it tastes like tiny and juicy sour grape with a smell of seawater, after applying a bit of Calamansi Lime juice on it. It's only RM1 or RM2 per plate.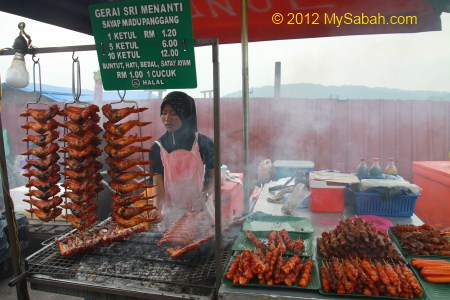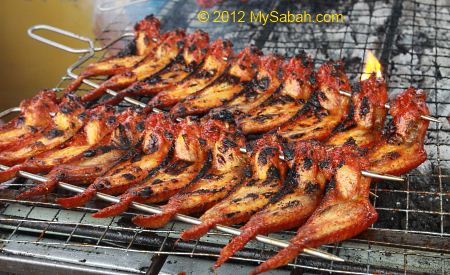 The Sinsuran Night Market is more than seafood stalls. You can find almost any kind of common local food there, for example, fried noodle (Mee Goreng), soup noodle (Soto). The BBQ honey chicken wing is also the favorite of locals.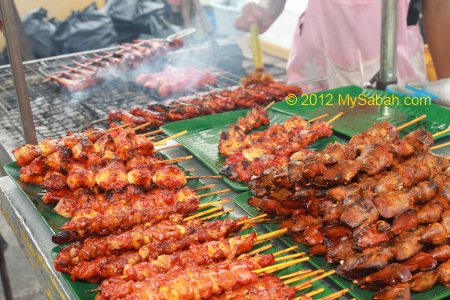 Ok, you come here all the way from other country and you want something exotic right? You may try the grilled chicken butt (actually it's chicken tail but locals call it butt) and chicken liver. It's a very subjective matter whether you like chicken butt, personally, I think it is quite oily but the meat is more "juicy", sweet and tender.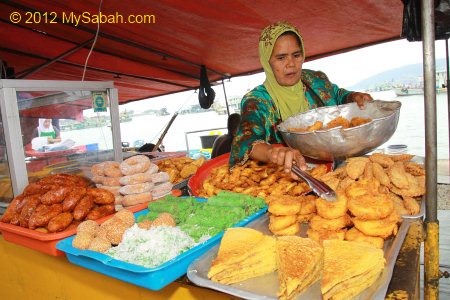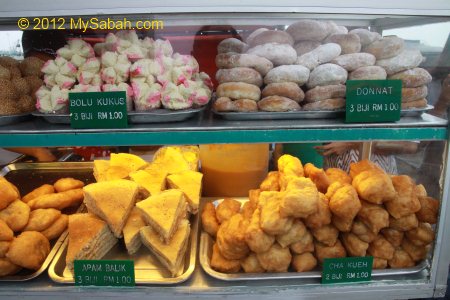 You gastronomic adventure shouldn't stop here b'coz there are more local food for you explore. A few steps away from the seafood stalls is colorful and rich variety of local breads, cakes and dessert for sale.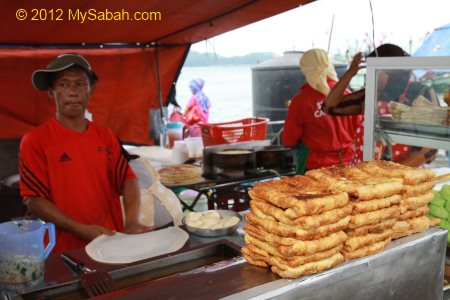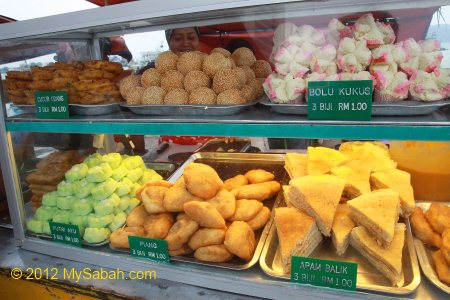 Well, there are too many to introduce. Just try whatever looks delicious to you. Most of them taste sweet.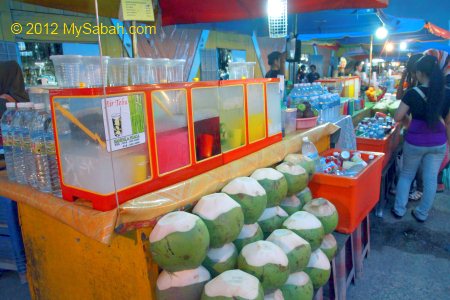 For drink, you can try coconut juice (Air Kelapa) or other local fruit juice, for example, the Kit-Chai-Ping (Iced Calamansi Lime Juice or "???" in Chinese). At this point, you would agree with me that it's not too much to call Sinsuran Night Market a little food paradise. The food there is so irresistible that it's impossible you leave with an empty stomach.
Related post
BBQ Seafood in Sandakan (Sim-Sim)
Photos taken in Kota Kinabalu, Sabah, Malaysia Borneo