Now you are not only looking at the animals at Lok Kawi zoo, they also do show to entertain you. There are two shows at 11:15am and 3:30pm daily in their Ampiteater. You will have chance to get close and interact with orangutan, hornbill, parrot, snake and eagle. I was there to watch the show on Mar 1. Marsha, the orangutan, started the show by peeing and shitting from the sky, haha…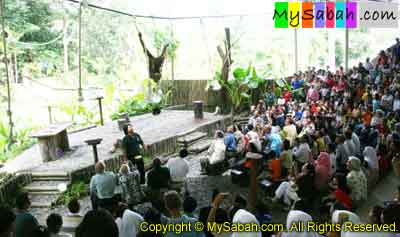 Then an audience was invited to challenge Marsha on opening coconut. Orangutan's arm is 3 times stronger than human, so peeling coconut by hands is piece of cake to them, while the audience was using chopping knife to cut.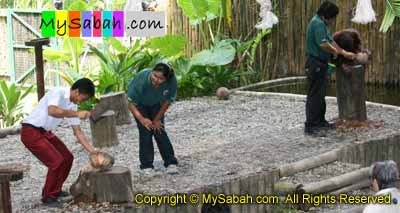 Marsha kept watching at her challenger, so she started slow. Though she tried to catch up later, she still lost. Anyway, we learn the teeth and arm power of orangutan, and know why wild orangutan is not a suitable pet. Just imagine coconut is your head.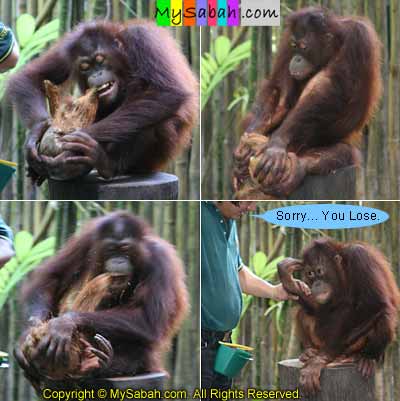 Hornbills also came in to impress us. The trainers made them to fly from one side to another. Nothing cool about seeing bird flying. The fun part was to see some audiences got freak out, as hornbills are big bird with huge beak and fierce-looking. They were only trained for a few months, so they would have more to offer in the future.

Paco and Carlo, the cute and colourful parrots also performed a few tricks, to show off their eye sight and slam dunk skill. You hide a ball under one of the bowls, shuffle them a few times, and the parrot could locate the bowl that has the ball. To prove that the trainer didn't hint the birds, the audience could try it. If I were her, I would hide the ball in my hand and see how they respond, heheh..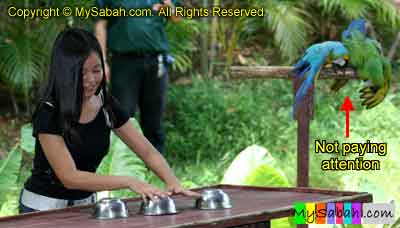 The luckiest performer is the Sawa Batik snake, coz it doesn't need to do anything. During the show, the staff also teaches us something about the animals, making the learning experience fun. This show alone is already worth more than the RM10 ticket.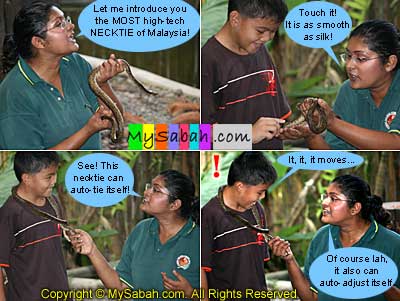 Related Photo Gallery
Lok Kawi Wildlife Park
Photos taken in Lok Kawi Wildlife Park, Sabah, Malaysia Borneo