Item 6. Zebra Crossing
Since young, my mom already taught me, "DO NOT trust zebra line! If you walk on it, the ghost will catch you!" I took her words seriously so I survive until today. It reminds me of a TV scene of a group of zebra crossing the river and got attacked by fierce crocodiles. Keep in mind, Sabah drivers only give way to cows. Other living things such as dogs, cats, lizards, rats, human… must give way to cars, if they don't want to become a flat object on the road, running over and over by the cars. I have seen so many times the drivers honked the people who tried to cross the zebra lines.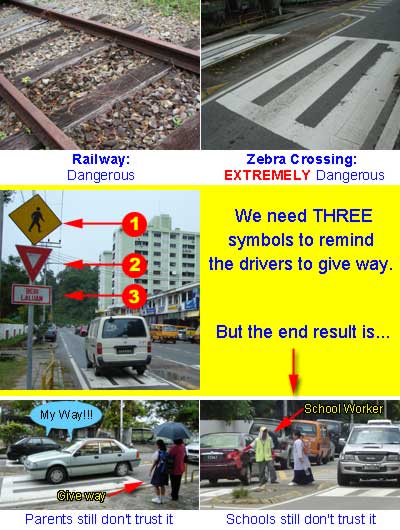 Item 7. Speed Limit Label
What is this label for ah? Can someone explain why the vehicles with this label fly like wind on the road? They can overtake me easily, even though I drive at 90++KM/H. Impressive. Probably the design of our speed meters are different.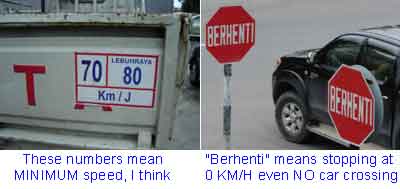 Item 8. "Berhenti" Sign
By right, if you reach this sign, you must STOP totally, no matter there is other car crossing or not. You will 100% fail the driving test, or kena fined, if you don't follow this rule in other countries.
Item 9. Lines
I already forgot what they mean. You may ask the mini bus drivers who like to Berhenti-Henti.


Item 10. Yellow Light
Technically, Yellow light means STOP. But in Sabah, it means "SPEED UP!!! GO! GO!! GO!!!" If you try to stop, the old uncle driver behind will honk you (Sorry, my life and safety are more important, so I don't care how fucking pissed off you are. You won't pay for my medical bill anyway).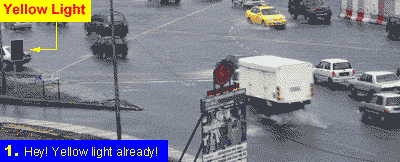 Due to all the factors I mentioned, the ambulance may not able to rescue us on time, if anything happens. Take care buddy. OH, BTW!!! Did I tell you that the emergency lane is not working well too?