I was in Kundasang last week. Kundasang is so near to Kinabalu Park, so I was walking around at night to see if I could find any interesting animal. Probably it was windy, coz I didn't find any bug around. But I found a lot of frogs in the pond.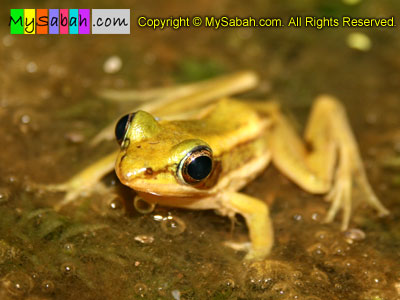 Quite disappointed, there were dozens of frogs but all of them belong to one species, which is commonly found in Sabah. If I am not mistaken, Sabah Chinese calls them "Money Frog". I am not talking about the Money Toad, which holds a coin in its mouth, like the one you find in the shop entance. In the dark, the frogs are less sensitive to my move, so I can come very close to them for a photo session.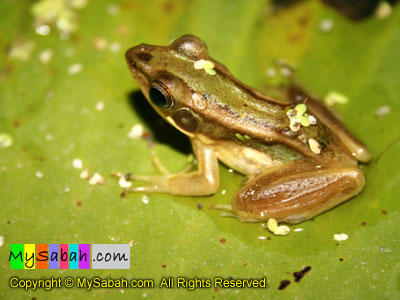 The 58mm close-up len for my old Sony Cybershot DSC-H1 can fit nicely to my Canon EOS 400D. This allows me to magnify the subject by 50% more. However, without a "live view" (most SLRs do not have a LCD preview screen like all compact camera does) I found it extremely troublesome to take the photo with view finder. I have to tried 4 or more times to get the picture composition right.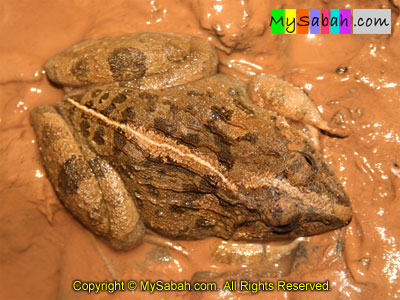 Later I saw a toad on the mud trail. It was just laying there motionless, thinking that nobody and prey could see it. If there are frogs, there should be snake around (predator of frogs). After nearly 3 hours of waiting and searching, still no luck… Under dim light, I discovered something like a big worm crawling on the water weed. It was a "baby" of the dragonfly. With 3-inch of length, I think it can take down a small frog.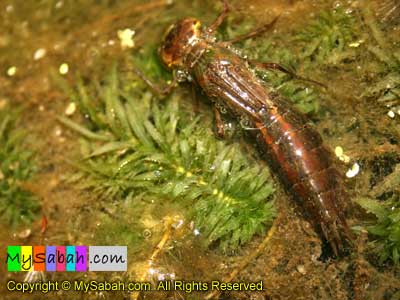 In the next morning, a friend showed me a small snake in a garden. It is only as small as a chopstick, but with bright color on its head and tail, seem like a sign of poisonous snake.

You can click the photo above to get a close-up look. I used a stick to move it to the grass, for a more "nature-like" photo. It escaped quite quickly so I only got one shot. If I was not in a rush, I would have spent a few hours playing with it.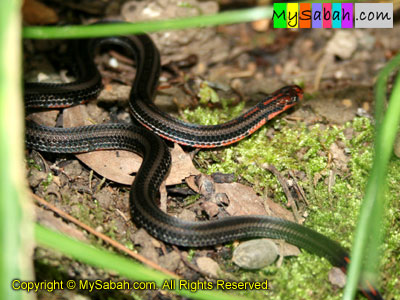 Photos taken in Kundasang, Sabah, Malaysia Borneo