For those who want to travel around Telupid town, below are some info on the accommodation and eat out places in Telupid, the heart of Sabah.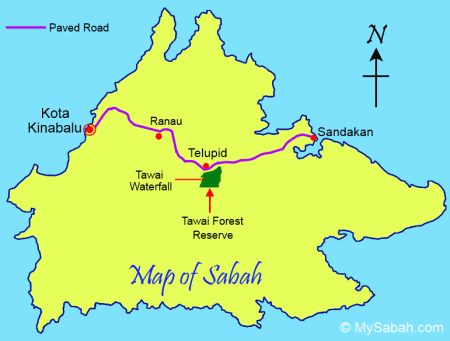 Telupid is in the central of Sabah and 200 KM away from Kota Kinabalu, the capital of Sabah. You may Click Here to find out Things to do in Telupid.
Where to Stay
1. IPS (Institut Perhutanan Sabah)
This is my personal favorite. IPS is the rest house managed by Sabah Forestry Department. It is only 1KM away from Telupid town. Please see the location map below: View My Sabah Map in a larger map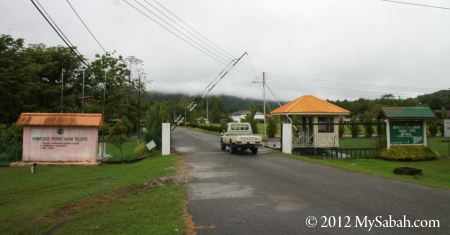 Pic: gate to IPS If you go to Telupid from Kota Kinabalu, you will see the gate above at your right, 1 KM before Telupid town.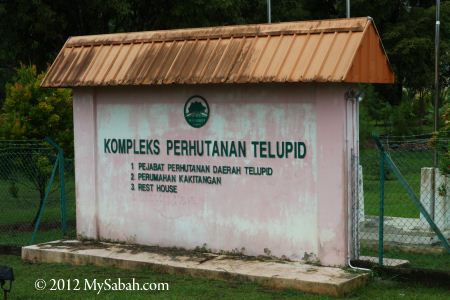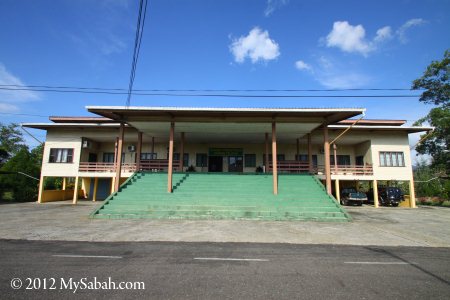 Pic: IPS is only 200 Meters away from Telupid District Forestry Office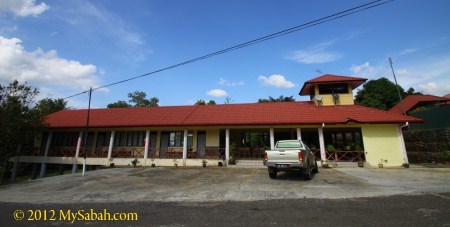 Pic: rest house A of IPS (Institut Perhutanan Sabah) There is a small canteen in this rest house, but only simple food such as fried noodle is sold. Rest house B is dormitory style (10 rooms, each with 4 single bed)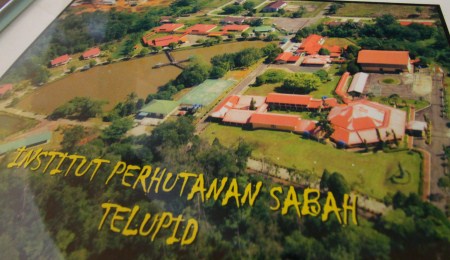 The room here is clean and cheap. Most travel agents recommend their tourists to stay here.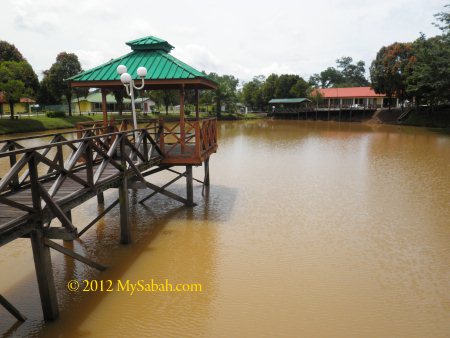 Pic: beautiful lake at IPS (no fishing & swimming) Many locals come here to walk and jog in the evening.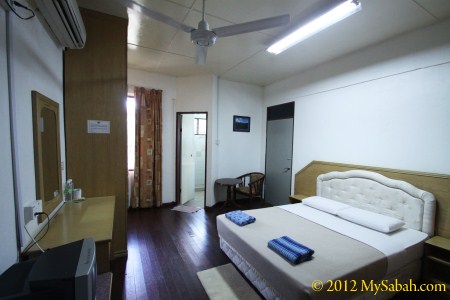 Pic: standard room of IPS (Institut Perhutanan Sabah) In rest house A, they have 10 rooms (6 double bed rooms, 4 single bed rooms). The room rate is RM65 (USD20) per night per room. For dormitory room in Rest House B, it is RM60 (USD18) per night per room.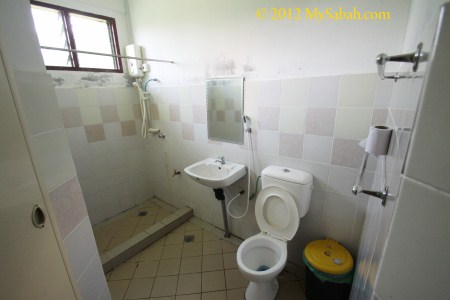 Pic: attached bathroom of the room Their phone no. is +60 89-521879 and fax no. is +60 89-521748.
2. City Hotel Telupid (????)
According to a friend, City Hotel Telupid is also one of the best accommodation in Telupid and it is near to supermarket and restaurants. Below is the info and contact: Address: Block A, Lot 5 & 6, Pekan Baru Telupid, P. O. Box 154, 89300 Telupid, Sabah, Malaysia Tel & Fax: +60 89-521889 E-mail: cityhotel_telupid@hotmail.com Facilities & Services: Astro TV Channel, split unit air-conditioning, hot & cold shower, 24-hour reception & security services, free Wifi Location Map: View My Sabah Map in a larger map
3. Queen Alice Inn Telupid
I haven't stayed in this Inn which is also in Telupid town. Just FYI: Address: Lot 2 & 3, Block E, 2nd floor, Bangunan SEDCO, P.O. Box 122, 89300 Telupid, Sabah, Malaysia Tel: +60 89-521557 / +60 13-8857972 E-mail: qai_telupid@live.com.my Fax: +60 89 521558 Room Rate: – Single (Queen size bed): RM59-69 (USD18-21) – Double (Queen & Single Size Bed): RM89-99 (USD27-30) Room Facilities: 5 TV Channels (TV1, TV2, TV3, RIA, HBO), air-cond, attached bathroom, hot water shower Location Map: View My Sabah Map in a larger map
Where to Eat
You won't have any problem to find food in Telupid town. I'm surprised to see so many restaurants here. You can find Indian, Malay, Java and Chinese food easily. I just list a few that I have visited.
1. Restoran Tong Fang (????)
This Chinese restaurant is near the edge (last block) of Telupid town.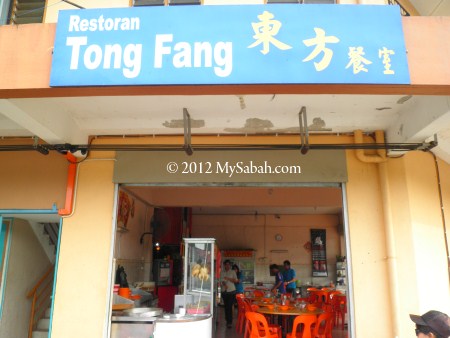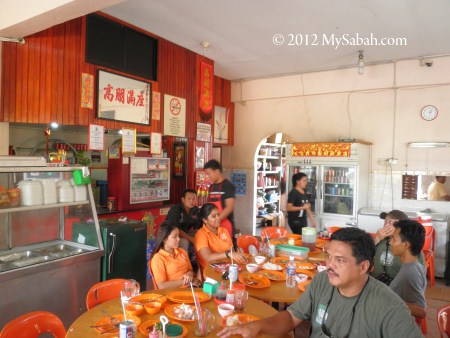 Restoran Tong Fang looks like a typical "Kopitiam" (coffee shop) in Sabah. They have good variety of food and they taste good. Quite a pleasant surprise to find a decent restaurant in a remote town. Below are the food that I tried: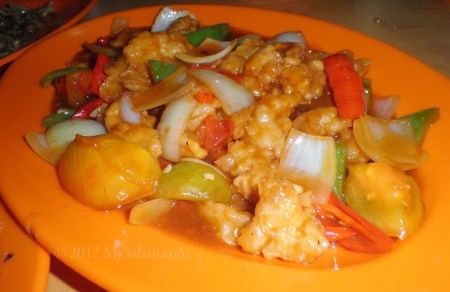 Pic: sweet and sour chicken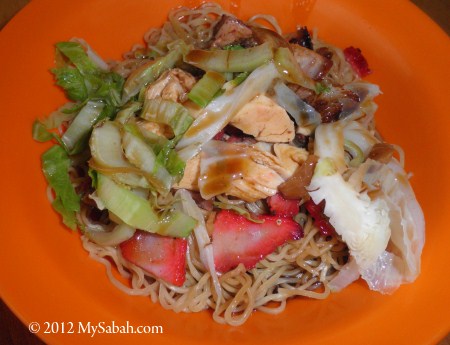 Pic: rice noodle with chicken and roasted pork slices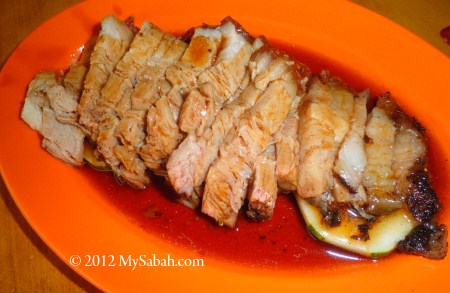 Pic: roasted pork slices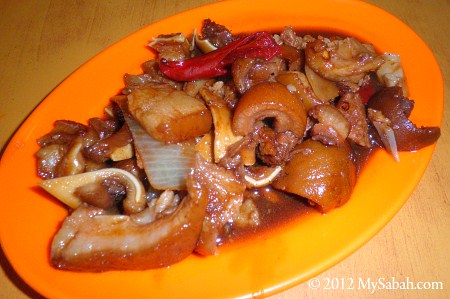 Pic: mixed pork (note: internal organs)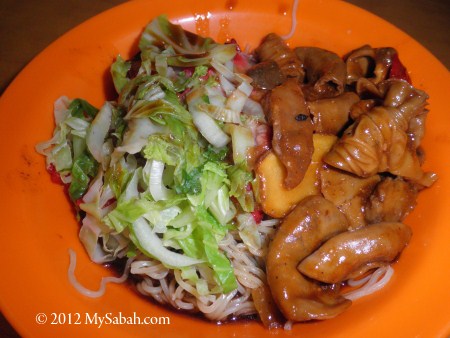 Pic: rice noodle with mixed pork Location Map: View My Sabah Map in a larger map
2. 5-Talk Restorant (????)
5-Talk Restorant is on the same block as Restoran Tong Fang. This coffee shop doesn't sell pork and their food is "friendly" to Seventh Day Adventist.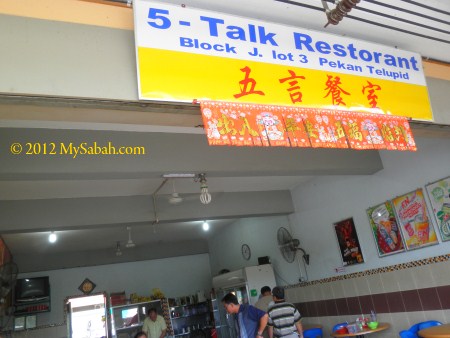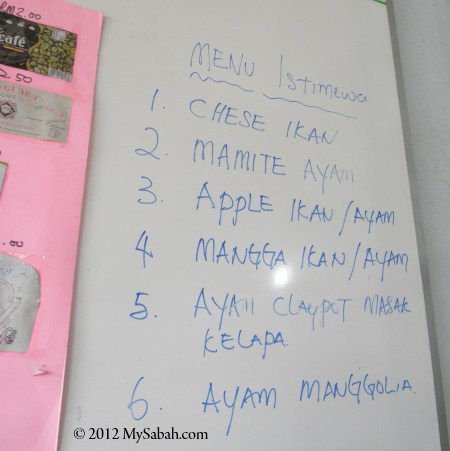 They have some interesting dishes such as Cheese Fish, Apple Chicken/Fish and Chicken Claypot with coconut favor. I was only there having tea and didn't try any of those.
3. Long-Long Restaurant (????)
Long-Long Restaurant is about 14.5 KM away from Telupid town and you can see its shoplot at the roadside. See location map below: View My Sabah Map in a larger map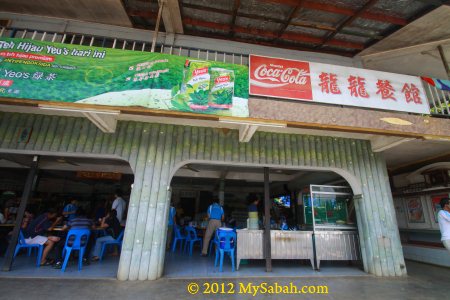 Besides normal Chinese food, Long-Long Restaurant also sells "exotic" (some calls it eerie) food such as wild boat, deer, squirrel, flying fox, snake, etc. I don't really support eating wildlife but I'm so curious how they taste like, so I ordered snake soup (???), which cost RM10 (USD3).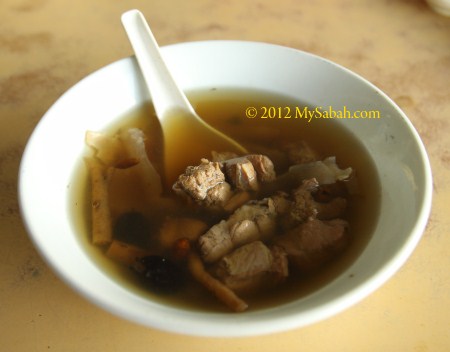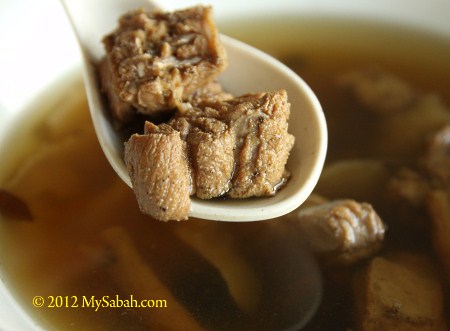 Pic: snake soup The snake soup is boiled with common Chinese herb ingredients such as Wolfberry and Jujube. The snake meat is like tasteless rough chicken meat and has many small bones. The soup is ok (like chicken herb soup) but I can't taste anything like snake. I regret to order this, when they say this is python, which is a vulnerable species.
More Photos
You may check out my photo album if you want to see more nice pictures: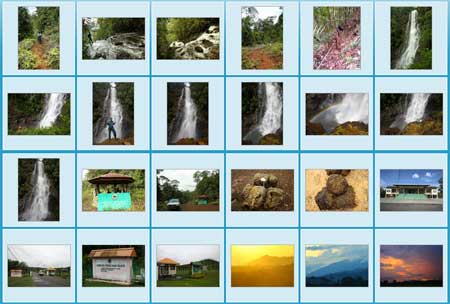 Related Post Things to do in Telupid Photos taken in Telupid, Sabah, Malaysia Borneo