Borneo Pygmy Elephants
Before Borneo Pygmy Elephants were identified as a new elephant species in 2003, basically nobody really cared about them. For many years, we thought they were common Asian elephants, the one could be found everywhere in South-East Asia. Because of this discovery, this smallest elephant in the world became a national treasure overnight. While we are so excited about this new superstar, there are less than 1,000 Borneo Pygmy Elephants in Sabah now. They are critically endangered, thanks to habitat destruction caused by heavy logging and oil palm plantation. Below is a graph compares the max height of 3 elephant species.


Click Here to see more photos of Borneo Pygmy Elephants >>
This so-called smallest elephant is not so "mini". They can grow up to nearly 8 feet. Below is picture of their footprint, with my foot next to it. The footprint is 1-foot in depth (so heavy!). Last year I was so disappointed to see only their dropping and footprint in Tabin Wildlife Reserve (near Lahad Datu). The Tabin guide said they saw Borneo Pygmy Elephants eating the mud (for supplementary mineral?) in mud volcano occasionally. I was so glad that I saw them in Kinabatangan this time.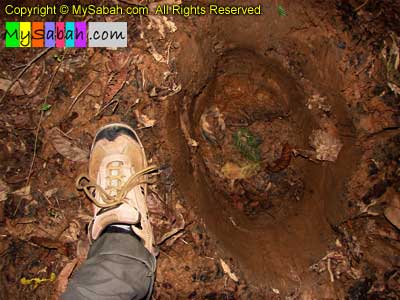 Click Here to see more photos of Borneo Pygmy Elephants >>
About 5:40PM in a Kinabatangan river cruise in early Sep, we saw a butt of an Borneo Pygmy Elephant behind the wood. Actually we were late, because the elephants have finished their bath and refreshment next to the river, so they started to move into the forest. Driven by passion, almost everyone jumped out of the boat to see the largest land animal in Borneo.


Click Here to see more photos of Borneo Pygmy Elephants >>
Under the advice and instructions of the guide, our group hide behind the trees quietly, and looked at the Borneo Pygmy Elephants. We took off our orange life jacket coz we were told that the elephants didn't like the bright color. There were about 10 Borneo Pygmy Elephants in this herd. They have seen us but still continued with their feeding and keeping an eye on us.


Click Here to see more photos of Borneo Pygmy Elephants >>
We had to be very careful, as there were a few calves (baby elephants), so the adults would be more aggressive. We kept a distance of 20 feet away from them. Later a male elephant, which looked like their leader, walked to a spot between us and his herd. Then he was busily pouring some soil on his body. After a while, this elephant roared and walked toward us, so scary… I have captured all this in a video. You can Click Here to watch the 1-min video clip of Borneo Pygmy Elephants.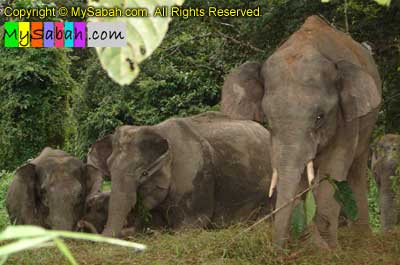 Click Here to see more photos of Borneo Pygmy Elephants >>
Borneo Pygmy Elephant is more passive and timid than other elephant species. But keep in mind that they are still wild animal. Once feel threaten, they will not hesitate to charge. After 300,000 years of separation with their cousins on mainland Asia and Sumatra, Borneo Pygmy Elephant has evolved to a different subspecies (Scientific Name: Elephas maximus borneensis), which is smaller, with larger ears, longer tails and relatively straight tusks. They have dark grey to brown skin.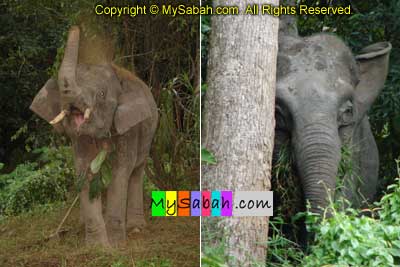 Click Here to see more photos of Borneo Pygmy Elephants >>
To see these elephants, we got our feet full of mud. The soil of river bank is so soft and muddy. We wanted to wash our feet in the river but we were afraid of crocodiles. Anyway, it was a cool experience. Protecting them should be a high priority mission, as Borneo Pygmy Elephant is 10 times more endangered than African elephants, according to BBC News. I hope in the future, they won't end up being forced to entertain visitors to zoo, or do doggy trick in circus, in order to earn a living and stayed alive. Elephant is an intelligent animal and it has emotion too. Until today, I still cannot forget the sadness of a circus elephant that I saw in its eyes a few years ago… They only need a home. Why people are so cruel to them?


Click Here to see more photos of Borneo Pygmy Elephants >>
Photos taken in Lower Kinabatangan, Sabah, Malaysia Borneo