Waterfall is a delightful view and always be part of the painting about paradise. The bigger it is, the happier the visitors. That's how the 40-Meter Madai Waterfall drew me to Kunak, a small town in Lahad Datu district. In fact, many European and Asian tourists had come for it. I have visited many waterfalls of Sabah, and Madai Fall is one of the most impressive.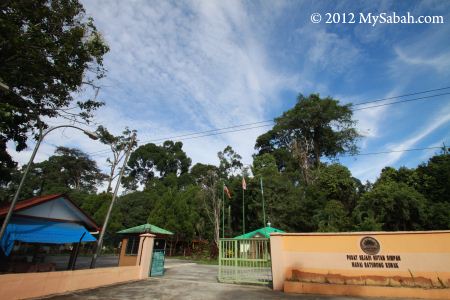 The 5-storey high Madai Waterfall is located in 3,436.50-Hectare Madai Baturong Virgin Forest Reserve Nature Center, which is managed by the Sabah Forestry Department and opened to the public since 1999. Madai Cave is also part of this reserve.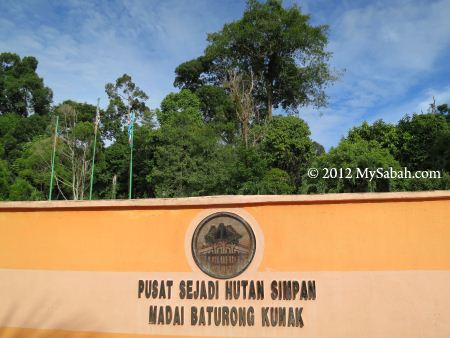 Pic: Madai Waterfall is inside Pusat Sejadi Hutan Simpan Madai Baturong (Madai Baturong Forest Reserve Nature Center) of Kunak.
As Madai-Baturong Forest Reserve Nature Center is a public park, anyone can pay a small entrance fee to enjoy Madai Waterfall. Below is the ticket rate:
Malaysian: Adult: MYR2.00 (≈USD0.66); Below 18: MYR1 (≈USD0.33)
Foreigner: Adult: MYR5.00 (≈USD1.66); Below 18: MYR2 (≈USD0.66)
Madai Waterfall
Madai Waterfall is very accessible. It is so near that you can hear it, once you walk into the park. Remember to bring insect repellent, as mosquitoes might be around.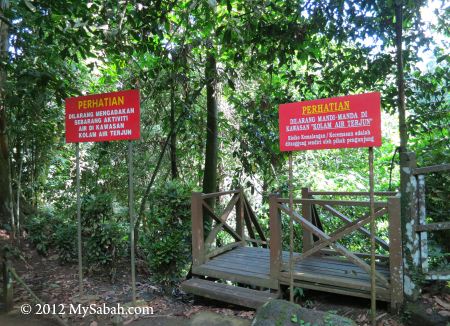 Pic: the wooden staircase to Madai Fall.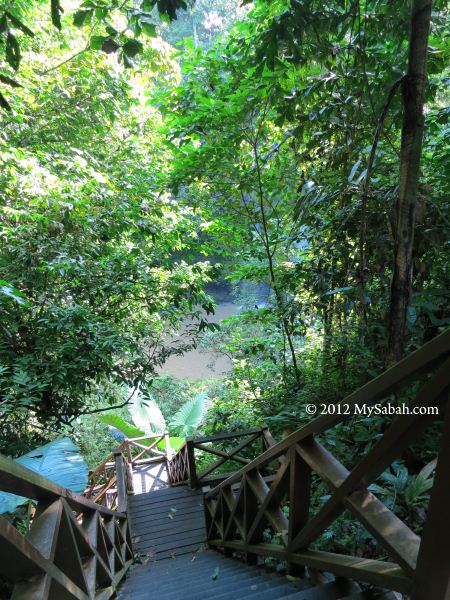 It is only a 1-minute walk. The boardwalk is quite steep, be careful..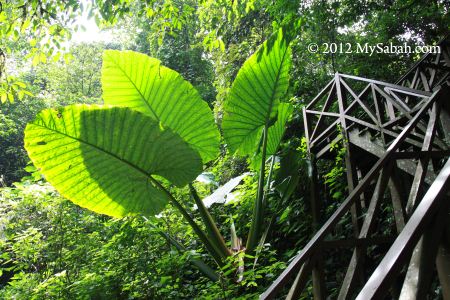 Pic: huge Alocasia odora next to staircase. This plant has the largest undivided leaf in the world.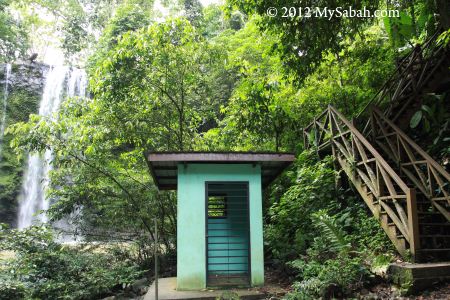 Pic: Madai Waterfall in the sight!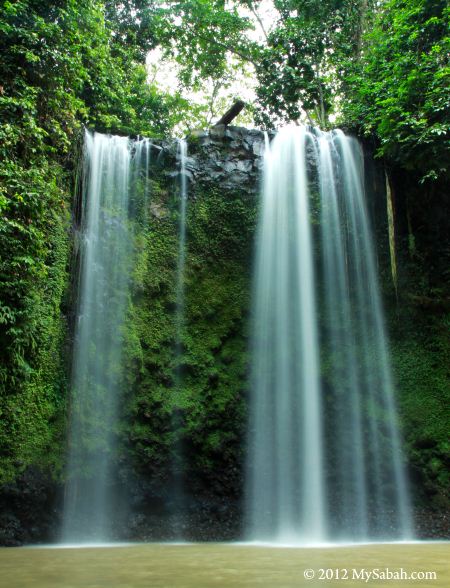 Pic: the "twin" Madai Waterfall. After heavy rain, both will merge into one huge vertical fall. Though the water is murky, it is clean and cooling.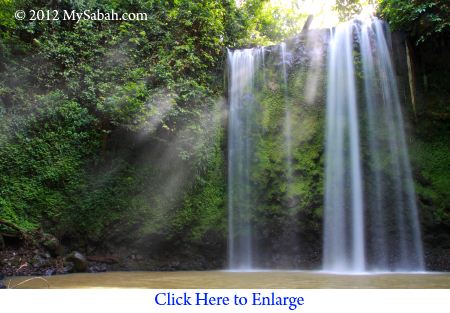 Due to the powerful splash, the air was filled with flying droplets. When the morning light shined through them, it created fascinating rays of light. Such a lovely view.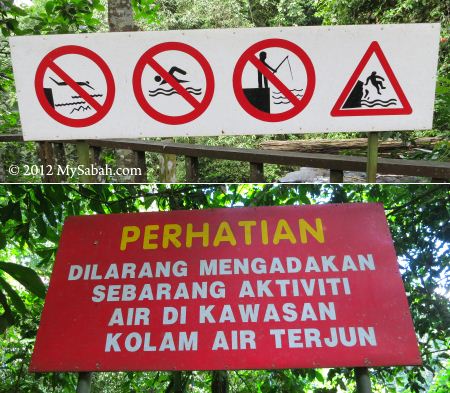 Pic: the warning sign near the Madai Fall.
Any water activity such as swimming is prohibited, because the waterfall pond is deep. Basically, this waterfall is meant to be watched only. Anyway, you can soak your feet in the shallow water, like most people do. Anything beyond that is on your own risk. There is no lifeguard around to stop you or to save you.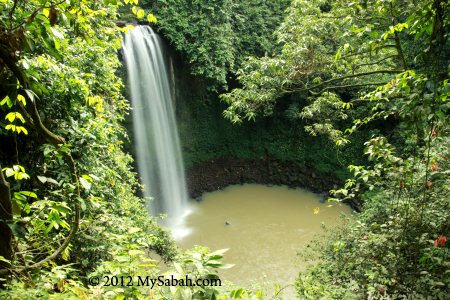 However, some visitors can't resist to take a swim under this beautiful waterfall. A ranger told me that he saw a very deep hole in the center of waterfall pond after a 8-month drought. Madai is in a limestone area, so I wonder if this hole connects to an underground cave or river. Well, I'm just guessing.
Want to see Madai Waterfall in motion? You may watch the 90-sec video below: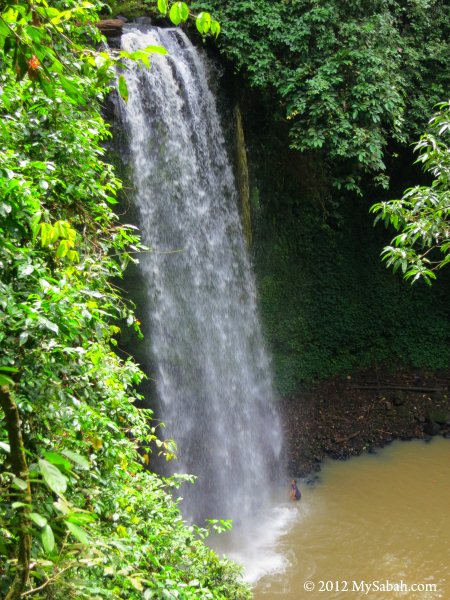 During weekends and holiday, many locals come here to swim and picnic. Some of them taking bath (with soap) or washing their dirty plates in the stream, which flows to Tingkayu River. It's not right.. 🙁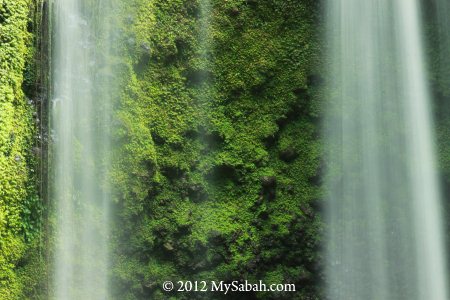 Pic: dense moss behind the Madai Fall.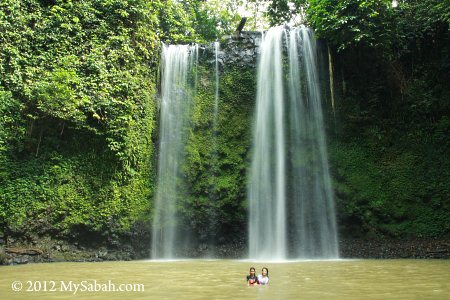 The park opens from 8am to 5pm every day. The waterfall is quite crowded afternoon.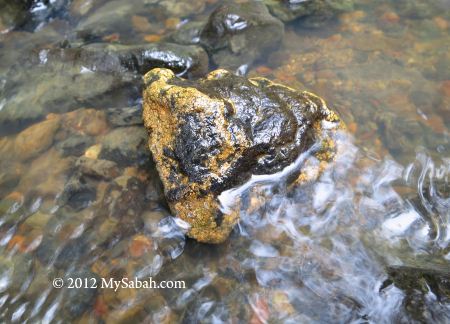 Pic: gold found at Madai Fall?
Wishing Tree
Besides Madai Waterfall, I found an interesting tree in Madai-Baturong Nature Center. The local calls it a "Wishing Tree" (Pokok Hajat).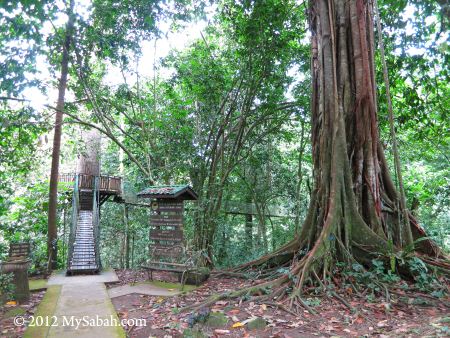 Pic: the wishing tree is standing near the entrance of canopy walk.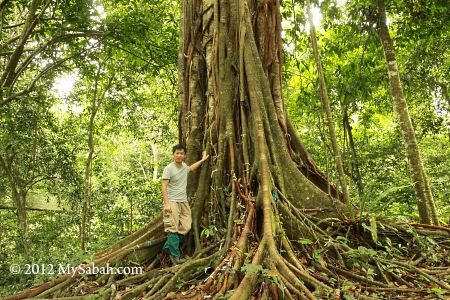 It is a tall tree, which is locally known as "Kayu Ara" (Ficus species, Moraceae). Many birds will gather on this tree during its fruiting season.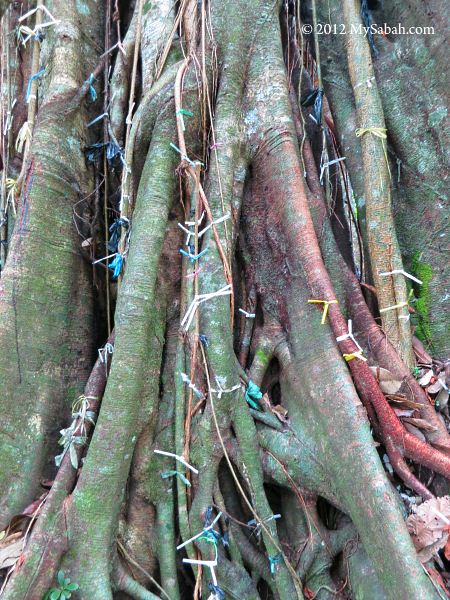 Every ribbon on the tree root is a wish of the asker. Probably it works, so there are hundred of ribbons on this wishing tree.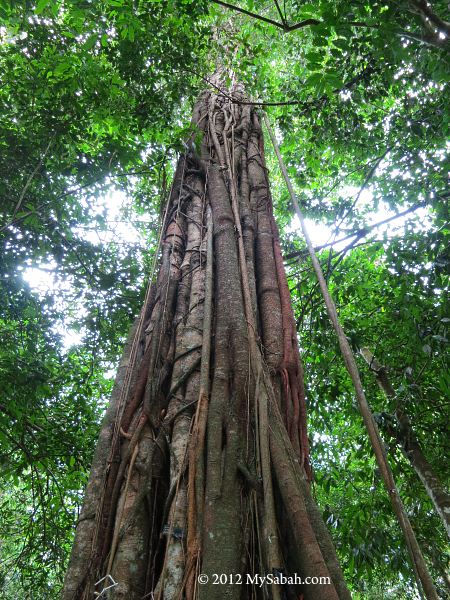 Whatever, it is a tall and magnificent tree to look at. I wish it will stay strong and healthy forever.
Bukit Tongkat Ali
Bukit Tongkat Ali (Tongkat Ali Hill) is another attraction in Madai Baturong Forest Reserve. This hill is named after a herb Tongkat Ali (species: Eurycoma longifolia, Nicknamed "Asian Viagra"), which is famous for the medicinal properties of its root that can increase testosterone level and treat erectile dysfunction.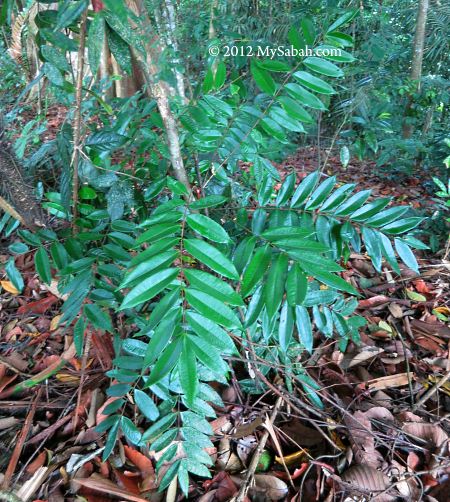 Pic: Tongkat Ali tree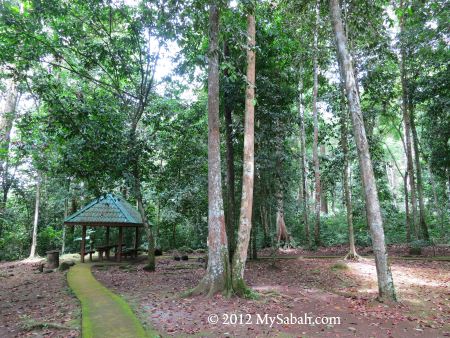 Visitors can hike to Bukit Tongkat Ali via a 1 KM trail in the park. When you enter the park, just turn right and follow a small road that leads you to a small bridge and rest shelter. The trail starts at a paved path behind the shelter.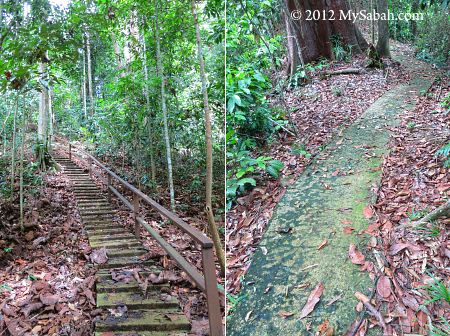 Though the trail is less than 1 KM, it is steep and tiring. The trail is paved with cement. It is supposed to be a good idea. However, the moss cover on the cement becomes so slippery that, after rain, the trail turns into a skating route. In some sections of the trail, I had to hug the hand rail to descend carefully.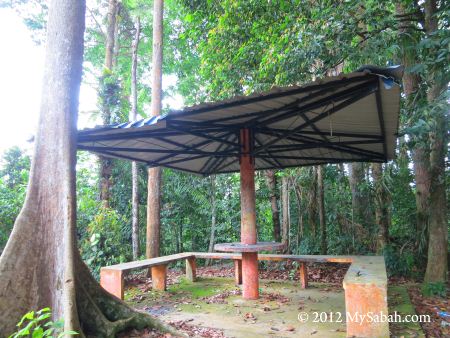 Pic: the last shelter on top of Bukit Tongkat Ali (Height: 169 Meters).
I was told that Bukit Tongkat Ali was abundant with wild Tongkat Ali, but I only saw one or two. Probably some impotent visitors pluck it. I was also told that I could see Madai Hill from the top of Bukit Tongkat Ali, but such view was obstructed by dense trees.
Sorry to say, spending nearly 2 hours walking up and down Bukit Tongkat Ali is simply a waste of time.
Public Amenities
Madai Baturong Nature Center have some basic amenities in place for visitors.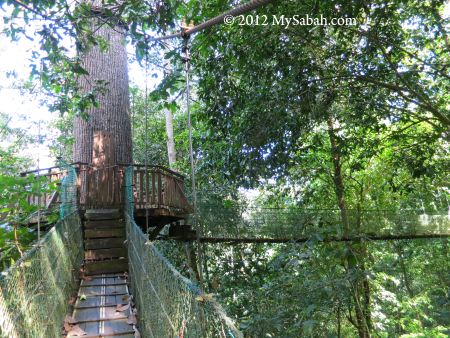 Currently (as of Nov 2012), the canopy walk is closed for maintenance until further notice. Too bad, this 119-Meter long and 40-Meter high canopy walk, which is connected to three giant rainforest trees (Seraya Urat Mata, Oba Suluk and Merbau species), is a main attraction of the park, besides Madai Waterfall.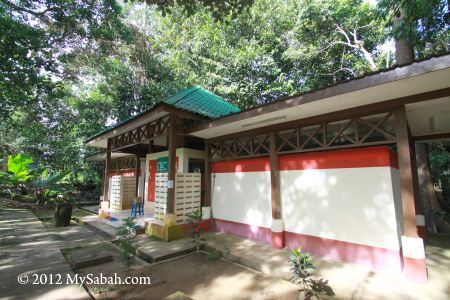 Pic: public toilet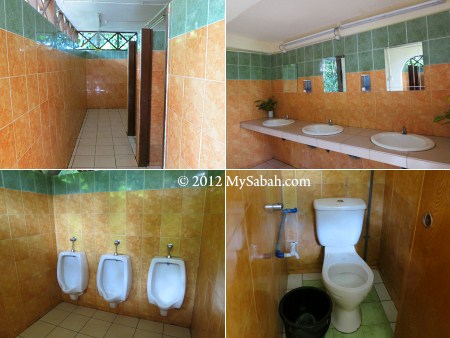 The toilet is very clean and deserves MYR0.30 (≈USD0.10) per entry.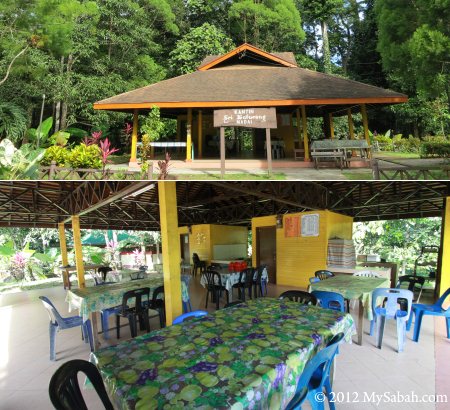 Pic: the Canteen (named Kantin Sri Baturong Madai) in the park
This canteen sells common food items such as fried rice and noodles, as well as cold and hot drink. It was closed for holiday during my visit.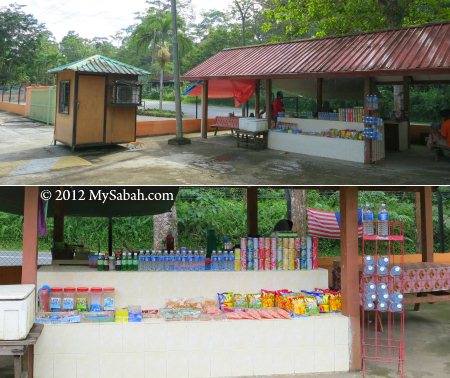 Pic: there is another small food stall near the gate, but they are selling drink and light snack only.


Pic: (left) shower and changing room, (right) Muslim prayer rooms or Surau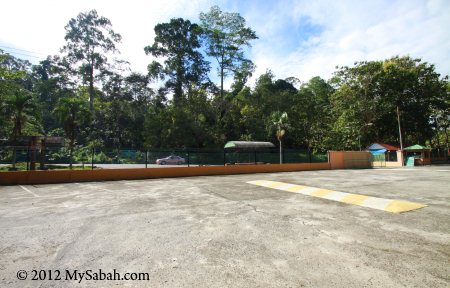 Pic: ample parking space for 20 to 30 cars.
Their rest house is closed and the Exhibition Hall is not ready (as of Nov 2012). You still can camp in the park for a small fee (MYR3 for Malaysian, MYR5 for foreigner). I hope they will upgrade the facilities and amenities there ASAP to attract more tourists.
Wildlife
I heard hornbill near Madai Waterfall. At night, there are mouse deer wandering in the park too. The rangers mentioned a bird with a funny local name "Burung Kopi Susu" (Milk Coffee Bird). According to them, this is a small black bird with white stripes on its wings. This bird is common there and can be seen around 5pm. It sings very well, so people trap and trade them as pet. I wonder what bird it is. Magpie Robin?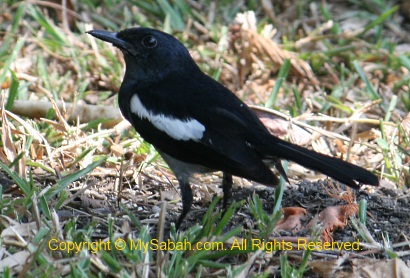 Pic: Is Magpie Robin the "Milk Coffee Bird"?
How to Get There
Going to Madai-Baturong Forest Reserve Nature Center is easy but far. Madai Waterfall is 15 KM north of Kunak town and 71 KM southwest of Lahad Datu.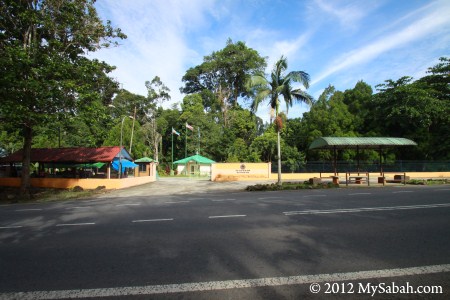 Pic: Madai-Baturong Nature Center is just next to the Lahad Datu↔Tawau highway.
By Bus: If you take Long-Distance Bus from Kota Kinabalu city to Kunak or Tawau, you can ask your bus driver to drop you right in front of the park, which is at the roadside (15 KM before Kunak). The bus fare is MYR50 (≈USD16.67) one way and the ride takes 8 hours.
By Flight: Take a 45-minute flight from Kota Kinabalu to Lahad Datu, then spend an hour on taxi to reach the park.
Below is the location map of the park:

View My Sabah Map in a larger map
For more information, you may contact Kunak Regional Forestry Office:
Address: P.O.Box No 2, 91207 Kunak, Sabah, Malaysia.
Tel: +60 89-851863
Photos taken in Kunak, Sabah, Malaysia Borneo