This is a traditional naval ceremony which marks a stronger friendship between the city and navy. I never got on any navy battleship before, so why not try this experience free? Besides, I am curious about what are on and inside the ships that defend our states and country. When I reached Sabah Port in this afternoon, there were already hundreds of excited National Service trainees waiting in long queue to see the vessels. There were two ships on display, namely, (1) KD Pahang, and (2) KD Laksamana Muhammad Amin.
(1) KD Pahang
KD Pahang is bigger so I check it out first. Actually it is a big Patrol Vessel (PV) belongs to Sabah. The main function of this German-made vessel is to patrol near country borders such as the area near Tawau and the Philippines. It is only equipped with a 76mm cannon with 8-mile shooting range, hardly to be used as a serious combat machine.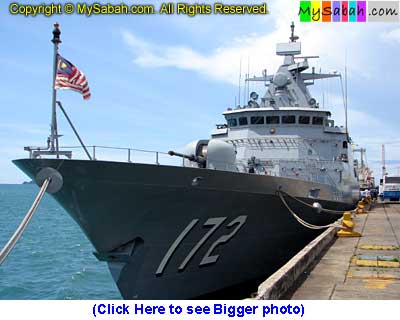 The MOST interesting part of the ship is definitely the cannon. Every uncle, aunty, nenek, ah pak and kids couldn't wait to knock knock and touch touch it, to see if it is real (but I want to lick it though, don't know why…). Usually they are not convinced and wanted to look inside the barrel, to check if there is any bomb in there. At last they would ask questions like, "How much huh?" (as if they want to buy it), "How many people it can kill in one shot?", "Is it made in Malaysia?"… One of them even asked, "Can it turn 360 degree?" (what for? to shoot itself???)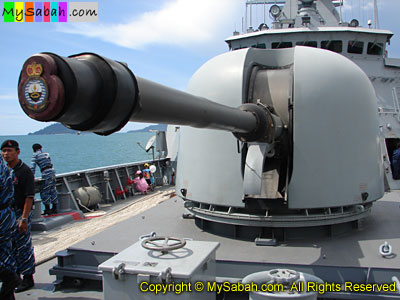 Click any thumbnail below to see more photos of KD Pahang:
(2) KD Laksamana Muhammad Amin
This vessel is smaller but is a lot more powerful than KD Pahang. Imported from Italy, this multi-purpose mini-corvette can attack anything in the sky, on the ground and under the sea. It is a fast attack vessel which has anti-air missiles, ground-to-ground missiles, torpedo, and two cannons (one of them is double-barrel 40mm for anti-aircraft).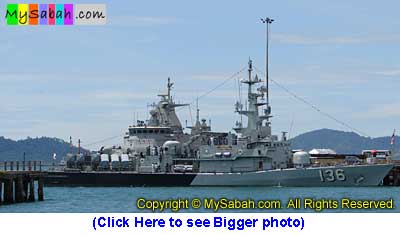 The most catchy stuff are the six "BIG boxes" at the back of the ship. There are the ground-to-ground missiles that can attack enemy ships and ground unit. I tried to convince the crew to demo its power by firing one of them to Gaya Island. I gave up the idea, when he told me that would cost me a million RM per shot.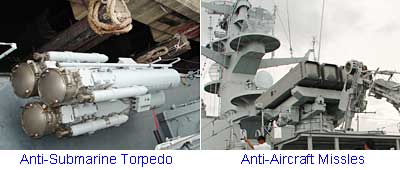 Click any thumbnail below to see more photos of KD Laksamana Muhammad Amin:
Overall I enjoyed the visit, except the near 1-km long walk from port entrance to the ships. Their crew members were very friendly, and they patiently explained everything in detail to the visitors. Hopefully next time we can see bigger class of battleship such as aircraft carrier (Hahaha!). Submarine will be cool too.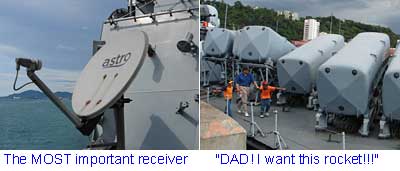 Photos taken in Sabah Port, Kota Kinabalu, Sabah, Malaysia Borneo