I have introduced the "horror" of Murut Bamboo Dance (Magunatip) in my previous blog. The fun + scary part of this dance is to avoid your feet being trapped by the clapping bamboo poles, by following the tempo correctly. Usually guests will be invited to try it out under s…l…o…w… tempo. Most of the time the guests will keep their eyes on their feet but still can't get the steps right.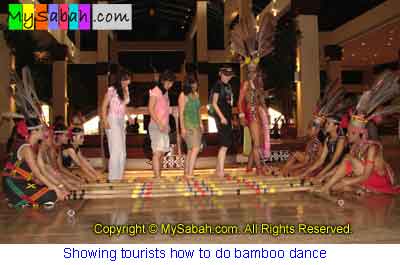 After the dance, while the guests tried to "claim down", this dancer did something quite shocking. He wanted to dance magunatip blind-folded, and under FAST tempo!!! (Tell you, I can't even stand straight with my eyes closed.)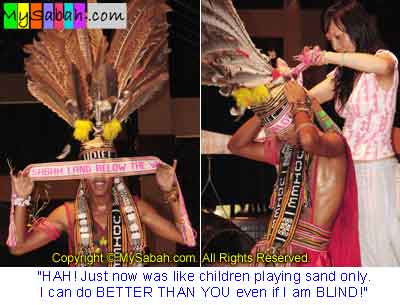 This is my first time seeing this, so I record it and share it here. Please click the photo below to play the video (*.wmv, Windows Media format, Size: 1MB, Length: 30 sec). It is so crazy coz there is no room for any margin of error…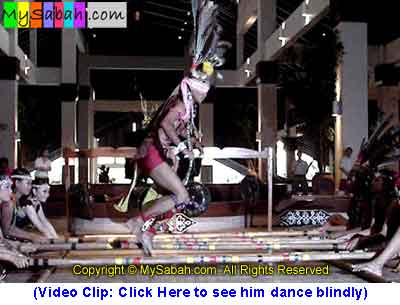 His heroic performance got a big applause from the crowd. Suddenly he became a star, everyone wanted to take photo with him. Maybe I should learn Bamboo Dance, so I can get some, heheh…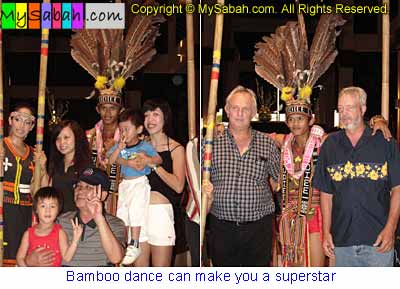 To promote Kadazan traditional dance, there is a Sumazau dance competition every year. I suggest they also include Magunatip bamboo dance of Murut. I will be really interested in seeing the maximum difficulty level it can be.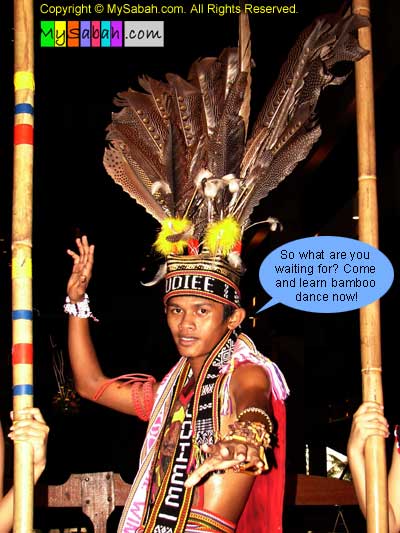 Related post:
Murut Bamboo Dance (Magunatip): see most complete online collection of Bamboo dance video clips, from beginner level to expert level.
Photos taken in Kota Kinabalu, Sabah, Malaysia Borneo