Curious motorists would have discovered this little gift by nature next to the Kota Kinabalu – Sandakan main road (about 63 KM after Ranau town and 33 KM before Telupid). After a long drive on a winding and quiet road, it's hard not to notice many cars parked at this hot spot, where many people line up to collect the water from Tobobon Taviu Spring.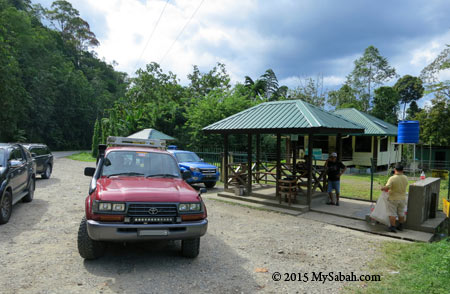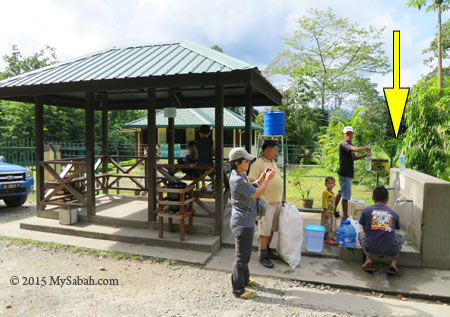 Pic: the location of Tobobon Taviu Spring
Tobobon Taviu Spring is found in year 2011 – 2012 and its well water continues to flow out from the earth even during dry season. According to the locals, the water of Tobobon Taviu Spring is so clean that it's safe to drink without boiling. Not only that, it is said to have curative properties against chronic diseases such as hypertension, diabetes, and even cancer. One of the villagers say if you cook rice with water from Tobobon Taviu Spring, the rice can stay unspoiled for a long time.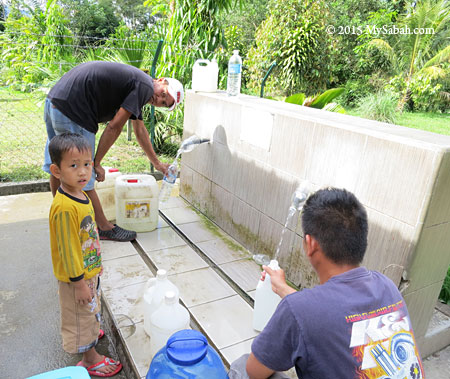 The water is cold and has no smell. There is no sediment and change of taste, even after the water is being stored for a long time.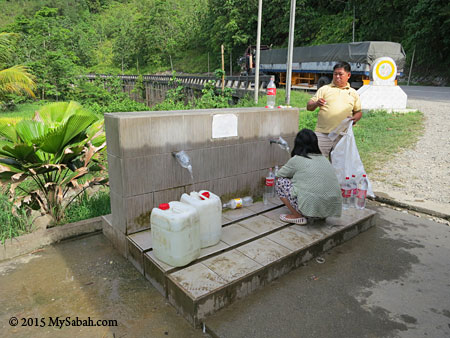 Pic: Tobobon Taviu Spring is right beside the cliff of a hill next to the Ranau-Telupid main road
Many villagers bring big containers and wait for their turn to collect the FREE spring water to bring home. Hey, it's like getting something better than gasoline, because Malaysians pay an average of RM1.40 for a bottle of 500-600ml mineral water but RM1.18 for same volume of petrol.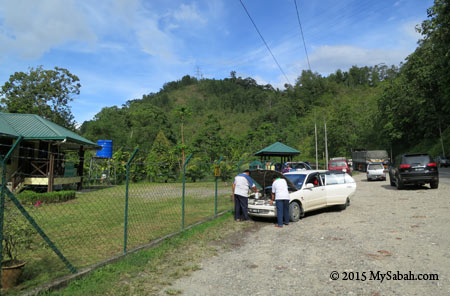 Tobobon Taviu Spring is located just in front of the Sabah Forestry District office, and it's part of the 8,630-ha Bukit Taviu (Taviu Hill) Forest Reserve, which is fully protected for its high quality timber and as an important watershed. I think pristine forest is the answer why the water here is so clean. Crocker Range Park and Tawau Hills Park are also protected as water catchment areas so their rivers can supply clean water to Sabah.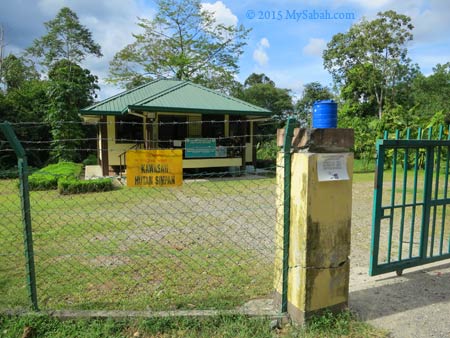 Pic: Forestry Office of Bukit Taviu Forest Reserve
In 2013, a research on this spring was conducted, 436 respondents were interviewed and water samples were analyzed 5 times in laboratory. The report was published in Sepilok Bulletin (S. Samin, 2013. "Natural Mineral Water in Bukit Taviu Forest Reserve". Sepilok Bulletin, Volume 17 & 18 (2013), 1-16). Most information of this blog is from this article.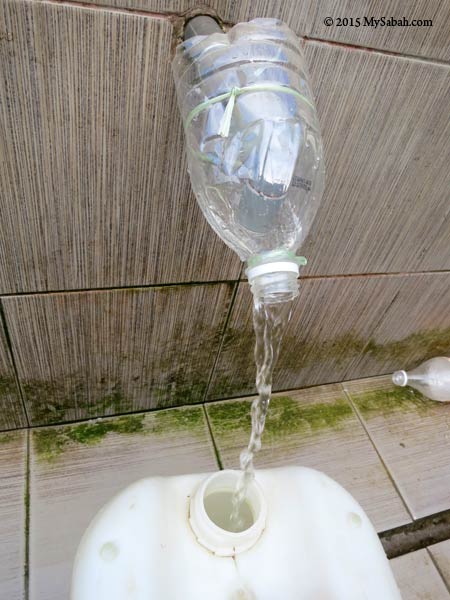 Here are some interesting facts from that paper:
Almost every respondent drinks this spring water unboiled and it rarely causes any stomach upset.
In fact, no microbiological contamination and harmful metal is found in the water, and its cleanliness far exceeds the minimum drinking water quality standards set by the Ministry of Health, Malaysia.
96.1% of respondent think the water is good to their body. 65.28% of respondents reported increased sex ability (haha, but in what way?), 43.49% felt energized, 6.42% said it helped to stabilize and reduce high blood pressure.
Some respondents believe the spring water is good in treating heart disease, gout, gastric disease, paralysis, diabetes, high cholestrol, kidney stones.
Note: none of the health claims above is clinically proven.
The water consists of essential minerals such as Magnesium, Calcium and Sodium. However, you also can get these minerals through normal diet.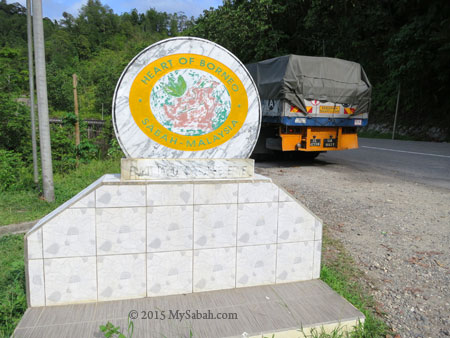 Pic: Heart of Borneo monument next to the spring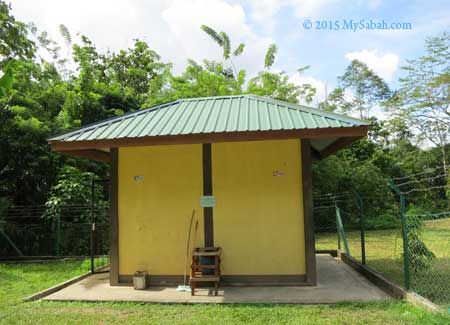 Pic: toilet stop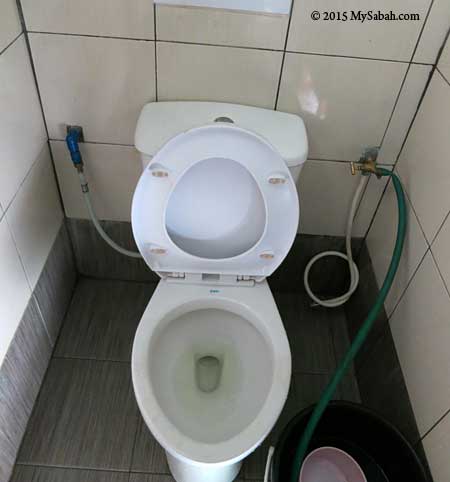 FYI, there is a toilet near to Tobobon Taviu Spring for public use, you can get the key from forestry officer. Don't worry, the sewage doesn't go to the spring water. 😀
Sabah is so blessed because we have plenty of clean water. As world population soars and unpolluted rivers becoming rare, clean water source will be more precious than oil field in near future. According to United Nations, "By 2025, 1.8 billion people will be living in countries or regions with absolute water scarcity, and two-thirds of the world's population could be living under water stressed conditions." Hello, 2025 is only 10 years away.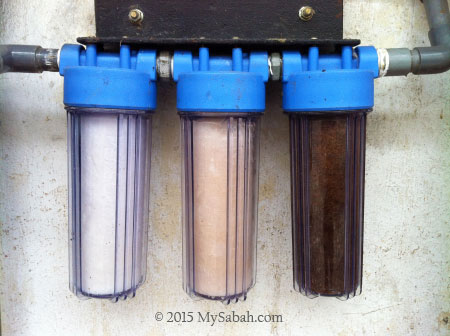 However, many places in Sabah still have no access to tap water. Our water is clean when it exits treatment plant, but turn dirty after it travels in the old and rusty water pipes. Almost every house installs a water filtration system to remove the dirt. You can see the filter turns very dark in weeks and we have to boil the tap water before it is safe to drink.
"Water covers two-thirds of the surface of the Earth, but Fresh water is 0.002% on Earth."
Photos taken in Telupid, Sabah, Malaysia Borneo
You might also like:
Being the first Upside Down House in South-East Asia, Rumah Terbalik added another fun house just next to it. In a nutshell, 3D Wonders Museum is a 4,000 sq. feet gallery that displays 28 painting mostly about Sabah. Visitors can "interact" with the objects in the drawing, as if they become part of the painting (or illusion).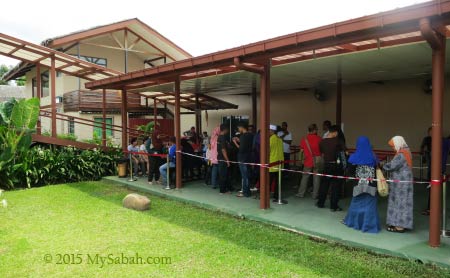 After seeing so many amusing photos of 3D Wonders Museum on social media, I decided to visit this most talked about site in Tamparuli district. This museum can only fit 25 people at a time, so it was a long queue during weekend. Luckily the wait took less than 10 minutes. There is no time limit and you are very encouraged to take photos in the museum (photo taking is free).
3D Painting
Upon entry, we started playing with something small and simple as a "warm-up". Just position your hands on the right spot of the painting and you are ready for a funny shot.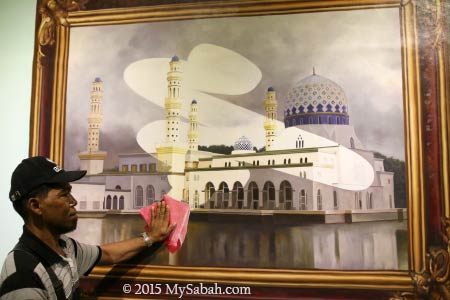 Pic: 3D painting of floating City Mosque, the most beautiful mosque of Sabah.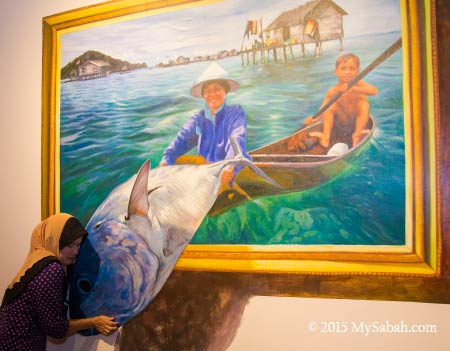 Pic: big fish by Sea Bajau fisherman from Semporna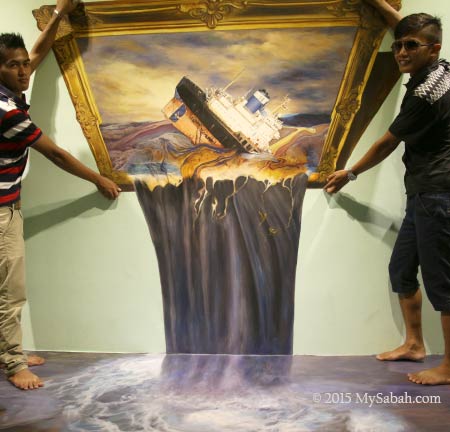 Though there are many attractions in Sabah, 3D Wonders Museum is one of the few family-oriented destinations that excites both adults and children.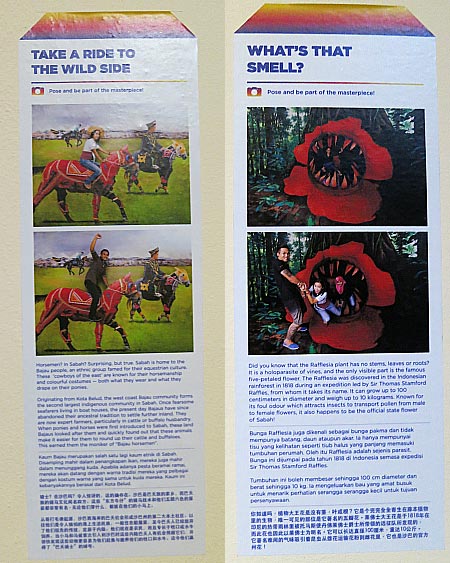 Pic: majority of the 3D art collection here are inspired by various unique culture, nature and destinations of Sabah. You can read the signage to learn more about the subject of each painting. The photos of signage also shows you some good ideas on how to post with the painting for the most entertaining effect. Of course, you can try other creative poses.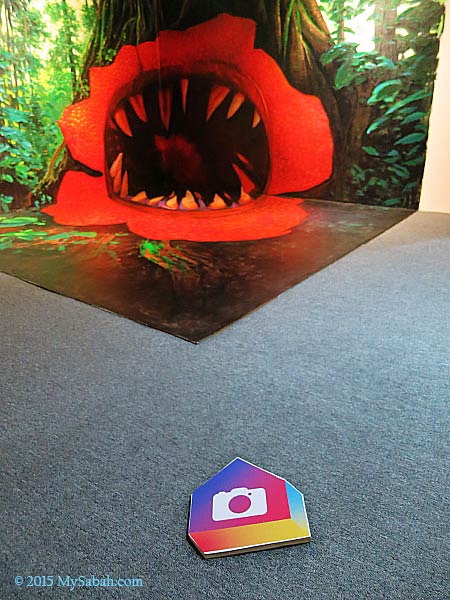 Pic: Photography pointer that tells you where is the best spot and angle to shoot the picture.
Don't worry if you travel alone. The friendly staffs are always around to guide you and to help you to take picture of you in action, so you may leave your selfie stick at home.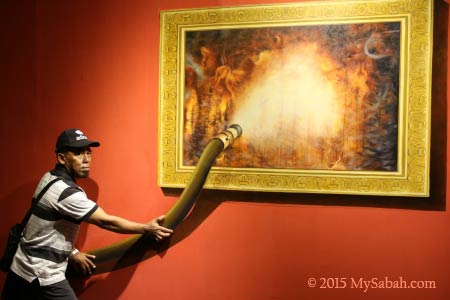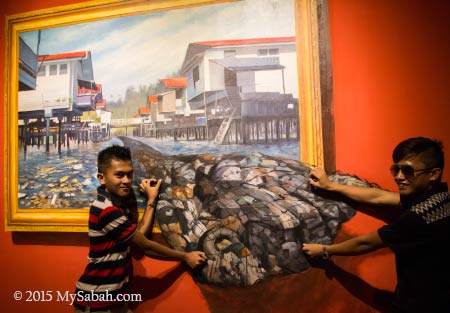 I chit chat with some of the tourists and find that many of them are friends and family from Brunei, Peninsular Malaysia, etc.
Flora & Fauna and Conservation
Then I moved on to the nature theme that have big painting features the eco-treasures of Sabah. The way they present the theme is probably more exciting than the real things. For example, there has been a myth that our giant pitcher plant and rafflesia flower of Borneo are man-eaters, so the museum turns that fantasy into something touchable.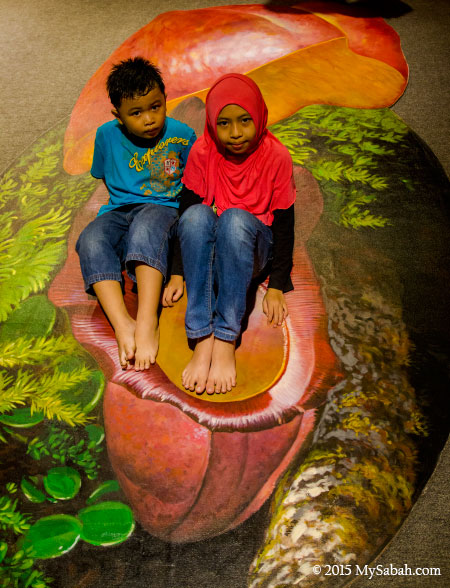 Pic: children being eaten by sitting on Nepenthes Rajah, the largest pitcher plant in the world.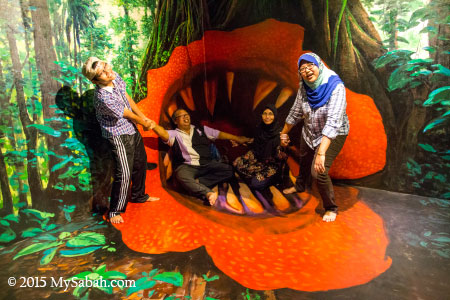 Pic: Most murals span across wall and floor to give them more depth and realistic look, like the rafflesia flower painting above.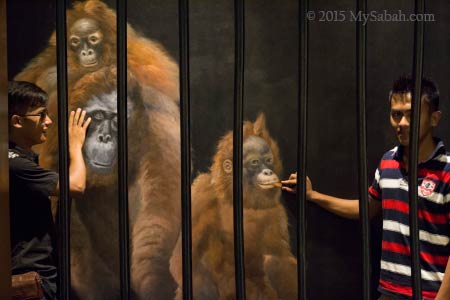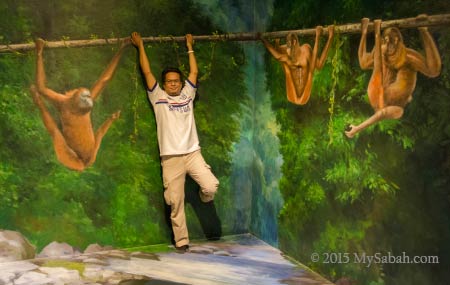 Pic: hanging out with Orangutan, the wild man of Borneo rainforest.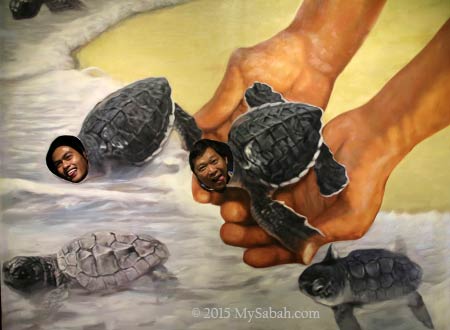 Pic: this is how baby turtles feel when they are released.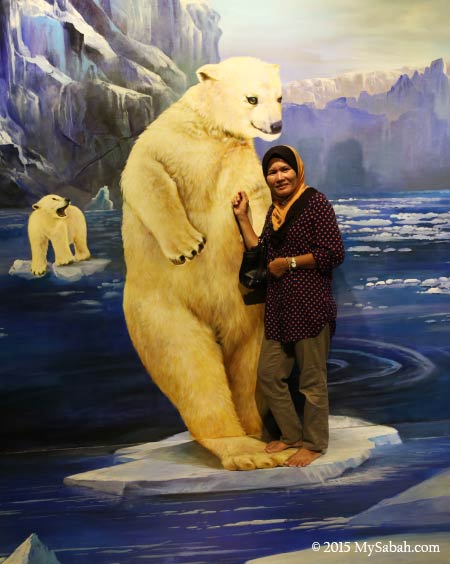 Pic: Polar bears on melting ice cap, a warning for global warming.
Sabah Ethnic Theme
Sabah is famous for its vibrant and colorful culture. You can pretend you are in a cultural journey. Don't be squeamish while taking photos. Be playful and imaginative, the more you interact with the painting and blend into scene, the better the photos. Your photo would look pretty lame if you just stand straight and act normally.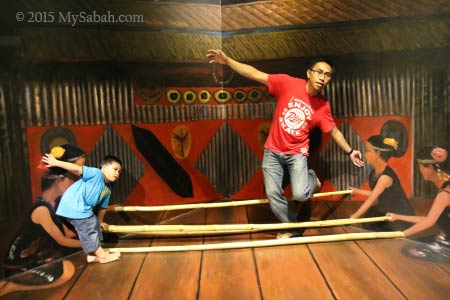 Pic: Magunatip bamboo dance, great pose and expression bro!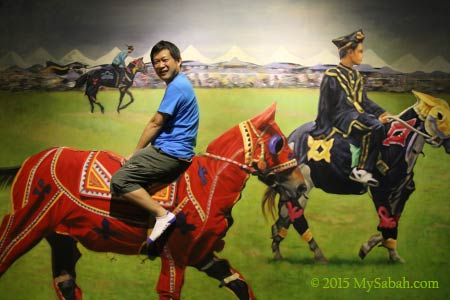 Pic: horse riding with Bajau, the Cowboys of the East.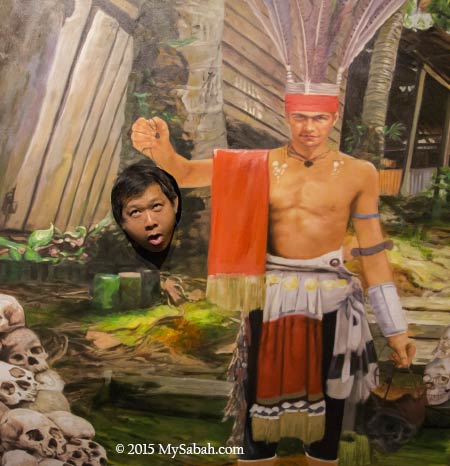 Pic: photo booth of Murut headhunter. I meant to be funny but it looked so real that it was a bit creepy instead.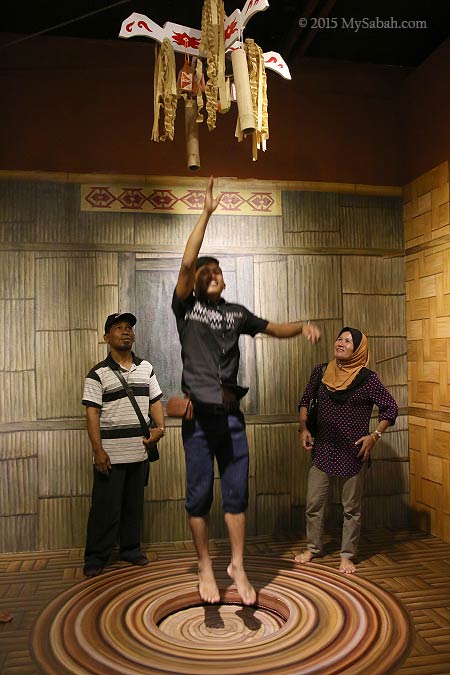 Pic: Wooden trampoline in traditional longhouse of Murut people
Travel Theme
Let the paintings take you to popular places in Kota Kinabalu, Kota Belud, Kiulu, Semporna, Kinabalu Park, Ranau and Sandakan. A photography tip for taking better 3D photo – reduce the power of camera flash, because the reflection and shadow cast by strong light would make the painting looks flat and fake. This can be difficult if you are not using good camera.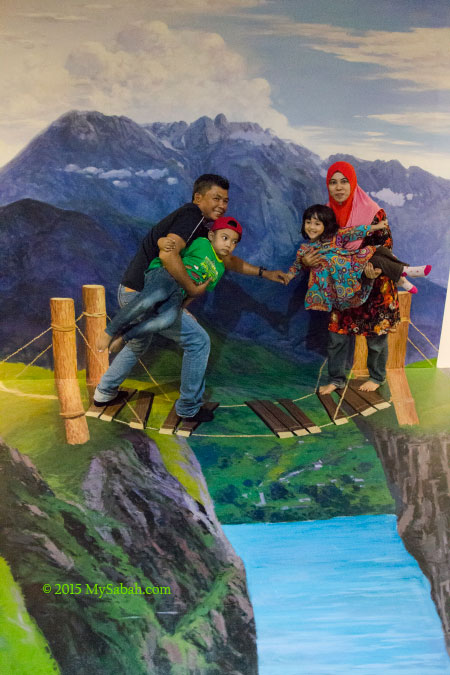 Pic: This painting is the favorite of everyone because it looks "dangerous".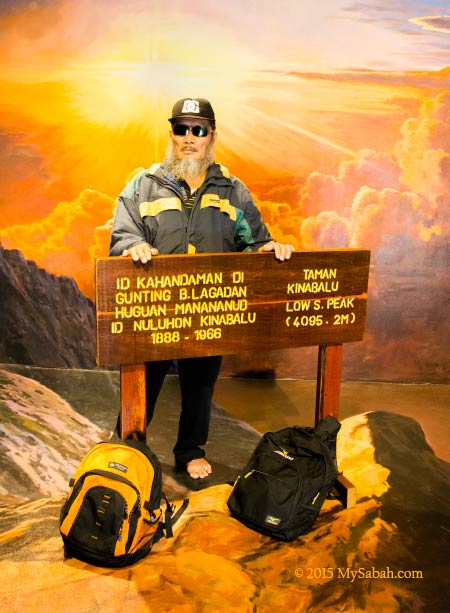 Pic: Due to earthquake, climbing to Mt. Kinabalu is halt until further notice, but you still can take a photo of the summit here.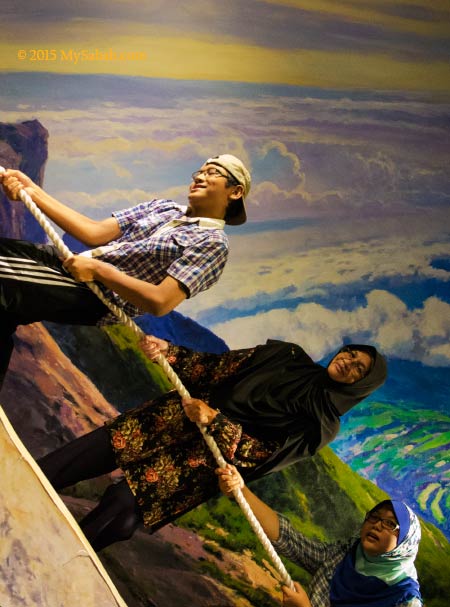 Pic: May be you should try harder for the challenge, mom.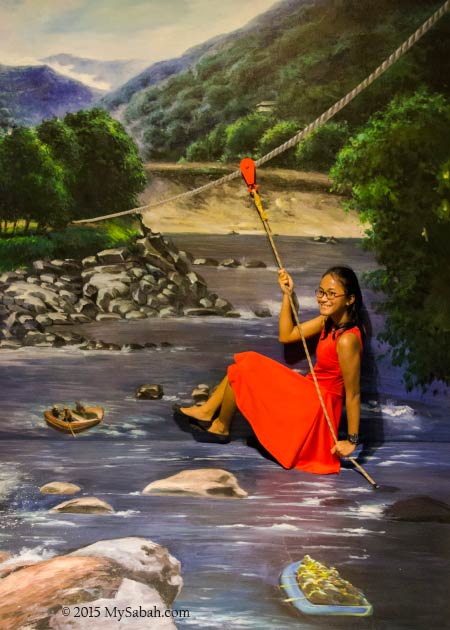 Pic: Zip Borneo, the longest flying fox zipline in Borneo.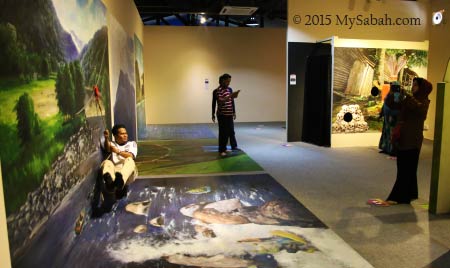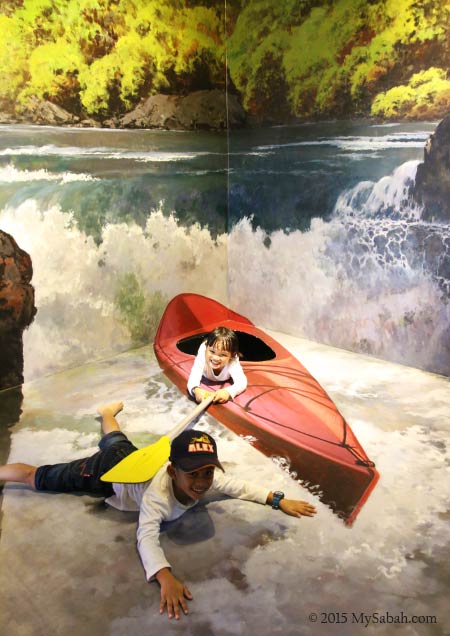 Pic: Canoeing in Kiulu River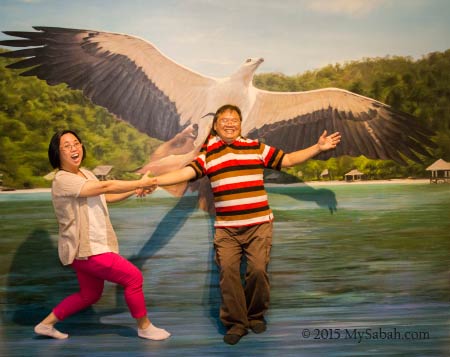 Pic: "Aaaargh… tell mom I won't be back for dinner!"
Illusions
The illusion section gets the most laughters. It's just awesome.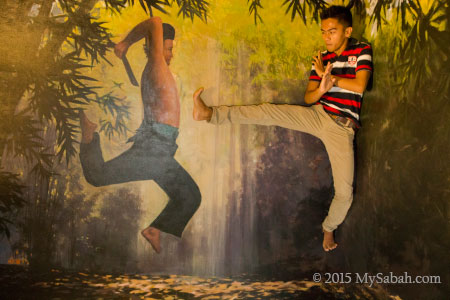 Pic: This silat fighting photo puzzled me the most. I was wondering why all my friends could do flying kick so easily.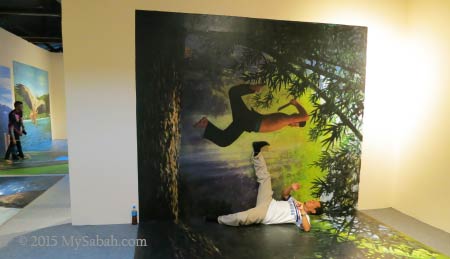 …until I saw how it's done lol. It's like breaking the magician's code. This can spoil the fun so I only reveal one secret here.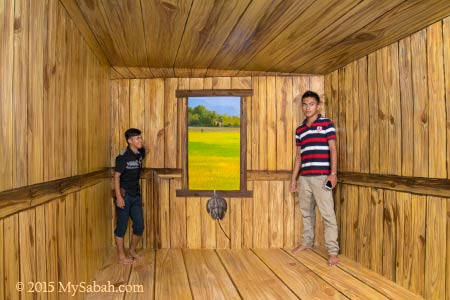 Pic: The Shrinking Room (or Ames Room). Sometimes you just can't trust your eyes.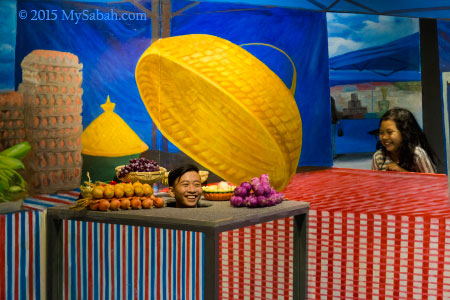 Pic: Can you figure out? Aren't you entertained?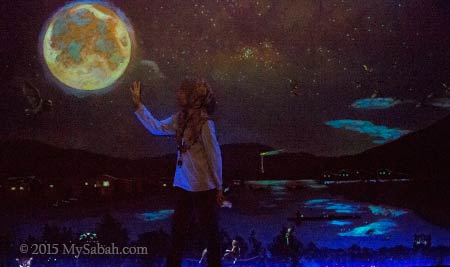 Pic: Night view of Kota Kinabalu city. The UV lights will make your cloth glows in the dark.
Entrance Fee & Contact
You can save a few bucks if you visit both 3D Wonders Museum and Upside Down House (2-in-1 package).
Ticket Fee*
Malaysian Adult
Foreign Adult
Child (4-12 years)**
3D Wonders Museum
RM24.40
RM35 (≈USD$7)
RM15.90 (≈USD$4.60)
Upside Down House
(Rumah Terbalik)
RM10.60
RM19.10 (≈USD$5.50)
RM5.30 (≈USD$1.50)
2-in-1 Package
(Upside Down House + 3D Wonders)
RM31.80
RM47.70 (≈USD$14)
RM19.10 (≈USD$5.50)
* Fee inclusive of 6% GST tax (price as of June 2015)
** Free entrance for infant 3 years and below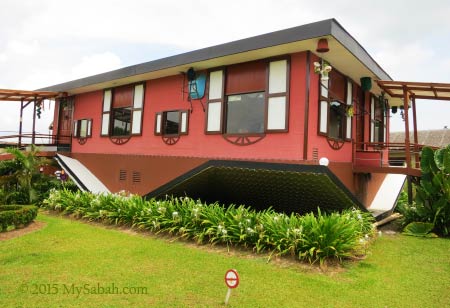 Pic: 3D Wonders Museum is next to Upside Down House (Rumah Terbalik)
Address (see Location Map): Kampung Telibong, Batu 21, Jalan Telibong Tamparuli, 89208 Tuaran, Sabah, Malaysia.
Opening Hours: 7am – 7pm daily
Phones: +60 88-260263, +60 19-8614688
Email: sales@trekkerslodge.com
Website: www.upsidedownhouse.com.my
Facebook: Rumah Terbalik – The Upside Down House in Borneo!
Photos taken in Tamparuli, Sabah, Malaysia Borneo
You might also like: