With over 200,000 visits annually, Manukan (Pulau Manukan) is the most frequented island by domestic and international tourists. It is only 15-minute away by boat ride, almost a no-brainer choice for people who want an island day trip near to Kota Kinabalu City (KK).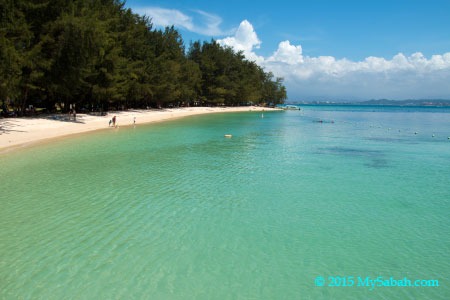 However, to be fair, the reason Manukan Island becomes the most famous island is not just because it's "convenient." It does have three other outstanding factors that make this beautiful island of South China Sea a favorite destination.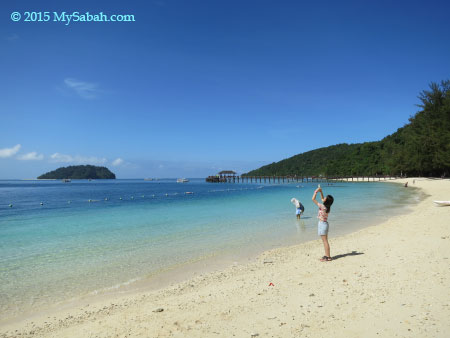 Factor #1. Manukan has long stretch of white sandy beach
Its long beach spans about 1,500 Meter at southern side of the island, facing a bay of crystal clear and tranquil sea. The water is so calm and shallow that it's also suitable for non-swimmers. Families feel safe to let their kids playing in the water. No matter how far their children go, parents still can have a clear open view on what's going on.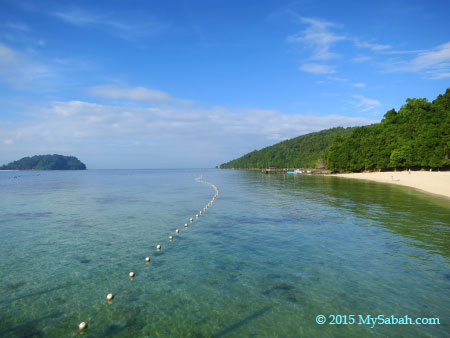 Manukan is the second largest island of Tunku Abdul Rahman Marine Park (TARP in short), and its beach is vast. Though Manukan has hundreds of visitors every day, there is still enough big space for everyone. You won't accidentally trip over a carpet of tourists sunbathing on the beach.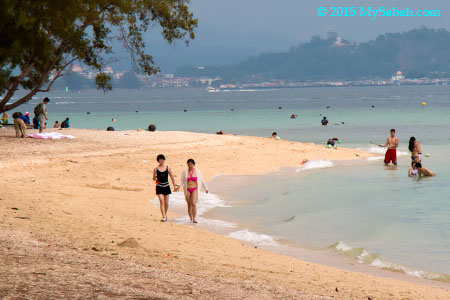 Factor #2. Manukan has the Most Developed Facilities
Tourists can find almost everything they need there, from toilet, shower room, restaurants, water sport activities, souvenir shop to accommodation. You can go to Manukan empty-handed (must bring cash!) and buy your things such as food, sunscreen and beachwear on the island. But please be informed nothing is cheap on the island.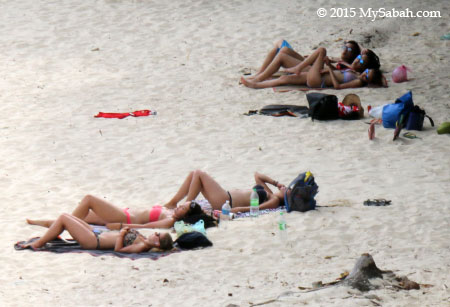 Another thing I like about Manukan is its forested shore. After a swim in hot day, we can retreat to the shade, rest on the bench and enjoy the gentle sea breeze. It can be quite cooling under the trees.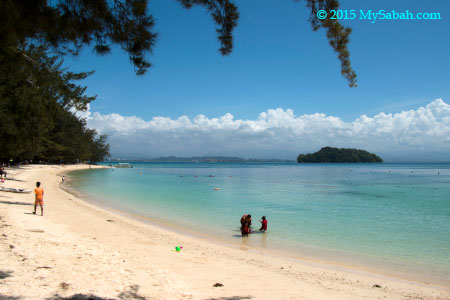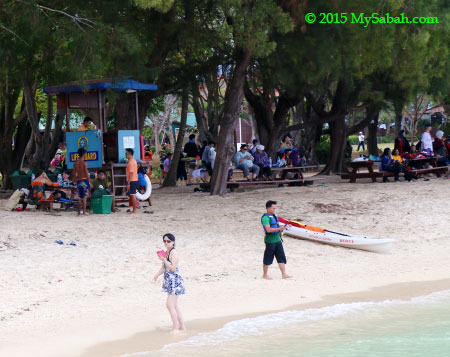 There are a few lifeguards keeping an eye on the sea. They also know how to deal with injury caused by jellyfish sting and sea urchin. For crime prevention, there are some police on the island too.
Factor #3. Manukan Island has the Best Snorkelling Spot
Among the five islands of TARP, Manukan Island ranks top as a snorkelling site. Though its coral reef is not of world class, it's still a wonderful treat to nature lovers. Sighting of Nemo is guaranteed. You can even see Nemo from the jetty, with thousands of other fishes.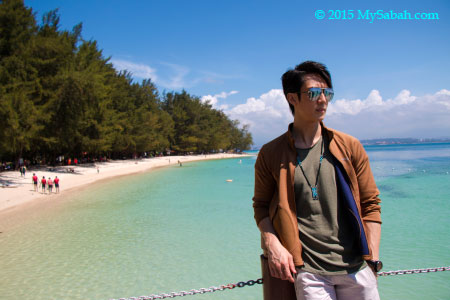 In fact, many Hong Kong celebrities have been to Manukan Island. Usually they come to Manukan as personal trip and try to stay low profile. Don't be surprised if you find WuChun or other superstars laying just next to you in Manukan.
The following is a 3-min video for you to see more beauty of Manukan:

Entrance Fee
You need to purchase ticket (which they call Conservation Fee) to enter the island. The table below is the ticket rates. Don't forget to add return boat transfer and terminal fee (about RM30 in total, ≈US$9) to your travel budget.
Visitor
Ticket Fee
Malaysian
– Adult (18 & above)
– Below 18 years old
– Senior Citizen
– Student (below 16)
RM3
RM1
RM1
RM0.50
Non-Malaysian
– Adult
– Child
RM10 (≈US$3)
RM6 (≈US$1.80)
*6% GST tax would be applied to ticket soon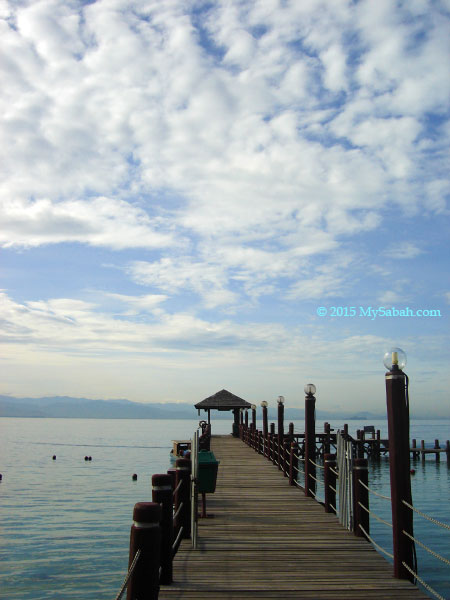 Pic: the jetty of Manukan Island, you can see many fishes under it.
Activities
You can have fun with many water sports on Manukan Island. The most popular and recommended activity on Manukan is Snorkelling. You can rent the snorkelling gears easily on Manukan or boat terminal on mainland. It's ok if you don't know how to swim, just wear a life jacket.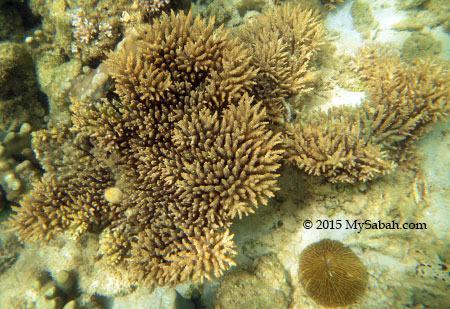 Consider this island is only 7 KM away from KK City Center, the variety of soft and hard corals on Manukan is really impressive. Nevertheless, you need to know where to look for them. Do not snorkel at the side full of people. The Best Snorkelling Location is in deeper water at the left of the jetty (when you face Manukan Island) and far away from "tourist beach."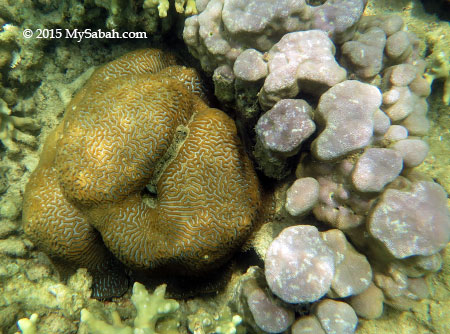 When you enter the water, you will see mainly sandy bottom for the first 10 Meters, then the corals become denser and denser, at last you will reach a large "coral garden" about 25 Meters away from shore. The water is only 4 to 7 Meters deep at this distance so the visibility is very good in sunny day.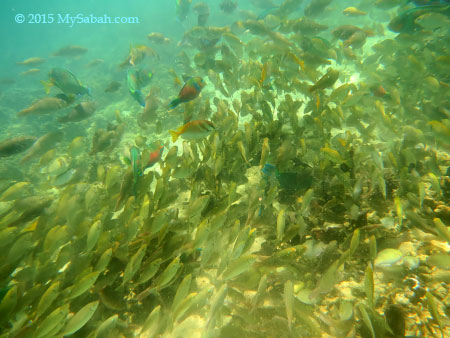 Corals are the home of fishes, of course you will see many types of fishes such as Sergeant major, Trigger fish, Parrot fish, Butterfly fish and Cleaner Wrasse. The coral area is big and got so many stuffs to see, sometimes I spend 2 to 3 hours have fun snorkelling.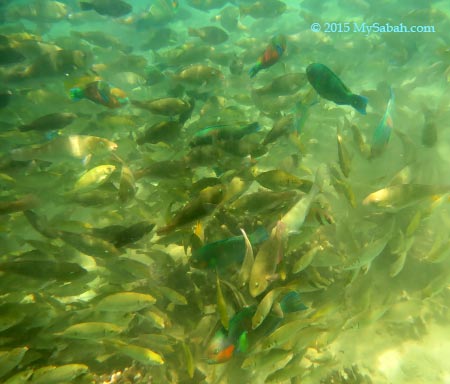 Last year, I bumped into a huge school of foraging fishes, thousands of fishes formed a long line and swam in same direction. I followed them and they didn't seem to mind. On the way, many other fishes in different colors and species also joined the group. This is such an incredible phenomenon!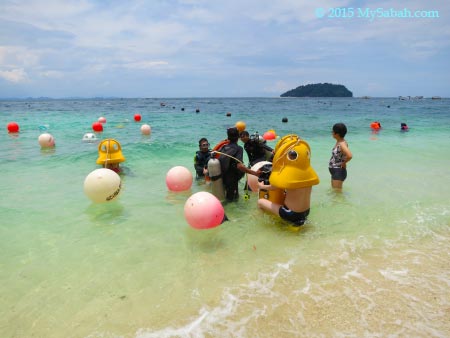 Pic: tourist trying out Scuba-doo (underwater "scooter")
Below is a list of activities and prices just FYI. Get extra cash ready if you plan to play these:
Activity
Fee per person
(in RM)
Fee (in US$)
Duration
Sea Walking
250
≈76
30 Min
Scuba-Doo
250
≈76
30 Min
Parasailing
90
≈27
15 Min
Banana Boat Ride
40
≈12
15 Min
Flying Fish
70
≈21
15 Min
Jet Ski
165
≈50
30 Min
Discovery Scuba Diving
300
≈91
2 dives
Tip: These are just Listed Prices. No harm to haggle.
Ladies, be careful when some "friendly" locals approach you and offer "snorkelling tour." There were cases these so-called guides took their female guests to deeper water, making them panic, then took the opportunity to molest them. Just report to the police on the island if that happens.
Manukan Island Resort
You can overnight on Manukan Island if you love it so much. Manukan Island Resort is the only accommodation on Manukan and they have about 20 units of single and double storey chalets. The accommodation fees* range from RM560 (≈US$170) per room to RM1,500 (≈US$450) per chalet. You may look at their online booking page for room details and updated prices.
*full board package which includes accommodation, meals, island entrance fee and boat transfer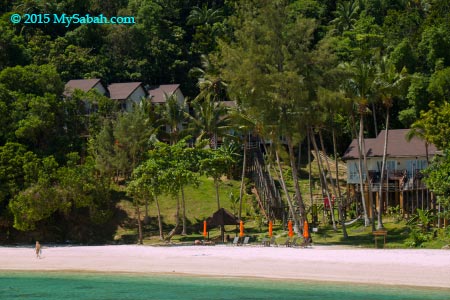 Pic: Hill Side Chalets near the beach
There are two types of villa, i.e. Hill Side Chalet and Beach Chalet. Hill Side Chalets have sea view but Beach Chalets don't. FYI, camping is not allowed on Manukan Island.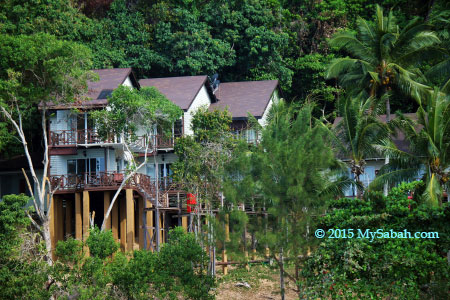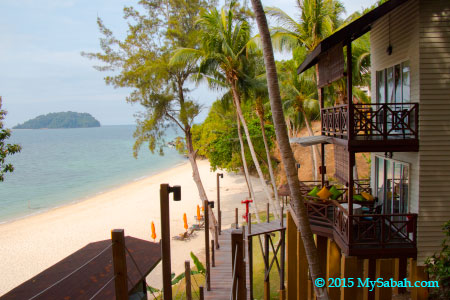 Pic: Hill Chalets are on a slope and have fantastic sea view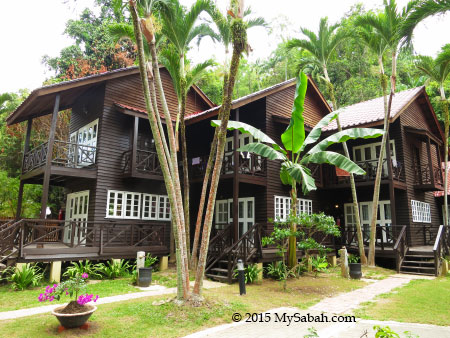 Pic: Beach Chalets can be a bit noisy when tourists walking pass the place during daytime (8:30am-4:30pm)
For reservation, you may book the room online or contact Sutera Sanctuary Lodges (management of the resort) at:
Website: www.suterasanctuarylodges.com.my
E-mail: info@suterasanctuarylodges.com.my
Phone: +60 88-308914, +60 88-308915, +60 88-308916
Cellphone: +60 17-8335022
They also have a reservation center for walk-in guests (opposite to reception / ticket counter of Manukan).
Restaurants
Food and drink are readily available on Manukan Island but sold at "tourist price". If you are price-conscious, I would advise you to bring your own food. Barbecue (BBQ) is forbidden on Manukan (some outdated websites say you can BBQ on the island).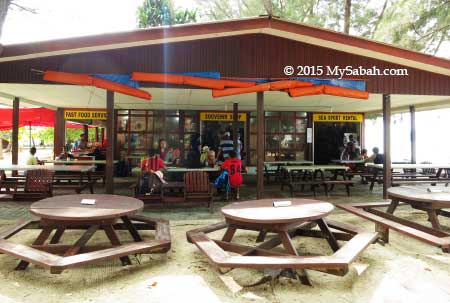 Pic: Koktas Cafe offers the cheapest food. You can have rice and fried noodle from RM4 to RM14.50 (≈US$1.30-4.40). Light meals are also available for a few dollars. You may look at their list of food and prices (as of Apr 2015). Koktas Cafe opens from 8:30am to 4pm daily.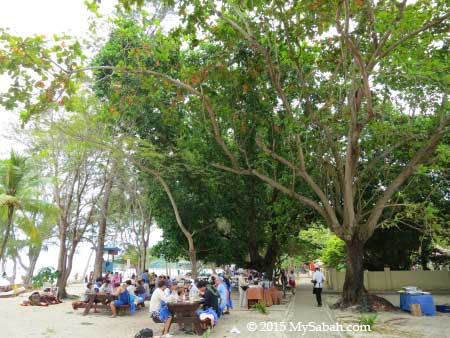 You will find many outdoor food stalls behind the beach. I asked one of the buffet stalls that seem to serve decent food. The price is RM86 (≈US$26, 6% GST tax included) per head and walk-in customer is accepted. They open from 11am to 2pm.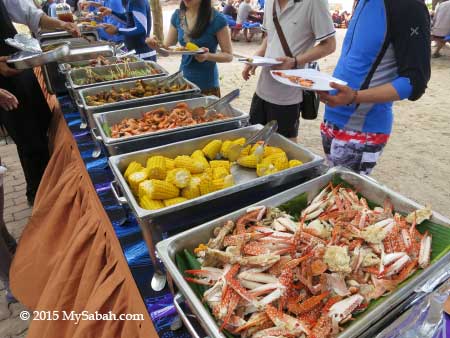 There are dozens of other makeshift food stalls belong to travel agents. They normally sell it as part of island tour package which costs about RM150 (≈US$45), which includes boat transfer, lunch buffet and snorkelling gears. They would accept walk-in customers if there is enough food.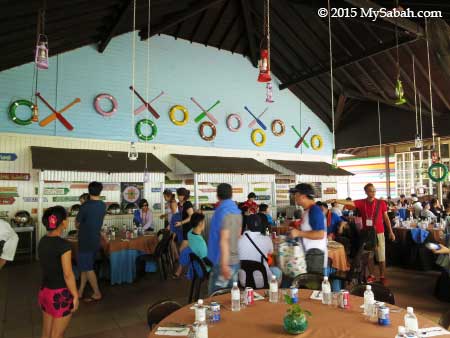 Another restaurant, Arang Barbecue House also sells lunch buffet for RM86 per person. They open from 11am to 2pm.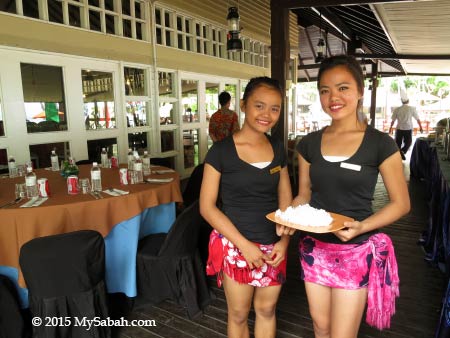 Pic: Perahu Restaurant
Perahu Restaurant is the most established restaurant on Manukan Island. You can dine in their air-conditioning room. Sometimes they close for group function. They open from 11:30am to 4pm. Yes, beer and alcoholic drink are available here. Below is a summary of their menu (Prices as of Apr 2015 and subject to 6% GST tax) for your quick reference:
Fried Noodle, Nasi Lemak, Chicken Rice: RM26 (≈US$8)
Sandwich, Burger, Fish & Chips: RM35 (≈US$11)
Coffee: RM14 (≈US$4.30)
Tea: RM12 (≈US$3.60)
Soda Drink (e.g. Coke): RM10 (≈US$3)
Fruit Juice (Orange, Pineapple, Watermelon): RM19 (≈US$5.80)
Beer: RM28 per tin (≈US$8.50)
Cocktail, Wine, Whisky, Vodka, etc.: RM28 (≈US$8.50) per glass
Other Facilities
This section is an overall of other facilities on Manukan Island. You may refer to the following layout map for location of these amenities: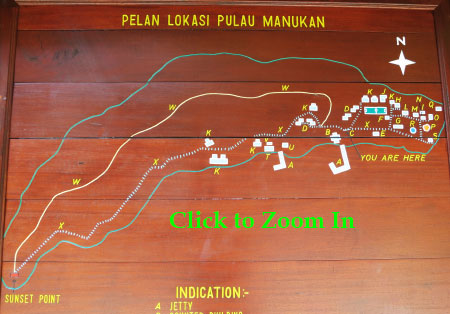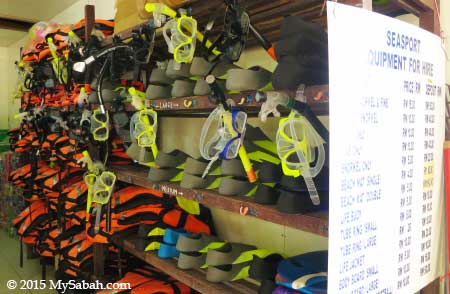 Snorkelling gears can be rent next to Koktas Cafe. The rental fee for a set of snorkel, mask, fins and life jacket cost RM25 per day (≈US$7.60). You need to deposit RM70 (≈US$21), which is refundable when items return in good condition. Do bring more cash. Here is a list of all items available for rent (prices as of Apr 2015). You also can purchase other things such as beach wear, snacks, ice-cream, potato chips, instant noodle and cookies from the same shop.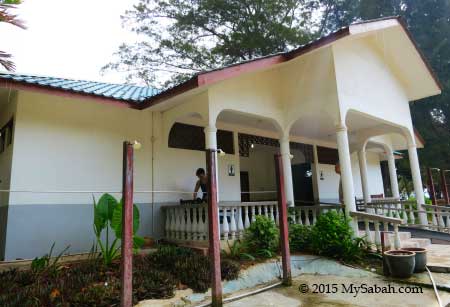 Pic: public toilet and shower room of Manukan Island. It is divided into male and female sections, each has about 10 rooms. There are some shower heads outside to rinse yourselves. Two things I don't like about this toilet – it is a bit too far away from the beach, and its floor is always wet. I wish it has dry surface for me to put my bag. Anyway, it's not too bad.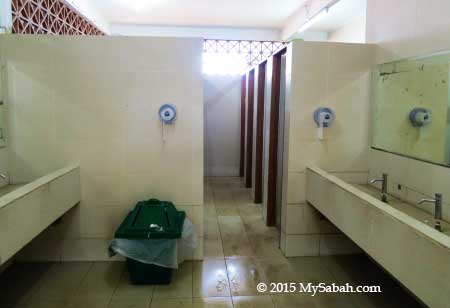 Pic: toilet and shower room. Some doors have broken locks.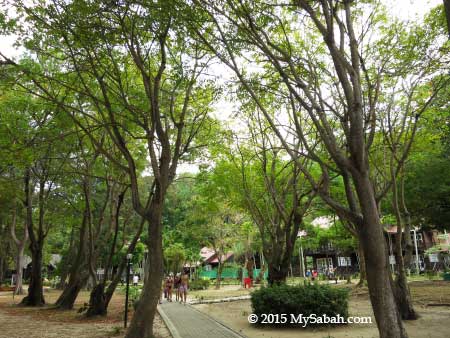 Pic: interlock walkway on Manukan, quite well-maintained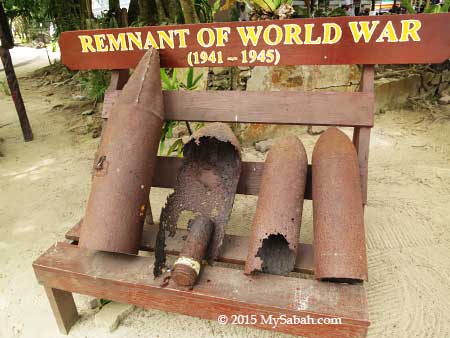 Pic: WW2 bombshells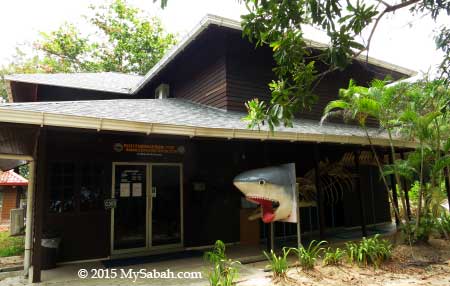 The Marine Education Center of Manukan Island is used to exhibit some marine specimens such as seashells, turtle and corals. Currently it is close (since 25 Mar 2015) for construction of a Marine Touch Pool and may open again in June 2015. Now what they show are only a skeleton of Bryde's whale and a shark head photo booth outside the hall.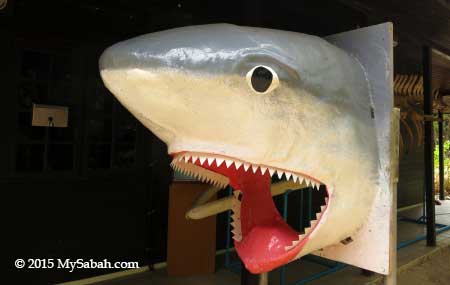 FYI, there is no man-eating shark at Manukan Island.
Besides, there are football and volleyball fields in the center of island. For Muslims, Surau (prayer room) is available too. I wish they have locker service so I can store my belonging because I can't bring my wallet to snorkelling. Without locker, life will be a bit difficult for solo traveler to Manukan.
Sunset Point
If you like jungle and have time to spare, you may go to Sunset Point in western edge of Manukan Island. Day trip tourists have to leave the island before 5pm so most of them don't bother to walk 1.5 KM to Sunset Point that has no sunset. I'm not sure whether that can motivate them, if I tell them two rare mangrove trees, which are critically endangered and only 200 of them left in the wild, are found at Sunset Point.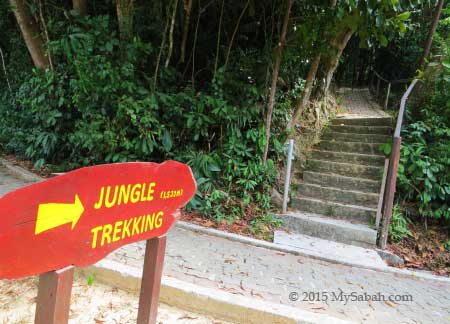 There are two ways to reach Sunset Point, one by rugged and unpaved jungle trail and another one by jogging track. Do you love bugs and birds? If it's a BIG yes, take the jungle trail, otherwise follow the jogging track. The bonus of exploring jungle trail is a chance for sighting of Philippine Megapode, a chicken-like bird with red face. If you are the first one entering the jungle trail in the morning, you would spot this elusive bird.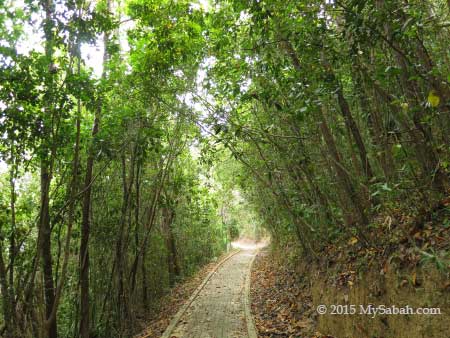 The jogging track is mostly flat path and probably accessible by wheelchair. Along the way, you would see some beautiful trees with interesting barks. The soil on Manukan is not fertile, so most trees are short and slim, with dense ferns, palms and vines growing among them. By the way, swarm of mosquitoes is present during wet season but can be none in dry month. Bring your insect repellent just in case.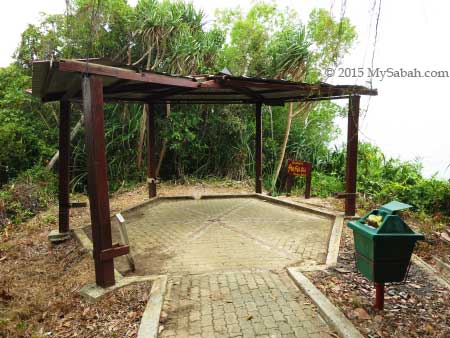 Pic: the broken shelter at Sunset Point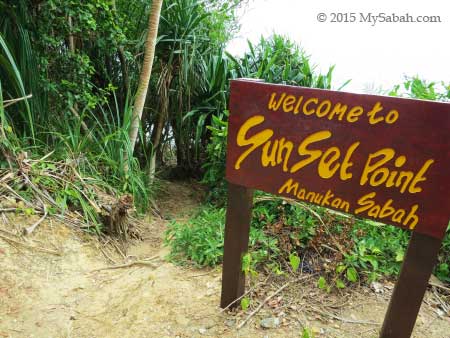 After 45 minutes, I arrived Sunset Point. I didn't even sweat because the track is well-shaded by tree canopy. Look at the photo above, do you see a narrow path at the left? Just follow that narrow route under dense Pandanus trees to descend to the beach. It's a bit steep so please proceed cautiously.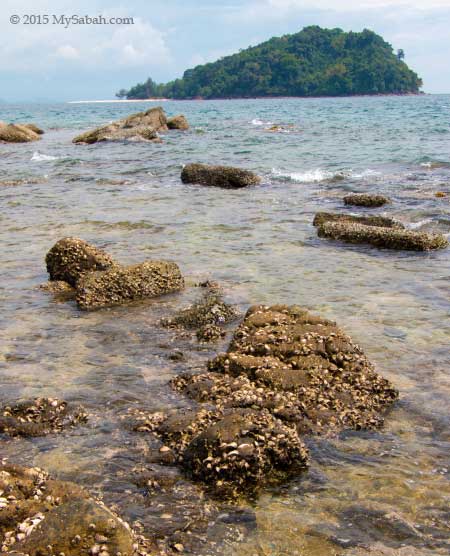 Pic: view of Sulug Island from the Sunset Point. It is a rocky shore without nice beach. The scenery is nice anyway.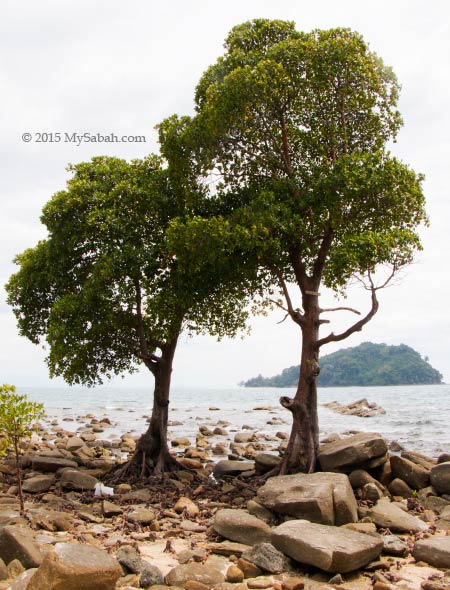 Pic: rare mangrove trees
Finally I saw the rare mangrove trees. They are locally known as Berus Mata Buaya (means "Eye of the Crocodile"). Its scientific name is Bruguiera hainesii, and only about 200 of them left in the world (mainly in Indonesia and Malaysia). I'm so happy that we have two on Manukan. I have no idea how they got here. These two trees look like a couple. Perhaps they purposely chose this sunset viewpoint as their landing spot? So romantic. There are two seedlings growing next to them. Seem like they are starting a family. Not only that, both trees were flowering and fruiting during my visit. I got close-up video of these trees if you want to see more.
Overall, Manukan Island is a wonderful destination. I recommend it to tourists who don't want to travel far to our east coast for island trip.
How to get there
Manukan Island (see Location Map) is a public marine park which accepts walk-in tourists. You don't need to apply a permit or book any tour package to go to Manukan Island. Return boat transfer to Manukan is readily available from 8am to 4pm at any one of the boat terminals in KK City. Please note the last boat returning to KK City departs at 4pm or 4:30pm (unless you stay in resort).
More Photos
For better and bigger photos, please check out 100 latest photos of Manukan Island in my photo album: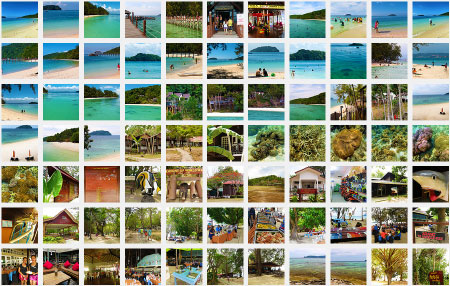 Photos taken in Kota Kinabalu, Sabah, Malaysia
You might also like:
Everyone from Kota Kinabalu City (KK) loves Tanjung Aru Beach, a place filled with sunshine and laughters. If Mt. Kinabalu is like our father, Tanjung Aru Beach is an affectionate mother. In late afternoon, many couples, families, picnickers, tourists, joggers and photographers congregate at the beach, and they won't miss one of the most beautiful sunset of Sabah, which marks a perfect ending to their busy days.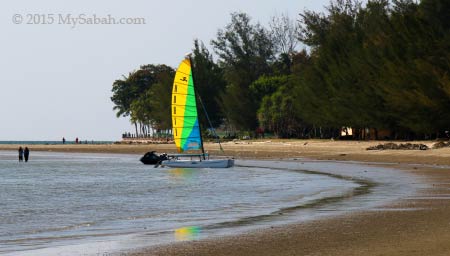 Though a lot of locals walk and frolick on this golden beach, most of them stay away from the inviting seawater as if it is a boundary. However, I have no doubt that they have ever imagined themselves cruising freely on the sea and sailing to the sunset.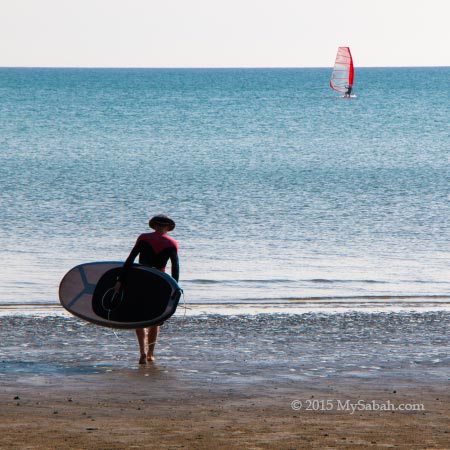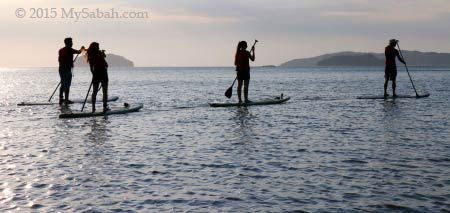 People doing pretty much the same things there every day like what our grandparents did 50 years ago. Then in 2014, beachgoers started to see someone "standing" and paddling in the open sea. FYI, it is a fast growing global sport called Standup Paddleboarding (S.U.P in short).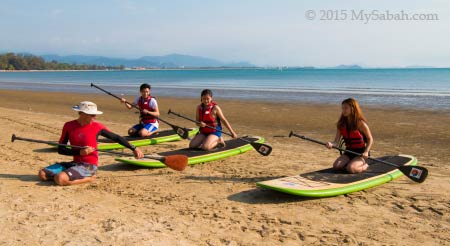 The cool thing about S.U.P is – you can hit the water only after 10 minutes of training, without the need to operate a bulky sailboat or master the skill to maneuver a wobbly windsurfing board.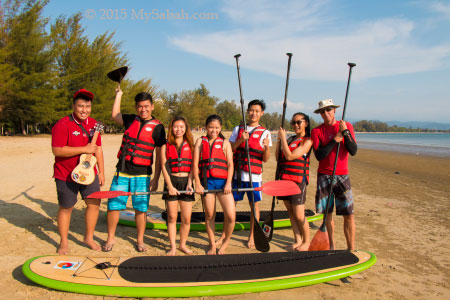 I've tried S.U.P on Sapi Island and like it very much, so I strongly recommend you to experience a different way of enjoying sunset hour in Tanjung Aru Beach.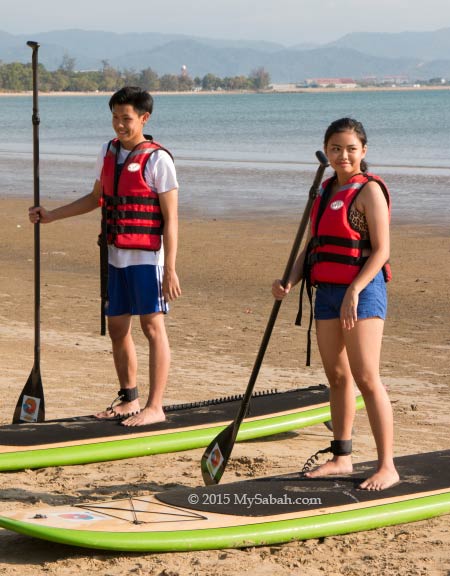 Paddle Below the Wind conducts sunset S.U.P session at Tanjung Aru First Beach around 4pm almost every day, and you are just a call away to join them (Phone: +60 17-8960341).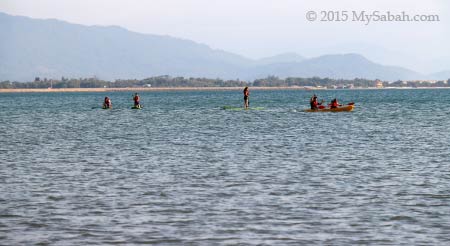 You may watch the following video of excited students in S.U.P:

There are Three Good Reasons why you should give Standup Paddleboarding a shot.
1. "Reconnect" with Friends and Nature
Nowadays we are so hyper-connected, we have Facebook, WhatsApp, E-mail, WeChat, Snapchat, Line, Twitter, etc. Ain't you upset when you gather with friends, but they just busy poking their phones?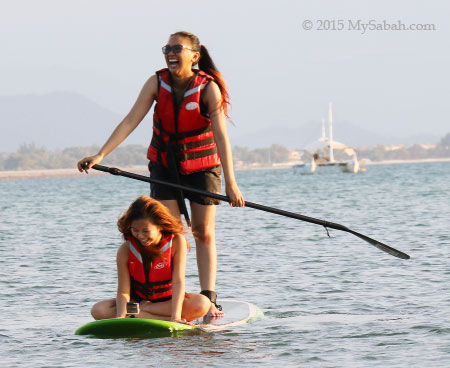 We can't create cherishable moments with friends on social media, we will forget what we say on Facebook shortly, but we won't forget the time we were doing something fun together. Let's talk with our mouth, not fingers. Be more likeable by being there for them, not just posting food photo.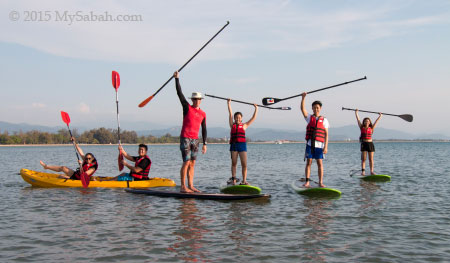 Let's disconnect from virtual world on small screen and see the real beauty of our big world. Feel the sand between your toes and gentle breeze from the ocean.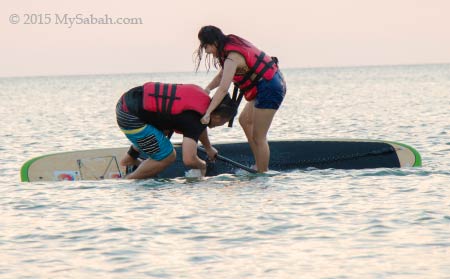 Pic: the moment before falling into water. It's just part of the fun.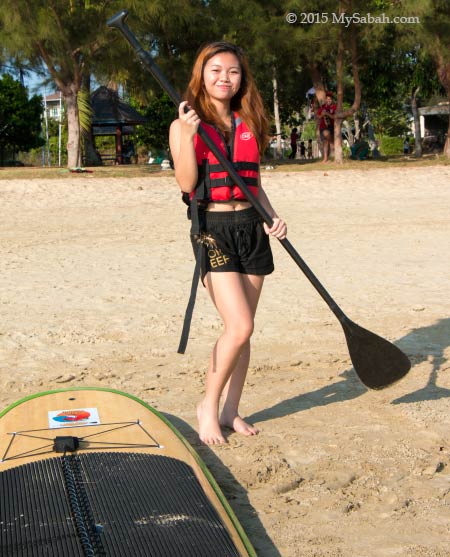 The one smiling face of your friend is better than 100 smiley emoji in messenger apps, isn't it? When people type LOL on screen, how many of them are really laughing?


Another nice feature of S.U.P is you can do it in a group, but able to stay close and chat with one another. Everyone has story in Tanjung Aru Beach. What's yours?
2. Exercise for Fun
For me, I like the idea that exercise keeps me healthy, but most sport is just boring. For example, jogging, the boredom kicks in much sooner than the fatigue. :-p In contrast, stand-up paddle-boarding is super fun and I'm pleased to do it every day. If big waves come, I can even surf. Did you know Tanjung Aru also has very nice corals? You can reach it easily with S.U.P.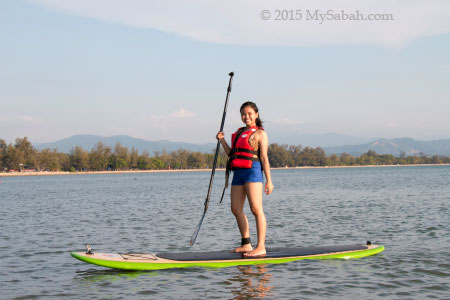 Stand-up paddle-boarding is a good exercise for our limbs and abdominal muscles due to constant paddling and balancing. S.U.P may seem very pleasant and relaxing, but you can go as extreme as Justin DeBree, who paddled all the way up from Florida to Georgia (USA) for a total of 676 KM (420 miles) and set the world record for the Longest Stand Up Paddle Board journey. Some adventurers even ride on S.U.P in Arctic expedition.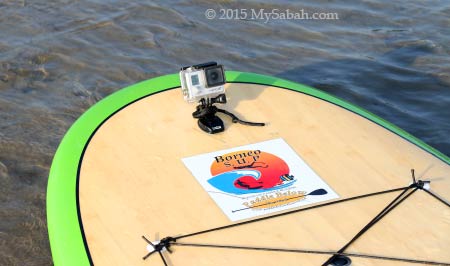 Pic: you can mount your GoPro camera on S.U.P board
You might be able to paddle from KK to Brunei (remember to bring your passport hehe..) if you are extremely fit and the sea condition is good. Richard, our S.U.P instructor, says we can paddle to Sapi Island in 1.5 hours.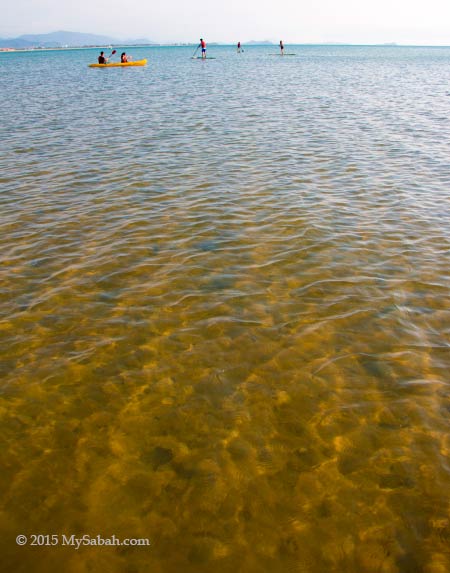 Pic: you can go very far away from shore with S.U.P in just minutes
However, not everyone wants to be an athlete, so you can choose to drift in placid water, just to get in touch with nature and unwind yourselves. In USA, Stand-up paddleboarding had the highest percentage of new participants in 2012. It has become a trendy sport in Australia, USA, Canada, Germany and Australia. Paddle board yoga is also getting popular.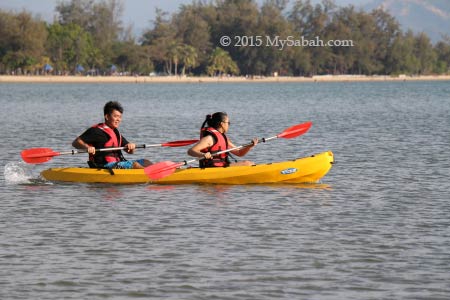 Pic: Paddle Below the Wind also provides kayak
3. Watching Sunset
To break out of monotony, it's human nature to constantly explore new sources of happiness. You may have already long retired from the age of building sand castle, so Tanjung Aru Beach can't be a playground to grow-up like you? Wrong.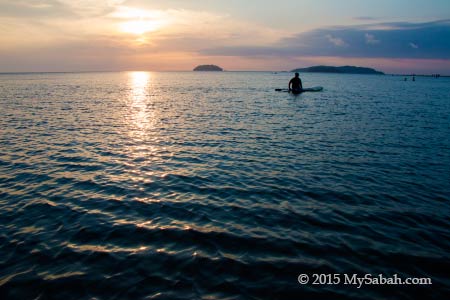 Why not paddling out to the sea to enjoy the mesmerizing sunset view this time? When was the last time you did something for the First Time? It could be your best day ever in Tanjung Aru Beach.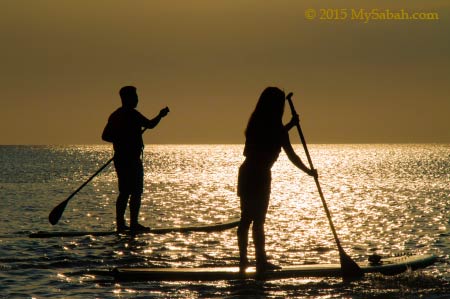 To release your stress after work, you need to move your body, to detach your mind from work. Then go rinse yourself in the warm seawater, harvest the negative ions in the air and embrace the healing power of nature to detox.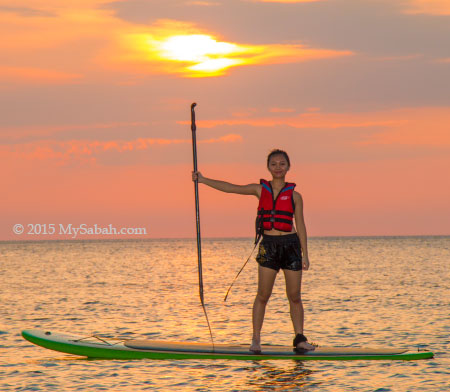 Life is too short. Let's try different things at least once in a while. You also can try S.U.P with your spouse and kid. They will thank you.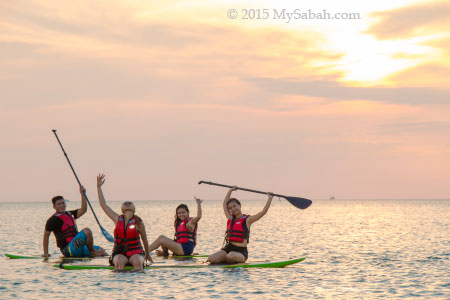 Pic: this sunset group photo will make your other friends envy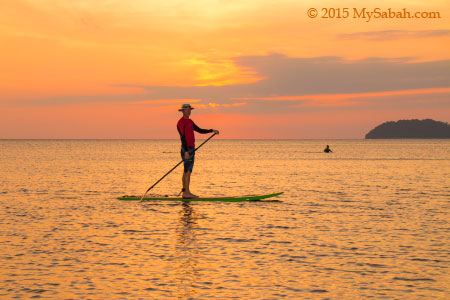 One day perhaps the face of Tanjung Aru Beach would change dramatically if Tanjung Aru Eco Development (TAED) takes over the place and develop it into resort area. I don't know whether that day will come. For now, let's enjoy what this beloved beach offers. Enough talking, below are more sunset photos for your viewing pleasure.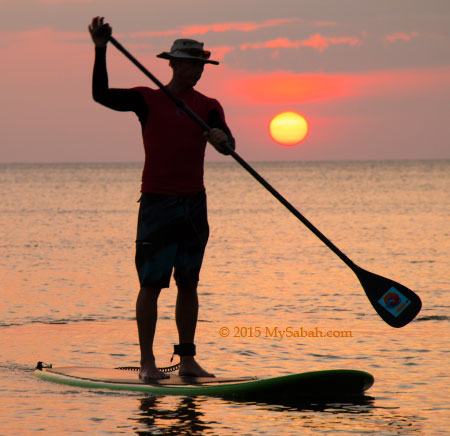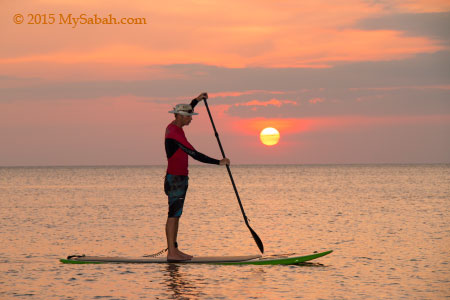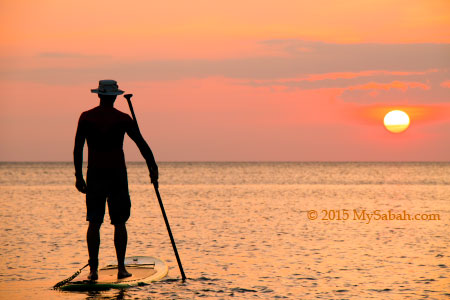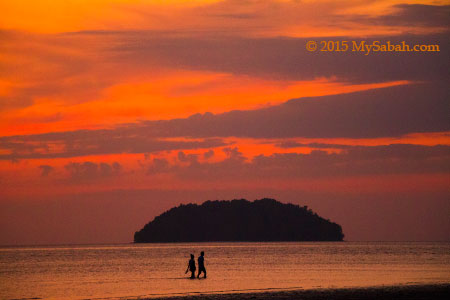 Contact
To join S.U.P session, you may book with Paddle Below the Wind:
Mobile Phone: +60 17-8960341 (Nora / Richard)
Facebook: BorneoSUPpaddlebelowthewind (many photos!)
Website: www.paddlebelowthewind.com
E-mail: paddlebelow@gmail.com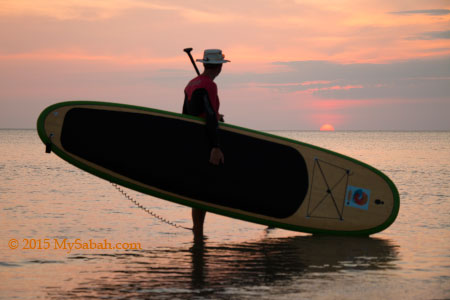 The sunset S.U.P session at Tanjung Aru Beach takes about 1 hour and costs RM40 (≈US$12) per person (No 6% GST tax). Life jackets, stand up paddle board and paddle are provided. Besides training, the instructor will guide you on the sea. They also offer Snorkelling with S.U.P at Sapi Island.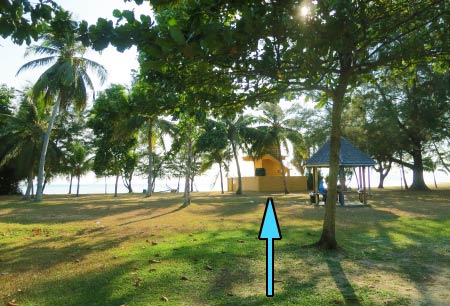 The meeting point is next to the yellow lifeguard building in a small stretch of picnic area near to Kinabalu Yacht Club in Tanjung Aru First Beach.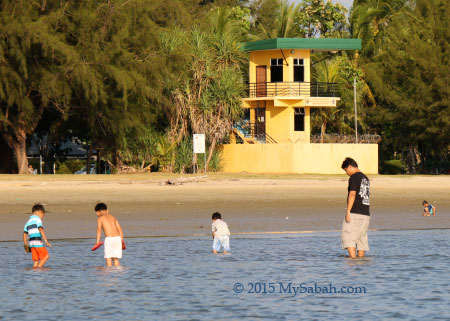 Pic: lifeguard building
More Photos
You may check out my photo album for more photos of S.U.P: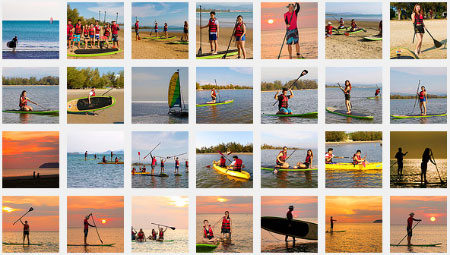 Photos taken in Kota Kinabalu, Sabah, Malaysia
You might also like: