The presence of a crocodile in the lake of Likas Sport Complex became headline in a local newspaper last week. In the past, sighting of crocodile was also reported in the rivers of Petagas, Papar, Tuaran. Every time it created fear among the public, but I would say we have better chance of being bitten by a stray dog than a crocodile. Instead, we should concern more about YB Buaya (corrupted politician) that eats our money and Buaya Darat (playboy) that eats lady's heart, both cause real harm and we have many of them in Malaysia.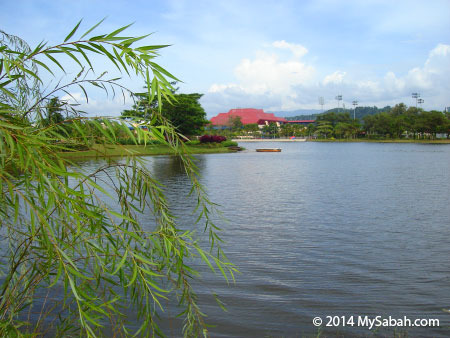 Pic: Likas Sport Complex
Likas Sport Complex is a famous jogging park crowded with juicy joggers during weekends, presumably making it a profitable spot for man-eater. It has a beautiful lake that connected to Likas River. The view is just amazing when the sunset is reflected on the water, a nice treat for people after workout (Now you also can do a selfie with the croc). Sometimes the park got visitors from nearby mangrove, you would see box turtle and monitor lizard crawling slowly next to the jogging trail, or hearing the hoarse call of kingfisher.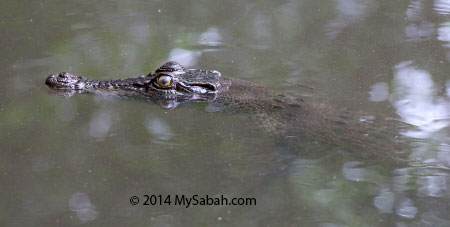 Actually I think I had seen the same crocodile last year. It was found by a few locals in a mangrove in Likas. Hearing the news, I grabbed my camera and came to its favorite bathing spot, but I saw nothing but a calm river. "Just remain still and wait," a local lady said.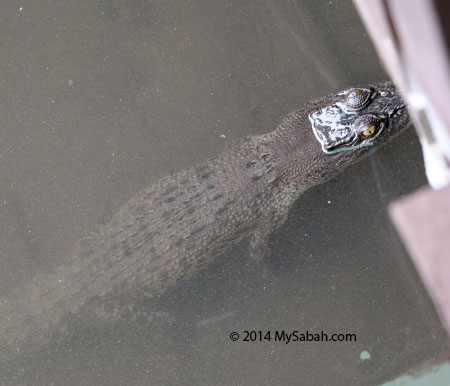 I did as told. A few minutes later, I saw the head of a crocodile emerged from the murky water a few metres away from me. It's quite small, only a few feet, obviously a juvenile (like the photo below).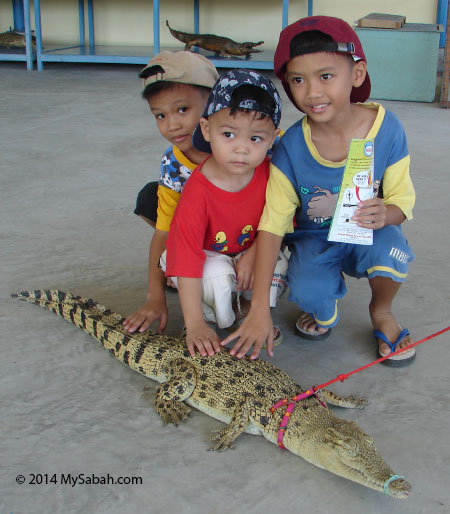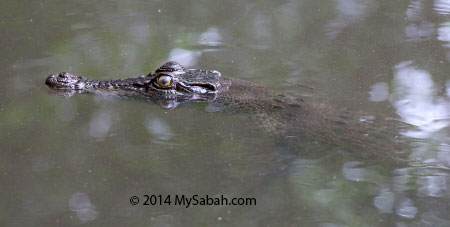 I wonder why there is a crocodile in densely-populated area. Many years ago, I studied in a primary school near this mangrove, and there was a big crocodile being shot behind our school. I hope this small crocodile won't face the same fate.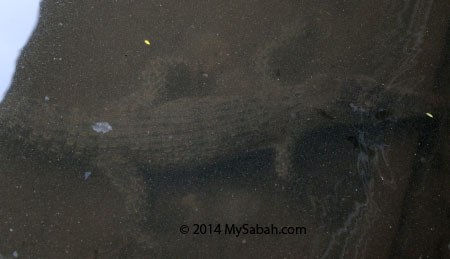 Sabah Wildlife Department knew about this and they wanted to trap it but it left. Now we know where it is. It may have grown bigger in 10 months. Though I haven't seen it, I guess it still hasn't reached a size that brings real threat (if it's the same croc)? Visitors should stop feeding fishes and turtles at the lakeside, as it'll attract the attention of crocodile.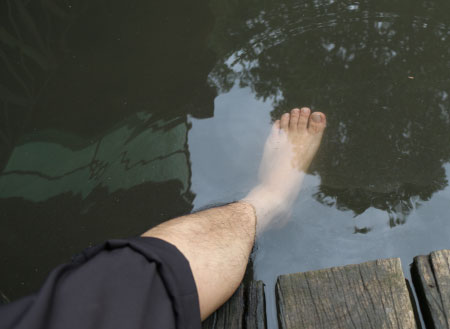 To show that it's safe, I even put my foot into the water for minute. I worry more about the bacteria in filthy water.
Below is the video of this crocodile. It was dozing off, so cute.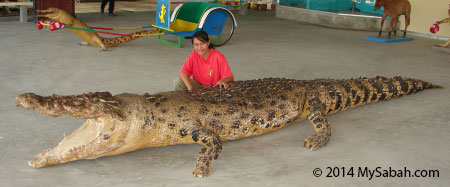 Pic: you only need to be afraid when the croc grows this big. This is a man-eater that took the life of a villager in Sandakan.
When I read the news, I laughed when the reporter showed a photo of monitor lizard and called it a crocodile. Anyway, they got the photo right the next day.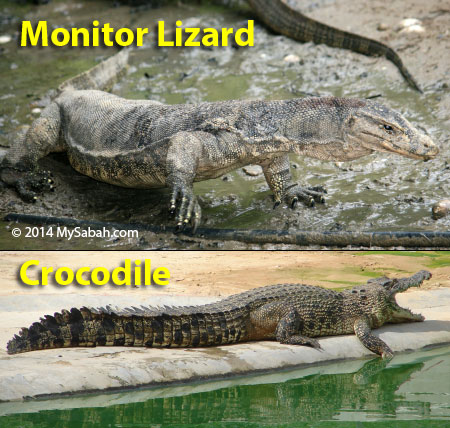 Monitor Lizard is a big reptile and very commonly mistaken as a crocodile. I even wrote a blog making fun of this.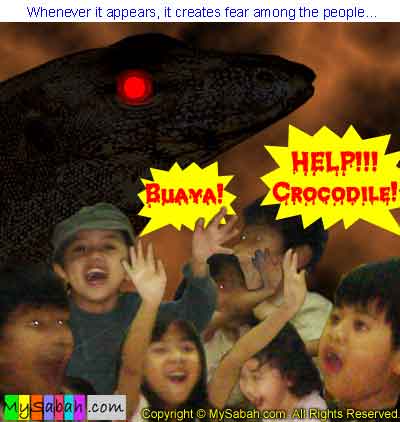 Seem like we don't know our wildlife really well.
Photos taken in Kota Kinabalu, Sabah, Malaysia Borneo
You might also like:
Did you know that Sabah has 394 islands and we are the state having the largest number of islands in Malaysia? I wish I can explore them all, and there is a beautiful but least-known island just 56 KM north-west of Kota Kinabalu City (see Location Map). If you take a flight flying north, you would see this island, Mengalum, which looks like a donut with irregular circle from the sky. This island is so remote and private that it's ideal for nudists to go streaking on the beach there lol.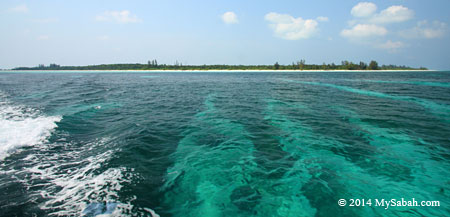 The surrounding sea of Mengalum Island (Pulau Mengalum) is a popular deep-sea fishing spot, so most anglers know Mengalum. This island is becoming well-known among tourists too after it opened to public in 2010. (It is officially called 孟加伦岛 in Chinese, but tour agents prefer the more marketable name 环滩岛, which means an island surrounded by beach)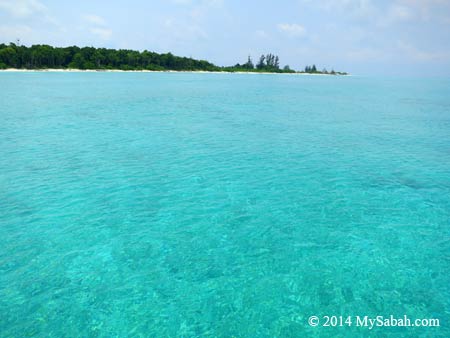 I went with WB Tours and Travel (顺顺旅游) for my first visit to Mengalum last month. I departed from Jesselton Point Ferry Terminal with two catamaran fully loaded with 24 China tourists at 8:30am. The weather was perfect and our boats cruised smoothly on the calm sea.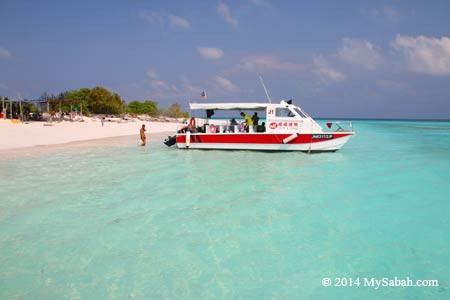 After an hour, the color of seawater turned from navy blue to aqua blue of shallow water. We arrived Mengalum! Everyone got excited when they saw a sea turtle swam by our boat and the thriving corals in the sea.
The Beach
I got off the boat and looked around. My first impression of Mengalum is – it's a deserted island (actually there is a resort at another side) with long stretch of beach.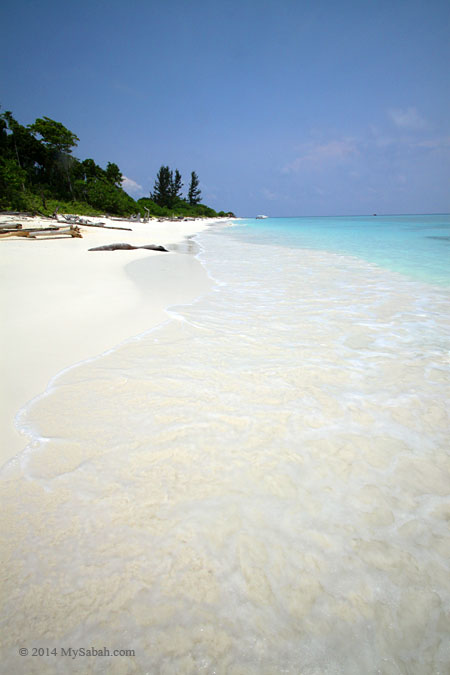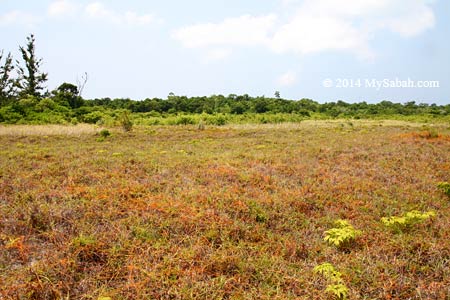 The island is flat (without high ground), with dense patches of trees fringing a few edges of the island. There are monkey living in the wood. I wonder how these monkey reached this island 56 KM away from mainland. The centre is a wide grassland dotted with seaside shrubs (e.g. Scaevola sp.).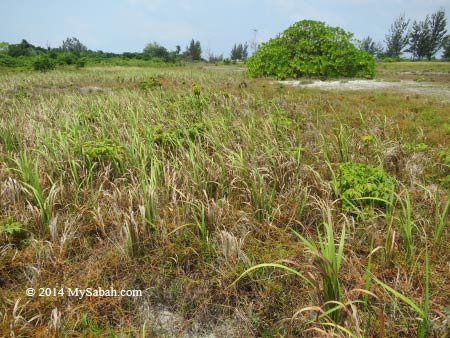 Nearly 232 acres of this island is a protected bird sanctuary for migratory birds. Anyway, I spotted no bird and monkey in my trip.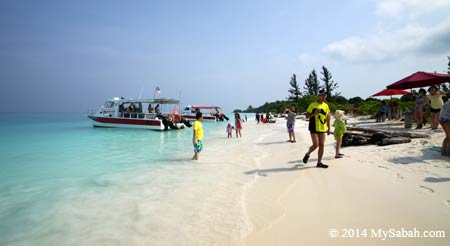 The sand on Mengalum is the whitest and finest, it is as powdery as flour, unlike the coarse sand more commonly found on other islands. There was no other people around, so it was like our private beach with only our footprints.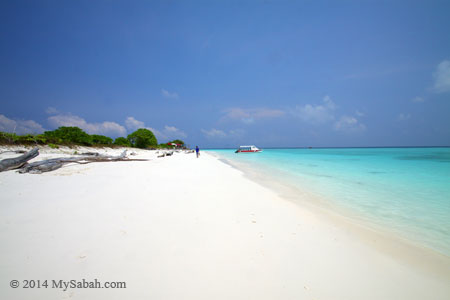 For such a picture perfect scenery, every couple, family, group of friends became busy doing selfie and usselfie. You know I'm not lying when you see those happy faces in my photos.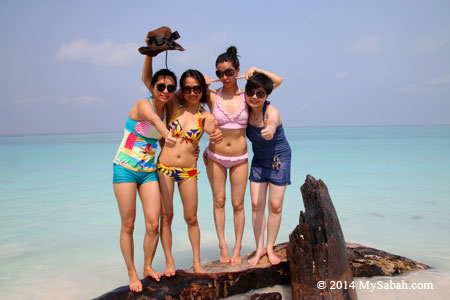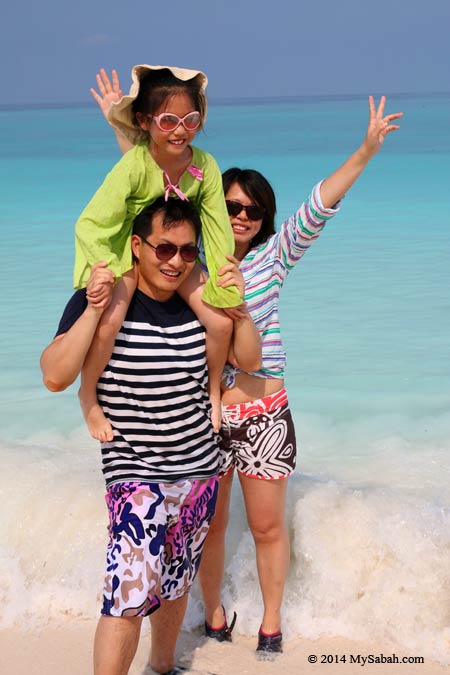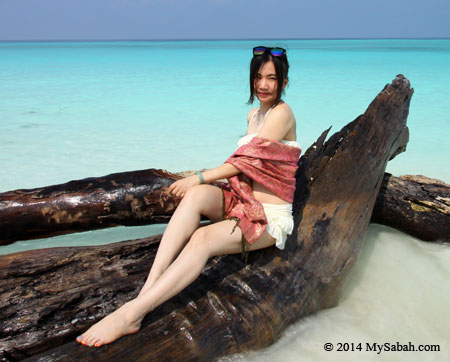 While we were admiring the sea view, our travel agent had setup the parasols and beach mat for us. Some of us went swimming in the blue sea and children frolicked on the beach and picked up a few starfishes.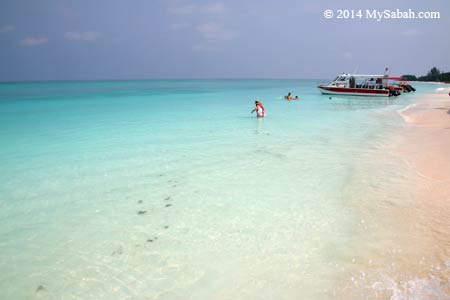 Mengalum Island is 4 Sq. KM in size (<1,000 acres) and you need about 1 hour to walk one round. In 2011, the owner wanted to sell his resort and 250 acres of land of this island for US$18,000,000 (RM 60 Millions), but it didn't happen.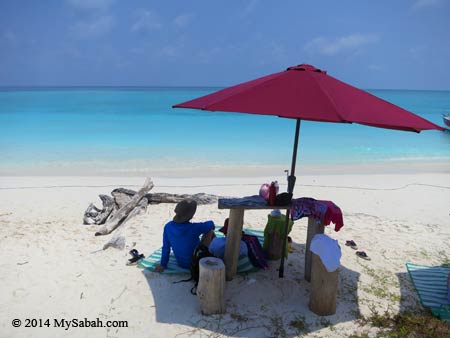 FYI, there are some sandflies in shaded area of the beach, but not to an unbearable amount. It's a tiny blood-sucking insect with white wing and black body. Its bite is not painful but will turn itchy next day (don't scratch or it'll become worse). To avoid bite, just cover your exposed skin with towel or beachwear, or another better option is to wear full body swimming suit.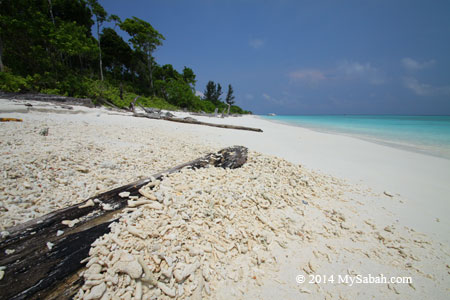 Snorkeling
We started our first snorkeling session at 10:30am and our boat dropped us to a coral area (we saw two turtles again from the boat) a few hundreds Meters off the shore.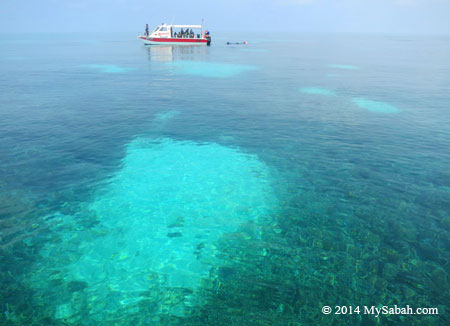 We put on our life vest, snorkel and mask, and entered the crystal clear water. During high tide, the water is about 2 to 5 Meters deep, and the visibility is superb.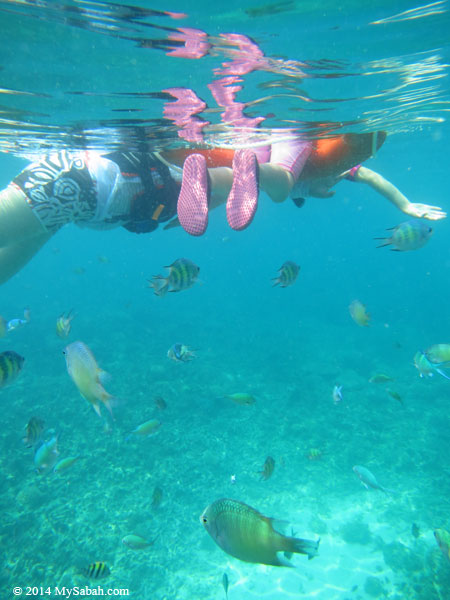 By looking at the flourishing corals, the nursery and shelter of marine lives, I know why anglers say Mengalum is abundant in groupers, snappers, mackerels and other reef fishes.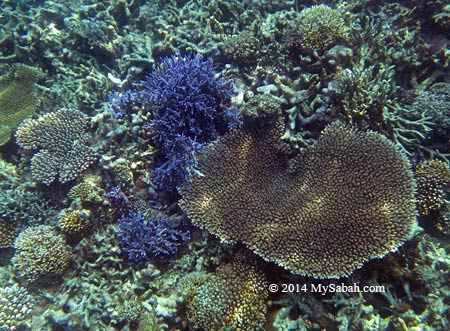 Most of the corals I saw were hard corals, for example, staghorn corals, lettuce coral, table corals. Many grow really big, intact and in good condition, with clownfishes, cleaner fishes and butterfly fishes swimming among them. I believe Mengalum is also an excellent scuba diving site.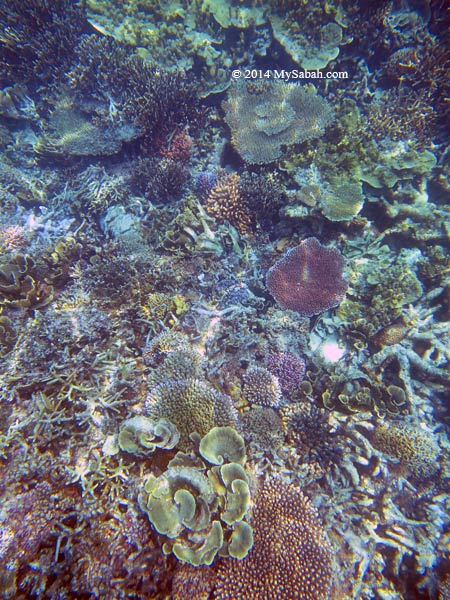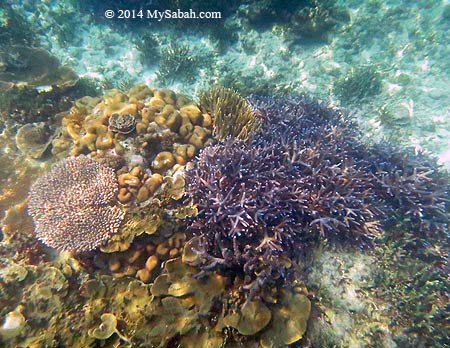 Though the sea was calm, the current was quite strong. To stay together, the swimmers need to hold on a long rope tied to the boat. But I was so indulged in taking video of the underwater world that I was drifted very far away from the boat. Thanks god they sent the boat to fetch me because I couldn't swim back. Here is the video I "risked" my life taking:

When we were back on shore, a delicious BBQ lunch buffet was waiting for us. We had barbecue fishes, corn, squid and curry chicken, and free flow of soft drink (100plus, Coke).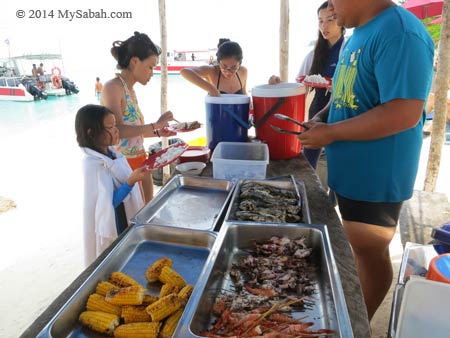 It was really a hot sunny day, so we sat in the shade of parasol, enjoying the nice food and ocean view.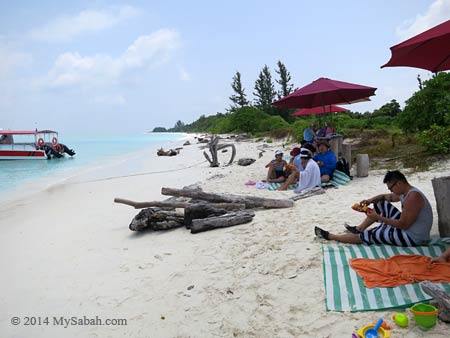 After some rest, the guide called us for second snorkeling session. Some felt sleepy after heavy meal and preferred to take a nap on the beach.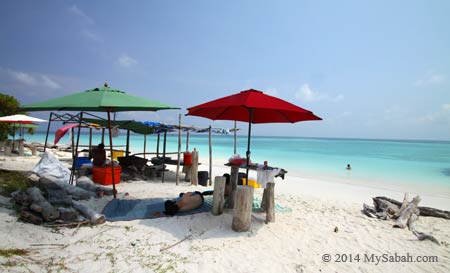 Mengalum Anchor
Before I came, many already told me about the magical anchor located in the south-west corner of Mengalum. Some says it's an anchor left by one of the fleet's vessels of famed voyager Ferdinand Magellan, while another legend says it's from a wrecked native fishing boat but grows bigger and bigger over time.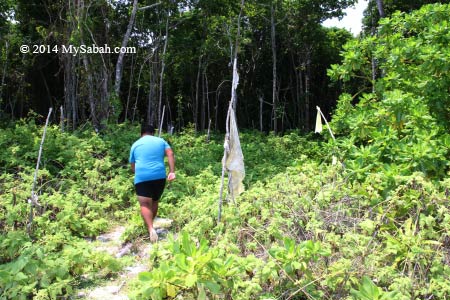 The local fishermen believe this metal anchor endowed with special supernatural power. If it's removed, the island will sink. Ah Lam, my guide said this anchor was only a 10-minute walk away from our beach, so we decided to check out this relic.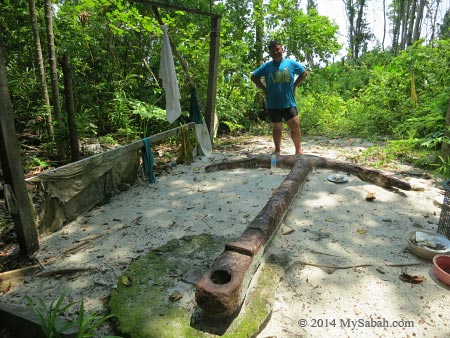 We walked along the sandy beach until we reached a few faded yellow flag markers in the grass near the shoreline, then followed the small path into the forest. After 20 Meters, the Mengalum Anchor Shrine was just right in front of us. The anchor is so huge, a lot bigger than I think, probably longer than 2 Meters.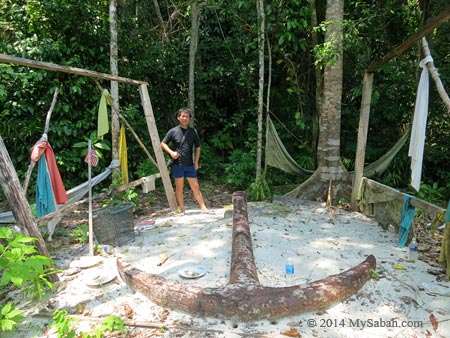 Seem like someone built a makeshift altar to worship the anchor. Ah Lam says it's used to have a roof. I searched for wording on the anchor, trying to find the clue that told me its identity but its surface is rusted. There were some offering such as betel nuts and coins laying around the anchor.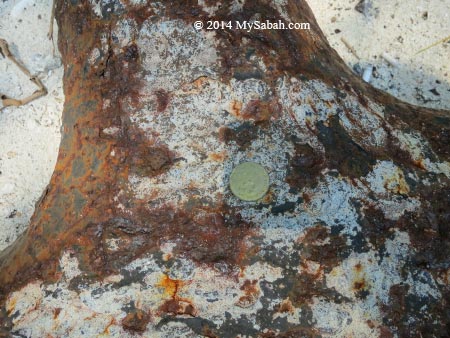 Sabah Museum knew about this interesting anchor and tried to collect it, but it's just too heavy. However, the History Gallery of Museum mentions it:
"In 1854, Captain Edward Belcher of the H.M.S. Saracen mentioned in its logs an anchor lying on the island of Mengalum. Its origin is unknown. This anchor has long been venerated by the local Suluk island settlers and the Bajau from the Philippines. All kind of offerings are placed on it. While fishermen usually petition for good weather and a bountiful catch, there are those who claim to have powers conferred on them by the anchor to communicate with distant people, even with departed ones. It's a wrought iron anchor, a Richard Pering's improved long-shank anchor, manufactured from about 1819 to 1845. The flukes of the anchor are missing and the anchor was probably abandoned because they had broken off."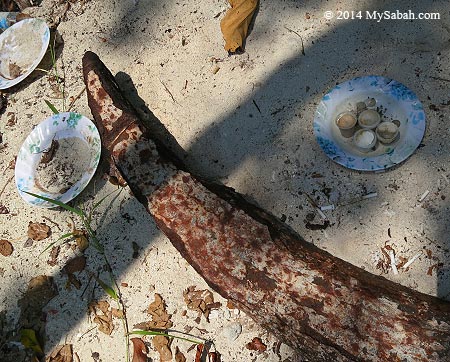 Based on this piece of info, this 160-year-old anchor is definitely not from Ferdinand Magellan, because his expedition fleet passed by Borneo in 1521. Its origin is still an unsolved mystery then.
Natural Sculptures
During beachcombing, I found many big and small drift wood washed to shore by waves. Some have very cool shapes and look like sculptures. According to Ah Lam, that's why many couples also come to Mengalum Island for wedding shots due to the beautiful beach and interesting log.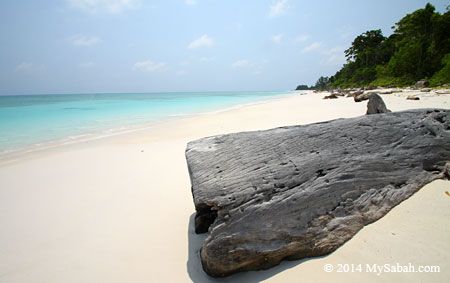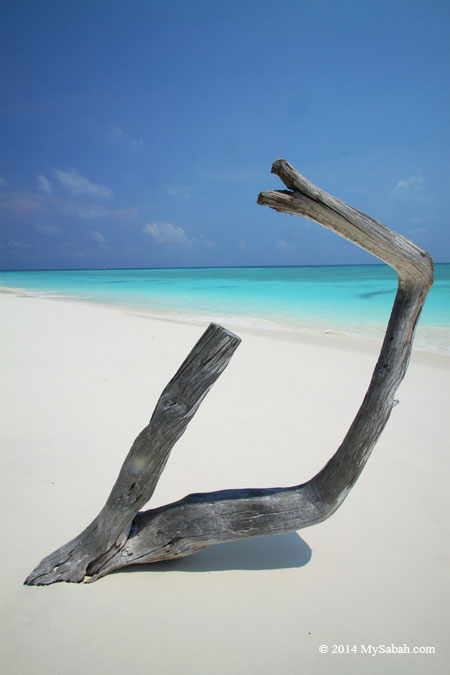 I'm kind of agree with him and wish to collect some wood, as they are great decorative item for my fish tank, but I don't want to anger the Anchor God haha.. so I took nothing but photographs. We left Mengalum at 2:30pm but some may have left their hearts behind. It's a wonderful experience.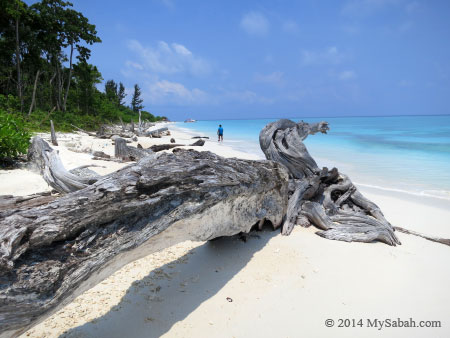 Pic: this log looks like a dragon
How to Get There
If you want to visit Mengalum Island, you may book the tour with WB Tours and Travel or other licensed travel agents. The listed price for day trip is RM300 (≈US$93) (negotiable). The fee includes return hotel transfer, boat transfer, lunch, snorkeling set and terminal fee. But please note that it's a basic picnic style and there is no jetty, toilet and changing room in the trip (you can use the toilet in the boat).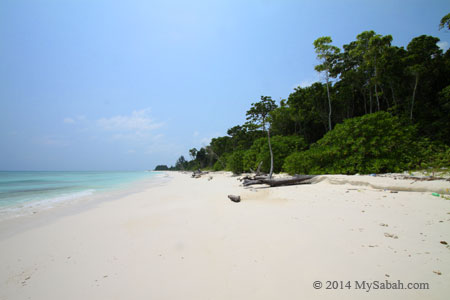 The following is the contact of WB Tours and Travel:
Address: Ground Floor, Lot G-07, Wisma Sabah, 88000, Kota Kinabalu, Sabah, Malaysia (see Location Map)
E-mail: enquiry@wb-tours.com
Website: www.wb-tours.com
Facebook: WB-Tours-Travel-SB
Tel: +(60) 88-318 833
24-Hour Hotline: +(60) 16-833 1462
(Fishing Tour available)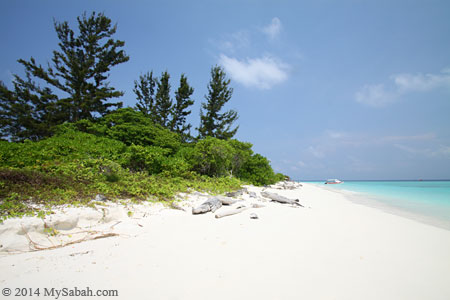 If you want access to better amenities, you may consider overnight tour with Mengalum Island Resort, which has 13 rooms and able to accommodate 60 people. A 2-day-1-night trip will cost RM900 (≈US$280) per head, which is less competitive if compared with other nearby islands such as Mantanani Island and Pulau Tiga Island. Hope this island will open new mid-range and budget lodges. It can become the next hottest island destination.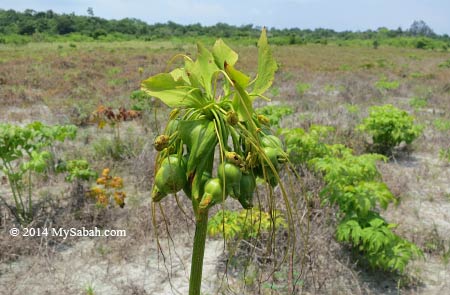 Tip: For the best experience, you should visit the island during good weather. You may check the marine forecast (see N125: Kota Kinabalu-Mengalum Waters) prior to booking.
More Photos
For more nice photos of Mengalum Island, you may browse my photo album: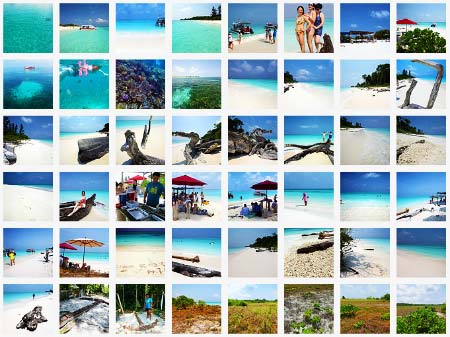 Photos taken in Kota Kinabalu, Sabah Malaysia Borneo
You might also like: