If you are from Kota Kinabalu, you should concern about this Unduk Ngadau Competition (May 12, Dewan Masyarakat Menggatal) coz it was selecting the Unduk Ngadau to represent KK City. The contestants were beauties from Inanam, Api-Api, Luyang, Telipok, Sepangar, and Menggatal. In the end of May, more than 40 Unduk Ngadau, sent by different district from all over Sabah, will compete for the best of the best in the grand final.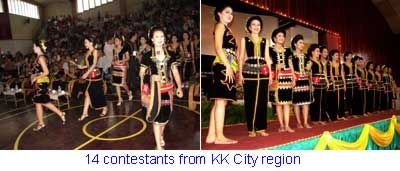 Click Here to see 100+ photos of Unduk Ngadau (KK City) >>
Usually there are 3 rounds in Unduk Ngadau:
Round 1) Introduction & Catwalk
Round 2) Knowledge Test
Round 3) Selecting finalists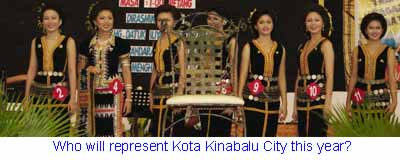 Click Here to see 100+ photos of Unduk Ngadau (KK City) >>
For knowledge test, the candidates will be tested on their knowledge on Kaamatan. Below are some of the most popular questions:
1) What is the meaning of Kaamatan?
2) What makes a good Unduk Ngadau?
3) What is the name of the paddy spirit?
4) What is the purpose of Magavau?
5) What are the jobs of Bobohizans?
6) Which ethnic group celebrates Kaamatan?
7) Name 3 traditional dances / musical instruments of KadazanDusun.
If you find that your favourite face can't make it to the top 3, very likely that they may have screwed up in the knowledge test. The judges are not blind ok.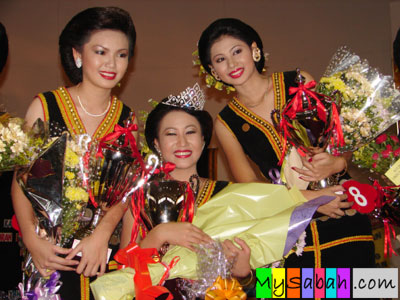 Final Result of Unduk Ngadau Competition (Kota Kinabalu City):
Unduk Ngadau 2006 (middle): Jacelyn Joyce Apun(No. 2)
1st Runner-Up (left): Kay Maryln Josune (No. 7)
2nd Runner-Up (right): Devenna Jaikob (No. '8')
The web traffic of MySabah.com has increased a lot lately. Guess some of you may be crazy downloading the pictures of Unduk Ngadau. I was so dedicated taking photos on the spot that everytime there was someone gave me his namecard and said he wanted to buy my photos. This is the 4th Unduk Ngadau photo gallery I share online, free for everyone to see, and they are more later. Lucky lor you. I have been shooting the photos of beauty pageant around Sabah for nearly a year. It is not an easy job. You can check out the FIRST beauty pageant photos taken by Smoke Head, very bad job, isn't it?
Click Here to see 100+ photos of Unduk Ngadau (KK City) >>