Our world changes so fast nowadays. We may not even remember or recognise something created 10 years old. In Sandakan, there is a Sabah temple that remains standing after 130 years. Built in 1887, Sam Sing Kung (Chinese Name: 三聖宮) Temple is the 3rd oldest Chinese temple in Sandakan. It was facing the sea in the beginning, and now it's facing and blessing the Sandakan City.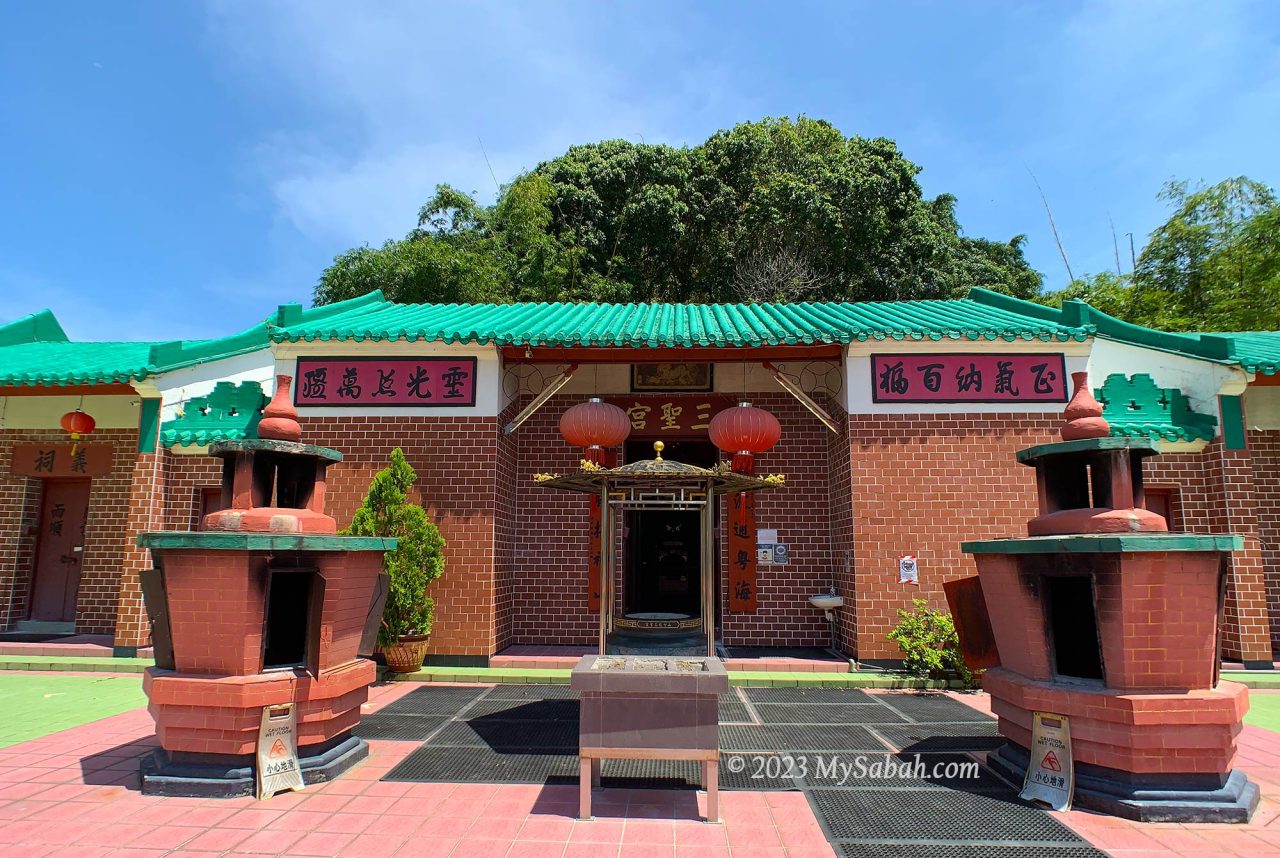 Sam Sing Kung witnesses the history of Sandakan, from the era of North Borneo (now Sabah) colony, formation of Malaysia in 1963, to a famous nature tourism destination of Borneo today. Sam Sing Kung is also one of the attractions in Sandakan Heritage Trail.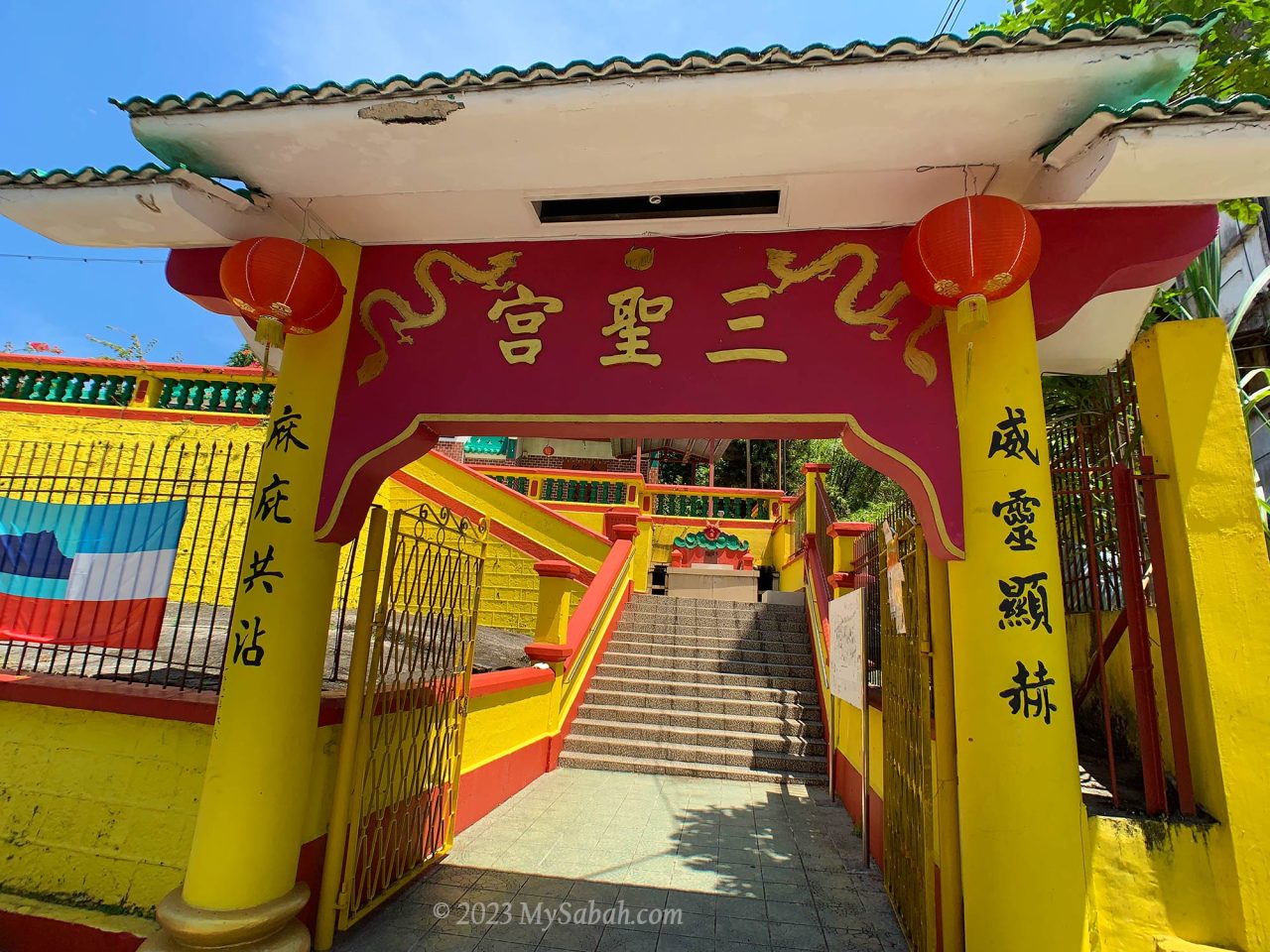 The temple was built by the four Chinese communities, namely the Hakka, Cantonese, Hainanese and Teochew, mainly from the Guangdong Province of China. In late 19th century, thousands of Chinese admitted by British rulers to work as labourers, farmers, and merchants to develop Sabah. As the old saying goes, "wherever there is Chinese, there is temple," naturally these Chinese immigrants also brought in their religions and established Sam Sing Kung as a religious centre in Sandakan, which is also known as the "Little Hong Kong" .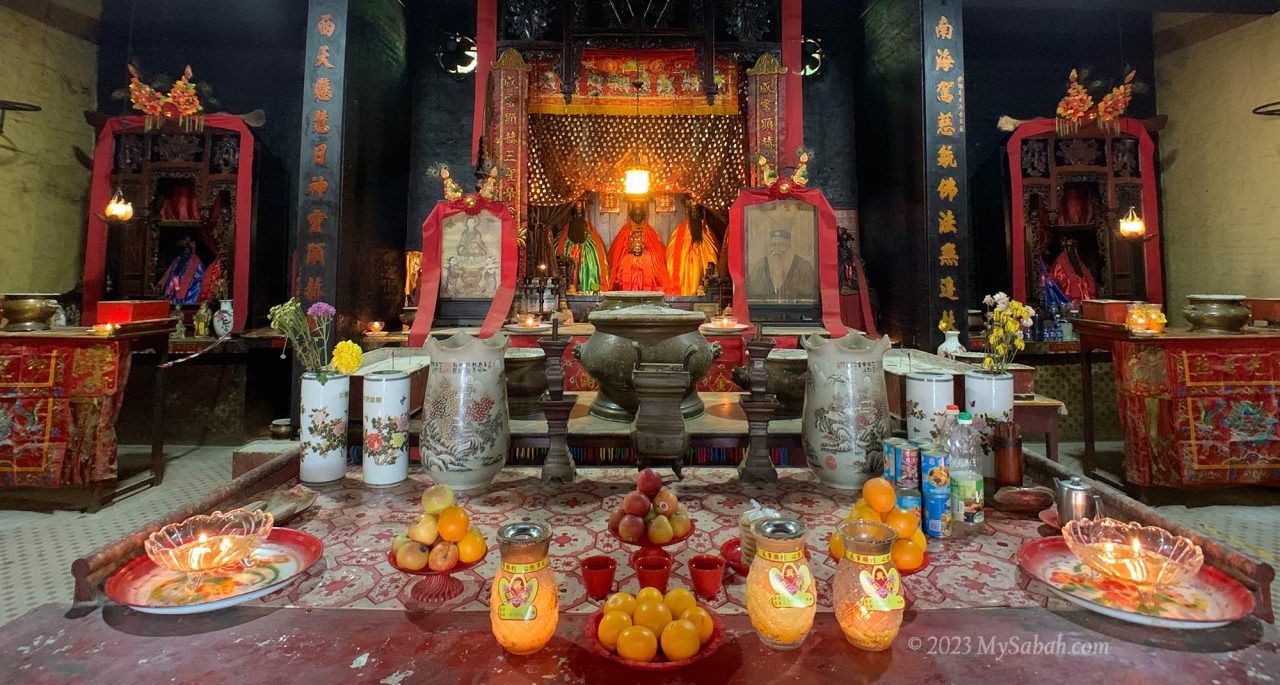 Deities in Sam Sing Kung
Literally Sam Sing Kung means the Temple of the Three Saints, who are:
Lord Guan (关圣帝君) – Saint of Righteousness, a symbol of justice and loyalty
Mazu (天后妈祖) – Worshipped by fishermen (especially Hokkiens) and seafarers for protection
Wenchang Emperor (文昌帝君) – Wanna do well in exam, or your children are addicted to gaming? Let him helps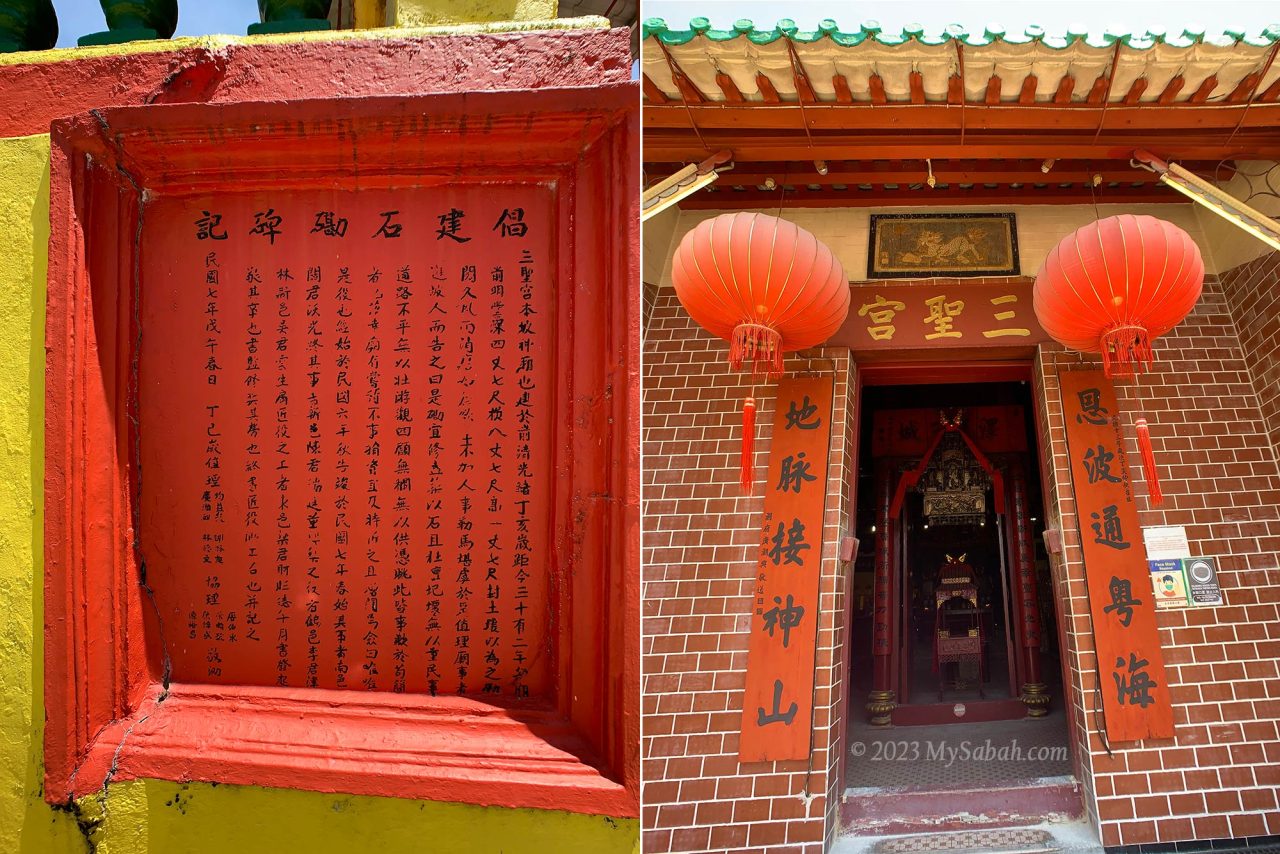 The three saints are great combination because they can answer prayers on prosperity, peace and protection, and health, which cover most wishes of their followers. There are other deities that serve more specific roles. For example, if you want to have a baby, you may ask the Gold Flower Goddess (金花娘娘 / 送子娘娘), or me.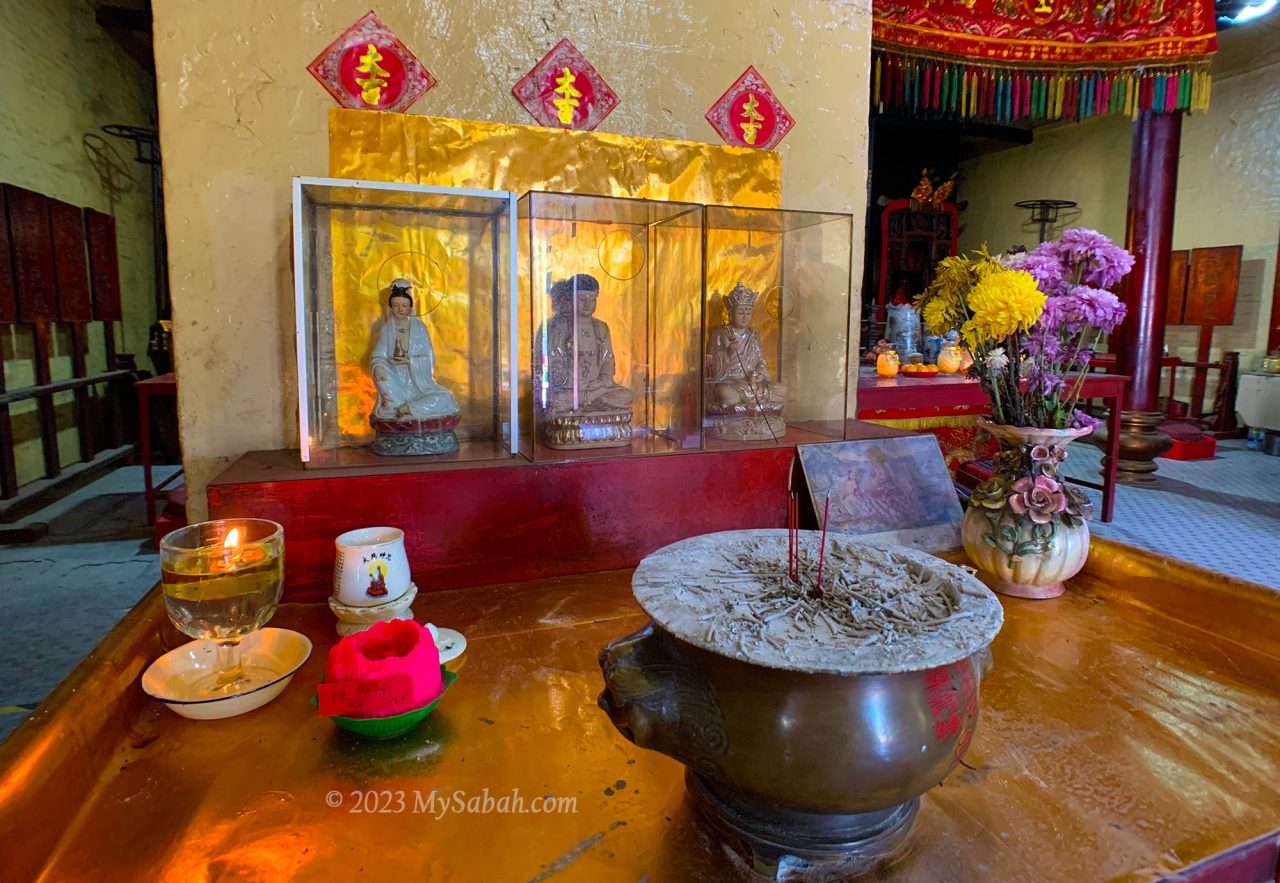 Sam Sing Kung is a Taoist temple that practices polytheism, which believes that there are multiple gods or deities, they are like the officers of heaven and underworld. About 20 deities are sitting in Sam Sing Kung, to name a few, Confucius (孔夫子), God of Earth (福德), Protector of Carpenters and Construction (鲁班先师), and City God (城隍爷). Taoism and Buddhism have been influencing each other for thousand of year in China, so you can find altars of Buddha such as Guanyin in this temple.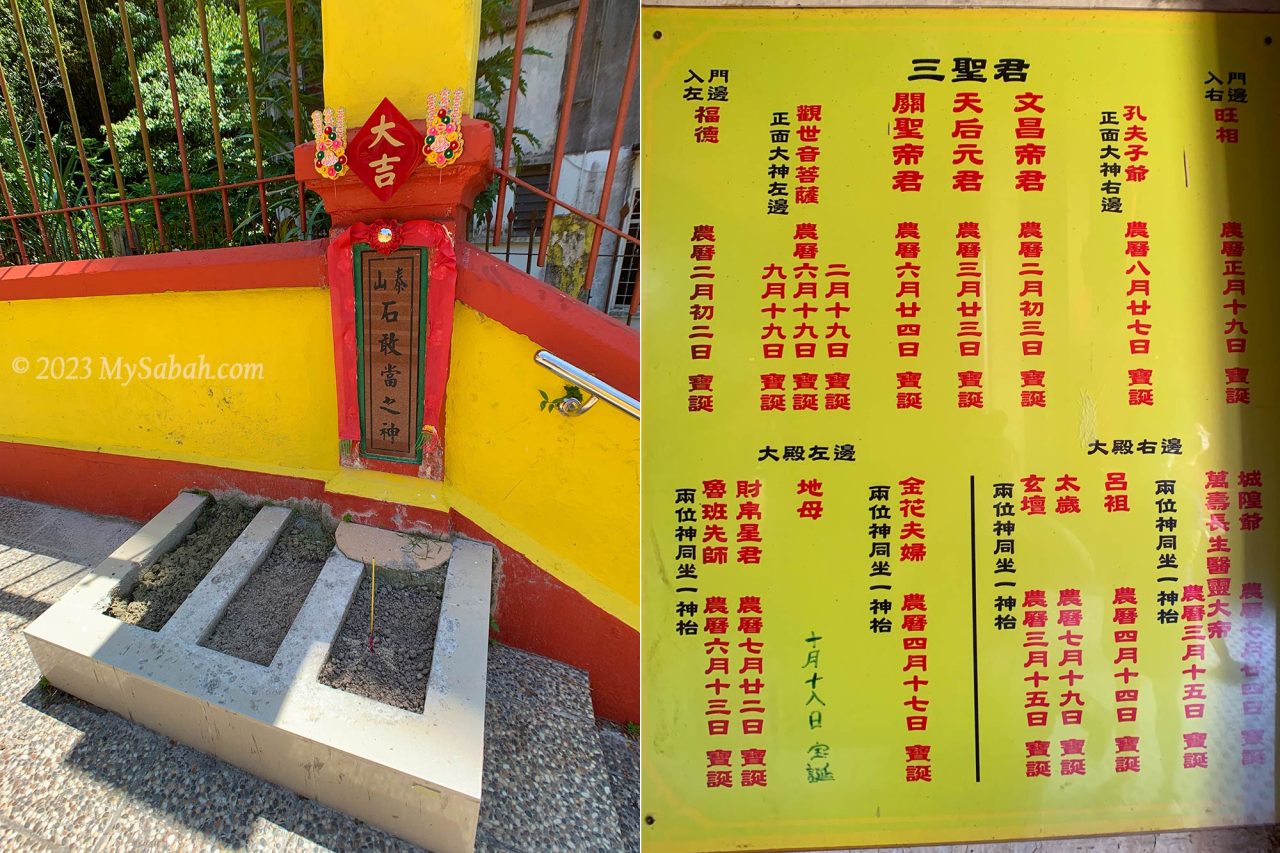 Artifacts
Sam Sing Kung is truly a temple of memories and heritages. Many items, from desk, bell, calligraphy, pillar beam, divine poems board to plaques are artifacts with historical values. Even after a century, Sam Sing Kung is still a popular temple for local devotees, who visit this temple for blessing and divination, like what their great grandparents used to do.

When you enter the main door, you would see the palanquin of Mazu, which is used in Chingay parade and is as old as the temple. Another interesting antique is a bronze chime bell donated by the first Kapitan Cina of Sandakan, Fung Ming Shan (馮銘山) about 100 years ago. Kapitan is a leader officially appointed by British rulers to look after the local Chinese community.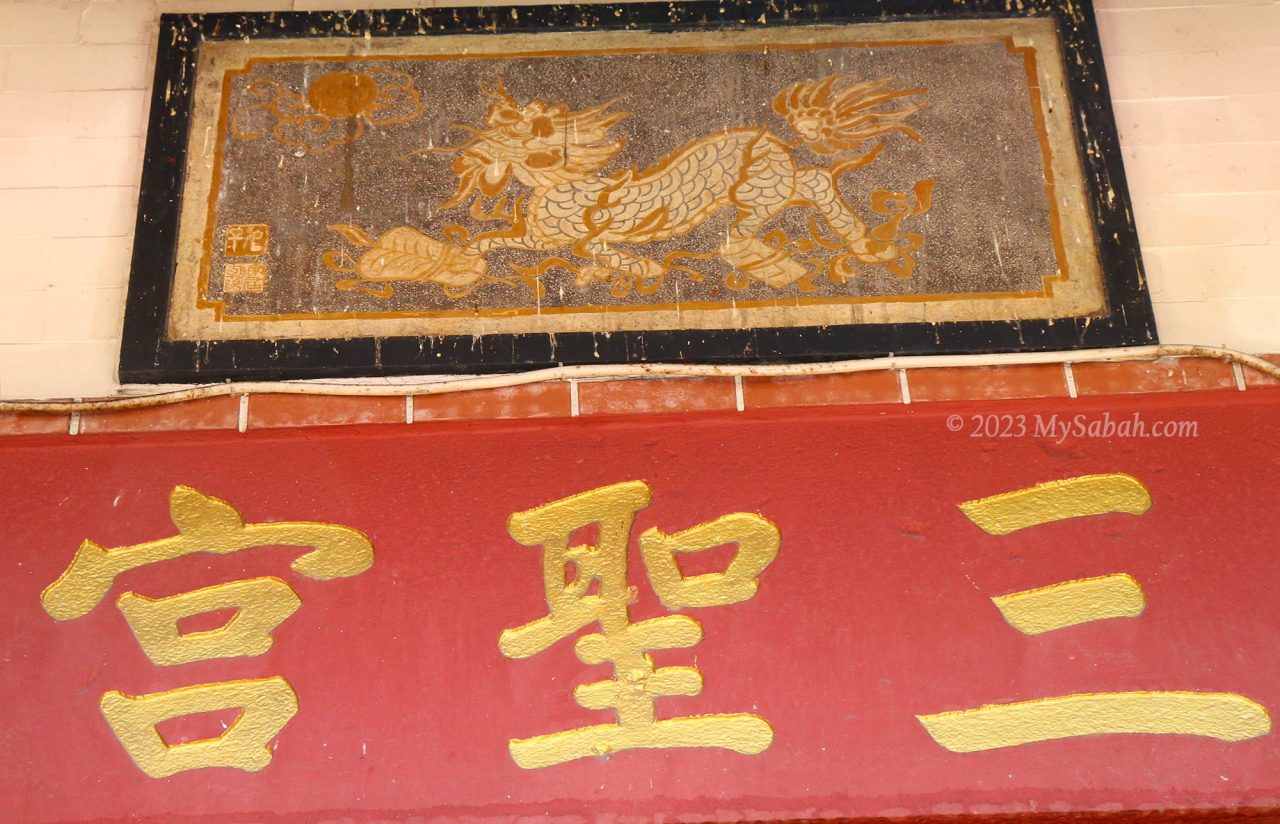 Feel free to tour around or light up some incense sticks to worship the deities (if you are a believer). The staffs there are accustomed to tourists and would share some stories with you. This temple seems like an ideal filming location of mid-twentieth century drama due to its nostalgia vibe.
How to get there
Sam Sing Kung Temple is located at the edge of the town field at Singapore Road (Jalan Singapura), in the city centre of Sandakan (see Location Map). e-Hailing service (e.g. Grab) is readily available in the city, in case you need one.
Photos taken in Sandakan, Sabah, Malaysia Borneo