Pekan Nabalu ("pekan" means town) is used to be a "toilet stop" for tourists heading to Kinabalu Park. Now this small town is flourishing and become a "must stop" for tourists.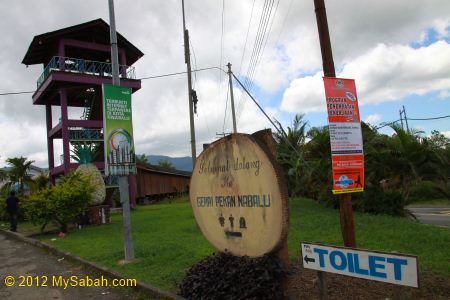 Pekan Nabalu is only 12 KM before Kinabalu Park, so a lot of tourists stop here for toilet break or breakfast. Tourist buses love to stop here due to the ample and spacious parking space in Nabalu.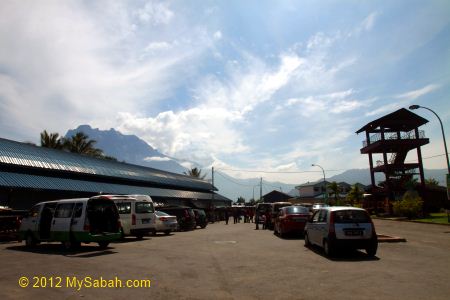 However, there are more reasons why tourists like to stop here but not other places.
Location of Nabalu: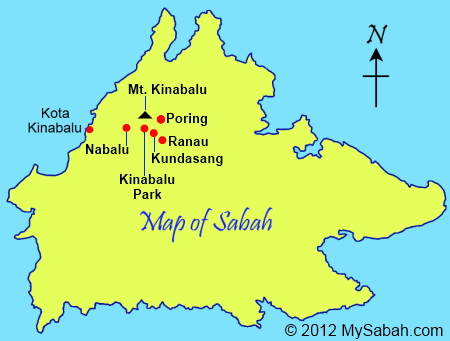 View My Sabah Map in a larger map
Reason 1: View of Mt. Kinabalu
The 15-Meter watch tower of Nabalu is so prominent at the roadside that every motorist passing by will notice it. Nabalu town is one of the best spots to see Mt. Kinabalu and its adjacent landscape. Tour Guides also like to bring climbers here for a "preview" of the mountain before the climb.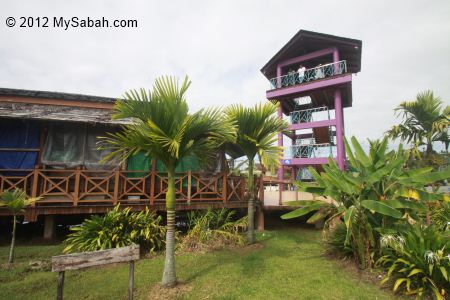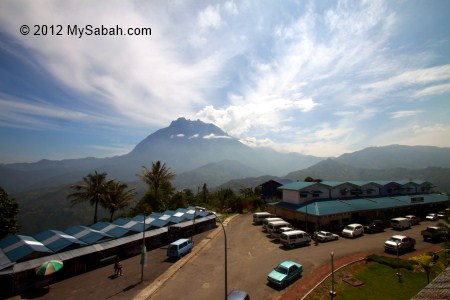 Above: the view of Mt. Kinabalu from watch tower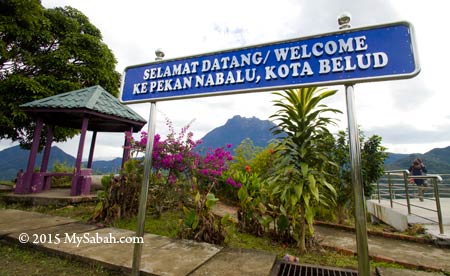 At the edge of the town there is also a platform to see Mt. Kinabalu. It's an ideal photography point to use Mt. Kinabalu as your backdrop, as there is nothing obstruct the view, no tall trees, no electricity wire, etc. The mountain also looks very close as if you can hug it.

However, Mt. Kinabalu is covered in mist most of the time, so you need to be lucky to get a clear view of it. You will have better chance if you get there before 8am or 9am and the weather is good.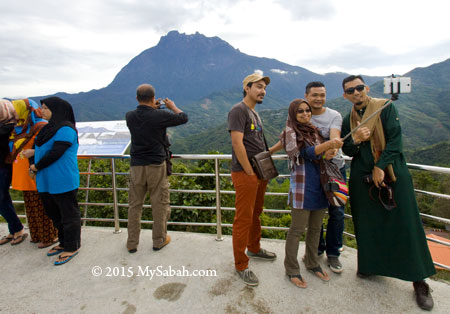 Above: group selfie with Mt. Kinabalu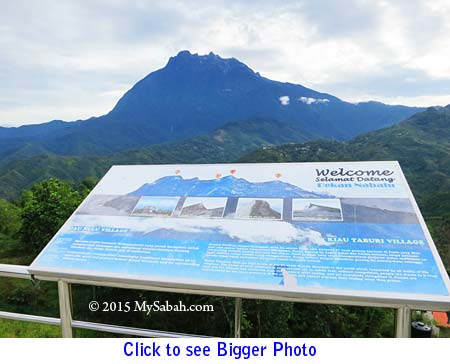 Above: The information board at the platform to show you what peaks you are looking at.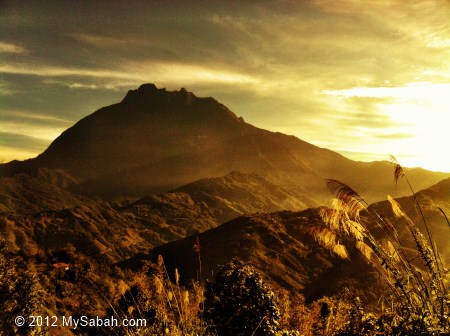 Above: a lovely morning view of Mt. Kinabalu from Nabalu
Reason 2: Local Handicraft & Food Markets
Another reason that draws the tourists is the handicraft and food markets in Nabalu. The price is cheaper than city, provided that you have good bargaining skill. Don't be shy to ask for discount.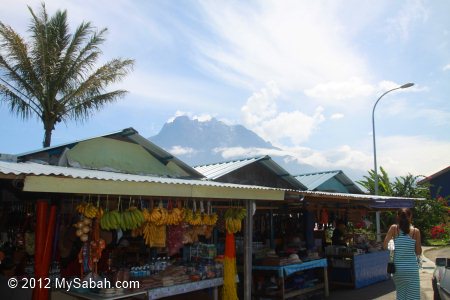 Above: a corner of the food market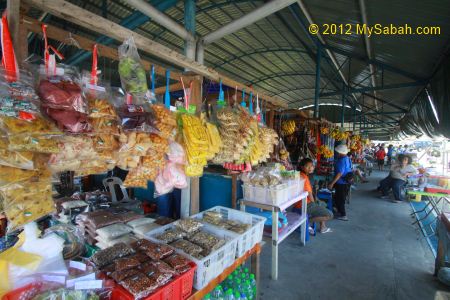 You can find rich variety of local food and produces. Almost every type of fruits, vegetables and snacks are available in the food market of Nabalu.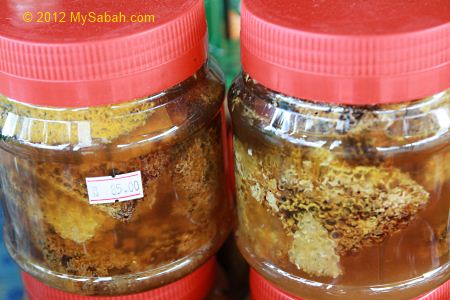 Above: honey with bee nest for RM85 (≈USD26)!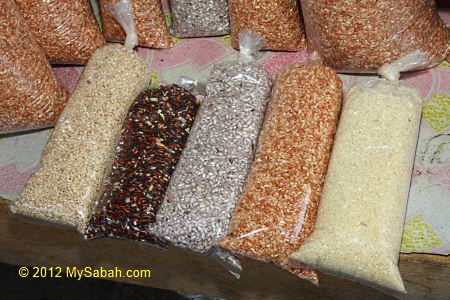 Above: hill paddy in 5 colors, RM5 per pack (≈USD1.50). The seller says the 1st one (from left) has aroma of maize, and the 3rd one is Pandan favor.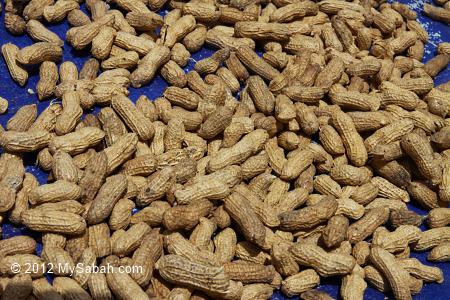 Above: local peanut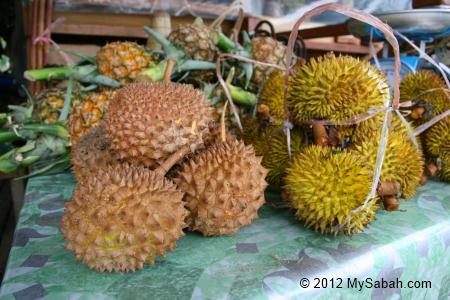 Above: they even have wild durian if you come at right season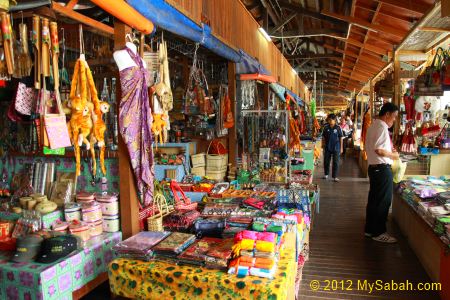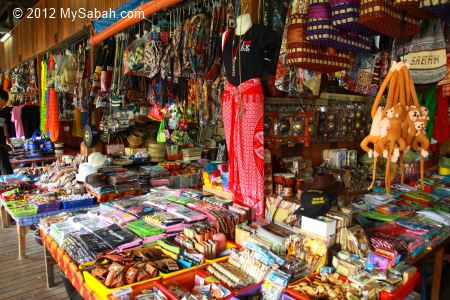 There is a building with tons of handicraft and souvenirs line up in its 50-Meter long verandah. Being bombarded by so many colorful and beautiful items, very few tourists can resist not buying anything.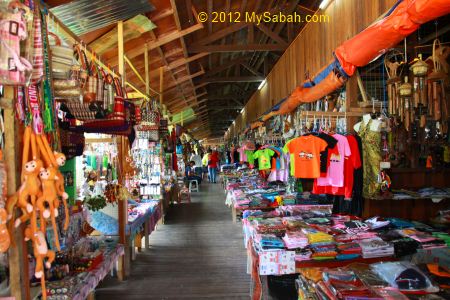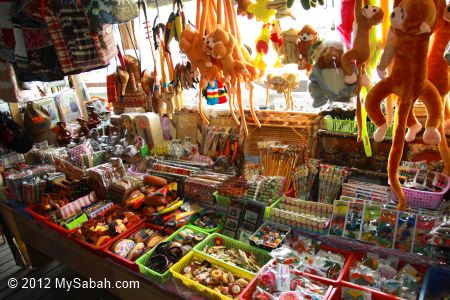 The shops sell almost any item that you can name, e.g. T-shirt, bags, stationary, key-chain, refrig magnet, puff toy, batik cloth, hats, baskets, purses, handicraft, photo frames, bead work, postcards. The things pile up like factory outlet and you will be spoiled with choices. Remember, ask for discount.
Reason 3: The Toilet
The last reason, but not the least, is the toilet. Though it's not a 5-star toilet, it's reasonably clean. The air in Nabalu is cool and refreshing, so it's nice to take a short walk and stretch your muscle, after sitting so long in the car.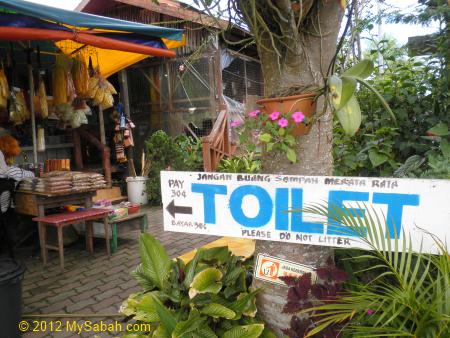 Above: public toilet, RM0.30 per entry (≈USD0.10)
Photos taken in Kota Belud, Sabah, Malaysia Borneo