This year the official State-Level launching of Pesta Kaamatan (Harvest Festival) was at Ranau on May 1, which marked the start of Harvest Festival month for KadazanDusun and Murut people. Last year the launching was at Kota Marudu. Different district has its own ways and colours of celebrating, so you won't see the same thing. But one thing for sure is that the event will turn the town into a busy and lively spot. FYI, Sabah has over 30 districts.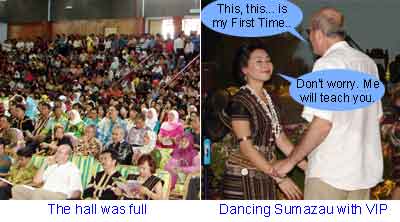 Click Here to see more photos of Pesta Kaamatan 2007 >>
Rice is the most important food for Sabah people, so the month after the harvest of paddy is the time for the thanksgiving festival. We don't plant that much paddy nowadays, but the tradition is still carrying on. We will have Mangavau ceremony to recover Bambarayon (Paddy God), wishing for another bountiful harvest next time. You would hear the touching story of "Huminodun", the name of a Goddess who sacrificed herself to save the people from starving. The Unduk Ngadau (Harvest Queen) beauty pageant is also meant to remember this greatest female in KadazanDusun legand and pass on her spirit.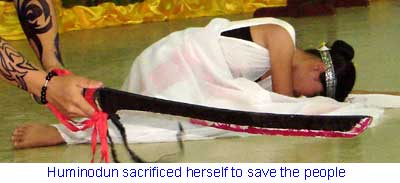 Click Here to see more photos of Pesta Kaamatan 2007 >>
Unduk Ngadau (Harvest Queen) beauty pageant will let you see the beauty of KadazanDusun ladies in their local traditional costumes. 14 contestants were competing for Ranau-district Unduk Ngadau title this year. If you look at the photos, you will find that most of them dressed in Kadazan Ranau costume, which has very unique design and pattern only found in Ranau and Kundasang districts.


Click Here to see more photos of Pesta Kaamatan 2007 >>
There were two rounds for Unduk Ngadau competition. First round is catwalk and introduction. Then 10 finalists were selected for knowledge test in second round, where they picked the winners. The girls also performed some traditional dances of indigenous people such as Sumazau, Sazau, Limbai. The VIPs would be invited to dance Sumazau with them. In case you are curious about what questions were being asked in their knowledge test, here you go:
Malaysia is a country that successfully cultivates the unity among the people of different races and religions. In your opinion, how does our country achieve this?
Ranau district is a place of interest for Malaysian and overseas tourists. In your opinion, besides having great nature such as Kinabalu Park, is there any other way to attract more tourists to visit our place?
What lesson can we learn from the legend of Huminodun that should become part of the value in our generation?
If you are chosen to be a Unduk Ngadau and given the opportunity to organise a welfare activity, what is the FIRST activity you want to do and why?
The statistics, which shows the drug abuse among the teenagers, has come to an alarming state. In your opinion, what steps should be taken to resolve this issue?
In your opinion, what are the benefits and advantages that we can gain from celebration of Harvest Festival in Sabah every year?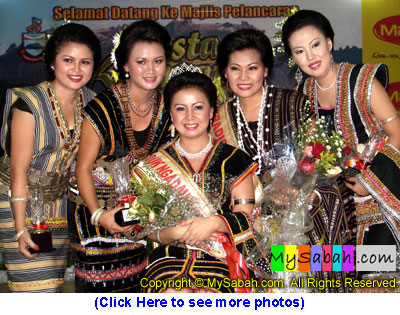 Click Here to see more photos of Pesta Kaamatan 2007 >>
Thanks to SESB. There was a 30-minute power blackout that delayed the programme. After a long wait, the Unduk Ngadau for Ranau district was finally born. Below is the result (see photo above, from left to right):
3rd Runner-Up: Sulina Musing (contestant no.6)
1st Runner-Up: Florisa Samin (contestant no.15)
Unduk Ngadau (Ranau): Magdalen John (contestant no.4)
2nd Runner-Up + Best Traditional Dress: Merry Masion (contestant no.9)
4th Runner-Up: Fiona Fey Fedelis (contestant no.7)
Related posts and photo albums:
Launching of Pesta Kaamatan 2006, Kota Marudu
Unduk Ngadau Competition 2006, Kota Marudu
Photos taken in Ranau, Sabah, Malaysia Borneo