Kinabalu Park is the BEST tourism spot of Sabah, for overseas tourists and even the locals. Over 90% of people having a vacation there do mainly 2 things: (1) Relax and enjoy the cooling fresh air, and (2) Prepare to climb Mount Kinabalu, the highest mountain in South-East Asia. To me, it is such a waste not to explore its nature trails, where you can see unique vegetation and animals in this park, something that made Kinabalu Park qualified to be a World Heritage Site. Do a search on the Net, you will find tons of good photos and write-up, saying how great it is to climb Mount Kinabalu. But there is very little information about the jungle trekking in Kinabalu Park. In fact, in my 3 days of jungle trekking (for 20 KM) in Kinabalu Park, I only saw 4 tourists on the trails. Just to let you know how unpopluar this activity is.
Below is a map that shows you the location of the nature trails in Kinabalu Park. I got a black & white copy of this map from Kinabalu Park, then I used Photoshop to create a colourful version for better illustration here. Now you know that Kinabalu Park is really big, don't you? FYI, Timpohon Gate is the entrance to the trail to Mount Kinabalu.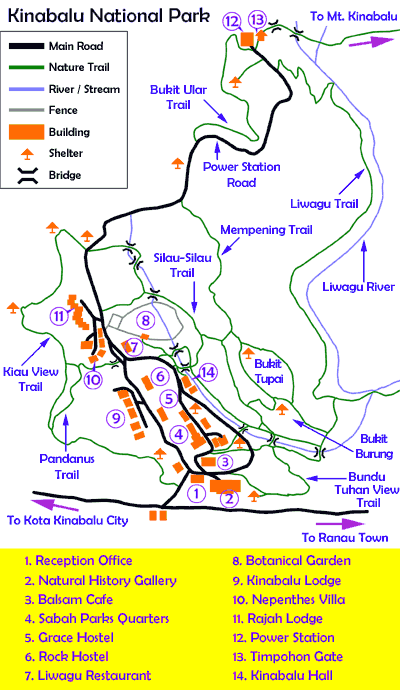 Click Here to see Bigger Map >>
The trails that I have explored were: (1) Liwagu Trail, (2) Silau-Silau Trail, (3) Bukit Tupai (Squirrel Hill) Trail, (4) Bukit Burung (Bird Hill) Trail, (5) Bukit Ular (Snake Hill) Trail, and (6) Bundu Tuhan View Trail. I haven't walked the Kiau View Trail, Pandanus Trail, and Mempening Trail. Maybe next time then.
1. Liwagu Trail (5.5 KM)
I would say this is the BEST trail. It is nearly 6 KM long (take 3-4 hours one way) and is located next to Liwagu River. Nice river view along the way and no leech (surprise!). Hundred-feet old trees are just a common scene. I saw pitcher plant, orchid, fern, birds, bug, wild fruits… and even snake. You will see thick layer of algae and moss on the trees.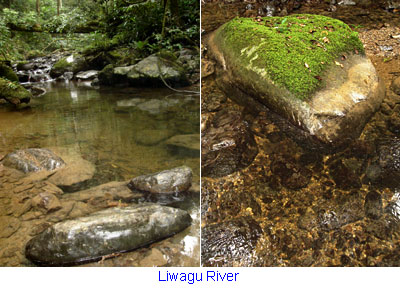 Click Here to see more photos of Kinabalu Park >>
Since Liwagu trail is just next to the river, at certain points you can even walk to river for a cool break. There are some small 1-2 inches fishes in the river. I think most of them are sucker fishes, mainly in black and brown colours. If you are lucky, you would spot bigger animals drinking water near river bank.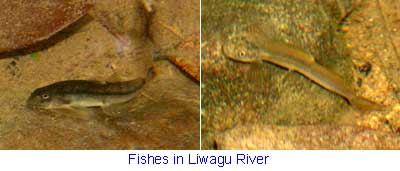 Click Here to see more photos of Kinabalu Park >>
But I made a big mistake. I started walking from my hostel (5,000 feet) to Timpohon Gate (6,000 feet), which is the ending point of Liwagu Trail. So what happened was – I ended up spending most of my time to walk on upward slope, to reach 1,000 feet higher point. Very tiring… I guess this trail is meant to be the route for climbers to walk back to the Park.
2. Silau-Silau (3 KM), Bukit Tupai (300 M) and Bukit Burung (1 KM) Trails
These 3 trails are interconnected, so I explore them in one go (take 2.5 hours). It is a bit dark coz most of trail is inside the forest. You will see lot of fungus and mushroom grow on the fallen trees. FYI, this area is the best bird watching spot for montane birds endemic to Borneo (e.g. Whitehead's Trogon). They are important in ecology system because they decompose the decay wood to "recycle" the nutrients.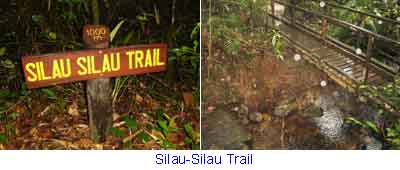 Click Here to see more photos of Kinabalu Park >>
Shortly it rained and the forest turned a bit misty. I smelled the presence of millipede (stink!) a few times, but too bad I couldn't find them. At the bottom of every big tree, you would see holes between the big roots and ground. According to their staffs, this little "chamber" will become very busy at night.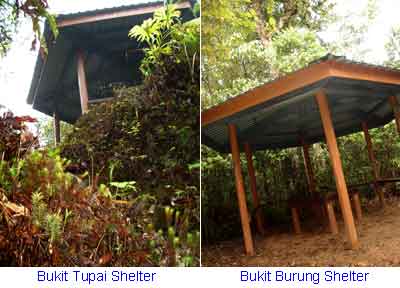 Click Here to see more photos of Kinabalu Park >>
3. Bukit Ular (Snake Hill) Trail (1 KM)
This trail starts next to the Power Station. I heard this area will have a lot of snakes at night, and this month is their session to come out "socialising". Well, too bad I didn't see any snake. But there were leeches. If you stop for a few seconds, they will crawl on your shoe. After I exit the trail, I went back to my hostel through the main road (Power Station Road), and I saw 2 Chinese graves next to the road. They have Park Rangers patrol here at night, and they say they can easily spot 7 or 8 snakes along this main road to Timpohon Gate.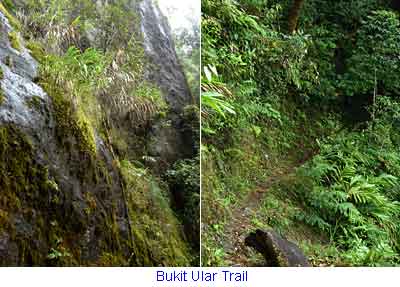 Click Here to see more photos of Kinabalu Park >>
4. Bundu Tuhan View Trail (343 M)
This is the shortest trail and takes you less than an hour to reach the shelter on top of a hill. The place is an opening view to see a village (Bundu Tuhan?) far away. Great spot for landscape photography. The bamboo orchids near the shelter attract some insects such as butterflies, beetles and dragonflies around.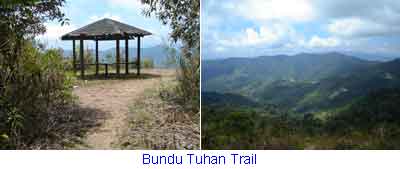 Click Here to see more photos of Kinabalu Park >>
Overall, all nature trails are well-maintained and safe to walk. If you follow the open cleared path of 1 Meter wide, it is impossible to get lost. For every 100 or 500 Metres, you would see a milestone sign. It is good to have a trail map, so you know where you are heading. Certain spots are a bit steep, so a walking stick can help a lot (Get your own or rent it from reception office for a few dollars). I am sure I will come back again to try Kiau View trails, Pandanus Trail, and Mempening Trail, hopefully having a night walk as well, to see more interesting and rare animals such as horned frog and ghost spider.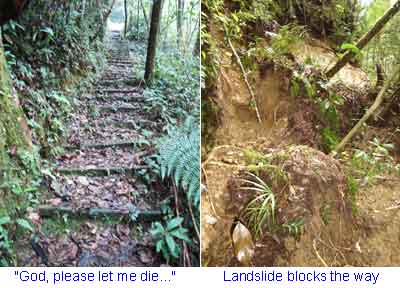 Click Here to see more photos of Kinabalu Park >>
Photos taken in Kinabalu Park, Sabah, Malaysia Borneo