What is the best way to taste corn? Popcorn? Corn Soup?… I believe you have your own favorite way to enjoy it. In Sabah, usually we boil the whole cob until it is cooked. Sometimes we like it to be grilled, which we call Jagung Bakar (Grilled Corn) and it can be found readily in the fruit & veges roadside stalls along the road near Kota Marudu and Kudat.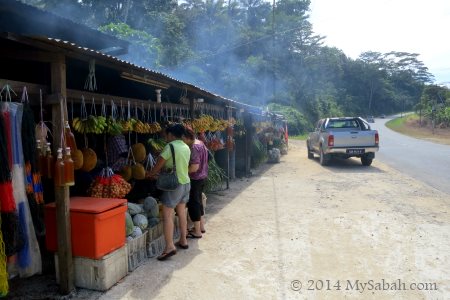 If you drive around our countryside, you would be enticed to pull over to visit the roadside stalls of villagers, especially after a long trip. The smoke always attracts people to check out the grilled corn.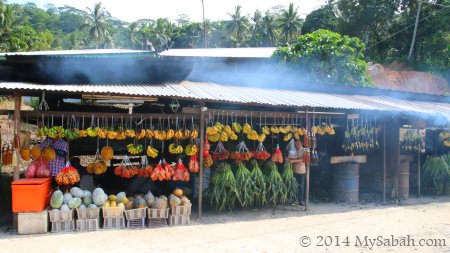 I've marked the location of this roadside stall in Google map. Anyway, there are many other stalls like this along the road to Kudat (north of Sabah).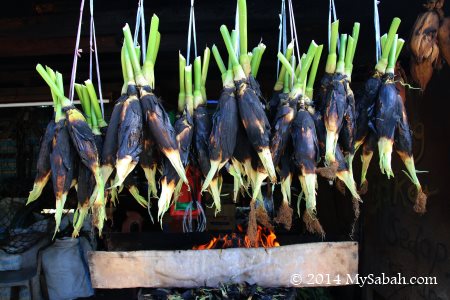 Pic: the hanging Jagung Bakar. At first look, it is hard to associate burnt stuff with the word "delicious". People who had tried this will drool.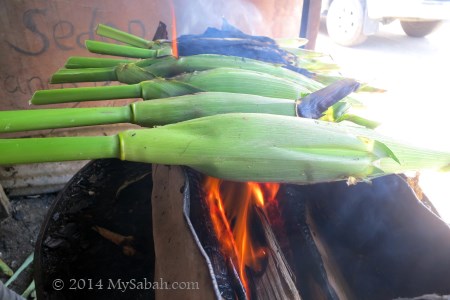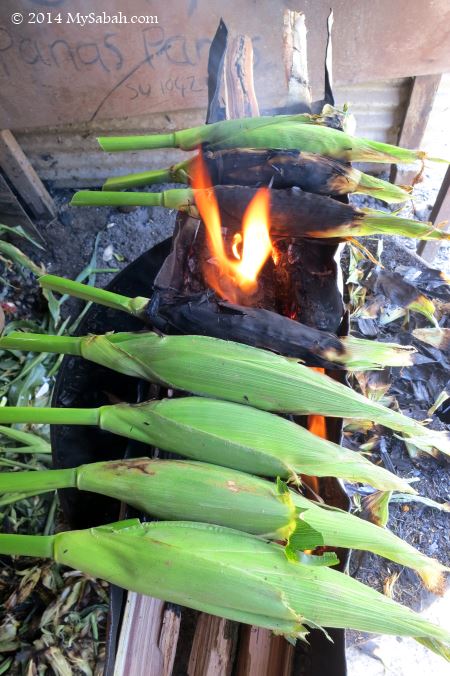 Pic: Grilled Corn in the making..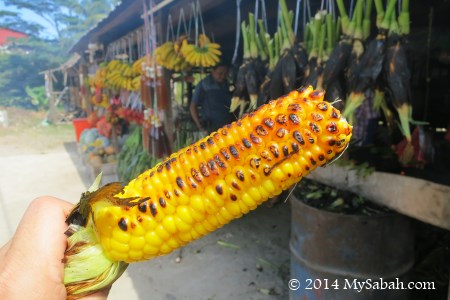 It is only RM5 (≈USD1.50) for 4 grilled corn. The corn is quite big with fat kernels. They say this corn species is from Taiwan and widely planted locally.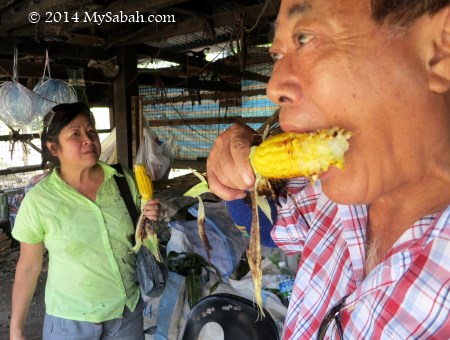 The corn was barbecued, so I thought it would taste hard and dry. Surprisingly, the kernel is soft, sweet and juicy, with nice aroma of charcoal. Be careful if you want your kids to try the corn, it can be quite hot. If any soot gets on your cloth, just blow it away. Don't try to pick it, because this would break it and leave a black stain.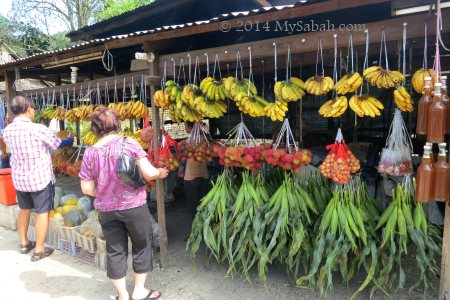 Locals, as well as tourists, love to buy these fresh fruits and vegetables straight from the farm and orchard of villages. The price of farm produces would double if they are sold in city (and not really fresh). The best thing is you can bargain with the farmers, something we can't do in supermarket.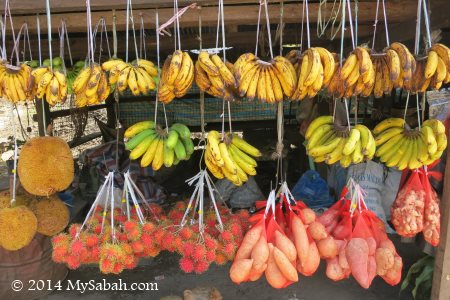 Even if I'm not a buyer, browsing the colorful produces is fun.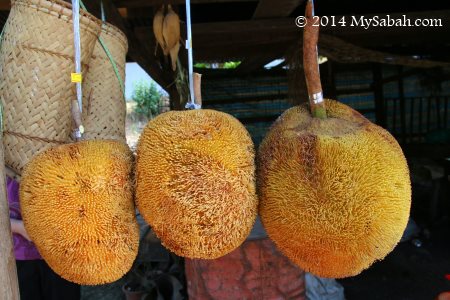 Pic: foreigner may not familiar with the fruit above. It is tarap, only available in certain months. It's a must try.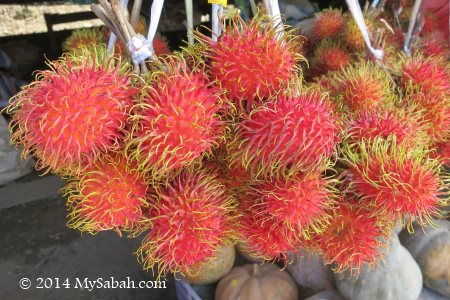 Pic: rambutan fruit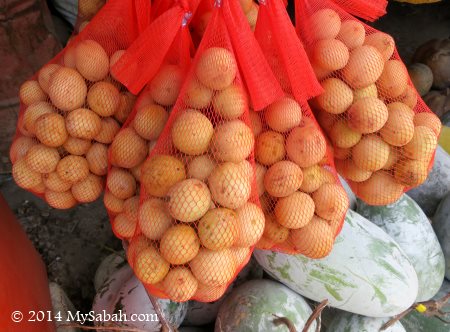 Pic: langsat, another locals' favorite fruit.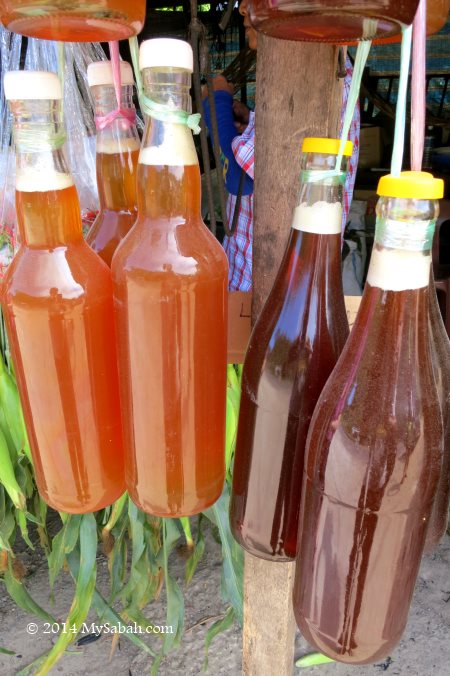 Pic: honey for sale. Many farmers in Kudat and Kota Marudu also have bee farm, so this is commonly sold around this area. Some West Malaysians buy many bottles of this and they say our honey has medicinal property that is good for health.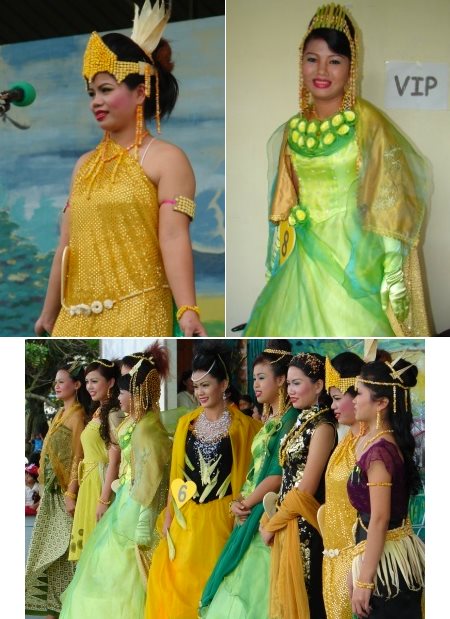 Corn is such an important crop in northern Sabah that the district government organizes Maize Festival in Kota Marudu annually. The highlight of the festival is Maize Fashion Queen beauty pageant, and you will see those creative girls trying to make their dress as resemble as corn by wearing accessories made of corn leaf, husk, kernel and silk.
Photos taken in Kota Marudu, Sabah, Malaysia Borneo