Yeah! Chinese New Year is only 2 days away and it'll be the Year of Goat. Adults are probably not so excited about giving Ang Pow$ (red packet), but they will love lion dance. Some rich companies can afford to hire 20 lions to bless their business, but you can also watch lion dance by 100 lions for FREE.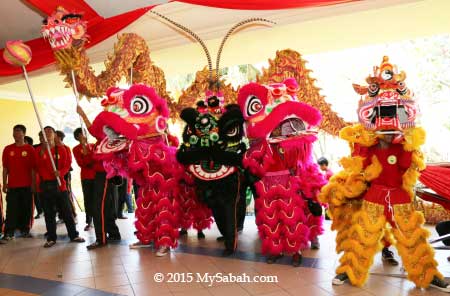 Yup, you can enjoy such grand show in Dragon, Unicorn and Lion Dance Festival, which is an annual 1-day event usually held in weekend before Chinese New Year. This festival has been around since 1976, and they always have something new to show off every year.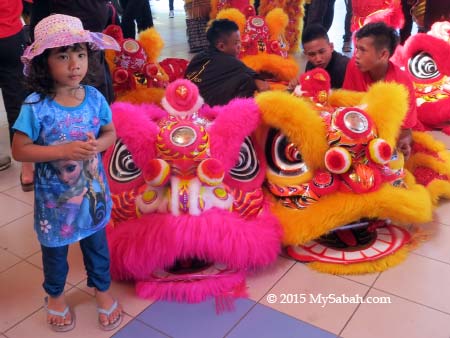 Even non-Chinese Malaysians love lion dance show. It was used to be held in Merdeka Field (open space) but the event has moved to Likas Sport Complex (of Kota Kinabalu City), an indoor hall that is least affected by bad weather.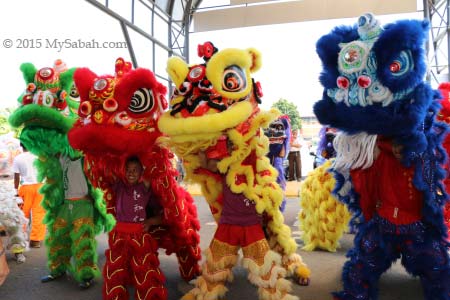 I went to the festival on last Saturday (7 Feb 2015). Around noon, the lion groups started to arrive one by one, and I was really busy taking photos. You can see my photos in Flickr album.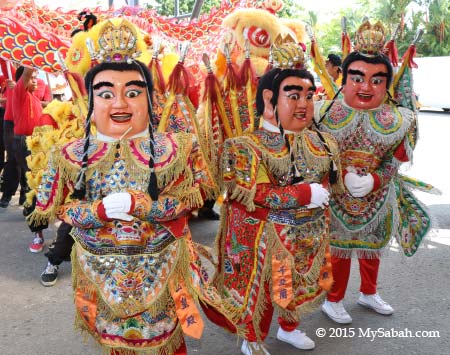 Pic: Techno Three Princes is the modern folkart of Taiwan and it's gaining popularity in Sabah. In Chinese belief, they are the god that protects human from danger, plague and evil.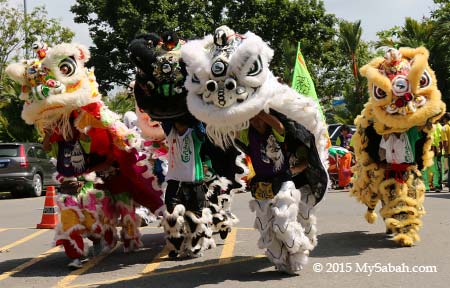 Red and gold are common colors of lions, which represent auspicious and prosperity in Chinese tradition, but they can be in many other colors too.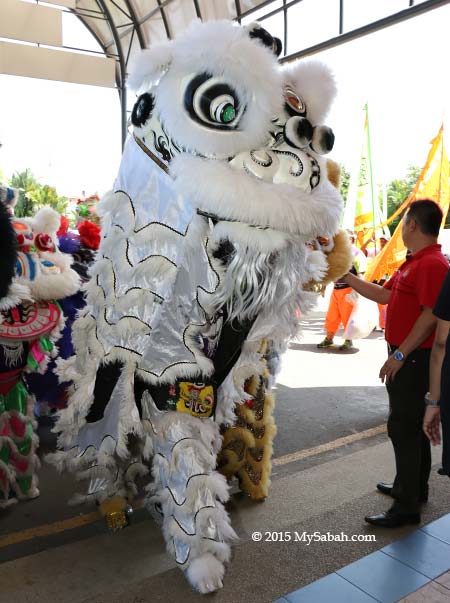 Pic: I really like this white lion, it looks so smart and beautiful. If I'm not mistaken, white lion represents Ma Chao (马超), who likes to wear white & silver armor and riding on a white horse in war, and he is one of the most famous military generals in Three Kingdoms. Lion in pure white and black is used for paying tribute to the deceased in funeral.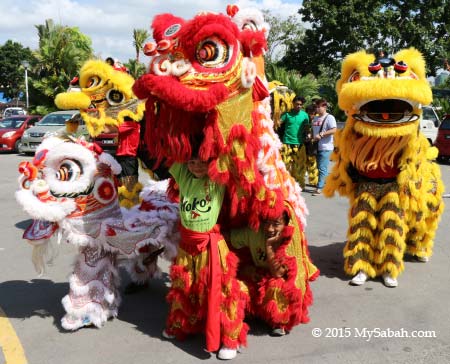 Pic: big and small lions. I could see pride on the faces of children who played lion dance. It's better than playing iPad, isn't it? I see hope in preserving our culture.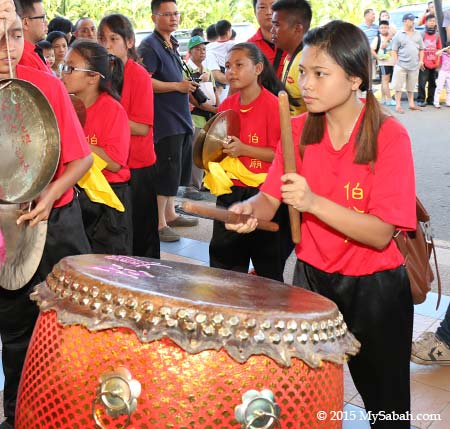 Even girls can be part of lion team.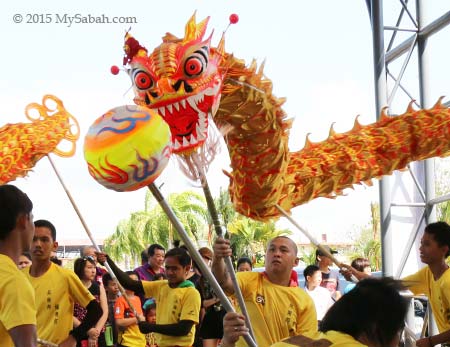 Not only lions, dragon and Qi-ling also take part in this festival.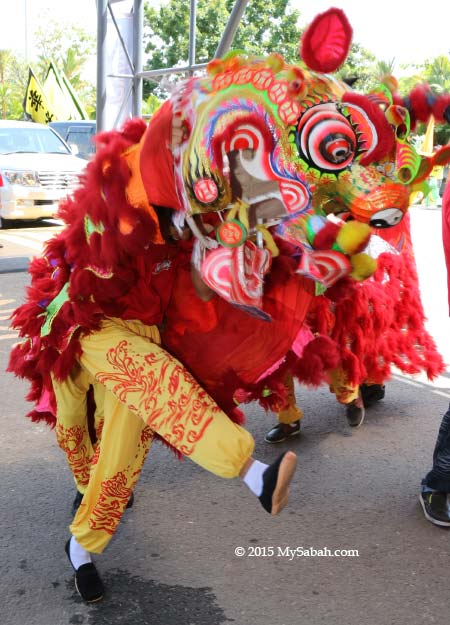 Pic: hyperactive Qi-Ling that dances like Energizer bunny.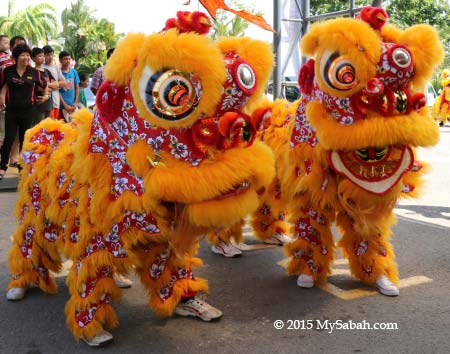 Pic: Batik lions. Note the hibiscus flowers painted on the cloth.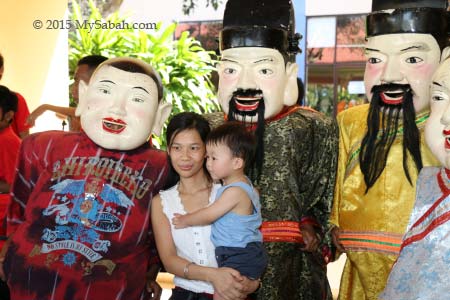 Pic: the big head Buddha at the left looks funky.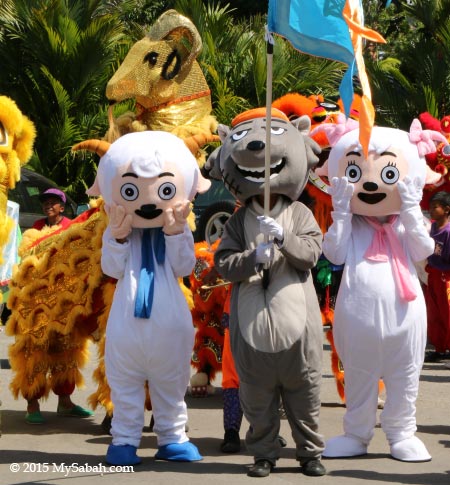 Because goat is the zodiac of the coming new year, so they include the popular cartoon characters (Happy Sheeps and Big Grey Wolf) of China. Note the sheep head lion at the back. I wonder if they will have boar head lion in future.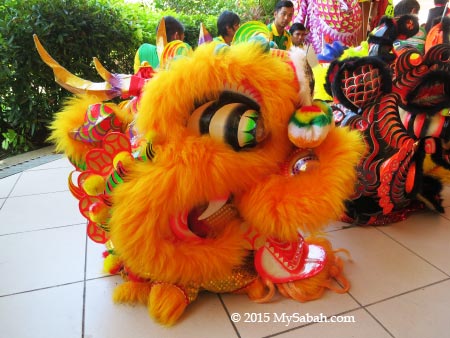 Pic: baby dragon?
The Show
The lion dance and cultural show started around 3pm after all the VIPs were done with their speech and launching. The show ended around 8pm. If lion dance is your favorite, it's like a buffet for your eyes and ears.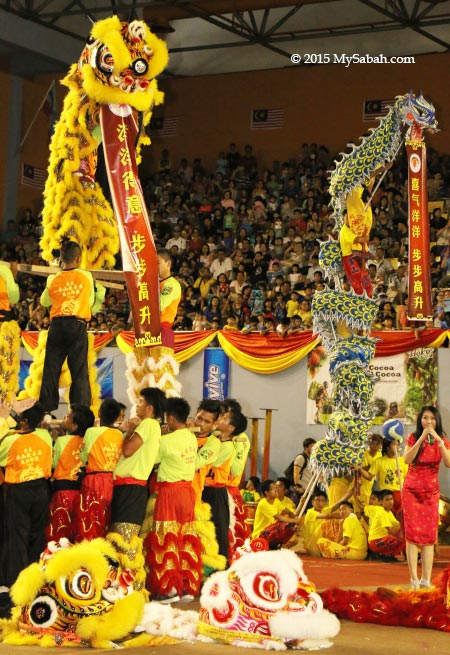 Pic: Lions and dragon climbed high to display scrolls with auspicious words.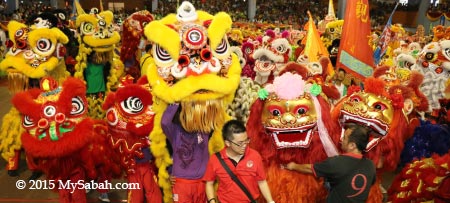 Pic: blessing by hundred of lions. Epic!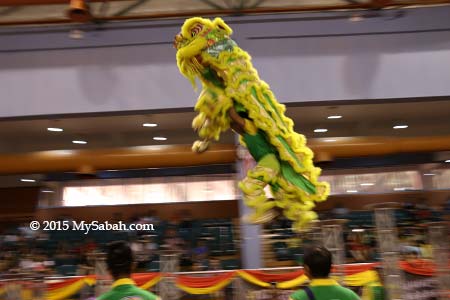 Pic: fly lion, fly!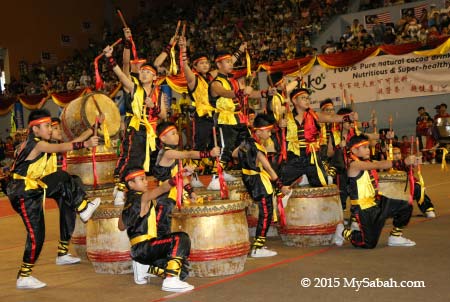 The first cultural show was 24 Festive Drums (二十四节令鼓), a performance listed as the cultural heritage of Malaysia. A group of drummers beat on 24 drums, which symbolize 24 meteorological events in farming calendar of Chinese. They use different formation and rhythm to show the harmony between sky, earth and people.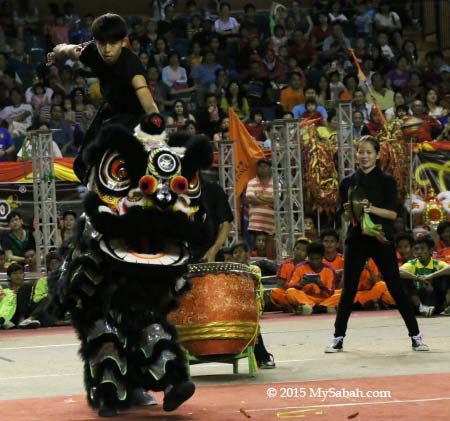 Pic: riding on a lion, what a cool way of making an entrance.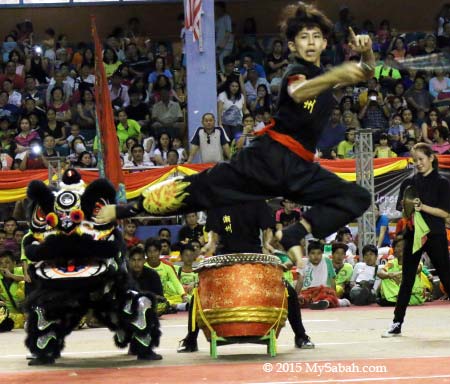 Pic: Nunchakus performance by Lee TianJiang from Teochew group. This guy is really good. You can contact him at (Mobile Phone & WhatsApp) +60 11-14138897 or WeChat (ID: leetianjiang) to arrange for a performance.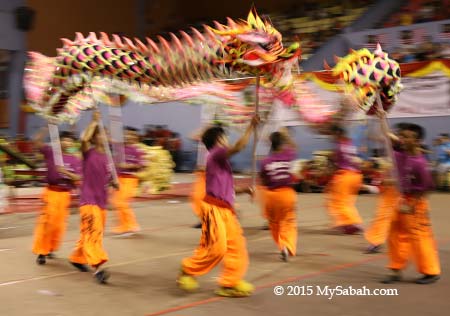 Pic: dragon chasing the big lollipop
Dragon has the highest rank among sacred animals, and also the most important because it can summon rain for the farmers.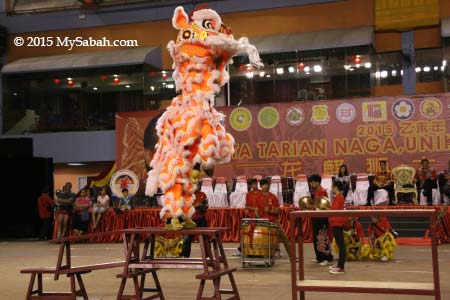 Pic: pick green on the benches. It's no easier than lion dance on stilts, as the lion has to balance itself on not so stable platform. You don't need a big courtyard to invite lion to do pick green at your house.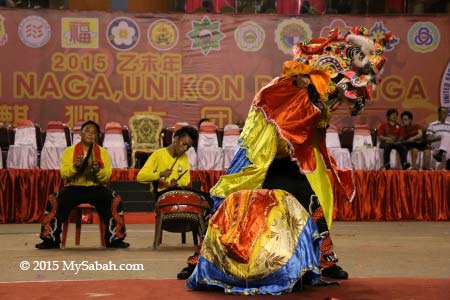 Qi-Ling looks aggressive, but in Chinese mythology, Qi-Ling is the most gentle sacred animal and an icon of benevolence, because it never hurt human, not even plant.
My favorite show is the electrifying Lion lit-up by changing colorful LED light, as if its body is flowing with magical power. It danced and leaped on the stilts in the dark, very captivating show. Below is the video:
The following are two videos of Lion Dance on Stilts that day:
Chinese Cultural Village
The Cultural Village exhibition is something new in lion dance festival this year, too bad it's only for one day. There were over 10 Chinese associations in Sabah participated, among them are Hakka (客家), Hokkien (福建), Teochew (潮州), Hainan (海南), Fuzhou (福州), Kwong Siew (广肇), Tai Poo (大埔), Eng Choon (永春), Sze Yip (四邑), Hin Ann (兴安), Northern Chinese (华北), San Chiang (三江), Nam Ann (南安), Lung Yen (龙岩), Anxi (安溪), etc. Each group has a population of several hundreds to many thousands in Sabah.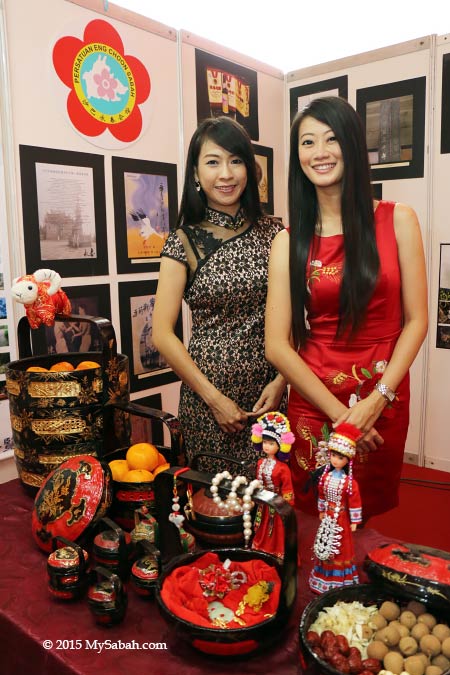 Pic: History is boring, but suddenly I was interested in history that day.
During 19th and 20th century, a lot of Chinese migrated to Sabah (then North Borneo) due to natural disasters or civil wars in China, or attracted by the incentive offered by British government. My late grandfather was one of them. When he arrived Borneo, he was shocked to find that Borneo was so backward. Many Chinese were farmers and labors who developed our forest and swamp into farm and towns. However, our blood, tears and sweats are documented no more than the Chinese gangland and communism in textbook of Malaysia history.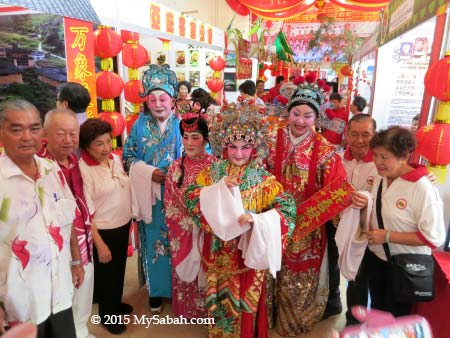 I visited the booth of each Chinese group, and their friendly exhibitors were happy to share the untold stories of their ancestors in Sabah, like their roots, why they came to Sabah and what they did here. I have to confess that there are so many things that I don't know. In fact, many local Chinese don't even know the hometown of their forefather. If overseas Chinese visits China and Taiwan, the people there will ask this question. They will laugh at you if you say you don't know. When they realize that you are not joking, they will think, "OMG, this Chinese really forgets his root."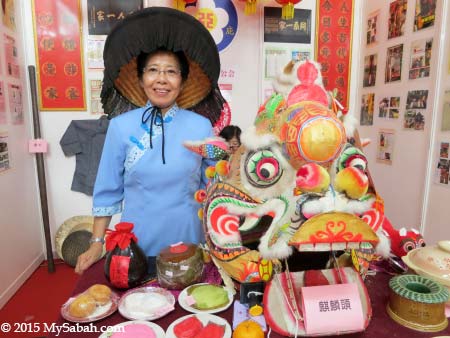 Pic: The Hakka booth. My late grandmother also wore that summer hat (called 凉帽 in Chinese) in old day. Hakka is the biggest Chinese group in Sabah, and they are frugal, pragmatic and traditional good farmers. Most Sabah Chinese have their roots in Guangdong and Fujian Provinces of China.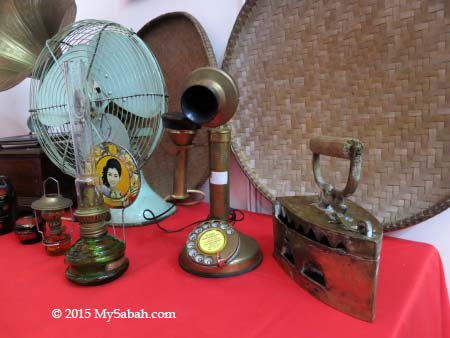 Each Chinese group has its distinct culture, dialect and history. Many booths displayed the antiques and items used by their past generations.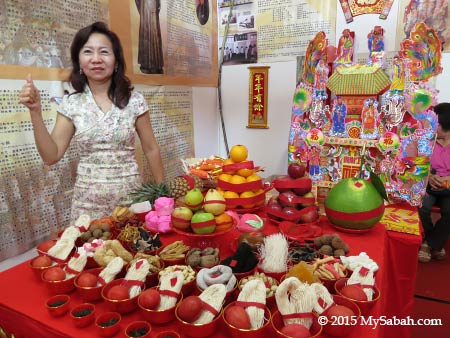 Pic: Hokkien booth
It's kind of fun to learn that not all Chinese are the same, each group has its own unique food, cultural practices and belief. However, these identities are fading over time.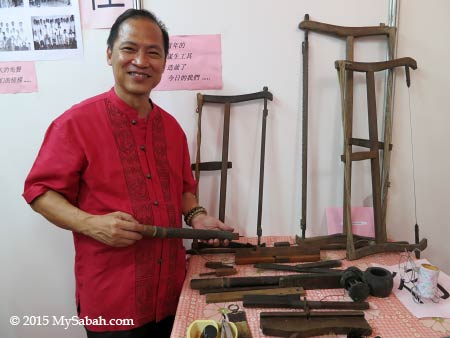 Pic: carpenter tools, some are still being used today in less developed countries because they need no electricity to operate.
Besides labor support and lion dance, Chinese also brought in new skills and tools in agriculture, medicines, architect, etc., and the most important of all, Education. To Chinese, the Biggest Secret to Success is Education. Fortunately, Sabah government is more open and supportive in Chinese education and many non-Chinese Sabahans also send their children to Chinese schools. Let's hope Sabah will be no longer the poorest state of Malaysia.
Gong Xi Fa Cai!
More Photos
You can view bigger and better photos of Lion Dance Festival in my photo album. Enjoy!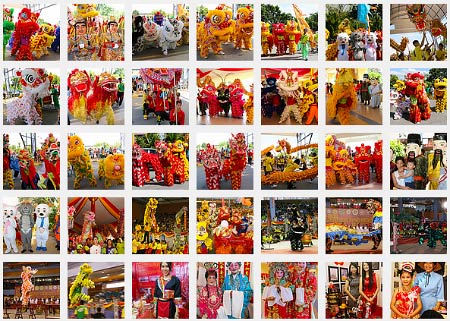 Photos taken in Kota Kinabalu, Sabah, Malaysia Borneo