What makes the ministers laugh so happily?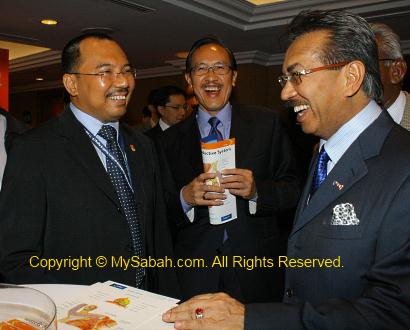 Coz a big revolution is taking place.. Now men can conquer the world, no matter how old they are.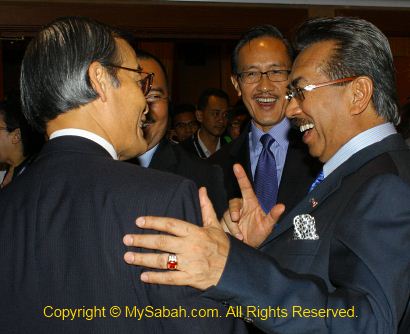 Is it about 1Malaysia?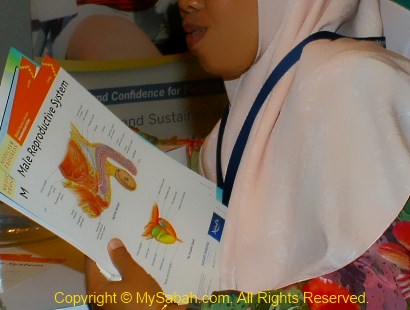 The public was also busy collecting goodies, with fishy smile on their faces. The revolution is about the happiness of women too.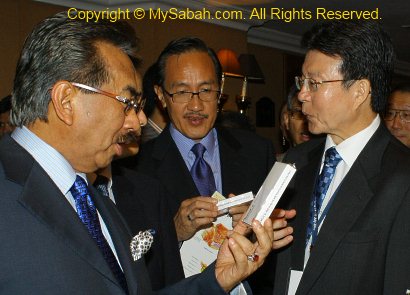 Even the VVIPs are also in serious thought of buying it?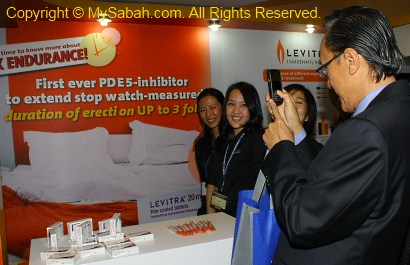 They even photographed it.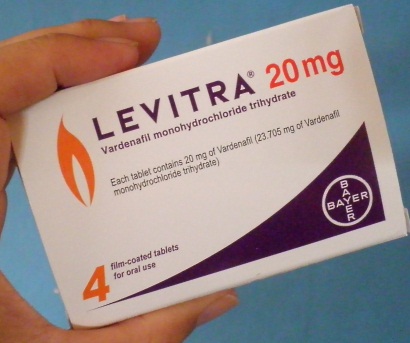 Out of curiosity, I also asked for a free sample. I was so excited and wanted to try it out right away, but disappointed to find that it's only a post-it-note inside. (It is illegal to distribute the real sample without doctor's advice)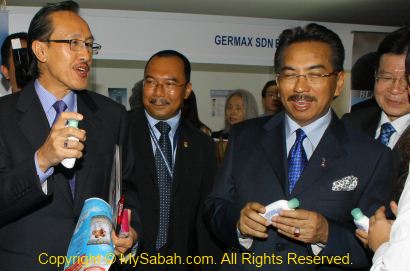 The guests are also very happy to get a free bottle of Johnson baby oil. May be it has other use… XD
Still clueless about what it is? Probably the following photos of exhibition booth will enlighten you.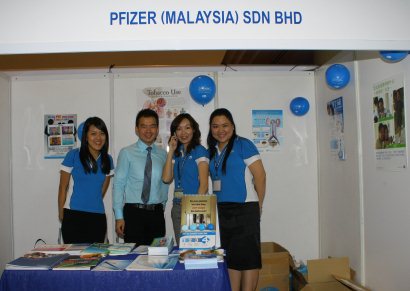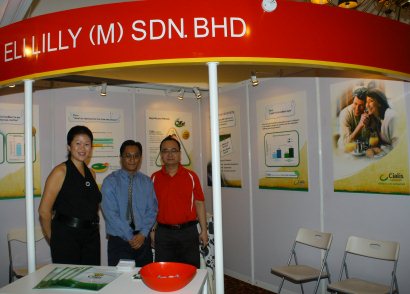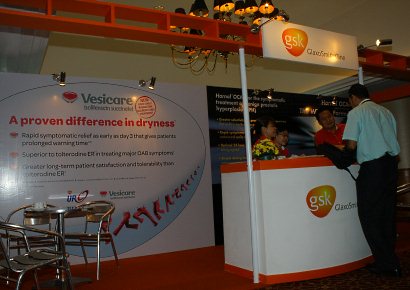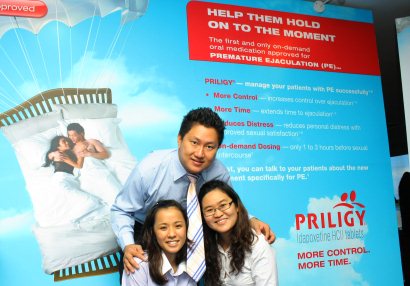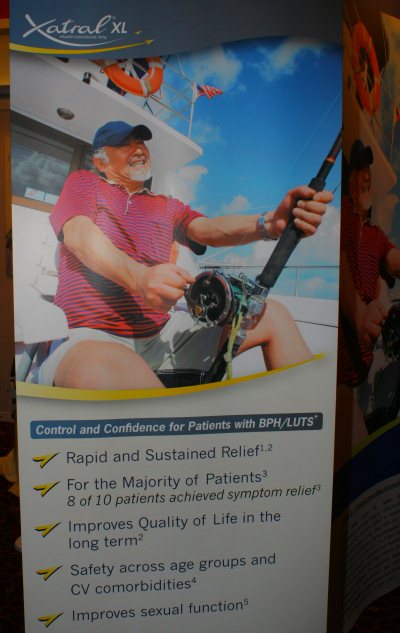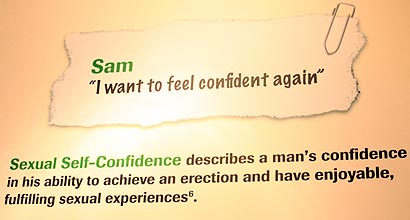 If you still don't know what it is, you are Sooo… innocent then. You can be one of those who think that kissing can cause women pregnant.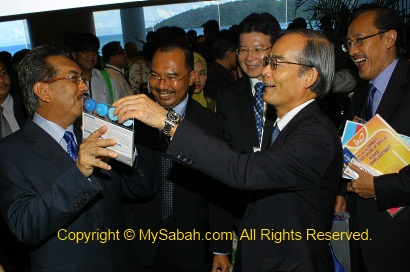 Then I heard the guests laughed so loud again. Seem like they were having fun squeezing a toy looked like stress ball.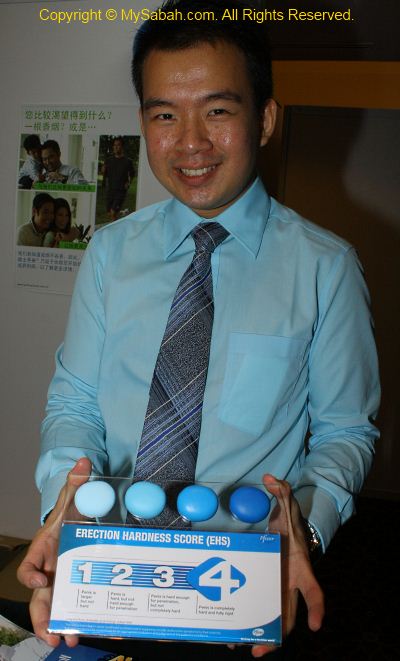 Of course I wanted to play it too. The exhibitor was more than happy to let me squeezing his balls.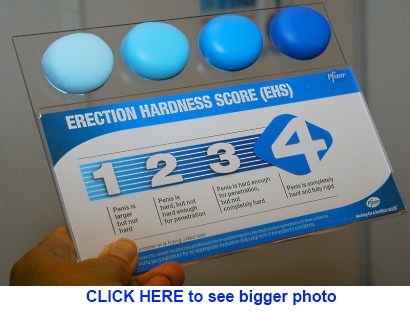 Actually it is a test for the hardness of your erection (not your balls). Grade 1 being the weakest and 4 being the hardest. Grade 3 is about as hard as a banana. Grade no. 4, WOW, so rock hard that your joystick can poke a hole on almost anything.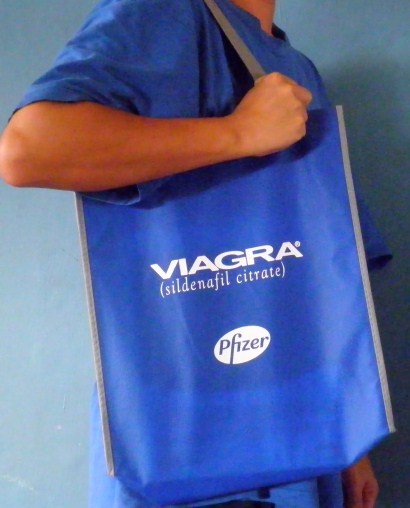 Probably impressed by my hardness, the exhibitor gave me a nice bag. But don't know why, everyone smiles at me when I carry this bag around.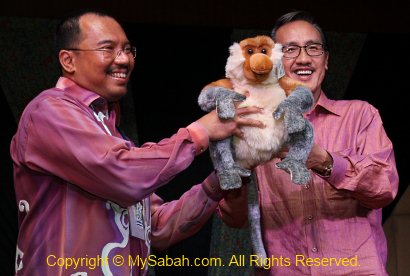 Above: do you know proboscis monkey is the playboy of Borneo? The male is always in "ready" mode and have many wives.
Ok lah, the photos were taken during the Men's Health & Aging Conference held in July 2010 in Kota Kinabalu. Sex is as important as food, and female today also enjoys sex as much as the male. If no long-lasting sex, there will be no long-lasting love then. If you have been reading the news, you would be surprised that Malaysians are so horny and even ranked high in world level. For example, Malaysians have 20+ sex partners in average, throughout their lives (but another research says 1 out of every 10 married couples in Malaysia has "sexless" life, which means they XXX less than 10 times a year). In a survey, toilet is the favourite place for Malaysians to have sex (Malaysians love "dirty" sex? How true is this?)?!!
Anyway, to me, most Malaysians are hypocrites. They are very conservative when talk about sex, but very "open" in action. A scientific research says that normal men think about sex every 21 seconds. I only think about sex every 30 seconds, I'm so worry that I'm not normal, haha.. IMHO, sex was also the main driving force for popularity of the Internet. People can disregard tons of knowledge shared online, but they can't ignore the unrestricted access to thousands of porn sites. According to a research, Malaysians hardly read a book every year. So you think they really care about the knowledge on the Net? I bet "sex" is the first word they key into the search box. Am I right?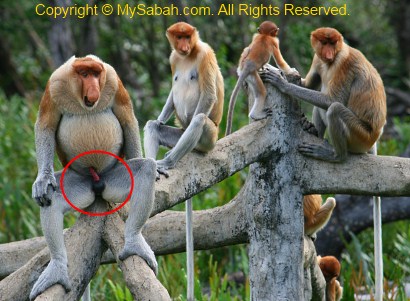 When men get older, various health problems would surface. However, most males don't seem to bother about high Cholesterol, high blood pressure, cancer, diabetes, heart attack, etc. They only scare to death when they find that they are becoming bald or impotent (Erectile Dysfunction). So the old uncles exercise regularly to boost their sex hormones. In pub, they drink wine and hard liquor (not beer, as it works the opposite) to improve blood circulation for erection. Fortunately, men of 21st century are lucky as we have invented Viagra and Cialis to improve hardness and and duration of erection. The bad news is – such pill costs about RM50 each! No wonder my blog always bombarded by thousands of those fucking spam on imitation pills. I support Malaysian products so I'll buy Tongkat Ali instead, hehe.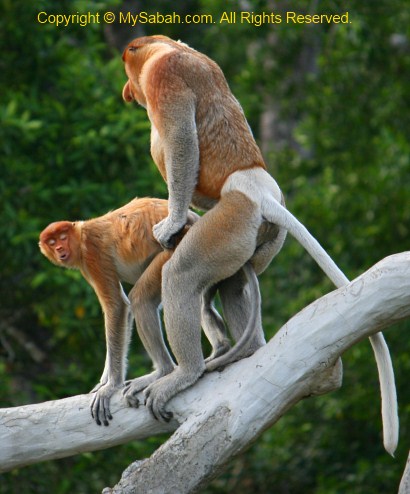 In the past, adults needed to have "license" (married) to have sex. Nowadays, even primary school students can do something that shock the adult. Kiss-kiss was a "big" thing in my old school day, but now it sounds more like a kindergarten stuff to teenagers today. My classmates got whipped by headmaster coz a condom was found in his school bag. Due to increasing baby dumping, if his case happens today, I guess the educators and parents will reward him for using condom. 😛
The funny thing is, though virginity is fast becoming a thing of dinosaur era, one of the hot topics that many youngsters never tired of debating on the forum is whether virginity is important. Another funny thing is, females guard their virginity like million-dollar treasure. Once they lose it, they want their new boyfriend to say that it is not important. Oh dear, sex is such a twisted world, isn't it?
But the biggest joke about sex is the sodomy case against Anwar. Malaysia really Boleh! I hope the Barisan Nasional will stop this nonsense to eliminate their political enemy. It is so embarrassing.
Photos taken in Sabah, Malaysia Borneo