The police department decided to disregard the improvement and reformation proposed in the 318-page report by Royal Police Commission. Instead, they are wearing a "Anti-Corruption" badge as the resolution.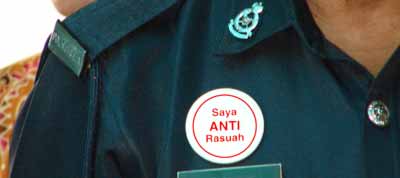 Impressively It WORKS!!! According to the news posted on Jul 27, 2006, they claimed that the number of complaint about police corruption has dropped tremendously. Well, whether it is because of the badge helps the citizens to identify who accept and who do not accept bride (some police not wearing it) so they can make choice safely and happily, or the police has really changed their attitude, I don't know lah.
Since they say it works, I personally would like to recommend a few more badges for them. Each badge will SOLVE one problem. I am not sure how many more badges they need. Anyway, it is an effortless and low-cost solution, I will strongly support the idea.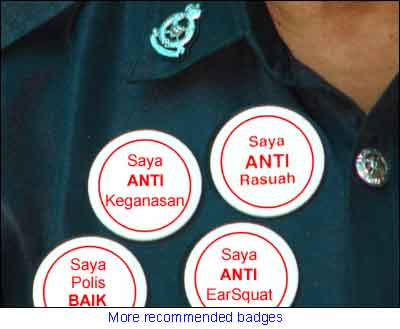 IMHO, if it is proven effective again, probably we should introduce it to other departments and public too. For example, for SESB who likes to promise EVERYTHING but do NOTHING, for TM who always attribute all system fault to user side, for KL city who ranked as one of the rudest city in Asia.