Imagine you call a customer support. They collect your personal info such as name, phone no, address. The next day you call them, they ask for the same info again, "What is your phone no. and address huh?" Next week you call them again, they ask for the same personal details again. I think at this point you will get very annoyed and want to yell, "Until now, you still don't know me kah? Your company stupid kah? Don't have customer database kah?"
Nowadays we talk about technology, we talk about connectivity. Government is pushing MyKad, promising that we will live in a new era that information can be readily accessed, to make our lives painless.
But if you look at the government forms, you will find that you need to fill in the same info again and again, for the same or different government department. By right, if we provide our name and I/C No., they should know our birthday, our sex, our race, our place of birth… Just wonder why they still ask for the same info in every form. We can change our birthday meh? We can change our race meh…?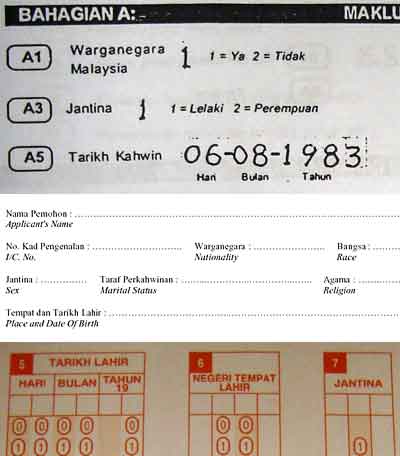 I was really impressed by the efficiency of Singapore when I worked there. No matter I called for a cab or order a pizza, after I made the first order, next time I called, they would have the full details about me under their finger tips. "Ok, Mr. Smoke Head. The cab will arrive your place in 5 minutes, in front of tower B at XXX Condo, the same spot that you requested last time." As a kampung boy, my mouth opened wide and speechless.
A few months ago, I ordered a pizza the third time from the same local fast food in KK. After 30 minutes, the pizza boy still didn't show up, as expected. Later I got a call from him, "Hmm… eeh.. ah… how to go to your place huh?" Nevermind, I had prepared to repeat explaining the same thing (direction to my house) the third time. Sigh… Sabah Boleh? Boleh Apa?