Tawau Hills Park (Taman Bukit Tawau)

Last time I blogged that Tawau is an ecology desert and its ecotourism is over. Actually Tawau still has the last remaining natural heritage, Tawau Hills Park (Taman Bukit Tawau). After a few days of exploring this park, it turns out to be one of my favourite sites, and I will go there every week if I live in Tawau, which is so near to the park. Gazetted as a State Park in 1979 and 24KM away from Tawau town, Tawau Hills Park is an important water catchment area consists of five major rivers, i.e. Tawau River, Merotai River, Kinabutan River, Mantri River and Balung River. The park covers an area of 27,972 ha (about 280 sq. KM).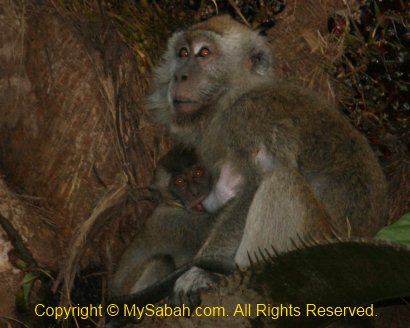 Click Here to see more photos of Tawau Hills Park >>
Last month I took an express long-distance bus from Kota Kinabalu to Tawau, which was an 8-hour journey (one way ticket costs RM45, about USD12). Taking a flight will only take 45 minutes. But sum up all the fees such as flight ticket, baggage charge, airport tax and transport from airport to Tawau town, it will cost over RM100 one way, too much for a poor traveller like me. From Tawau town, you need to get a taxi to the park, which costs RM30 one way, and there is no bus going there. The taxi driver may offer RM50 to pick you up for returning to Tawau. FYI, you can book such transport for RM30 at the counter of the park. Don't waste your money.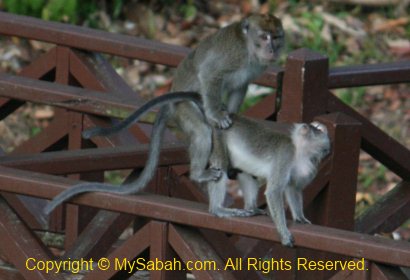 Click Here to see more photos of Tawau Hills Park >>
By the time I reached Tawau Hills Park, it was about 5PM. I saw many long-tailed macaque monkeys were moving from the nearby oil palm plantation to the park. The park became their playground and they were free to loiter around. They screamed, they f**ked, they fought, they chased one another, and they swam in the river. For unknown reason, I hate long-tailed macaque, probably it bite me before.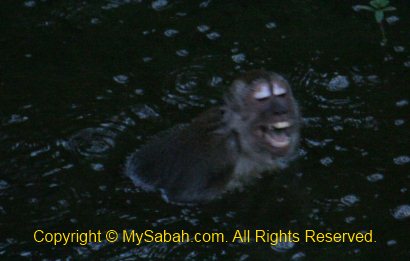 Click Here to see more photos of Tawau Hills Park >>
The photo above looks like a happy monkey enjoying soaking in the cool water. In fact, it was screaming and beg for forgiveness from alpha male, after he lost the fight and escaped into the water.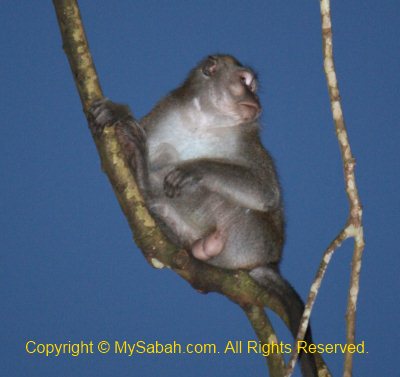 Click Here to see more photos of Tawau Hills Park >>
My late grandfather was used to keep a pig-tailed macaque as pet in his house in countryside. Though also wild, pig-tailed macaque is friendlier than long-tailed macaque. Villagers seldom keep long-tailed monkey as pet as they are more aggressive and tend to bite people. If you are lucky, you will see red-leaf monkey (maroon langurs) in the park. Further inside the jungle, you would see other primates such as Borneon gibbon, grey-leaf monkey and slow loris. Rangers say they spot orangutan very deep inside the hill forest. The rare white leaf-fronted monkey is only found here (too bad I didn't see any, though a sighting was reported during my stay).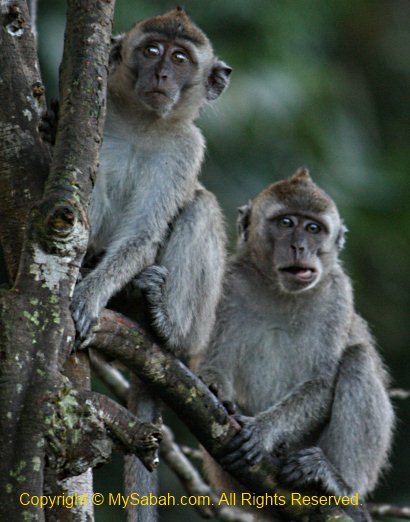 Click Here to see more photos of Tawau Hills Park >>
Ok, enough with the monkey, just to let you know you can see them in morning and evening. I was staying in a 4-bed room in a chalet in the park. It was only RM20 a bed/night for a room with 4 beds, 2 small tables and a fan. The toilet and bathroom are at the end of the walkway outside. That time was not peak season, so I could have the whole room, and even the whole chalet! At night you could see many small animals such as frogs and lizards around the area, which is what I like.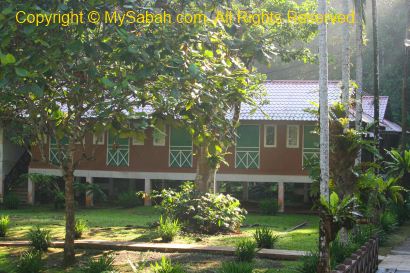 Click Here to see more photos of Tawau Hills Park >>
During my 4-day stay in Tawau Hills Park, I tried the trails to Sulphur Springs (3.2 KM) and Bukit Gelas Waterfall (2.5 KM). Each trail took only 1 hour+ of walking. Since I walked slowly and looked for photography subjects, I took more than 6 hours to go back and forth (it would take longer if it didn't rain in the afternoon). Due to prolong drought caused by El Nino, the trails were dry and leech-free. As this park is a water catchment area, the trails could be flooded by rivers during heavy rain. The Park HQ even has siren to warn swimmers, if the upstream station detects any flash flood.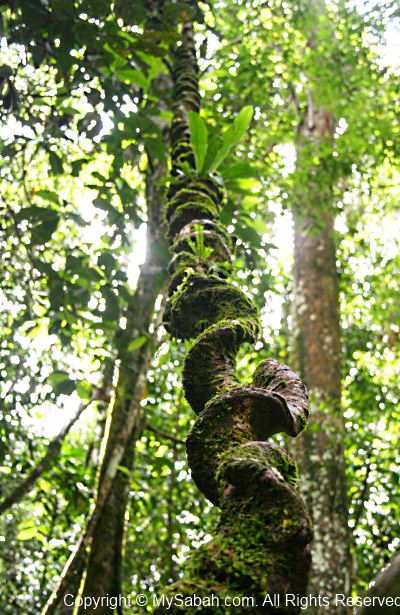 Click Here to see more photos of Tawau Hills Park >>
Tawau Hills Park is a mix of primary lowland and hill dipterocarp rainforests, 60% of them is virgin forest and the remaining is secondary forest. Along the trails, you will see many giant commercial timbers such as seraya, selangan, keruing and belian. Some trees have huge buttress roots. I was told that if you were lost in a jungle, just hit the buttress with a wood, and the rescuer can hear you 1KM away. This is more effective than shouting for help. The trails are along the rivers, so it is quite refreshing.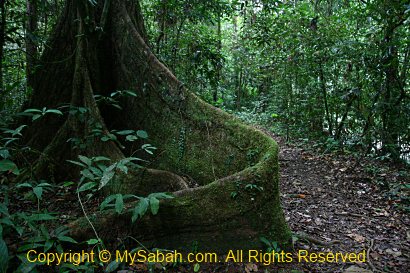 Click Here to see more photos of Tawau Hills Park >>
Wildlife you would see here are leopard cats, wild boar, giant tree squirrel, clouded leopard, forest tortoise, giant river toad, etc. Sighting is not guaranteed. Sadly, I didn't see any of the above. The first bird you will notice is the noisy hornbill. Out of 8 species of hornbills in Sabah, you can find six of them here (black, bushy-crested, helmeted, rhinocerous, white-crowned and wreathed hornbills). Three rare species of pheasants (crested-fireback, great argus, Malayan peacock pheasants) also live in this park. I saw the very beautiful Asian Paradise Flycatcher that has an extremely long tail like paradise bird. At first I thought it was a "flying towel". When my camera struggled to auto-focus it via the leaves and tree branches, it flied away, sigh…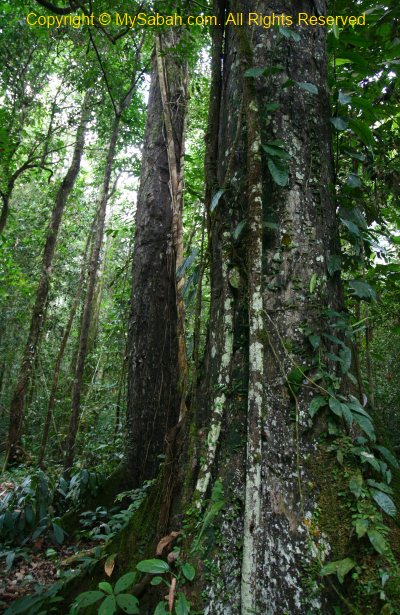 Click Here to see more photos of Tawau Hills Park >>
In the park, there are three main peaks in the form of extinct volcanoes, namely, Mt. Magdalena (1,310M), Mt. Lucia (1,189M) and Mt. Maria (1,067M). It takes 2 days to conquer the highest peak, Mt. Magdalena. The trail is 17 KM long and you will spend a night in Mt. Lucia Hostel (at 10.55 KM). After 1,000 M above sea level, you will enter mossy forest, a totally different vegetation from lowland forest. It is far more challenging than climbing Mt. Kinabalu. If this is too adventurous for you, you may try the 1.9 KM trail to Bombalai Hill (530M), which is a a remain of an ancient crater. The rugged volcanic landscape of the park is abundant with volcano rocks ranging in age from Middle Miocene to Quaternary. I save Mt. Magdalena for the future.

Click Here to see more photos of Tawau Hills Park >>
Most part of the trail is next to a river. It is an ideal spot for nude swimming, coz I didn't see anyone tried jungle trekking. The water is unpolluted and is piped to the households in Tawau and Semporna. Ever wonder why the rivers here still flow in dry season? The rainforest serves as a water retention system for the rain water. The forest ground can hold the water and slowly releasing it to the stream, even after month of drought. If the trees in this park are sold by greedy politicians to lumbering companies, the rivers here will be polluted by eroded soil and run dry. Most Sabahans underestimate the importance of rainforest. That's why whenever there is any serious flood and landslide, the politicians can get away easily by saying these are the Act of God and has nothing to do with the forest clearance that is approved by them. Crocker Range Park and Maliau Basin are under threat now. So, just protect our forest and stop blaming God / Allah.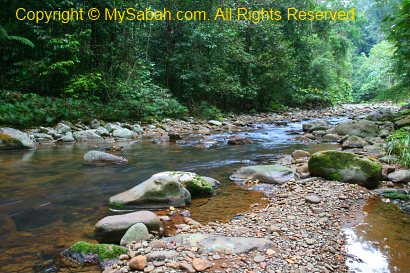 Click Here to see more photos of Tawau Hills Park >>
Pay attention to the small stream and you would find something interesting, like the green sucker fish below. Before that, I thought all sucker fishes were dark in color.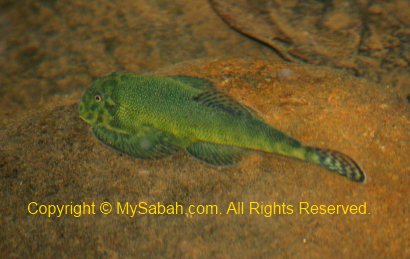 Click Here to see more photos of Tawau Hills Park >>
The water volume of Gelas Waterfall was so small during dry season. I lost my mood to photograph it when I also saw two big logs lean on the waterfall, spoiling the whole view. Anyway, my photo album has a few nice close-up of the waterfall. It is very tempting to jump into the clean and cold water under this waterfall. But be warned that there were many cases of drowning here, especially students. Their bodies couldn't be found until they floated on top. No survivor can live to tell how they were dragged into the water. Don't swim there alone. As a matter of fact, all waterfall is a beautiful dead trap.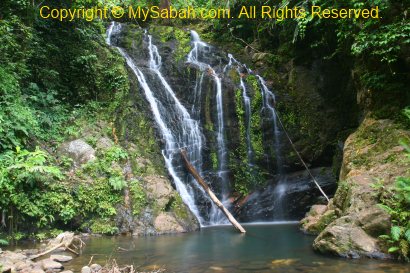 Click Here to see more photos of Tawau Hills Park >>
You would find the butterfly below sipping water in the river bank of Gelas Waterfall. They moved so fast and I only managed to get one shot. It looks like a Green Dragontail butterfly (lamproptera meges virescens).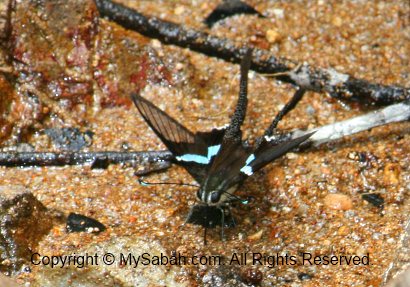 Click Here to see more photos of Tawau Hills Park >>
Frankly speaking, I felt very strong presence of spirits in the remaining 400 M to Gelas Waterfall. One of my photo even shows something like a ghost orb. Well, it could be reflection of dust or moist. After I heard the tragedy stories from my aunty later, then I confirmed there were probably unseen entity lingering nearby the waterfall area. I always had such goose-bump experience in certain jungle trails, but I don't quite bother as I can't see "them".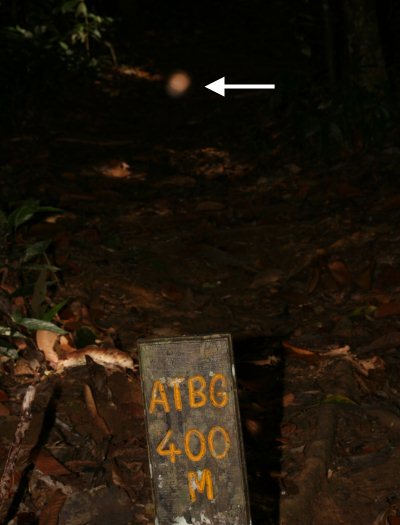 Click Here to see more photos of Tawau Hills Park >>
The thing bothers me the most is a flying blood sucker called Deer Fly. Its bite is worse than leech as the wound can stay itchy for week. The itch is under the skin, scratching also can't help much. I encounter deer fly in almost every jungle trekking. They can follow you a long way, land on your exposed skin to look for opportunity to suck blood. I kept sweeping them away with hand but they never wanted to give up. If I sweated heavily, the smell would overexcite them and even attracted more deer flies, and I ended up having 3 or more of them following me. The only way to stop them is to kill them. I just waited for them to land on my face or hand, then hit them by palm. I don't want to kill anything in the wild but I have no choice..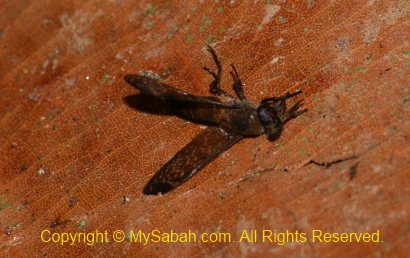 Click Here to see more photos of Tawau Hills Park >>
Besides tall trees, you will be amazed by the rich variety of fungi, lichens, shrubs and undergrowth vegetation. Despite my visit in dry month, I saw many types of fungus and mushroom in different sizes, shapes and colours. I think this park really can open a Fungus + Mushroom Garden, no kidding. Previous scientific field trips found that Tawau Hills Park has over 150 species of orchid, include the rare elephant-ear orchid. Most of the forest is yet to be explored, and the researchers believe many new plant species are waited to be discovered and given a name.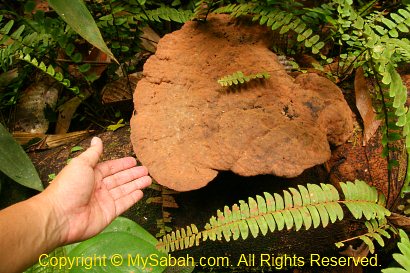 Click Here to see more photos of Tawau Hills Park >>
There are some big fungus that I've ever seen. Fungus decompose dead trees and recycle the carbonic substances, so they are very important for the forest. The humid and dim rainforest is suitable for their growth.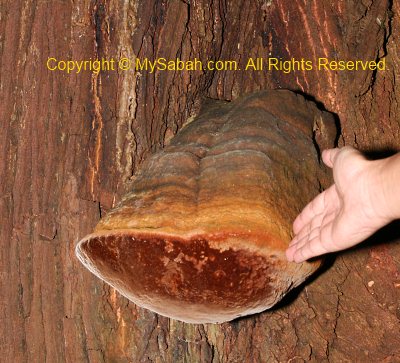 Click Here to see more photos of Tawau Hills Park >>
One fungi also looks like hair.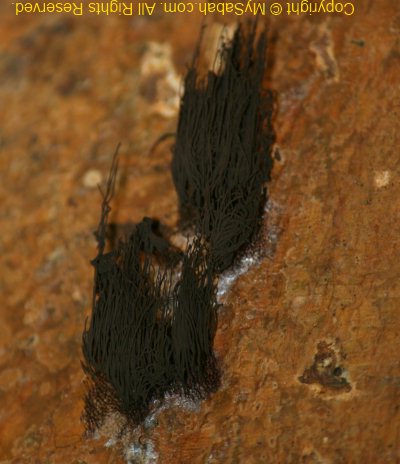 Click Here to see more photos of Tawau Hills Park >>
Everytime I went to Tawau Hills Park, I saw different lizard. This time I spotted a comb-crested agamid. Later I spotted a gliding lizard. It thought it did a very good job to blend into the tree, so I could go very near for more close-up photos.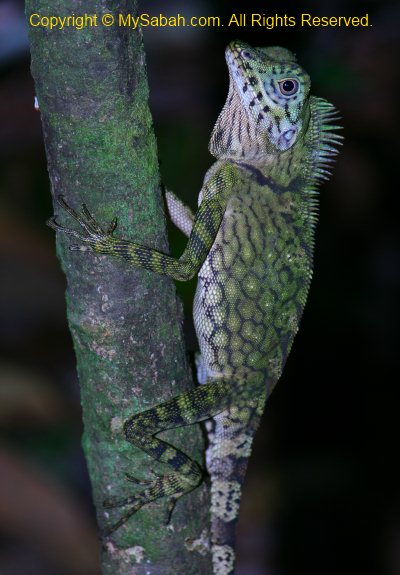 Click Here to see more photos of Tawau Hills Park >>
Just slow down and observe the surrounding, you will see some interesting bugs in the park. Even cricket can be so pretty. Is it a "tiger cricket" below?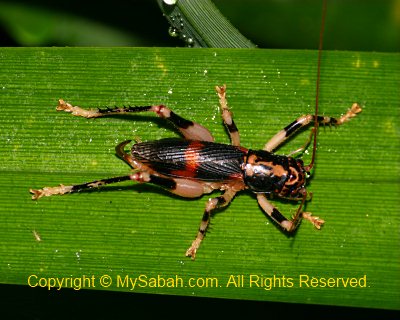 Click Here to see more photos of Tawau Hills Park >>
When threaten, pill millipede can roll its body into ball. This time I waited and saw how long it would stay rolled. It opened up bit by bit, kept watchful eyes outside, and started moving after 20 minutes.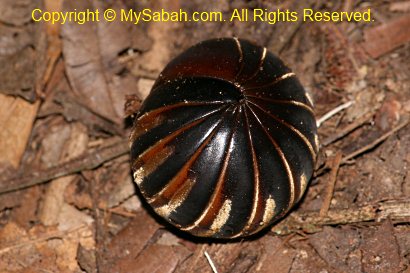 Click Here to see more photos of Tawau Hills Park >>
The photo below is a feather bug. I passed by a tree and saw a few "bird feathers" on the trunk. A closely look revealed that it's a bug. A few of them even mimic the movement of feather in the wind. Amazing bug…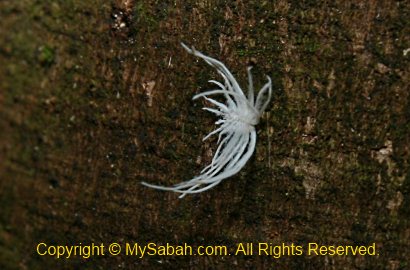 Click Here to see more photos of Tawau Hills Park >>
The funniest bug of all is the ant-snatching assassin bug (Acanthaspis sp). It collects dust, sand and soil particles, plant parts and even empty ant corpses, and stick those stuffs on their abdomen. Such heavy "backpack" is a camouflage to confuse their predators. Can you see it in the photo below? I spotted 3 of them in the park.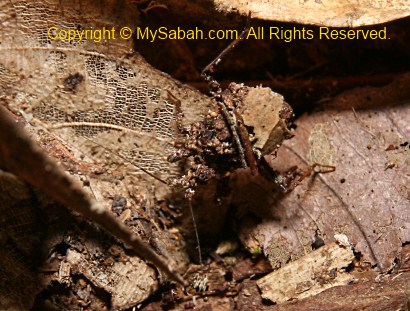 Click Here to see more photos of Tawau Hills Park >>
Most animals come out at night, so I joined the night walk (costs RM30) guided by a ranger. We toured around between the forest and a nearby oil palm plantation, also the Bombalai trail for two hours. I hoped to see the king cobra and big ular sawa snake that the ranger told me. Too bad I did not see any, but I spotted Malayan civets, fat porcupine and firefly.
The time between 6:30pm to 11pm is the best time to look for anurans (frogs & toads), especially after rain. There are 64 species of anurans in Tawau Hills Park, 31 species are endemic to Borneo and 3 are endemic to Sabah (research by Mr. Kueh Boon Hee, University Malaysia Sabah). That means for every frog/toad that you see here, more than 50% chance it is found in Borneo only!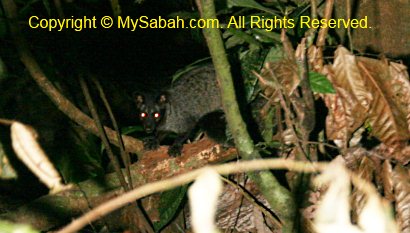 Click Here to see more photos of Tawau Hills Park >>
Basically that's all about my trip. Luckily the weather was good. Now I can't wait to have another trip to climb Mt. Magdalena. Do expect me to blog about Tawau Hills Park in the future. This park has sulphur springs, lowland rainforest, montane forest, mountains, waterfalls, volcano remain, etc. The tour operators should create a package and promote it.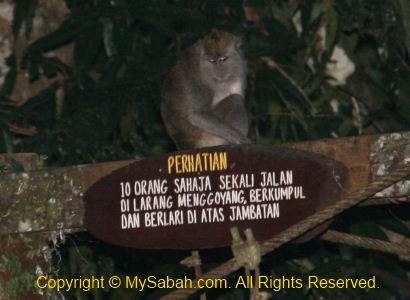 Click Here to see more photos of Tawau Hills Park >>
Most Sabah travel agents are still lacking some creativities as they only know to demand more quota to climb Mt. Kinabalu and dive in Sipadan, as if there is nowhere else is worth to visit in Sabah. They only wait for others to develop and promote a new tourism product, when it becomes famous, only then they try to offer the same package, trying to get an easy share of the profit. They should learn more about Blue Ocean Strategy, so we can have both monkey and gold.
Related Posts
Tallest tropical tree in the world
Sulphur springs
Photos taken in Tawau, Sabah Malaysia