Tag Archives:
World War II
In 1944, just 3 days before the Chinese New Year Eve, villagers of Petagas was awaken by the distant firing of machine gun in a silent morning. In the next 3 days, they still heard cries and groans. They knew something went very wrong but nobody dared to check it out. 176 Kinabalu Guerrillas members were massacred by Japanese army, making 21 Jan 1944 the bloodiest day in Sabah history.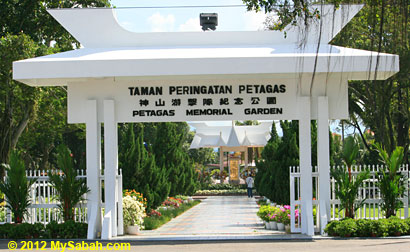 However, these fallen heroes are not forgotten even after more than half a century. 9 KM from Kota Kinabalu city and in front of Kota Kinabalu International Airport terminal 1, a Petagas War Memorial Garden was built on the mass execution site to honour those who defended Sabah during World War II.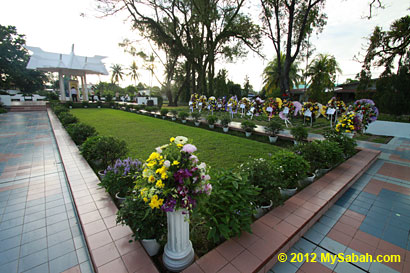 Above: under the green grass is where the Kinabalu Guerrillas members and others buried.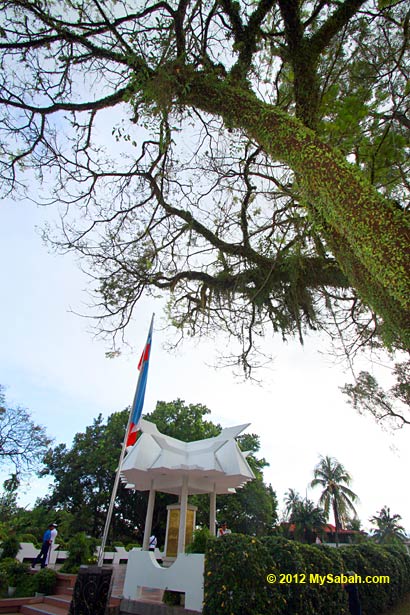 Above: monument with names of the victims inscribed on the plaque.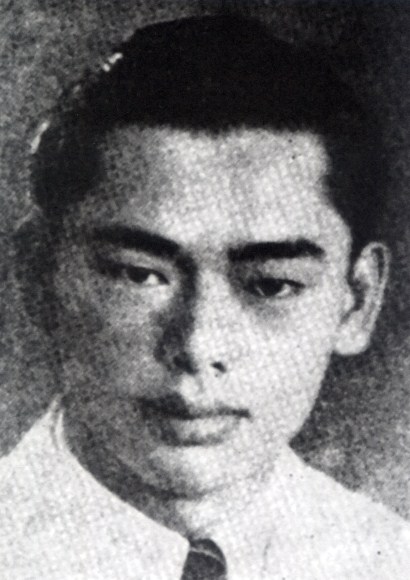 Above: Albert Kwok (郭益南), the leader of Kinabalu Guerrillas.
Albert Kwok was born in Kuching (Sarawak) and studied Chinese medicine in China. He came to Sabah in 1940 and worked as doctor. To resist the iron rules of the Japanese, Albert Kwok organized Kinabalu Guerrillas and took charge as commander-in-chief in 1943. He launched the Double Tenth Revolt with a guerrilla force of 300 men in the eve of 10 Oct 1943. The Japanese was attacked by surprise and more than 60 of them were killed, though the guerrilla was mainly machetes-wielding attackers with very limited firearm. You may click the photo above for more history of Double Tenth Revolt.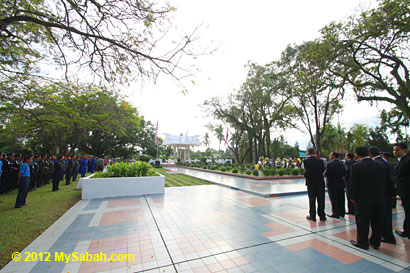 Above: Sabah Government and the descendants of the guerrillas hold a memorial ceremony to commemorate the fallen heroes every year on 21 Jan. 20 uniform bodies also send their troops.
Albert Kwok and his Kinabalu Guerrillas managed to take control of Tuaran, Menggatal and Jesselton (former name of Kota Kinabalu). However, being poorly-armed and facing the Japanese reinforcement from Kuching 3 days later, the guerillas were forced to retreat to hills in Menggatal. After two months of fighting, Japanese army threatened to massacre 400 people in Shantung Valley if Albert Kwok refused to surrender. Albert Kwok turned in himself on 19 Dec 1943 and locked in Batu Tiga prison with 400 others. He was executed with other guerrillas members in Petagas at the age of 23.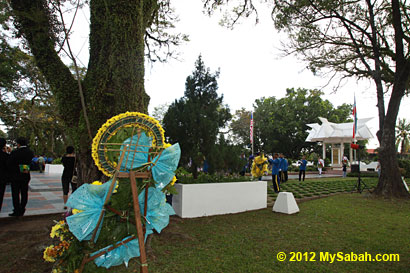 Above: wreath-laying ceremony is carried out in the annual memorial service. In 2012, I noticed a very beautiful wreath standing quietly behind.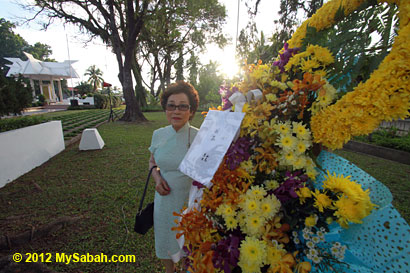 Above: Madam Lim and the wreath given by a Japanese couple.
The father and elder brother of Madam Lim were also killed here. She told this story to a Japanese couple. They felt so sorry that they requested Madam Lim to buy a wreath (cost MYR300!) for the memorial service. Younger generation of Japanese have no idea about the cruelty of their army in World War II. Their textbooks and education rationalize and glorify the war as a holy battle to liberate Asia from western imperialism.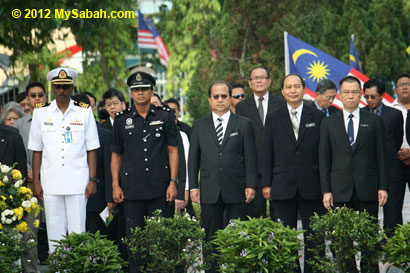 Above: government representatives in Petagas War Memorial service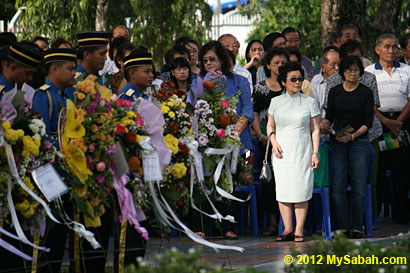 Above: relatives and descendants of victims.
It must be a painful memory for them even today. The following were the happening on 21 Jan 1944:
1. 176 prisoners transported by 6 covered goods-vans of a train from Batu Tiga prison at 3am.
2. They knew their fate. 3 of them resisted the escort and were slashed to death at prison door by sword.
3. The train arrived Petagas, where deep pits were prepared for them. Some held onto the train and refused to leave. Their fingers & hands were cut off and a few were hang on sliding door.
4. Albert Kwok was beheaded by double-handed sword with 4 other leaders (namely, Charles Peter, Chan Chau Kong, Kong Tze Phui, Lee Tek Phui)
5. The rest was shot by machine gun or bayoneted. Their bodies were dragged, pushed or kicked into the trenches.
6. Some were still alive and village nearby could hear their cries & groans for next 3 days, day & night.
3 days later was the eve of Chinese New Year 1944. It's already so overwhelming to imagine how they families felt when they looked at the empty seat of the deceased, on the traditional family reunion day. For those who were not executed that day, 131 were sent to Labuan, where they were tortured and humiliated by Japanese in front of people. Only 9 of them survived.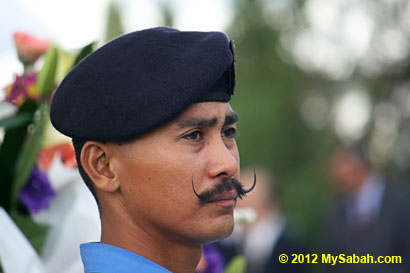 Above: commander of memorial service, nice mustache.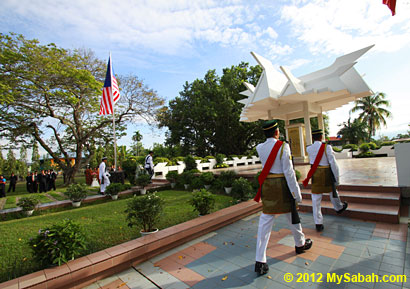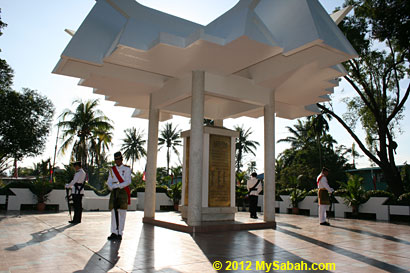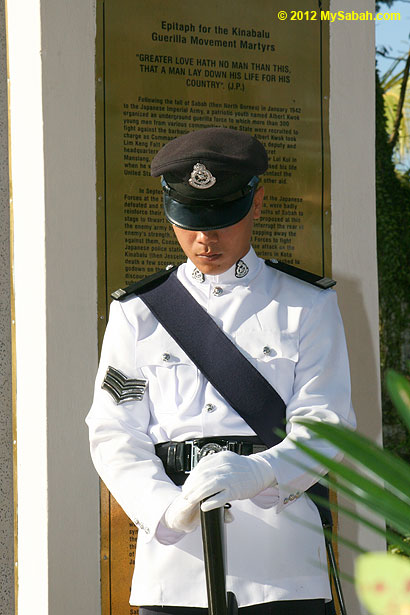 The memorial service starts after 8am. First, 4 guards of honor marches to the monument and stand at 4 sides.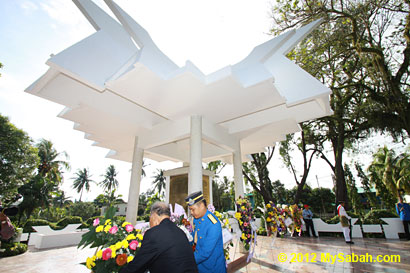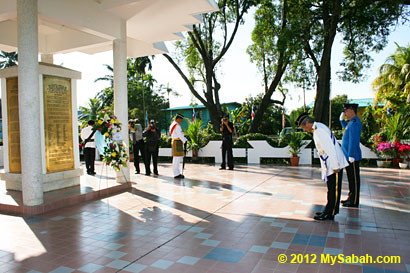 Above: wreath-laying ceremony by different organizations and individuals.
Lastly, the ceremony ended with the sounding of the Last Post and Rouse. You may watch the 2-min video below:

Click Here for wider video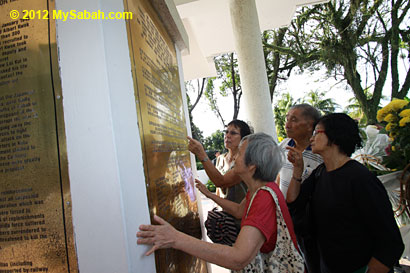 Above: people looking at the plaque containing the names of their relatives. Some of the victims were folks always hang up in kopitiam (coffee shop) together.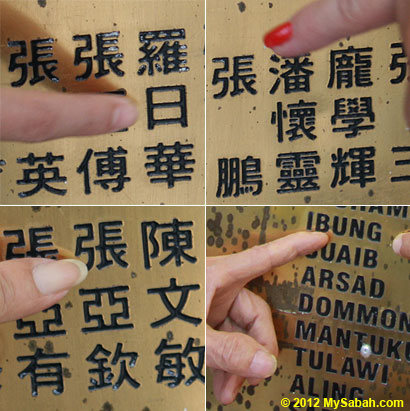 There are fathers and sons among the names. Ms Lo says her brother died at age of 17 with his father in this execution.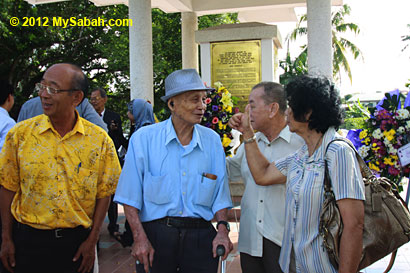 Lee Min (李明), the 91-year-old survivor of Kinabalu guerilla, always comes every year in honor of his fallen comrades, though his health condition is not ideal and requires the aid of a walking stick. He said, "I miss my friends very much and I will come here every year as long as I live."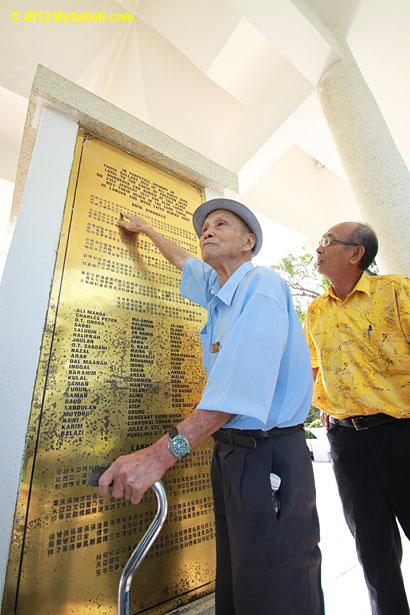 His eldest son, Lee Yaw Koo (right), 61, said his father always pay homage to his fallen comrades each year.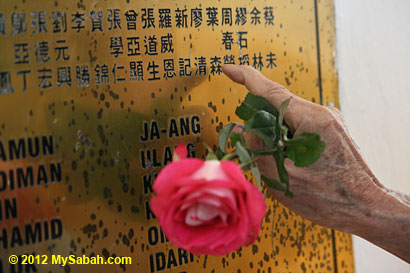 Lee Min can point to the names and tell stories about them, like who was forwarder and who was his captain.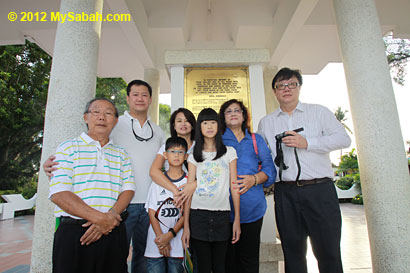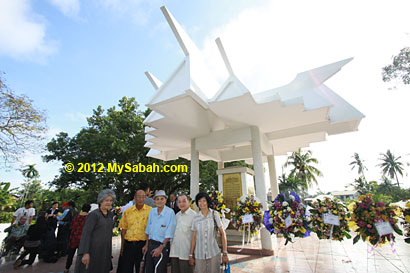 Above: relatives and descendants of fallen heroes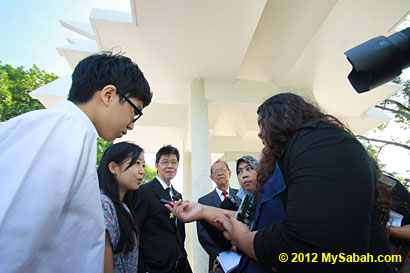 Reporters interview grand daughter (Rachel) of Datuk Fung Khyam Shen (back), 82, from Singapore, whose elder brother Fung Khung Shen was among those killed in the massacre. Datuk Fung said, "I can forgive them but I just can't forget… I still feel bitter and my family is very sad about the tragedy."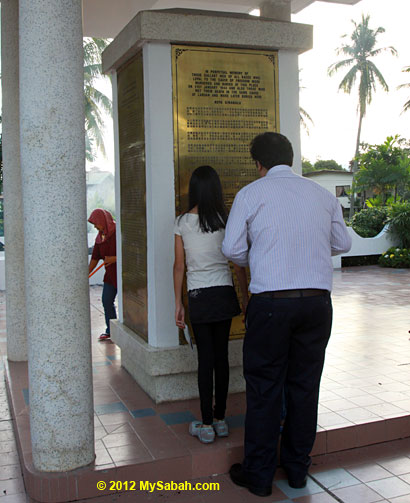 The father told his daughter about the heroic incident of these people. It's important to educate the young about the brutality of the war so they won't repeat the history. Many years ago, I was watching a sad movie about World War II. There was a group of ignorant youngsters smirked and made fun of the movie, as if they were watching a comedy. I don't blame them for being lack of empathy, because they have no f*cking idea about the history. War is something so distant and unreal to them.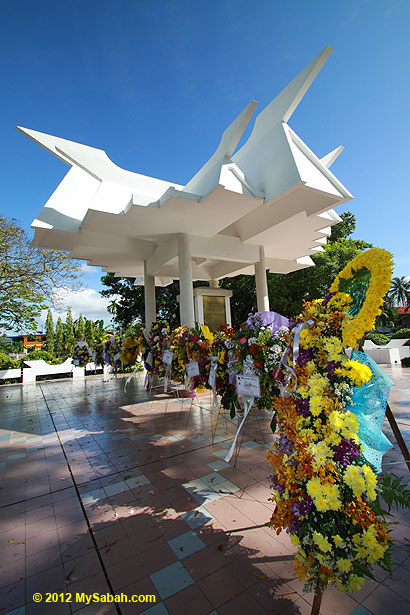 Petagas War Memorial was built in 1946 and the 1st memorial service started in 1948. That year the response was overwhelming. Busloads of people, friends and families of the dead came and they cried and comforted one another. Nowadays, except the relatives and descendants, there are very few people come here to pay tribute. There are many government people but they attend the service for the seek of formality. Hope you will come after you read the story here.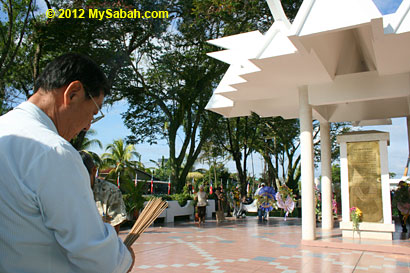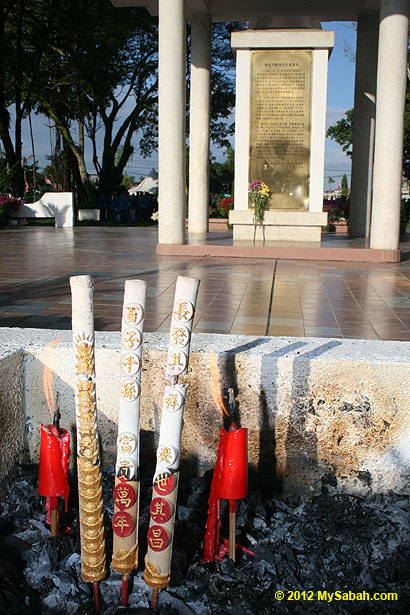 The public should show their appreciation to those who sacrificed their lives for our homeland. FYI, the memorial service starts at 8am in Petagas War Memorial Garden on 21 Jan every year. Funeral attire advised.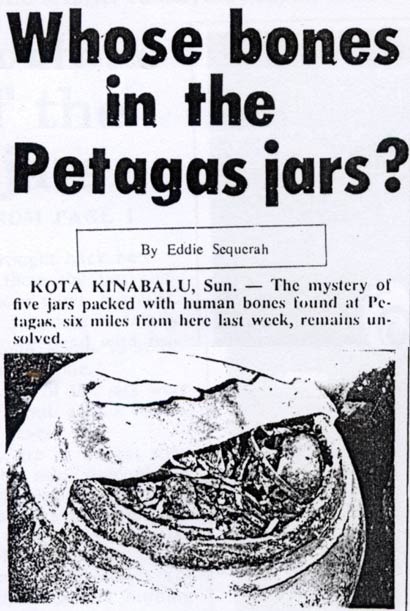 Just an interesting story. In 1979, the new war memorial was under construction for an upgrade, and the workers unearthed 5 big jars of human bones. Everyone didn't know whose bones were those and it became a mystery for a while, until a Tawau bookseller, Peter Chong Yuk Kiong explained that these are the bones of 122 prisoners who died in Labuan. Their bones were collected and sent to Petagas for burial in 1949.
The war monument has a plaque on each side. I posted them here for your viewing: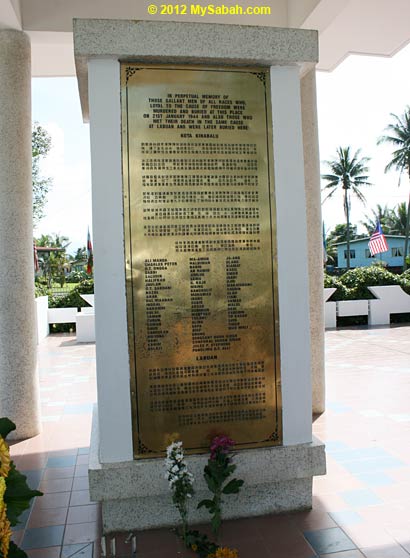 Side 1: names of the victims (Click Here for bigger picture)
Most are Chinese and the names don't seem to be in any order. There are also names of islanders consists of Suluk, Bajau and Binadans people from Sulug, Dinawan and Mantanani islands. They also took part in Double Tenth Revolt by launching attack from the sea. After the rebellion, the Japanese army took revenge by burning the houses and gun down most men on those islands. All the adult males on Sulug island had been killed and an 11-year-old boy became headman!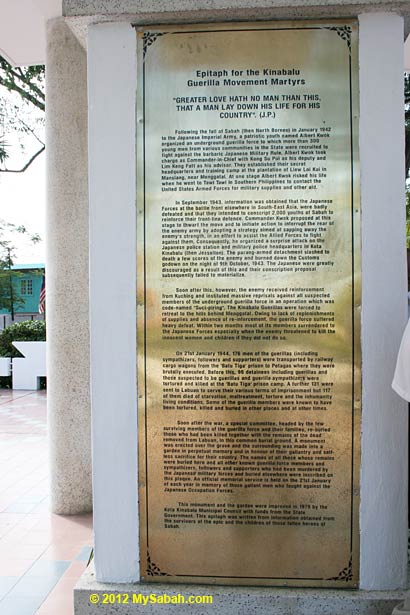 Side 2: epitaph on war monument (Click Here for bigger picture)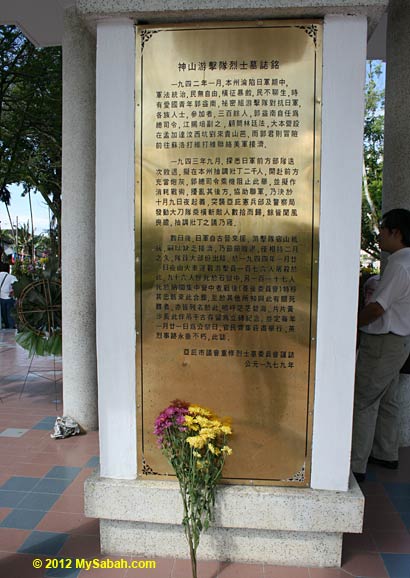 Side 3: epitaph in Chinese language (Click Here for bigger picture)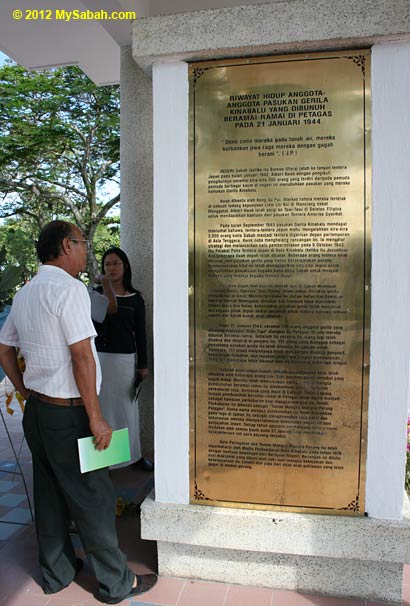 Side 4: epitaph in Malay language (Click Here for bigger picture)
The Japanese officers who responsible for this massacre were convicted in Singapore in 1946. The lieutenant and the sergeant were sentenced to death and were hanged. Others implicated received long sentences of imprisonment.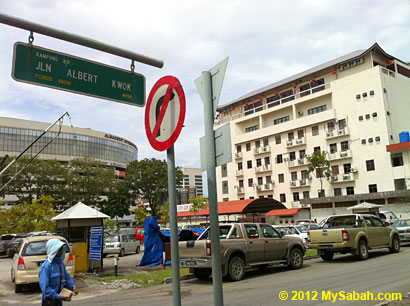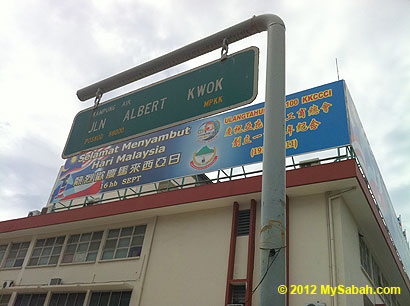 In Kampung Air of Kota Kinabalu city and next to building of Kota Kinabalu Chinese Chamber Of Commerce & Industry, you can find a street named after Albert Kwok.
Because of Double Tenth Uprising, Japanese abandoned the ideas of conscripting 2,000 Chinese youth into army, to use them as cannon fodder to fight a losing battle against Allies in South-East Asia. They also stopped forcing local women to become comfort women (prostitute) for Japanese soldiers.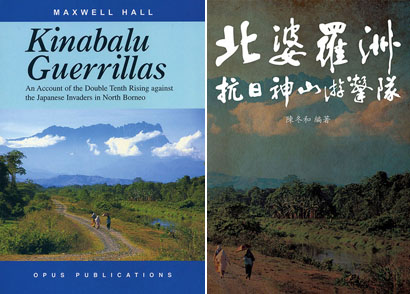 Above: for further reading, you may check out (1) Kinabalu Guerrillas (An account of the Double Tenth Rising against the Japanese invaders in North Borneo), published by OPUS Publications (ISBN: 978-983-3987-15-3), cost RM20, or (2) 北婆罗洲抗日神山游击队 Chinese version, costs RM39 (ISBN: 978-983-3987-34-4).
Besides old news clip, I also used the first book as a reference for this writing. Please correct me if there is any mistake.
More Photos
You may check out my photo album if you want to see more nice pictures: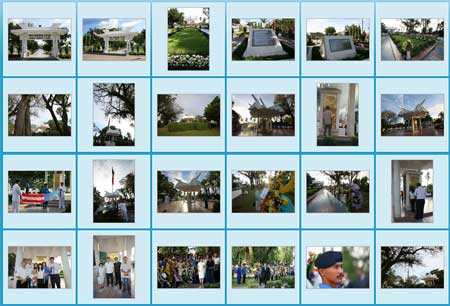 Photos taken in Petagas, Sabah, Malaysia Borneo
The 3-year-8-month Japanese occupation in Borneo was a nightmare for our people. Many have heard the terrible things that they had done, but there is so little documentation about the bloody history. However, whatever you did and wherever you went, you would leave traces behind. That's why I visited a few ex Japanese war attractions in Kunak (a town near to Lahad Datu of Sabah east coast).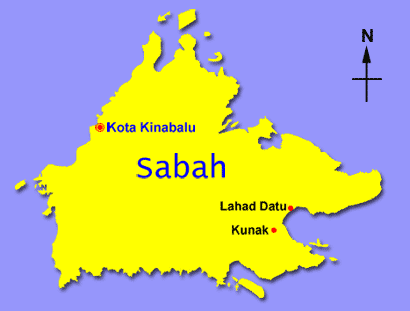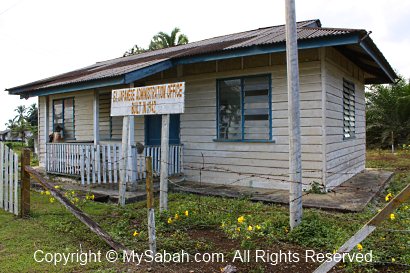 The first stop is an ex Japanese administration office built in 1942 (during World War II) and located inside Mostyn oil palm plantation which belongs to Sime Darby.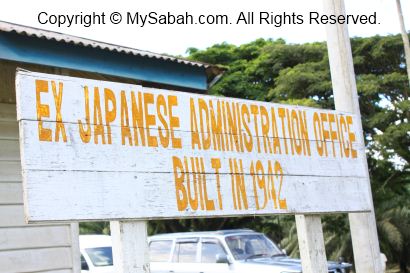 Actually this small house was built by British, if I am not mistaken.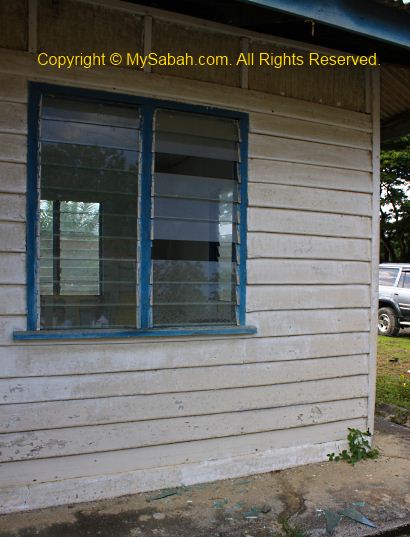 You might wish to find gold inside but it is empty, FYI.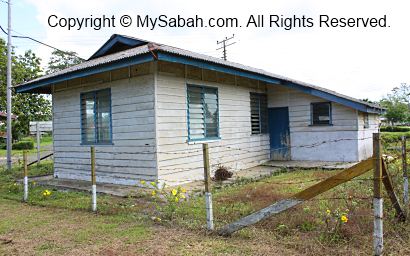 The view from the rear. That's it. Nobody knows much about it.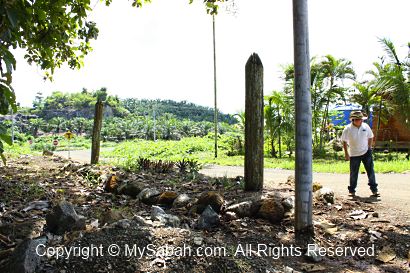 Just a stone throw from the administration office is an ex site of a Japanese temple. Sadly, only two wooden poles, which were the gate of the temple, stand until today.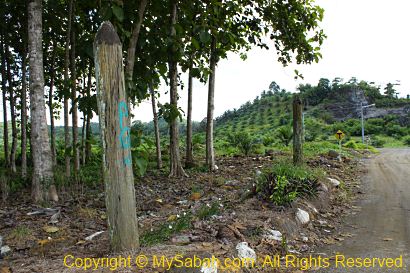 Front view of the "temple". Every year there is a bus load of Japaneses comes to this site. They pray here then proceed to the Japanese war tunnel. They seem to know something about the history.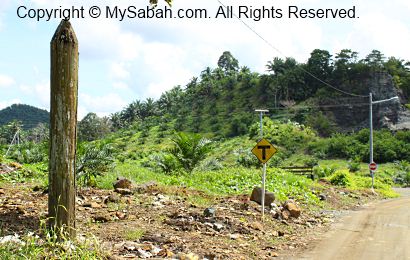 See the hill at the right? During WWII Japanese occupation, if anyone did anything wrong, the Japanese would hang them on top of that hill for everyone to see, to serve as a warning. Of course the gallows is no longer there as nobody needs it.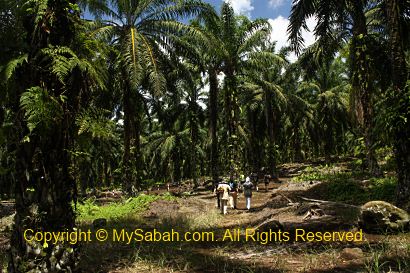 After touring around the ex Japanese administration office and temple, we went to the ex Japanese war tunnel (about 12KM from Kunak town), which is more than an hour drive away. We are still inside the area of Sime Darby oil palm plantation.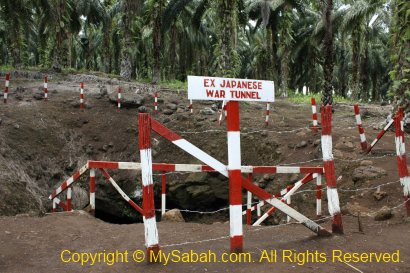 The entrance of the war tunnel. It is fenced to prevent people fall into this big hole.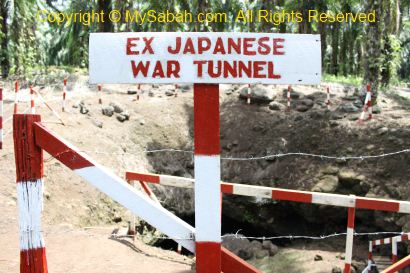 Nobody knew about this war tunnel until part of the tunnel collapsed and revealed an opening to the tunnel. An Iban worker saw the tunnel in 1970s when he cleared the forest there.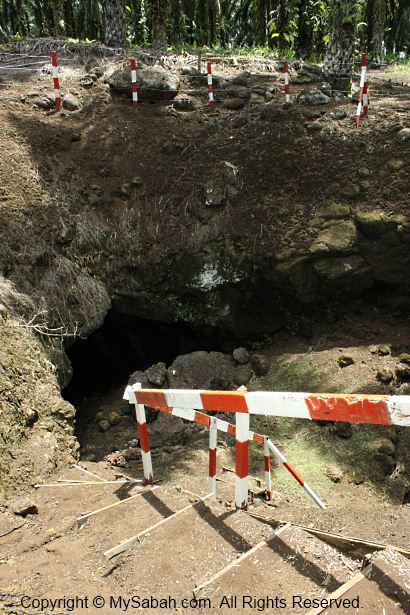 See the dark cave at the bottom? It's the opening to the tunnel. The staircase was the structure built later for visitors to enter the tunnel.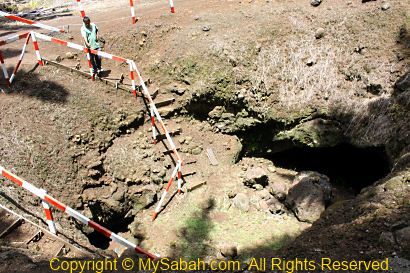 Another view of the entrance to the tunnel.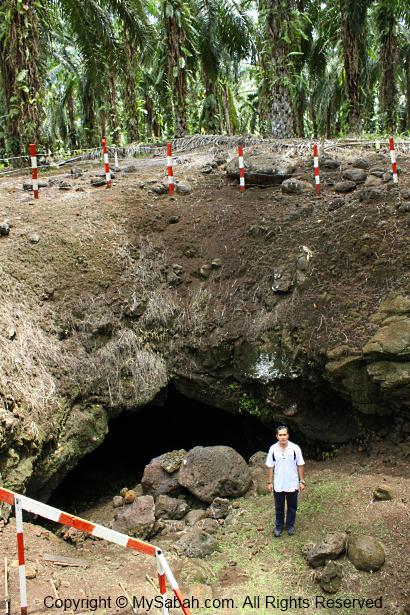 Chua, one of the guides, stood there to show you the scale of the cave.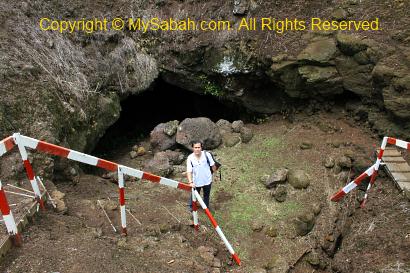 Another angle of the entrance.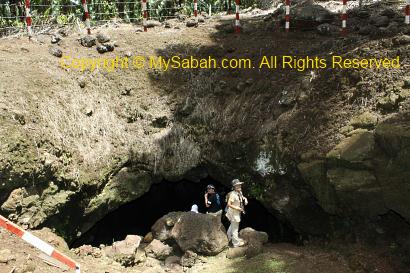 The brave ladies entering the tunnel. I was told that someone used that tunnel as black magic site. So do not enter if you have "weak spirit / aura".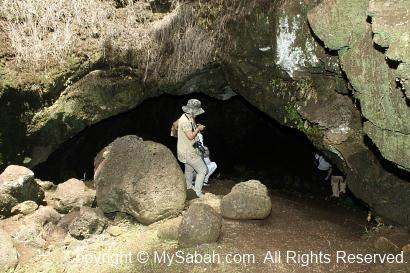 The tunnel is totally dark. Bring a torchlight before you go inside. Smoking is not allowed in the tunnel coz we are not sure if there is any flammable gas inside.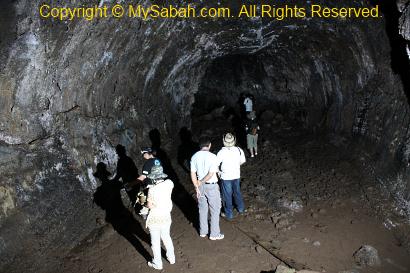 After getting in from the small opening, we were impressed by the size of the tunnel. It's so spacious. I saw a few bats flying around and the air is very humid, with a bit of smell of guano. I'm not sure if this is a man-made cave. Kunak was a active volcano site in the past, so it could be a natural lava tube. Most caves in Sabah are limestone caves created by prolong erosion. Huge and long lava cave is very rare in Sabah.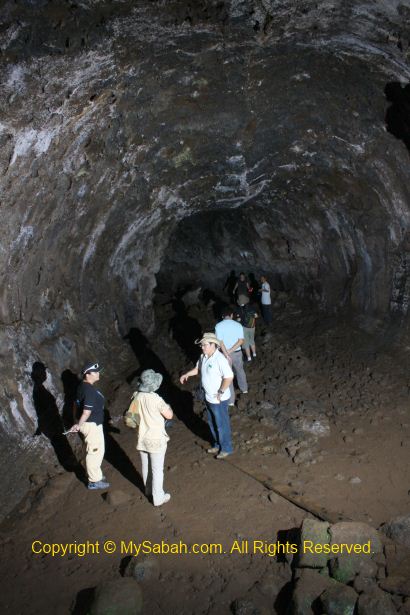 The floor is wet, muddy, slippery and full of rocks and rubble, so watch your step. There is a group of Japanese comes to this tunnel every year. At least one of them was a student studied in Kunak during WWII. They even have the map of this tunnel but they decline to disclose more information. Before Japan invaded Borneo, Japan sent many citizens to work in plantation and business sectors in east coast of Sabah. These Japanese in Sabah may have "special mission", so there is no surprise they worked with the army. But this is only a guess by the historians. This tunnel leaves more question marks as there is no documentation.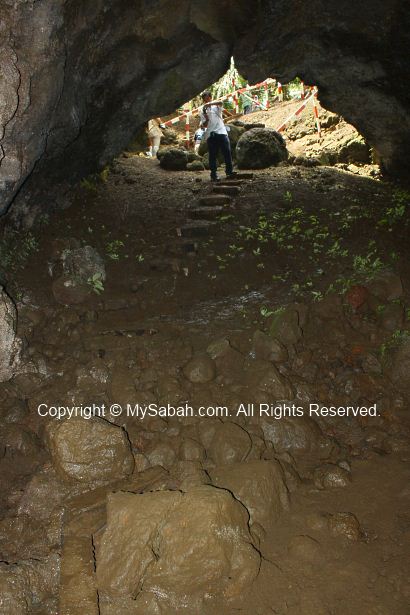 You may ask, "why don't you just explore and do the mapping yourselves?" So far there is nobody fully explores the tunnel, because the air is very thin deep inside and all failed to do a full survey. We already felt a bit of breathing difficulty even a short distance away from the entrance. We only went in for about 50 feet. From what I read, the tunnel has 5 junctions which led to different exits. One links to a beach, one links to Madai forest 8 KM away, and one links to a private house (the family seals the exit). Some even said one of them links to Sulawesi sea. If you are interested in caving and history, we welcome you to survey the war tunnel. There might be some interesting discovery such as hidden gold treasure? The Japanese might use it as secret passage and arsenal.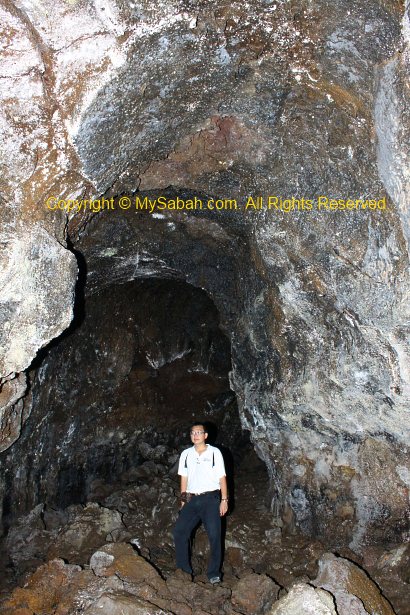 Most felt uncomfortable and went out. The guides and me decided to explore a bit more deeper for photography. Due to the irregular and slippery surface, it was a bit hard to walk. In the photo is Vincent, one of the guides. The tunnel is so high and wide that a car can drive through. Part of the tunnel allows 10-wheel truck to pass through.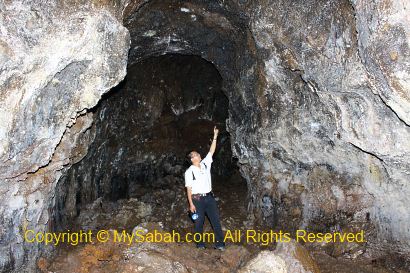 Vincent did the Cuti-Cuti Malaysia (Malaysia holiday ad) pose. Actually there is nothing on top, except the dripping water.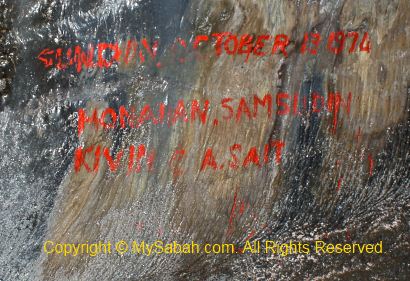 Scribble left in the tunnel. Written in 1974?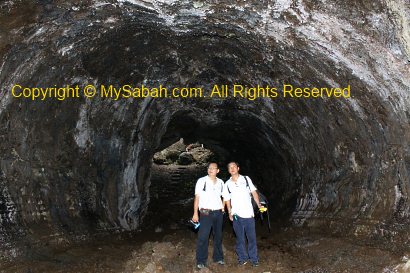 Doesn't the war tunnel look like the throat of a huge monster? At their back is the entrance. Hopefully this attraction will bring more tourists to Kunak. Since this war tunnel is inside private land of Sime Darby, it is not open for walk-in visitors. If you are interested in visiting or looking for tour info, please check out www.darvelbay.com.my.
Photos taken in Kunak, Sabah Malaysia