Tag Archives:
Tuaran
The BBQ Clam (Lokan Panggang) & Grilled Coconut (Kelapa Bakar) roadside stalls in Tuaran always caught my attention every time I passed by. "They must be having great stuffs," I think, when I see so many cars stop there for a meal, though it's hard to associate 5-star food with such primitive stalls that look more like makeshift structure.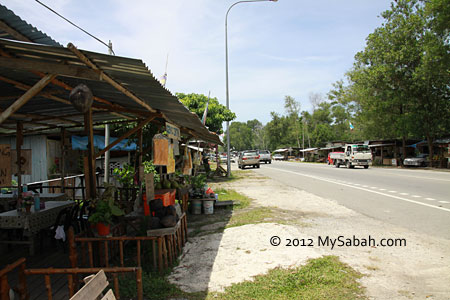 But if you try their food once, you will want to come back again. You can't find THIS taste elsewhere.
BBQ Clams (Lokan Panggang)
The "must-try" is their Lokan Panggang (BBQ Clam). The clams are those bivalves molluscs living in the mud of the mangrove forest.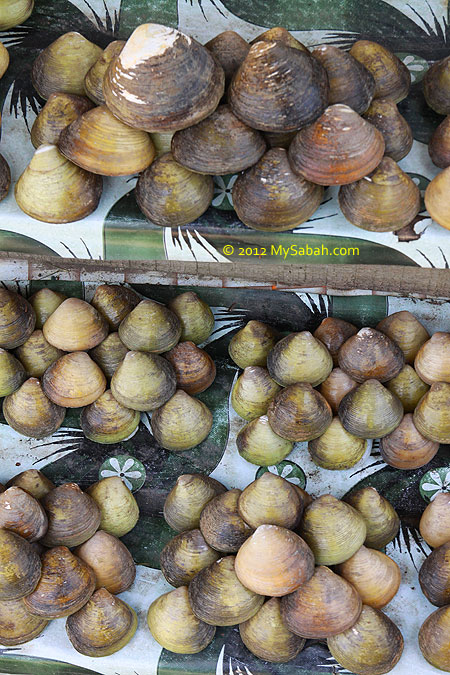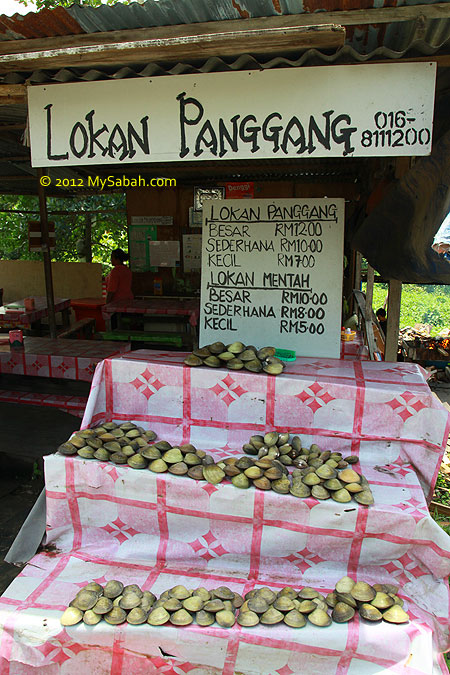 Above: the clams come in 3 different sizes, i.e. big (besar), medium (sederhana) and small (kecil), and they cost RM12 (≈USD3.60), RM10 (≈USD3) and RM7 (≈USD2.10) for 20 units respectively. If 20 is too much, you can ask for 10 clams only and pay for half price.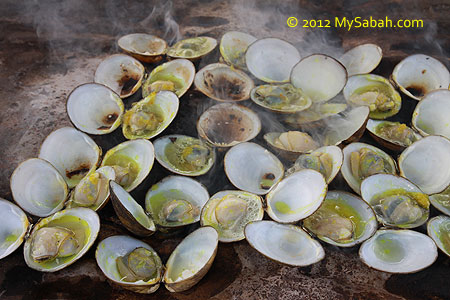 There are over 20 stalls along the road. I randomly picked a stall and ordered 10 big BBQ clams (coz big clams look good in photos, haha). The smaller clams have tender and sweeter taste. Anyway, it's a personal preference. If you are unsure what size to go for, you may order 10 big and 10 small clams.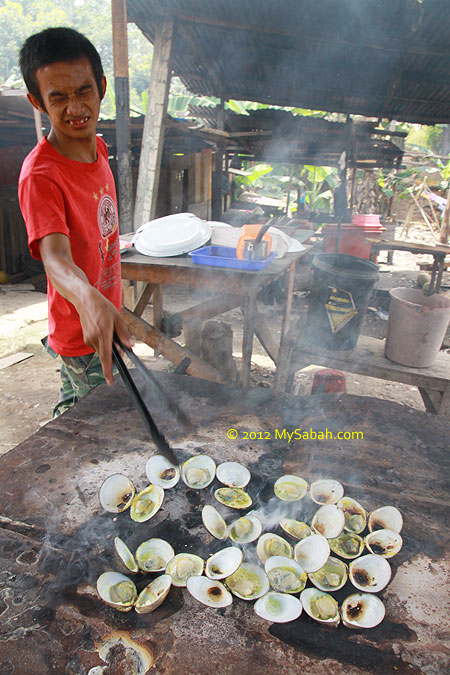 The way they cook the clams is simple, they grill the clams on a zinc plate. They also add a bit of oil, which I believe containing a mixture of onion and ginger to remove the fishy smell of the clams. The smoke is so strong that the cook had to squint his eyes.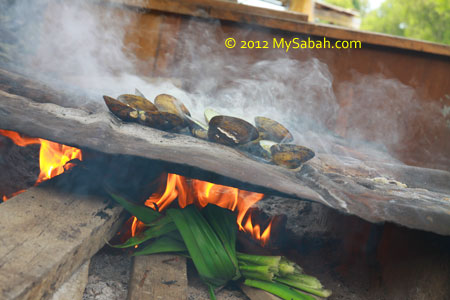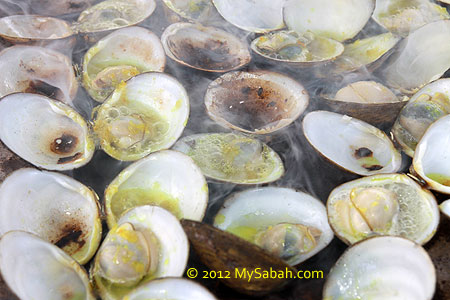 Oh boy, oh boy… the smell of seafood and sizzling noise really stimulate my appetite.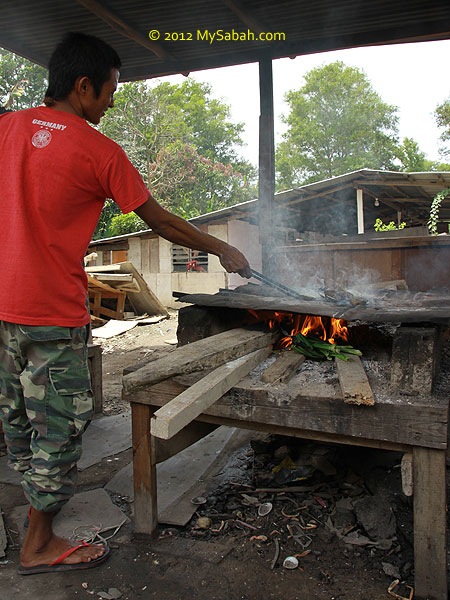 As you can see, they use very simple method to BBQ the clams. No fancy stuff. I like it coz that's the best way to appreciate the original taste of seafood.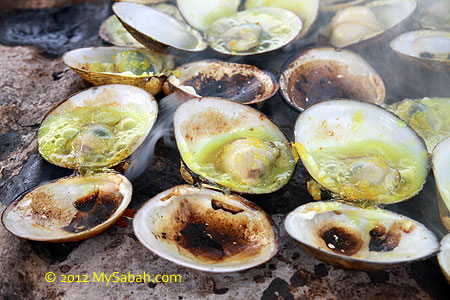 To get better photos, I move my camera very close to the boiling clams. They warn me that the hot meat would "explode" so be careful, LOL.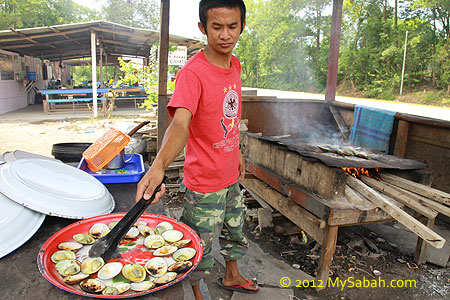 They will also ask you if you prefer dry (fully-cooked) or wet (half-cooked) style. For me, half-cooked tastes the best! But if you are tourists with sensitive stomach to raw seafood, I strongly advise you go for dry style (fully-cooked).
Clams are from mud. To those European and Japanese tourists who are used to the "germ-free" environment of their countries, they will get sick easily for trying something different. That's why travel agents will never bring you there for lunch coz the tourists who get ill would suit them. I think I'm also obligated to advise you that you better get Hepatitis B vaccination prior to eating seashell food in Malaysia.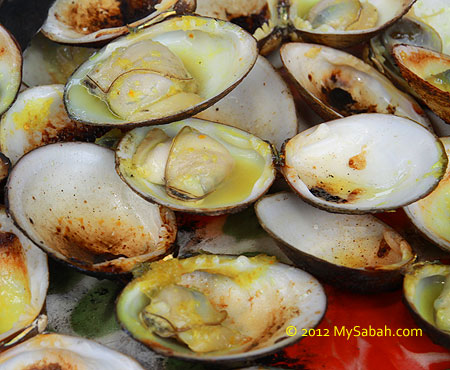 However, none of our locals (and tourists from South-East Asia) have such problem. A famost host of a TV food programme "Taste with Jason Axian" even came all the way from Kuala Lumpur to feature the BBQ Clams & Grilled Coconut here.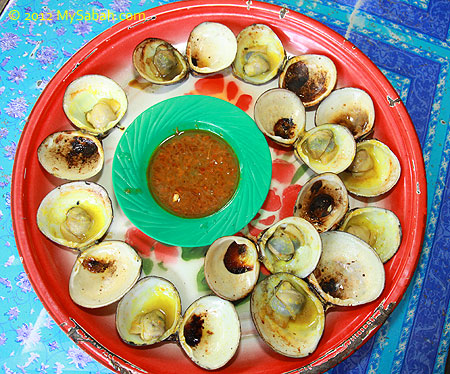 Above: the grilled clams are ready to be eaten. It should be 20 clams by standard, but I ordered only 10. See the Sambal sauce in the green plate? You may dip the clam into this sour and spicy sauce which goes very well with seafood.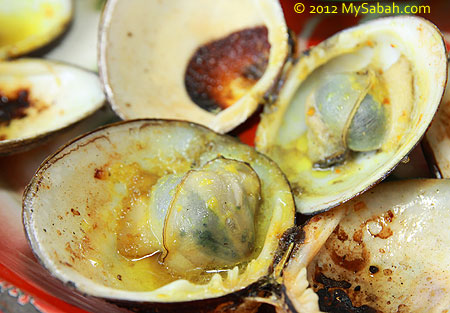 For each bite, the half-cooked juicy clam meat "bursts" in my mouth. The meat is tender and creamy! It's a highly satisfying seafood meal.
Below is a 1-min video of BBQ Clam. Don't watch if you are hungry!

Click Here for bigger video
Grilled Coconut (Kelapa Bakar)
After having BBQ clams, I tried their Grilled Coconut too. It costs only RM3 (≈USD1) each.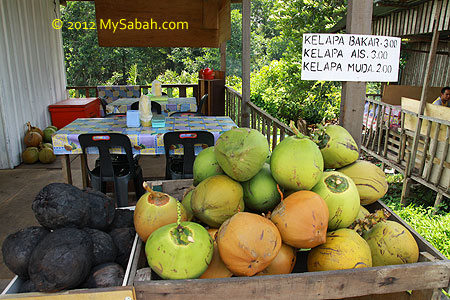 Above: different way to enjoy coconut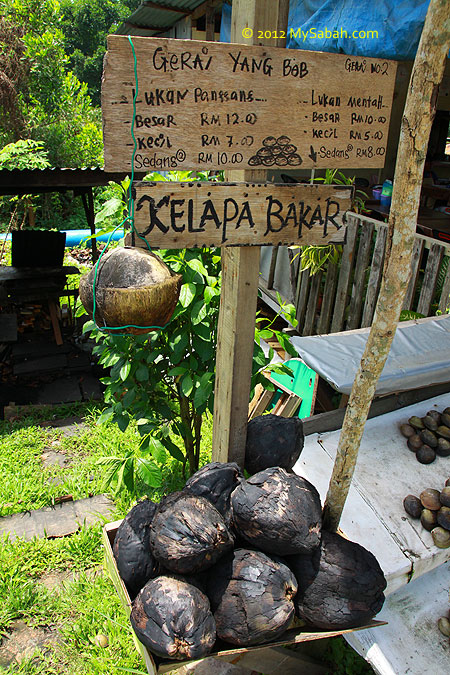 I have no idea why they have such an idea of "BBQ" a coconut.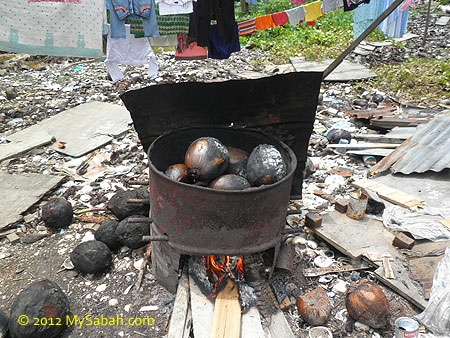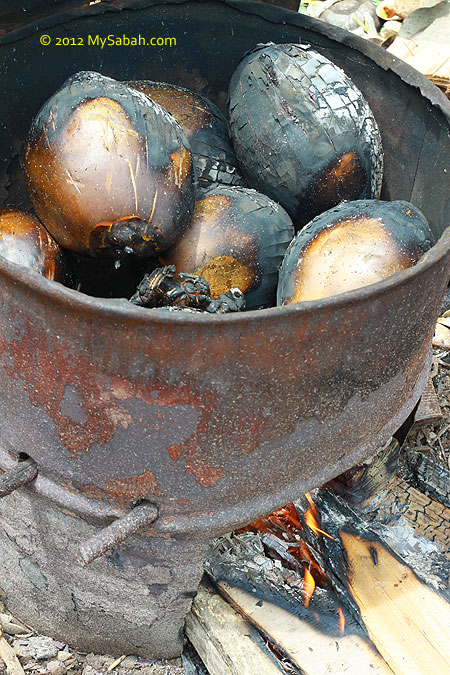 Basically, they just grill the coconut over the firewood until its skin turns black.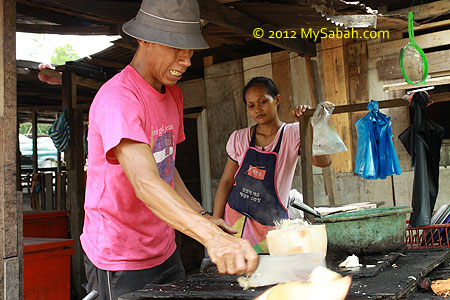 Above: preparing Grilled Coconut. The coconut is steaming hot, so he has to be very careful.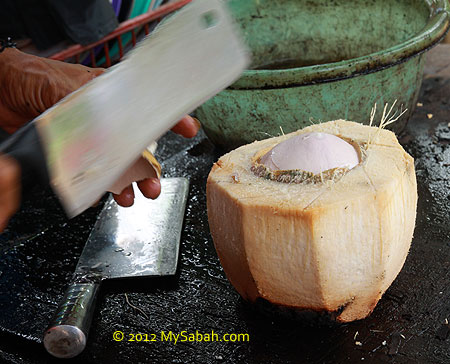 Above: what a skill to remove coconut crust without breaking the meat layer. Probably he is a part-time brain surgeon too, haha!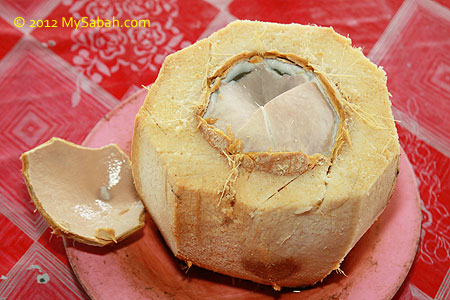 The coconut juice is very hot. You can see its steaming in 30-sec video below: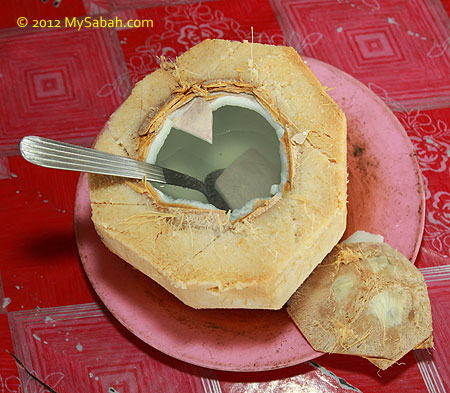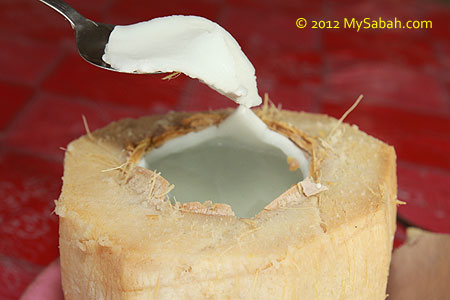 You can drink the juice and eat the coconut meat. But to be honest, I like cool coconut juice much much better, and it's not so enjoyable to sweat profusely while drinking hot coconut juice in hot day. Anyway, you must try their coconut pudding, which is more highly recommended.
How to get there
When you drive from Kota Kinabalu city and head to Shangri-La's Rasa Ria Resort in Tuaran, after 25 to 30 minutes and 5 KM before the resort, you will reach a roundabout like photo below: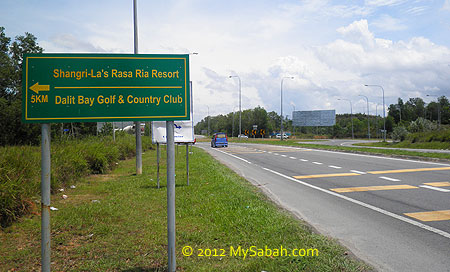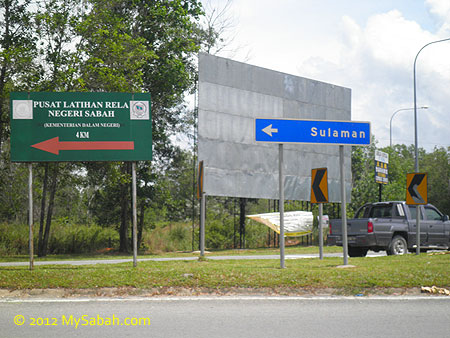 Turn left to enter the Sulaman road. You will see the roadside stalls at both sides of the road only 20 Meters away. Most of them open from 9am to 8pm daily.
Below is the location map. Note the boxed area:

View My Sabah Map in a larger map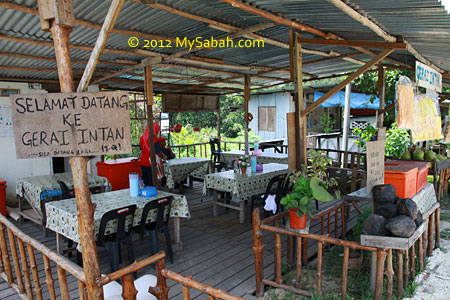 There are over 20 roadside stalls along both sides of the road, and each has a name ("Gerai" means stall in English. "Selamat Datang" means Welcome). They welcome locals as well as tourists, so don't be shy.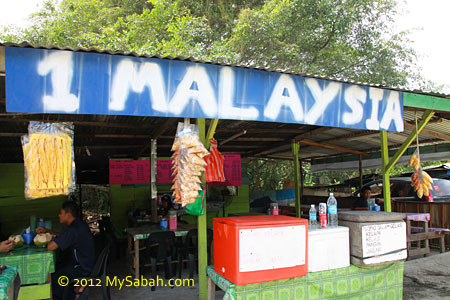 Is this the 1Malaysia restaurant initiated by our Prime Minister?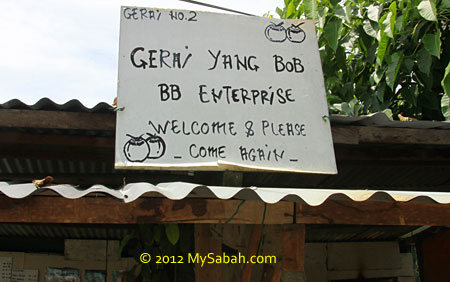 This stall is going enterprise and international, haha..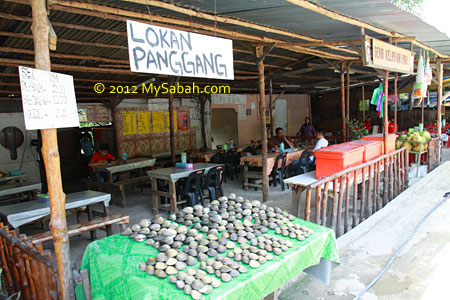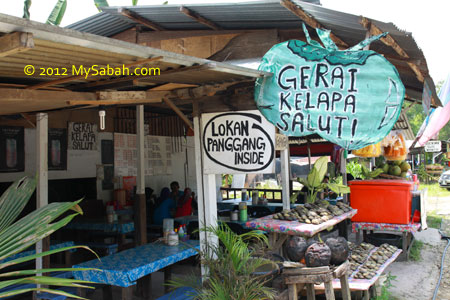 Most of them selling the similar food, i.e. clams, coconut and probably some local snacks. From the number of stalls, they seems to have good business and demand.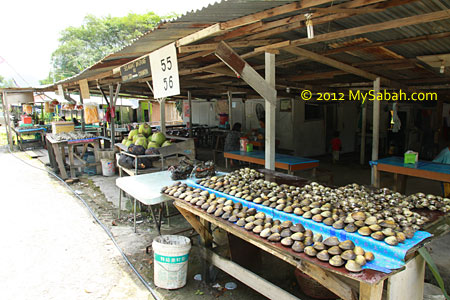 Just take your time and browse around. All stalls look the same too me. Do you have any specific stall that you like? Please share.
Photos taken in Tuaran, Sabah, Malaysia Borneo
You might also like:
If you ask Sabah people which delicacies are "Made in Sabah", no doubt Tuaran Noodle (locally known as Tuaran Mee, 斗亚兰面 in Chinese), a traditional handmade egg noodle born in Tuaran town is on top of the list. Like Laksa to Penang, Kolo Mee to Sarawak, Tuaran Mee is the noodle representing Sabah state.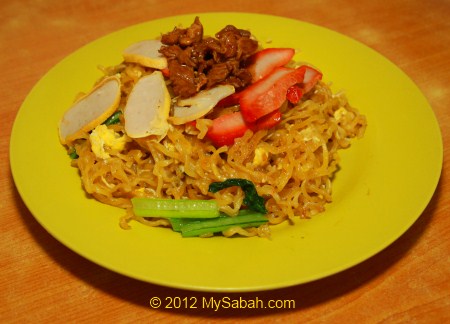 You may click the photo above to see bigger picture of Tuaran Fried Noodle (Tuaran Mee Goreng). Tuaran Mee tastes best when it is fried and served hot with egg roll slices (春卷 in Chinese), roasted pork slices (叉烧 in Chinese) and local green vegetable. This golden-color noodle is rich with egg aroma. If prepared nicely, the noodle is crispy outside but soft inside.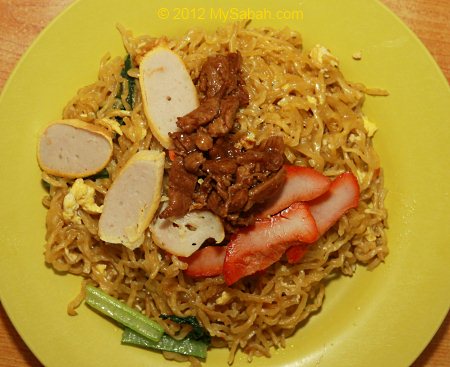 When the food market nowadays is flooded with cheap and mediocre packed noodles, I do appreciate every bite of Tuaran Mee, which is created by people who insist on quality over quantity. Tuaran Mee is pure noodle, unlike those factory noodles consist of preservatives.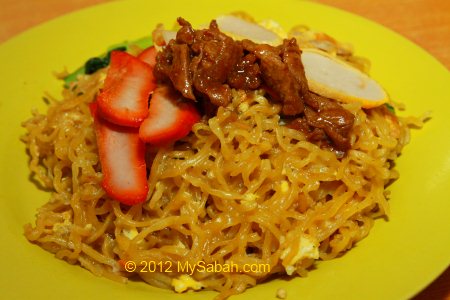 Click photo above to see bigger close-up shot.
The repeated pounding in handmade process forms denser texture in the noodle. You will be surprised that Tuaran Mee can be stomach-filling even taken in small quantity.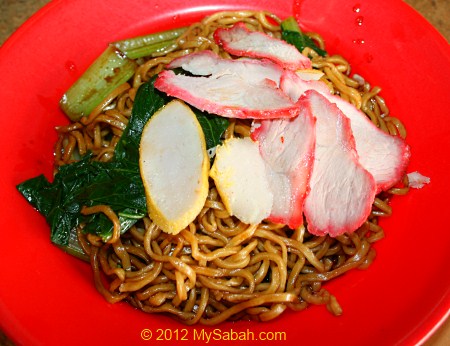 Besides fried noodle, Dried or "Konlau" (干捞 in Chinese) Tuaran Noodle (see photo above) is another popular way to enjoy Tuaran Mee. The cook first rinses the noodle in boiled soup until it turns soft, dry it and serve it in dark sauce. Personally I prefer the fried version.
Where to find the BEST Tuaran Mee?
Based on the feedback, the No.1 favorite of locals is Tuaran Mee Restoran coffee shop in Tuaran town.
1. Tuaran Mee Restoran
Tel: +60 16-5849651
Opening Hours: 7am-5pm daily (close on Wed every fortnight)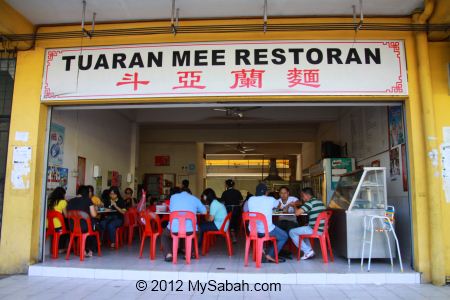 This is evidenced by number of customers they have in shop. You can tell that their noodle is nice. Tuaran Mee noodle costs RM5 (≈USD1.50) per plate, RM6 (≈USD1.80) for seafood flavor.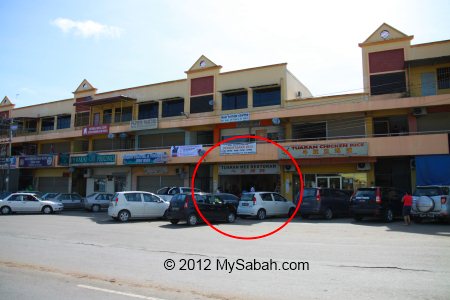 It's very easy to find Tuaran Mee Restoran. When you enter Tuaran town, before the first roundabout and Shell gas station, you can see it in a shoplot at your right.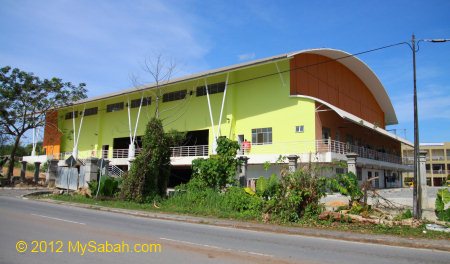 The shoplot is just opposite a big hall of Tuaran District Council (Dewan Majlis Daerah Tuaran) (see photo above).
2. Lok Kyun Restaurant (乐群酒家)
Ranked No.2 by locals are Restoran Lok Kyun, also located in Tuaran. It's famous in Peninsular Malaysia.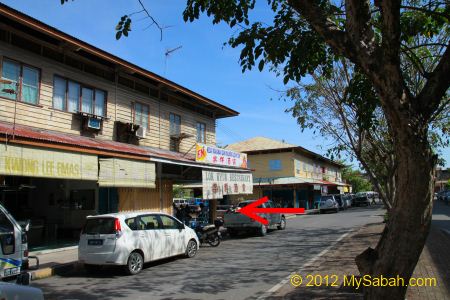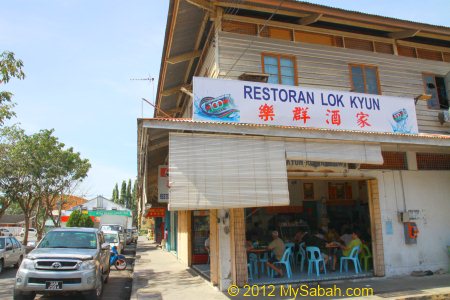 Address: Shop No.4, Block 8, Jalan Keogh, Tuaran, Sabah, Malaysia.
Tel: +60 88-788441 / +60 19-8518632
Opening Hours: Tue-Sun: 7:30am – 3pm (closed on every Monday)
Though they also open in most public holiday, they close on major holiday such as Chinese New Year and Hari Raya.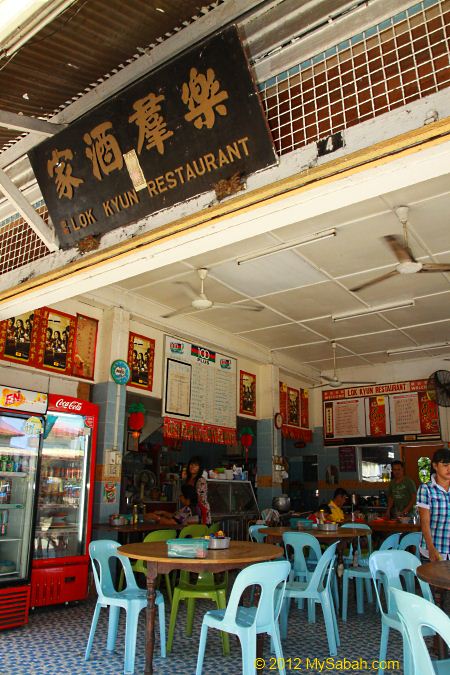 Personally I love the ambience of having traditional food in post-war wooden shoplot. Same as the first restaurant, Tuaran Mee noodle costs RM5 (≈USD1.50) per plate, RM6 (≈USD1.80) for seafood flavor.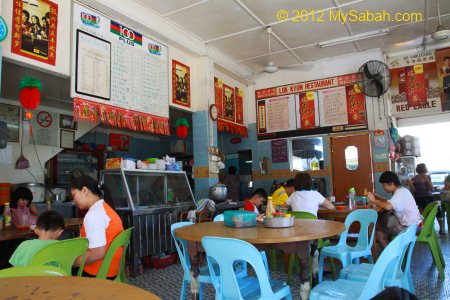 Restoran Lok Kyun was featured once in Taste with Jason (阿賢人情味), a popular food programme in AEC TV Channel.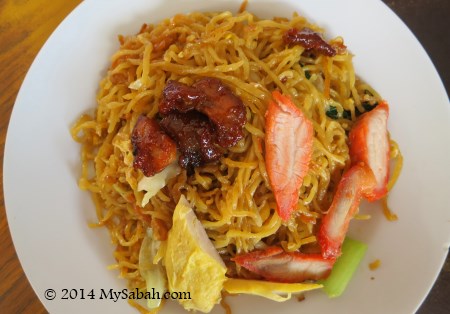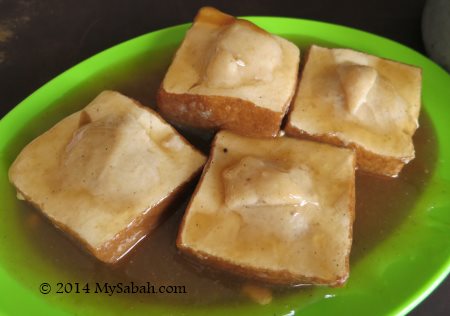 They are not only good in Tuaran Mee. Their "Pork & Yam" (芋头扣肉) and "Stuffed Beancurd" (酿豆腐) are also very famous.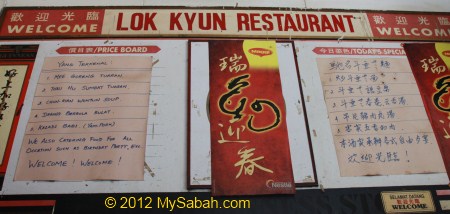 You may click the photo above to see the menu of their popular dishes.
Below is the location map of Restoran Lok Kyun and Tuaran Mee Restoran. Both shops are very close to each other:

View My Sabah Map in a larger map
3. Seng Hing Coffee Shop (成兴茶餐室)
I know some of you don't want to drive 30 minutes to Tuaran town for the noodle. Luckily, you also can have Tuaran Mee in Kota Kinabalu city. One of the most recommended coffee shops for Tuaran Mee is Seng Hing Coffee Shop.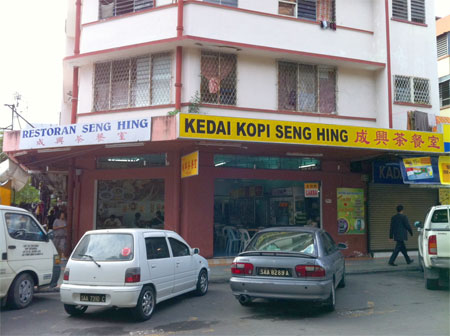 Address: Block E, Lot 10, Sinsuran Complex, Kota Kinabalu, Sabah, Malaysia.
Tel: +60 88-211594 / +60 17-8188855
Opening Hours: 7am – 4pm daily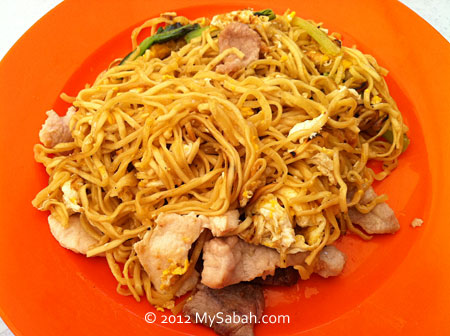 Above: Tuaran Fried Noodle of Kedai Kopi Seng Hing
However, the Tuaran Mee costs RM6 (≈USD1.80) per plate, RM7 (≈USD2.10) if seafood flavor. Anyway, this is reasonable price in city, and consider you don't need to drive a long way to Tuaran.
Below is the location map of Restoran Seng Hing or Kedai Kopi Seng Hing (成兴茶餐室):

View My Sabah Map in a larger map
Please feel free to post your favorite restaurant in comment section here, if you know any other nice places for Tuaran Mee.
Other Popular Sabah noodles:
Tamparuli Mee (Tamparuli Fried Noodle)
Beaufort Mee (Beaufort Fried Noodle)
Photos taken in Tuaran, Sabah, Malaysia Borneo
You might also like: