Tag Archives:
train
In my childhood, one of the most exciting Christmas gifts I wanted was "choo-choo" steam train toy. Now I was even happier to have a fun ride on a real steam train on the oldest railway (established since 1896) of Borneo last week. Big toy man.. FYI, "North Borneo" is the name of Sabah during British colony time.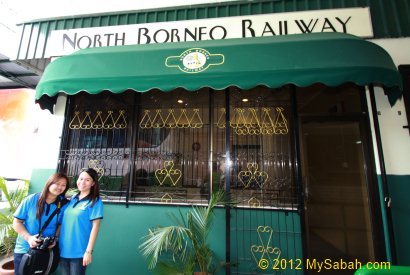 Above: the office of North Borneo Railway in Tanjung Aru Train Station
Actually it's a tour product for tourists to experience the nostalgic romance of riding on a 57-year-old antique steam train. Even though it's a train, it's not a public transportation so you MUST book a seat in advance. You may sign up a tour with the company, North Borneo Railway. The fee is MYR290 (≈USD$97) for adult, MYR185 (≈USD$62) for child (3-12 years old). The rates are as of 22 Mar 2013. The steam train runs on every Wednesday and Saturday.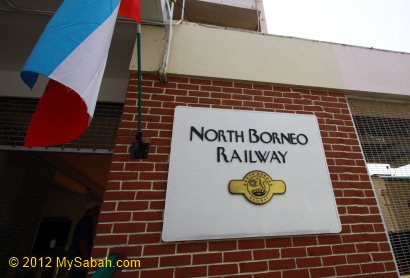 Above: entrance of North Borneo Railway
The North Borneo Railway is in Tanjung Aru Train Station, which is about 5 KM away from Kota Kinabalu, capital of Sabah.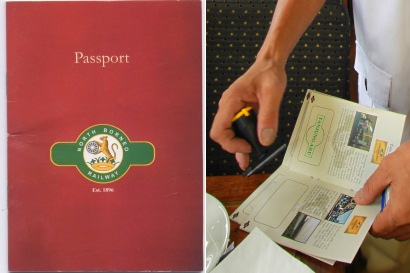 Passengers will be given a "Train Passport" before boarding at 9.30am. It's only for fun and have some brief introduction about the towns we see along the railway. The train steward will stamp the passport whenever we approach a town. At the end I have 5 stamps on the book.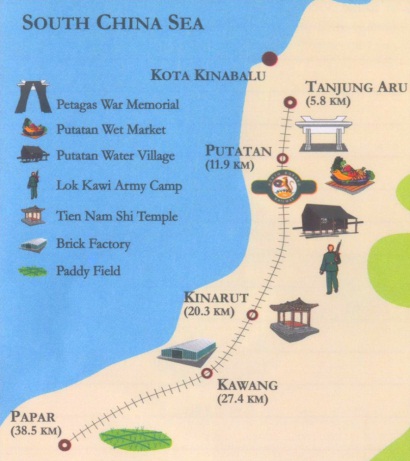 Above is the route map I copy from the Train Passport. Our steam train departs at 10am from Tanjung Aru and head to Papar town about 40 Kilometers away. Our train passes through the countryside and we see villages, rivers, mangrove, paddy fields, rainforests and plantations on the way. The part our train passing through a 450-Meter Pengalat Tunnel (built by British in early 1900) is also fun. The whole tour takes less than 5 hours.
You may watch the following 3-min video about the train ride:

Click Here for wider video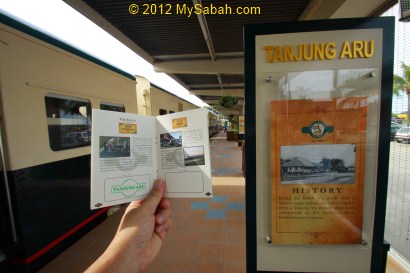 Above: this steam train is made by Vulcan Foundry Ltd in Newton-le-Willows in Lancashire, United Kingdom in 1955 for North Borneo Railway.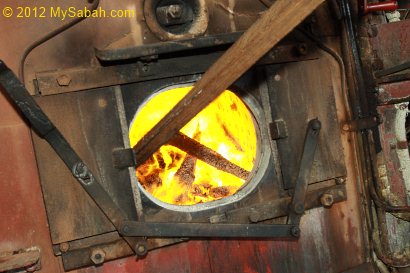 Our steam train is one of the few functional locomotive powered by burning wood. They don't use coal that produces very fine ash powder which would cause black stains on your shirt. Anyway, you better don't wear anything white on the train.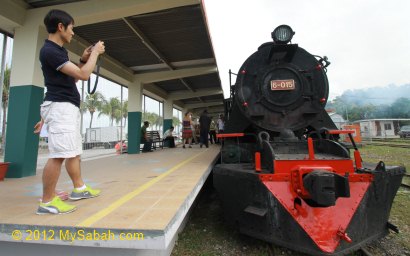 The railway service of Borneo is first started by William Clarke Cowie, Managing Director of the British North Borneo Chartered Company in 1896.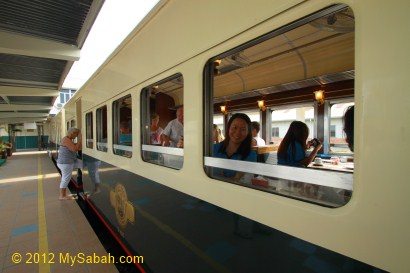 The exterior of the steam train is in deep green and cream colors, the original colors used in old days. The windows are open all the time for a more enjoyable experience. However, it's still a bit warm inside, so I advise you to wear thin T-shirt.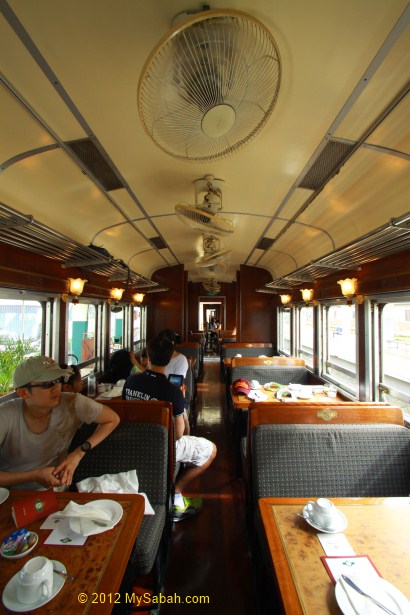 The interior is natural wooded seat and there are cooling by fans. This train has 5 Japanese-designed carriages that have been meticulously restored and renovated to reflect the era of the classical steam train. Very nice ambiance indeed.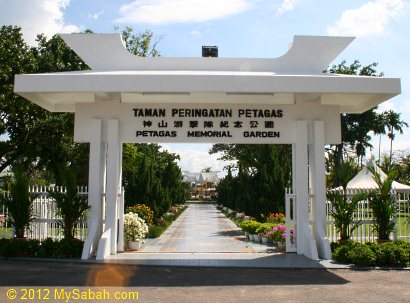 The first landmark that we pass by is Petagas War Memorial.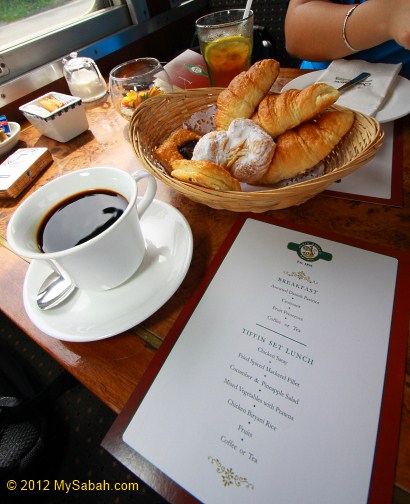 Breakfast (Danish pastries, croissant and tea/coffee) is served onboard.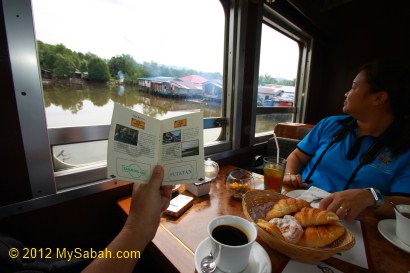 Passing by water village of Putatan.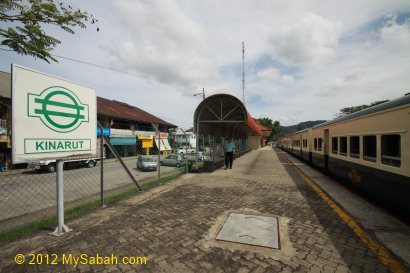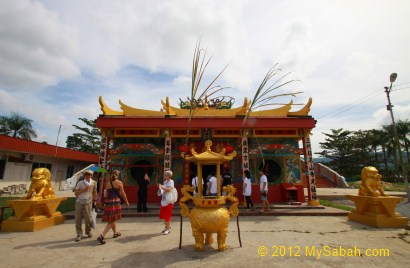 We stop at Kinarut town for 20 minutes and visit the Tien Nam Shi Buddhist Temple (镇南寺).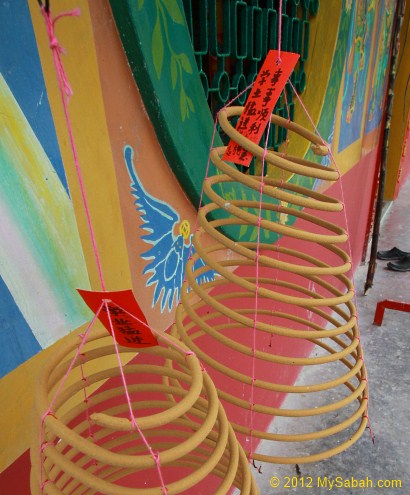 Burning incense sponsored by individual who makes wishes (written on red paper)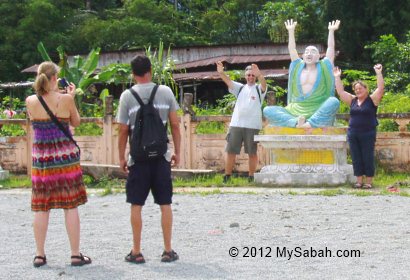 Doing tourist stuff…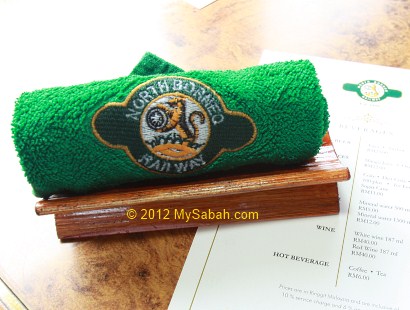 Back to train and cool ourselves with cold towel.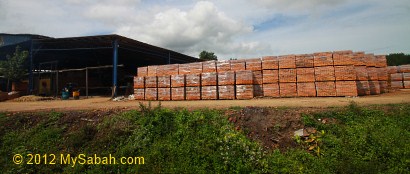 Above: brick factory in Kawang. Our train travels at a speed of 50 to 60 Kilometer per hour.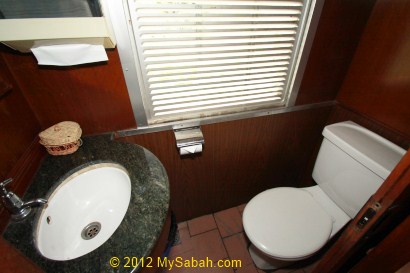 Btw, there is a unisex toilet in each carriage for your call of nature.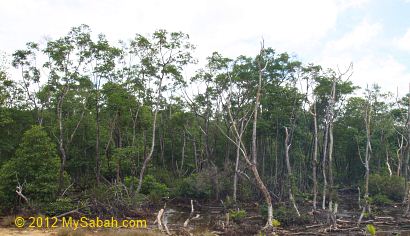 If you reach Kawang, you should check out the nice view of mangrove forest.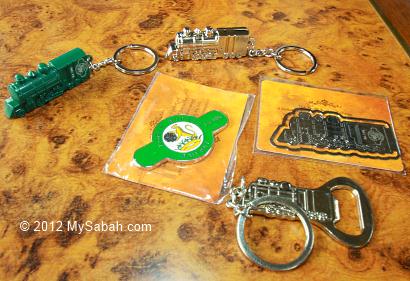 Some souvenir is available for sale on the train. I bought a bookmark.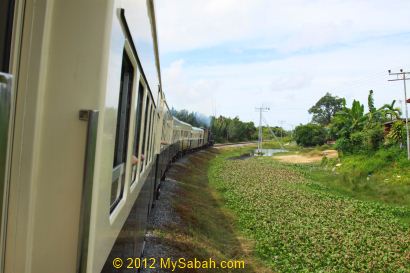 The train has 5 colonial-period carriages and each can accommodate 16 passengers, with a total train capacity of 80 passengers.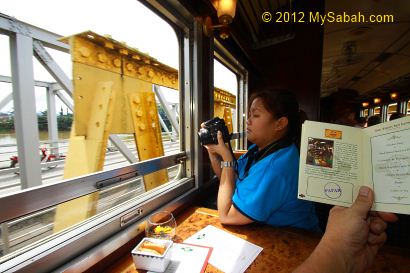 Reaching the steel trestle bridge of Papar.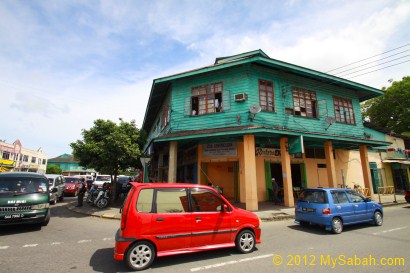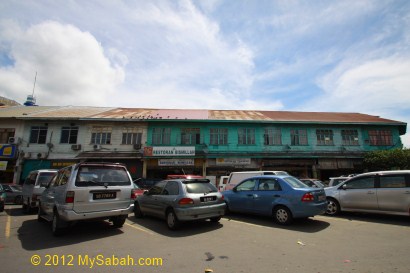 We stop at Papar town for a 30 minutes of free and easy sightseeing around town. You can check out the old wooden post-war shoplots here.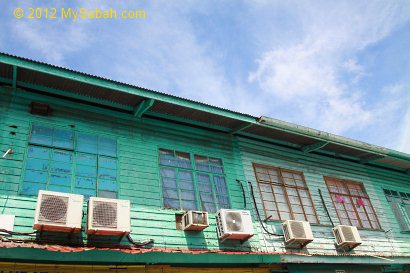 Old building with air-conditioning, haha, interesting contrast..
Papar is our last stop. Now our steam train needs to turn around so it can head back to Tanjung Aru. Some of us stick around to see how the Pullman carriage detaches and connects to the rear (now rear become front). You may watch the 1-min video below:

Click Here for wider video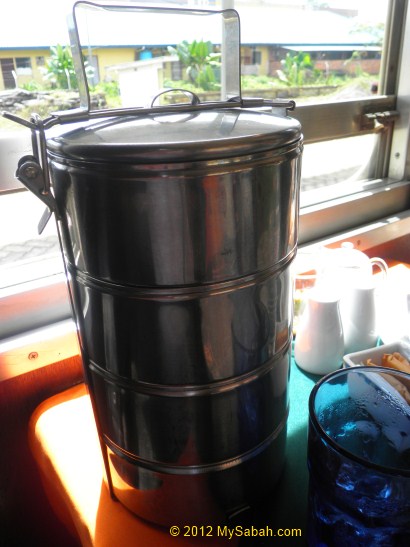 Enjoying our lunch on the way back… Guess what we had?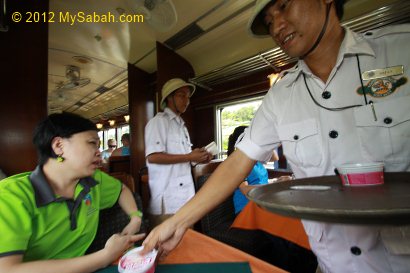 Above: strawberry ice-cream as dessert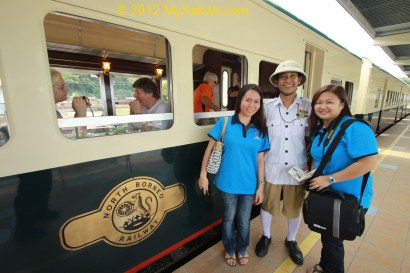 We arrived Tanjung Aru Station at 1:40pm. Overall, everything is great. The experience is really fun, the food is nice, the train steward is friendly and the ambiance is excellent. The only thing I can complain is the high price. That's probably why I didn't see many faces of locals.
More Photos
You may check out my photo album if you want to see more nice pictures: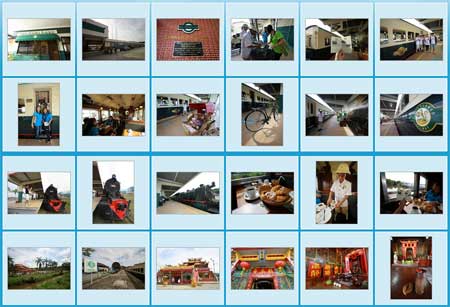 Photos taken in Sabah, Malaysia Borneo
My blog about the White Water Rafting in Padas River is very long, so I decide to split it into 3 parts. I will publish one article each day. Some tourism sites have posted article about Padas River with a few documentary photos. But they don't really show you how the Padas River looked like up-close. I hope I can show you more here.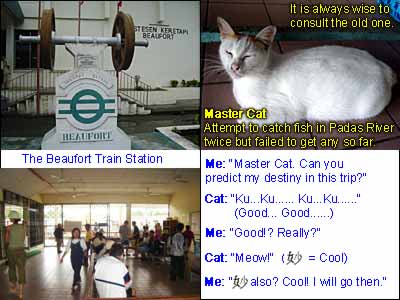 The story started when my aunty from New Zealand, and also a water-sport lover, would like to do kayaking at our islands during her long holiday in Sabah. I thought, "She is an experienced kayaker so she must have seen the world-class beautiful sea view in New Zealand. She comes here to see sh*t kah?" That's why I proposed to go white water rafting. She was quite pleased with the idea, so we headed to Padas River yesterday.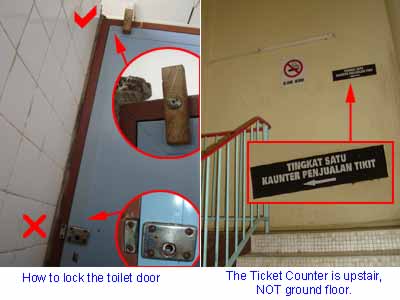 Chinese says, "You can bully the mountain, but never mess with the water." I don't know why I had such a crazy idea coz I don't even know how to swim (a old drought duck, hehe…). Padas River actually means "Spicy River" (Pedas). From the name itself you already can imagine that it is not a "mild temper" river. This Grade III and IV river, during the rainy season now, can easily capsize your boat and drown you. This activity is very challenging and always listed as one of the top 10 things you must die do in Sabah. The full day trip costs about RM150 – RM180 for locals, and that includes two-way transport (by train, van), use of rafting equipments, briefing and BBQ lunch.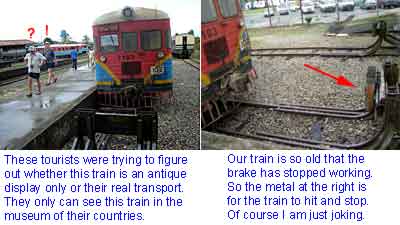 A few notes about rafting at Padas:
1. You do not need to bring drinking water. You WILL drink a lot of river water, which is full of minerals. It is quite impossible that you do not fall out of the boat. Be ready to enjoy the feeling of drowning. You will survive anyway.
2. You don't need to know how to swim to join this activity. In fact, in its high speed rapids, swimming skill is also no use.
3. Try to have heavy breakfast before you go. The so-called refreshment provided by the tour operator are only watermelon and water. Lunch time is at 2 PM, after the end of rafting.
4. Cut short all your fingernails and toenails. You will not wear any shoe on the boat. I almost broke my toenail during rafting. Very painful…
5. If the survivors say they hit by 4 and 6 feet high waves, they are not joking. I personally experienced it…
6. Even though this sport carries risk, it is quite safe. But it is a bit dangerous if you get panic easily in water. I heard someone died bcoz his leg was trapped by the rock under the river.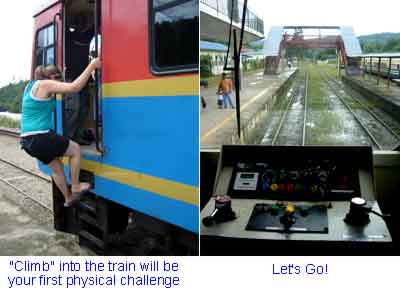 In the morning, the travel agent transferred us to the train station in Beaufort. There were 7 tourists in our group. They are from Czech and Estonia (East Europe). After 90 minutes, we arrived the train station. While waiting for the train to arrive, we walked around. To be frank, the train station looked odd to me. The ticketing counter is on 1st floor, not the ground floor. I remember a Taiwan TV channel was documenting the Padas River trip and their actor also could not find the counter. Note the sign is not written in English. The malfunction toilet door-lock… the old trains that look more like big piece of scrap metals at junkyard… Come on lah, maintain these things a bit lah ok…
The train arrived around 10 AM. We all got on the train to begin the journey.