Tag Archives:
Tawau
Hundred-Feet Observation Tower
I wake up early at 5am in day 5, when others are still in their dream. Next to the Nepenthes Camp is an observation platform on top of a 33-Meter Agathis borneensis tree. I want to climb up there early to see the sunrise.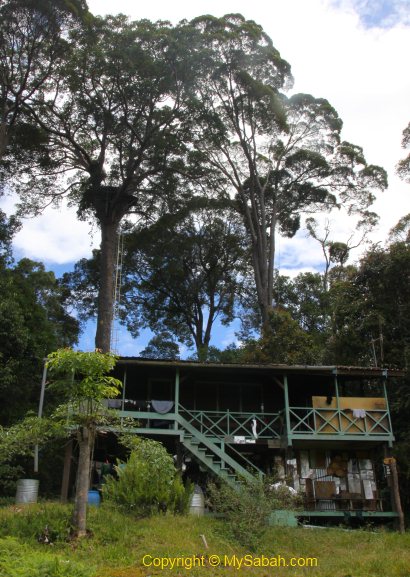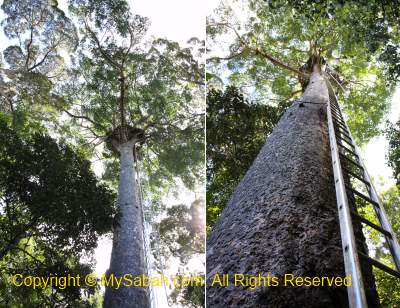 Soon Mr. J and Mr. T also wake up to join me. Ms. S doesn't join coz she has issue with the height and says there is no way she will do it. It is already frightening just looking at this tall tree. Anyway, adventure is doing something that scares you. At 5:15am, one by one, we climb up to the tree top with aluminum ladder that fixed to the tree body.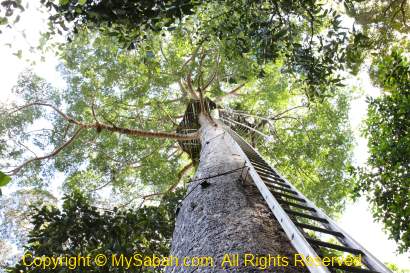 Imagine you climb a ladder to the top of a building over 10 floors high in the dark (about same height as the Karamunsing Complex in Kota Kinabalu). This is the second scariest climb that I attempt so far (the first is Batu Punggul). A misstep and you will be a free falling object for hundred feet.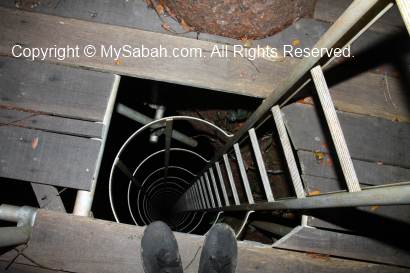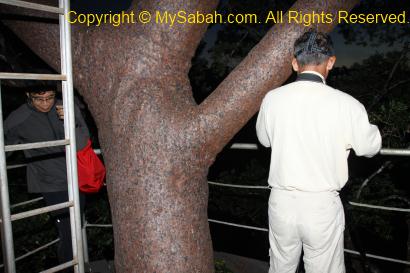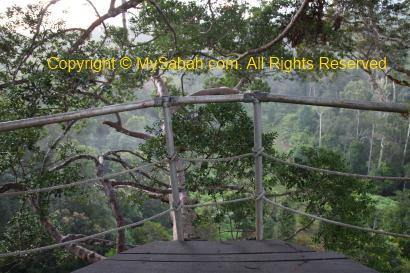 One good thing to climb in the dark is, you can't see anything under your feet, so it is not that terrifying. Mr. T and J got up there first. I hang the camera and tripod over my shoulder and move up carefully. After a few days of holding camera to take thousand of photos, my fingers are really painful. The extra camera weight also makes my legs tired and shivers. I have to stop a few times to rest. Finally, I reach the top within 10 minutes.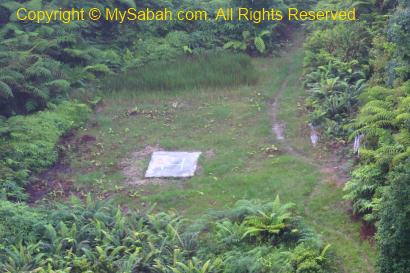 Above: a helipad not far away from Nepenthes Camp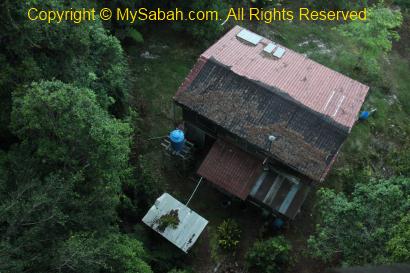 Above: Nepenthes Camp looks so small from top. You can see the solar panel on the roof.
Strictly speaking, the observation tower is only a wooden platform on top of a tall tree. It is not really a tower. The structure is fenced and solid enough to take 5 to 6 persons. It is 5:40am. We look out from this platform and see that our house is so small under our feet. We also admire and appreciate the pretty Agathis borneensis tree that house the structure.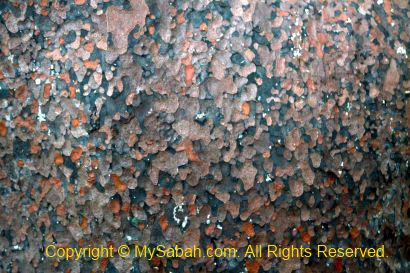 Above: the beautiful skin of Agathis borneensis tree, note the pocked-marked, greyish-reddish bark.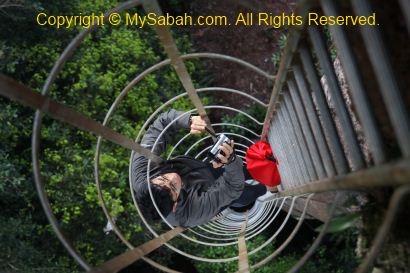 Above: Mr. J waits to video sunrise
The sunrise comes at 6:10am. The surrounding and the trees are painted with golden hue of colors. The birds also start their days. Many colourful birds such as Iora and Scarlet Minivet gather around the canopy of this tree. This platform is quite a nice bird watching spot. We climb down at 6:40am for breakfast, when the sunrise show is over. Damn it! I find a crack on the LCD protector. Luckily it helps to block the damage to LCD which would cost hundreds to fix.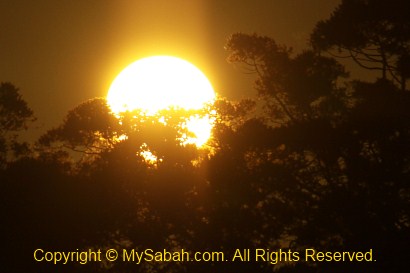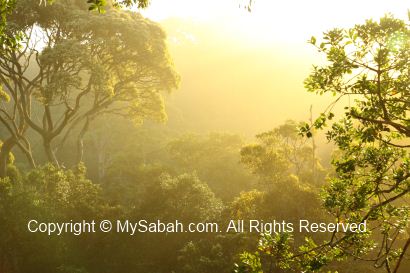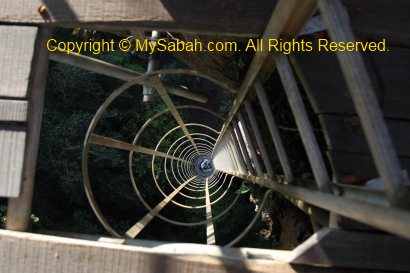 Above: Mr. T climbing down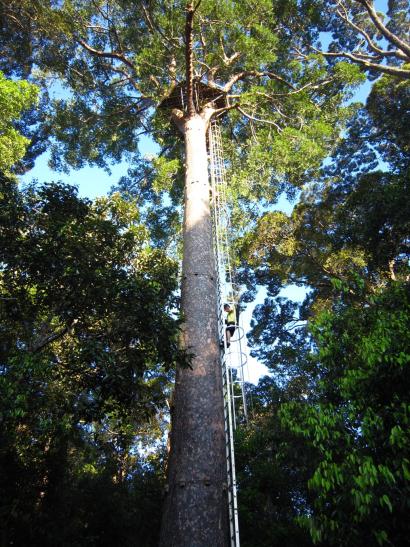 Above: it's me climbing down the tree
Back to Maliau Basin Studies Centre (MBSC)
We are very relaxing today, coz we will leave the total wilderness of Maliau Basin and the trail is mostly descending (easy) path. Even though I am cut off from civilisation for many days, I don't really feel homesick, it's a sad day for me actually. After we have our breakfast, we depart at 8:30am to Agathis Camp, which is 7.5 KM away and a move from 1,005 to 421 Meters above sea level.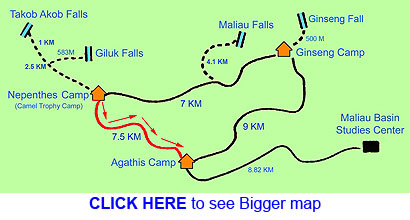 Above: trail in red is our path to Agathis Camp today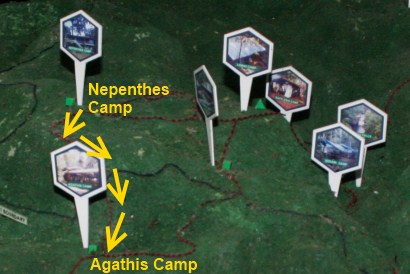 Above: the trail in 3D model
The guides warn us about the steep downhill trail and we should "brake" always and don't run too fast. And they are right. The descending trail is not easy and it does not make us move faster, and it poses another challenge. There is no way you can tell if the soil is soft or solid until you step on it. The slope area is dangerous coz the soil is soft and slippery. The slippery "trap" is so evil coz the mud layer is just thin enough to make you slip, but not deep enough to hold your foot. I have to make sure both of my hands are supported by a rope or tree before I take the next step. I can survive a fall but my camera might not. Just be careful of the precipitous hills…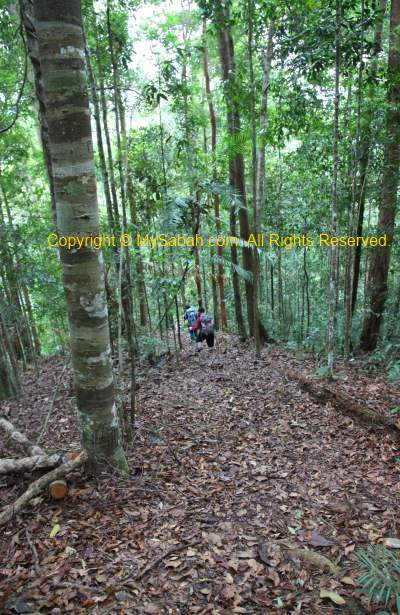 Over the days, I discover a special ability of women. They just can't stop talking, during trekking, eating and sleeping, ALL the time. I am already out of breath trekking and they still talk to me. At the end, I just pretend I don't hear them. Sorry, I am just too tired.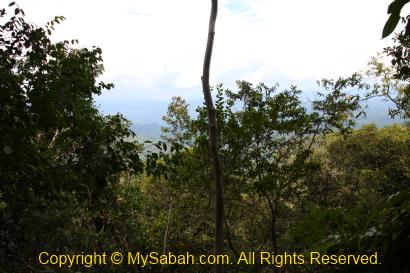 Above: lookout point, where you can see Maliau rim through gap between the trees.
Since this is the last jungle trekking of our trip, we just walk slowly, open all our senses and enjoy the surrounding view. We saw a family of 3 Bornean gibbons swings on tree branches. Red & Hose's Leaf Monkeys (langurs) and Bornean gibbons are very common primates in Maliau. We also hear the distinct calls of Black & Yellow Broadbill and Bornean Bristlehead, and also the loud pecking noise of a woodpecker. Then Mr. T is very excited and shows me a flower of Dendrobium cinnabarinum. He says this flower is very rare, the two (all) varieties are found in Maliau Basin only.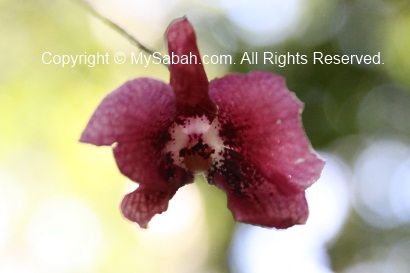 Above: flower of Dendrobium cinnabarinum.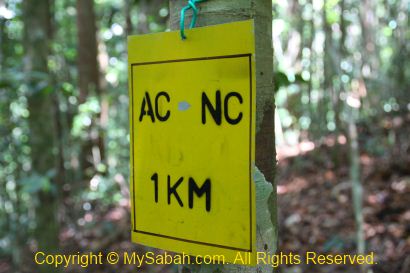 Finally at 12:30pm, we arrive Agathis Camp, where we have our pack-lunch. We are asked to take a shower and put on clean clothing, before we are allowed to sit in the beloved 4-wheel of the guide. Then we leave Agathis Camp and go to the hostel of MBSC, where we will spend the last night in Maliau Basin. After staying 3 days in jungle camp, the hostel is really a 5-star accommodation to us now. The guides and porters are very happy too coz now they can watch World Cup 2010 in MBSC.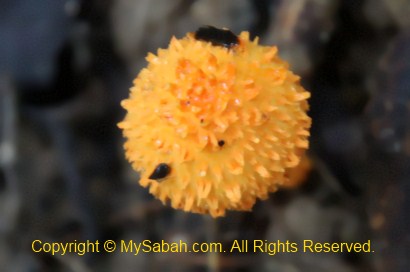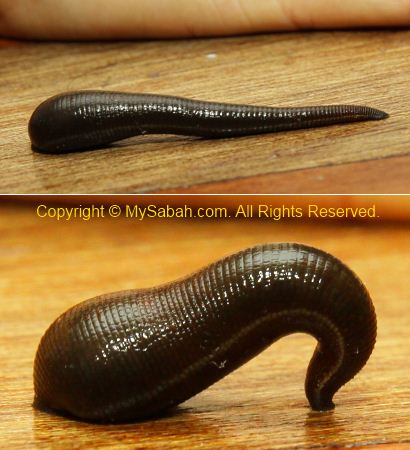 Above: don't know who brings this tiger leech back to the hostel. It is fully fed with 1 year worth of meal, so fat… lol
Skybridge (Canopy Walk)
You are wrong if you think we are holidayers who can sit still for day doing nothing. After we unpack our bags in hostel, we start to get restless and want to go to Skybridge (suspension bridges built between tall trees high above the ground). It rains heavily in the afternoon so we go around 4PM.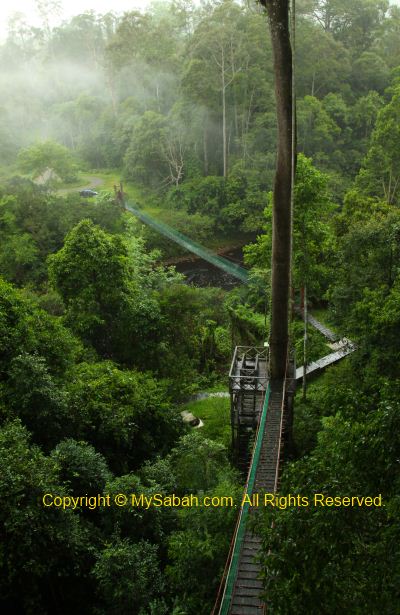 The Skybridge is only a 10-minute drive from MBSC. Constructed in April 2007 and linked up with about 8 super tall trees (Uratmata, Sepatir, Merbau and Seraya), Skybridge is the second longest canopy walk of Sabah, with a length of 293.8 Meters (Highest Point: 21.35 Meters).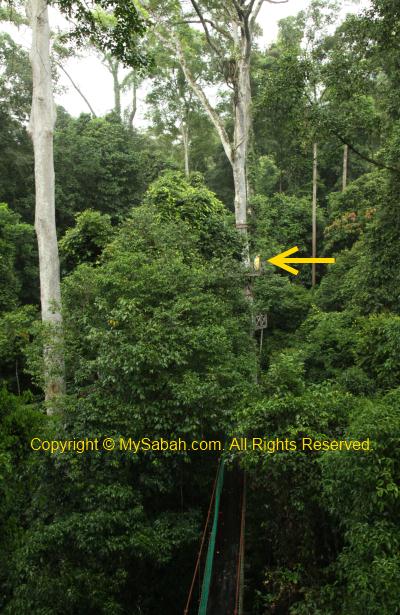 Above: can you see them? They look so small…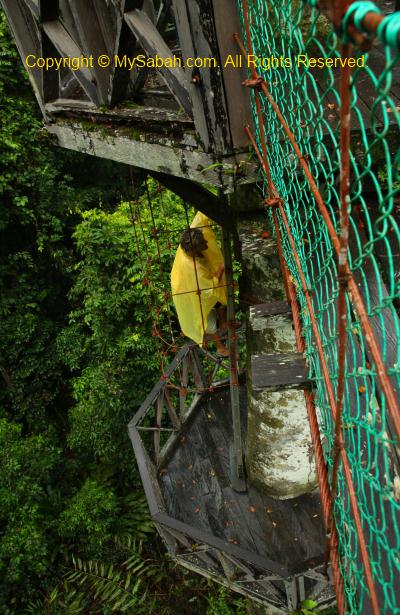 Maliau Basin is an Important Birding Area. More than 290 bird species are found here, with more than 20 are endemic to Borneo, and 26% are listed as threaten or near-threaten by IUCN. Here you can find all 8 species of hornbill of Borneo, 6 species of kingfishers and all 9 species of Bornean barbets. We see fruits of fig species (Ficus), which is the favourite of hornbills, who visit as many as 240 species of fruit trees. We spend an hour here and back to hostel later.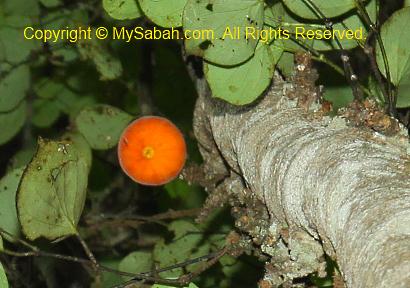 Above: fruit of Ficus tree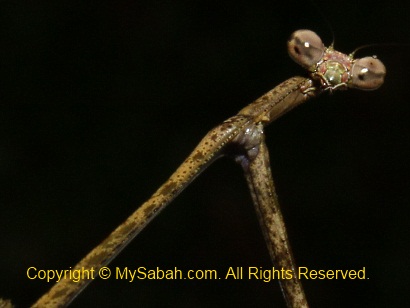 Above: a weird praying mantis looking at us
Night Safari
Tonight we have a night safari at 8pm. We just sit on the jeep and let the guide scans for wildlife by using a spotlight. If the guide spots anything, the car will stop and he will show and tell us what we see. This is highly depends on luck. In bad day, you would see nothing.


Above: this wild boar (Sus barbatus) always comes to MBSC. She got 8 babies.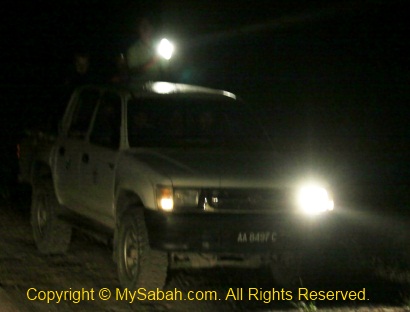 During an hour of fun drive, we see Malay Civet cat, Sambar Deer (cervus unicolor), Flying Squirrel, Rhinoceros Hornbill and Buffy Fish Owl.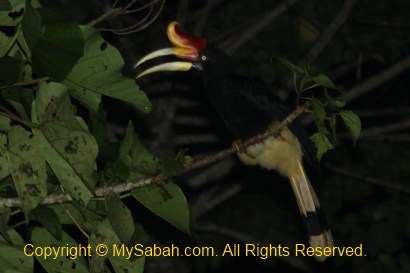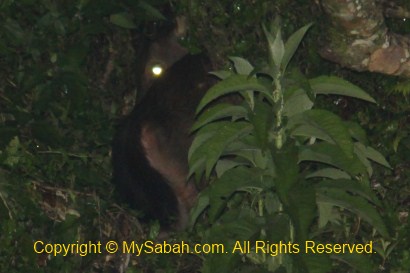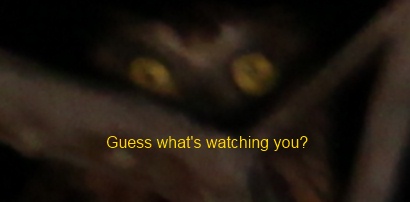 We have been seeing the fresh dung of Banteng and elephants and hope to see them tonight, but too bad none of them turn up. Anyway, below are their photos for you to know how they look like.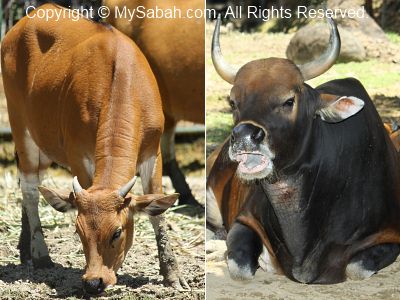 Above: Banteng (Bos javanicus), Asian Wild Cattle or Bornean Wild Ox, known as Tembadau locally. Left is the female and right is male Banteng. Banteng is extinct in West Malaysia (since 1950) and Sarawak (since 1980). It was used to be the favourite game species of hunters but now it is endangered and protected in Sabah. The domesticated Banteng becomes Bali cattle. Note the white "stockings" on the legs. About 15 to 20 Banteng are recorded in Maliau.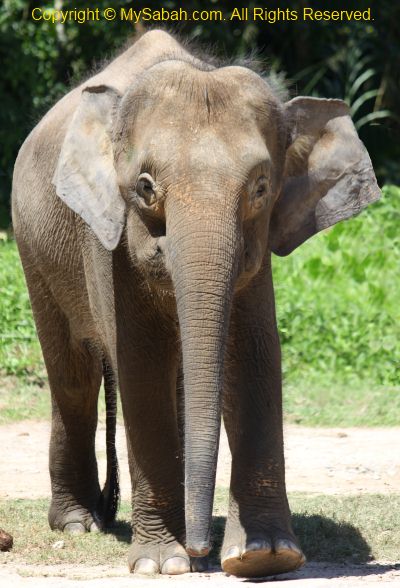 Above: Pygmy elephant of Borneo is the smallest elephant species in the world.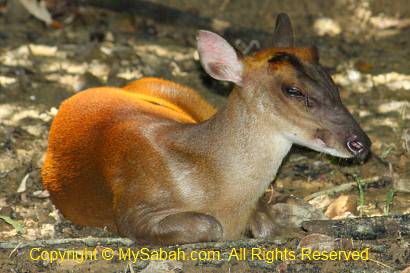 Above: Common barking deer (Red Muntjac), known as Kijang locally. It can grow in length up to 98 to 111 cm, a height of 50 cm and a weight of 15 to 35 Kg. You can buy its meat as it is still the game species.
FYI, all 5 cat species (i.e. flat-headed cat, marbled cat, bay cat, leopard cat, clouded leopard) of Sabah are found around Maliau Basin. They are very elusive and secretive animals active at night, so they are very hard to spot.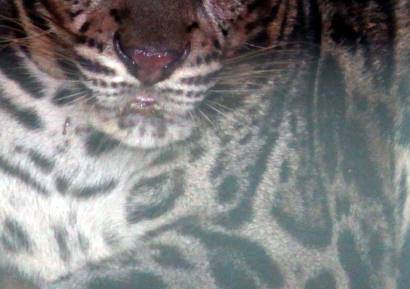 Finally, we have joined all the programme In Maliau Basin and will go back to Kota Kinabalu tomorrow. But there is still one more unplanned programme waits for us tomorrow.
Photos taken in Maliau Basin, Sabah, Malaysia Borneo
All Articles of Maliau Basin Trip:
Part 1. Introduction to Maliau Basin
Part 2. Day 1 in Maliau Basin
Part 3. Day 2 in Maliau. Trekking to the 1st camp
Part 4. Day 3 in Maliau. Maliau Waterfall
Part 5. Day 4 in Maliau. Entering the garden of pitcher plant
Part 6. Day 5 in Maliau. Skybridge & Night Safari
Part 7. Day 6 in Maliau. Leaving Maliau
Part 8. Conclusion & Notes
More Photos
You may check out my Maliau Basin photo album for more pictures: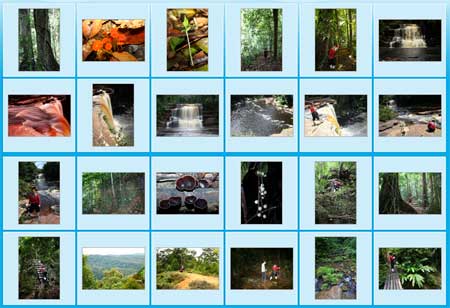 BONUS! More new photos of Maliau Basin…
Other canopy walk in Sabah:
Poring Canopy Walkway (highest in Sabah)
Canopy Walk of Danum Valley (award-winning attraction)
Rainforest Discovery Center (best for bird-watching)
You might also like:
Day 4 in Maliau Basin
I am ready to go home today morning. We have to cancel our trip halfway coz Ms. S is injured and suffer muscle pain. When all of us are in "quitting" mode, Ms. S has geared up and I can sense the "Go! Go! Go!" mood on her face. "Did you tell her… our decision?" I ask the others quietly. They look at one another and shake their heads. What?!! None of us told her the bad news? Probably nobody dares to upset her.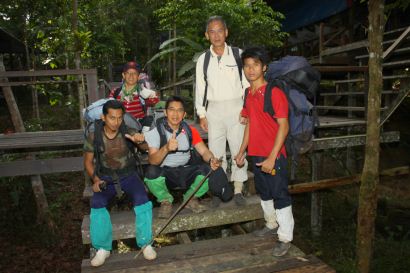 Then she is quite shock to find out the rest of us have decided (without her) to cancel the trip and return to Maliau Basin Studies Centre today. She assures J, our guide, and O, Senior Ranger, that she is almost fully recover, after she did the stretching exercise advised by the doctor over the night. J is very doubtful and tries to convince her to stop. Then they quarrel. The rest stay away from the "storm" and wait. It is not for us to decide because only Ms. S knows her own condition.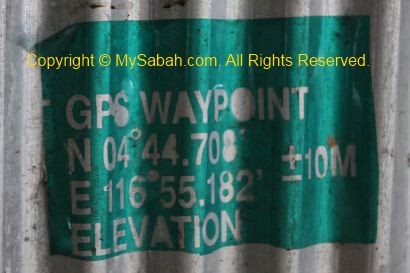 Above: GPS reading of Ginseng Camp
Soon the thunderstorm is over, the face of our guide looks pale, like a cock losing a fight; he comes and informs us to get ready to Nepenthes Camp. We almost jump and scream in joy. Though we wish to continue the trip, we really concern about her condition. We don't want her to proceed just because she doesn't want to spoil our trip. Again, she shows no intention of quitting. The guides say they will observe her condition, if she can't make it for the first 500 Meters, then we have to turn back. If you read my last blog, you know how terrible the trail is. Later we find that we worry too much. She always walks at the front. The "Iron Lady" is back!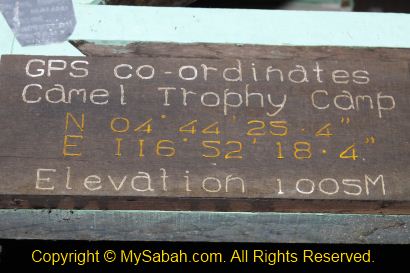 Above: GPS reading of Nepenthes Camp
Going to Nepenthes Camp
At 8:30am, we start walking from Ginseng Camp (566 M above sea level) to Nepenthes Camp (formerly Camel Trophy Camp) at 1,005 Meters. Today is also one of the best days. In 7KM of jungle trekking from 566M to 1,000M in elevation (a lot of climbing then!), we will pass through 3 types of forest, namely, mixed dipterocarp rainforest, lower montane forest and heath forest. We will stay in Nepenthes Camp for a night.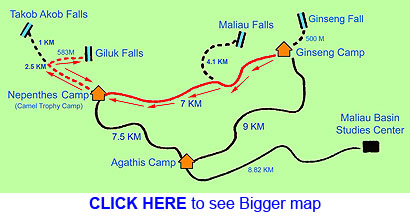 Above: trail (in red) from Ginseng Camp to Nepenthes Camp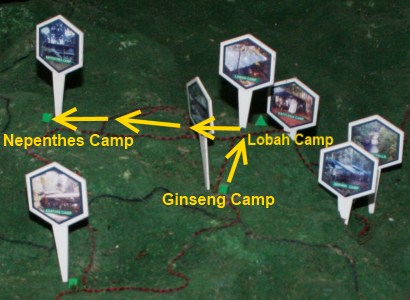 Above: trail in 3D model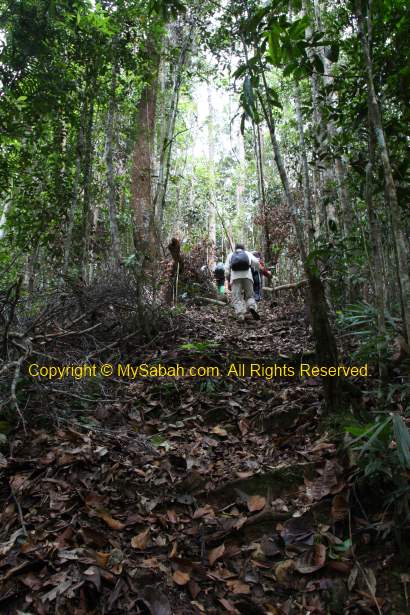 The terrain is as undulating as our previous trails. We first walk in mixed dipterocarp rainforest with many hundred-feet trees, quite similar to what I saw in Agathis-Ginseng trail. For every 100 Meters we ascend, the temperature drops by 0.75 degree Celsius, so it is getting cool and fresh.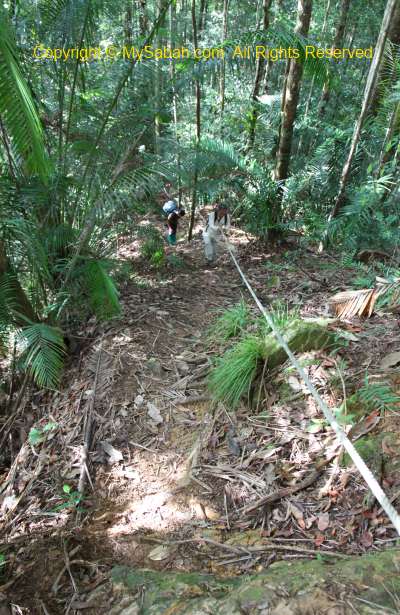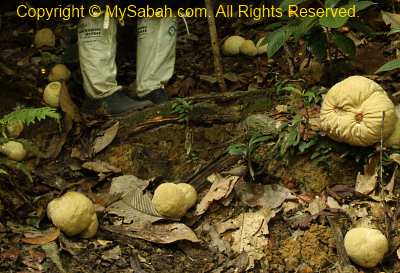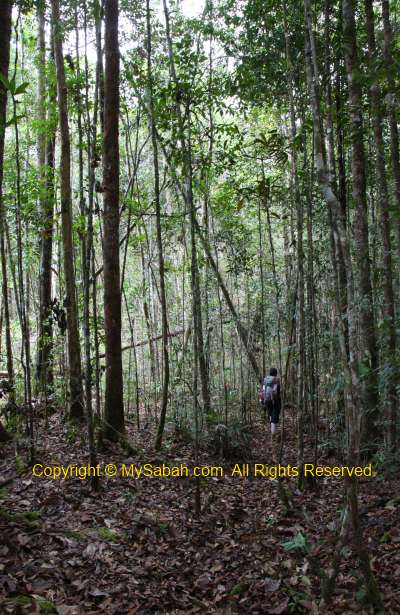 About two hours later, a forest of huge trees changes to a forest full of slim and short trees only about 15 to 30 Meters high. Conspicuous green cushions of mosses, liverworts and lichens are seen along the trail. We have entered the Lower Montane Forest (750M – 850M above sea level). There are some weird plants that you would notice in montane forest (see photos below).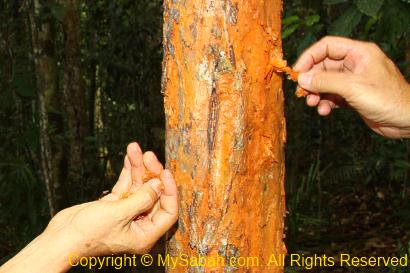 Above: Tristaniopsis sp. tree with orange bark, you can peel off the skin easily.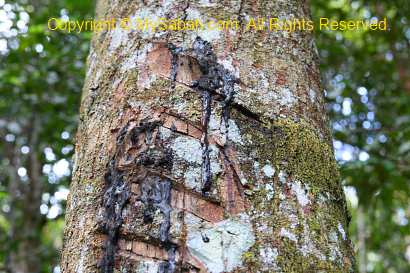 Above: a Rengas tree which can cause intense allergies, and is related to the well known Poison Ivy.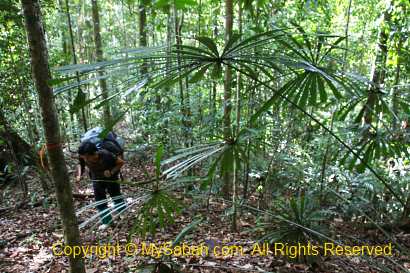 Above: Fan palm is common in montane forest
Heath Forest: Garden of Pitcher Plant
Then we saw the first pitcher plant at 11am. Very soon we saw many more small pitcher plants along the trail. The guide asks us not to waste our time to photograph these ordinary pitcher plants, because there are more big and special ones ahead. And they are right. We enter the tropical heath forest, also a garden of pitcher plant! We can see very obvious change of vegetation; the heath forest contains dense stands of smaller sized, small-crowned & shorter trees mostly shorter than 20 Meters. The trail is quite narrow, but more sunlight due to smaller canopy.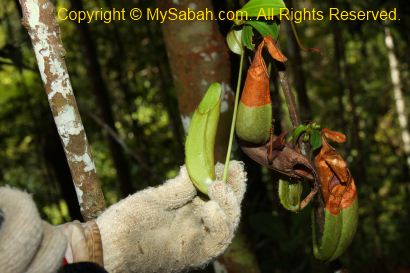 Above: first pitcher plant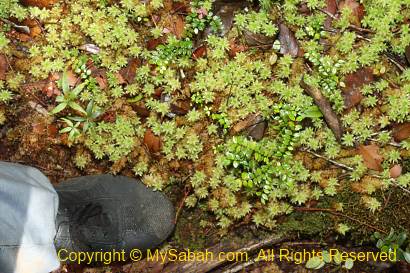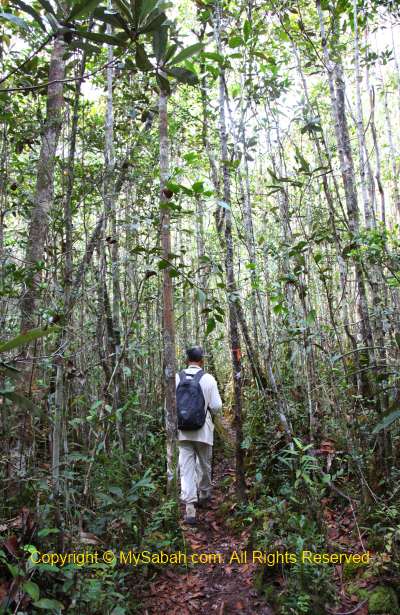 Occur from 900 to 1,600 Meters above sea level and occupy 21% of Maliau Basin, heath forest is a type of tropical moist forest found in areas with leached, acidic, white sandy soils that are extremely nutrient-poor. Heath Forest is locally known as Kerangas in Iban language, the word means a forested land with underlying soils which are unsuitable for growing rice. There are not many heath forest in Sabah and this is the first time I see it.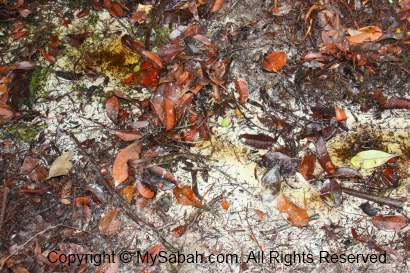 Above: white sandy soil in heath forest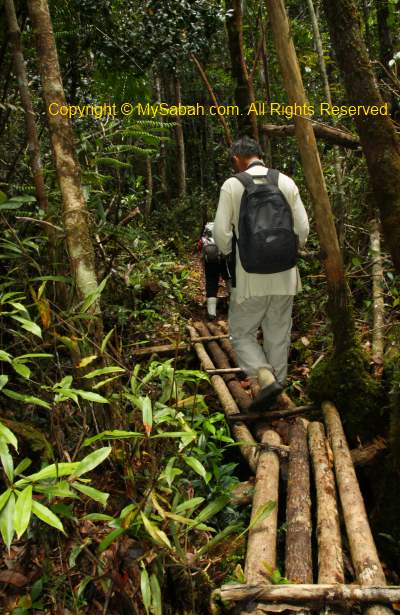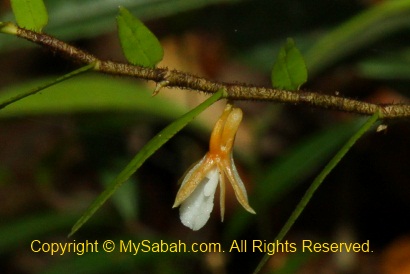 Because of the infertile soil, the plant is rich in tannins, which is indigestible or toxic to plant eaters. The tannins leaching out of the peaty leaf litter is hard to be broken down, so it stays in the water. The reddish brown color of river water in Maliau Basin is mainly caused by heath forest. The forest floor is criss-crossed by tangled roots encrusted in moss, making the ground very marshy and soft.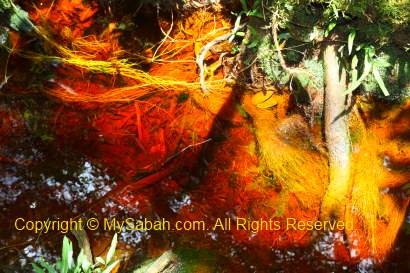 We can see fascinating pitcher plants in every few steps. Some are on the ground, and some dangled up to tree top, attempting to capture high flying insects. Except Maliau and Mesliau, there is no other place in Sabah where I can see such a big concentration of pitcher plant. 9 species of pitcher plant are found in Maliau Basin, namely, N. veitchii, N. tentaculata, N. stenophylla, N. mirabilis, N. hirsuta, N. lowii, N. gracilis, N. reinwardtiana, N. stenophylla x veitchii (hybrid). Most of the pitcher plants I see in this heath forest are Nepenthes veitchii and Nepenthes stenophylla.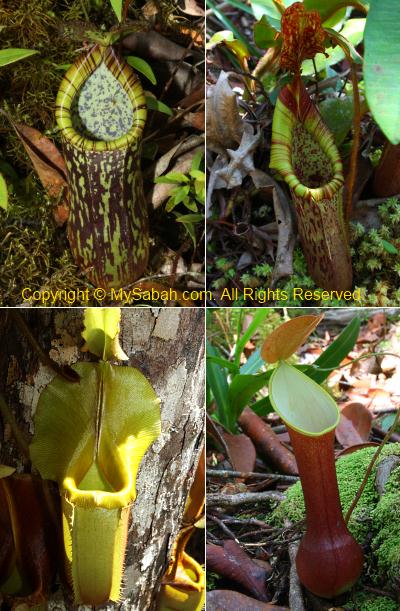 Besides rich variety of pitcher plant, we also found some flowering orchids and Rhododendron. 21 species of Rhododendron are found in Maliau Basin. I was told that many Japanese tourists and botanists don't want to leave this natural botanical garden as they love it so much. Mr. T is a plant expert, so he keeps me busy taking photos by showing me some unique and rare plants around.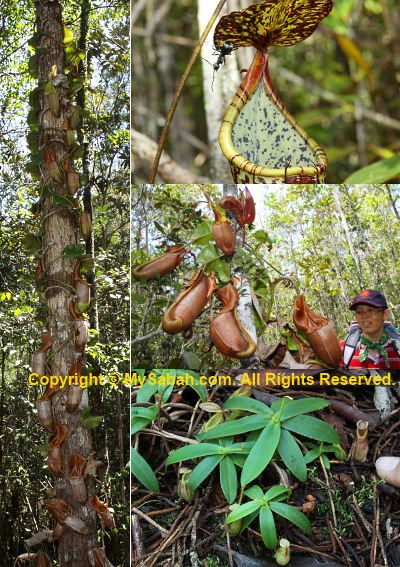 There are fewer leeches in heath forest, but they are bigger here. Probably due to the white sandy soil here, the tiger leech has white, instead of yellow, stripes at the side of its bodies. We don't see any other animals except a noisy Temmink's Sunbird. We are close to the camp when we enter the Jalan Babi (Wild Boar Road), which is a clear and wide trail created by migration of wild boars that feed on fallen acorns. You better stay close with your guide because there are many junctions here, as you could be lost easily.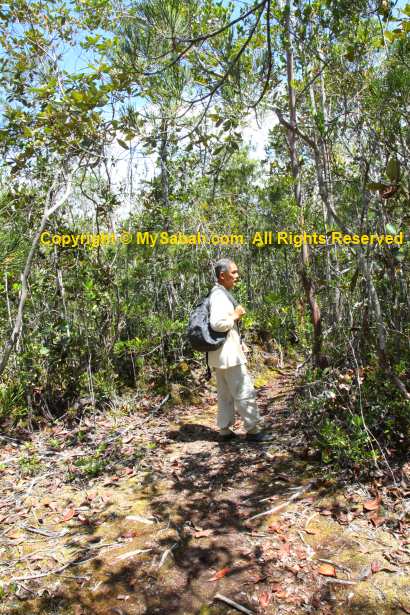 Above: "Wild Boar" road
Nepenthes Camp (formerly Camel Trophy Camp)
We arrived the Nepenthes Camp at 2pm (a total of 5.5 hours of walking). Constructed by the participants of Camel Trophy (hence the old name "Camel Trophy Camp") in 1993, Nepenthes Camp was the first and oldest permanent camp within the Maliau Basin and it is located strategically at the meeting point of lower montane forest and heath forest on southern plateau of Maliau Basin.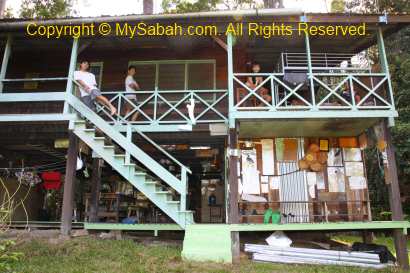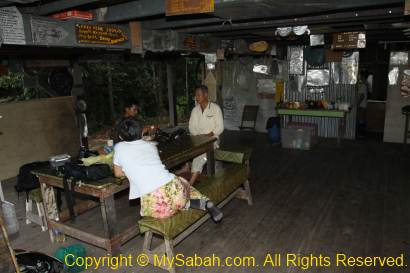 Nepenthes Camp is a 2-storey wooden house smaller than Ginseng Camp. It is complete with bunk beds, showers, kitchen, toilet and solar electricity, which can accommodate up to 15 visitors. Personally I think it is more comfortable than Ginseng Camp, coz it has proper rooms with beds. The ground floor is the kitchen, dining area, toilet and shower room, and our rooms are in 1st floor.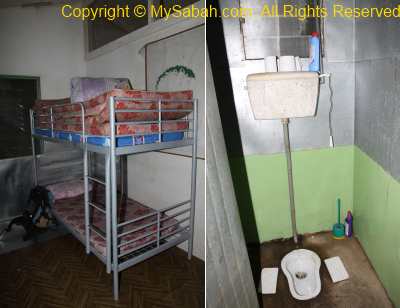 Nepenthes Camp is the oldest camp and frequented by most visitors, so it has the most number of plaques (nearly hundred) created by tourists. Some plaques are very creative and interesting. We can spend hours just to look at them, which is great, as we have nothing to do at night. We also find the names of our friends on some plaques.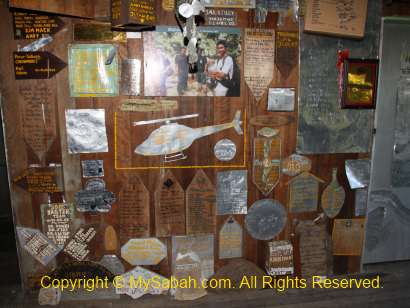 Above: part of the plaque collection in Nepenthes Camp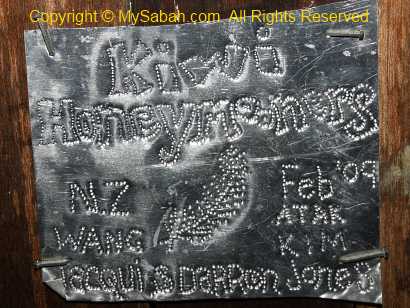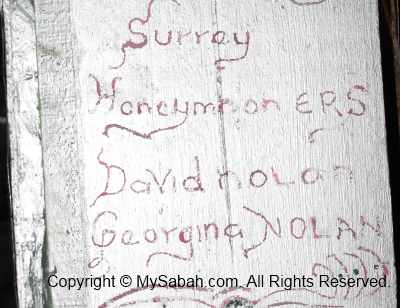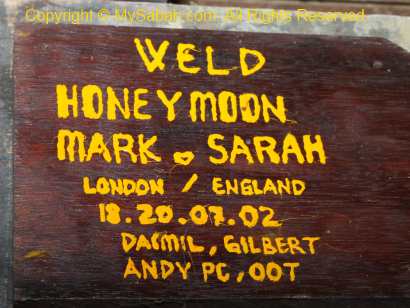 Above: Honeymoon in Maliau Basin. Are they serious?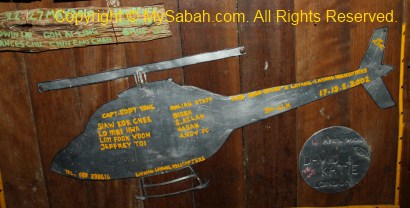 Above: this one made in 2002, probably the oldest plaque
Giluk Falls
I have a quick lunch at Nepenthes Camp, then proceed to Giluk Falls at 2:30pm. Ms. D and Mr. T are tired and so they don't follow me and Ms. S. We walk so fast that we arrive Upper Giluk Waterfall in an hour. Giluk Falls is also a multi-tier waterfall but it is much more smaller than Maliau Falls. However, it has the beauty of its own.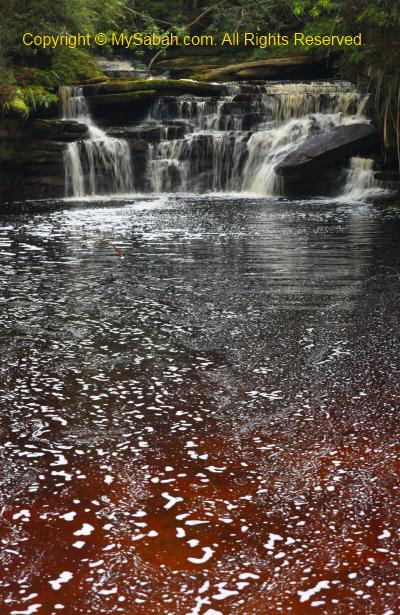 We can see white foams flowing slowly on the water (look like someone does her laundry in the upstream). Actually these frothy white foams are created by soapy saponins from the leaves, and they are commonly seen on the river around heath forest. The reddish brown river is rich in Humic acids, produced by, and washed from, the very slowly decaying leaf litter beneath the heath forests and highest montane forest. Humic acids are difficult to degrade so they remain in the river. The water is also low in oxygen level, so only 4 fishes and 2 crab species are found in the rivers of Maliau Basin.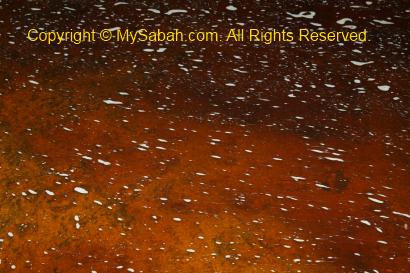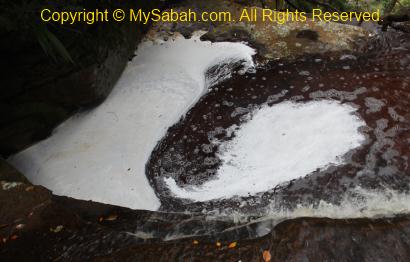 Due to time constraint, we don't go to Takob-Akob Waterfall, which is far away with very challenging landscape. We are back to the Nepenthes Camp around 5:20pm.
Update (May 2011): I visited Takob-Akob Falls, the tallest waterfall (38 Meters) in Maliau Basin, in my second trip. You may watch the video below:

Click Here for bigger video
The Evening
The water pump in Nepenthes Camp broke down, so we have very limited water that we have to take our shower in a river nearby. But I have to climb down a 5-feet drop, walk on the dirty muddy riverside to the river, so I give up. I get a scoop of clean water in the toilet to wash myself with wet towel.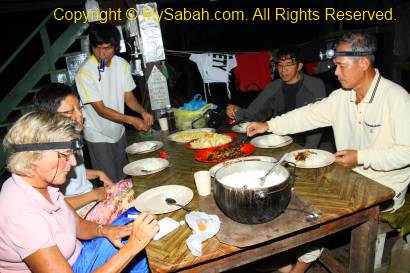 Nepenthes Camp is powered by 6 solar panel on the roof. The electricity is only enough for lighting of our dinner. During dinner time, about 3 Malay Civet cats (Viverra tangalunga) turn up outside our house. We give them our leftover food and they enjoy it. Though they keep a distance from us, they seem to get used to human already. One of them is lack of one limb and being chased away by other two. If you stay still, they can come as close as 2 Meters away. From the info of other web sites, visitors and guides have been feeding them since year 2001 (but I'm not sure if it is always the same group of civets).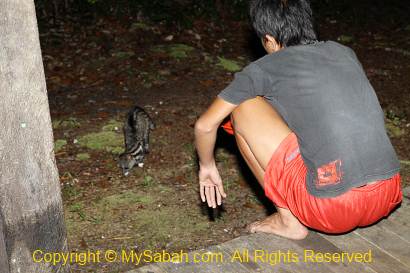 The night in Nepenthes Camp is not too cold, probably we sleep in a proper room. The sky is so clear and full of stars. I can even see the Milky Way (our galaxy) runs across the sky like two parallel silver rivers. It's so great to be alive. You can't see this in city coz it is overshadowed by street light and dusty air. We feel so relaxing because we have finished all the challenging trails. Tomorrow we will go back to Agathis Camp and it is mainly descending trail.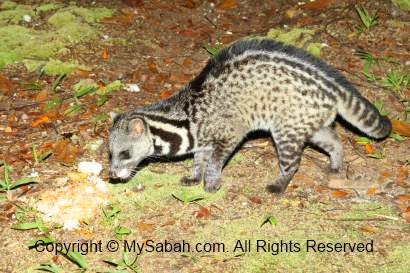 Late in midnight, I heard someone was shouting to the air. Next day I was told that it was a guide who asked for "permission" from spirit so he can pee from the balcony. The reason was – when he took shower with another guide at the river in evening, they felt that "someone" throwing thing at them. He might think that the spirit in forest dislikes him, so he tries to be respectful.
Photos taken in Maliau Basin, Sabah, Malaysia Borneo
All Articles of Maliau Basin Trip:
Part 1. Introduction to Maliau Basin
Part 2. Day 1 in Maliau Basin
Part 3. Day 2 in Maliau. Trekking to the 1st camp
Part 4. Day 3 in Maliau. Maliau Waterfall
Part 5. Day 4 in Maliau. Entering the garden of pitcher plant
Part 6. Day 5 in Maliau. Skybridge & Night Safari
Part 7. Day 6 in Maliau. Leaving Maliau
Part 8. Conclusion & Notes
More Photos
You may check out my Maliau Basin photo album for more pictures: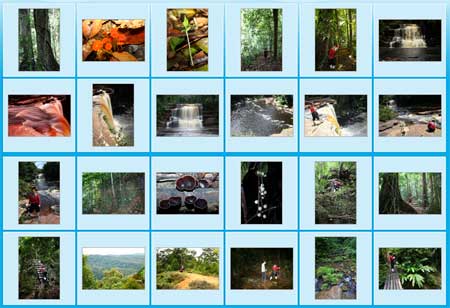 BONUS! More new photos of Maliau Basin…
You might also like: