Tag Archives:
Tawau
When you check-in at Tawau airport, you may notice a lot of local passengers carry many boxes with them. Try to get really closer and you would smell something dead. Haha, if you don't know what it is, you miss something very, very important from Tawau.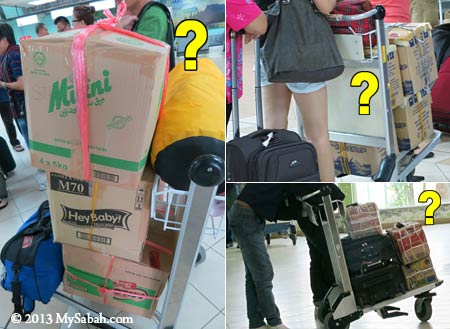 Pic: what's in the boxes?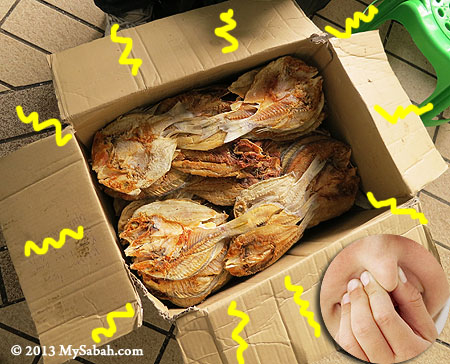 Let's reveal what is inside the boxes. It is the best dried seafood of Sabah. The dried seafood of Tawau is so good and famous that even people from Peninsular Malaysia and Brunei consider it's a must-buy.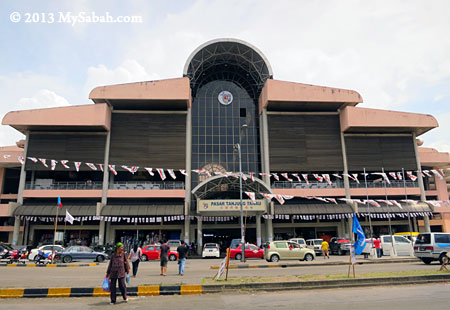 Pic: photo of Tawau Tanjung Market
Dried seafood is sold everywhere in Sabah, but the best one is found in Tawau Tanjung Market (Pasar Tanjung Tawau in local language). This three-storey market in Tawau is more than just a dried seafood market, it is also selling rich variety of produces from neighbouring countries such as Indonesia. It is open from 6am to 5pm (or later) every day.


The love of stinky salted fishes is not only among Malaysians, other Asians share the same love too, the more smelly, the better. To westerners, dried seafood may smell like corpse. Hey, to us, your favorite blue cheese also smells like used socks unwashed for weeks. I like blue cheese anyway. Every culture appreciates different kind of stinky food.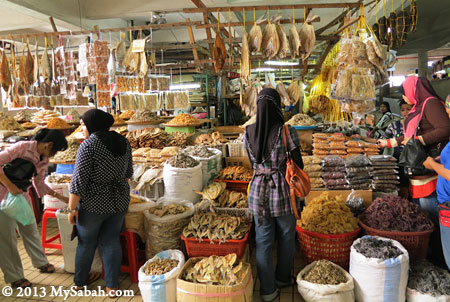 Most Hong Kong and China tourists don't know this place. If they do, I'm sure they will drop by to shop, before they leave Tawau after their island trip in Semporna. Dozens of dried seafood stalls are located in 1st floor of Tawau Tanjung Market.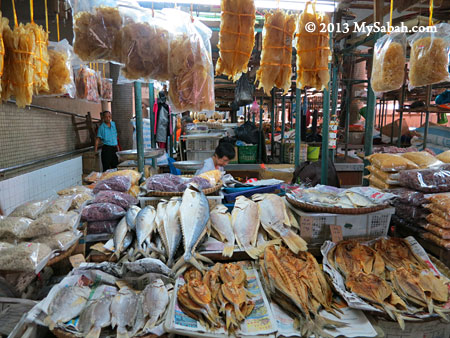 Sabah is well-known for its seafood, so we are never short of fresh seafood to make dried seafood. We dry almost everything from the sea, for example, fish, shrimp, squid, sea cucumber, seaweed. Many dried seafood are packed nicely in plastic bag. I was very surprised that I didn't see swarm of flies around.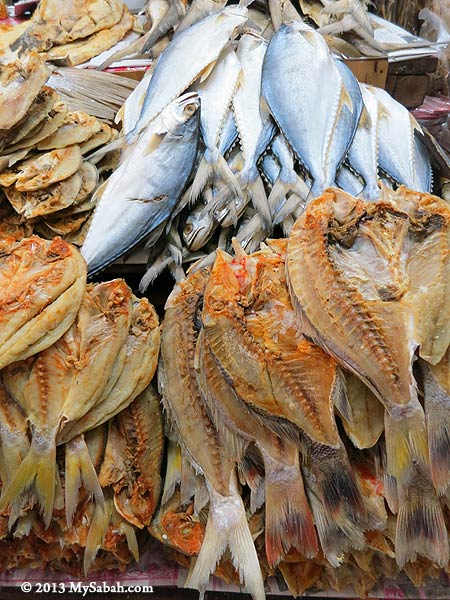 Pic: salted fishes (Ikan Masin in Malay language)
Dried seafood is so important in our diet that Sabahans who study overseas in western countries will bring a lot of them. I can finish a big bowl of white rice with only a few small chunks of salted fishes. It is more tasty if you eat with bare hand and cold rice. Try it.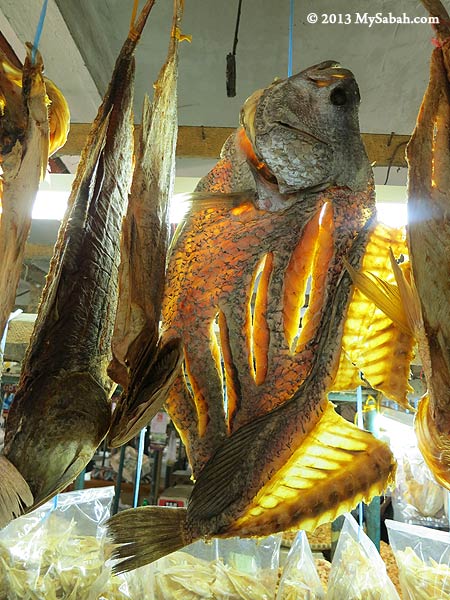 My favorite salted fish is the "moist" type (梅香咸鱼 in Chinese). Unlike salted fishes that are dried by sun, the fluid and freshness are locked in moist salted fish and give it a stronger smell and deeper flavor.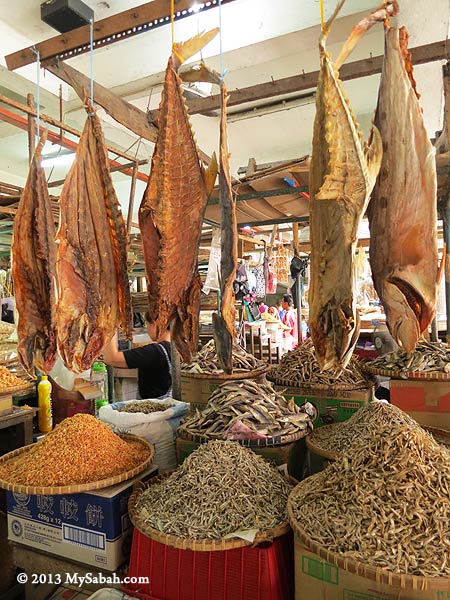 Pic: huge salted fishes. The taste of bigger salted fishes are usually better than the small ones. Big salted fish is a hot selling item and sometimes it is out of stock. Old customers will book it with hawker earlier.
The dried seafood here is not cheap though, but you can always bargain. Many are willing to spend hundreds because they can't find such high-quality products elsewhere.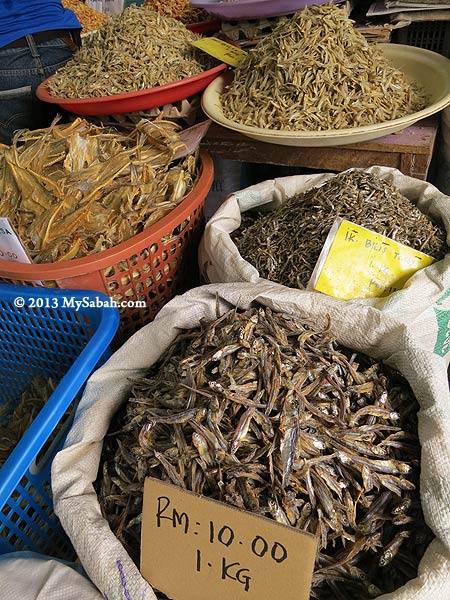 Pic: dried anchovy fishes (Ikan Bilis in Malay language)
Dried anchovy fishes are commonly used in Malaysian food (e.g. Nasi Lemak), even tourists like it. You can fry it with sugar and eat it like snack, best if comes with beer.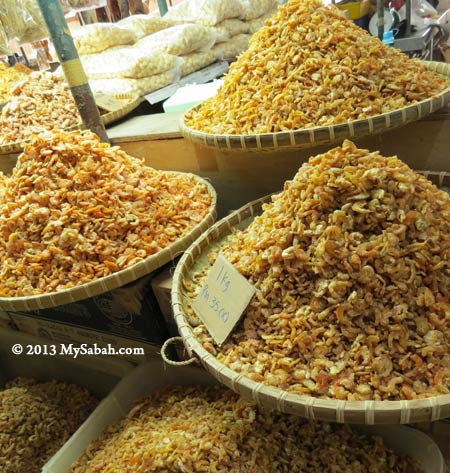 Pic: dried shrimp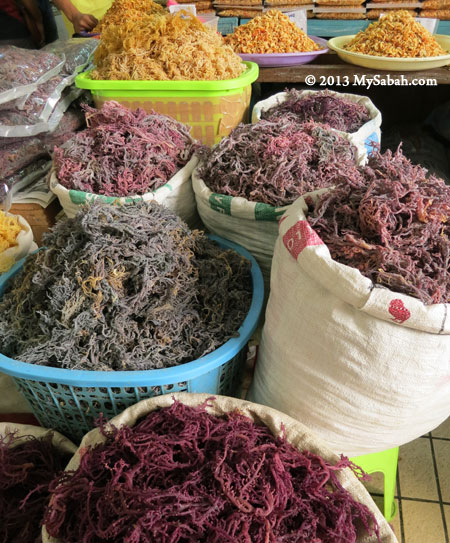 Pc: dried seaweed with different types and grades (purple being the best grade). Seaweed is rich in collagen and natural nutrients. Some call it "Sea Bird Nest " or "Poor Man's Bird Nest".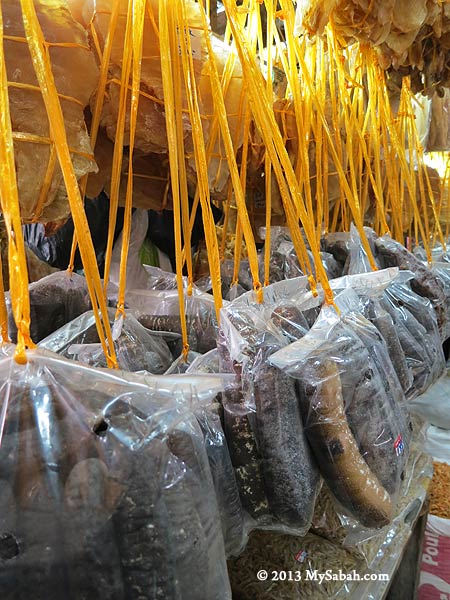 Pic: dried sea cucumber is considered a delicacy in Chinese food. It is very expensive.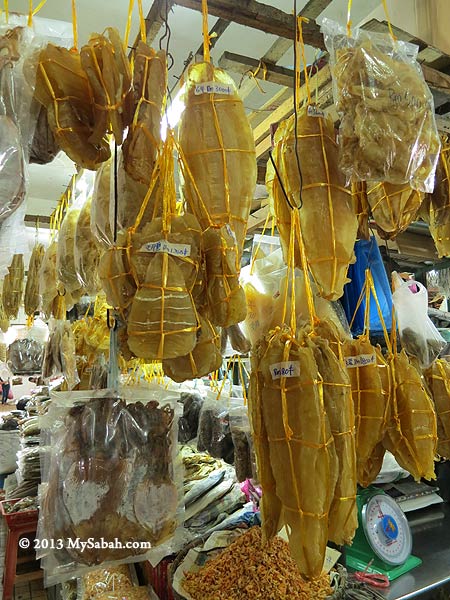 Pic: dried fish maw and squid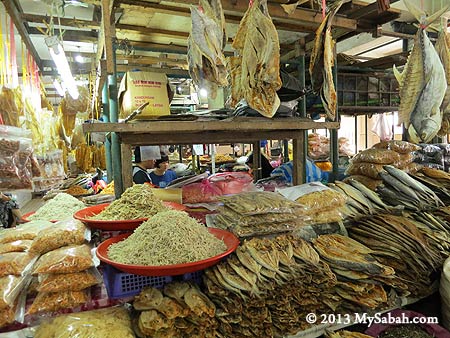 Pic: all sort of salty stuffs for sale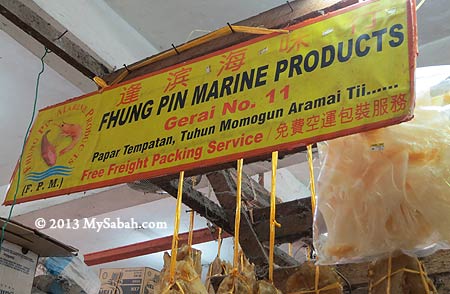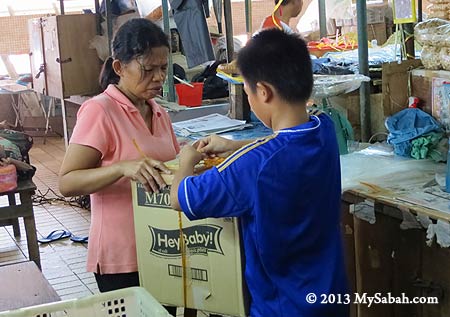 Pic: the hawker can pack the dried seafood for you into a box, so you can check-in them into cargo. Never hand-carry them onboard.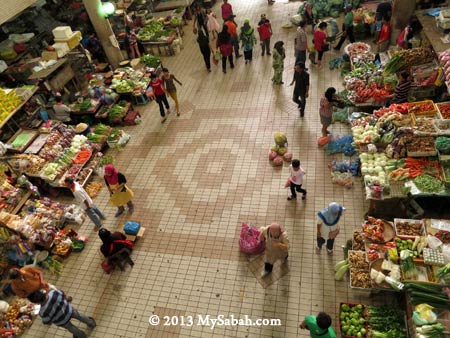 In ground floor of Tanjung Market are fruit, vegetables, meat and grocery stalls, where you can find local and imported items from Indonesia. Dried seafood is on 1st floor. 2nd floor is selling apparels.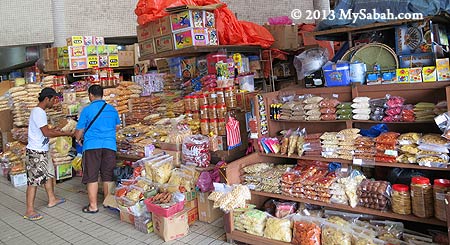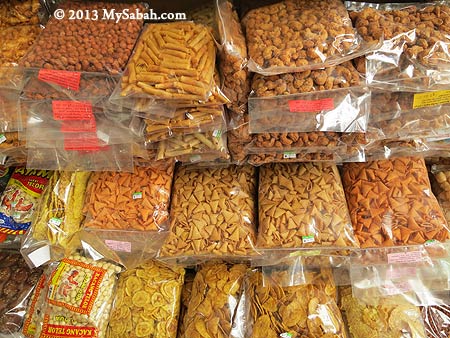 The ground floor has so many Tawau and Indonesian snacks that you may like to check out. Some items such as cashew nut is sold cheaper than Peninsular Malaysia. Other popular buy are kacipok, atong nut and tapok nut.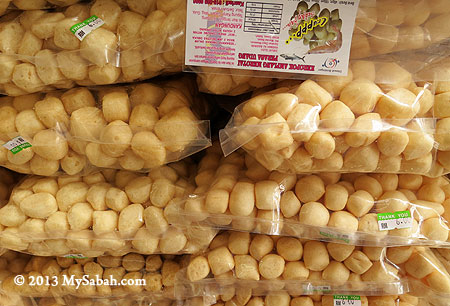 Pic: Amplang crackers
A snack I strongly recommend you to try is the ball-shaped and crunchy amplang cracker made from Spanish mackerel mixed with tapioca flour and special spices. Trust me, this cracker has no funny or unpleasant smell. Everyone loves it. Tawau makes the best Amplang cracker in Sabah.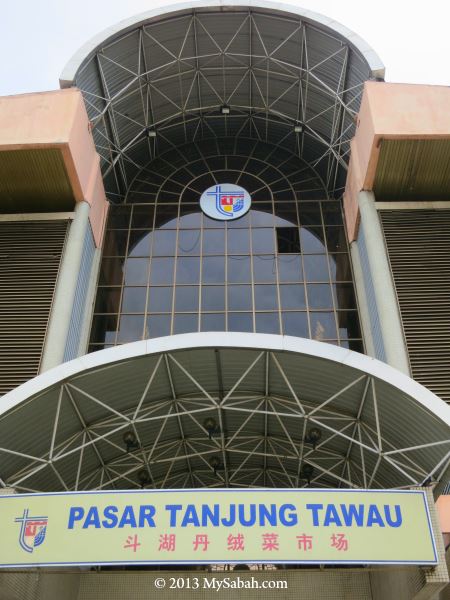 Pic: To Malaysians, this is the gate to Heaven of seafood to buy something that makes our mom and wife happy.
Want to see more photos? Please check out my photo album below.

How to get there
Tanjung Market is in Tawau city centre, located along Jalan Dunlop (Dunlop Road) and next to the Tawau Customs, Immigration and Quarantine Complex. You may see the location map (Google Map).
Photos taken in Tawau, Sabah, Malaysia Borneo
The mountainous terrain of Sabah makes us the land of waterfalls. There are thousands of waterfalls in Sabah forest, most are waiting for explorers to name them. Looking at waterfall can calm our minds better than watching the whirling movement in washing machine. So I compile a list of Sabah's Top 10 Waterfalls for those who want to enjoy heavy doses of negative ions.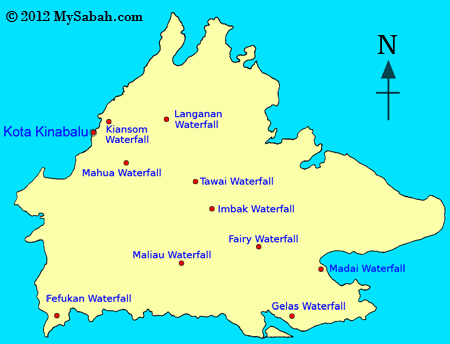 Pic: the location of Top 10 Sabah waterfalls.
Besides Scale, this waterfall ranking is also based on Popularity, Accessibility and Travel Experience. That's why some giant waterfalls are not listed. For example, though Kadamaian Waterfall is the highest waterfall of Sabah, it is too difficult to get there. Please note that most height measurement is by estimation.
No. 10. Kiansom Waterfall
Location: Inanam, Kota Kinabalu
Height: 7-Meter (23 Feet)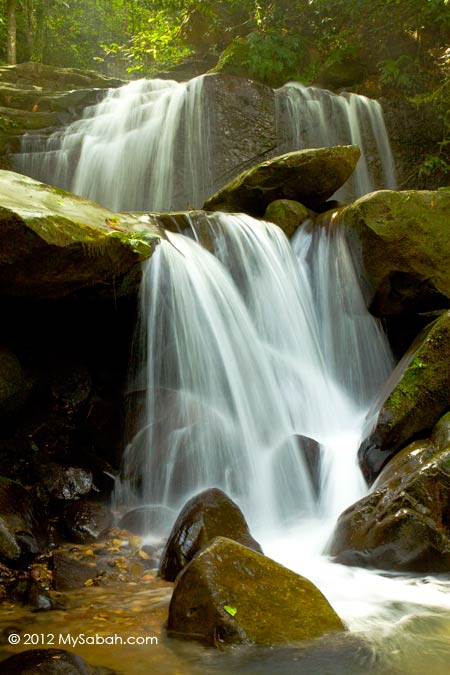 Yes, I know, Kiansom is the smallest waterfall in the top 10 list. It is listed because it is the most famous, accessible and visited waterfall in Kota Kinabalu city. I can't exclude the waterfall that everyone loves.
» Read more about Kiansom Waterfall…
No. 9. Gelas Waterfall
Location: Tawau Hills Park, Tawau
Height: 12 Meters (40 Feet)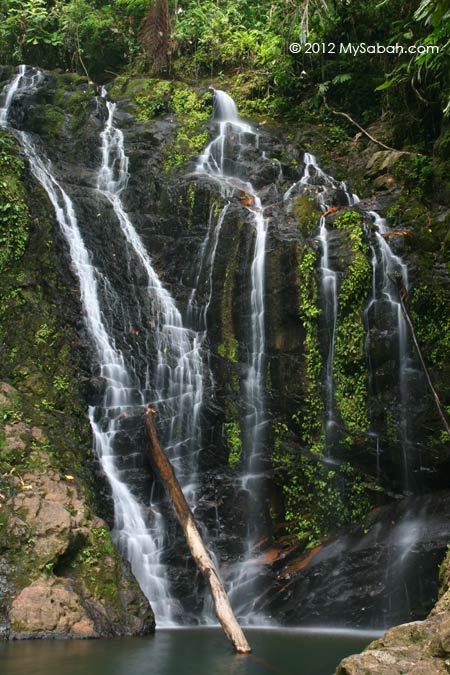 Gelas Waterfall is situated in Tawau Hills Park, a lush rainforest zone and source of five rivers. Hiking to Gelas Waterfall is a pleasure to nature lovers, as they can visit the tallest tropical tree in the world and soak in sulphurous hot springs in the park.
» Read more about Gelas Waterfall…
No. 8. Tawai Waterfall
Location: Tawai Forest Reserve, Telupid
Height: 95 Meters (311 Feet)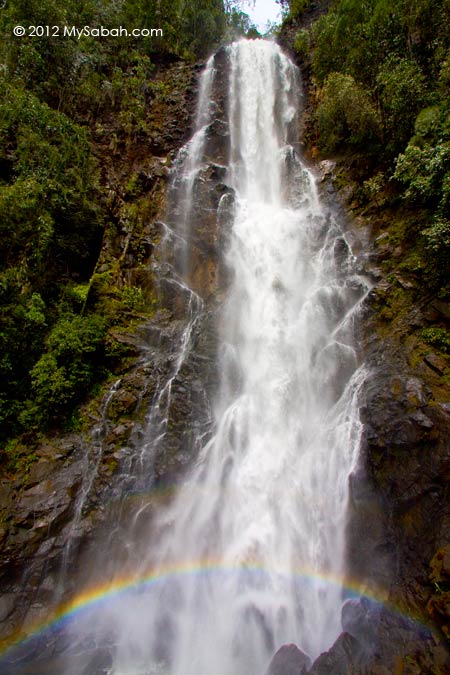 Tawai Waterfall is the least-known waterfall, but its view is so spectacular that it will blow you away. The area around this waterfall is full of Borneo pitcher plant. Denmark's biggest television network, Tv2, has chosen this waterfall for filming of "Girls Off The Beaten Track".
» Read more about Tawai Waterfall…
No. 7. Madai Falls
Location: Madai-Baturong Forest Reserve, Kunak
Height: 40 Meter (131 Feet)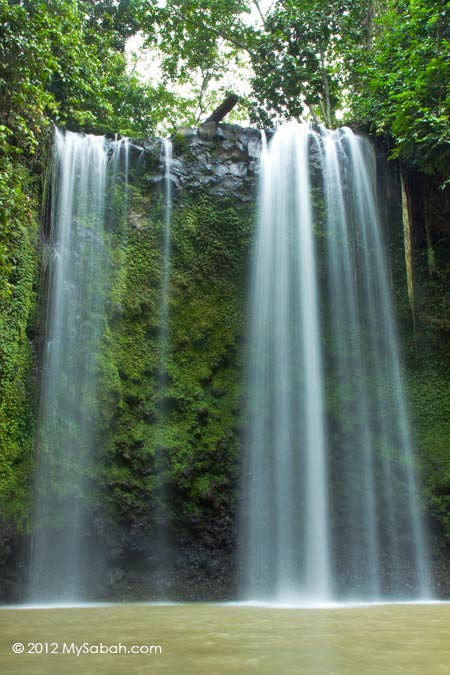 Madai Falls is probably the first Sabah waterfall visited by human, maybe a caveman about 28,000 years ago. I'm not joking. Archaeologists say Madai-Baturong has the oldest human settlement of Sabah. I believe stone-age people love waterfalls as much as we do.
» Read more about Madai Falls…
No. 6. Fairy Waterfall
Location: Danum Valley, Lahad Datu
Height: 27 Meters (89 Feet)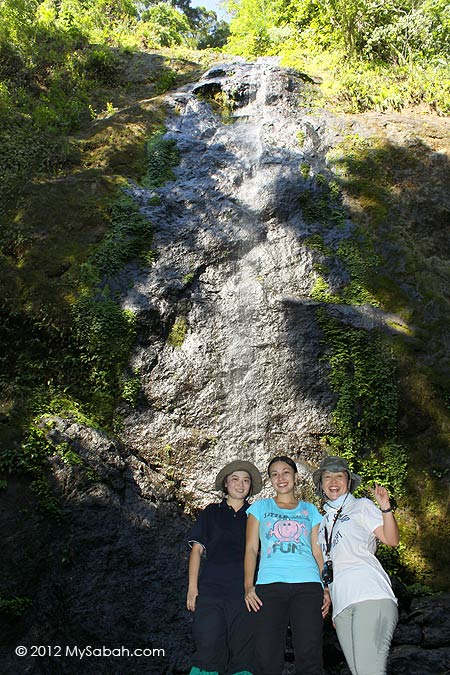 This shy Fairy Waterfall is hiding deep inside the 130-million Borneo rainforest of Danum Valley. The photo here may not look impressive because it was taken during prolonged drought. Danum Valley will be nominated as the next UNESCO World Heritage Site of Sabah/Borneo.
» Read more about Fairy Waterfall…
No. 5. Fefukan Waterfall
Location: Long Pasia
Wide: 20 Meters (66 Feet)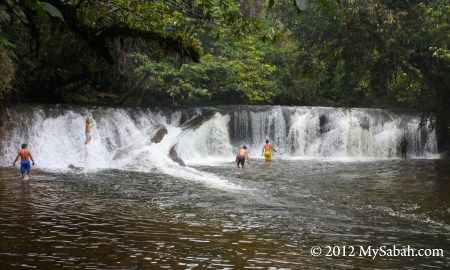 To see Fefukan, Travellers need to hike a long way to the Heart of Borneo, making it the most remote and least visited waterfall in my list. Camping next to this waterfall is one of my most unforgettable experience. Lucky visitors would see blooming rafflesia around there.
» Read more about Fefukan Waterfall…
No. 4. Mahua Waterfall
Location: Tambunan
Height: 17 Meters (55 Feet)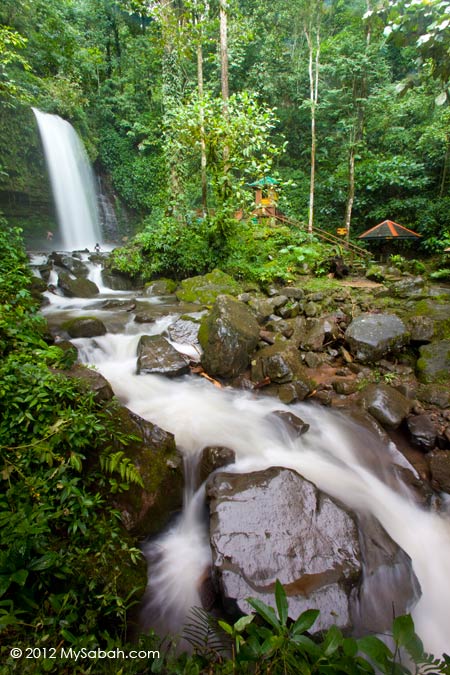 As part of the Crocker Range Park, Mahua Waterfall is protected as a water catchment area. Hence, visitors can enjoy cooling and refreshing water from clean mountain stream. On the way to Mahua Waterfall, you may drop by Tambunan Rafflesia Center to check if you are lucky enough to see a blooming rafflesia.
» Read more about Mahua Waterfall…
No. 3. Imbak Falls
Location: The Heart of Sabah, Tongod
Wide: 30-Meter (98 Feet)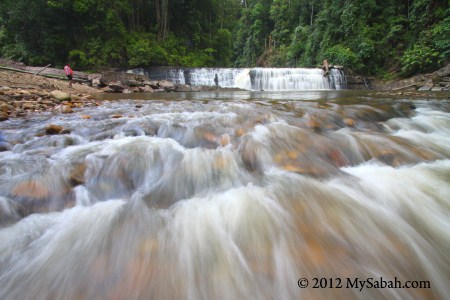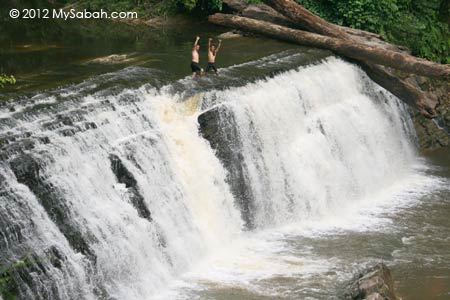 Even though Imbak Falls is only 6 Meters (20 feet) high, it is the widest waterfall of Sabah. I just love sitting in the river, as the strong current turns its waterfall pond into a Jacuzzi bath area.
» Read more about Imbak Falls…
No. 2. Langanan Waterfall
Location: Poring, Kinabalu Park
Height: 120 Meters (394 Feet)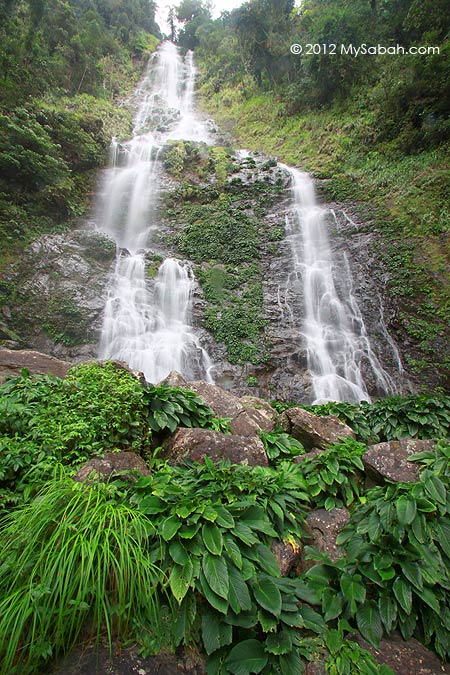 Located in Poring Hot Springs, the most popular destination of Sabah and 1st UNESCO World Heritage Site of Malaysia, the majestic view of 120-Meter-tall Langanan Waterfall is only saved for those visitors who are keen to hike nearly 4 Kilometers (2.3 Miles). It is more enjoyable to soak yourself in the hot spring after a long walk in the jungle.
» Read more about Langanan Waterfall…
No. 1. Maliau Falls
Location: Maliau Basin, Tawau
Height (of the highest tier): 28-Meter (92 Feet)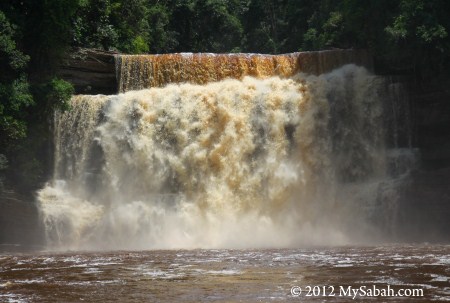 Here you go. The No.1 Waterfall of Sabah is the 7-tier Maliau Falls in Maliau Basin, Sabah's Lost World. To see Maliau Falls, you need to trek 2 days on the treacherous relief and pass through miles and miles of dense pristine rainforest.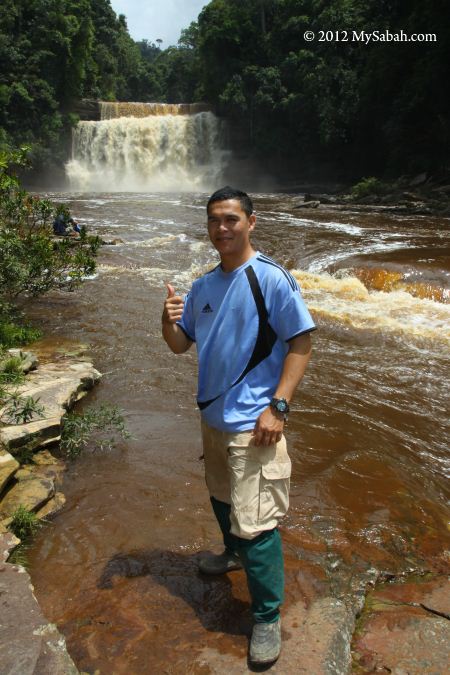 With over 30 waterfalls (and counting), Maliau Basin is also known as the Capital of Waterfalls, and Maliau Falls is the most breath-taking among them. Another feature of this waterfall is its tea-color water, which is caused by plant tannin released from heath forest upstream. The magnificent Maliau Falls will leave a beautiful memory in you, a scene that you like to replay in mind from time to time.
» Read more about Maliau Falls…
Which Waterfall is your Favorite?
Do you agree with the Top 10 Waterfalls list? Please vote for your favorite waterfall below. I would love to see if everyone shares the same view. You can even add new waterfall if your favorite is not in the list.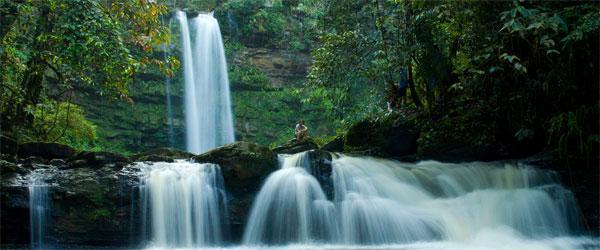 Top 10 Waterfalls of Sabah
Ten best Sabah waterfalls with different features
Below is a montage of Top 10 Sabah Waterfalls (Click it for bigger picture). You may share it in your Facebook.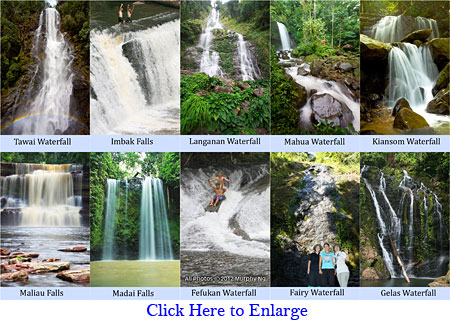 Thanks to readers who link to me.
Waterfall Safety
Accident is like winning lottery, we get it when we are least expecting it. Waterfall is an inviting dead trap that takes countless lives (especially over-excited kids). Please pay attention to the following precaution if you want to "play" with waterfall:
Don't swim near to the waterfall. The waterfall pond can be deep, with unseen swift currents underneath.
Don't climb to the top of waterfall, as the rocks there are usually slippery.
Don't stand under the waterfall. Even a small stone fallen high from top can cause severe injury.
During wet season, watch out for flash flood. Flash flood can occur even if there is no rain downstream.
Teachers, if you plan to bring a group of pupils to swim at waterfall, equip yourself with lifebuoy, rope and CPR knowledge.
If you know any nice waterfall around your hometown, please share with us by posting the photo in comment box below.
"Life is like a waterfall, it is always moving and there is always an uneven flow to it." – SooHoo
Photos taken in Sabah, Malaysia Borneo