Tag Archives:
snake
More than half of Sabah is in wilderness, so there are something which we should watch out for, or they will remind us that they deserve our respect. I sweat whenever I hear ignorant tourists say something like, "Oh dear, the orangutan / hippo / sun bear is so cute!!!" Wildlife is not our house pet. They never like human so don't expect they love our caress.
1. Elephants
Bornean Pygmy elephant (Elephas maximus borneensis) is the biggest mammal in Sabah, and there are less than 1,500 of them left. With 2.5 Metres in height and body weight in tons, you know you can't afford to trust this giant babe.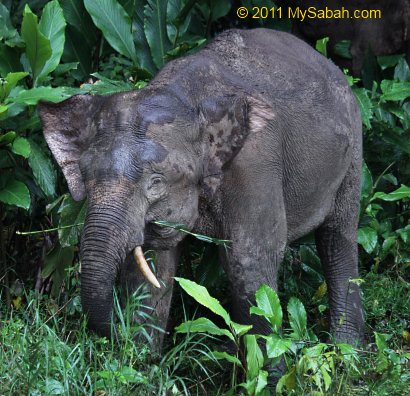 Above: the habitat of our elephants is destroyed by logging and oil palm plantation. Read more here…
Due to oil palm plantation, logging and land clearing for farmland, the loss of lowland forest has brought the elephants into more contact and conflict with people. Bornean Pygmy Elephant is timid but also a very protective parent. The overexcited tourists, who come too close to the herd that has calf around, would find themselves in danger.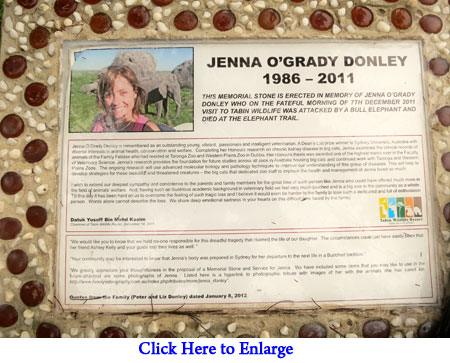 Pic: Memorial stone for Jenna O'Grady Donley
In 2011, a Australian tourist, Jenna O'Grady Donley, was stabbed to death by a bull elephant in Tabin Wildlife Reserve. She was an animal lover and sadly she was too close to a bull elephant which was said to be mentally unstable. Rest in peace Jenna.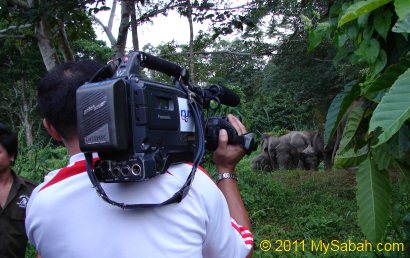 Above: the elephants are in stress even at this distance. They round up to protect the calf. Photo of Kinabatangan.
In the video below, you can see that an elephant was agitated when we were too close to them:

Click Here to see wider video
2. Wild Boar
In contrast to their domesticated cousin (pig), wild boars are agile and the favourite target of hunting game because they are difficult to catch. Wild boars are elusive and prefer to flee from our sight in most cases, so it is hard to believe that they have the record of killing bears and tigers in battle. They can pose a threat to people if they want to protect their young. Jungle trekkers are best to move away quietly and leave them alone.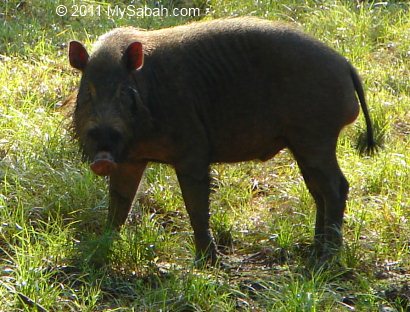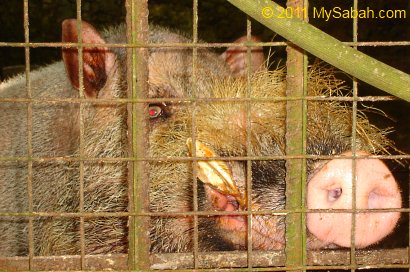 Above: adult wild boar has long teeth that can kill.
3. Cattle
Tembadau (Banteng) is supposed on the list. It is a wild cattle similar in size to domestic cattle and is totally protected under the Sabah Wildlife Conservation Enactment 1997. However, I find the domesticated cattle are far more dangerous, as they always roam in middle of the road. You will need to be extra careful when you drive in the countryside. Do not honk them, otherwise the group will disperse and running like mad cow in all directions on the road, causing danger to other motorists. Well, I will not pay a single cent of compensation for accidentally knocking down cattle, because it is illegal to let them wander around in the first place.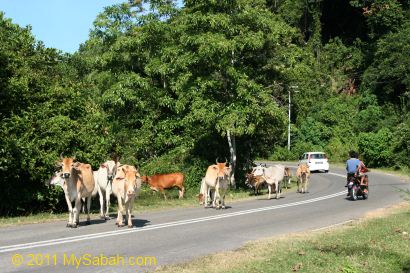 4. Crocodiles
Saltwater or estuarine crocodile (Crocodylus porosus) is the largest crocodiles in the world and they are found in rivers and swampy areas of Sabah. Crocodile is the master of sneak attack, so it was a big threat to the villagers who washed their cloth and fished in the rivers.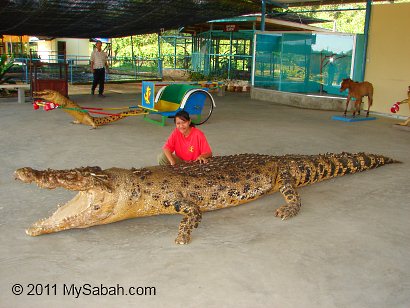 Above: this crocodile killed a few villagers. Photo of Tuaran Crocodile Farm
Basically there is no hope for survival when we are grabbed by the powerful jaws of this 4-Metres aggressive monster. Sometimes people see them having sun bathe in unlikely places such as Tuaran and Papar.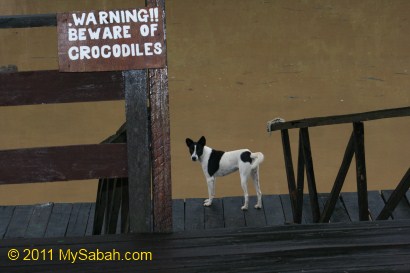 Above: warning sign at Kinabatangan River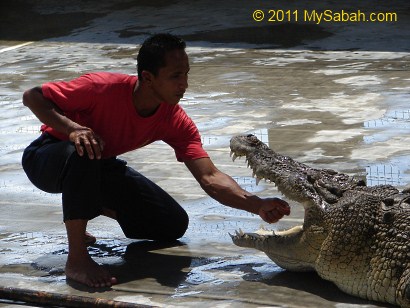 5. Snakes
Vipers and cobra are the most famous among them, but you should fear the banded sea krait or yellow-lipped sea krait (Laticauda colubrine) the most, because one drop of its venom can kill three adult and there is no antidote!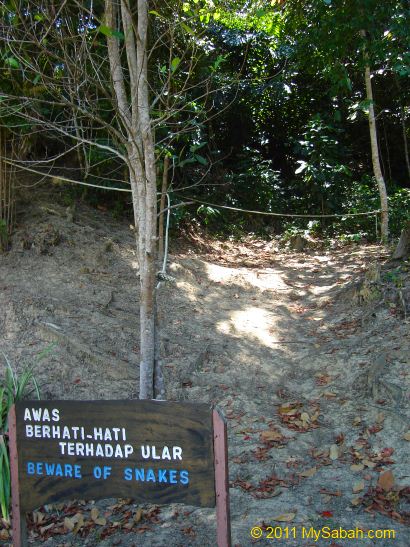 Sea snakes are trapped in the fishing net occasionally. When the unlucky fisherman is busy sorting out the fishes, he might be bitten by sea snake without knowing it, due to the anesthetic effect of the venom. The poison will dissolve the muscles of his body and his urine will turn into cola red color. At last, he dies in enormous suffering. Good news is – sea snakes are not aggressive unless threatened, though all sea snake species are highly venomous.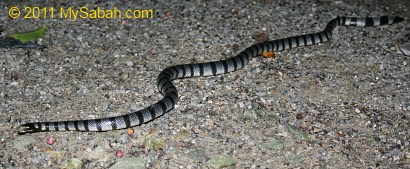 Above: sea snake is more poisonous than cobra but it's not aggressive. Photo from Banggi Island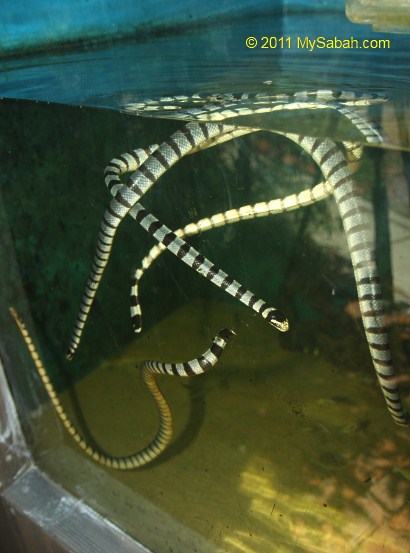 Above: yellow-lipped sea kraits in fish tank of the Green Connection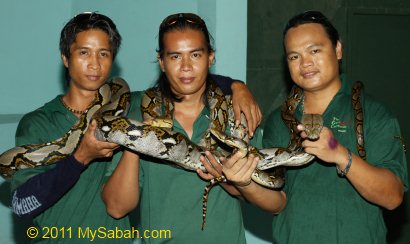 Above: reticulated python can eat a human if it is big enough
6. Jellyfish
This passive little semi-transparent marine life lurks in the sea, but can kill the unfortunate swimmers by its deadly touch. The two dangerous species found in our water are the Box Jellyfish or Chironex fleckeri, whose toxin could kill victims in less than five minutes, and Ubur-ubur merah.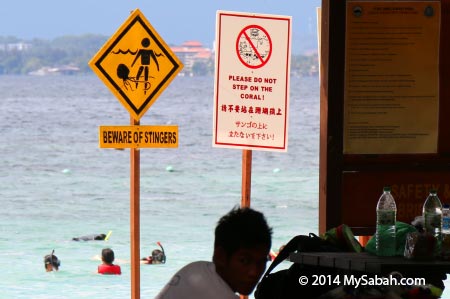 Above: jellyfish warning on Manukan Island
The application of vinegar, which contains acetic acid, can disable the jellyfish's nematocysts that have not yet been discharged into the bloodstream. After the death of a few tourists, vinegar is always available for such first aid in islands of Tunku Abdul Rahman Park. If you are stung, look for the lifeguard on the beach immediately, they know what to do.
7. Hornet
Let's forget about the honey. You will not hesitate to get away from their nest as far as possible. If one stung is painful, 100 stung will be a painful death, so terrible that nobody would want to commit suicide by intentionally provoking the hornets. It is also advisable not to agitate a hornet near a nest, as the distress signal will trigger the entire colony to attack. If that happens, submerge into the water is probably the only way to save you. For your info, perfumes can be mistaken as the pheromone of hornets and set off the attack too.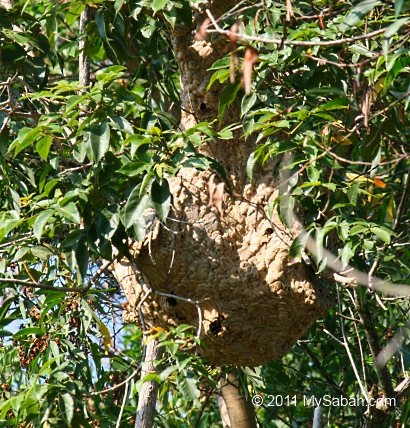 Hornet also likes to build nest under the roof and water tank of houses. The nest may be as small as a tennis ball in the beginning. But if you don't eliminate it in early stage, it will grow to the size of sandbag and pose a serious threat to the residents. By that time, only Fire Department can help you to remove the huge nest safely.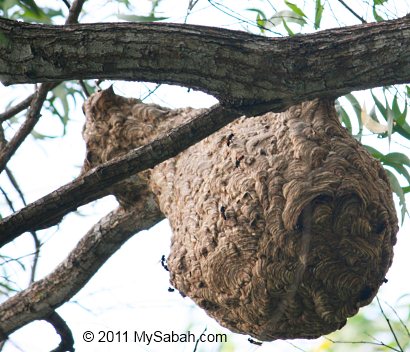 If you are too close to a bee hive, the patrolling bees will come and buzzing around you to investigate if you are a threat. It's very important that you stay still and don't agitate them (with sudden move or swatting them). After the guard bees leave, move slowly away from their territory. In contrast to honeybee, a hornet can sting multiple times. If a child has anaphylactic reaction to bee sting, attack by one hornet is deadly enough.
8. Mosquito
Finally the last one but not the least is mosquito. If one mosquito gets into your room, you know you will have problem sleeping whole night long. Anyway, causing bad sleep is not how mosquito kills hundred of people every year. Mosquito is deadliest disease vector which spreads infectious diseases such as Malaria, Dengue and Yellow Fever. Sabah is the red zone for Malaria. Therefore, please make sure your house is free of stagnant water that serves as a breeding ground for them.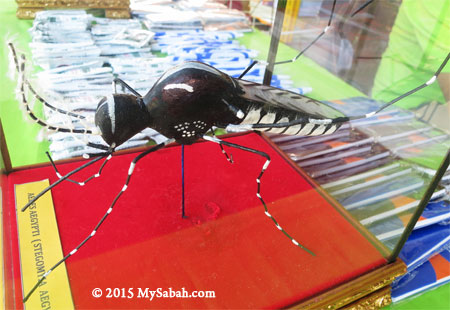 Pic: Among all mosquito species, Aedes aegypti (locally known as Nyamuk Aedes) is the most dangerous, as it can spread diseases such as dengue fever and yellow fever. It is easily recognized by white stripes on its legs and body.
There is no tiger in Borneo, in case you wonder why it isn't on the list. As you may see by now, dangerous animal is not necessary a man eater or a big animal. Even if it can look friendly and adorable, wildlife is wild, never treat it like a pet. Most of the time, those wildlife look timid and afraid of human, and tourists can get away 99.99% of the time. But you need only one incident to lose your life.
Photos taken in Sabah, Malaysia Borneo
As Tip of Borneo is one of the most visited attractions in Sabah, "Center of Sabah" could be the next popular destination. In theory, if you thread a string through the center of a cut-out cardboard map of Sabah, the cardboard should hang flat in the balance. However, the work to pinpoint the exact Center of Sabah is far more complicated and takes years to find out. Since 2006, Royal Institution of Surveyors Malaysia (RISM) had been collecting reading from 18,600 points along the Sabah coastline to calculate the Center.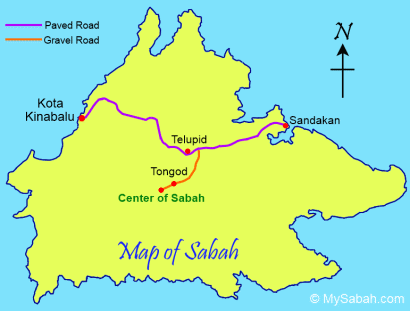 View My Sabah Map in a larger map
Above: location of the Center of Sabah
The coordinates of the geographical Centre of Sabah is determined at Latitude 117°7'01.8″ East and Longitude 5°+20'38.4″ North (N 5°20'38.4″ E 117°7'01.8″), which is on the top of RISM Hill (Bukit RISM) in the Pinangah Forest Reserve near Telupid (about 280 Kilometers away from Kota Kinabalu city).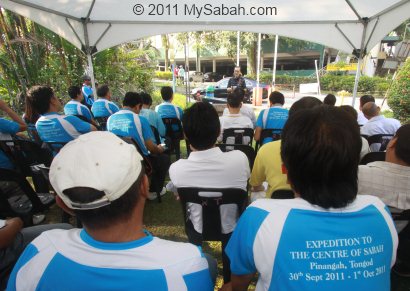 For the launching of the Center of Sabah, RISM organized an expedition team of 54 members, comprised of people from RISM, Sabah Surveying and Mapping Department, Sabah Land and Survey Department, Sabah Forestry Department, Sabah Tourism Board and media, to visit the Center of Sabah. The flag-off ceremony was carried out in Tun Fuad Stephens Park at 8:35am on 30 Sep 2011.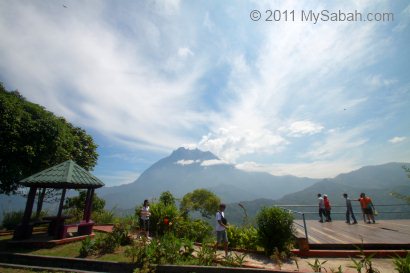 We departed in a convoy of more than 10 4-wheel drive. We stopped by Nabalu town briefly for breakfast.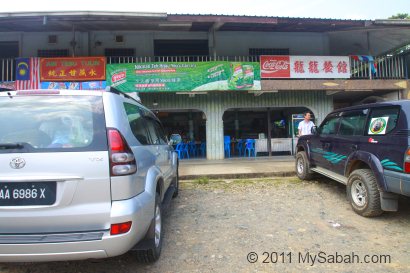 Our expedition team also had lunch at Telupid town around 2pm.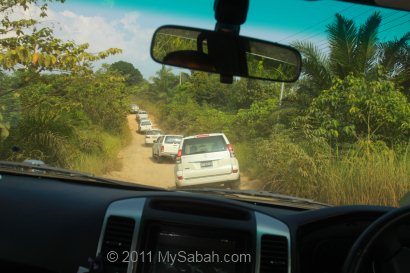 Then we entered a dusty, rocky and gravelled road at a junction after Telupid at 2:45pm. The ride was bumpy and we saw oil palm plantation most of the time. We also saw a few logging trucks on the way.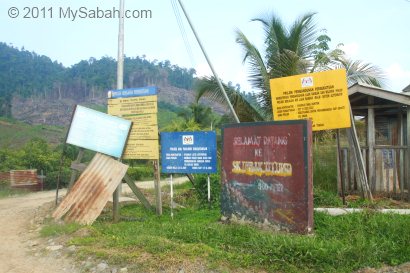 Above: passing by Tongod. It's a remote area of Sabah.
Millian Forestry Center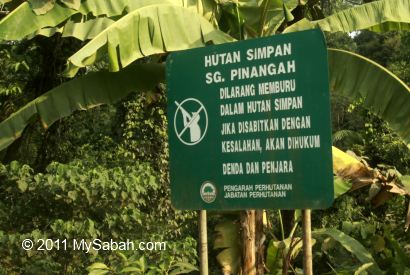 Above: reaching Pinangah Forest Reserve, where poaching is strictly prohibited.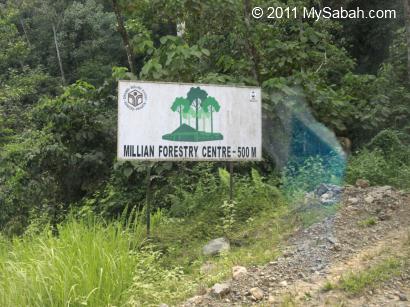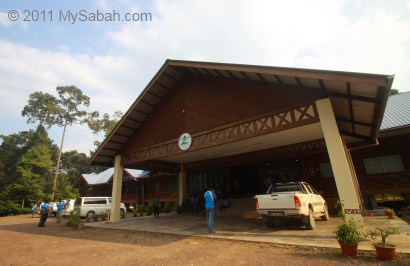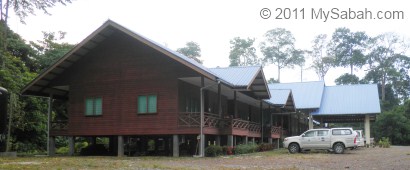 Our group reached Millian Forestry Centre around 4pm. We spent a night here, before departing to the Center of Sabah in next day.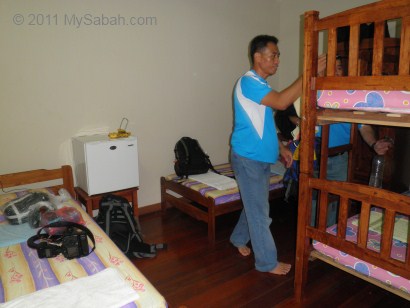 The accommodation of Millian Forestry Center is basic but quite comfortable. Electricity supply is available (though there was a blackout of 30 minutes). For a shared room like photo above (with air-conditioning and attached bathroom), it's only RM40 (about USD12) per person per night. For VIP room, it's RM60 (about USD19).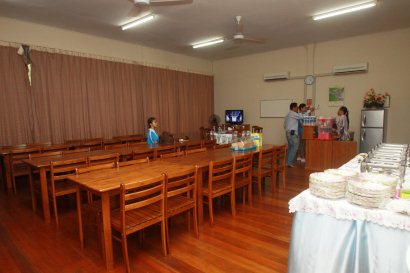 You can ask them to prepare meal for you (RM20-RM25 per head). They have a nice dining room too. I'm not the fussy kind of tourist who would complain about food not serving on hot plate. With such facilities in forest, it's better than what I expect. You may contact Yayasan Sabah for booking of room.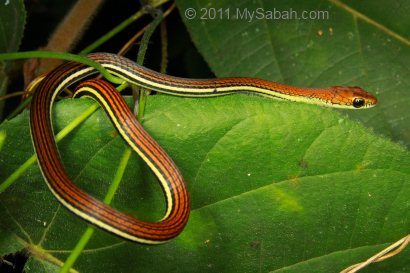 Because Millian Forestry Center is in the wilderness, it's nothing to do at night, so I just took a night walk to explore the jungle nearby.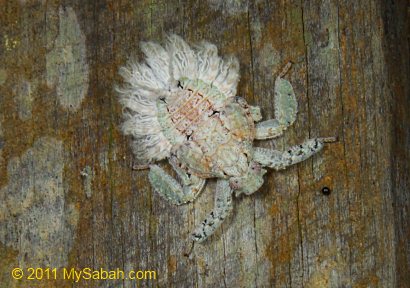 Anyone knows what is the name of the insect above?
Day 2
After a nice breakfast in next morning, we checked out at 6:30am and headed to the base camp of Pinangah Forest Reserve, which is about 35-minute drive away and the starting point of the trail to the Center of Sabah.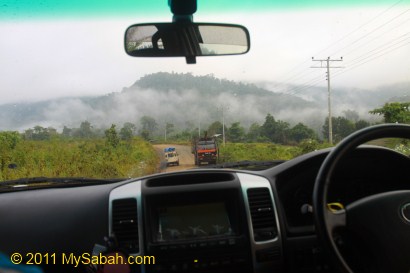 On the way, most are excited about the trip but also a bit worried about the leeches, the little blood suckers in rainforest of Borneo.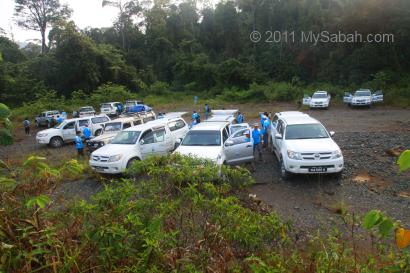 The base camp is only a big open space. We parked our 4-wheel drives there and ready for the climb.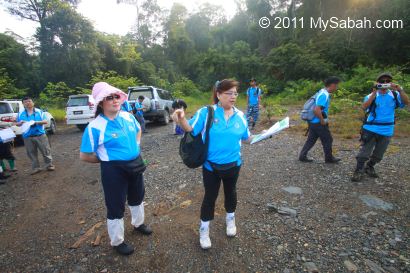 Above: marking attendance and briefing before the climb.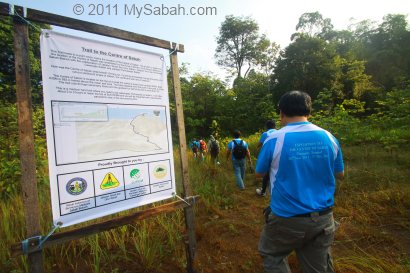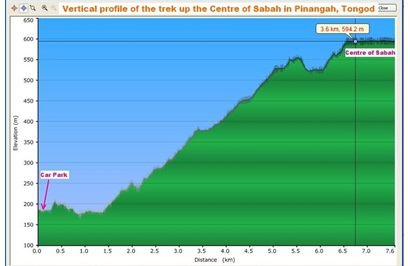 The Center of Sabah is located on top of RISM Hill (Bukit RISM), with a height of 584.2 Meters and inaccessible by car, so we have to walk 3.6 Kilometers of jungle trail in Pinangah forest to reach the Center. Personally I like it because it is like an adventure.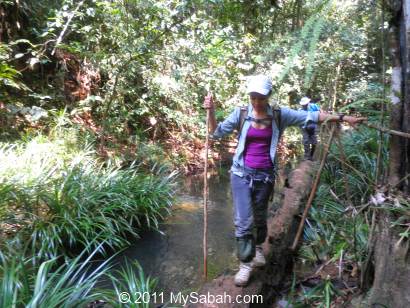 We crossed 3 rivers along the way. We also pass by a small waterfall and the water is so clean and refreshing.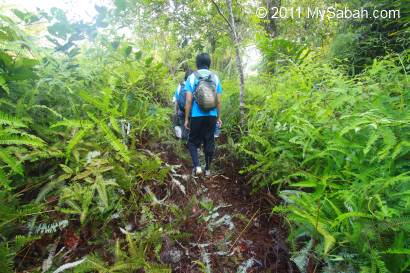 The "fern path" at the beginning is a nice view. Very soon we entered the dense and humid secondary forest. A recce team had marked the trail with white paper the day before, so we wouldn't lose our way. The trail is nature and have no support such as boardwalk, rope and ladder. Some little brown leeches are lurking in the damp forest ground, creating panic among the ladies, fortunately not too many leeches around today.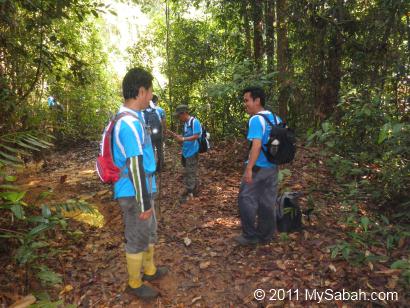 Above: take a break in halfway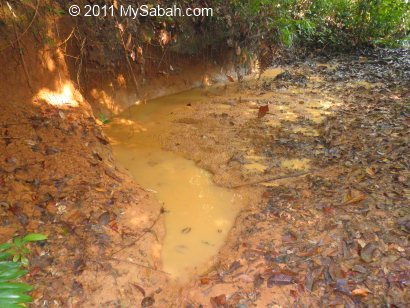 As hunting is not allowed here, we can see the traces of wild animals living happily here, like the wallow of wild boar shown in photo above.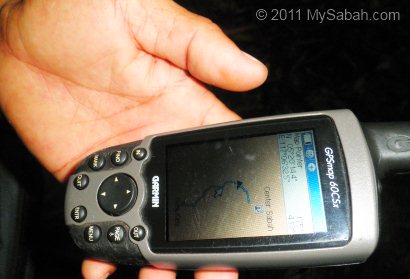 After an hour, a guide shows us his GPS device and tells us the Center is only 500 Meters ahead, as if it is only a few minutes away. We are motivated to move faster, only to find that we are still an hour away from the destination!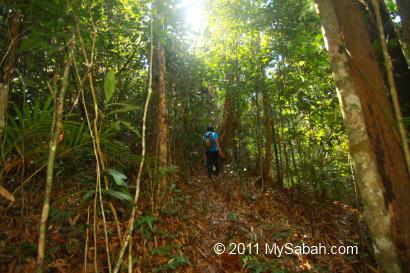 The trail is mostly ascending and about 15° in inclination, with 50° for the steepest part. I'm experienced in jungle trekking so I would call this a hiking instead of climbing. The only problem is the crawling plant on the floor that we would trip over.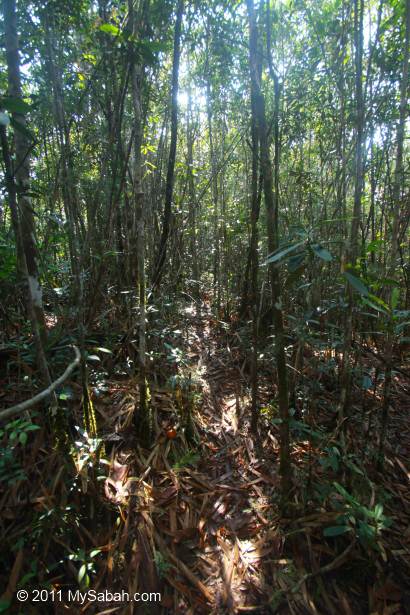 To reach the Center before noon, I was in a hurry and didn't actively look for interesting flora and fauna. Anyway, I spot tractor millipede, centipede, ginger and some fungus. Someone even saw a small snake being eaten by a centipede. Too bad I miss that.
Reaching the Center of Sabah
Even though the climb is not overly challenging, the hike is still taxing. Finally I arrived the Center at 9:30am.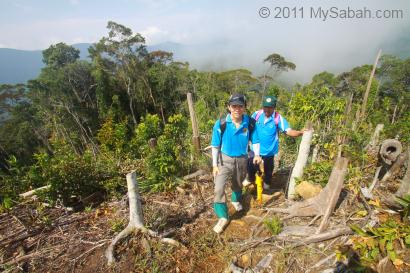 The climb usually takes 2 to 3 hours, depending on how fit you are. Most of us reached the Center before 10am.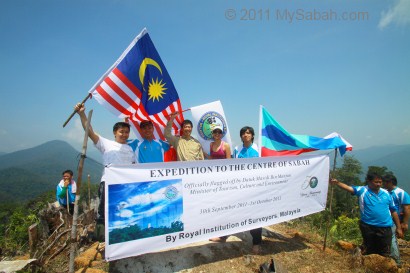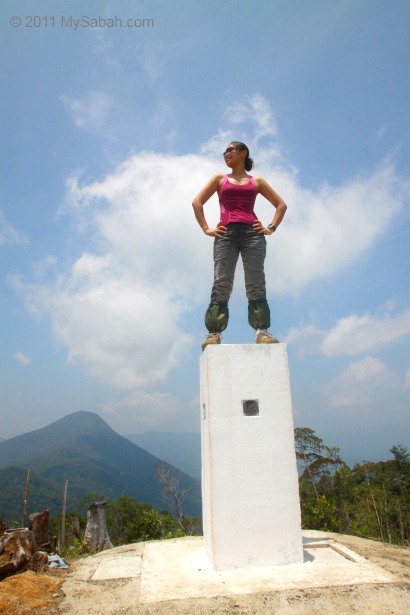 Of course we won't miss the opportunity to photograph the victorious moment. More climbers come and all of us make it!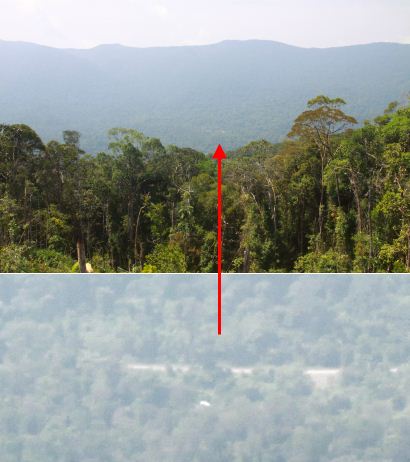 With the special permission of the Sabah Forestry Department, for more accurate GPS reading and better view, the hilltop had been cleared so that we get an unobstructed panoramic view of the surrounding hills from the Center of Sabah. We can even see our cars from the hill (see photo above). Can't believe we make it that far.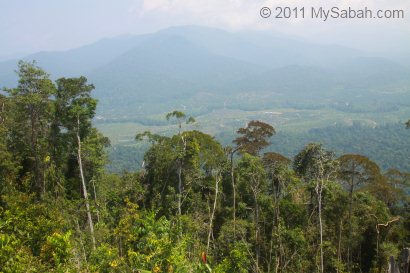 The surrounding view of the Center on RISM Hill is mainly forest and mountain range, a lovely sight.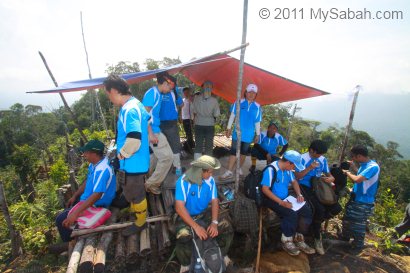 The day is getting hot, so most of us take shelter under a makeshift camp built on a helipad. This helipad was constructed to facilitate helicopter landings. 4 tons of building materials such as cement was brought to the top by helicopter.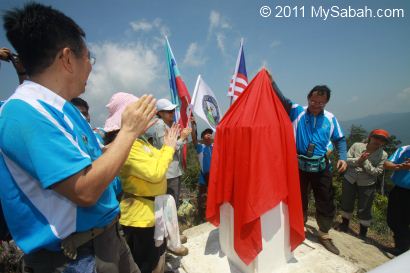 When everyone has arrived, we have a simple unveiling ceremony of Center of Sabah Monument.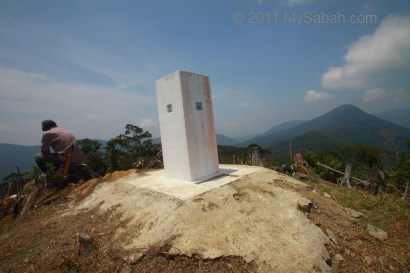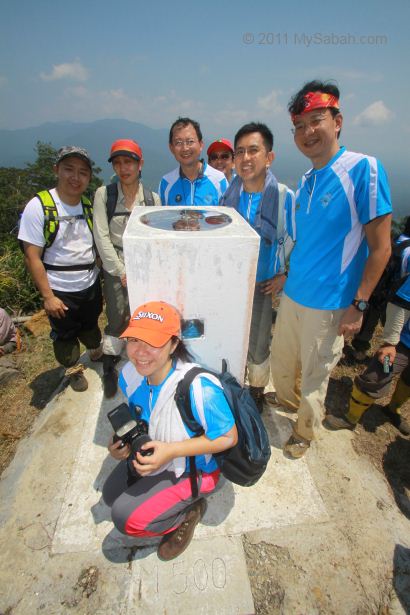 Above: we are right in the middle of Sabah!!!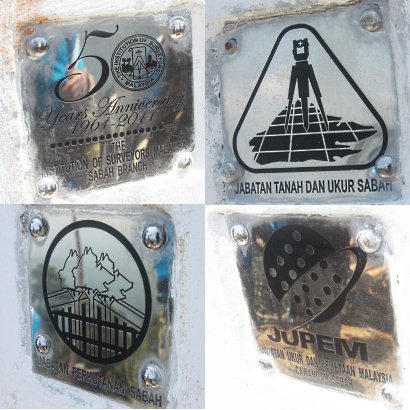 Above: there is a logo embedded at each side of the monument, which acknowledges the 4 organizations that make this project a success. The official launching of the Center of Sabah coincides with the 50th anniversary celebration of the Royal Institution of Surveyors Malaysia (RISM) in year 2011.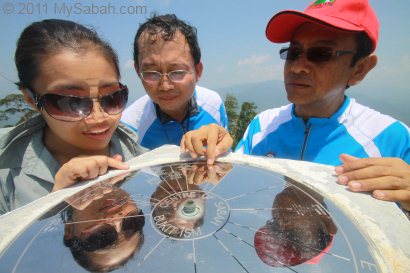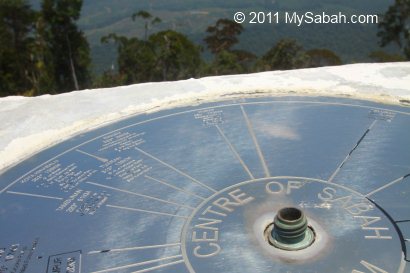 There is a toposcope on the monument that shows the direction and distance to the popular attractions in other parts of Sabah, for example, Kota Kinabalu, Tenom, Ranau, Kudat, Sandakan, Lahad Datu, Beluran, Beaufort, Long Pasia and Semporna.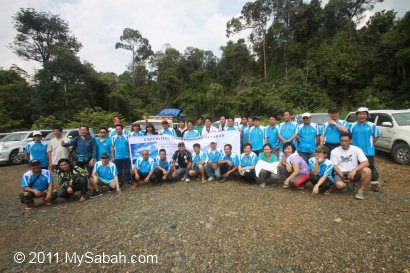 Above: a group photo to conclude the end of our expedition.
You may watch the 3-minute video below to see the overall Expedition:

Click Here to watch bigger video
How to get there
As there is no travel agent selling tour package to Centre of Sabah, you will need to arrange your transport, meals, entry permit and guide on your own. It's not difficult, but you have to communicate with a few parties back and forth. Basically, there are three main tasks:
1. Get a Permit
Because Centre of Sabah is located inside a protected forest reserve (Pinangah), you need to apply an entry permit from Sabah Forestry Department (SFD). Just write to the Director of SFD in Sandakan HQ to request for permission. In your letter, please state:
Number of people going (include your driver too), with details such as Name, ID and Nationality
Date of your visit
Purpose of your visit (i.e. visit Centre of Sabah)
Your contact (phone, H/P, fax, e-mail)
You may request for a guide. I'm sure they will send forest ranger(s) to go with you anyway
*SFD may collect permit or guide fee
Look for general phone number of SFD in Sandakan in their website. Ask for the correct fax number or mailing address to fax / send your letter. They are very efficient and usually get your application processed on next day, but I advise you to apply at least one or two week earlier, because you may need to do paperwork and make payment.
2. Booking the Accommodation
You may spend a night in Millian Forestry Centre (of Yayasan Sabah Group), which is near to the starting point of your climb. Below is the price list of their accommodation and services (rates of Year 2014/2015), and the phone numbers for booking.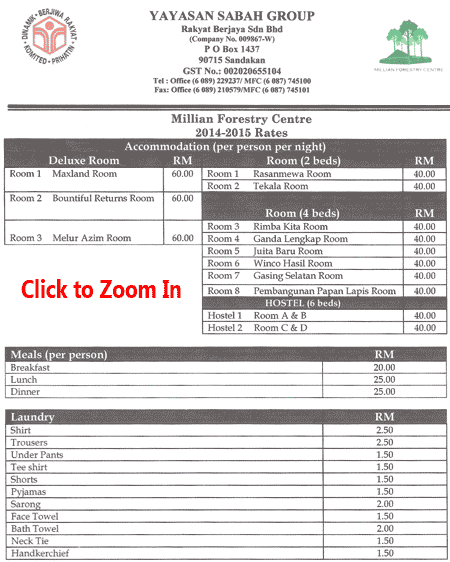 Pic: please note you need to add 6% GST Tax on top of final amount
Besides booking a room, you also can pre-book your meals with them.
3. Other Things
For example, if you don't have a 4-Wheel Drive, you will need to rent one. You better buy insurance for your trip. Here are some recommended things to bring: backpack (with rain cover), raincoat / poncho, mosquito repellent, anti-leech socks, drinking water, energy bar, GPS device, extra clothing / socks, toiletries.
More Photos
You may check out my photo album if you want to see more nice pictures: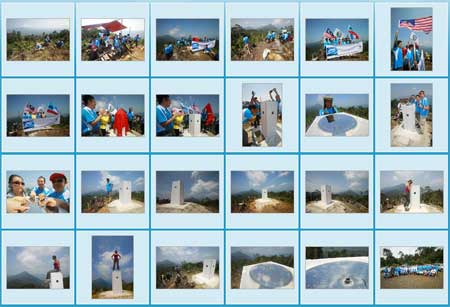 Photos taken in Telupid, Sabah, Malaysia Borneo